Fun To Make A Beautiful Pineapple Paper Flower Wall Decoration
Sometimes a makers just got to make! That's what I felt about this paper flower wall decoration once the idea popped into my head.

Why a pineapple? I would be lying if I said it was my favourite fruit (that's mango), it's in my top ten though. But, it's the best-looking fruit as it comes in its own cool package and screams summer to me!.

I also have a lovely pineapple stenciled table in my lounge and thought that a piece of pineapple wall art would look great above it!

Recently, I have been making lots of upcycled plants such as my fabric flowers, plastic bottle faux succulent terrarium and my repurposed felt succulent garden. This time I decided to use paper for my crafted plants.

Every time, I see some gorgeous paper flowers on Pinterest I pin them. I thought it was about time that I looked at those pins and made some of the paper flowers. Having gone back and looked at those pins more closely I decided that I like the look of those flowers and plants made with crepe paper.

But there were loads of lovely flowers to make and I couldn't decide which ones to try. Because I'm so indecisive I ended up making lots of different kinds of flowers in lots of colours for my paper flower wall decoration.

I also managed to upcycle an old frame for this gorgeous paper flower display.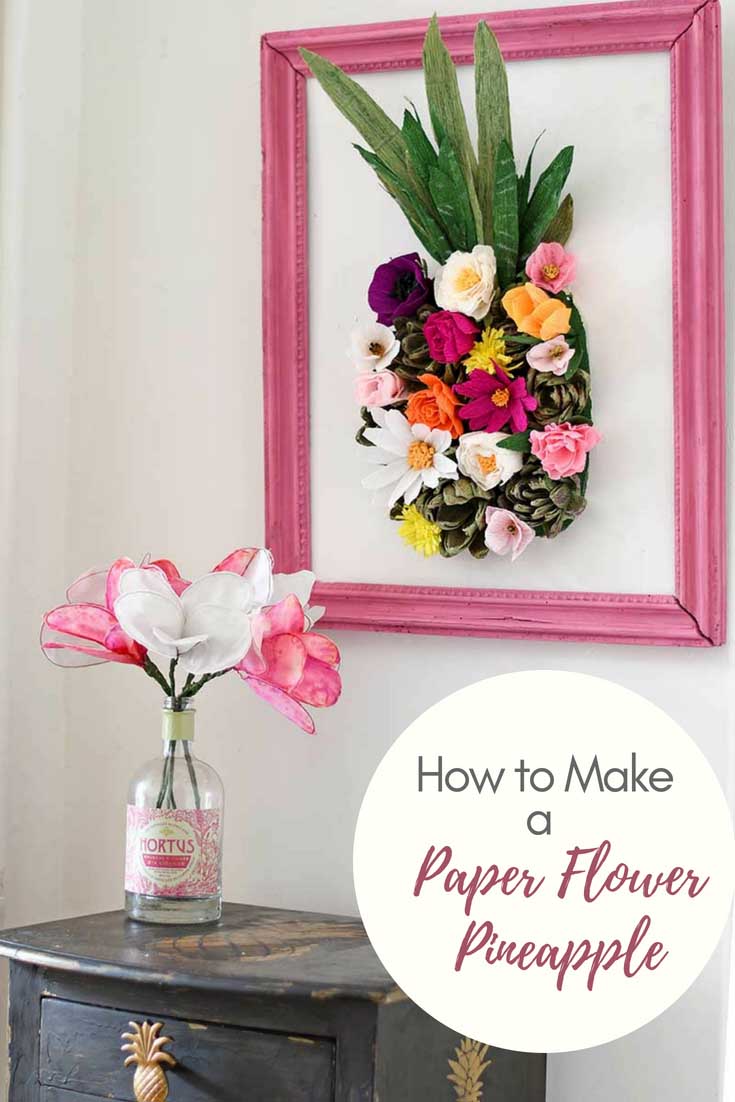 This post contains Amazon affiliate links for your convenience. Click here to see my disclosure policy.


What you need to make a gorgeous paper flower wall decoration
Frame – You'll need one as big as the flower display. What size you make it is up to you. The frame for my pineapple paper flower art was about A3 size.
Foamboard/cork board – This is to fit inside the frame and to mount the paper flower display on.
Spray chalk paint – for the frame, I chose a Rose Pink colour.






Crepe paper 180 gram (sometimes called Italian crepe paper)- You need this thick stretchy crepe paper the cheap crafty crepe paper is too thin. I know as I tried it with the cheap stuff first and it just didn't work.





How To Make A Paper Flower Wall Decoration in the Shape of A Pineapple
Preparing the frame
The first thing I did was prepare the frame and base for the paper flower wall decoration. I spray painted the frame with a pink chalky finsih paint. I used a chalky paint as I like the lovely matt finish.






To create a base for my Pineapple paper flower decoration, I cut a piece of foam board to fit into the frame. Foam board can be a bit shiny so you may also want to paint this with a white matt paint.




As the display is going to be 3d you will not need any glass on the front of your picture frame.




How to Make a Paper Flower Wall Decoration

As I already mentioned in the begining I have over the years pinned many paper flower tutorials. When I went back to these pins I picked the best paper flower tutorials.


However, the orange rose I made using my own tutorial and template I used for my beautiful map roses. The main difference being this time I used crepe paper instead of maps.




The pink peony, I made from the tutorial on Ash and Crafts. In fact there are loads of fantastic flower tutorials on this lovley site.




The daisy, dandelion and cream Peonies I made by using the tutorials on Lia Griffiths amazing site. In fact she has loads of fabulous paper flower tutorials on her site.


After making a few different crepe paper flowers, I was confident enough to design my own paper flowers using the techniques I learnt. I used oil pastels on some flowers to add an additional colour to the crepe. It was fun to experiment and make up flowers.






For the background of the pineapple body, I made crepe paper succulents using again a brilliant Ash and Craft tutorial. One thing I did different though was to add some colour to the tip of my succulents with oil pastels. I made several of these crepe paper succulents in different sizes.






The leaves of the pineapple were made by cutting out long leaf shapes of crepe paper and gluing them to the floristry wire stems. Again these were made in different sizes and bits of colour was added to the crepe paper with oil pastels.






How to make a paper flower wall pineapple

Once you have made all your paper flowers, succulents and leaves you are ready to assemble the pineapple paper flower wall decoration. First, cut out a piece of green crepe paper in the shape of a pineapple onto the foamboard

Next, add the leaves at the top of the pineapple. To do this pierce the foam board with a wooden skewer (or similar) and then thread the wire through to the other side. Bend the wire at the back of the board to secure it. You can also add a dolop of hot glue to the wire at the back to stop it slipping, but wait until the end when you are sure of your design.

Glue the succulents randomly to the green crepe paper on the front of the foam board.

Finally, add the crepe paper flowers to the pineapple wall decoration using the same method as the leaves.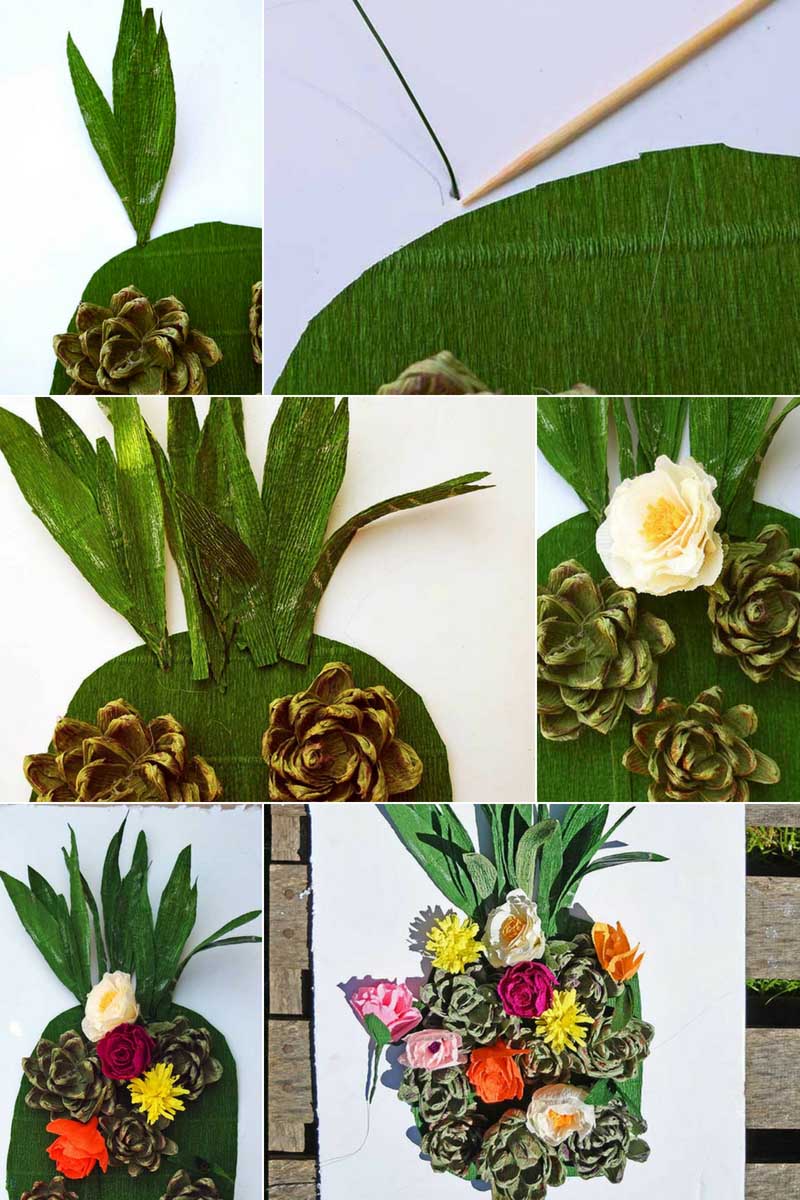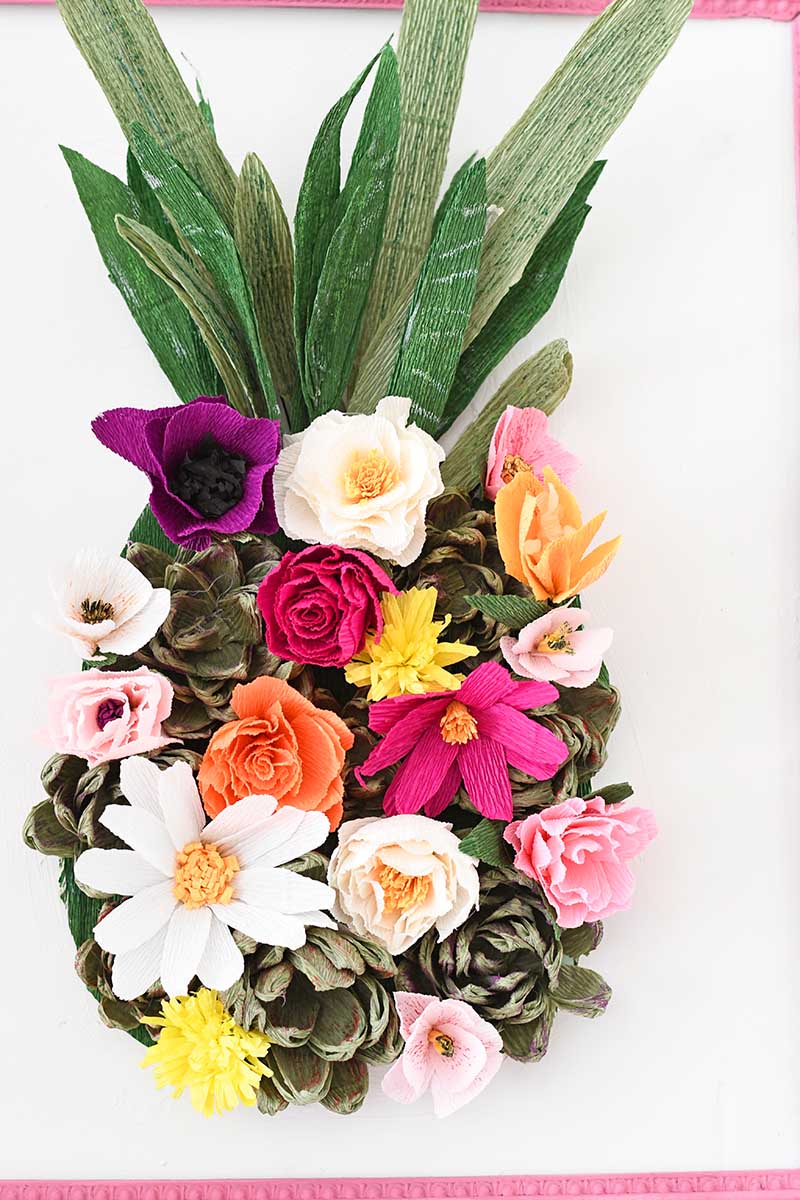 As I said in the begining, I do think this paper flower pineapple wall art goes really well with my pineapple stenciled console table and my fabric flowers.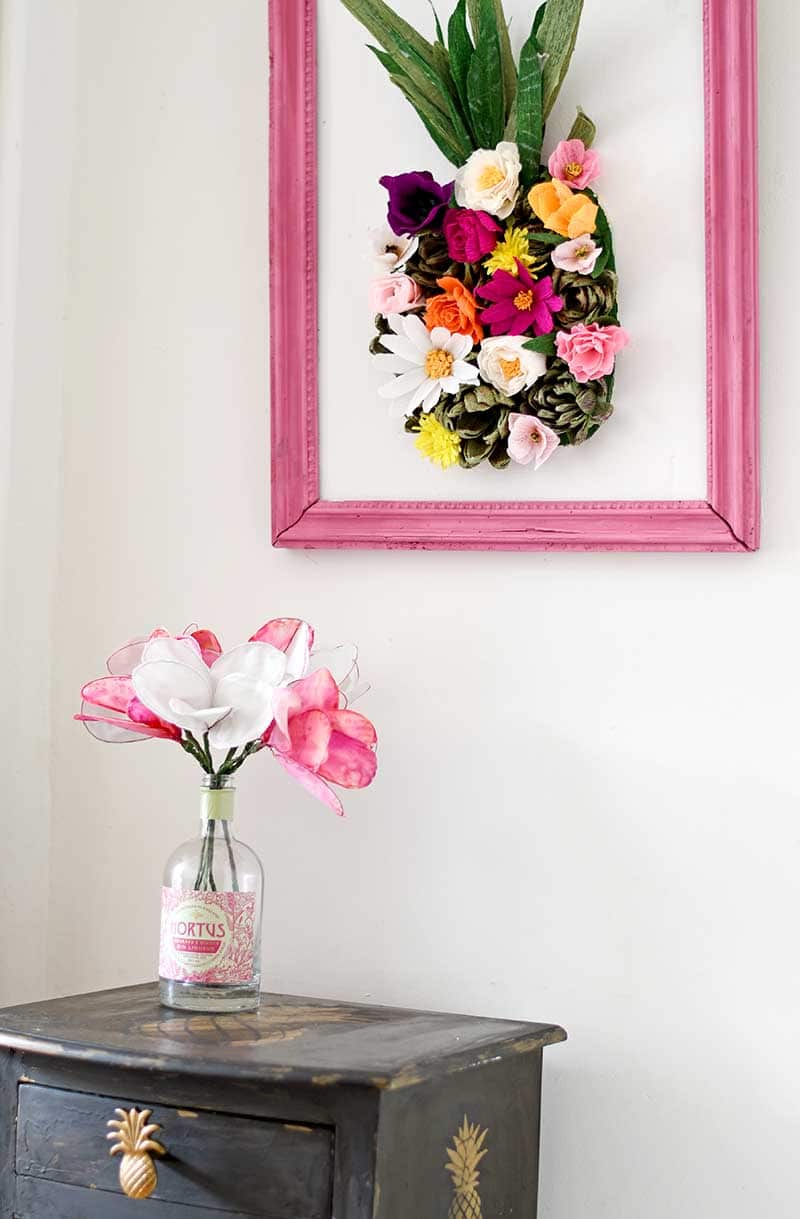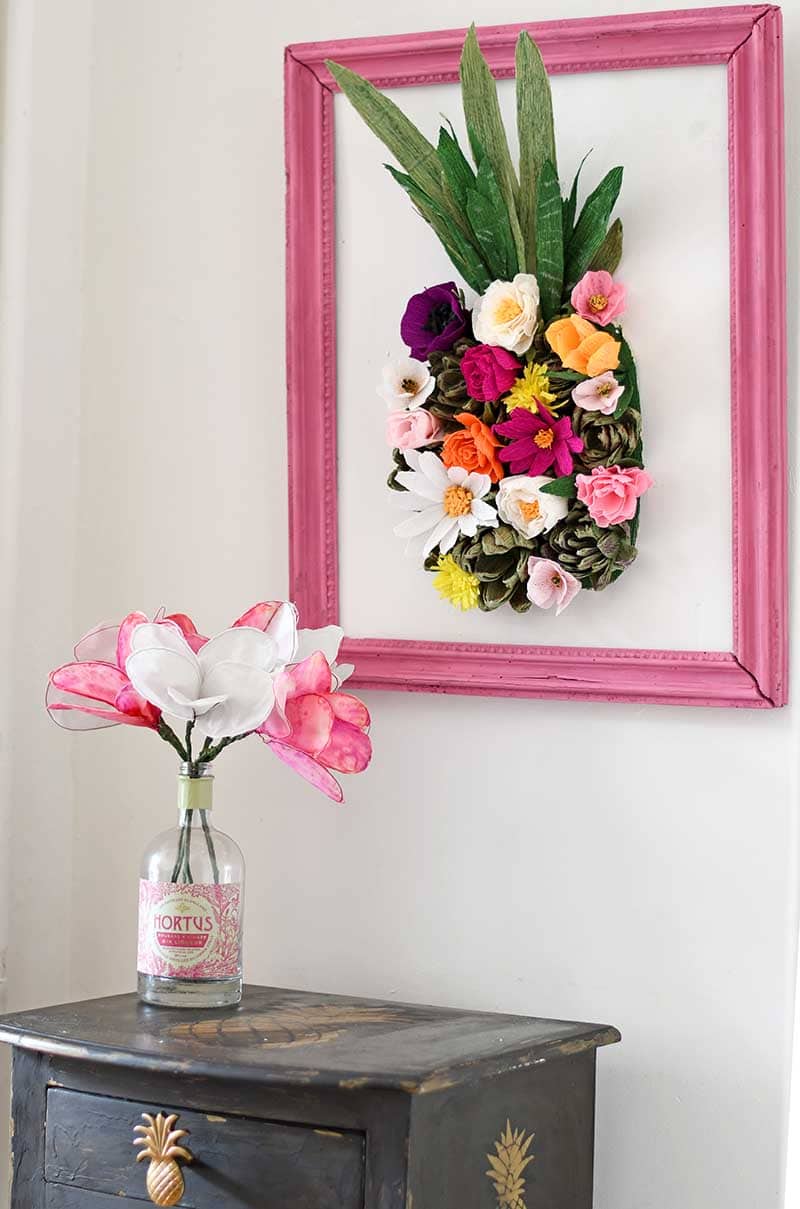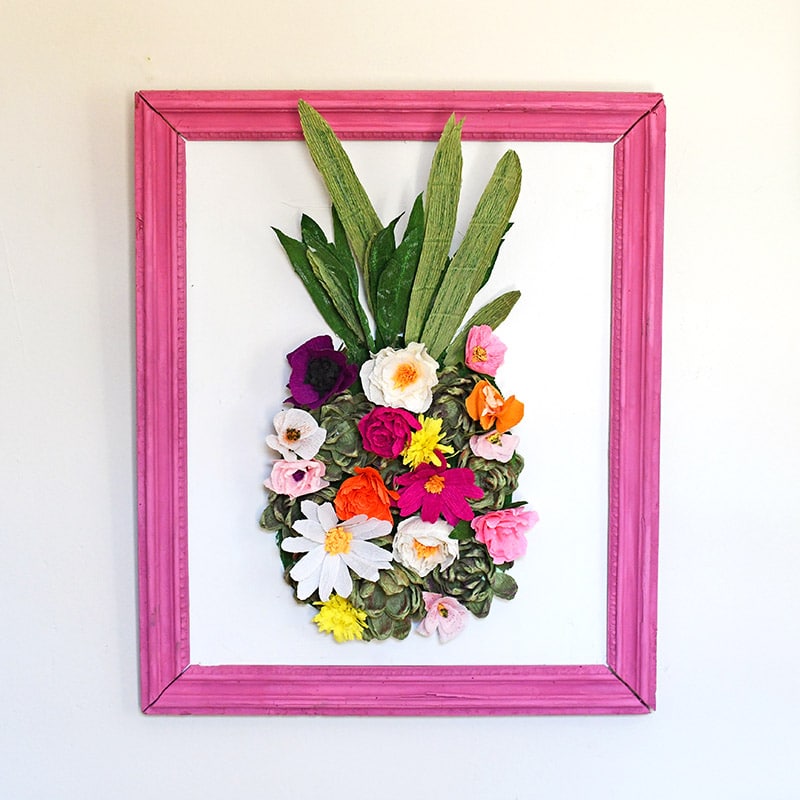 If you want more paper flower tutorials check out allfreepapercrafts.com.


If you love pineapple crafts you'll probrably love these.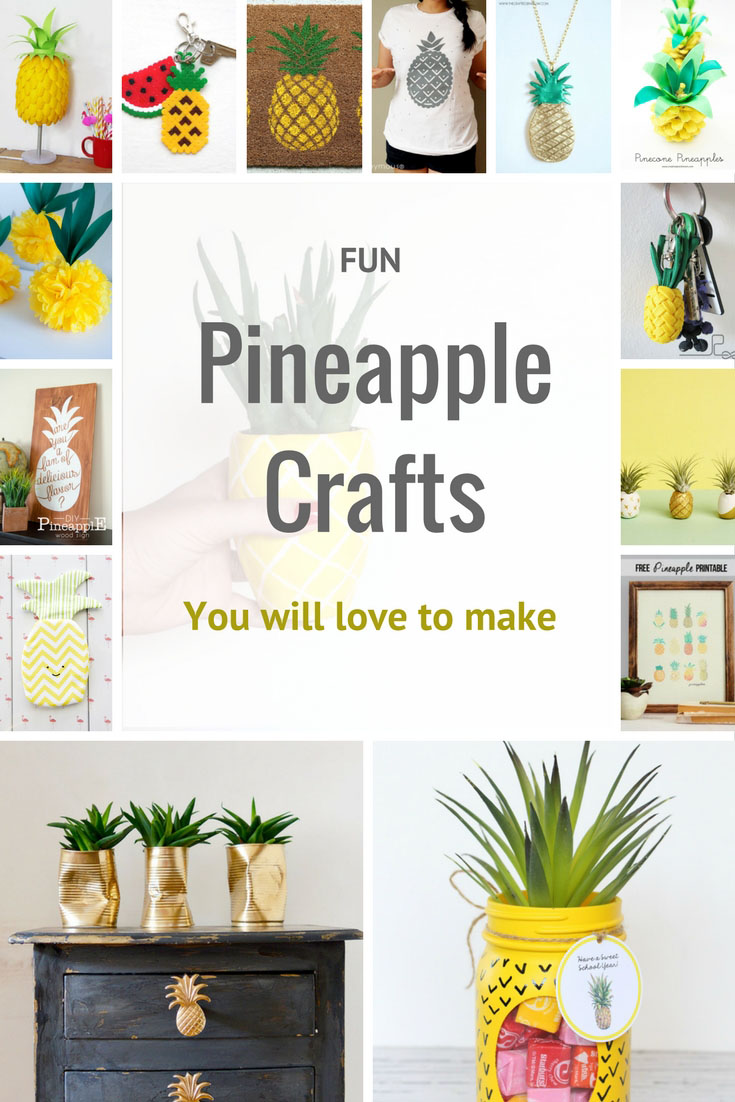 Or if your looking for other ways to craft fake succulents check out these.