It is easier than you think to paint a Christmas tree for your wall. Painting this extra-large tree took me less than 10 minutes, and I'm no artist!
Living in a narrow long Victorian terrace house, I'm a big fan of flat Christmas trees. I can still make my home look festive without compromising on space.
In the past, I've made them out of old branches and a wooden Christmas tree with knobs. Last year's flat Christmas tree was made from decorated wood slices. This year I thought I'd go for the flatest tree possible, a large painted tree.
I found a large frame in my craft shed that was perfect for this tree. But the Christmas tree could be painted on large paper or a drop sheet and hung on the wall.
I did a practice run of painting the tree on paper first. I couldn't believe how easy it was. You don't need any painting skills at all. Anyone could paint one of these Christmas trees, even the kids.
If you paint the Christmas tree large enough, you can decorate it with drawing pins and small baubles. I even stack my presents around the tree.
I have prepared a step-by-step tutorial and a video to show you how to paint a flat Christmas tree.
What You Need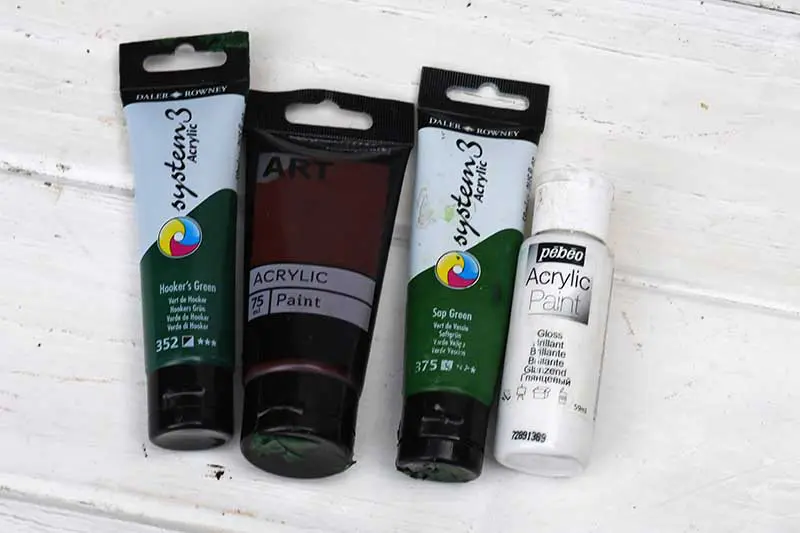 The trick to painting the large Christmas tree is in the brushes used. I used three completely different brushes, a large decorator's paintbrush (36 -50mm), a foam brush, and a small artist's paintbrush.
Christmas push pins for hanging ornaments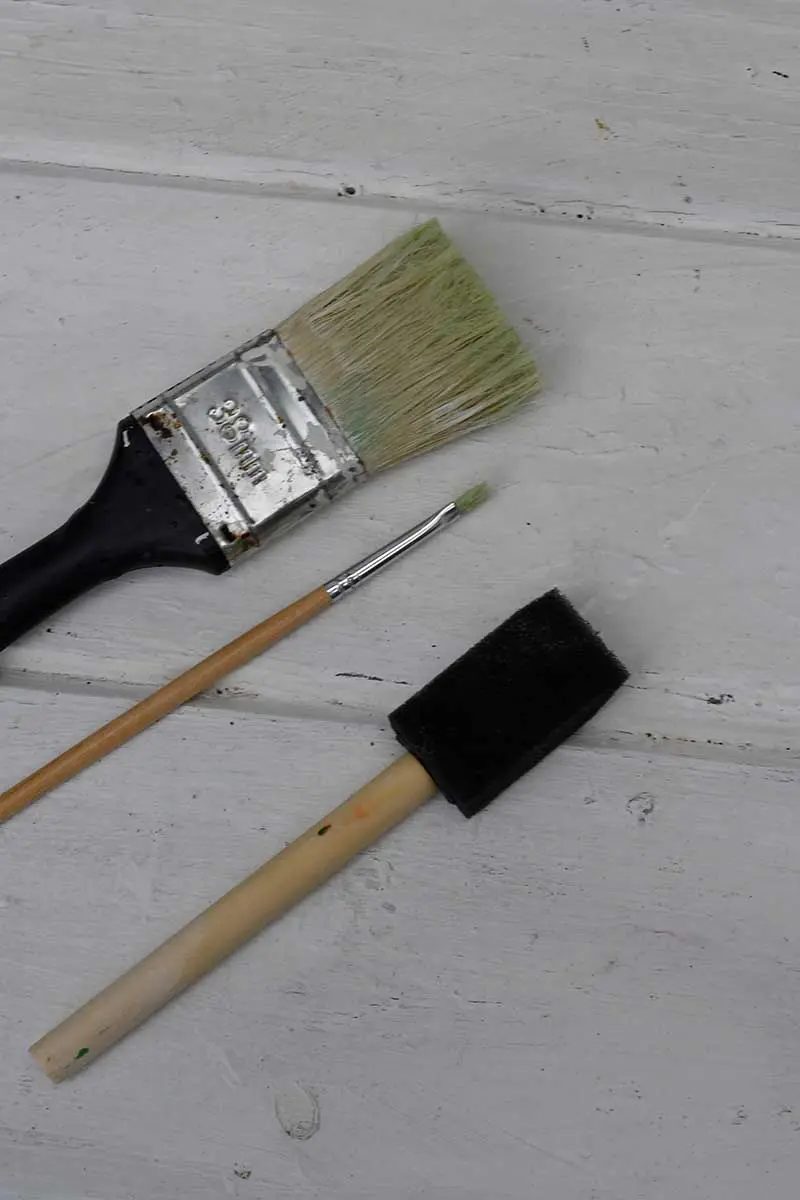 How To Paint A Christmas Tree
Step 1: First, prepare your background by painting it white. If painting on white paper, white canvas, or drop sheet, you can miss this stage.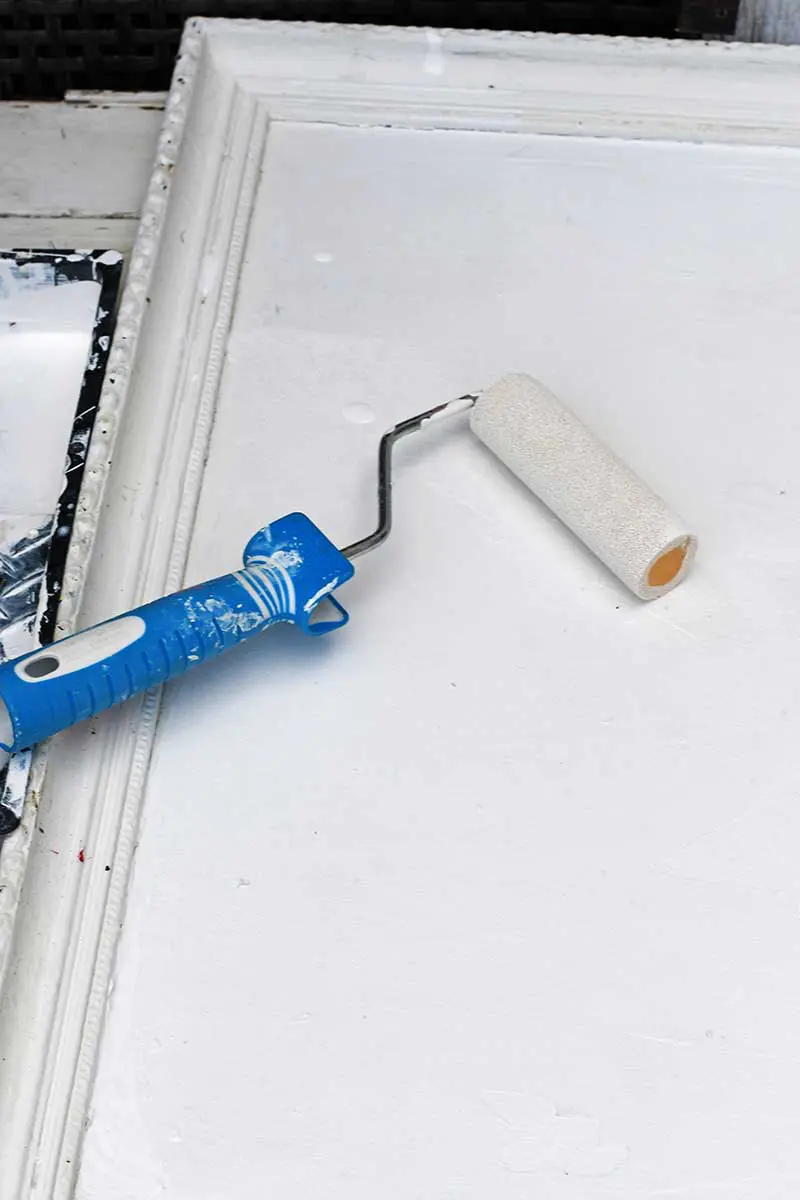 Step 2: Draw a bare Christmas tree shape in pencil on your canvas. First, draw a tall, thin triangle for the tree's trunk. Then draw a wide triangle for the whole body of the tree. These are to act as essential guides when painting.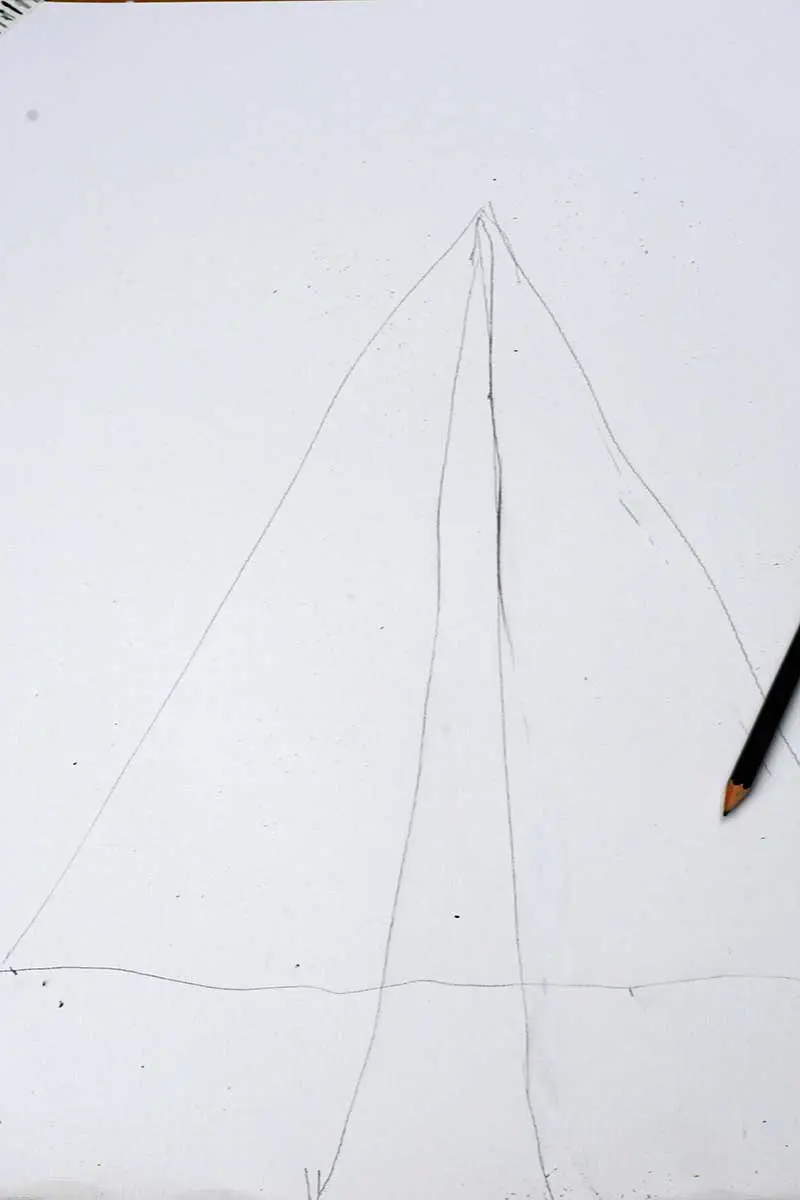 Step 3: Using the foam brush, paint the tree trunk brown.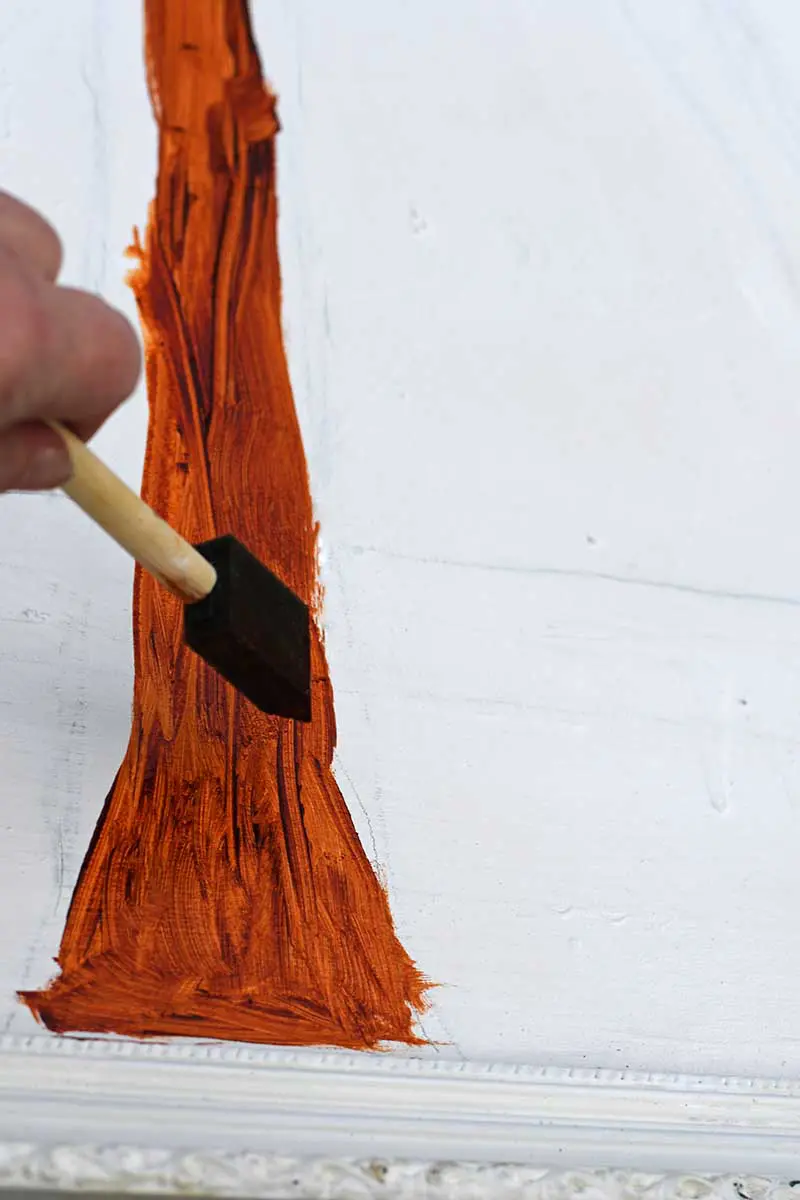 Step 4: Next, put the two green paints on the palate. Mix them slightly, but not too much. You want to ensure that when the brush is dipped into the paint, it will pick up different shades of green on the tip of the brush.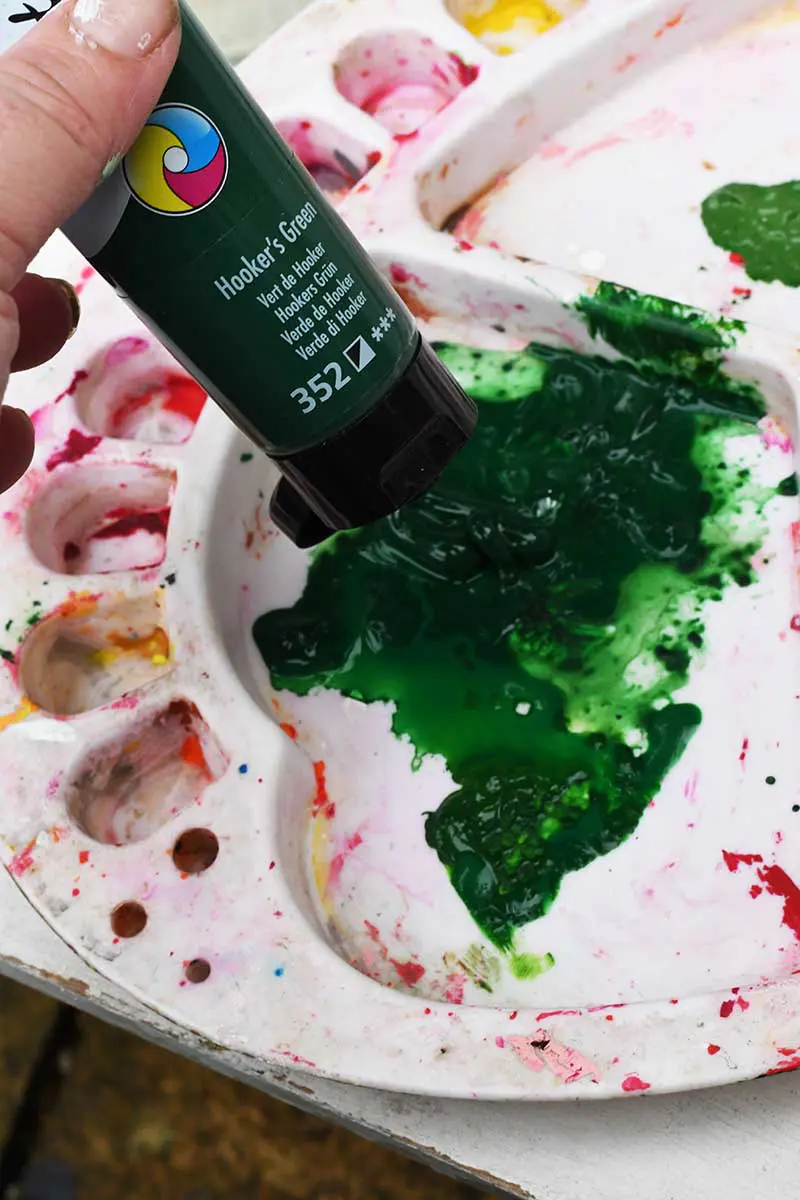 Step 5: Next, paint the leaves of the Christmas tree. Dip the large painter's brush into the green paint. You only want a bit of paint on the tip of the brush bristles. Then, paint the leaves using a dabbing motion rather than a brushing motion. Simple dab the end of the brush inside the pencil-drawn triangle.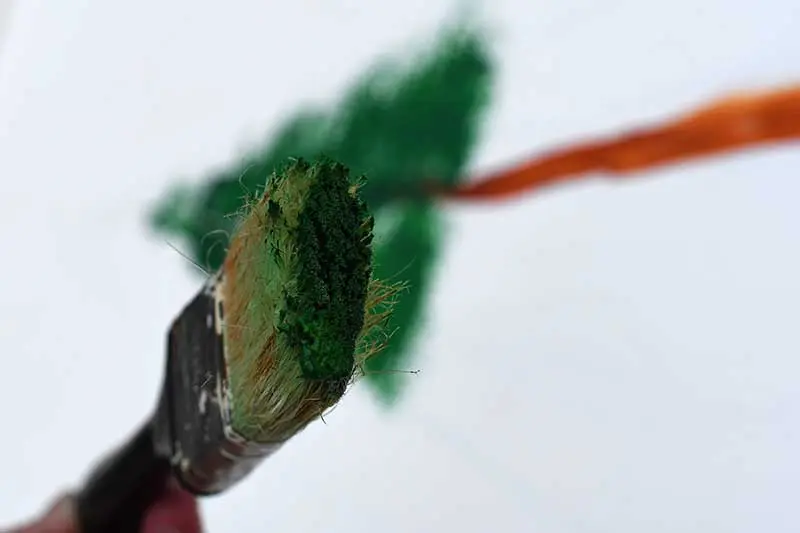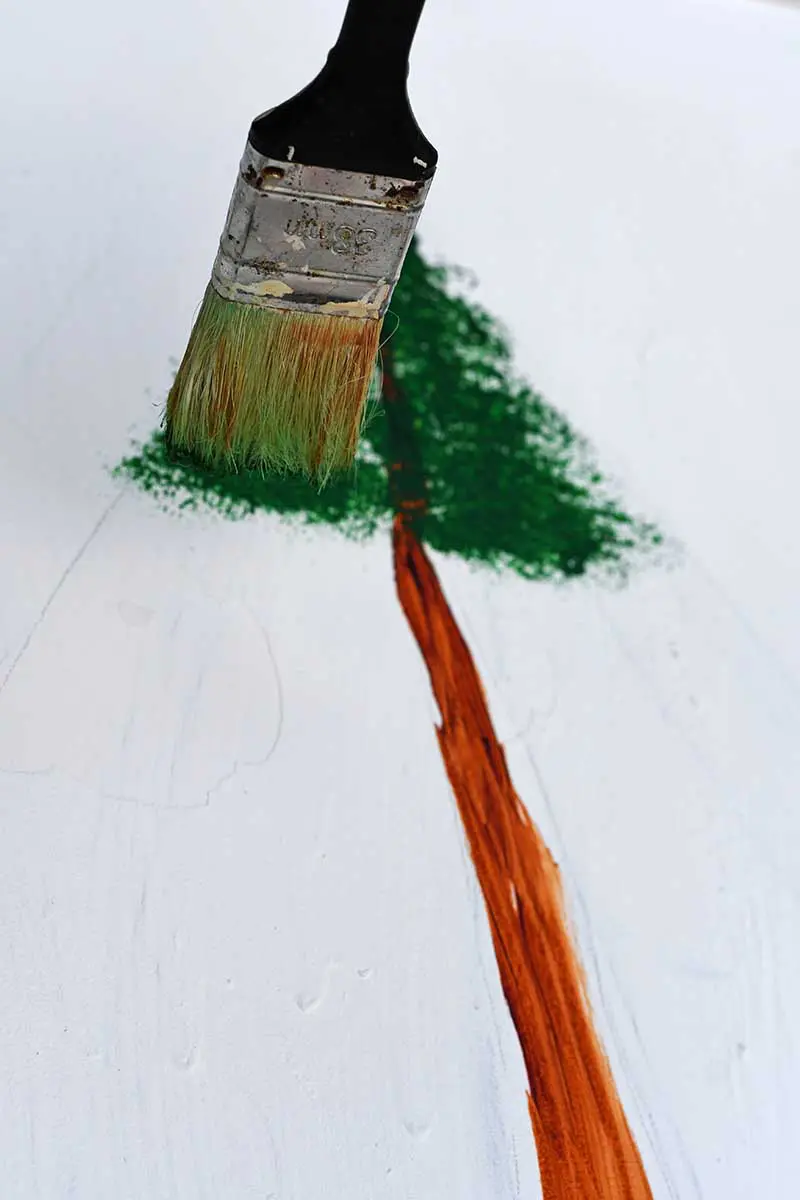 Step 6: Carry dipping the brush and painting the leaves onto the tree until the whole triangle is covered. Then take the small artist's paintbrush and dab white paint onto the tree. These white spots are to represent snow.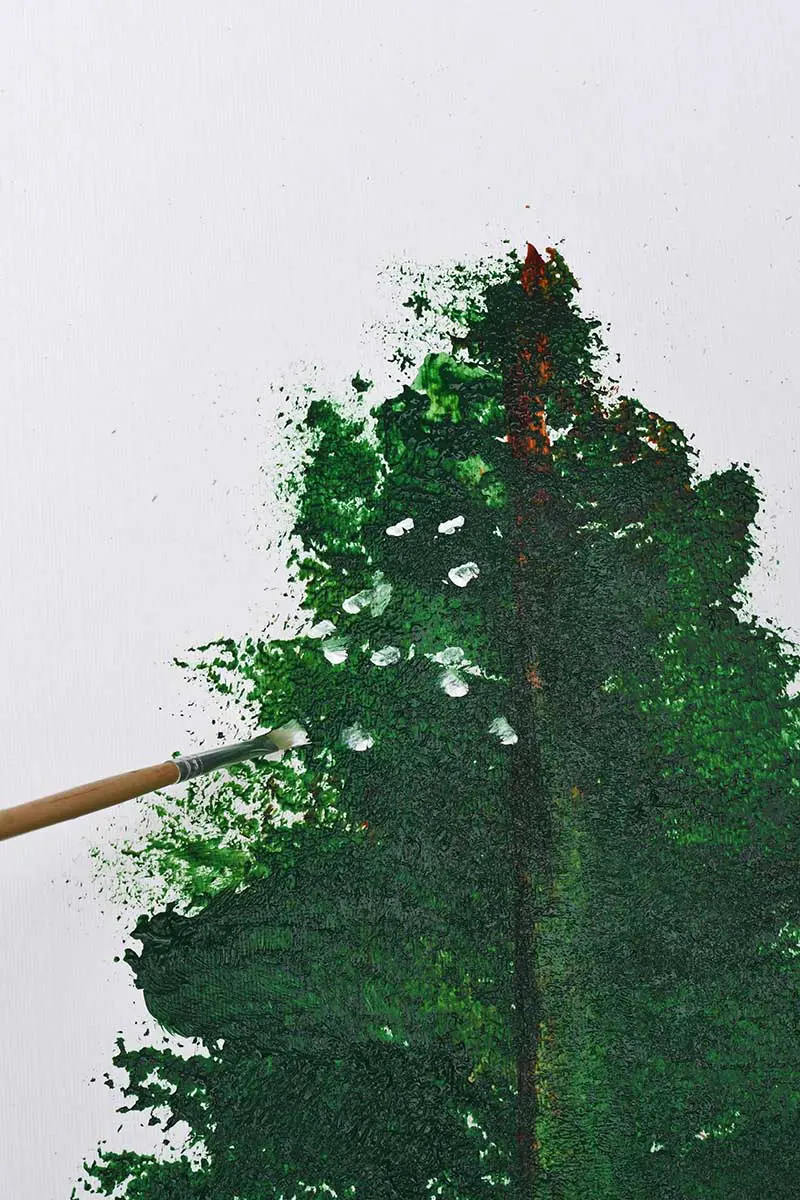 Step 7: Make a star for the top of the tree. Draw around a star-shaped cookie cutter, paint it yellow and cut it out. Stick the star to the top of the tree.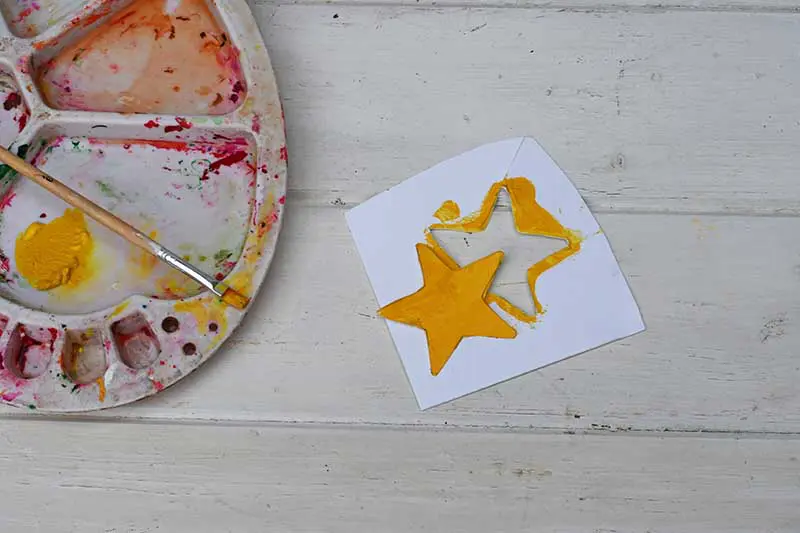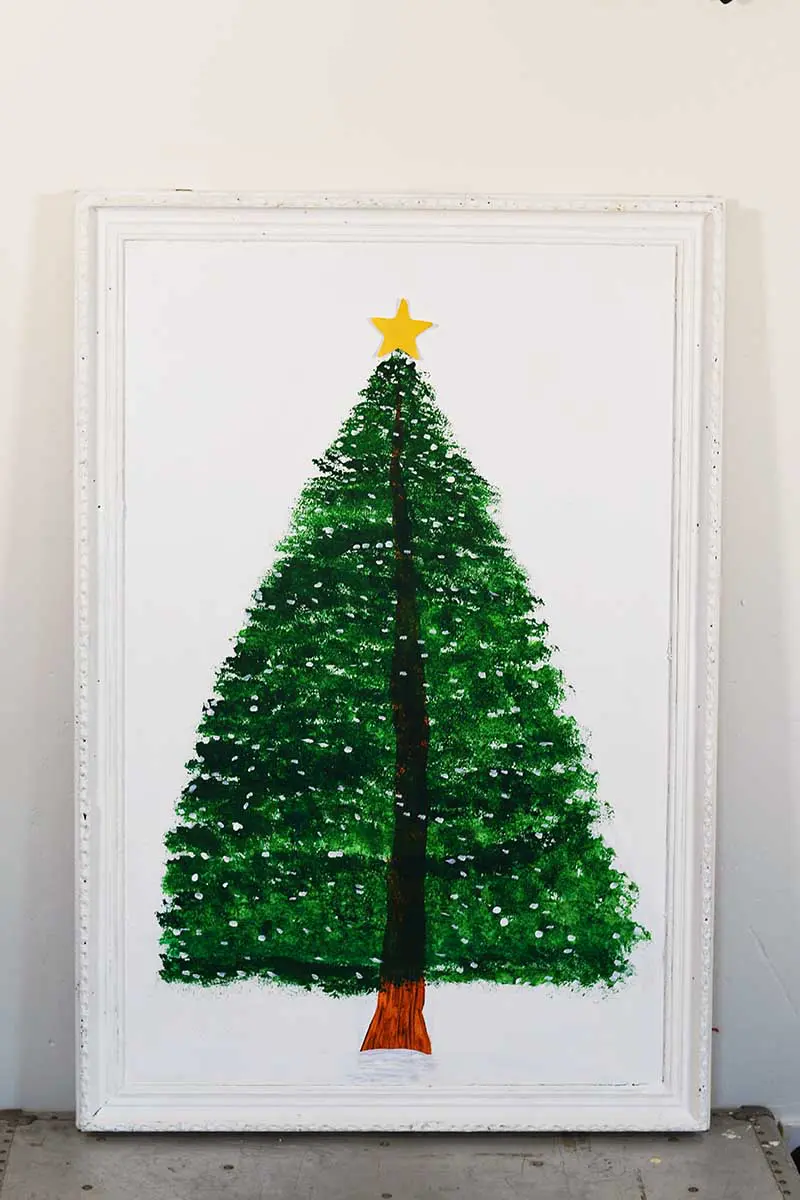 Step 8: If you painted this tree on a canvas or in a picture frame like mine, you could hang mini baubles from the tree using push pins.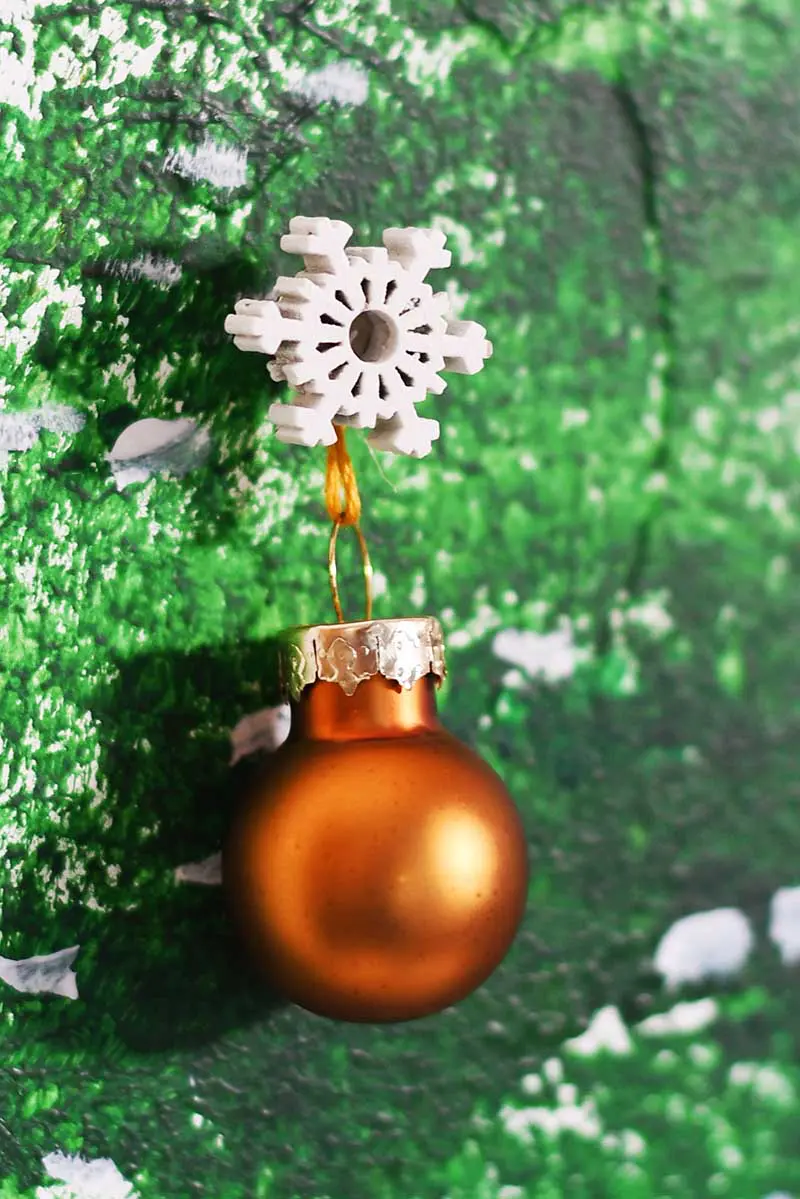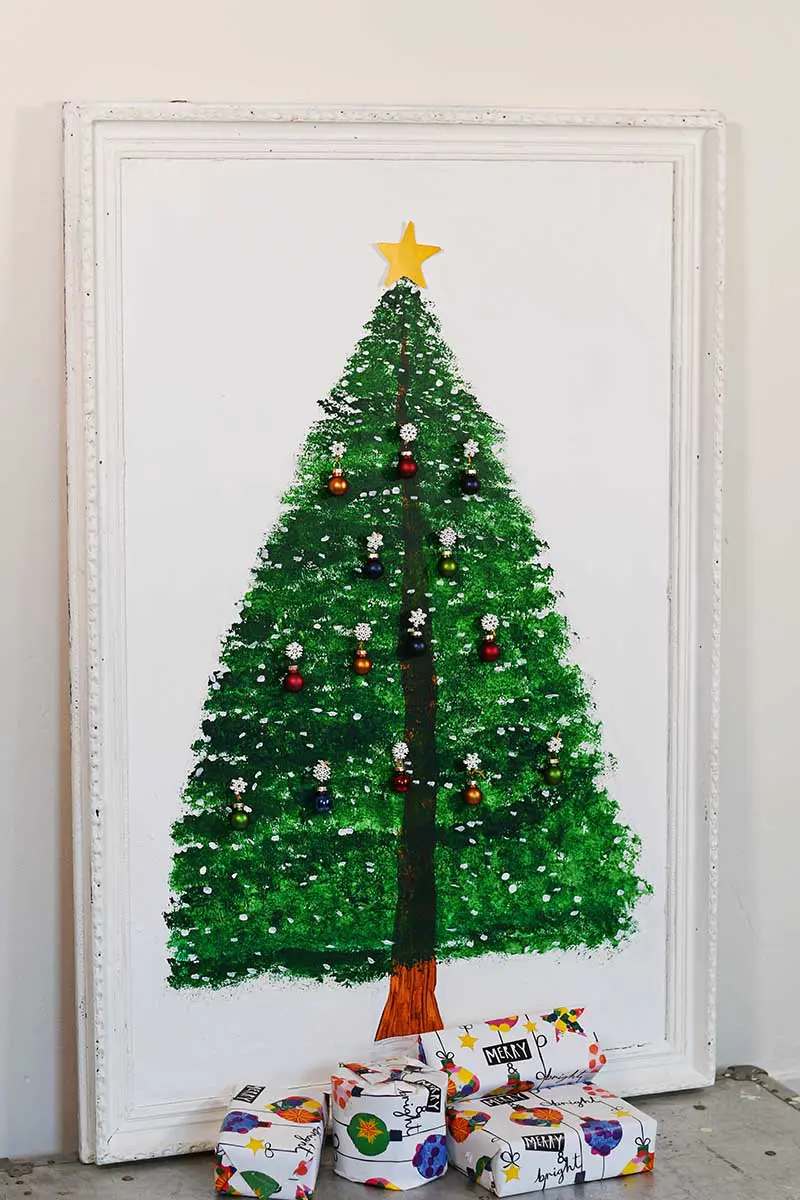 I have made a video of these painted Christmas tree tutorials to show how easy it is!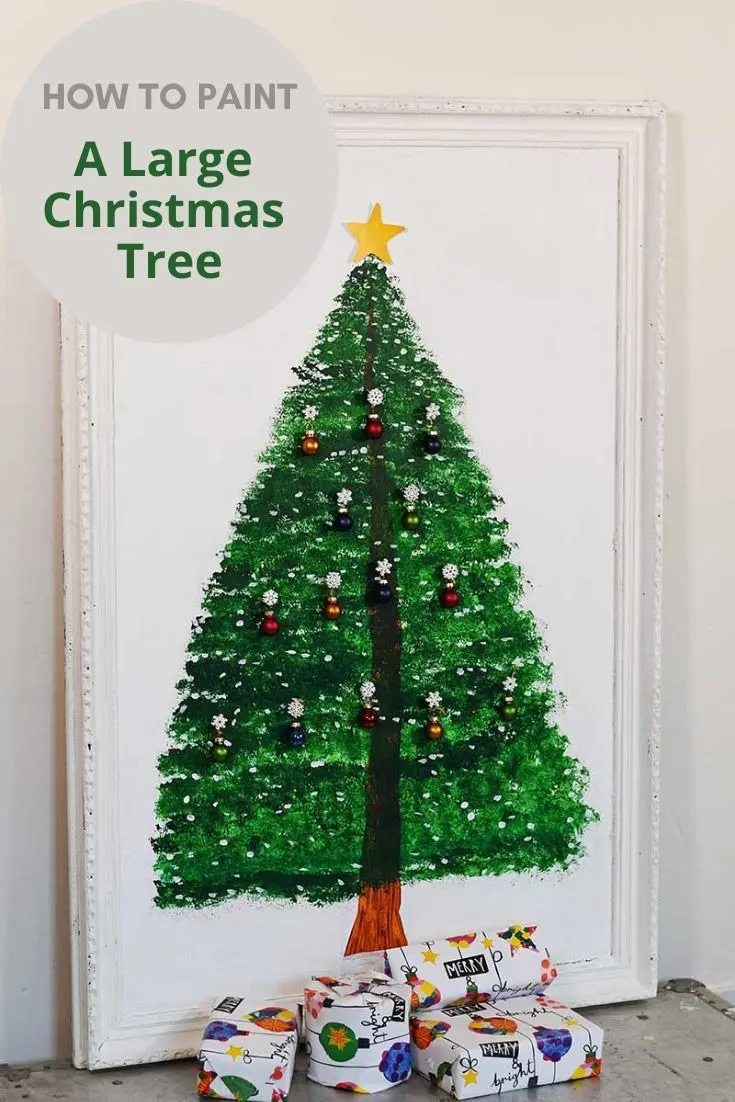 If you liked this painted Christmas tree, you might want to check out the tutorials on these tabletop trees and DIY cone Christmas trees.
I also have another painting tutorial on Pillarboxblue, showing you how to easily paint a giant pet portrait.