Dive into holiday crafting with DIY Cone Christmas Trees! Our guide includes a template for crafting and a bonus of 25 decorating ideas for tabletop trees.
Walk into my home in December. You will be hit with the beautiful smell of fresh pine from scented candles burning on the mantle. And you will probably find a mini forest in every room.
One of my favourite Christmas crafts is to make mini trees to decorate my table, mantle, sideboards and any other flat surface. You'll find tartan trees, embroidered Scandi felt trees, map Christmas trees and even broken China trees.
Mini Christmas trees are such a versatile and easy decoration to make. Most can be made from stuff you already have; no need for a trip to the craft store.
Yes, you can buy polystyrene or paper mache cone trees to decorate from the craft store, but it's just as easy to make your own from scrap cardboard, like from a cereal box or pizza base.
How To Make Cone Christmas Trees
Imagine a delightful forest of little trees adorning your tabletop, each bearing the unique stamp of your creativity. Whether you're a seasoned crafter or just dipping your toes into DIY, these cone Christmas trees are the perfect project.
Our handy template will be your guiding star, showing you how to craft the basic cone shape. But here's the real magic: once you've got your cone, the sky's the limit! You can decorate these beauties with fabrics, yarn, ornaments, glitter, or whatever your heart desires.
I'll show you how easy it is to make a cone Christmas tree and decorate it with a few scraps of fabric to make some beautiful fringed trees.
But wait, there's more! As a cherry on top, at the end of this post, I've compiled a list of 20 brilliant ideas for decorating your DIY Cone Christmas Trees. From rustic charm to glitzy glamour, there's something for every style.
Craft Supplies
Card stock circle about 12 inches in diameter – Cut one from the packaging using a plate as a template. Or use the cardboard base of a 12-inch frozen pizza.
Packing tape
Hot Glue gun
Scraps of fabric
Cotton reel spool or a stump from a branch about 1-2″ diameter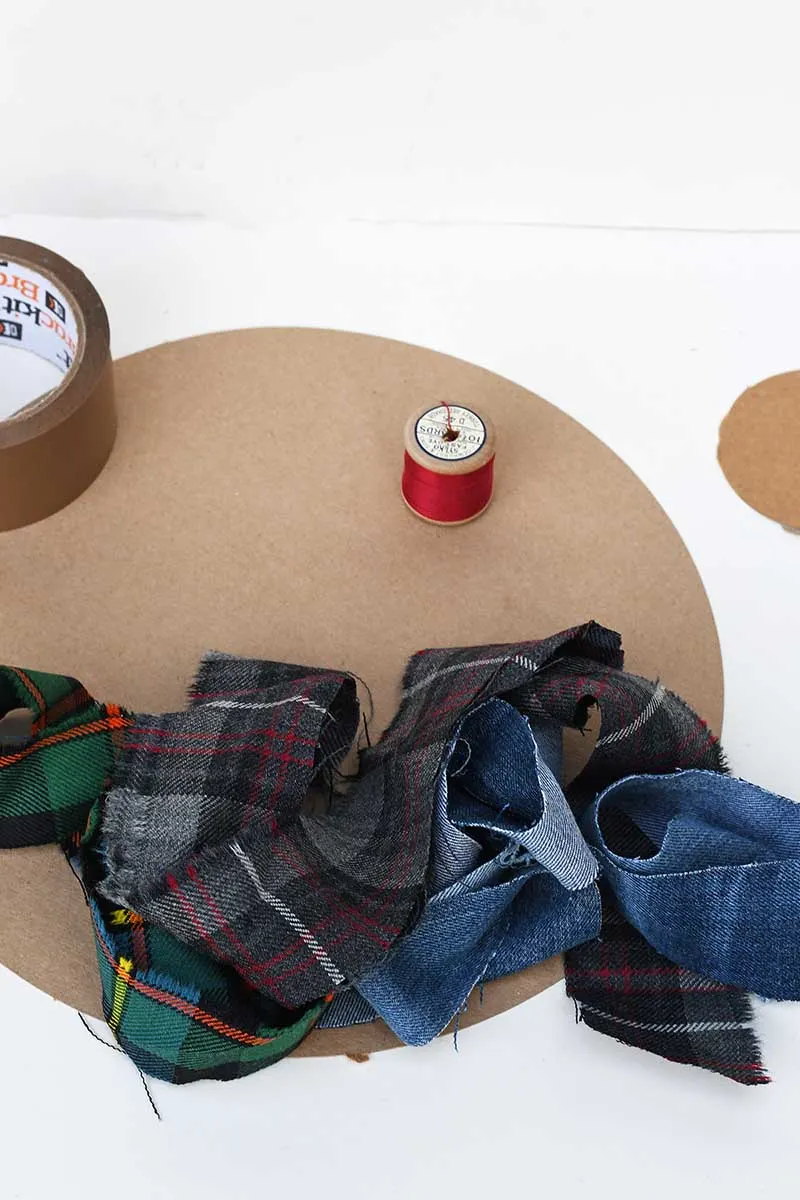 How To Make A Cardboard Cone
Step 1: You will need one large and one small cardboard circle. The large cardboard round should be about 12″ in diameter, and the smaller one 2 -3″. Use cardboard that is thin enough to bend easily.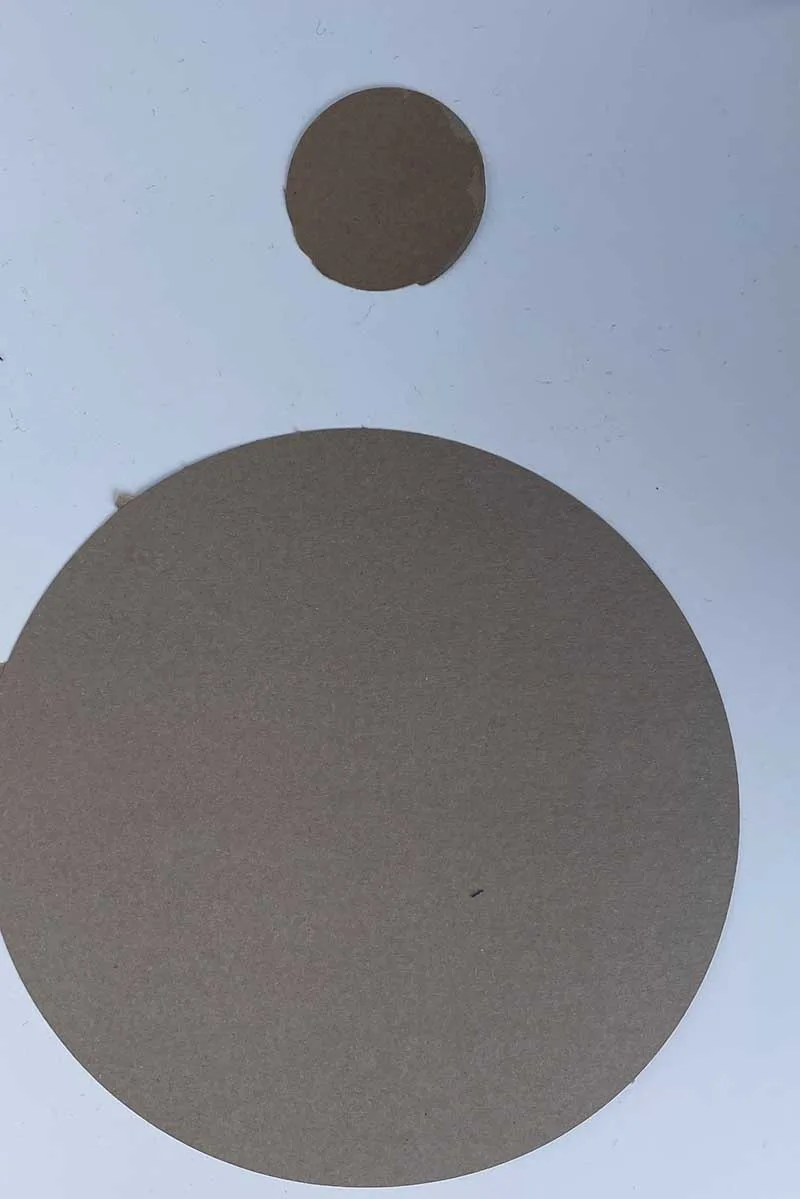 Step 2: Cut the larger cardboard round into quarters. You will only need one per cone Christmas tree. So you can make four out of one cardboard round.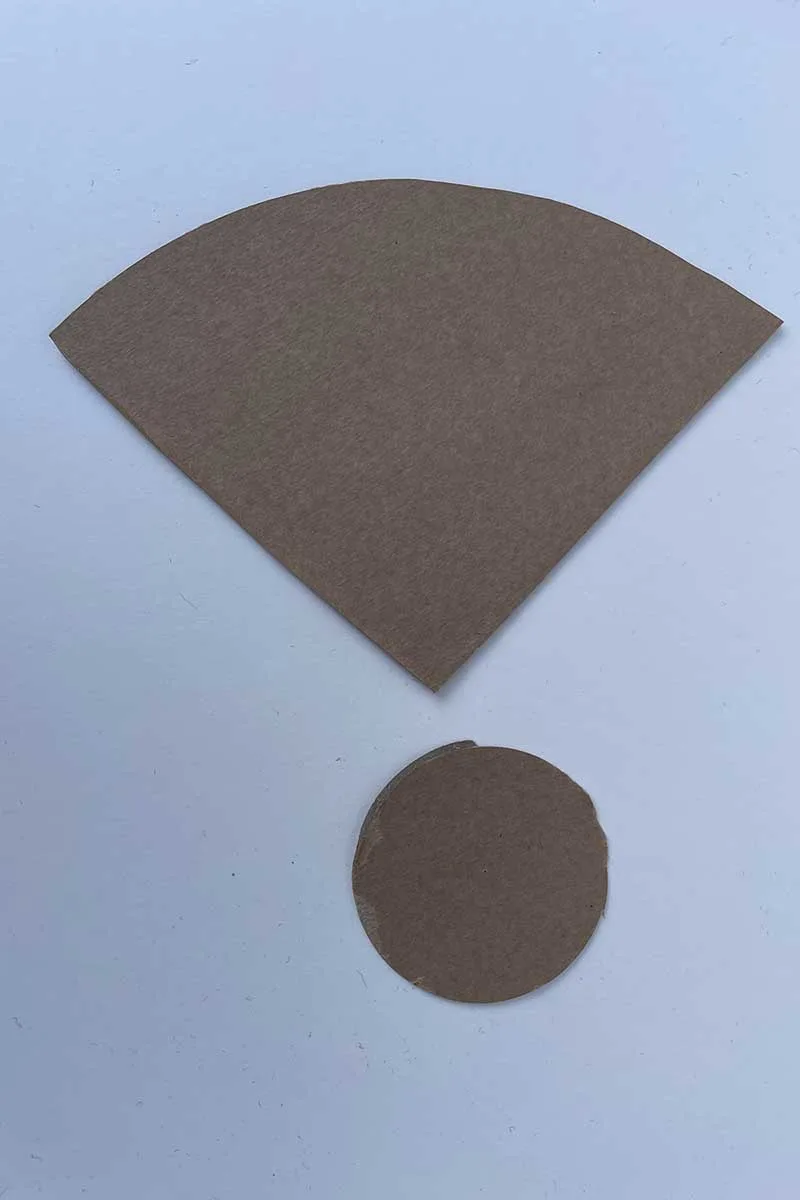 Step 3: Roll the cardboard quarter into a cone shape and secure it with packaging tape. It doesn't matter that the tape is on show, as you will cover it when decorating the cone. At the same time, make sure the smaller cardboard circle fits in the bottom of the cone (cut to size if needed).
If you want no tape to show, use a strip of hot glue instead, but I find this trickier as you have to hold the shape of the cone while the glue dries.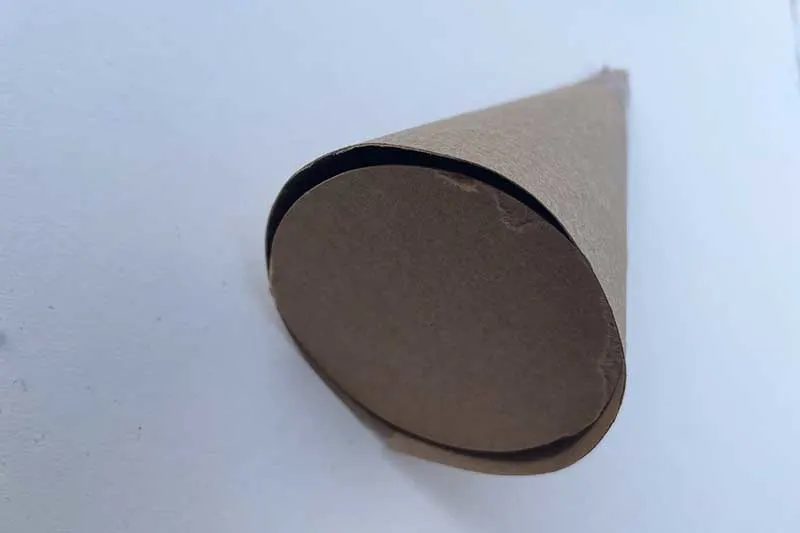 Step 4: Secure the base of the cardboard cone with more brown packaging tape.
You can also use a paper plate to make paper Christmas trees.
Making Scrap Fabric Cone Christmas Trees
I raided my sewing box and grabbed some fabric scraps to decorate this year's cone Christmas trees. You want long, thin pieces of woven fabric, such as tartan and denim, about 1-2″ wide.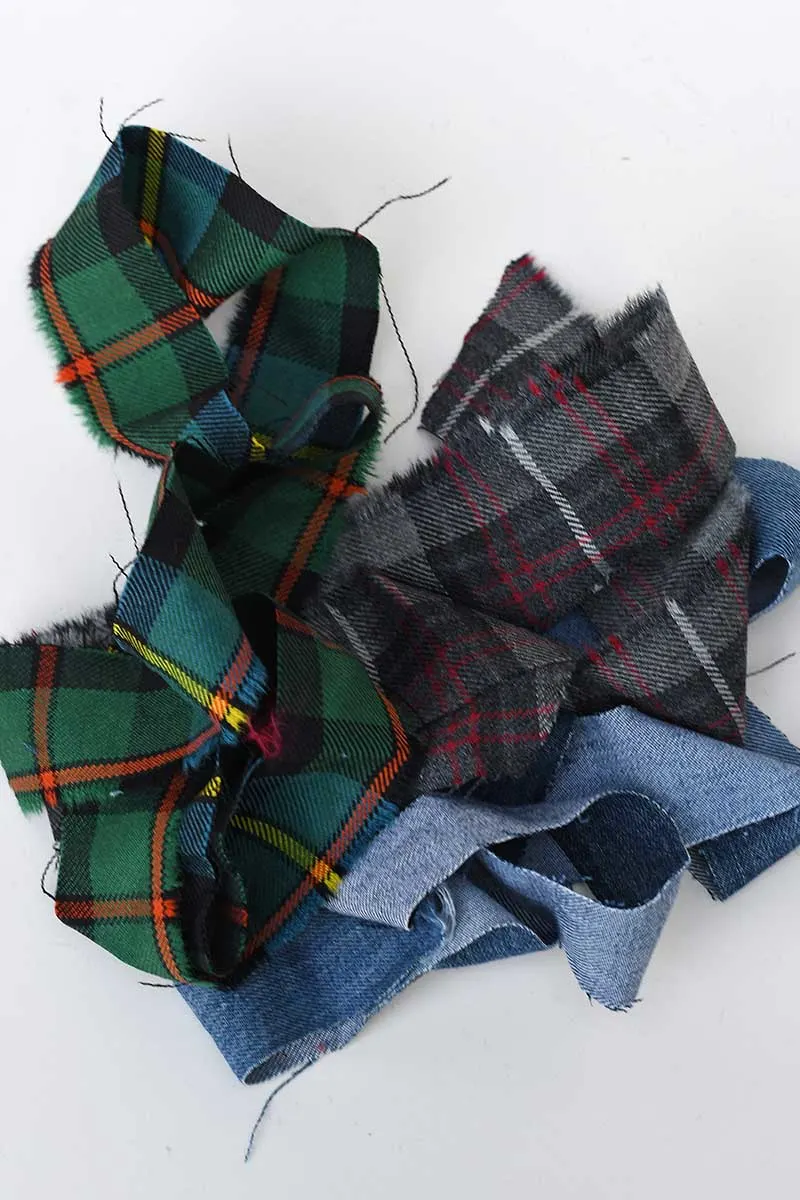 Step 5: First, fray one edge of the fabric by pulling out the threads. Like I did make these fabric feathers.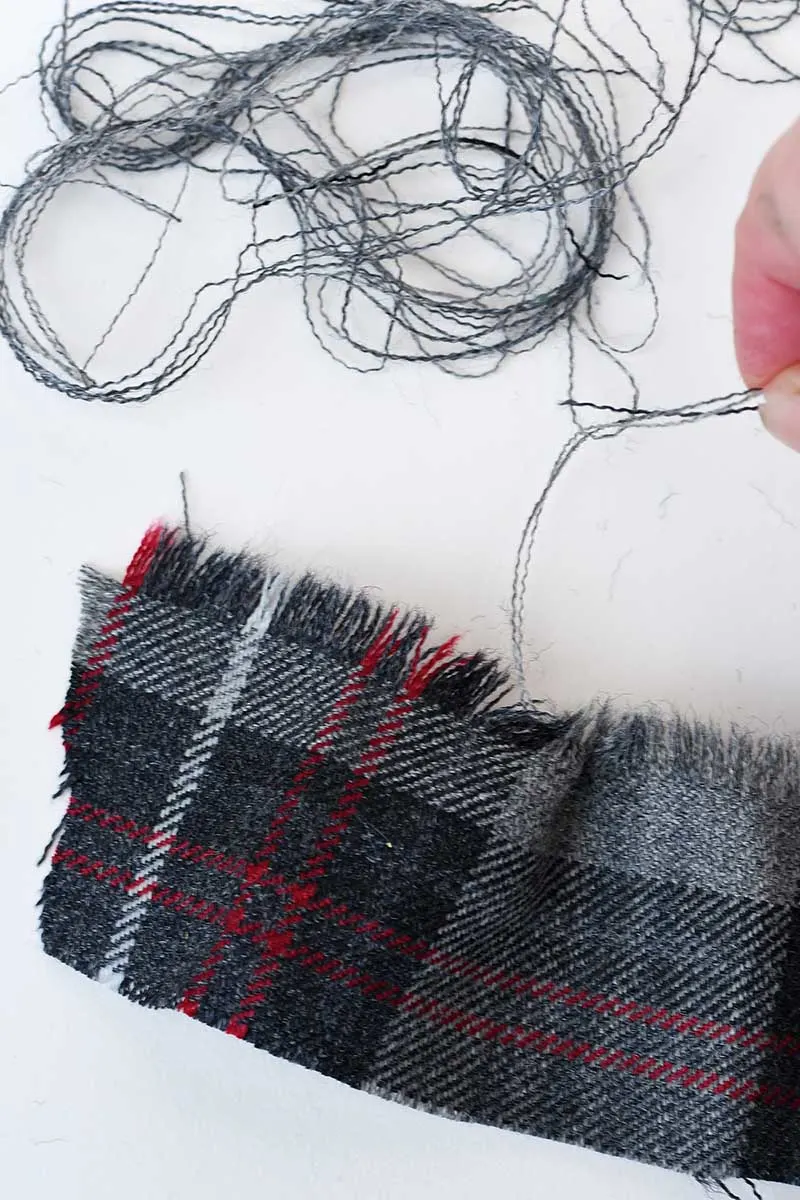 With denim, the colour of the fringe (white or blue) will depend on which way you fray it. I wanted my denim scraps to have a white edge like snow, so I plucked out the blue threads.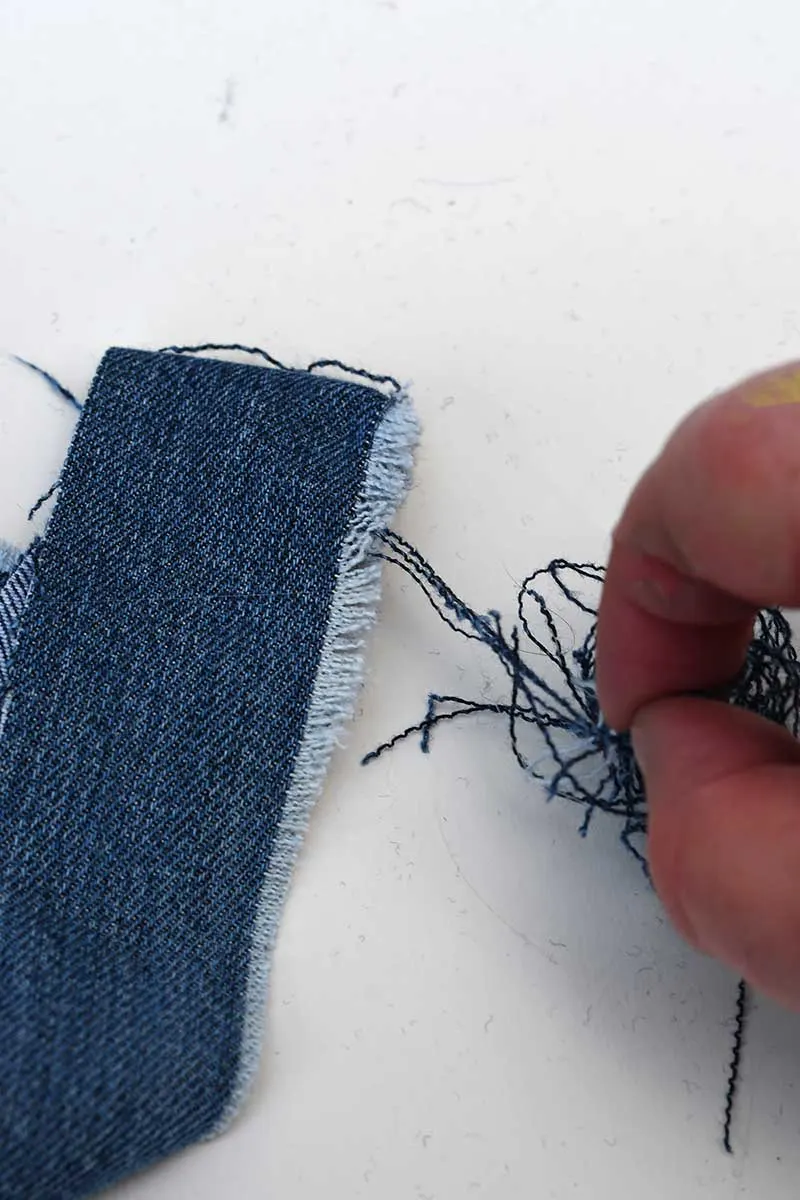 Step 6: Carry on fringing the scrap fabric until you have a piece about 24″ (60cm) long with at least 1/2 cm fringe. It doesn't have to be one continuous length of fabric; two shorter pieces can be used.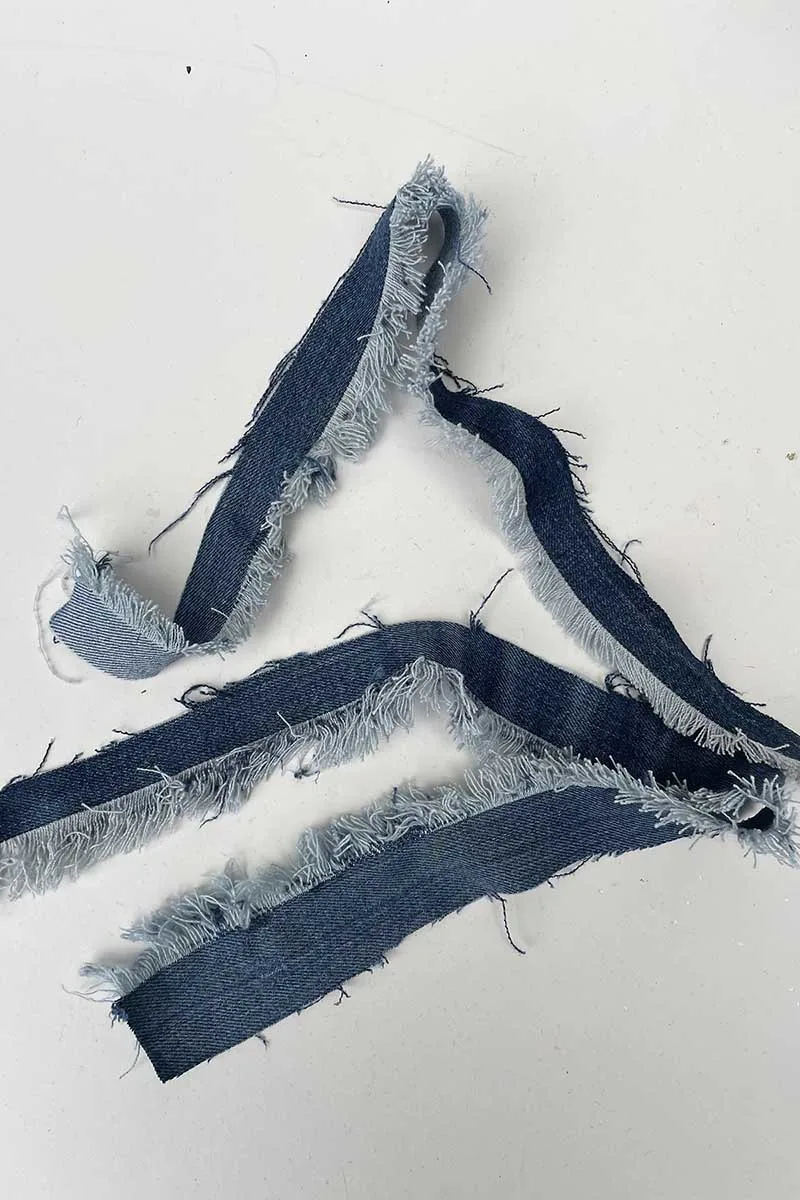 Step 7: Starting from the bottom and working your way up, glue the fringe around the cardboard cone. I found that a hot glue gun worked better than Mod Podge with this.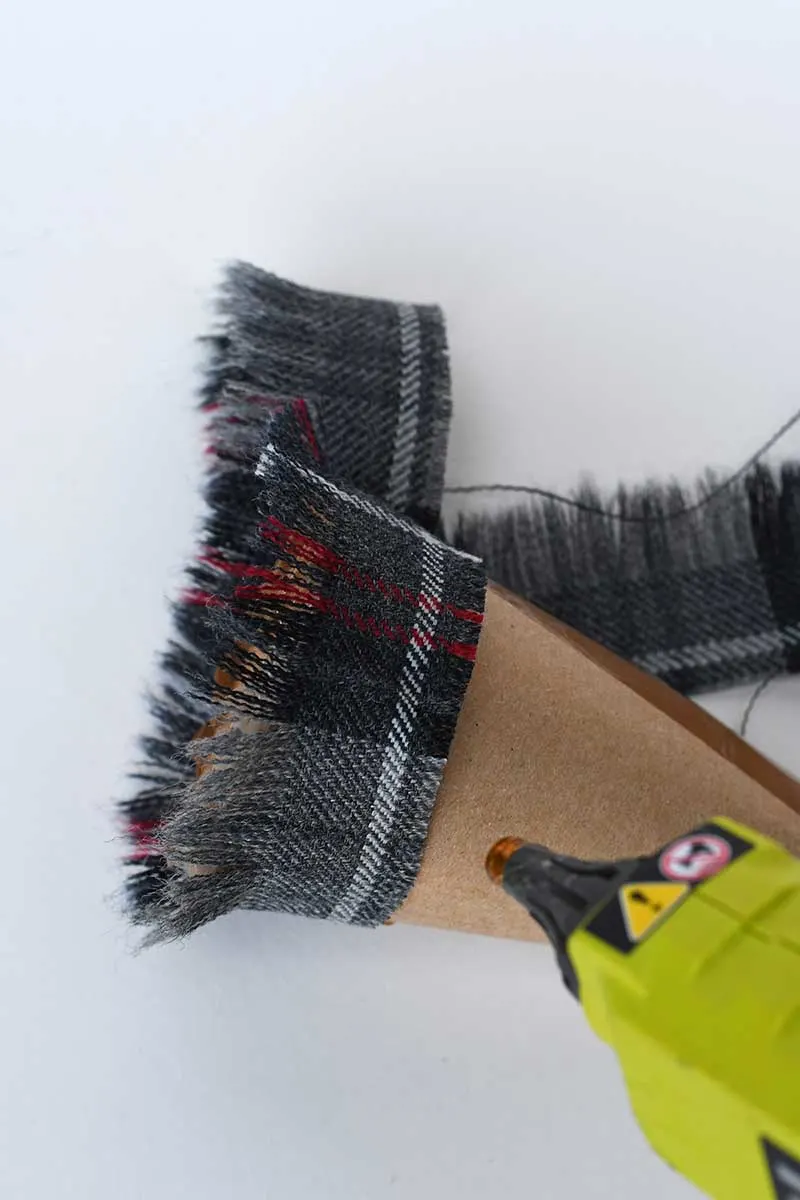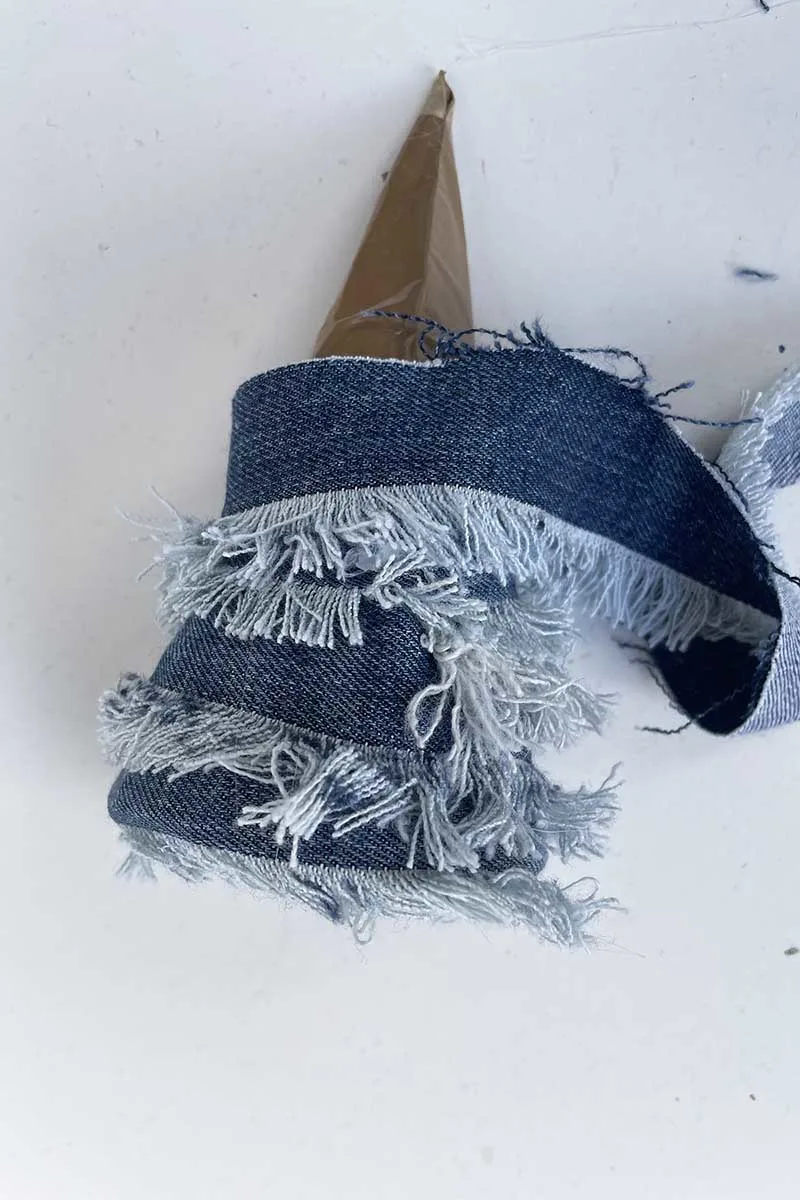 Step 8: When you have reached the top of the cone, cut away any excess fabric. Then, glue a cotton reel spool or branch stump to the base of the cone to make a stand for the trees.
This is optional; some people like to make DIY cone Christmas trees without trunks.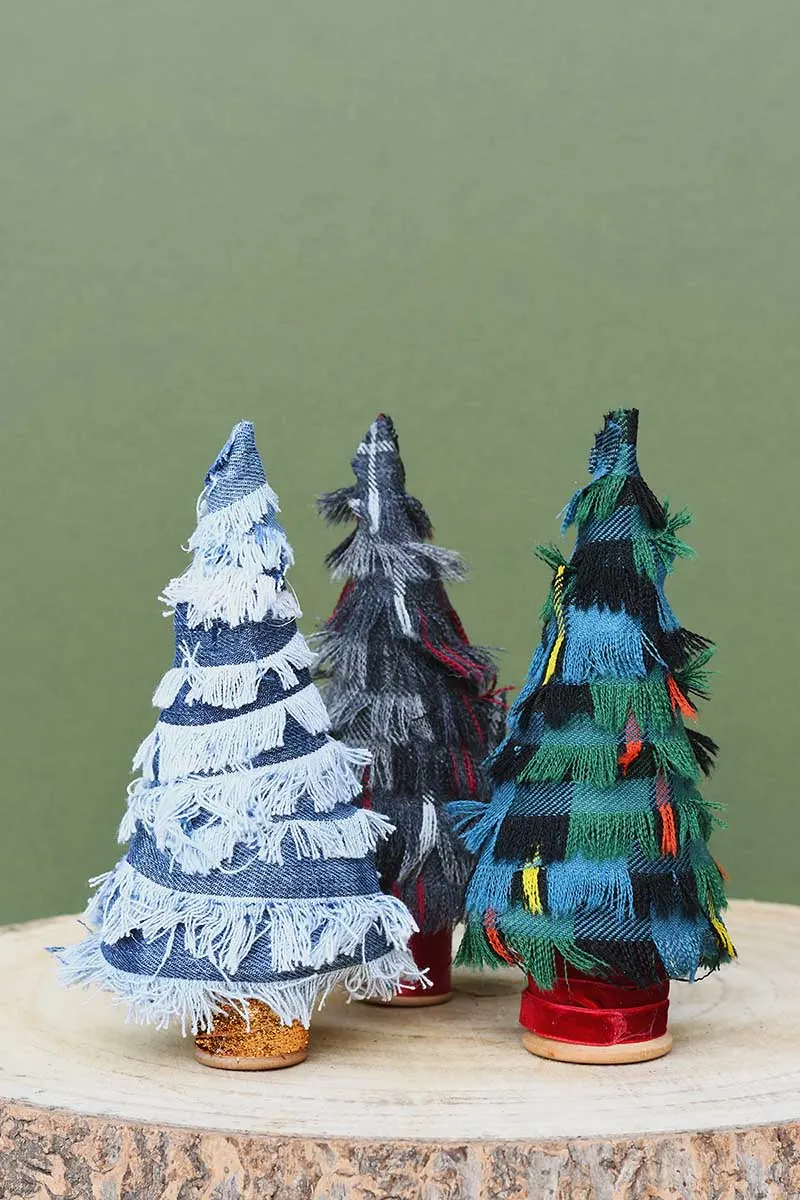 Step 9: Glue a wooden star to the top to make the mini Christmas tree decorations more festive.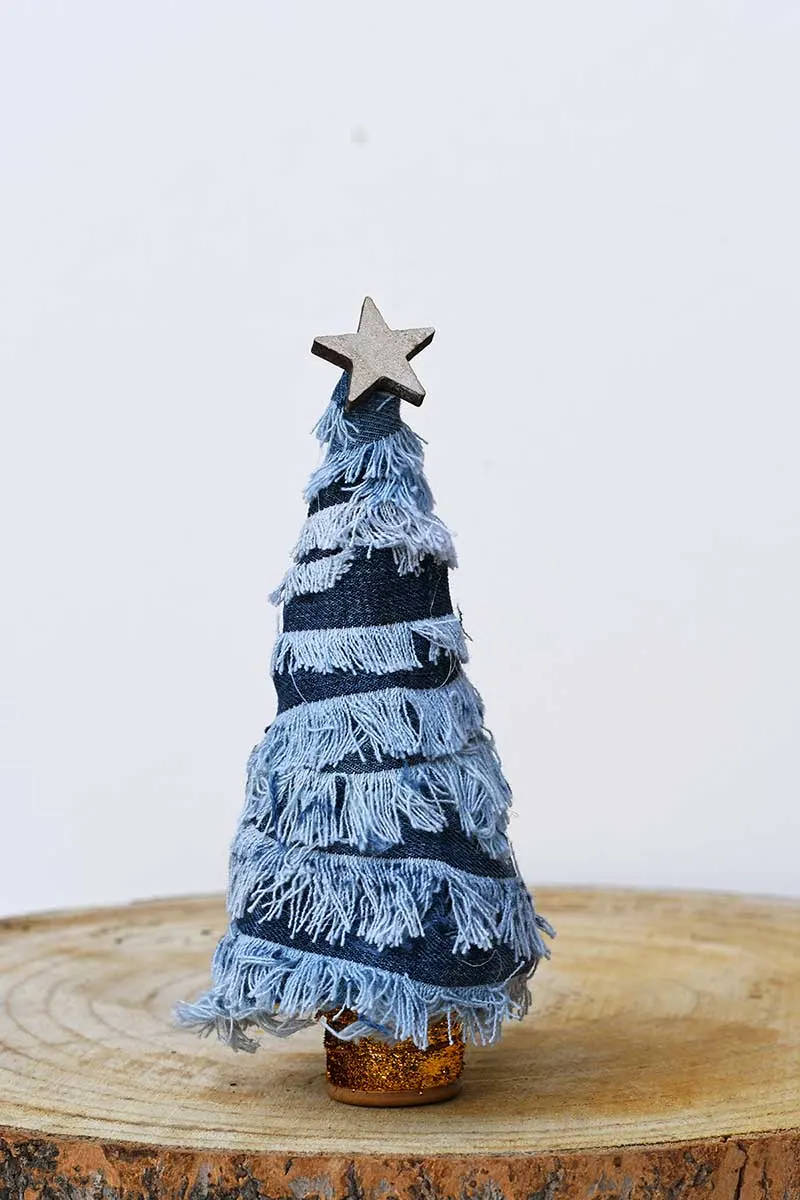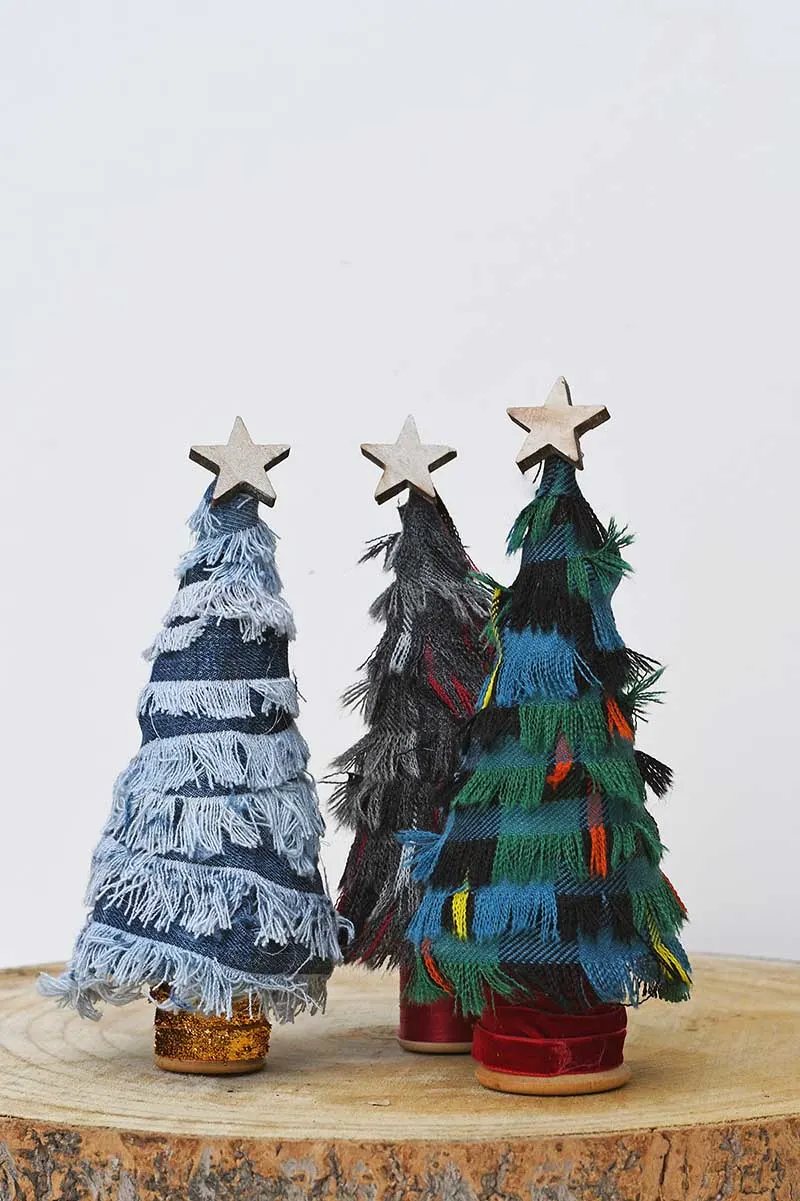 Pin this project for later!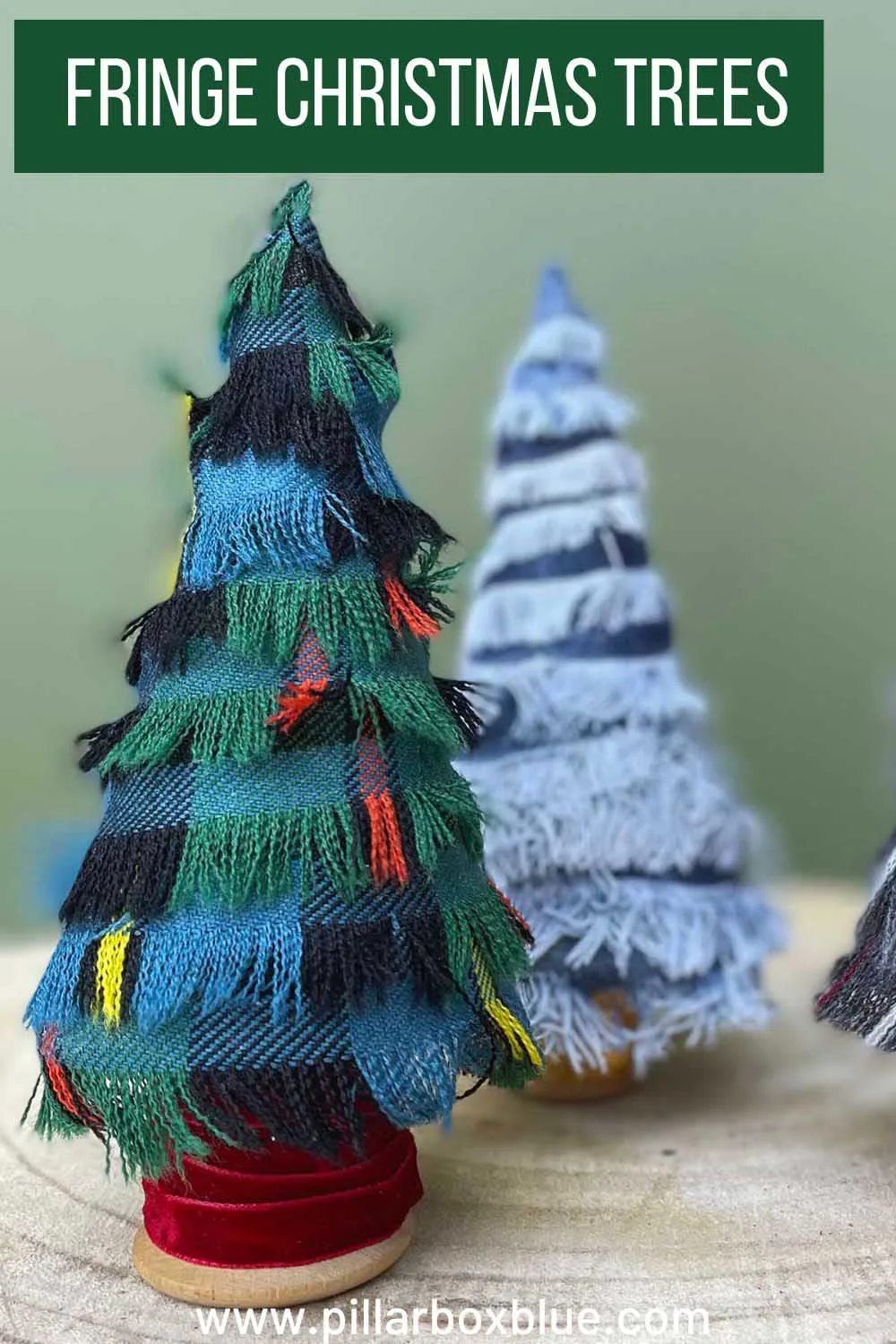 20 of the Best Cone Christmas Tree Ideas
One of the simplest Christmas decorations is to make a cardboard cone Christmas tree and then decorate it. Or you can buy ready-made paper mache cones and foam cones for decorating. Use everything from ribbon and fabric to pom poms and lace. These are the best ideas for decorating DIY cone Christmas trees.
There are many more cardboard Christmas crafts you can make. You might also want to check out these larger alternative upcycled Christmas tree ideas. Or paint a giant Christmas tree to hang on your walls.
You might also want to check out these Christmas Botanicals, which include a beautiful vintage print of a Nordmann Fir tree (a classic Christmas tree species).
You'll find many adult Christmas crafts and tartan craft ideas here.