I was very excited when Ryobi gifted me with a cordless rotary tool as I genuinely thought of buying one. The tool hasn't disappointed me, and I used to upcycle China plates into mini trees.
This handy rotary tool is great for hobby crafts. There are so many things you can do with it, from drilling, sawing, grinding, engraving and polishing, etc.
What I was interested in was using the tool to cut and grind ceramics with. I love to upcycle china plates, and in the past, I have made a stunning wall planter with them.
This time though I wanted to cut the China plates into a specific shape for a fun Christmas decoration. The Ryobi rotary tool certainly delivered with this upcycle; it was surprisingly easy to cut and upcycle china plates.
I used the cut china plate shapes to make some mini Christmas trees. The china plates weren't the only thing I upcycled for this decoration; I also used some old cotton reels and fabric scraps.
#gifted: Even though Ryobi gifted me the tool I was under no obligation to post about it. The craft is my own creation, and Ryobi had no control over the content.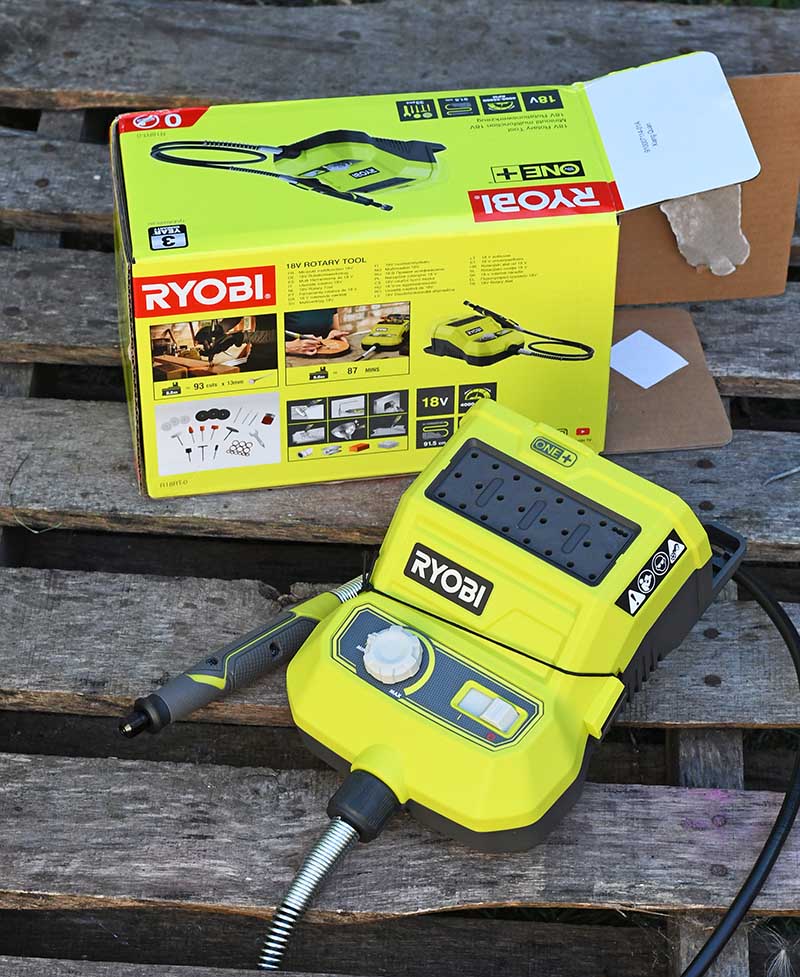 We're a participant in the Amazon Services LLC Associates Program, an affiliate advertising program designed to provide a means for us to earn fees by linking to Amazon.com and affiliated sites. As an Amazon Associate, I earn from qualifying purchases.
What You Need To Upcycle China Plates
Old China Plate – Thin porcelain plates work best.
Fabric Scraps
Glue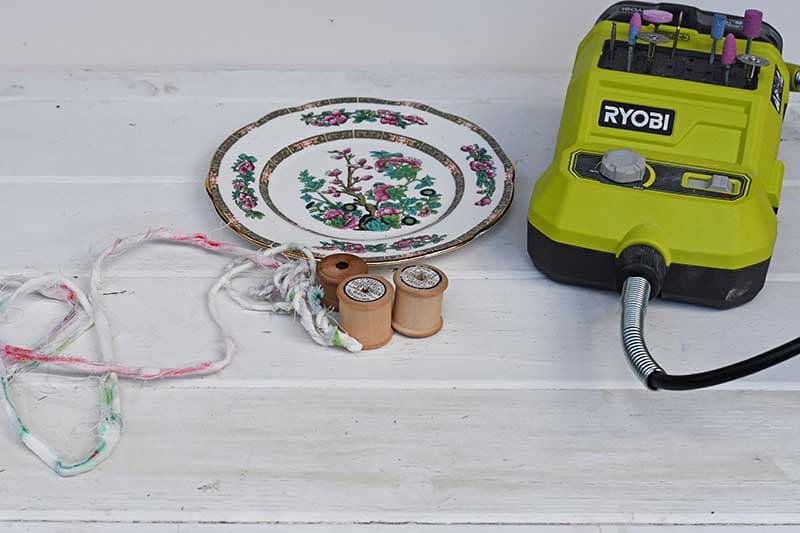 How To Upcycle China Plates Into Trees
Step 1: Turn the China plate over and draw on it a simple triangle tree shape with a sharpie. This will be the guide to use for cutting. Next, attach a diamond cutting disc to the end of the Ryobi rotary tool.
Please make sure that you wear safety glasses when using the Rotary tool. Tiny bits of ceramic will fly off when working with the China plate, and you don't want to get any of those in your eyes!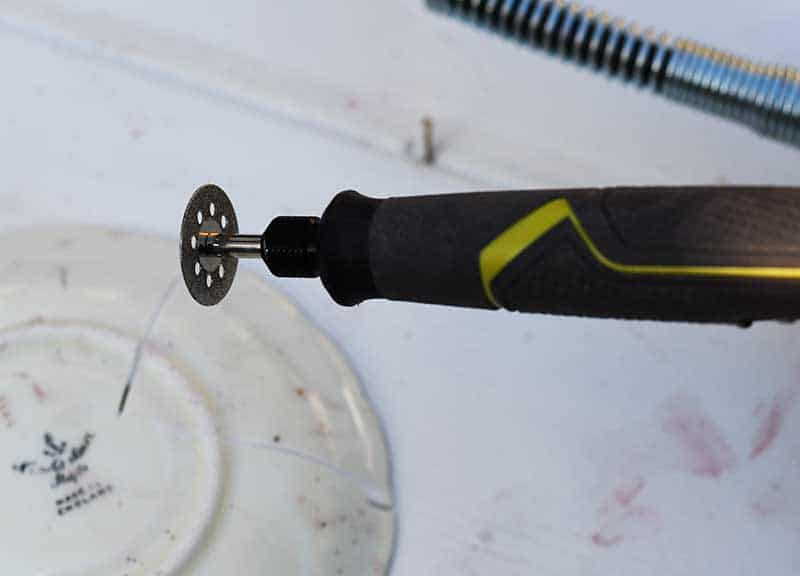 Step 2: Next, using the pen marks as a guide with the rotary tool, saw the triangle from the plate. You will be surprised how easily the rotary tool will cut through the China plates to be upcycled. It is really easy to handle too.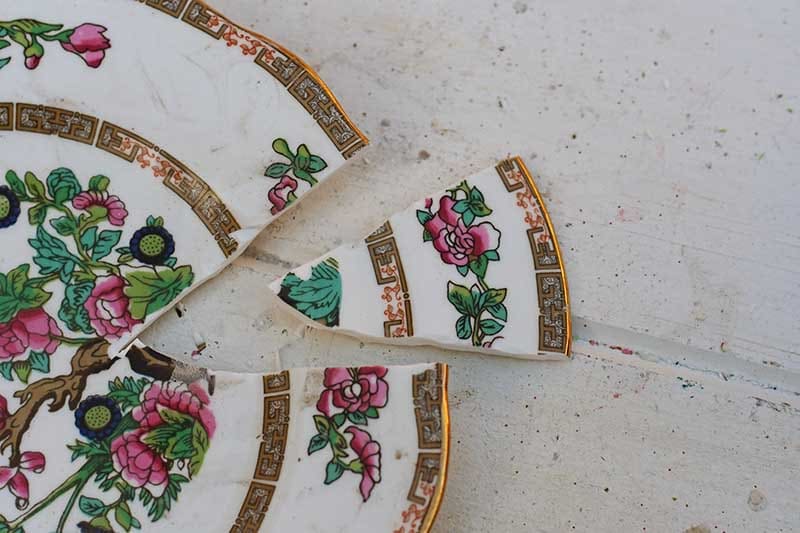 Step 3: The cut piece of China will be sharp and needs to be smoothed. To do this, simply change the attachment on the end of the Ryobi rotary tool from a cutting disc to a grinding wheel.
Then smooth off all the cut edges of the plate by running the grinding tool over the edges.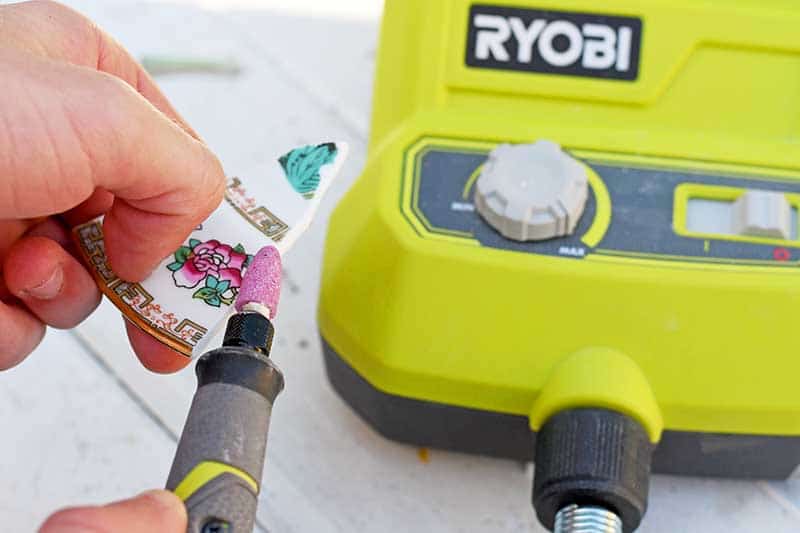 Step 4: Next, change the Ryobi rotary tool attached to a wood-cutting disc. Then use this to cut a groove into the top of the cotton wheel. Make sure it is wide enough to fit the edge of the plate.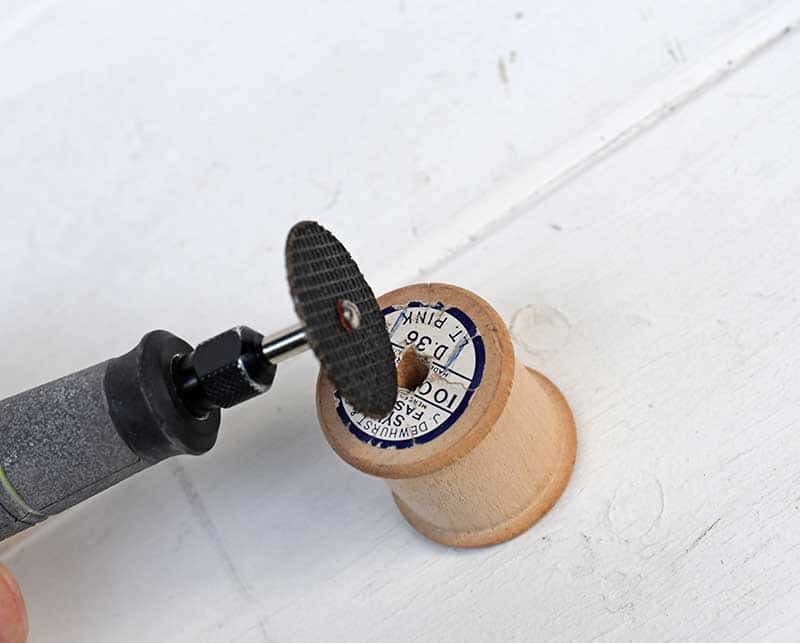 Step 5: Next, glue the bottom of the cut China plate into the cotton reel groove.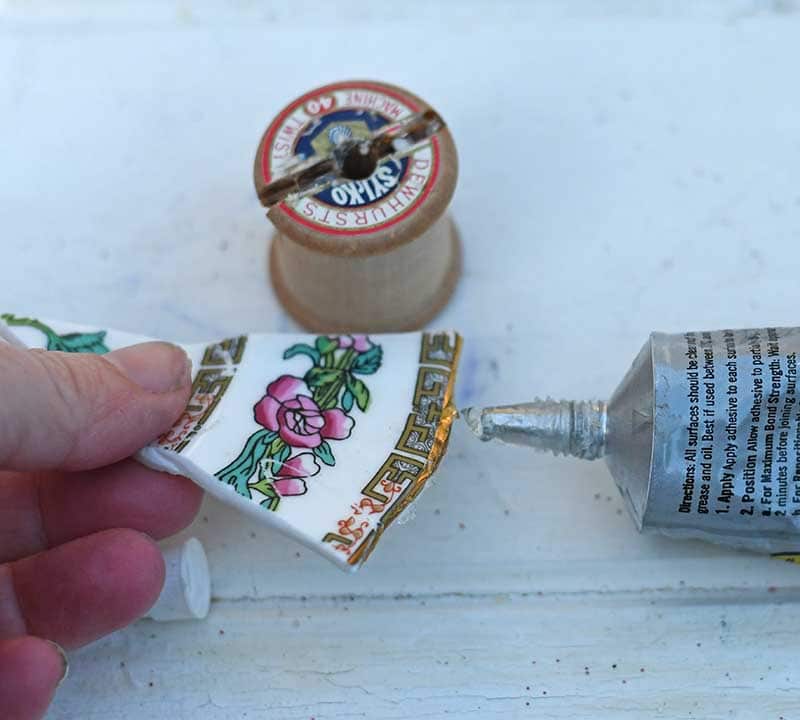 Step 6: Finally, to finish these upcycle China plates tree decorations, cover the wooden spools with some scrap fabric.
I cut the fabric into strips about 1 cm in width and wound it around the spool. The fabric was kept in place with a small blob of glue.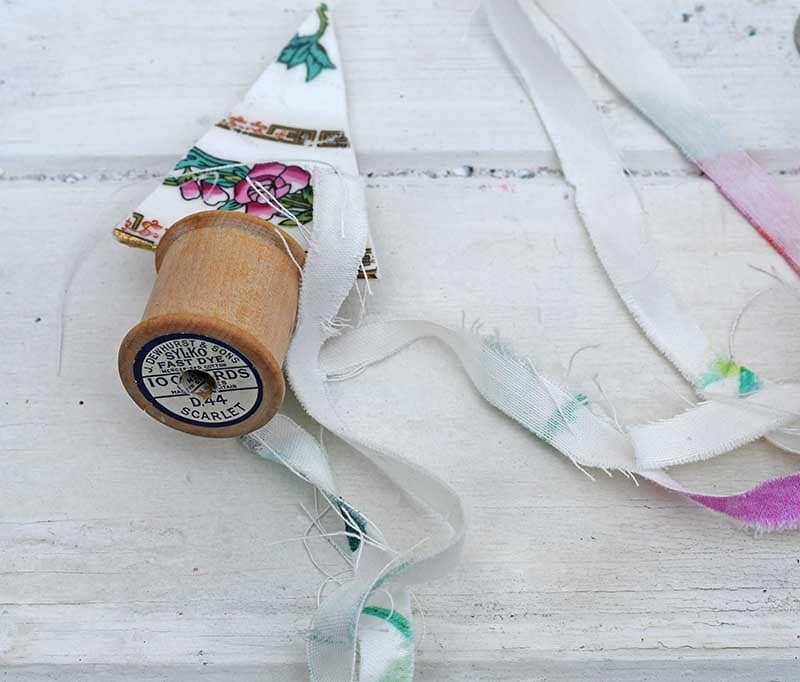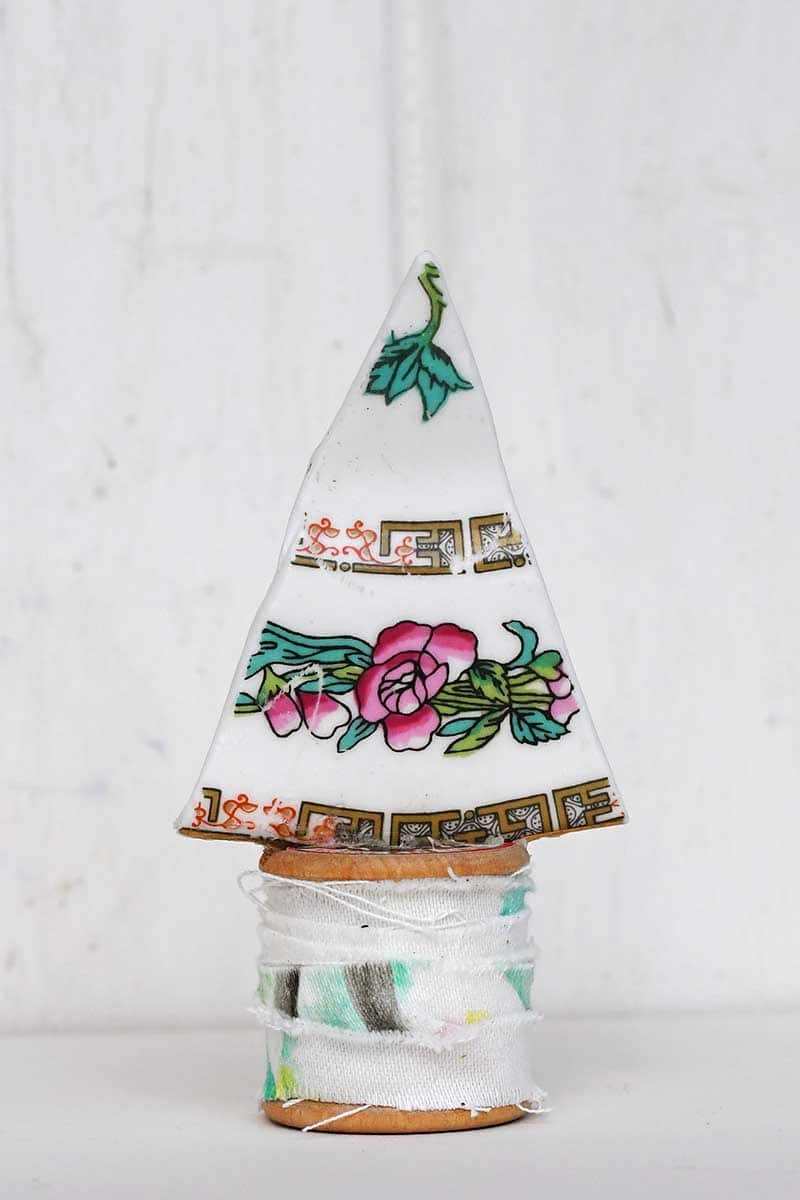 The Magic of Three
I made three cute little China plate Christmas trees to display together. Objects and ornaments always look better when displayed in groups of three.
"The rule guideline of threes says that things arranged in odd numbers are more appealing, memorable, and effective than even-numbered groupings".
However, as you can see, I would be able to make a lot more than three China Christmas tree decorations out of one plate!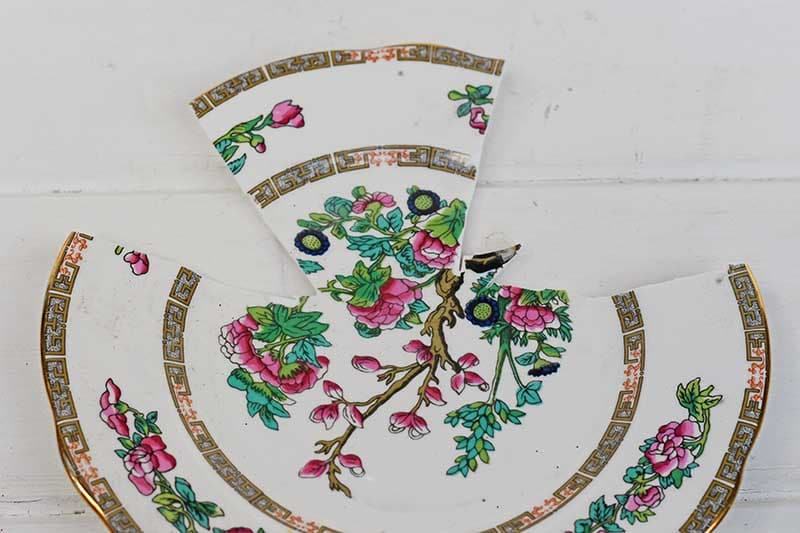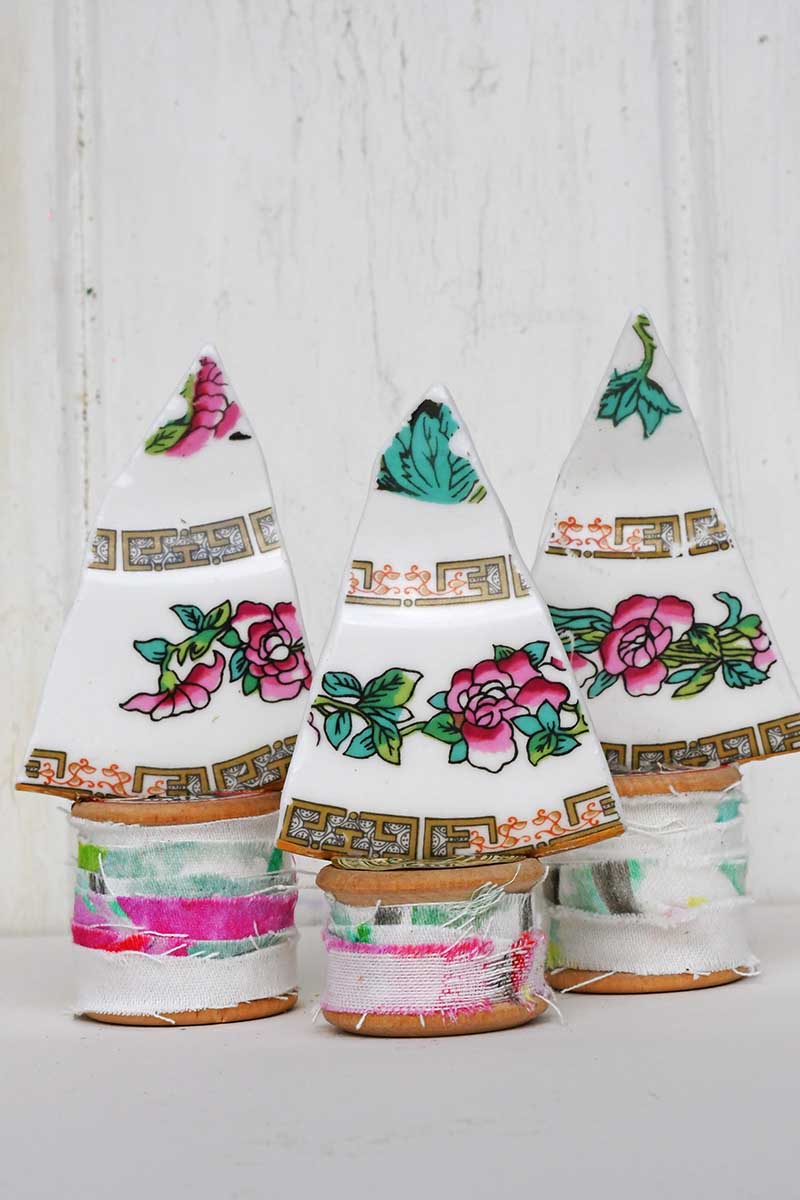 If you want a more traditional Christmas tree display, you can use a China plate in more festive colours of green and red.
Or perhaps you could use a plain white plate and then paint a tree onto the cut ceramic with paints or a sharpie. I like various colours with my Christmas decorations and not just stick to the usual colours of red, green and white.
If you want to turn this into a hanging ornament, a hole can be drilled into the China plate trees with the rotary tool.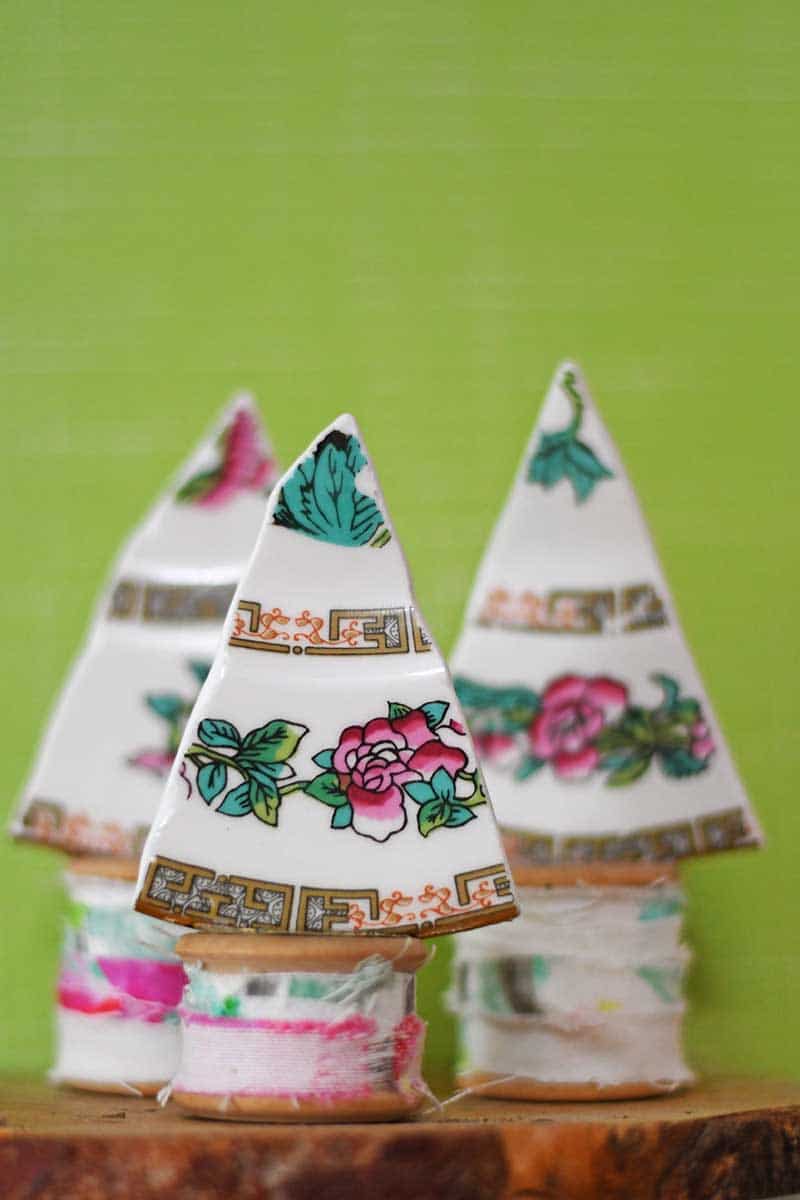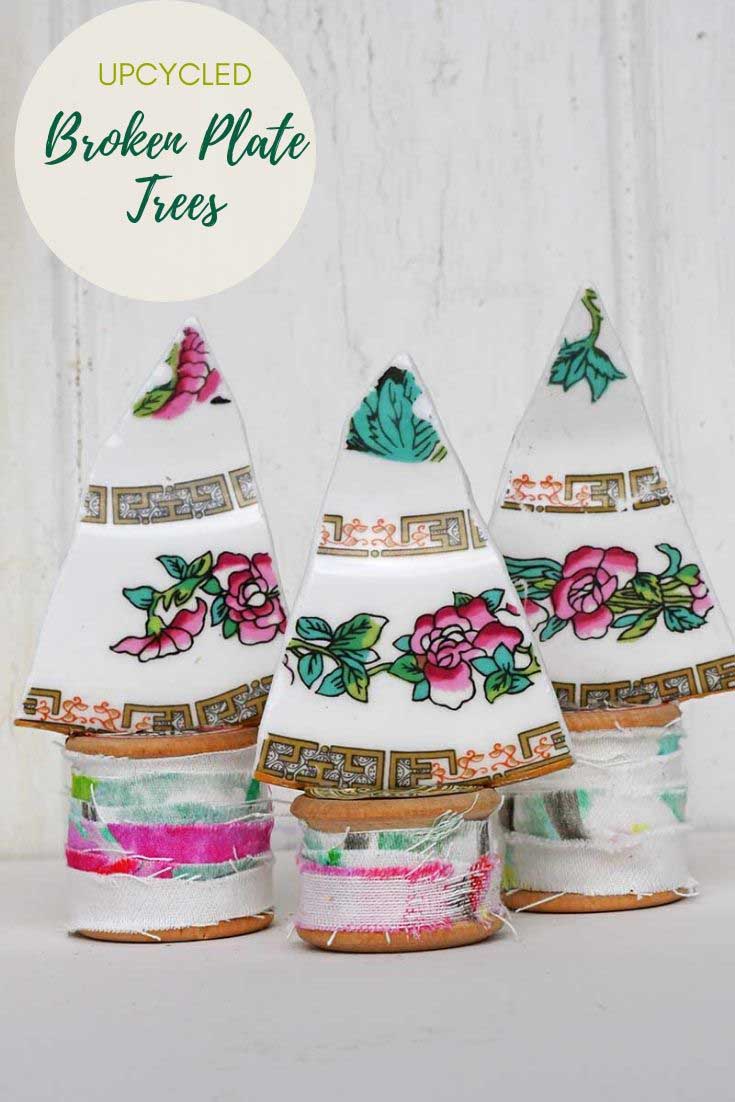 I have recently received more Ryobi tools as a Christmas gift; this time, I used them to repurpose old tin cans into ornaments.
If you liked these upcycled China plate trees, check out some of my other cone Christmas trees and other upcycles.
This tutorial featured under the letter C for China in the alphabetical list of clever upcycling ideas and resources.
For more recycled craft ideas, visit favecrafts.com.