Every Christmas I hang giant velvet baubles from the picture rails on the walls in my lounge. This year I thought I would mix it up a bit by learning how to make paper stars to hang on the walls and doors.
I wanted to make paper stars of different sizes and textures that's when I got the idea to repurpose some embossed wallpaper (Anaglypta) to make the stars with.
The textured wallpaper was perfect as it was thick, and the variations of the embossed pattern really gave the hanging paper stars character.
The embossed pattern on the wallpaper was based on a Victorian tile. The pattern is called Turner Tile, and it gives the large hanging paper stars a vintage look. As I live in a Victorian house, this was a perfect match.
These large wallpaper stars are a very affordable Christmas decoration. Plain white textured wallpaper tends to be very cheap, and you can get a lot of big paper stars from one roll.
I know it's a bit cheeky, but many DIY/home stores let you take home wallpaper samples for free. That way, you could make paper stars in lots of different textured patterns for free.
Not only with this post do I show you how to make paper stars but I also show you how to make twine from fabric scraps.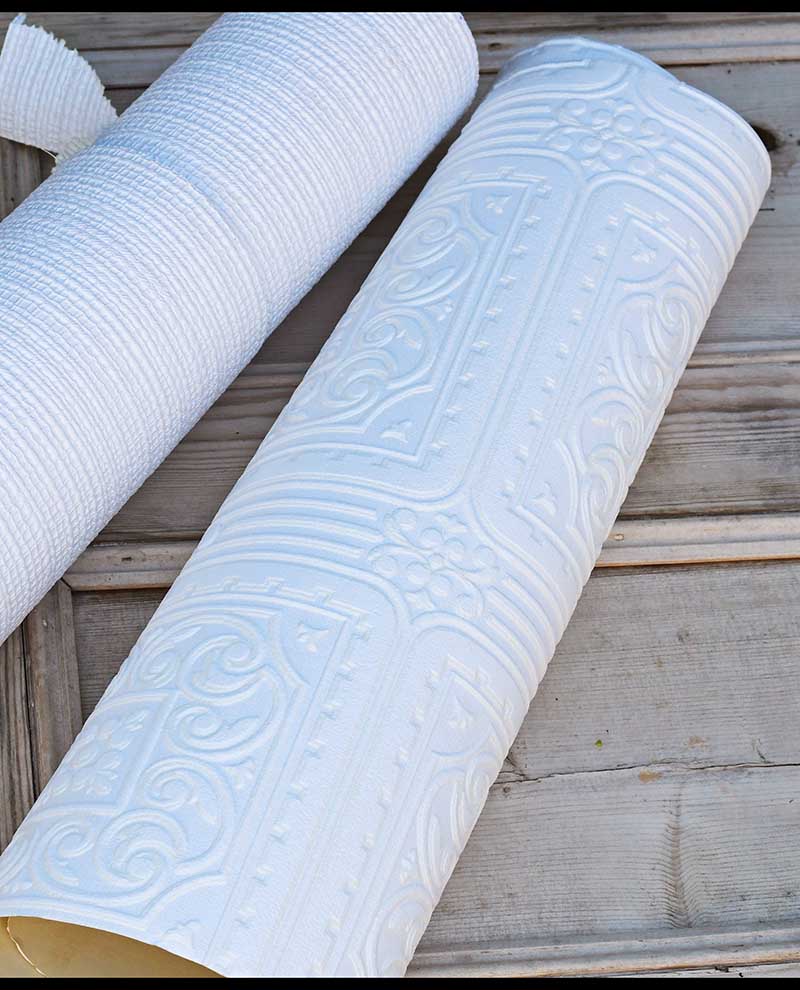 We're a participant in the Amazon Services LLC Associates Program, an affiliate advertising program designed to provide a means for us to earn fees by linking to Amazon.com and affiliated sites. As an Amazon Associate, I earn from qualifying purchases.
What You Need
Textured wallpaper – so many designs to choose from; choose the one you fancy. Or pick up a collection of free samples from your local store.
Scraps of red fabric in long strips. I used some old red scarves.
Sewing machine or glue
How To Make Paper Stars To Hang
Step 1: Firstly, make some star-shaped templates. Either search the internet for a five-star shape and print it. Or draw your own and cut it out.
I wanted to make extra-large hanging paper stars. I had to draw my five-point stars out on paper as I couldn't print them large enough.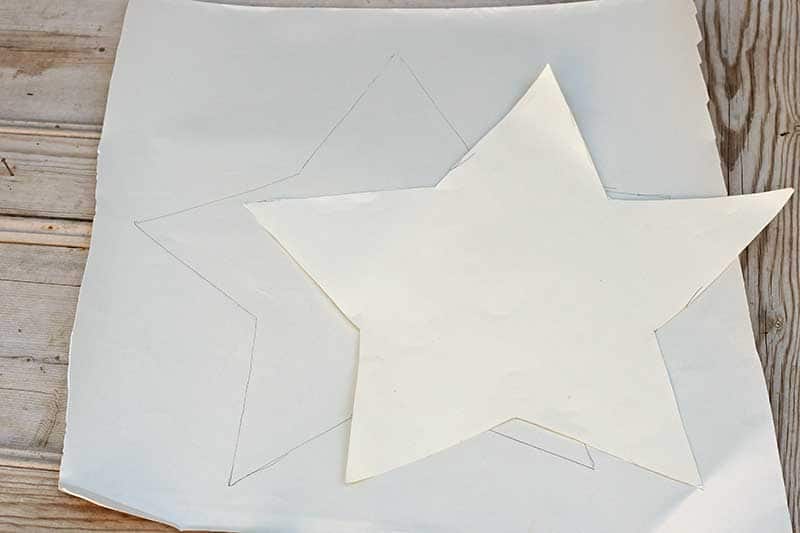 Step 2: Place the paper stars template onto the back of the textured wallpaper. Draw around the star and then cut out the shape. You will need two identical wallpaper stars for each hanging star.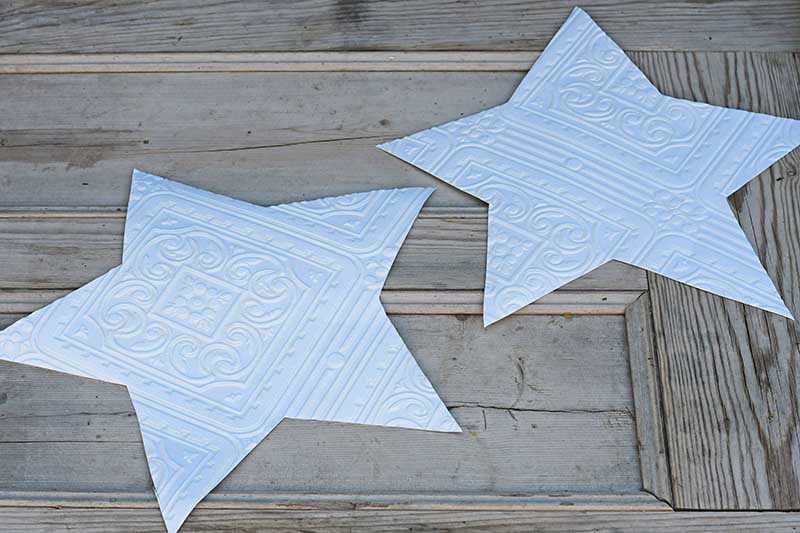 Step 3: Next, make paper stars by stitching their wrong sides together. So that the textured wallpaper is visible on both sides. On the sewing machine, stitch a simple running stitch all around the stars, about 5mm from the edge.
Don't fret if you don't have a sewing machine or hate sewing; you can glue the 2 sides of the stars together.
Personally, though, one of my favourite crafts to do is to sew paper on a sewing machine. If you've never tried it, I recommend you give it ago.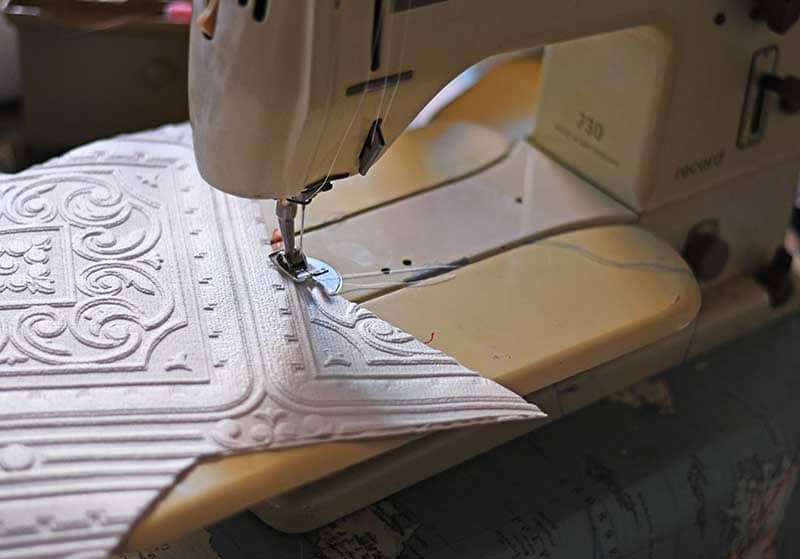 Step 4: Carry on making textured wallpaper stars in a variety of sizes.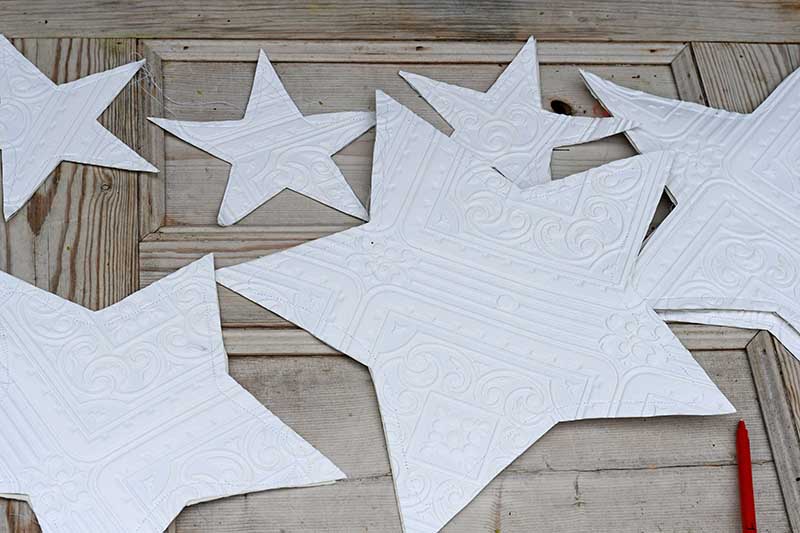 Step 5: Next, make the fabric twine to hang the stars from. To do this, get two long strips of scrap red fabric about 1 inch in width.
Twist one strip away from you for a few turns. Then wrap it around the other fabric strip. Now twist the second fabric strip away for a few turns before wrapping it around the first strip. Carry on twisting the strips of fabric together until you have fabric twine long enough for your hanging stars.
I know this sounds very complicated but believe me, it is so easy; you are best watching this YouTube video here. The video shows it so much better than I could ever explain.
How To Make Paper Stars Hanging
Step 6: To make the stars hang, cut the twine to the length you want. Then, glue it to the back of the star using a hot glue gun. Make sure you attach the twine at the top point of the star.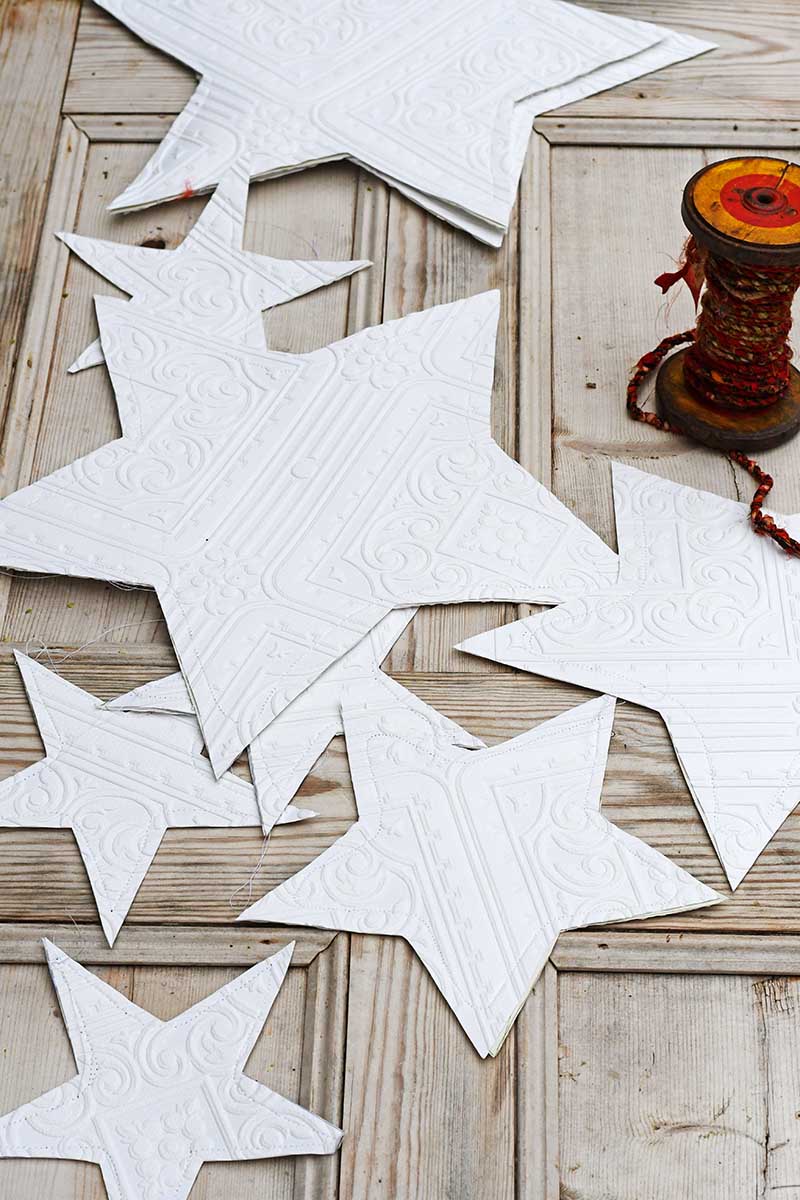 I used drawing pins to hang the paper stars on my doors and walls.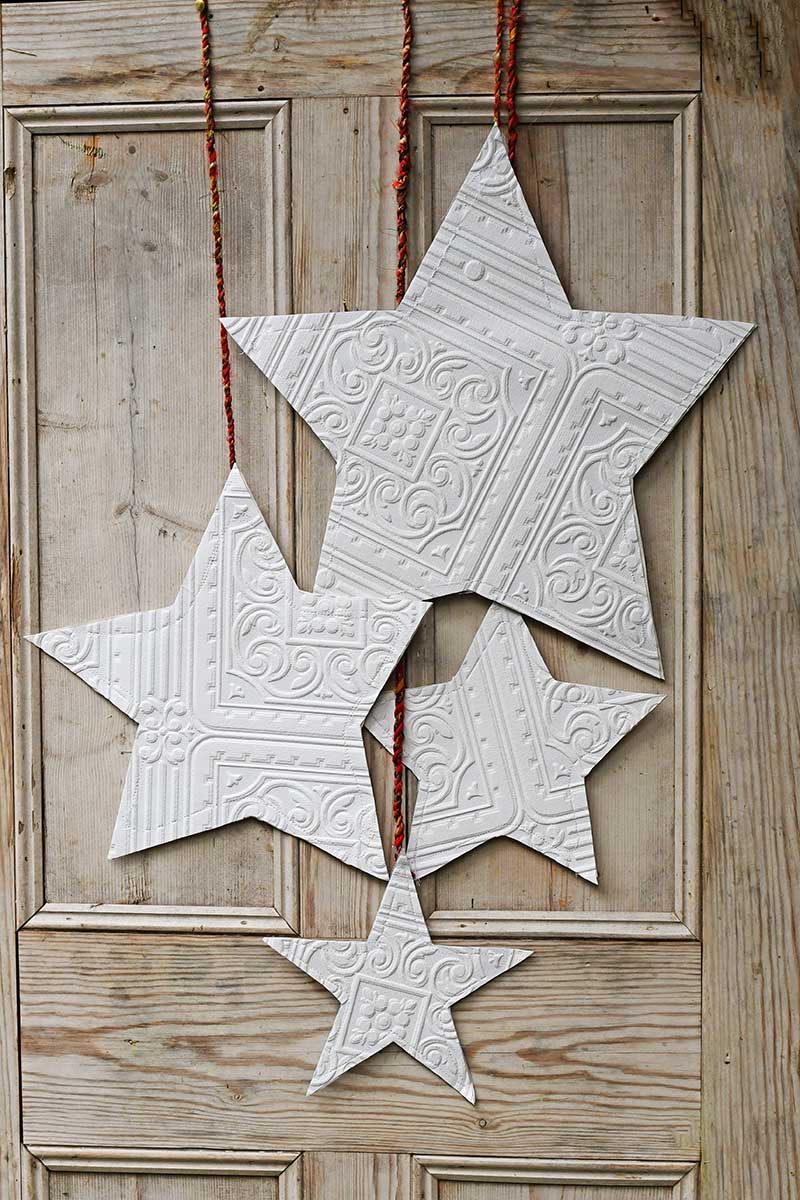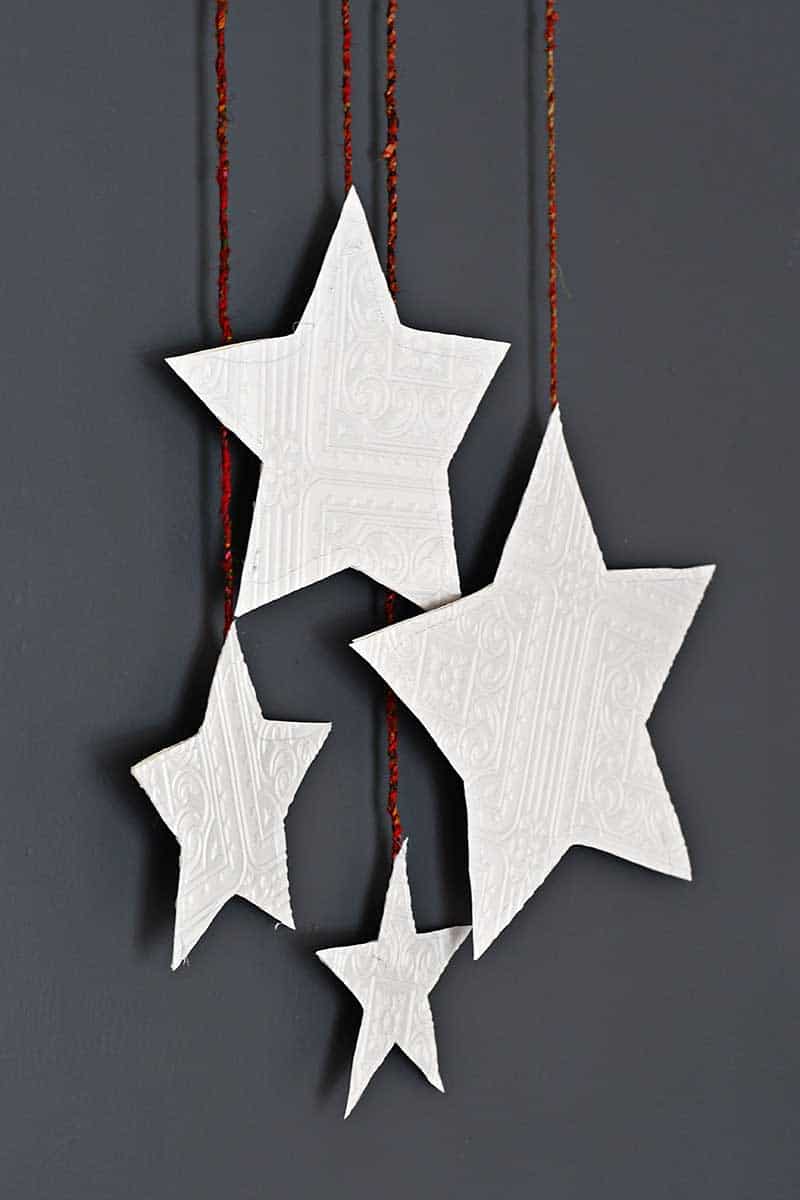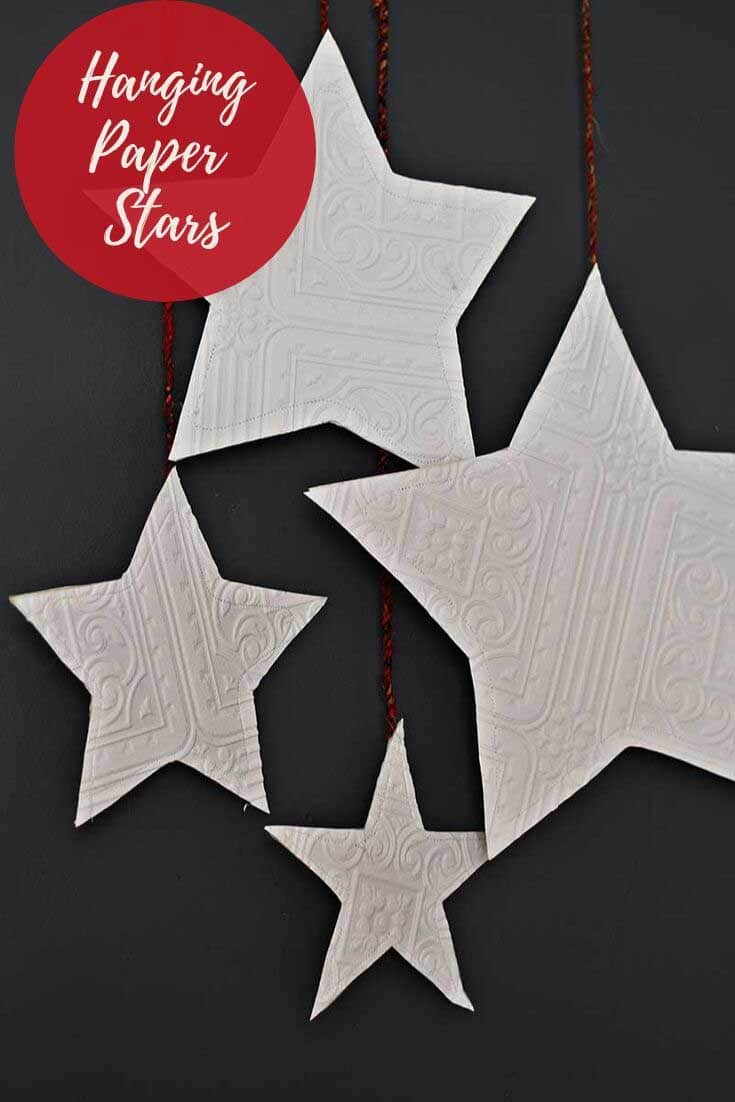 Don't throw away the scraps of wallpaper from this craft; you can use them to make a gorgeous crafty angel wing garland.
Yield: Giant textured paper stars
How To Make Paper Stars Wall Decoration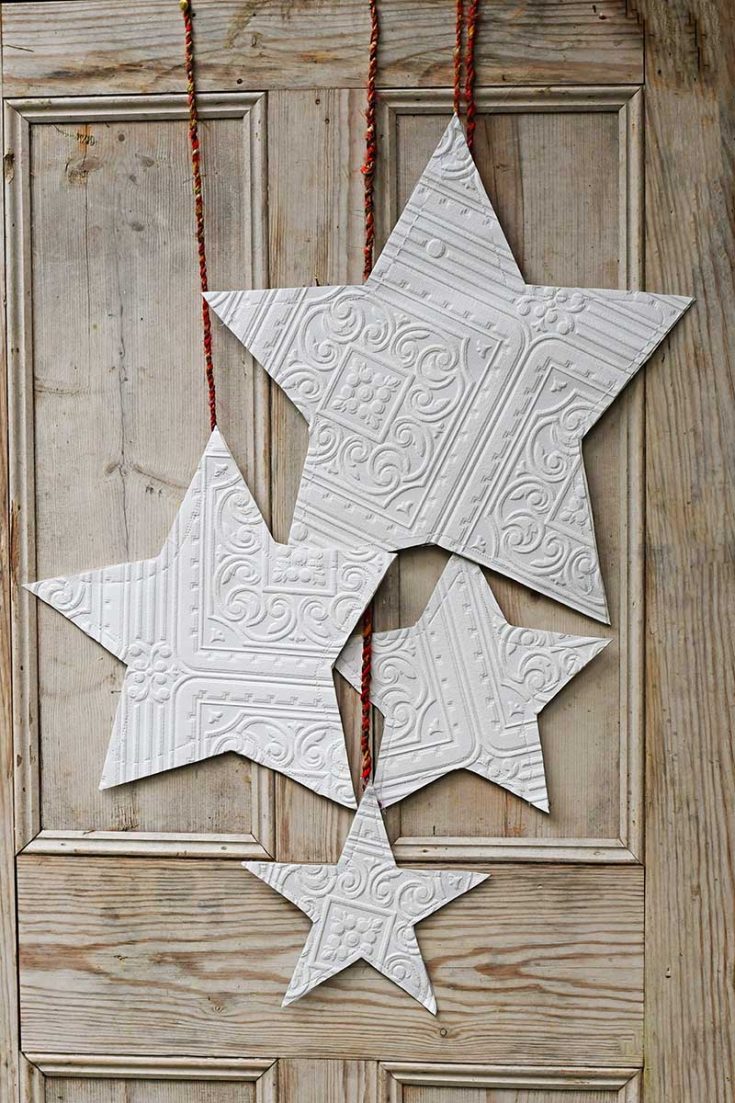 These gorgeous handmade paper stars make for a wonderful and unique Christmas decoration. Hang them from your walls and doors and make them in a variety of sizes.
Materials
1. Textured wallpaper such as Anaglypta
2. Fabric scraps
Tools
Sewing machine or glue
Hot glue gun
Instructions
Make templates for a series of 5 point stars in various sizes.
Use the templates to cut out stars from the textured wallpaper.
Stitch two wallpaper stars wrong sides together.
Use fabric scraps to make some thick fabric twine.
Glue the twine to the back of the stars and hang using a drawing pin.
If you love decorating your home with stars, then check out these other Christmas star ideas.
If you are looking for more thrifty Christmas DIYs visit here.