Most of my Christmas decorations are colourful and a bit Boho. Occasionally, I like to have a few simple ornaments like this Scandi felt Christmas craft.
Last year I made some handmade monochrome felt Christmas ornaments from an old sweater. I still had some scraps left over from this craft and used them to make these felt Christmas trees to complement them.
Instead of making a felt Christmas craft to hang from the tree, I've made a cute Scandi felt forest that can sit on the mantle.
This Scandi Christmas forest decoration costs almost nothing to make. As well as the sweater scraps, I used a wood slice as a base. I still had some wood slices left over from the stash I cheekily acquired from a Ryobi conference I attended early in the year.
Even though the trees are embroidered, no specialist needlework skills are needed. The stitches are so simple; it is just like doodling with black cotton thread.
This craft is featured in this collection of cool Christmas crafts for adults and embroidered Christmas decorations.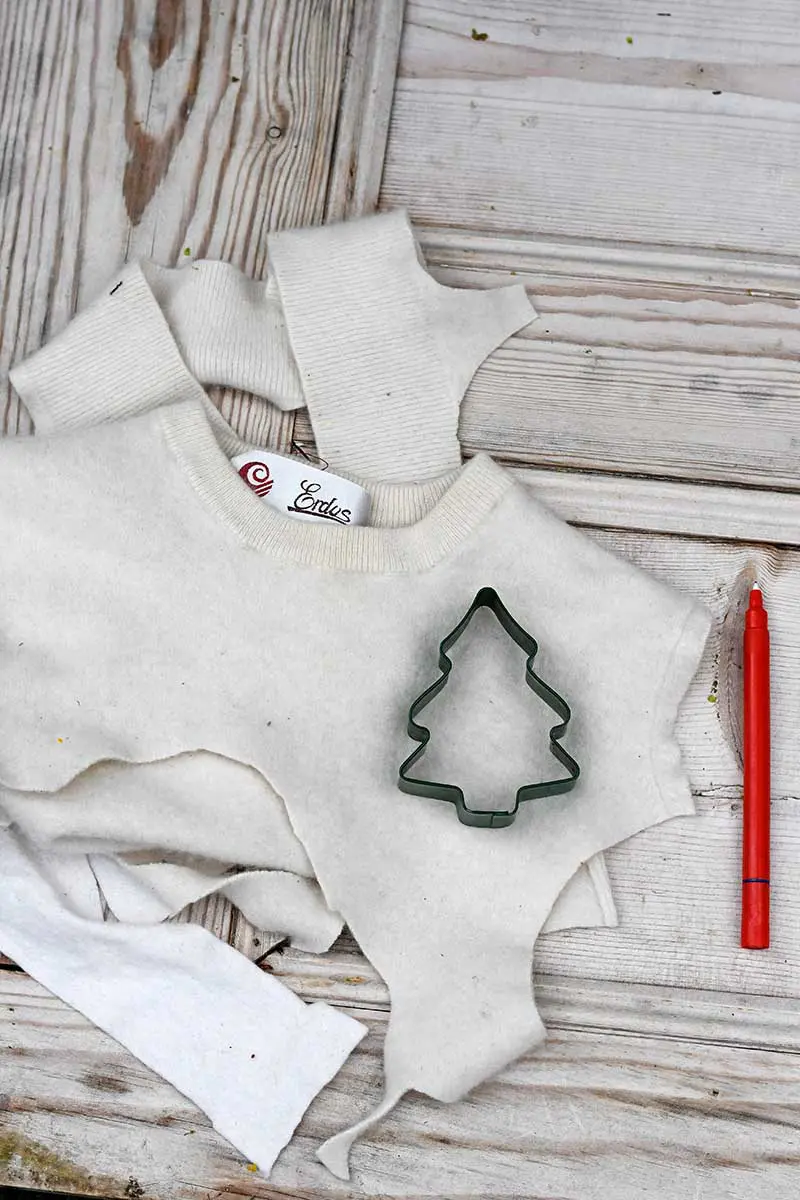 We're a participant in the Amazon Services LLC Associates Program, an affiliate advertising program designed to provide a means for us to earn fees by linking to Amazon.com and affiliated sites. As an Amazon Associate, I earn from qualifying purchases.
What You Need To Make Scandi Felt Forest
Cream felt scraps – I used felted wool from an old cream sweater. If you don't have one, craft felt will do.
Wood slice – A large wood slice for the base (about 15 cm in diameter)
Cream/white paint
Black thread and needle
Twigs
Christmas tree cookie cutter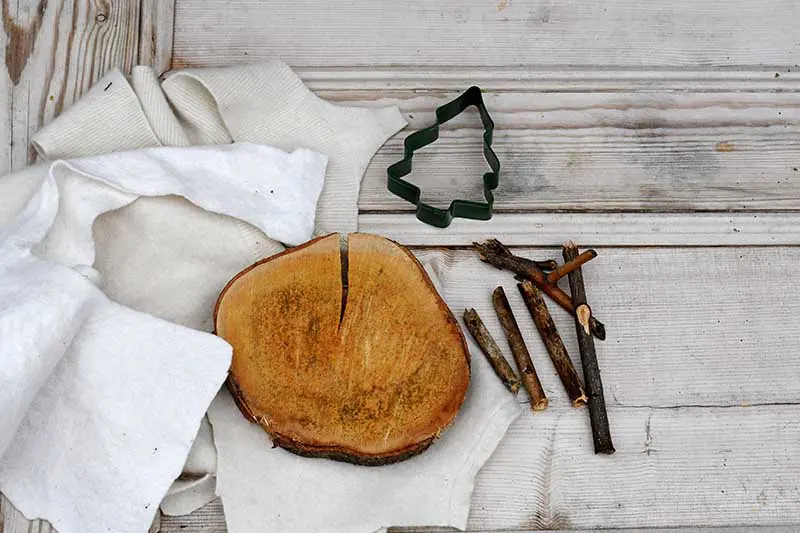 How To Make A Scandi-Felt Christmas Craft
Step 1: First, place the Christmas tree cookie cutter onto the felt, draw around it, and then cut out the shape. You will need eight felt Christmas tree shapes, 2 for each of the four Scandi felt trees.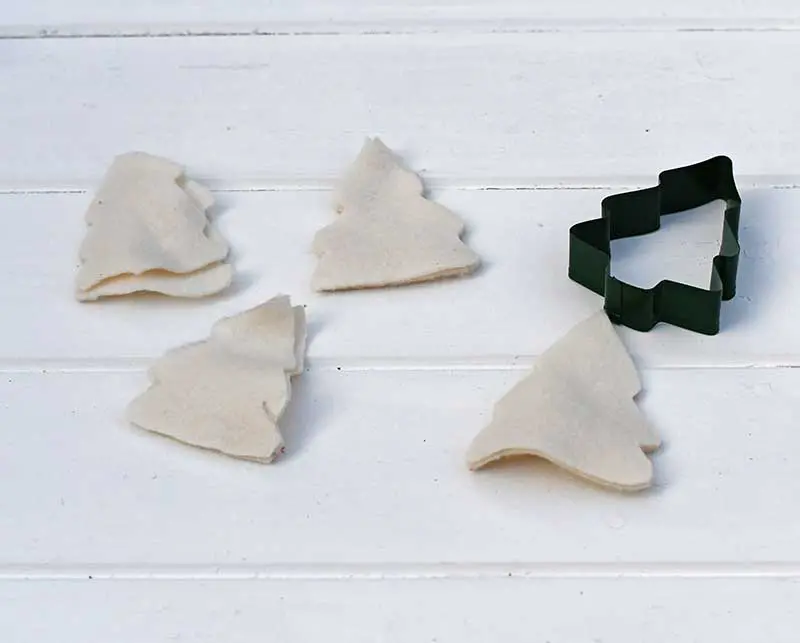 If you don't have a Christmas cookie cutter, you can draw out a tree shape using one of the Christmas tree templates below.
Step 2: Next, the simple embroidery on the trees makes this felt Christmas craft cute and gives it the Scandi feel. You can use the patterns below as a guide for the embroidery.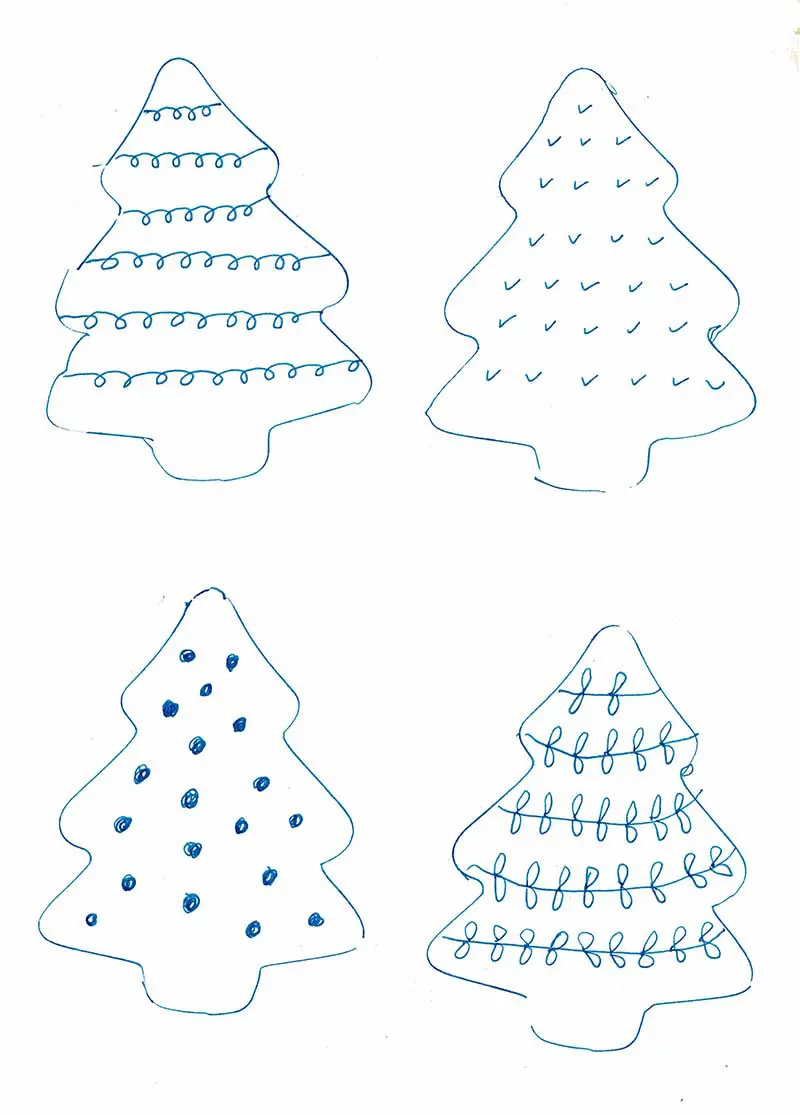 The embroidery is simple; start by stitching a simple running stitch border around the tree shape.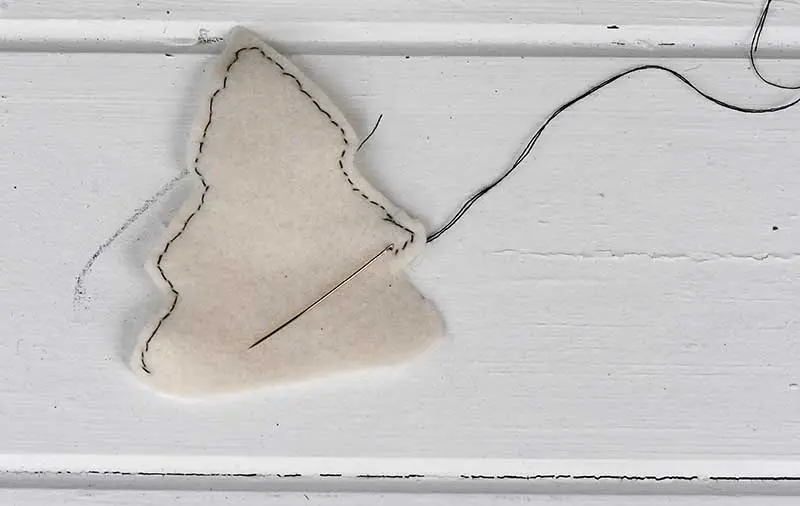 Then, stitch one of the patterns from the guide onto the felt Christmas tree. Only stitch on one piece of felt for each tree; the back will be plain.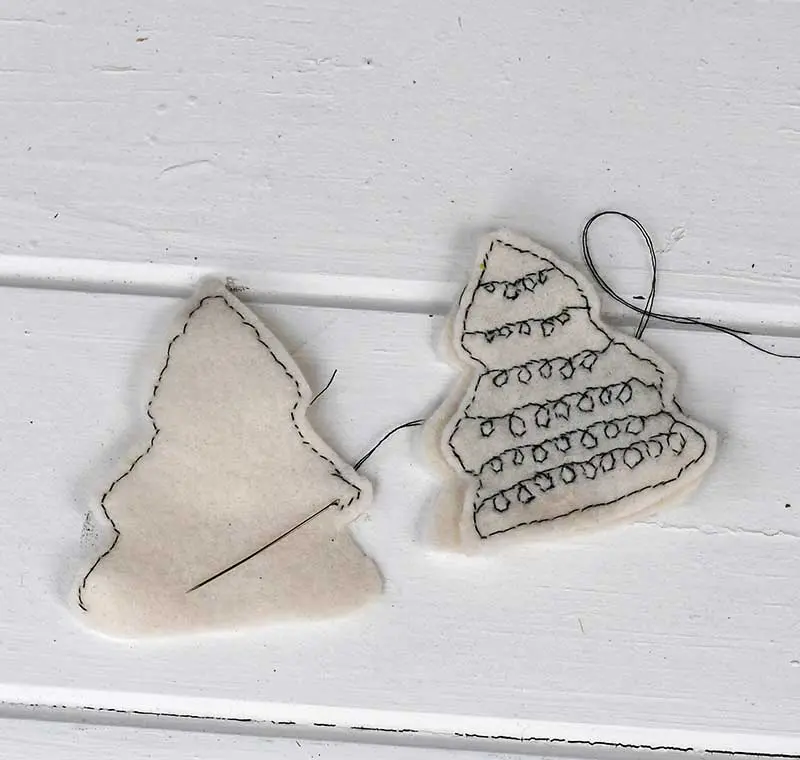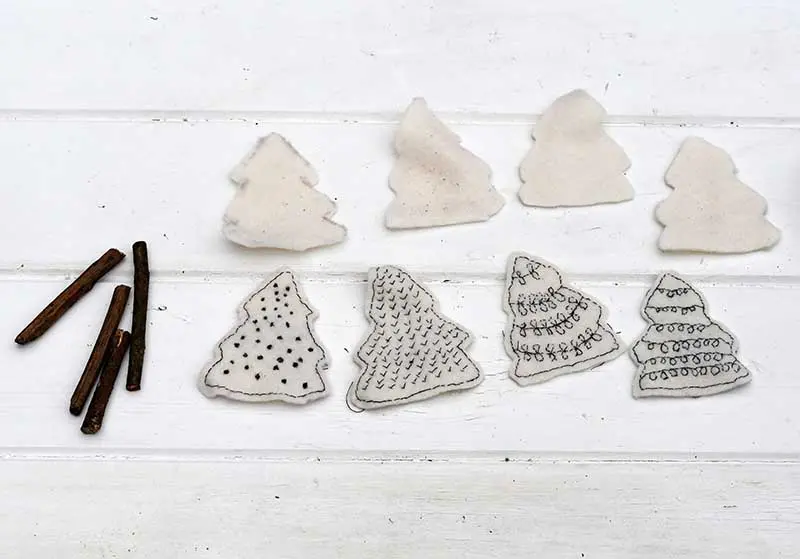 Step 3: Once all the embroidery is finished, the felt Christmas trees can be assembled. Using contact adhesive glue, an embroidered felt tree to a plain back, sandwiching a twig trunk in the middle.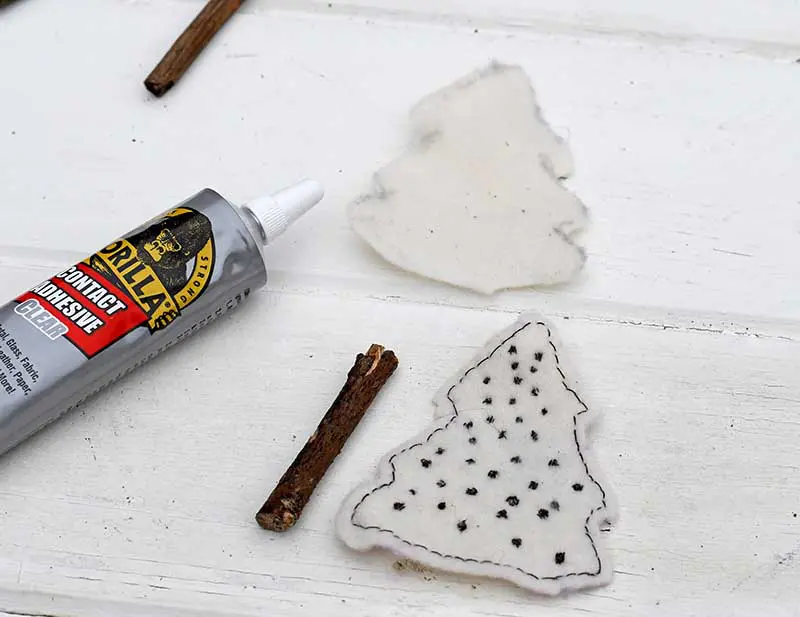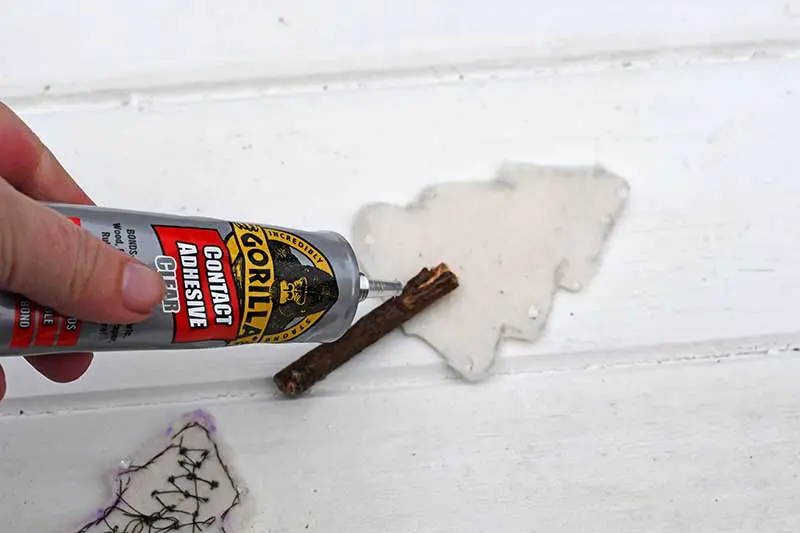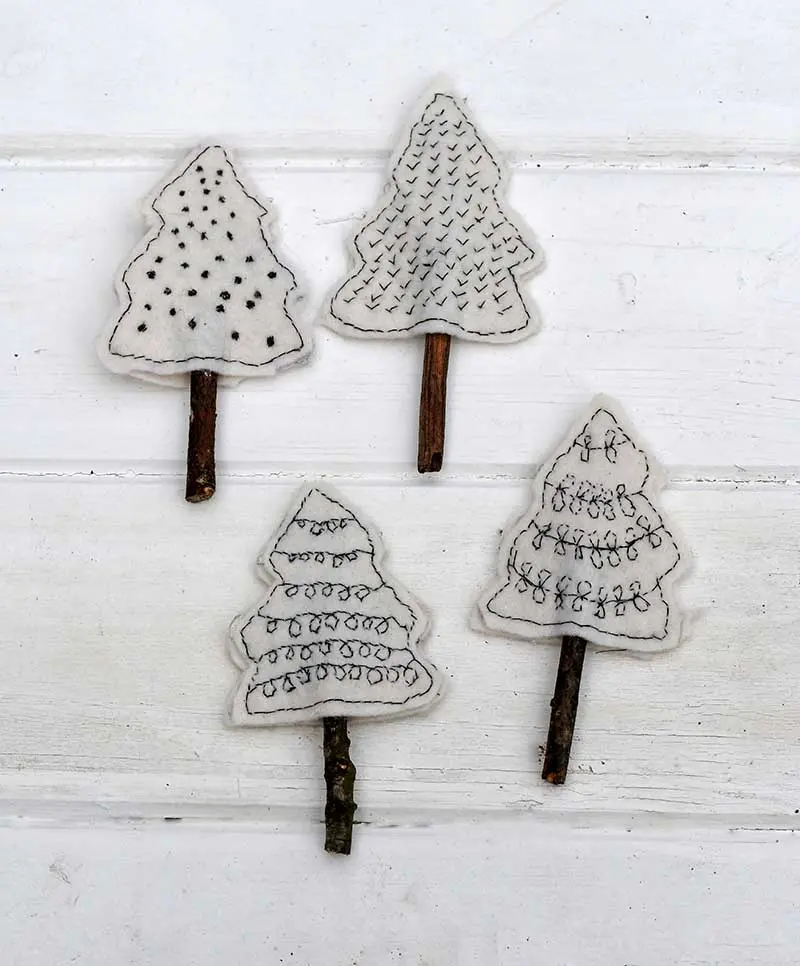 Step 4: Next, prepare the wood slice base. First, paint it creamy white with a small border.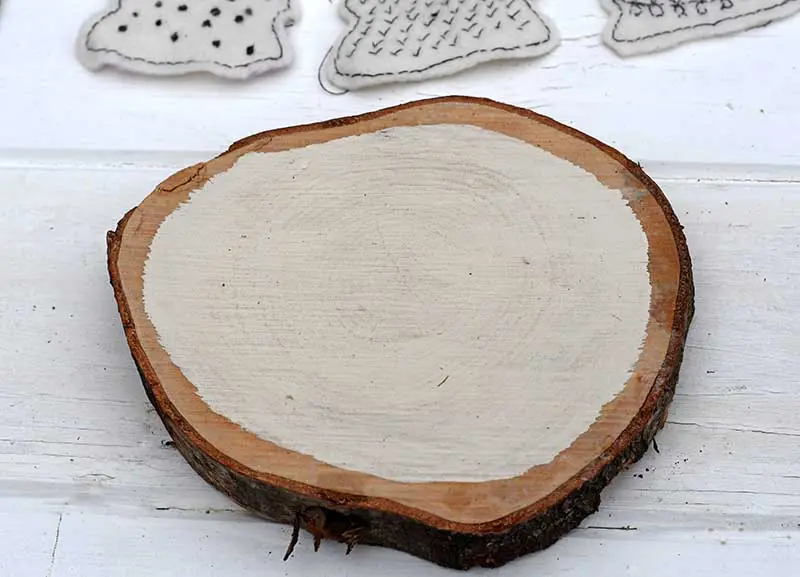 Get a drill with a drill bit approximately the same size as the twig tree trunks. Then, drill four holes in the wood slice base—one for each tree.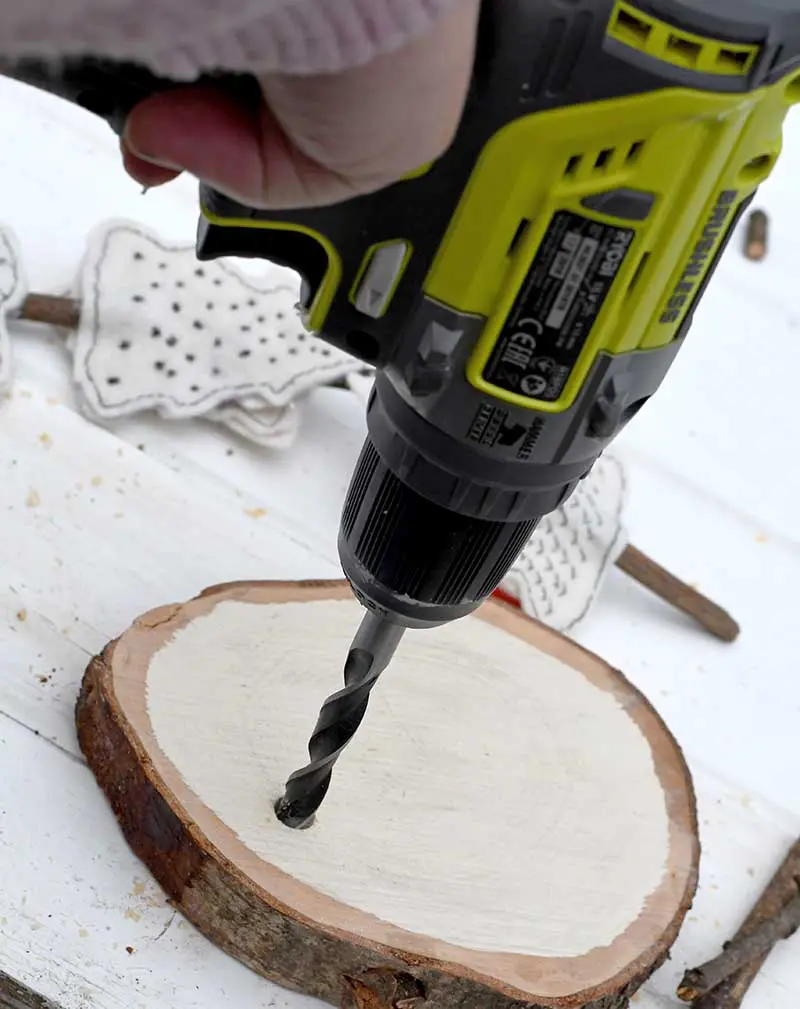 Make sure the placing of the holes is staggered.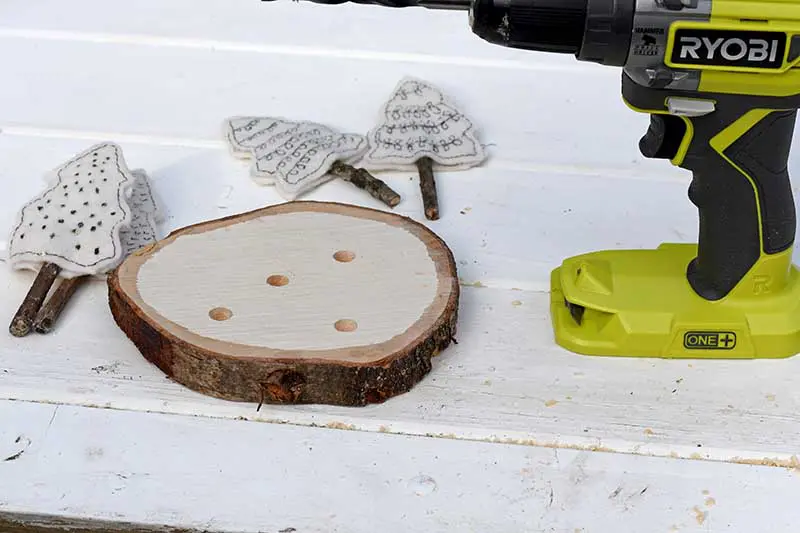 Step 5: Finish the Scandinavian felt Christmas craft by glueing a tree into each hole.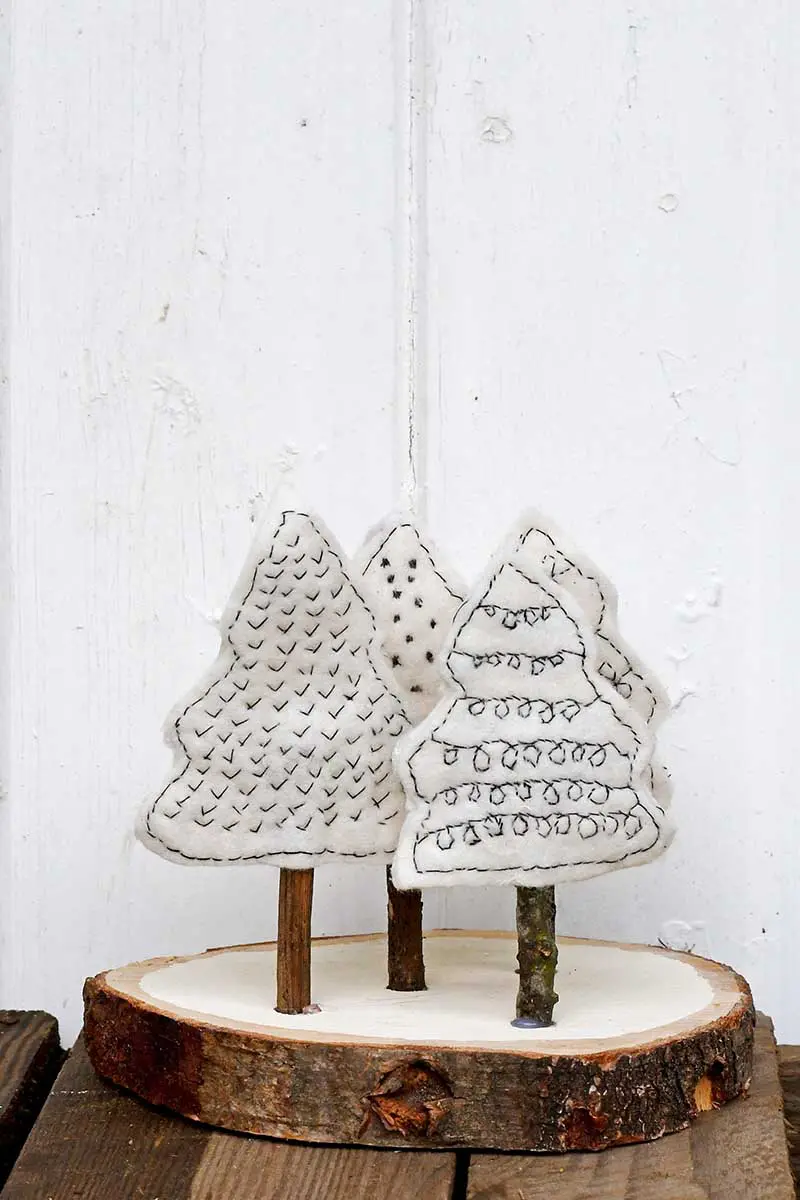 I love this cute mini Scandinavian mini-forest decoration. It will stay on the mantle all winter, not just for Christmas.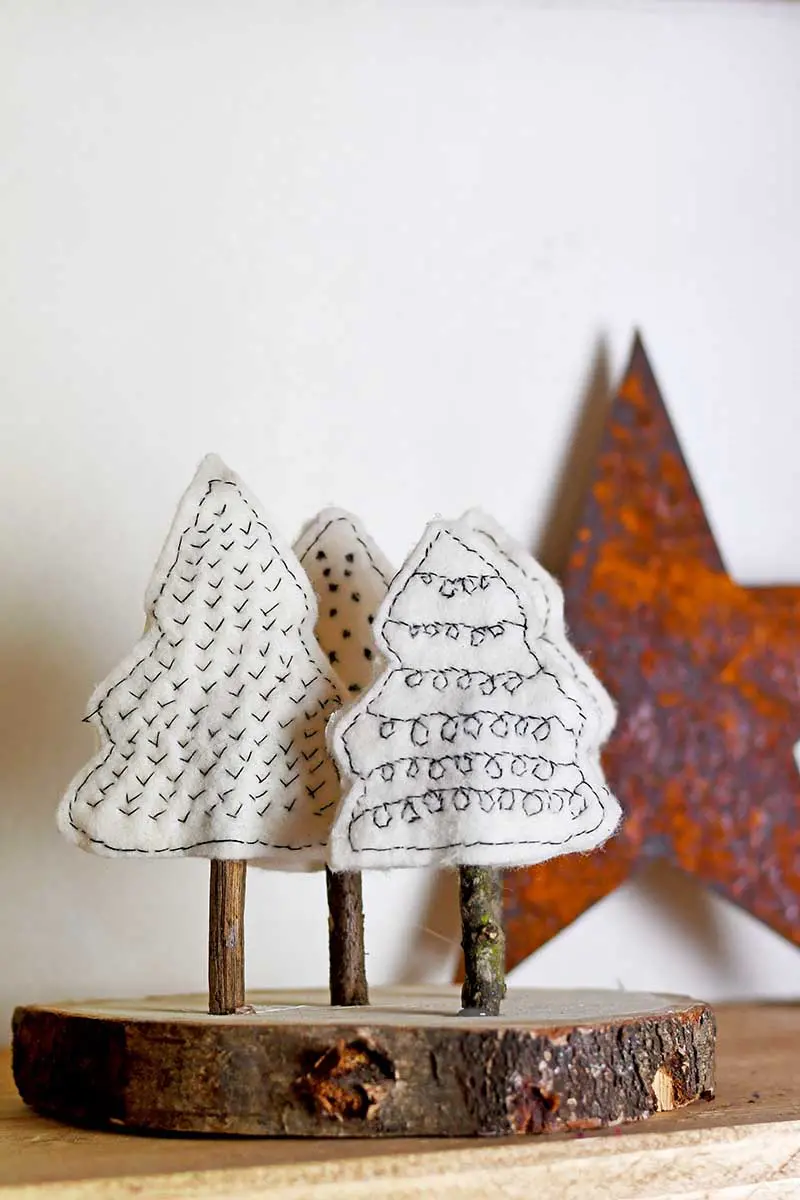 I also like how my mini forest decoration looks on the wood slice shelves I made earlier in the year.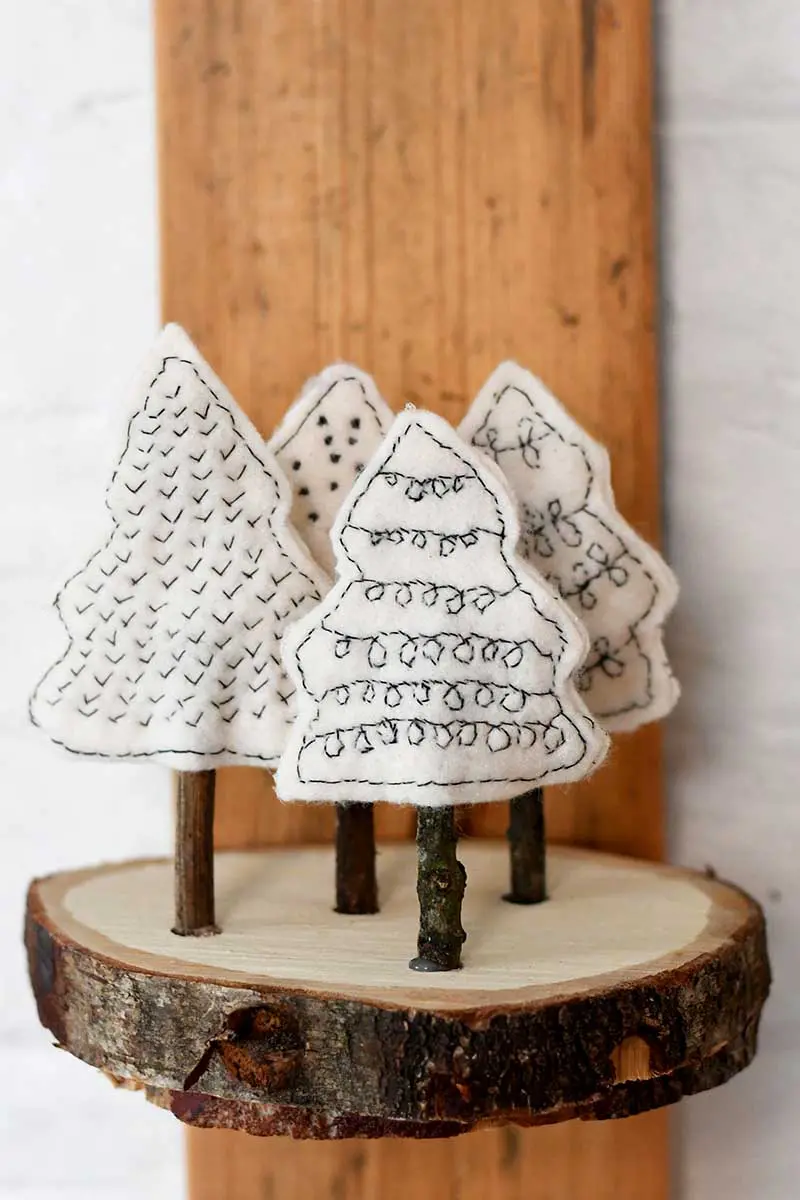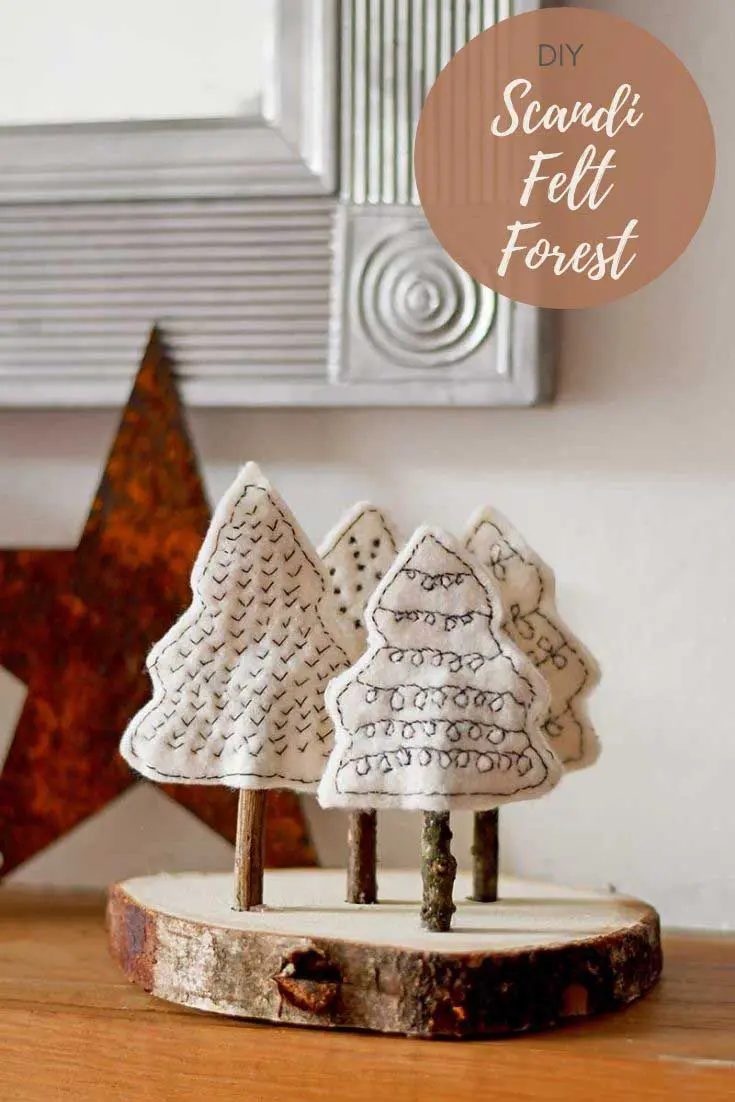 I've made a Valentine's version of this craft with my Scandi embroidered hearts decoration. I also have a spring mantle embroidery with this cute duck and hen embroidery.
Another fun way to embroider is onto a stretched canvas like this hanging plant decoration.
I use the same Christmas tree cookie cutter to make a Scottish forest of tartan trees.
Wood slices are fun to use for whimsical displays like these trees. You should check out my vintage fabric mushrooms wood slice display that is even more whimsical.
Yield: Felt Christmas Tree Decoration
Felt Christmas Craft Scandinavian Forest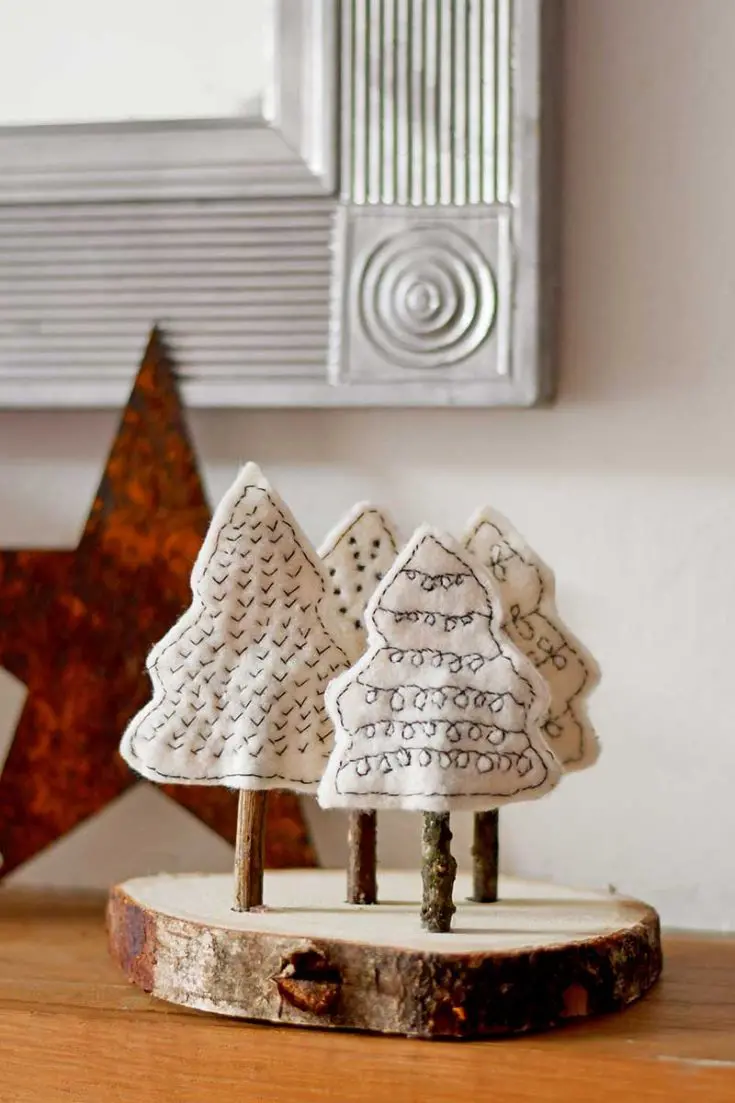 Make this gorgeous mini Scandinavian forest for your mantle. This felt Christmas craft is very simple and affordable as it uses mainly repurposed materials.
Total Time
2 hours
30 minutes
Materials
Felt scraps
Wood Slice
Twigs
Needle and Thread
Glue
Instructions
Using a template or Christmas cookie cutter cut out 8 felt Christmas trees
Embroider four of the trees with a simple black and white pattern (free pattern)
Glue an embroidered tree to a back with a twig trunk
Paint the wood slice
Drill four holes into the wood slice
Glue the trees into the drilled holes
Like many of the crafts and DIYs on this site, this Scandinavian Christmas decoration was made from the things I had around me. You might want to check out some of my other upcycled felt Christmas crafts and those that use wood slices.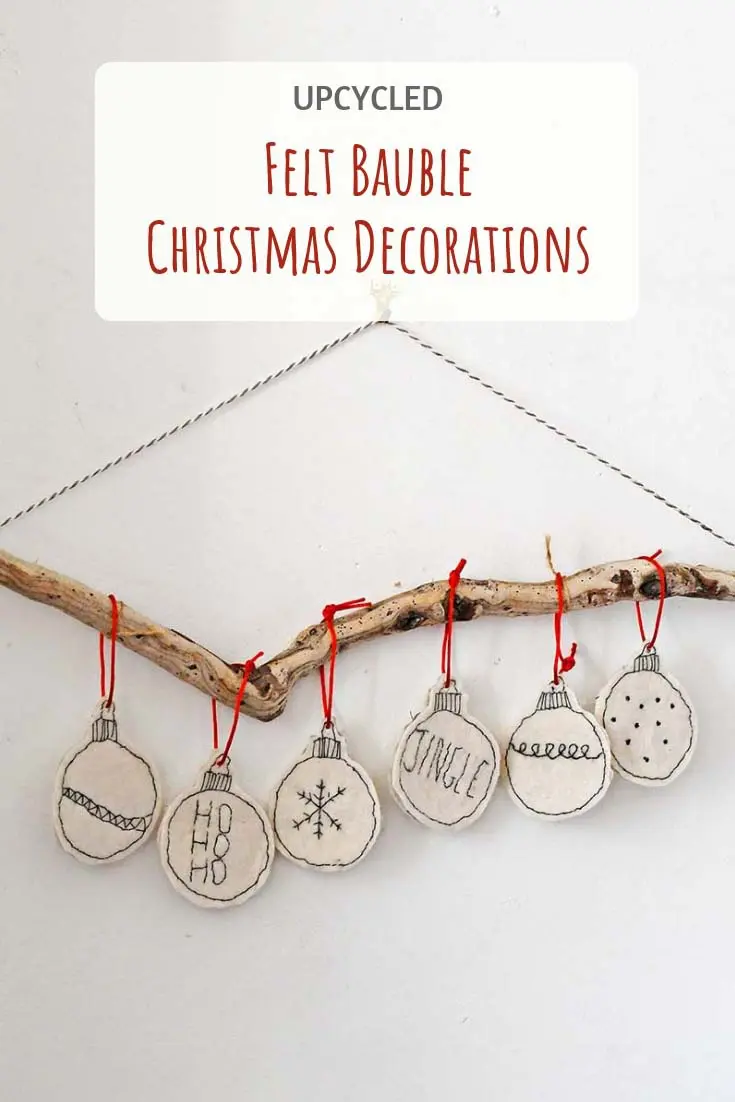 For more Christmas sewing ideas, visit allfreesewing.com