I love maps and traveling. I decided to put all this together and make these unique luggage tag burlap pillows (hessian cushions) using world map fabric.
These map pillows have a real vintage vibe. The luggage tags shape give the impression they are definitely from a different era. I also love to make shaped pillows that aren't the traditional square shape.
*My English family and friends give me a blank look whenever I say burlap as they call it hessian. As I follow so many American bloggers and crafters burlap is what I'm used to, plus I prefer the word to hessian.
Also, further apologies to my English family and friends but I'm using the word pillow rather than cushion.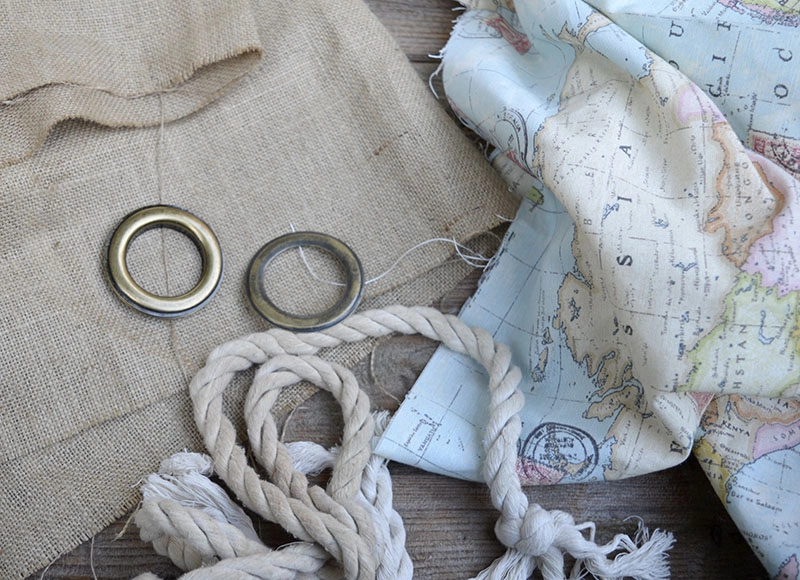 Fun & Unique Luggage Tag Burlap Map Pillows (Hessian)
Actually, the real reason I made these pillows is that I had some lovely map fabric leftover from lining my vintage map suitcase.
However, I didn't have enough scrap fabric to make a whole pillow. That's when I came up with the idea of combining it with burlap and making my luggage tag map pillows.
How these map burlap pillows are personalized, is by filling out the luggage tag details. I made one of these as a Christmas gift for my sister-in-law.
I personalized the pillow with her name, and as my husband's family is from Norway, I've put Bergen as the destination.
The other map pillow is for me, so it has my name and Hong Kong as the destination. Hong Kong is my favorite city, as I was born and raised there. My family lived in Hong Kong for 30years.
This post contains amazon affiliate links for your convenience. Click here to see my disclosure policy.
What You Need to Make Burlap Map Pillows (hessian cushions)
World Map fabric – there is some on Amazon that is the same as the fabric I used.
Burlap / Hessian – I used about 1/2 yard of a fine weave burlap.
A large piece of scrap paper
Needle and thread
Sewing Machine – optional can be sewn by hand.
Scrap piece of rope
How to Make Map Pillows
1..Firstly, make a template for the pillow. This can be any size. Simply draw out a luggage label shape onto scrap paper (or even newspaper) and cut it out. This will be the size and shape of the burlap pillow.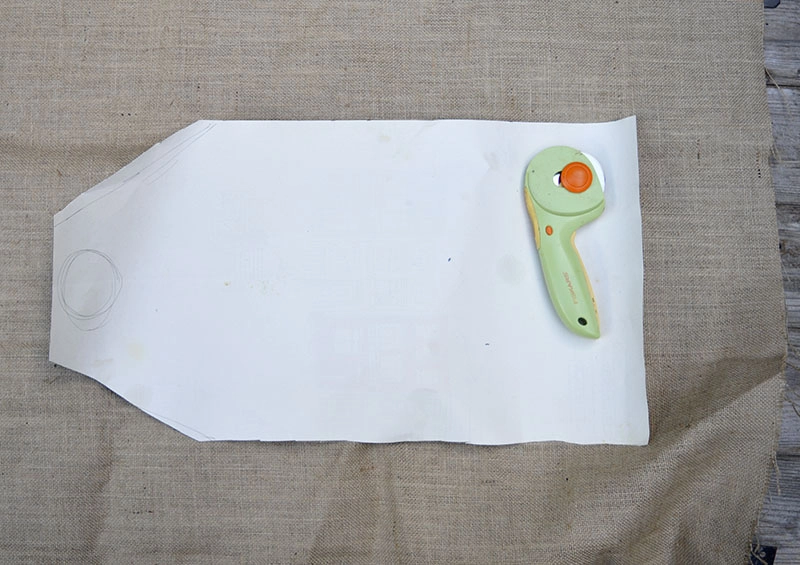 2. Next, using the paper template and the rotary cutter cut out the burlap/hessian for the tag side of the pillow.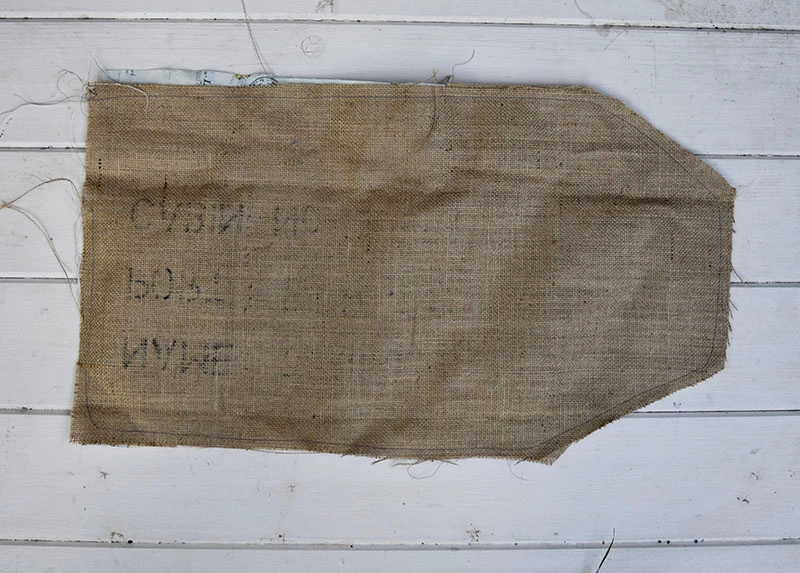 3. Next, for the other side of the pillow, cut 2 pieces of fabric. One piece of map fabric and the other a piece of burlap. The burlap fabric will be the top half of the pillow shape, and the map fabric the bottom half. Just like the picture below. Allow for a 1cm seam where the two fabrics will join.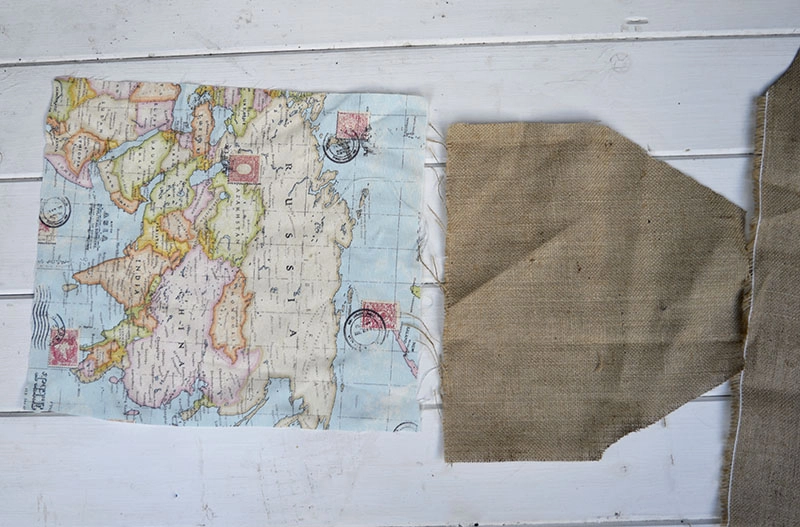 4. Next, stitch these two pieces of fabric together, to form the map side of the burlap pillow.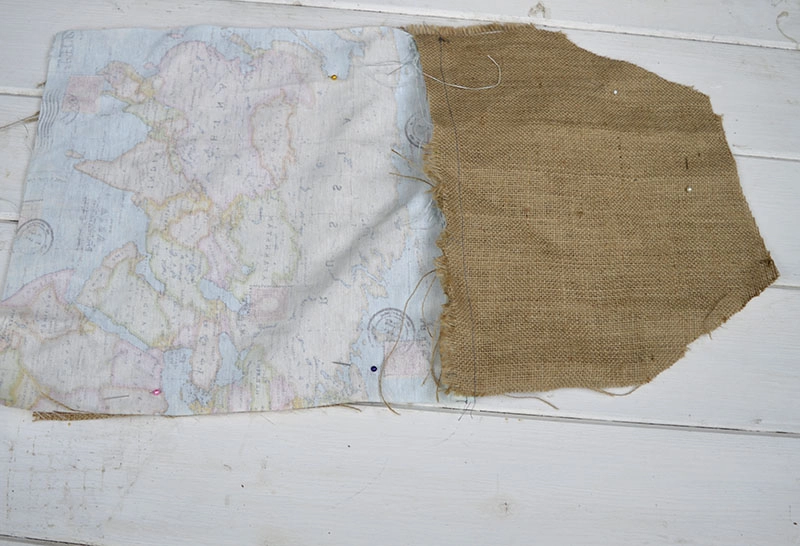 5. Before sewing both sides of the pillow together, personalize the luggage label. Do this, by writing on the burlap side with a sharpie and a letter stencil.
I wrote a name, a destination and flight no: Just like an old fashioned luggage tag.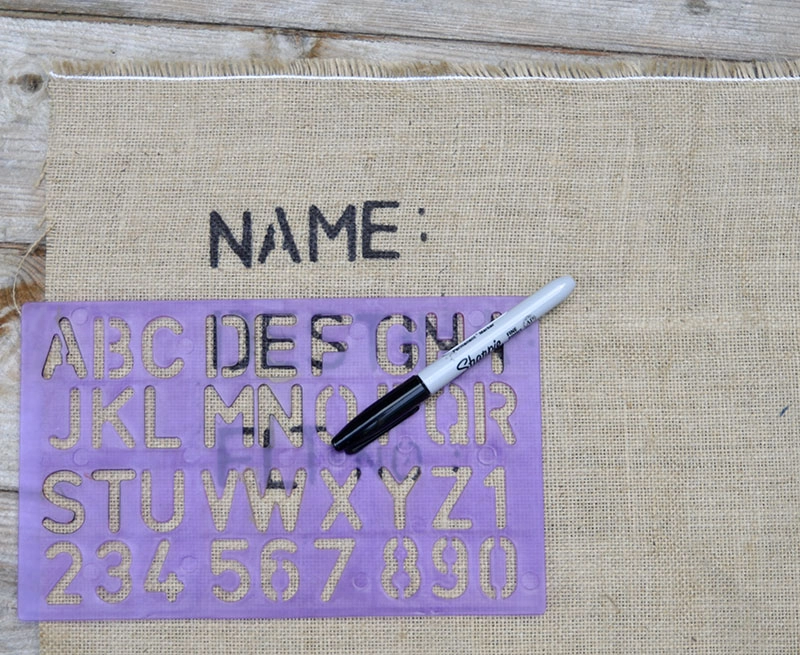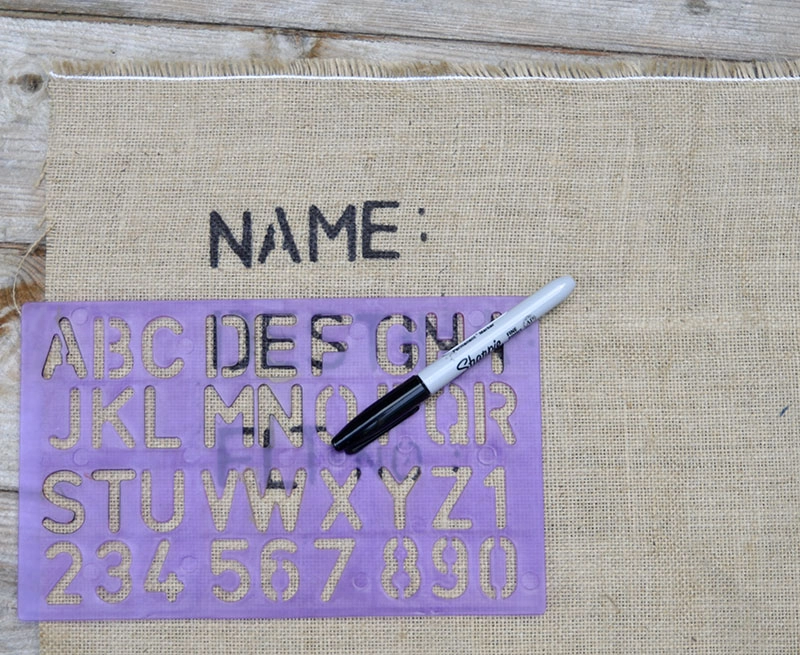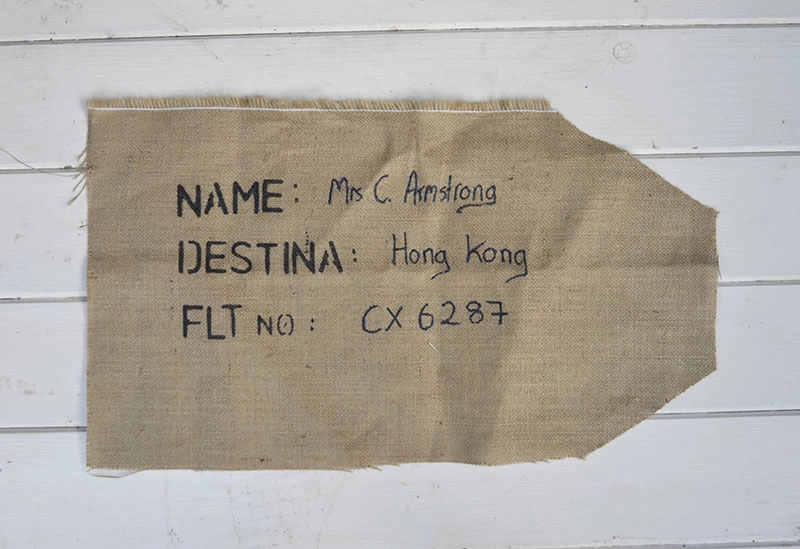 6. After stenciling, then stitch the pillow right sides together. Remember to leave a small gap for stuffing. Then turn your pillow right side out.
Fitting the tag Pillow Grommet/Eyelet
7. The next step is slightly tricky, inserting the curtain grommet. If you know someone with a grommet machine or have a friendly local sewing shop that will do this bit for you that's brilliant.
If not then you can try fixing the grommet yourself, as I did by using a combination of pliers and a hammer. Place the grommet where you would like the luggage tag hole on the hesssian cushion. Mark the spot and cut the fabric to make a hole.
The grommet comes in 2 pieces, one for each side. With the help of a hammer and pliers, you should be able to fix the 2 parts together. That is why used metal grommets, they are more malleable.
If you are not sure about this part then, you can just make a hole and sew around it without the grommet.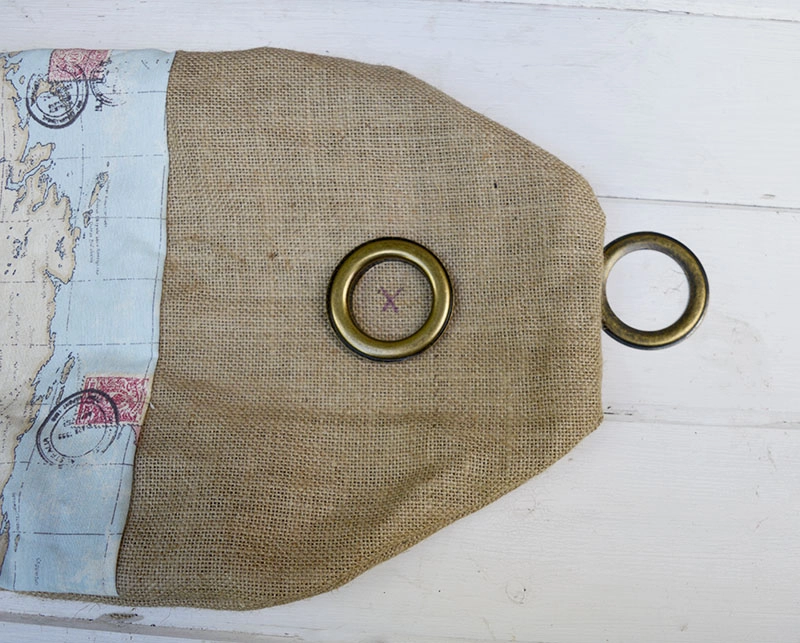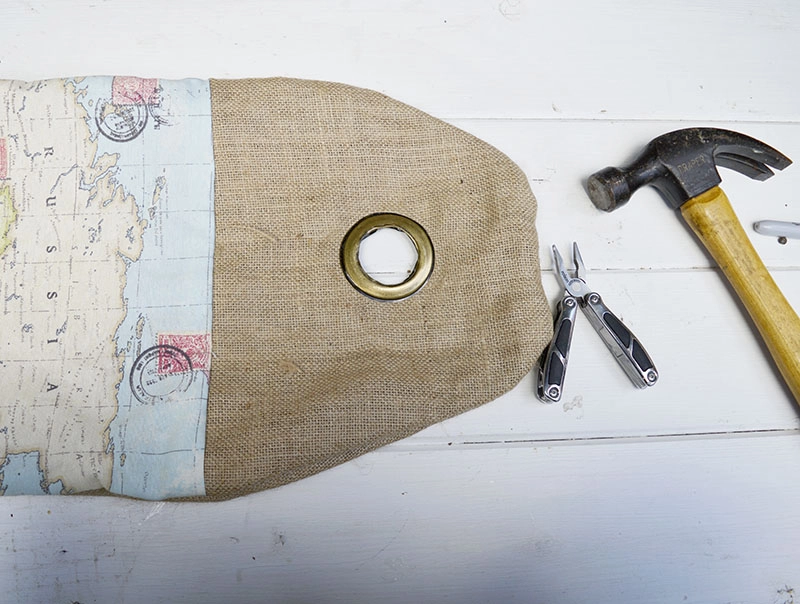 8. Finally, all that is left to do is to stuff the burlap map pillow with fiberfill and stitch up the hole. Then, tie some old rope through the hole to complete the luggage tag look.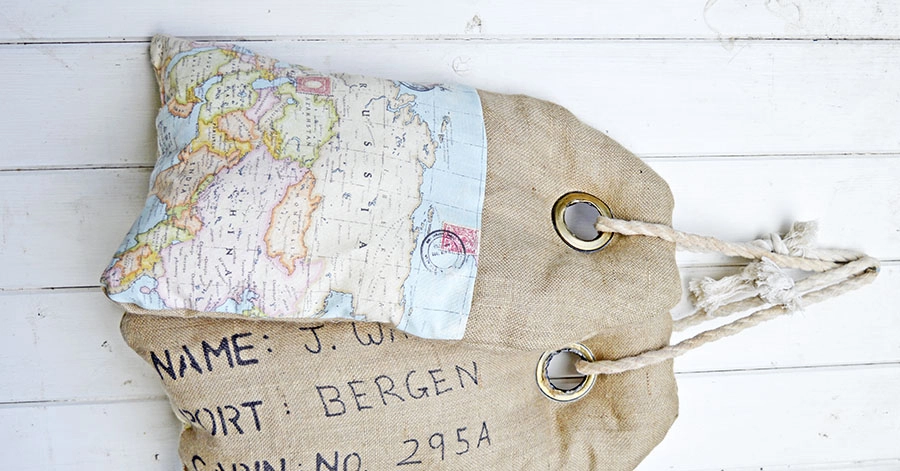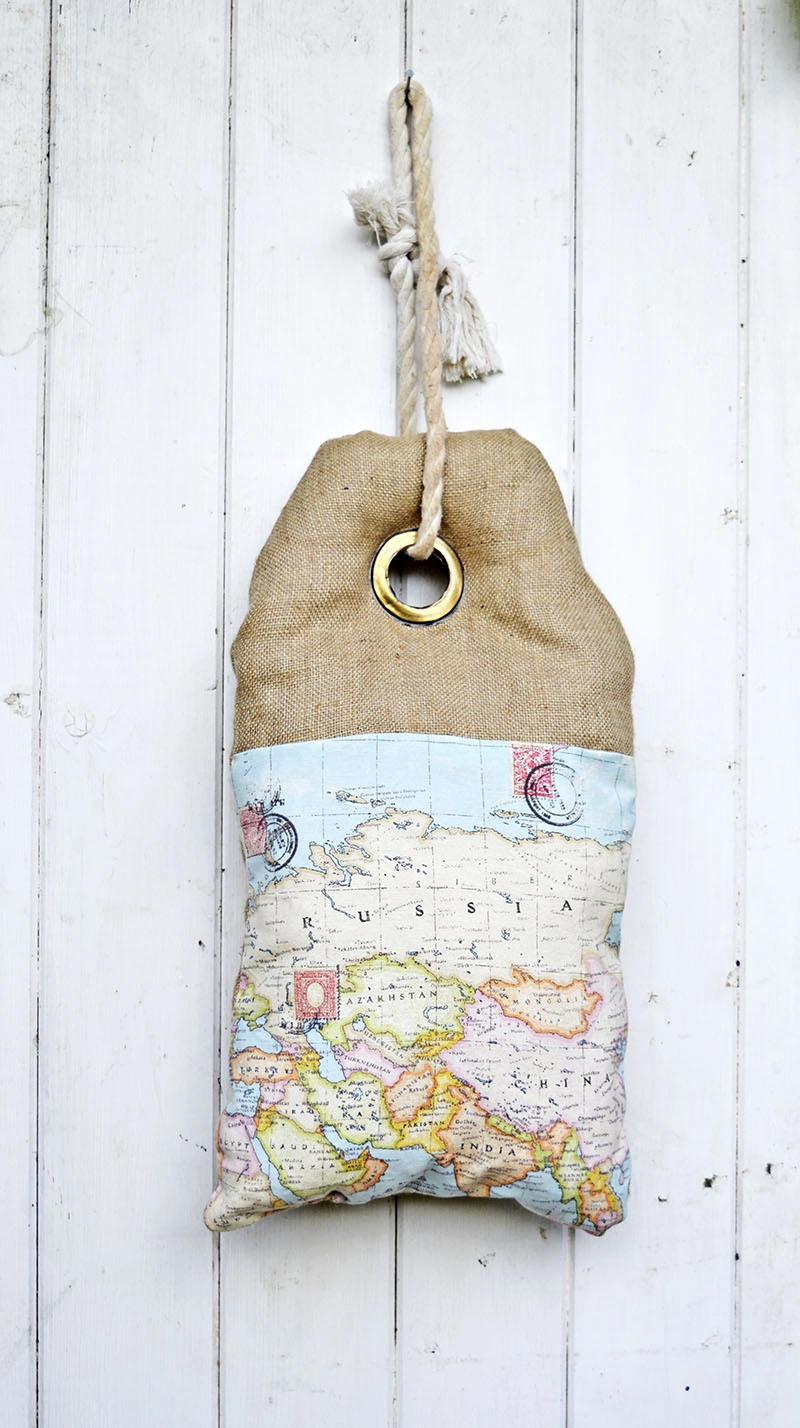 My sister-in-law loved her luggage tag pillow by the way. It went really well in her map-themed guest room, where she even has one of my map lampshades.
I have lots of map-themed crafts and DIY's in my home, so my burlap pillow went really well with that. It looks good next to both my personalized map chairs and vintage suitcase side table.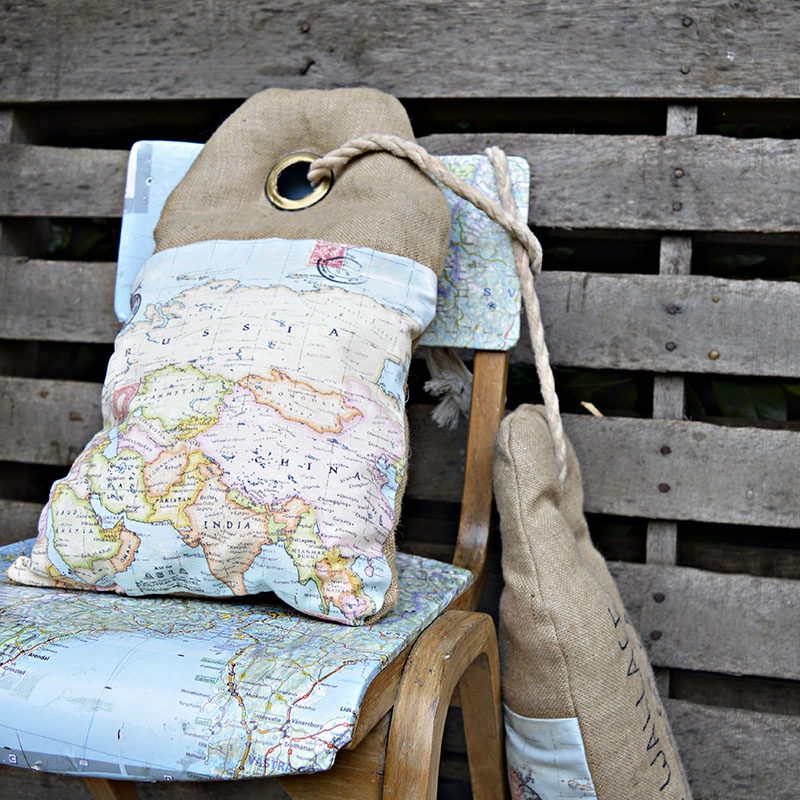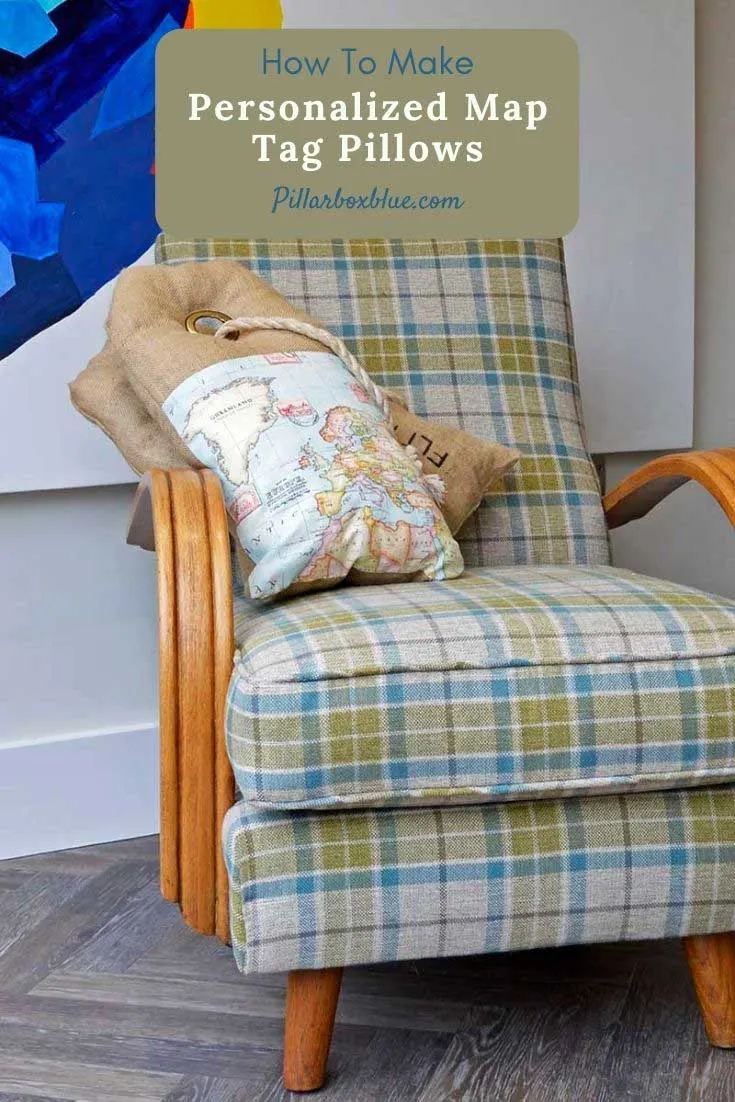 If you liked this post then you will probably like some of my other personalized map crafts:
Easy Map Table Mats With City Maps
Denim World map floor cushion

There is a tutorial on Pictureboxblue on how to print your own personalized map pillows.