Free Pattern For A Unique Applique Denim Floor Cushion
Again I get to combine my passion for upcycling old jeans with my love of maps with this unique applique denim floor cushion. YEAH!
I was rummaging through my fabric stash when I came across this IKEA Ursula beige linen large pillow cover. I'd bought it yonks ago for what I can't remember now. You know what is like you visit IKEA for one thing like some kitchenware and end up buying extra stuff you didn't know you needed. Sometimes, resistance is futile in IKEA!
Lovely as it is, the floor cushion cover was a bit plain for me. That's when I got the idea to embellish it with denim. I've been wanting to make a denim world map for ages and I thought an applique denim world map would look great on this cushion cover.
I added a personal touch to the map floor cushion by making tiny red felt hearts to mark places in the world that are special to me. The hearts were placed on Hong Kong and Bergen, Norway.
I love the rustic farmhouse look of the denim combined with the linen on the floor cushion. My son has his eye on it and I think it may disappear with him when he goes back to Uni after the summer holidays.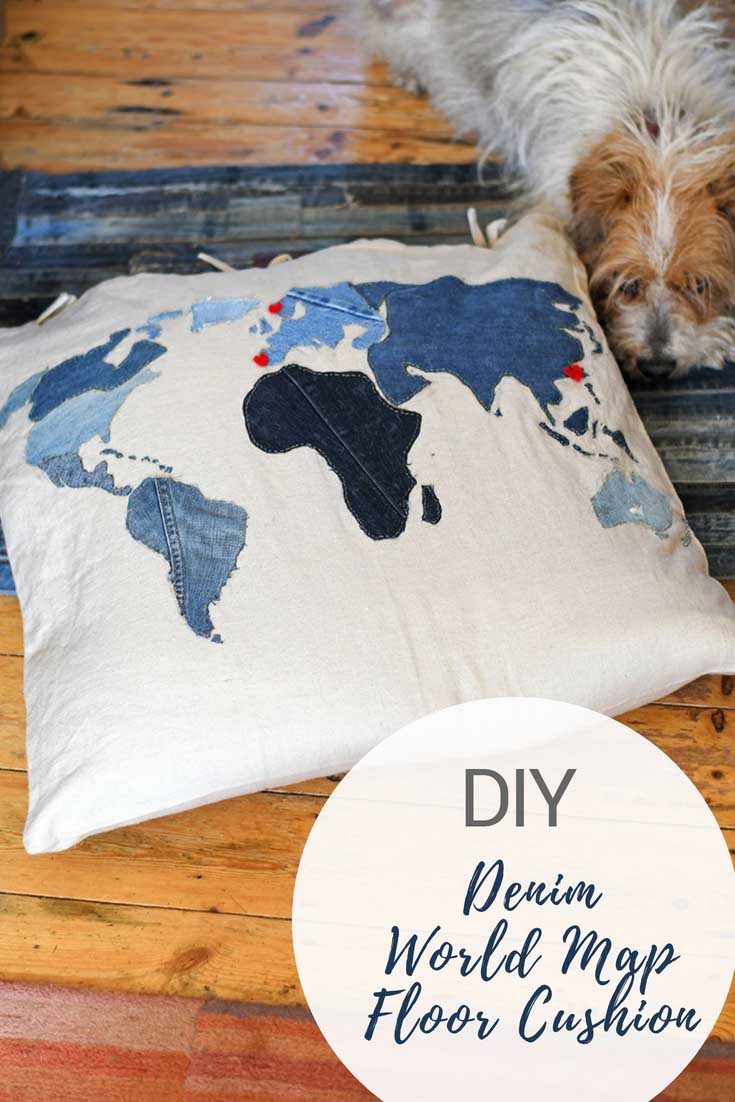 This post contains Amazon affiliate links for your convenience. Click here to see my disclosure policy.
What you need to make a world map floor cushion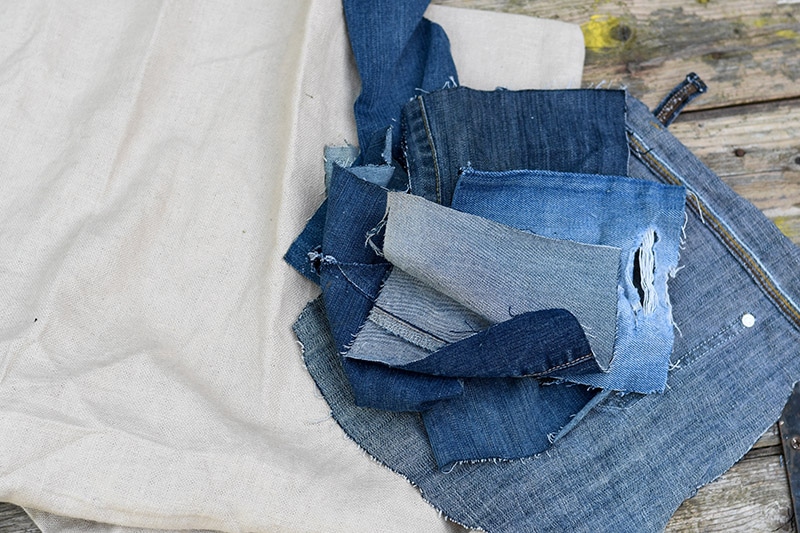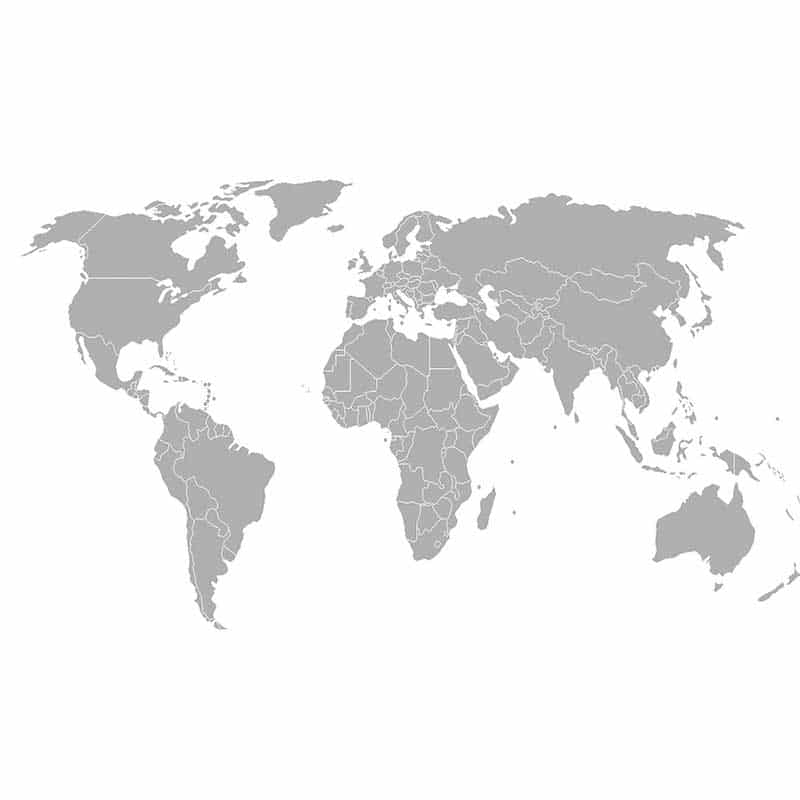 How to make an applique denim floor cushion
The first thing to do is to print off the World Map template. The template will print over several pages.
For this giant map pillow, I made each continent a different shade of denim. So to start with I cut out each of the contnents from the world map template. I then placed these on the cushion cover and drew around them with a pencil. Until I had transfered the whole world map to the linen cover.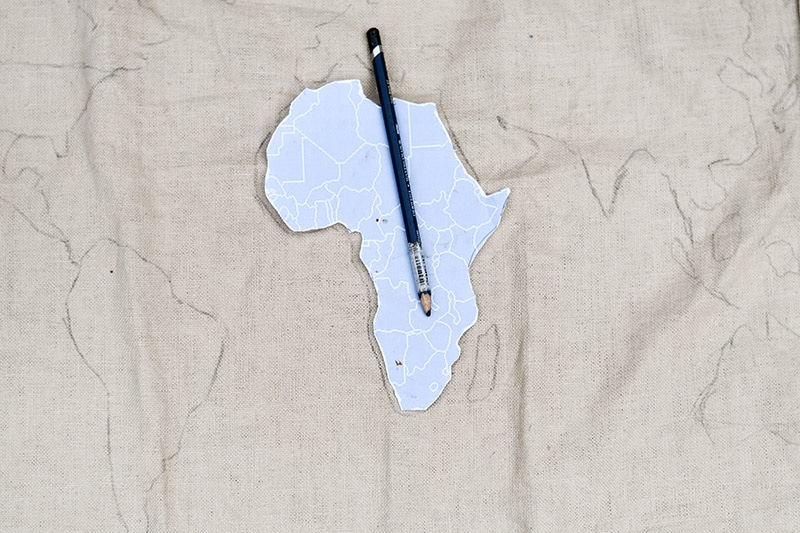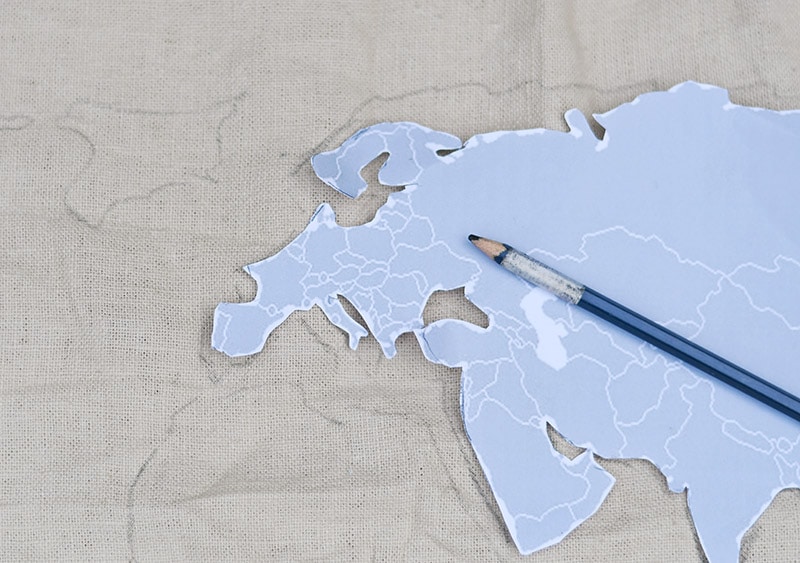 You may want to take a bit of artistic licence and squash the continents slightly closer together so that they fit on the square cushion cover.
Take the paper world map templates you have cut out and use them to cut out continent shapes from the scraps of denim. The floor cushion will look good if you use a different shade of denim for each continent.
The denim continent shapes will start to fray quickly. To stop this happening just brush a small amount of fabric Mod Podge around the edge.
Using the pencil world map outline as a guide pin the denim pieces to the floor cushion cover.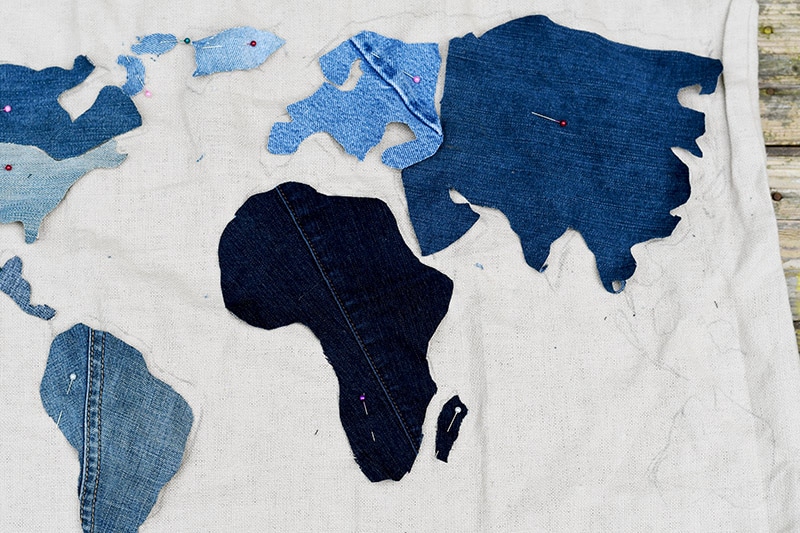 Next hand stitch each of the denim pieces to the cushion cover. I used a simple back stitch using a cotton in a contrasting colour for this and stitched around the edge of each piece. I hadn't handstitched anything for a while and was surprised how quickly I stitched on the pieces. However, backstitching is a quick stitch.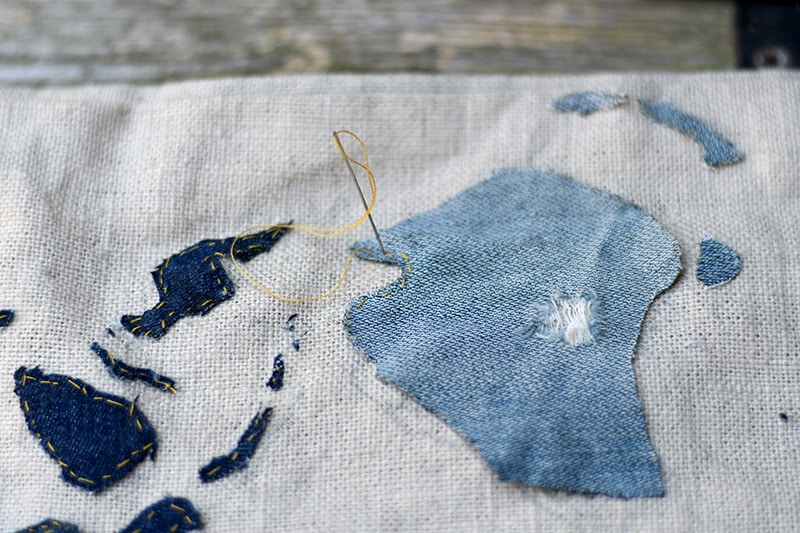 Finally, to finish and to add a personal touch to the world map floor cushion, I cut out some small red felt hearts and stuck them on the cushion. I used fabric glue to stick them on countries close to my heart, but you can easily stitch the hearts in place.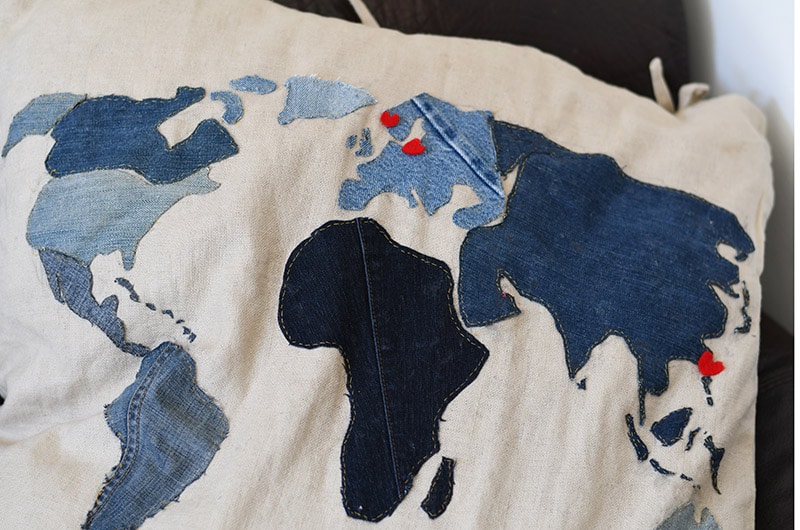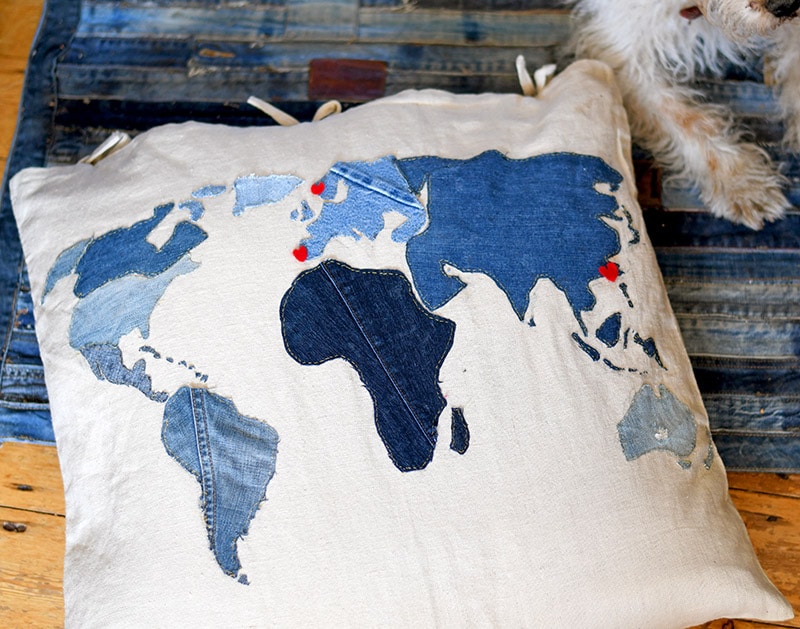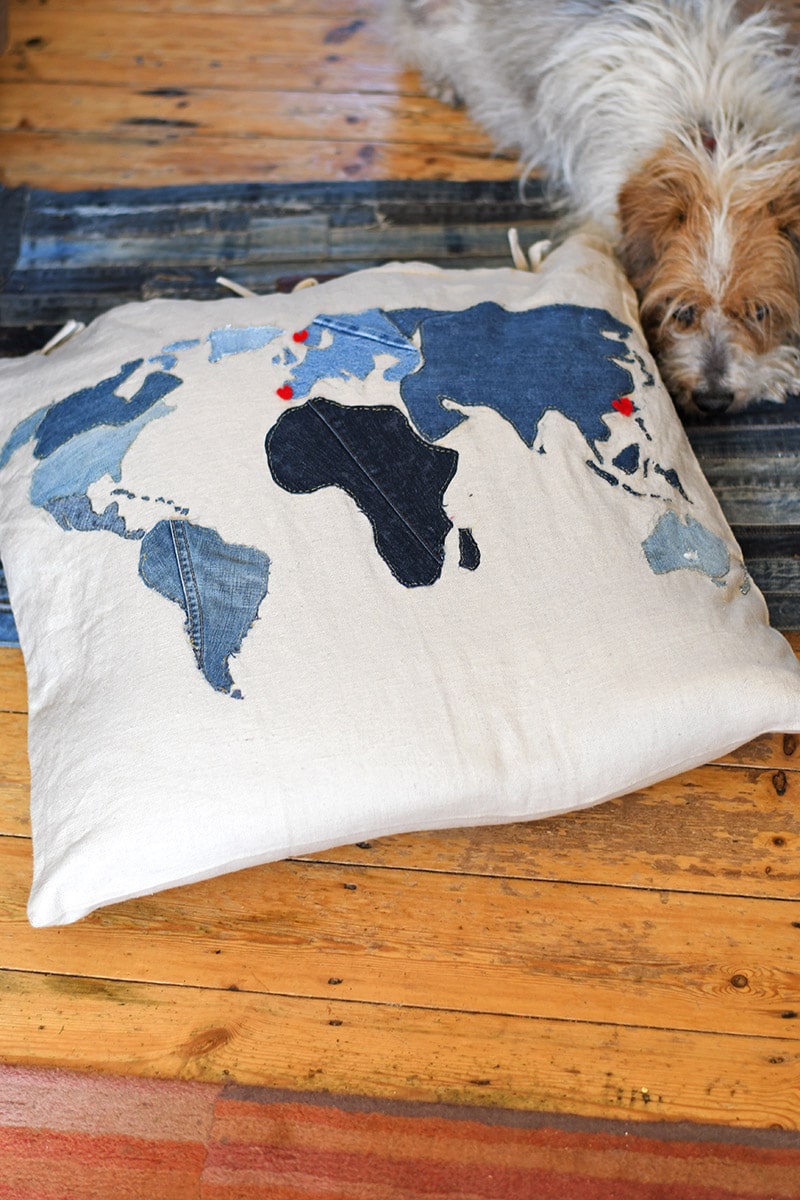 I know I said this was a floor cushion because of it's size but I also like it on the chair. However, it doesn't leave much room to sit. I think the denim floor cushion would look great in a den or a teen bedroom. It would also make a great gift for anyone with wanderlust!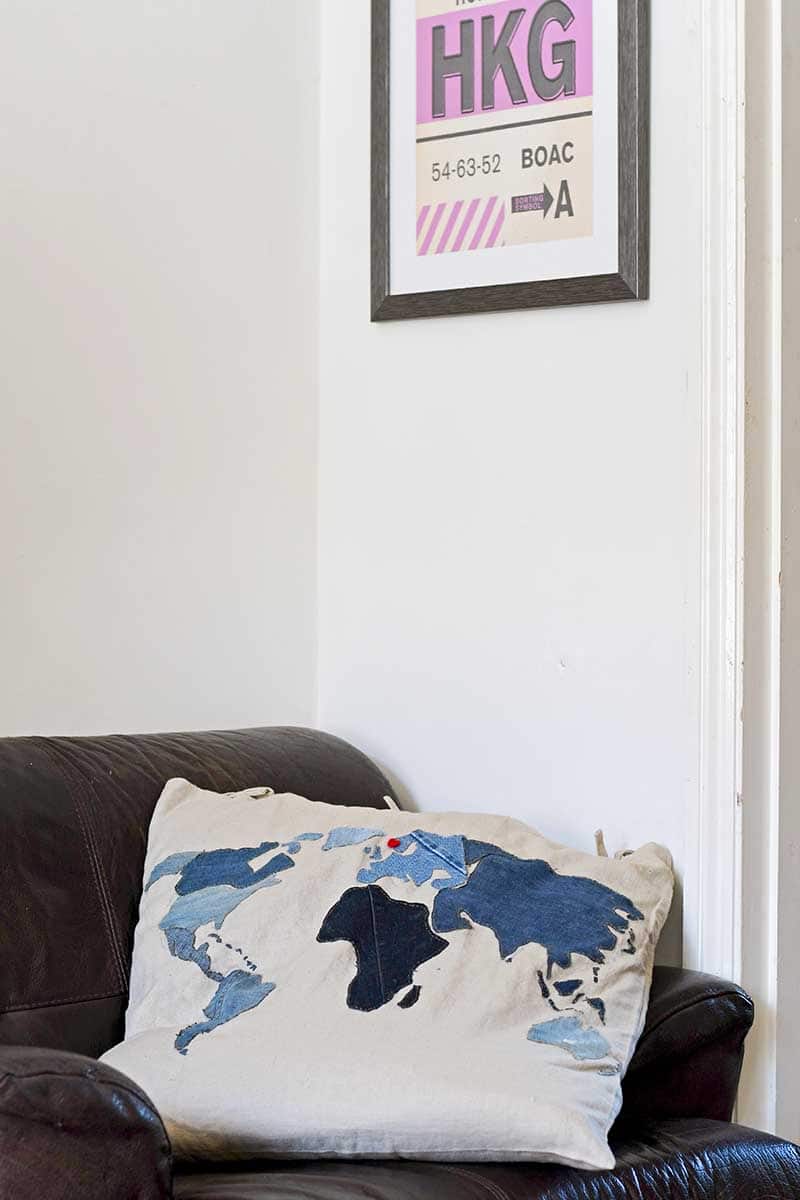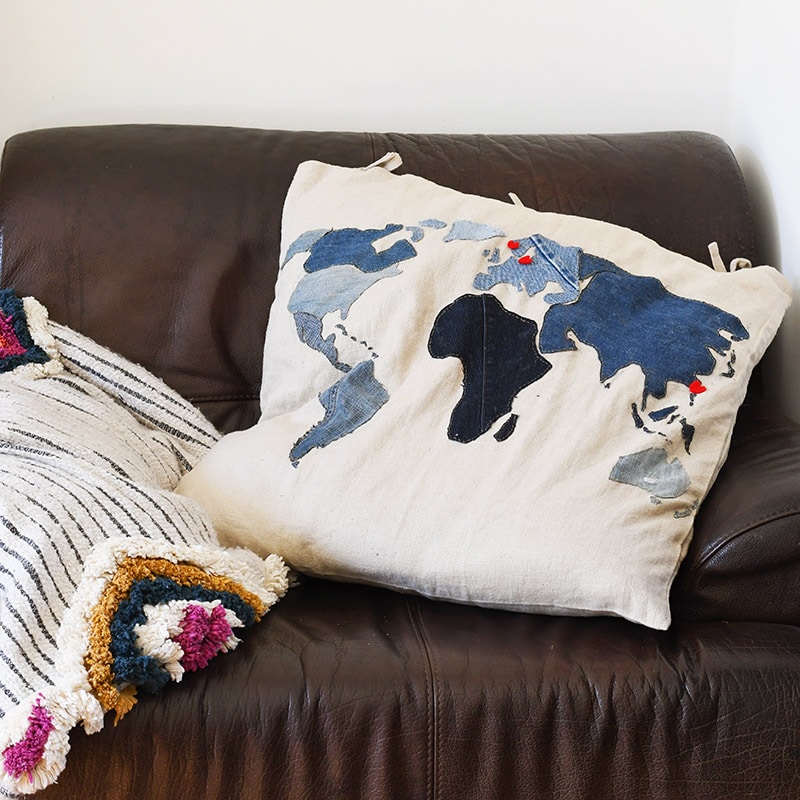 If you are looking for the best denim pillow ideas take a look at these.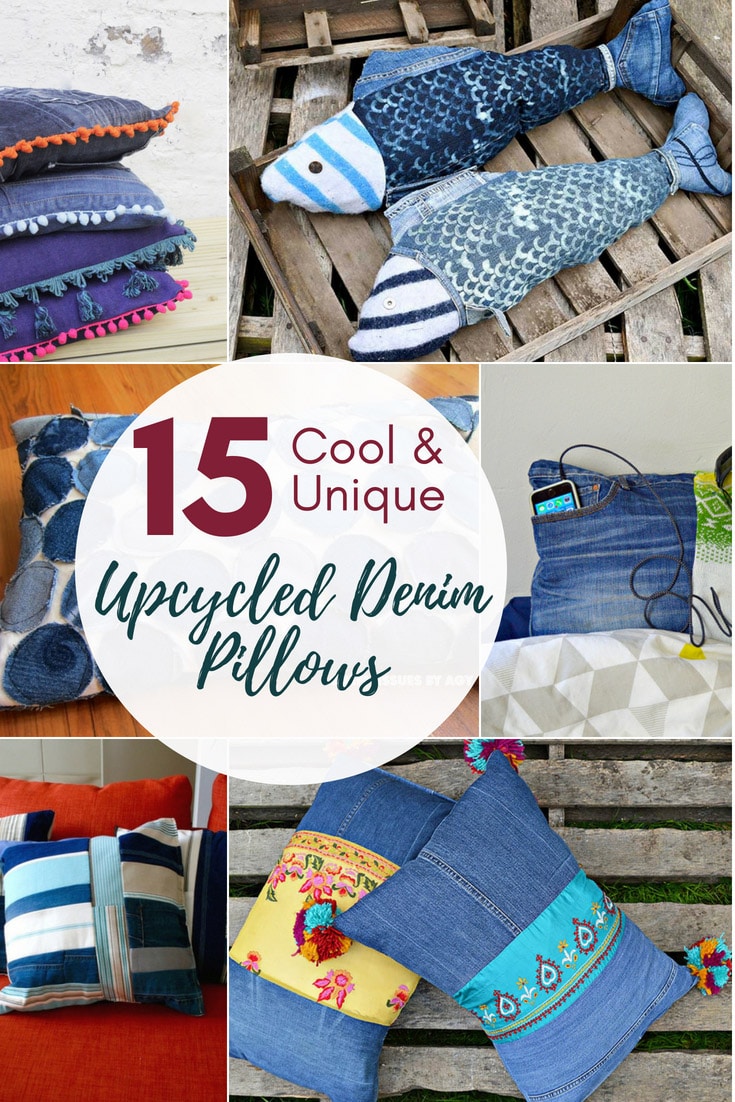 For more free sewing patterns subscribe to allfreesewing.com