Again I get to combine my passion for upcycling old jeans with my love of maps with this unique applique denim floor cushion. YEAH!
I was rummaging through my fabric stash when I came across this IKEA Ursula beige linen large pillow cover. I'd bought it yonks ago for what I can't remember now.
You know what it is like you visit IKEA for one thing like some kitchenware and buy extra stuff you didn't know you needed. Sometimes, resistance is futile in IKEA!
Lovely as it is, the floor cushion cover was a bit plain for me. That's when I got the idea to embellish it with denim.
I've wanted to make a denim world map for ages, and I thought an applique denim world map would look great on this cushion cover. It will go well with the world map desk I made for my study.
This isn't my only IKEA world maphack; I've also made an IKEA world map table and IKEA map clock. I've even upcycled those mini drawers IKEA Moppe hack with maps.
Free Pattern For A Unique Applique Denim Floor Cushion
I added a personal touch to the map floor cushion by making tiny red felt hearts to mark places in the world that are special to me. The hearts were placed on Hong Kong, UK and Bergen, Norway.
I love the rustic farmhouse look of the denim combined with the linen on the floor cushion. My son has his eye on it, and I think it may disappear when he returns to Uni after the summer holidays.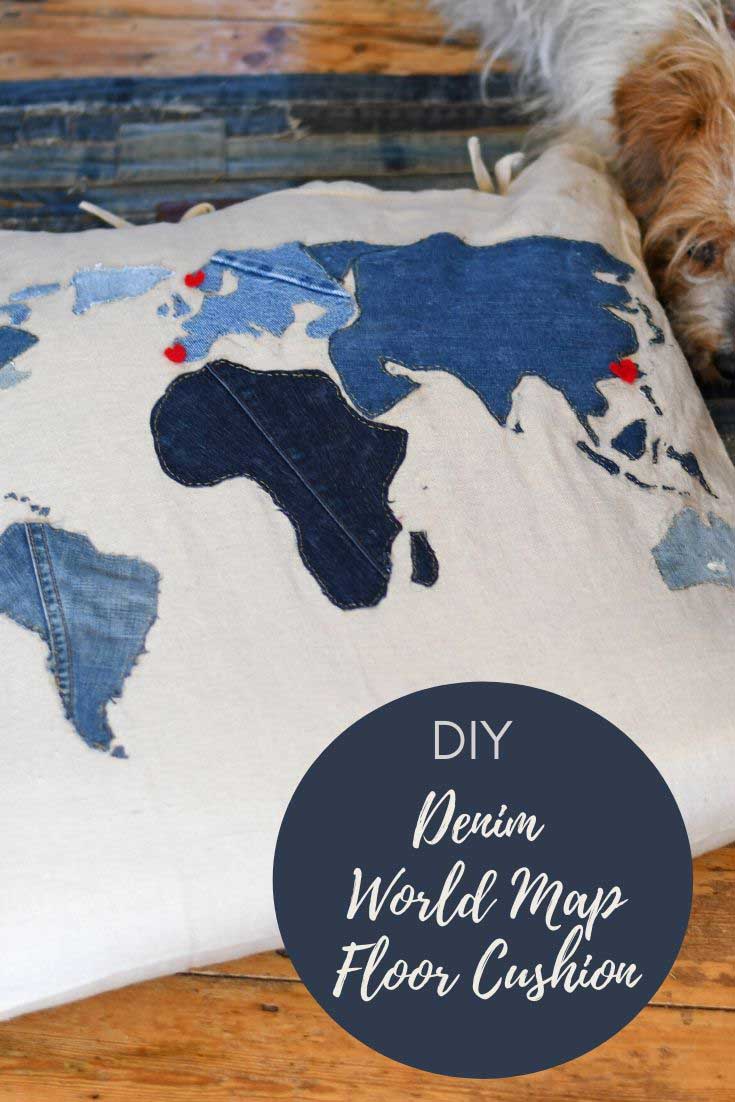 The world map cushion is featured in the A to Z of repurposed denim crafts.
We're a participant in the Amazon Services LLC Associates Program, an affiliate advertising program designed to provide a means for us to earn fees by linking to Amazon.com and affiliated sites. As an Amazon Associate, I earn from qualifying purchases.
What you need to make a world map floor cushion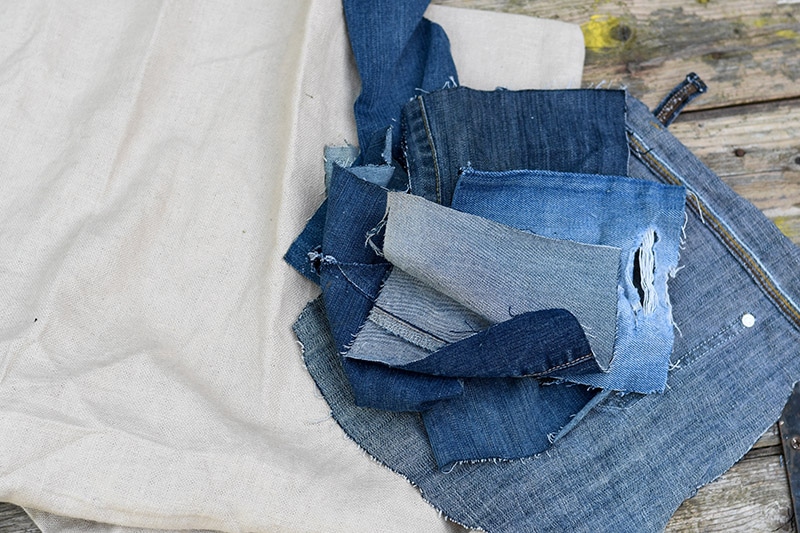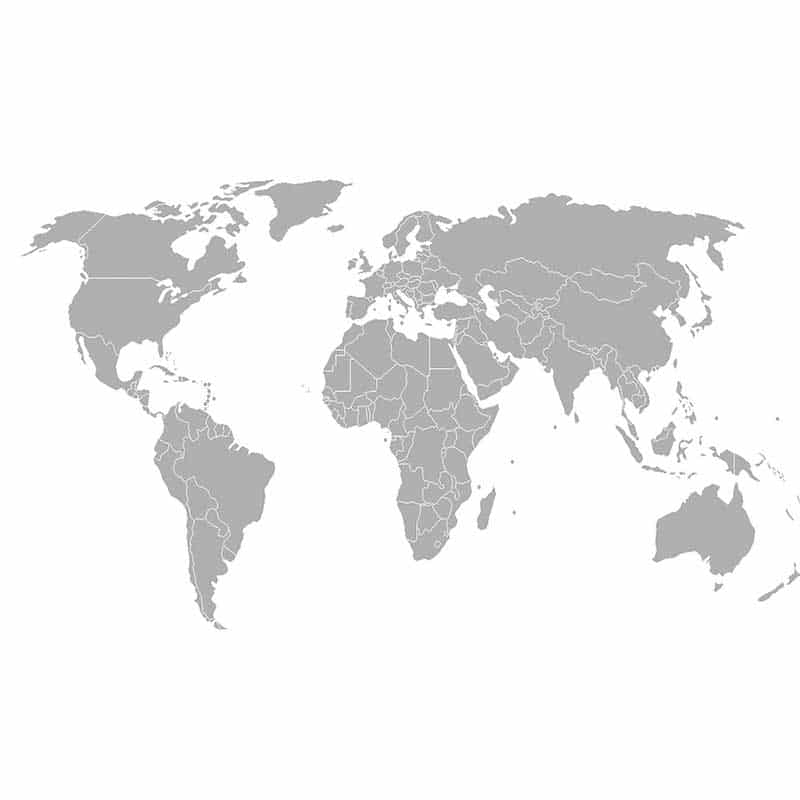 How to make an applique denim floor cushion
1.. The first thing to do is to print off the World Map template. The template will print over several pages.
2. Next, I made each continent a different shade of denim for this giant map pillow. So, I cut out each continent from the world map template.
I then placed these on the cushion cover and drew around them with a pencil until I transferred the whole world map to the linen cover.
Top Tip: You may want to take a bit of artistic license and squash the continents together so they fit on the square cushion cover.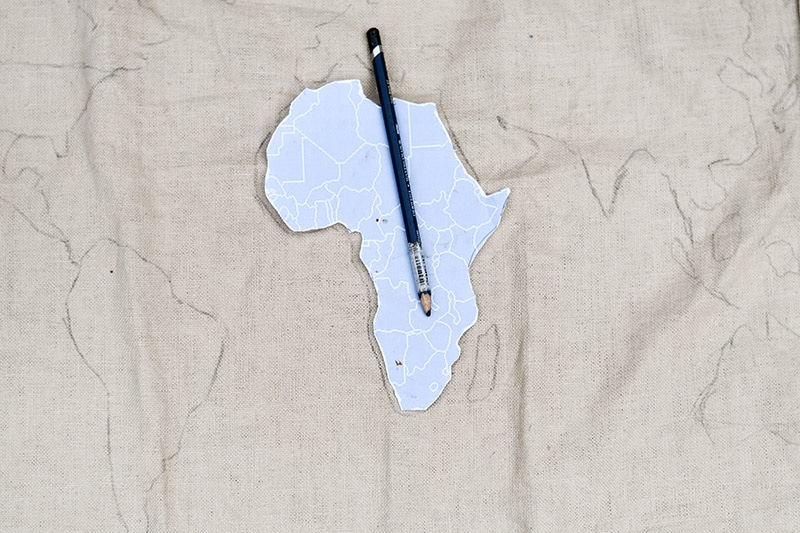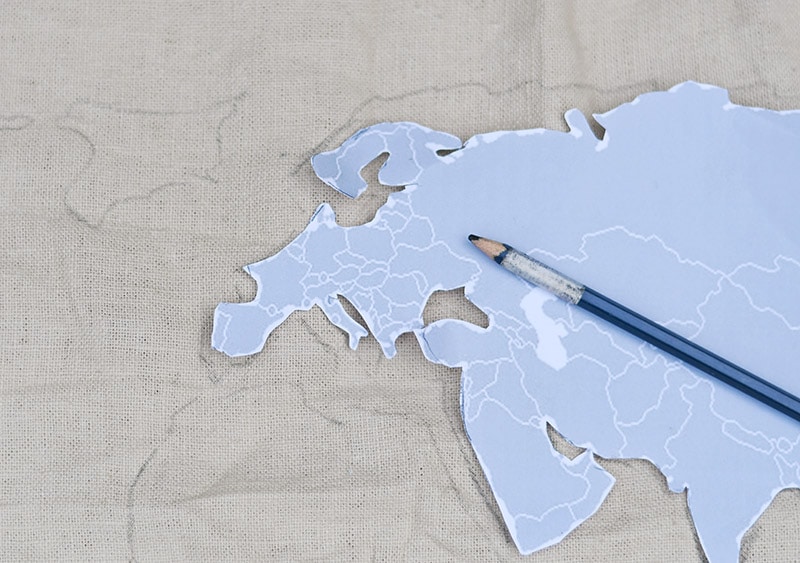 3. Next, take the paper world map templates you have cut out and use them to cut out continent shapes from the scraps of denim. The floor cushion will look good if you use a different shade of denim for each continent.
The denim continent shapes will start to fray quickly. To stop this from happening, brush a small amount of fabric Mod Podge around the edge.
I am using the pencil world map outline as a guide to pin the denim pieces to the floor cushion cover.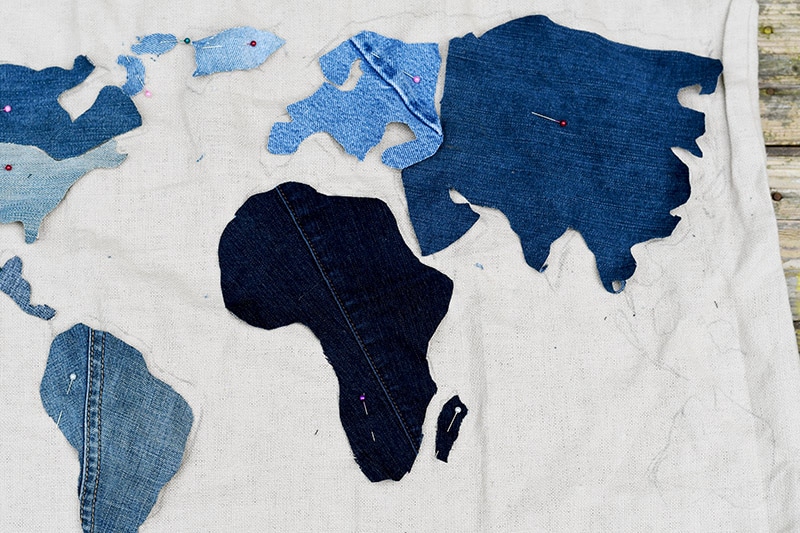 3. Next, hand stitch each denim piece to the cushion cover. I used a simple backstitch using cotton in a contrasting colour for this and sewed it around the edge of each piece.
I hadn't handstitched anything for a while and was surprised how quickly I stitched on the pieces. However, backstitching is a quick stitch.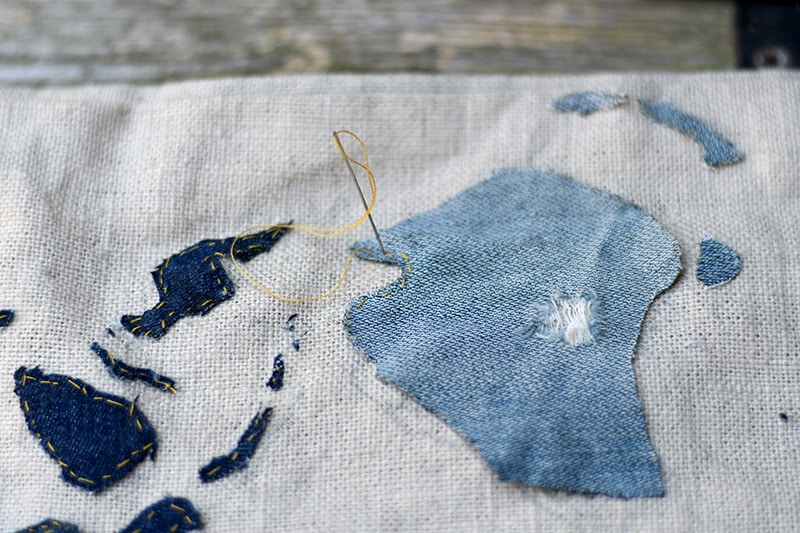 4. Finally, to finish and to add a personal touch to the world map floor cushion, I cut out some small red felt hearts and stuck them on the pillow.
I used fabric glue to stick them on countries close to my heart, but you can quickly stitch the hearts in place.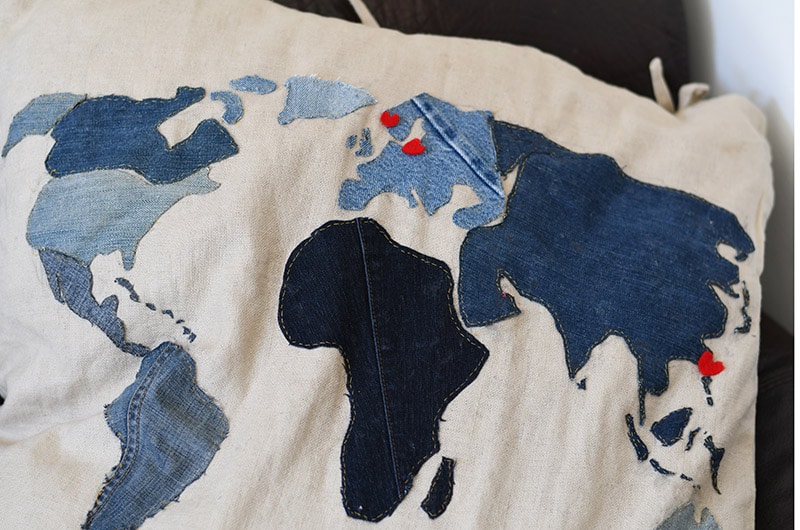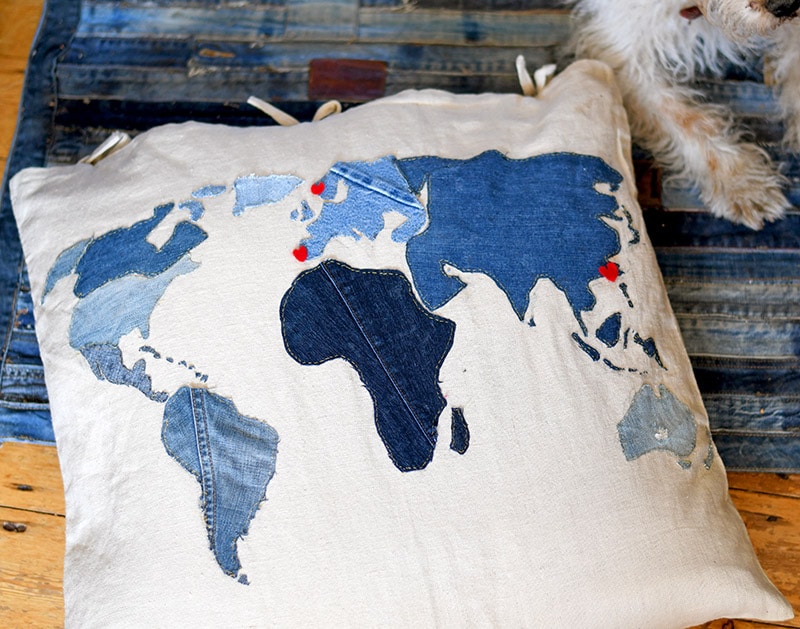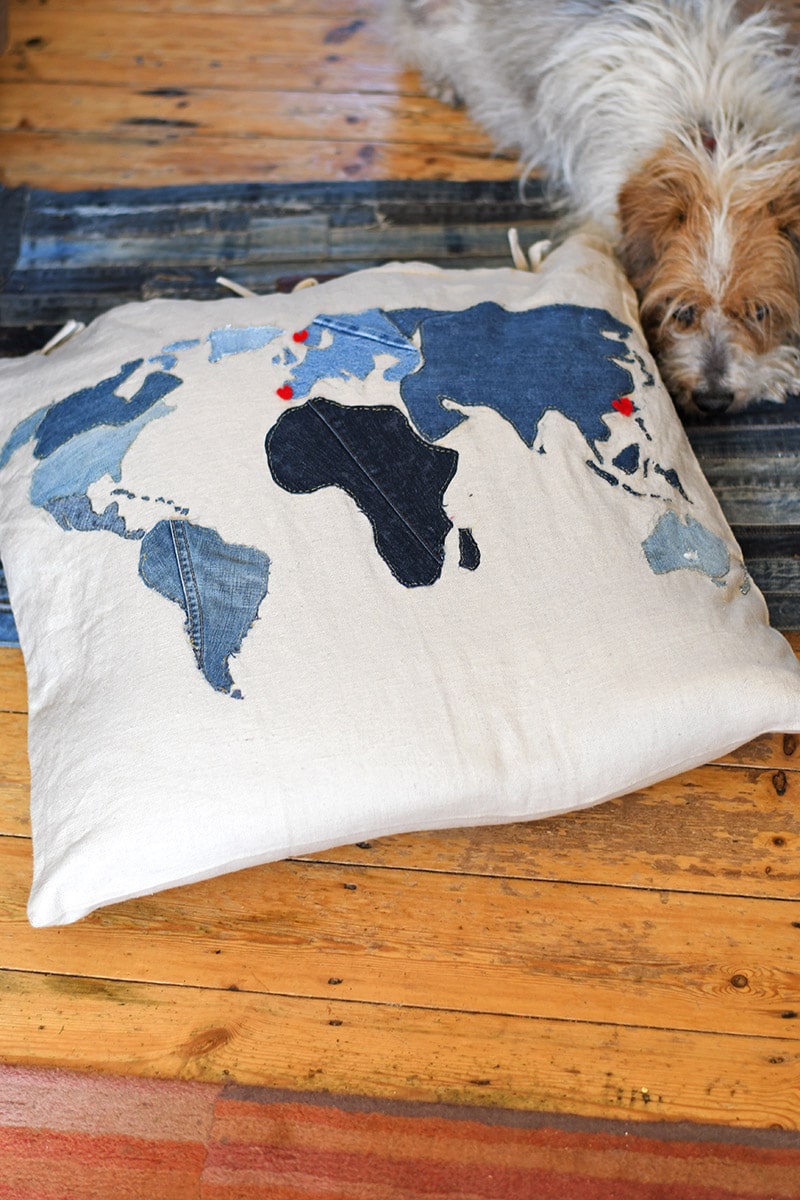 I know I said this was a floor cushion because of its size, but I also like it on the chair. However, it doesn't leave much room to sit.
I think the denim floor cushion would look great in a den or a teen bedroom. It would also make an excellent gift for anyone with wanderlust!
You can make the same cushion using other kinds of fabric scraps.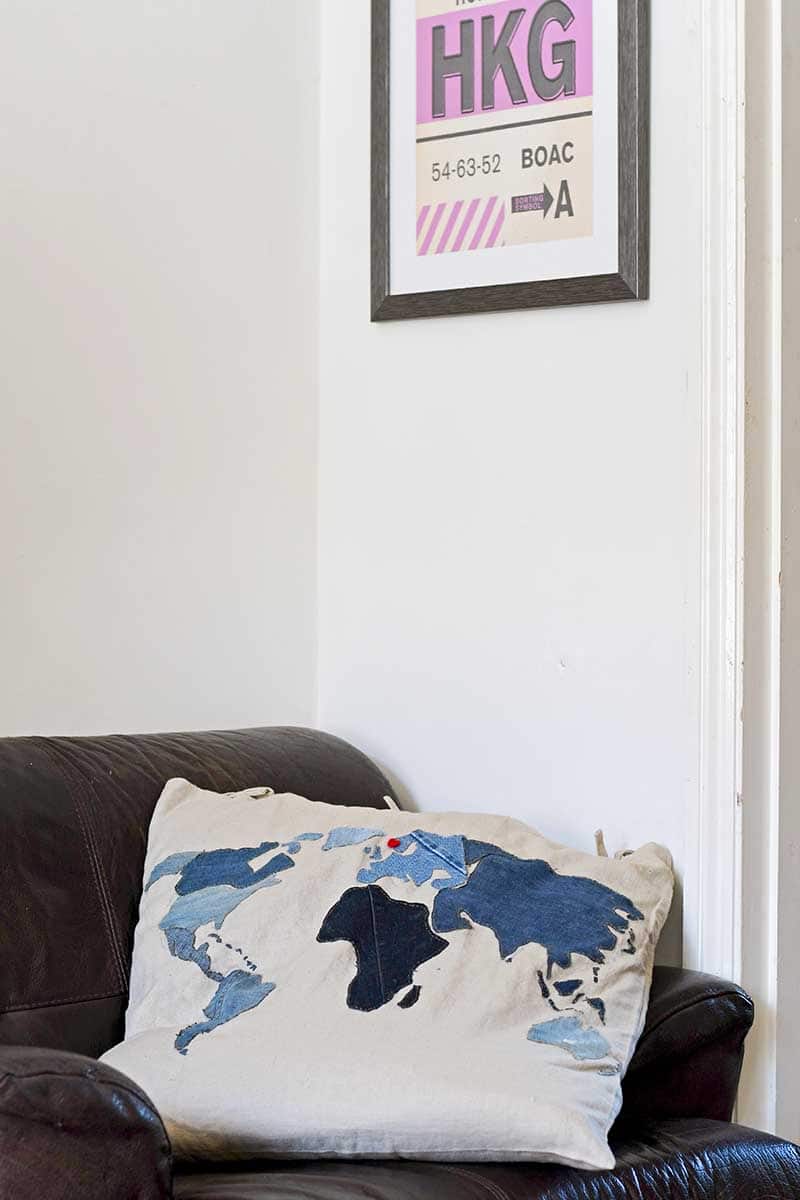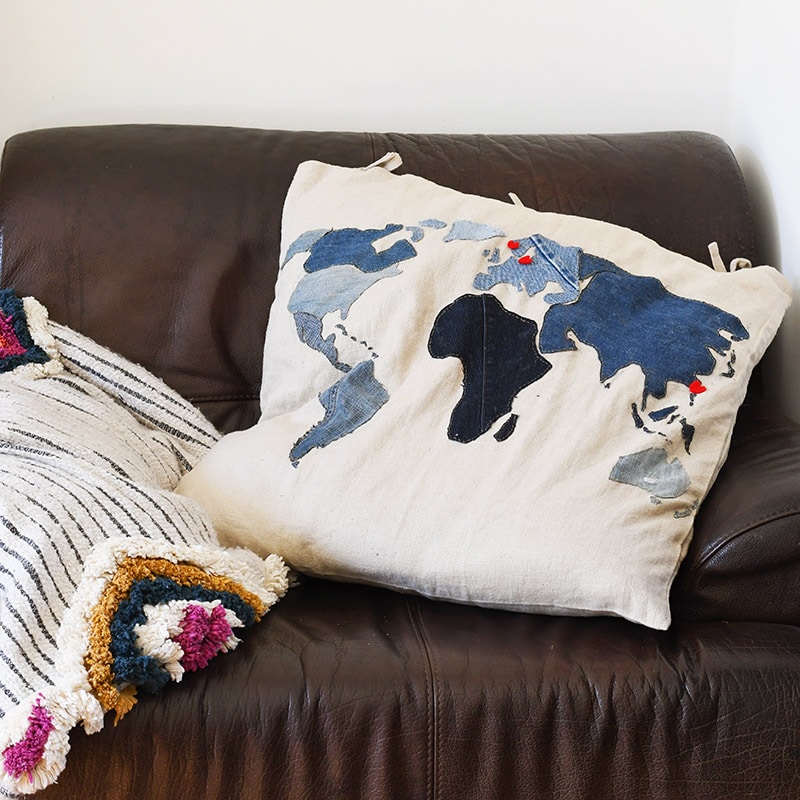 If you are looking for the best denim pillow ideas, look at these. Also, there are more hand-sewing crafts here.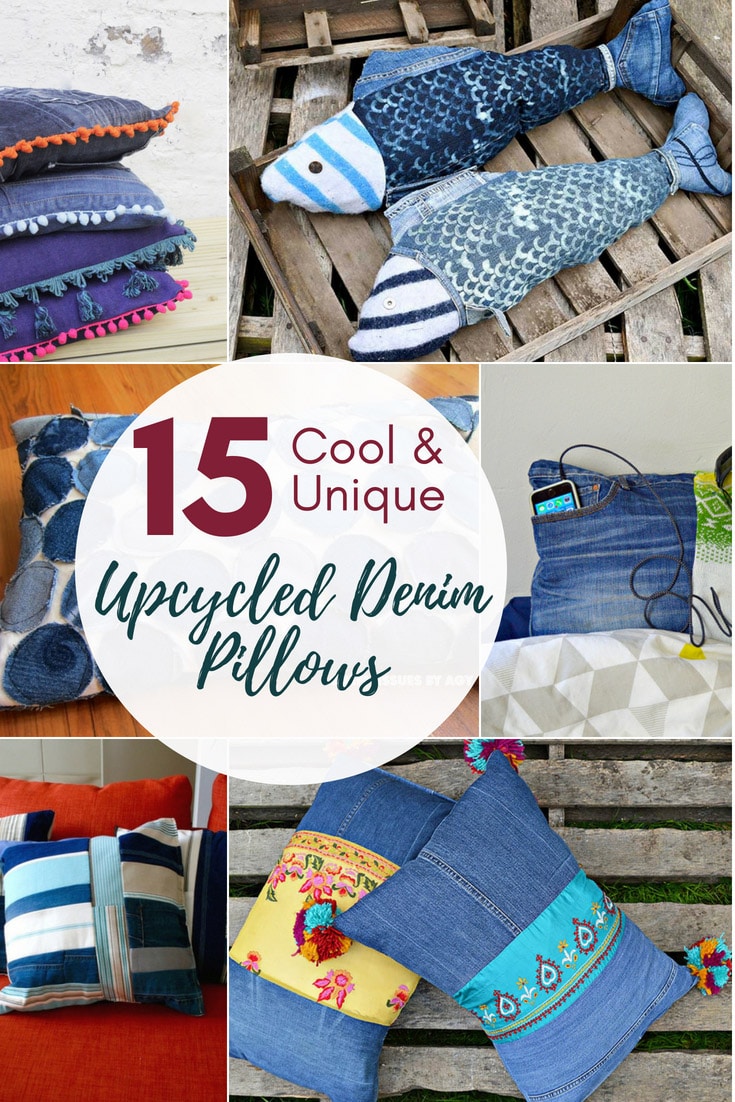 These aren't the only map-themed pillows in my home; you should check out my tutorial for personalized tag burlap map pillows.
Also, if you would like some vintage world map prints to compliment the pillow, there are some free ones here to download.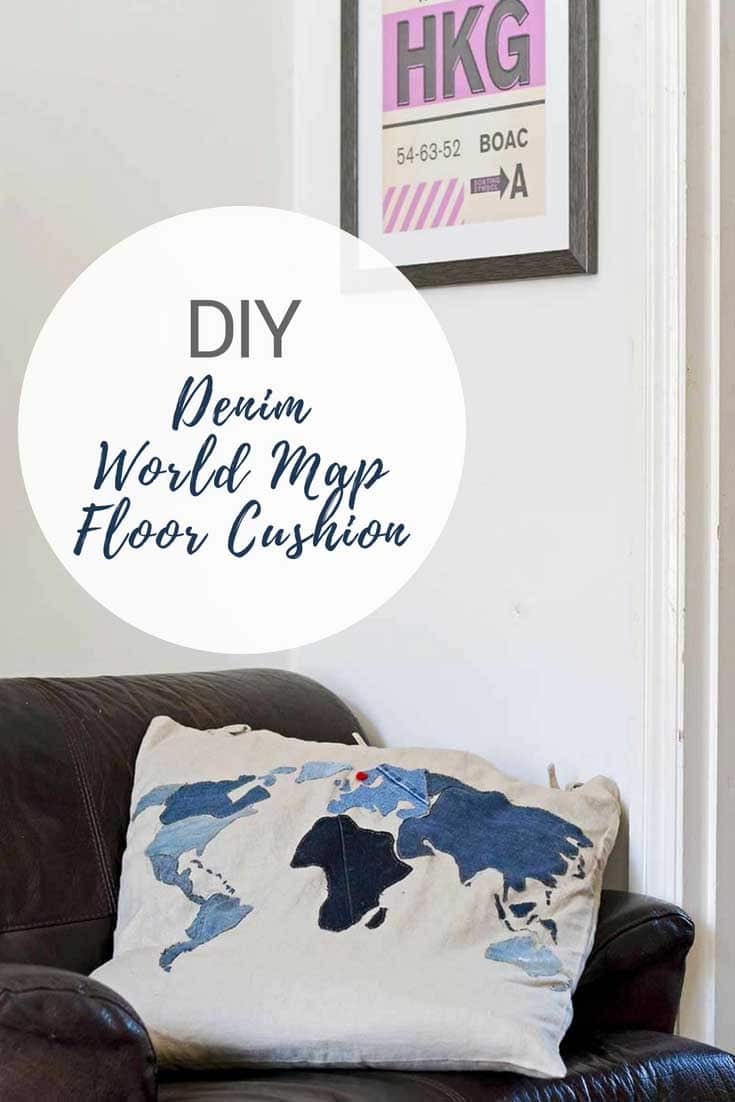 For more free sewing patterns, subscribe to allfreesewing.com.