Tin Can Upcycled Advent Calendar
Upcycled Advent Calendar – For me the best part of Christmas is the build up, all the crafting and gift making. It's like a lot of things in life the anticipation is the most exciting bit.

A big part of this Christmas hype is the count down to the big day. Of course the best way to do this is with an advent calendar. We have at least 2-3 advent calendars in our house.

I like to make my own upcycled advent calendars so that I can put in my own treats and pictures. My upcycled advent calendars usually contain a daily chocolate treat and a cheesey Christmas joke to hopefully make my boys smile.

I like to make my advent calendars with stuff I have around, last year I made a paper envelope Christmas calendar. This year I saved up all my tin cans and made my upcycled advent calendar using them.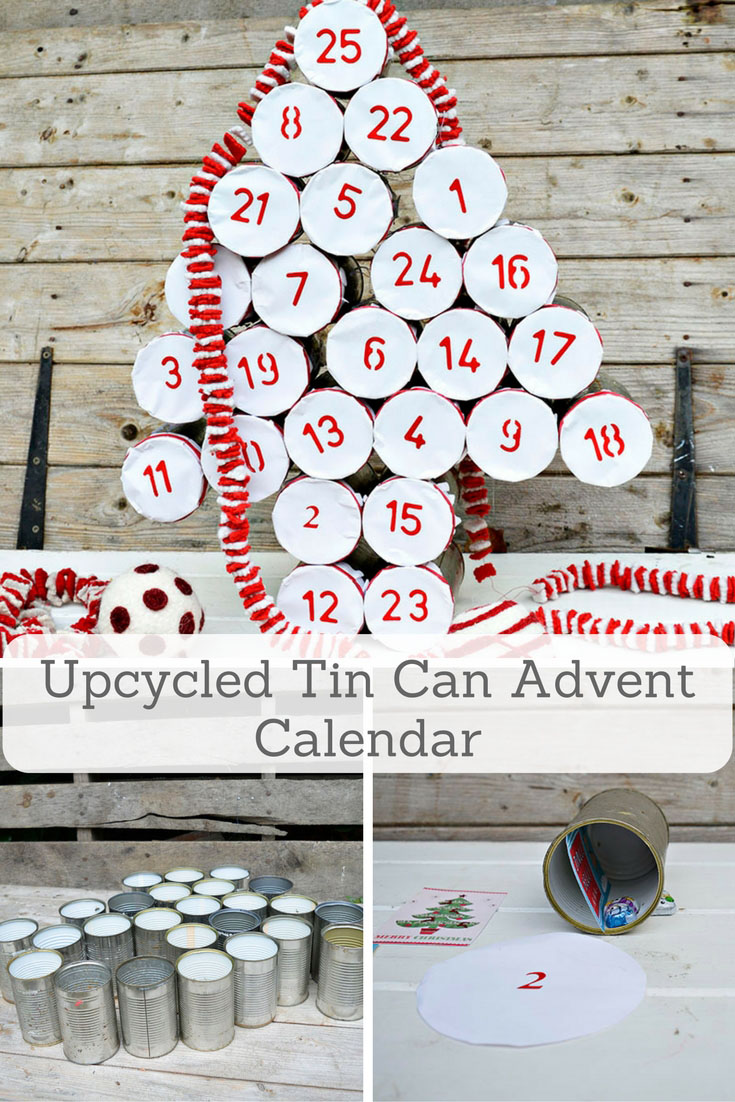 I also love the rustic look of this upcycled advent calendar. It wouldn't look out of place in a home with a farmhouse or industrial vibe.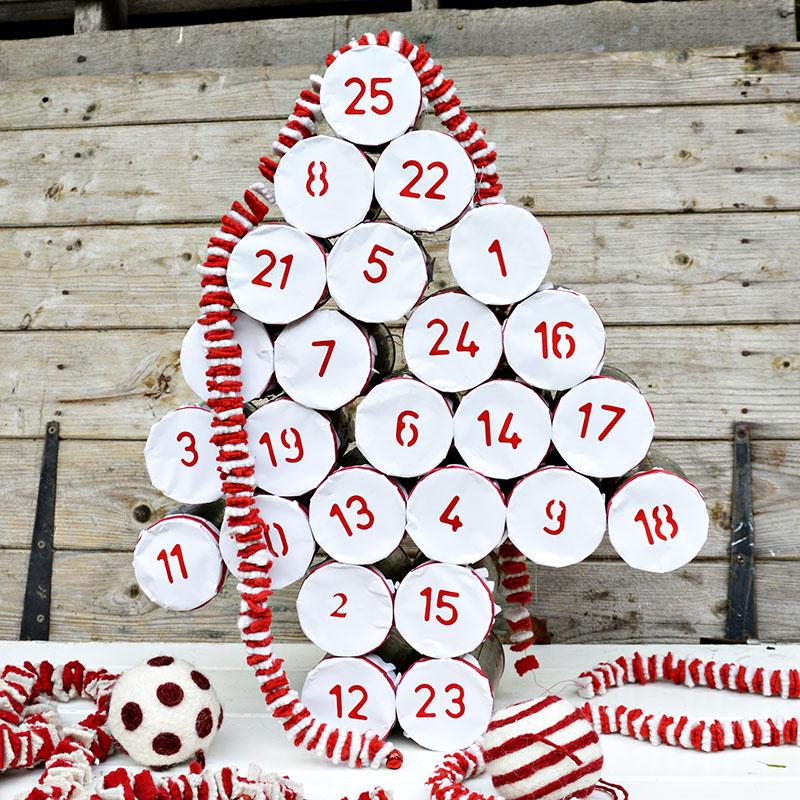 This post contains amazon affiliate links for your convenience. Click here to see my disclosure policy.

What you need to make a tin can Upcycled advent calendar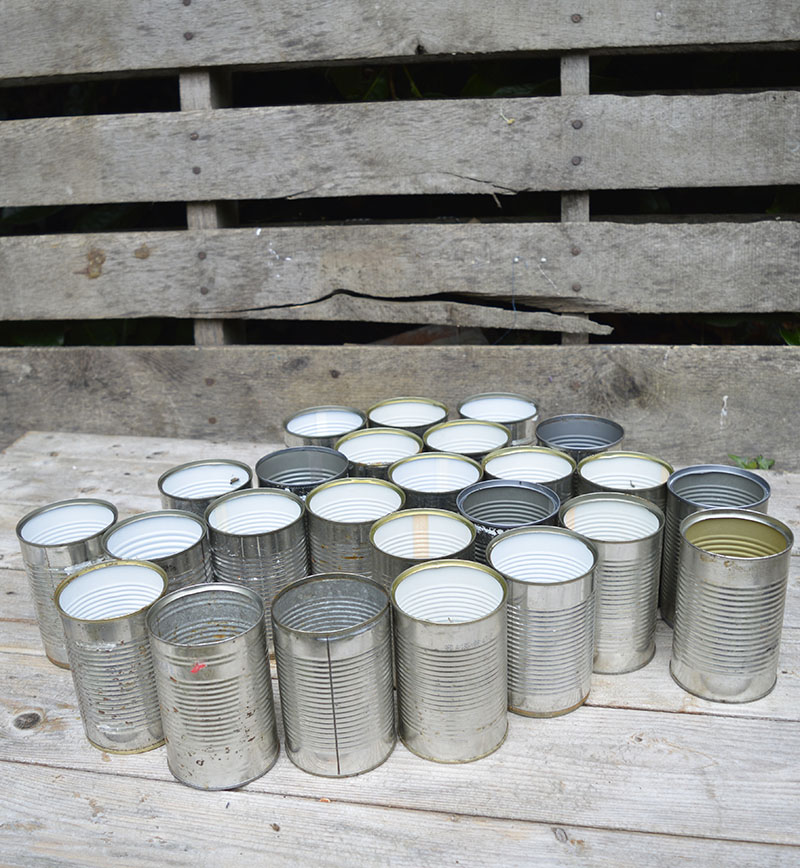 25 Tin cans – (I saved my tin cans from all the tin tomatoes and coconut milk I use in my cooking.) If you don't have enough tin cans you can always rope in family and friends. Mine are always giving me their tin cans to upcycle.
White gift wrap paper – You can always use brown if you want an even more rustic look. I went for the white as I thought it was more Christmasy looking.
Red Sharpie/felt tip pen.
Hot glue gun and plenty of glue sticks. Or you can use double sided sticky foam pads.

To fill your upcycled advent calendar
Christmas chocolates and sweets.
Old Christmas cards – for the pictures.
A collection of cheesy Christmas jokes – I used the collection published in the Telegraph Newspaper.
How to make your upcycled advent calendar
To make the paper covers of your tin cans, on the paper draw around a bowl or something else round that is a bit wider than the top of the tin can.



Cut out these paper discs. You will need 25 paper discs one for each day.

Using a stencil and red sharpie, write the numbers 1 to 25 on each paper disc.




Fill your tins with your treats. As well as the treat, I cut out the pictures of last years Christmas cards and write a cheesy Christmas joke on the back of them. My kids actually look forward more to guessing what the Christmas picture is going to be and seeing how bad the Christmas joke is.



By using a red rubber band, secure the paper cover to the top of each tin. Carry on until you have all 25 tins covered, each with a different number.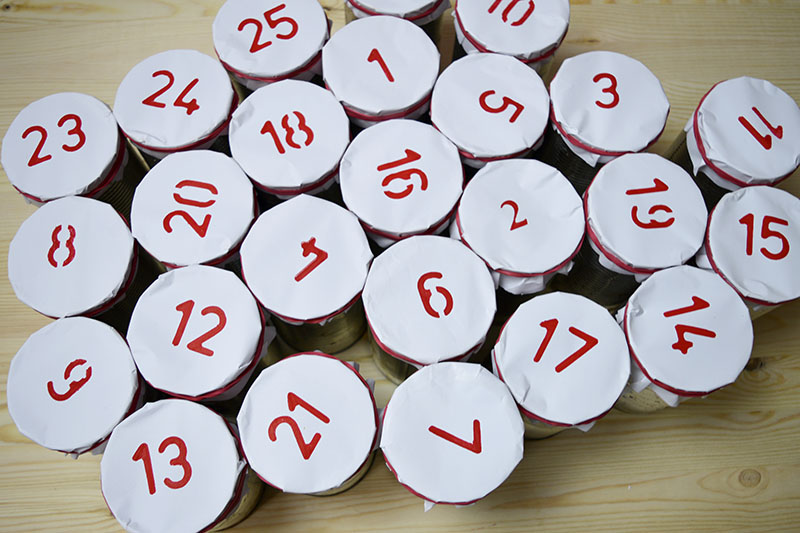 How to construct your upcycled advent calendar
I arranged my tin can advent calendar into a Christmas tree shape. This involved a pyramid of tin cans; a row of 1, followed by a row of 2, then 3, then 4, then 5, then 6. The final 4 tin cans were stacked in a 2 by 2 formation to form the trunk.





I simply used a hot glue gun to stick the tin cans together. I constructed each row of my upcycled advent calendar first. Then I stuck the rows together one by one finishing off with the trunk.

I found the hot glue gun worked really well for this task, as the glue has volume which fills in any gaps. The only thing with a glue gun is that you have to work fast as it sets very quickly (which is actually a good thing). The double sided sticky foam pads work just as well as the glue gun. I used a combination of both.





Personally I like the numbers in my advent calendars to be in a random order. To me that is part of the fun of the advent calendar, hunting for the right day. Are you random or ordered, and what do you put in your advent calendars ?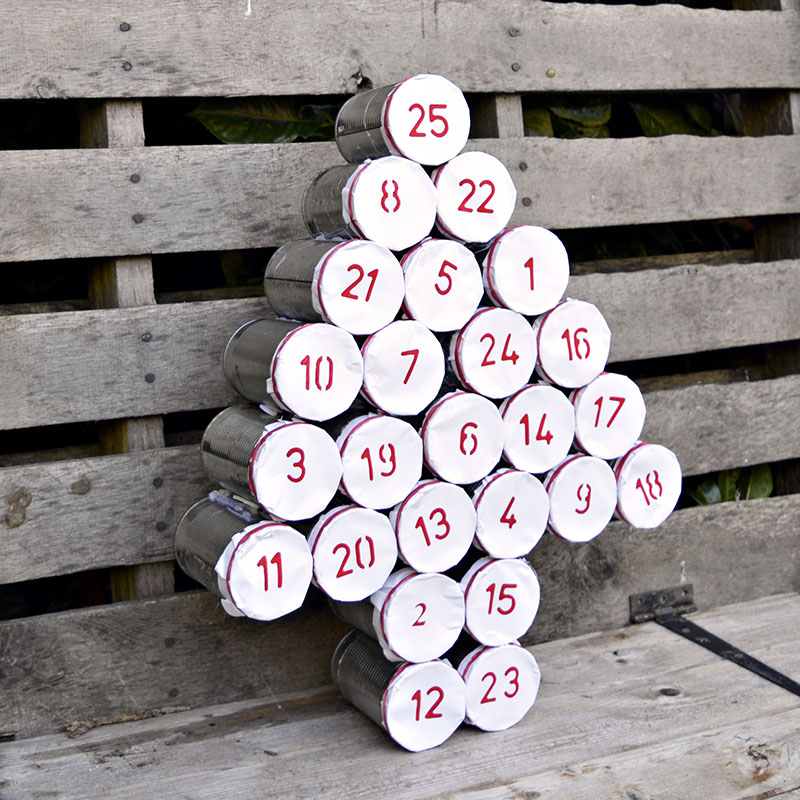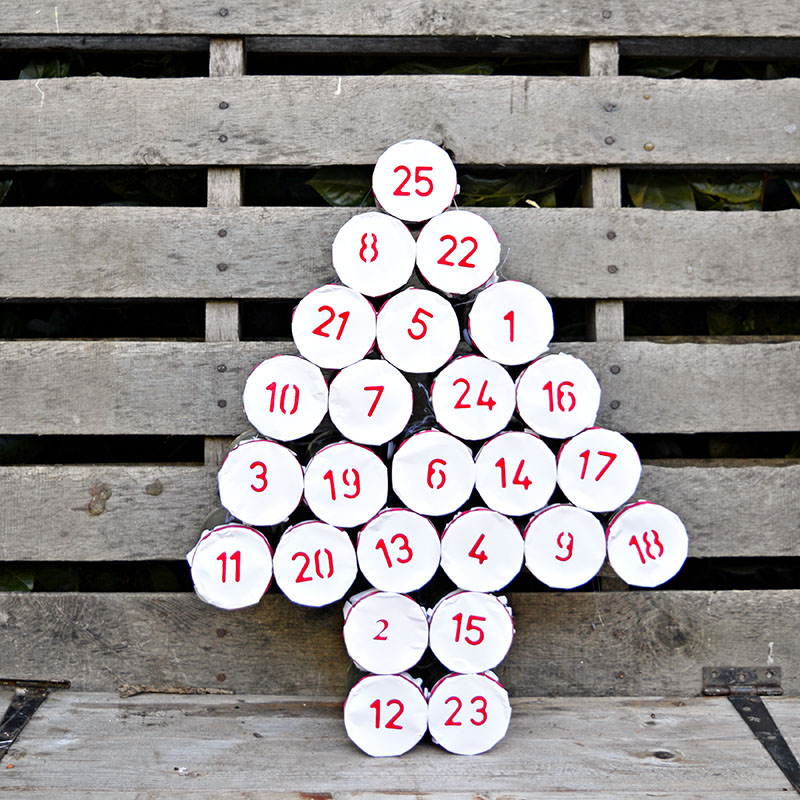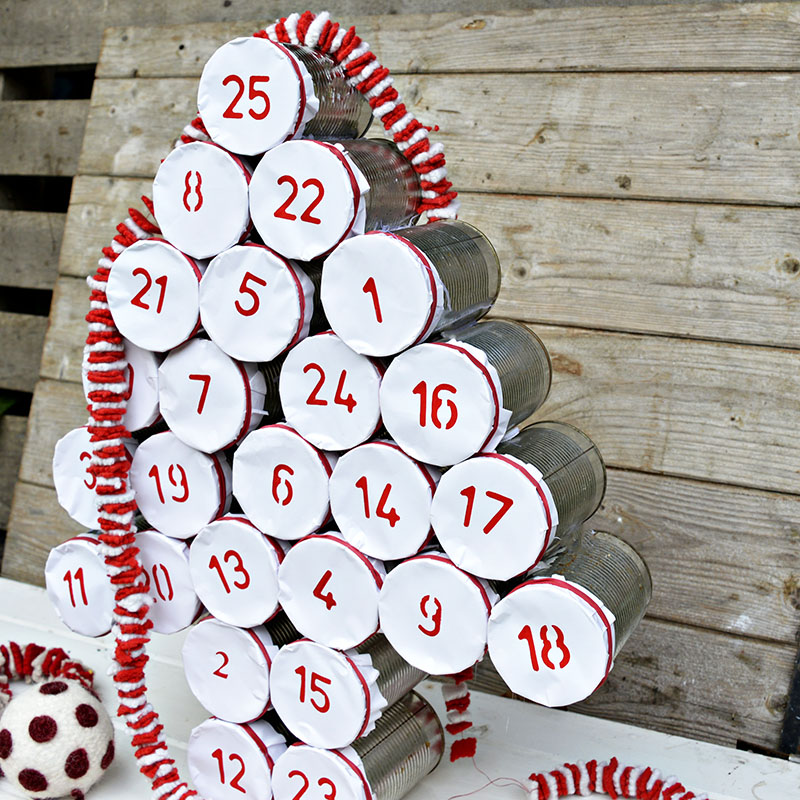 If you like advent calendars you might want to check out the paper envelope advent calendar I made last year.

Also if you like upcycled Christmas crafts check out my sweater upcycled felt garland. Or you could visit allfreechristmascrafts for ideas.