One of the easiest and most effective ways to stamp your own individuality and personality in your home is with some map decor crafts.
Maps look awesome, they are easy to get hold of and by using maps of special places they can personalize and add the wow factor to an otherwise mundane object.
Having traveled a lot and lived in several different countries I have wanderlust. I love travel themed decor. One of the easiest ways to do this is by using map decor crafts.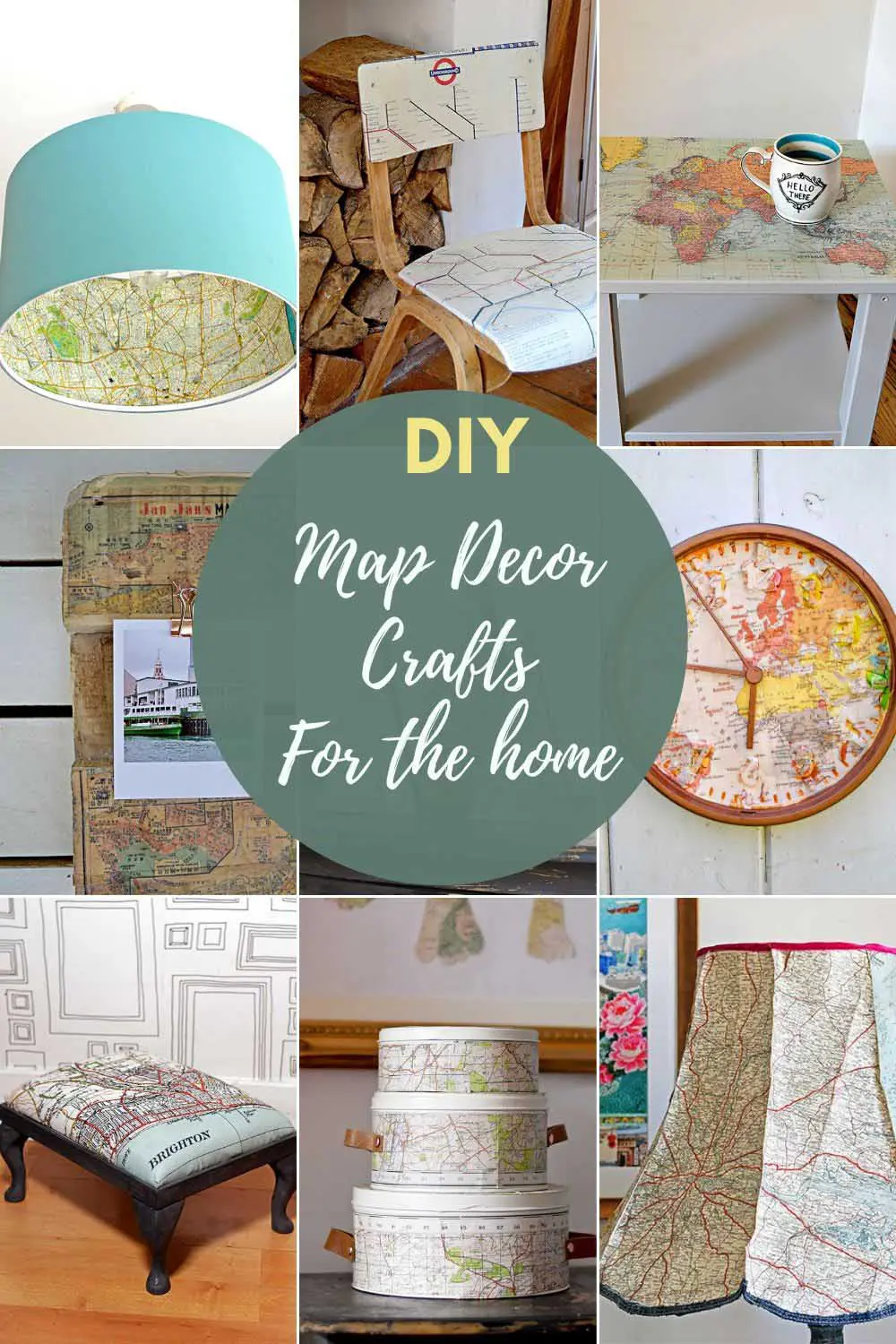 We're a participant in the Amazon Services LLC Associates Program, an affiliate advertising program designed to provide a means for us to earn fees by linking to Amazon.com and affiliated sites. As an Amazon Associate, I earn from qualifying purchases.
What Maps To Craft With & Where To Get Them
I keep maps from all my trips and holidays for crafting. I have a draw full of tourist maps of cities I've visited, out of date road maps and even piste maps from previous ski holidays.
Now that most people use satnavs it is easy to pick up old road maps in thrift and junk stores very cheaply. Maps do go out of date as roads get updated.
Another good resource for vintage road maps is older relatives. I often find that they are more than willing to part with their old road maps especially when they know they are going to be repurposed. My dad is always passing on his old maps to me.
If you want a map of a particular continent, country or city, Pictureboxblue is a great site for free printable maps. There are some particularly amazing vintage world maps on the site.
There is also a selection of free maps for crafting on this site you can download.
Cavallini also produces a wonderful collection of map themed gift wrap which is great for decoupaging furniture. They have world maps, maps of countries such as the USA, Great Britain and Canada to name a few.
Cavallini even has gift wrap of vintage maps of the world's major cities. Such as London, New York and Paris, plus many more.
Map Decor Crafts: Fantastic ideas to Personalize Your Home
There are many ways you can use map decor crafts in your home DIYs. From decoupage with paper maps to sewing with map fabric. Decoupaging old furniture with maps is one of the easiest ways to give it an instant update.
This collection of map crafts includes maps printed onto paper, wood and fabric. One world map pillow is even made out of denim scraps.
So many good map decor crafts to choose from it's hard to pick a favourite. I know I have some in my home already but I would love them all, especially that chest of draws.
If you want more ideas I have a really good Map Crafts and DIY Pinterest board.
For more fun ideas check out these paper doily crafts.