There is nothing like a few unique homemade pillow cover design ideas to add a bit of personality to the most boring of sofas.
Over the years I have made many different kinds of pillows and cushions. Often these fun pillows cover design ideas that are made from old fabrics like wool sweaters and jeans.
They are a very affordable way to add fun accessories to your home. Many of the pillow covers would also make a great homemade gift. Especially the luggage tag pillow covers as they are easily personalized.
Upcycled and DIY Shaped Pillow Covers
There are free patterns and step-by-step instructions for each DIY pillow cover idea. All the pillows/cushions are pretty simple to make. They can be made by hand, by sewing machine or a combination of both of them.
Don't throw away your old jeans and sweaters as these can easily be turned into unique DIY pillow covers for your home.
Felted wool sweaters are particularly well suited for making fun-shaped pillows. That's because felt does not fray so it can be sewn without having to use seams or hems. I have made shaped felted sweater pillows for different seasons. Mountain cushions for winter, decorated trees for Christmas, and bunnies for Easter.
Also, it's fun to give a favourite old sweater a second life by upcycling it into a pillow cover, especially if you have accidentally shrunk it in the wash.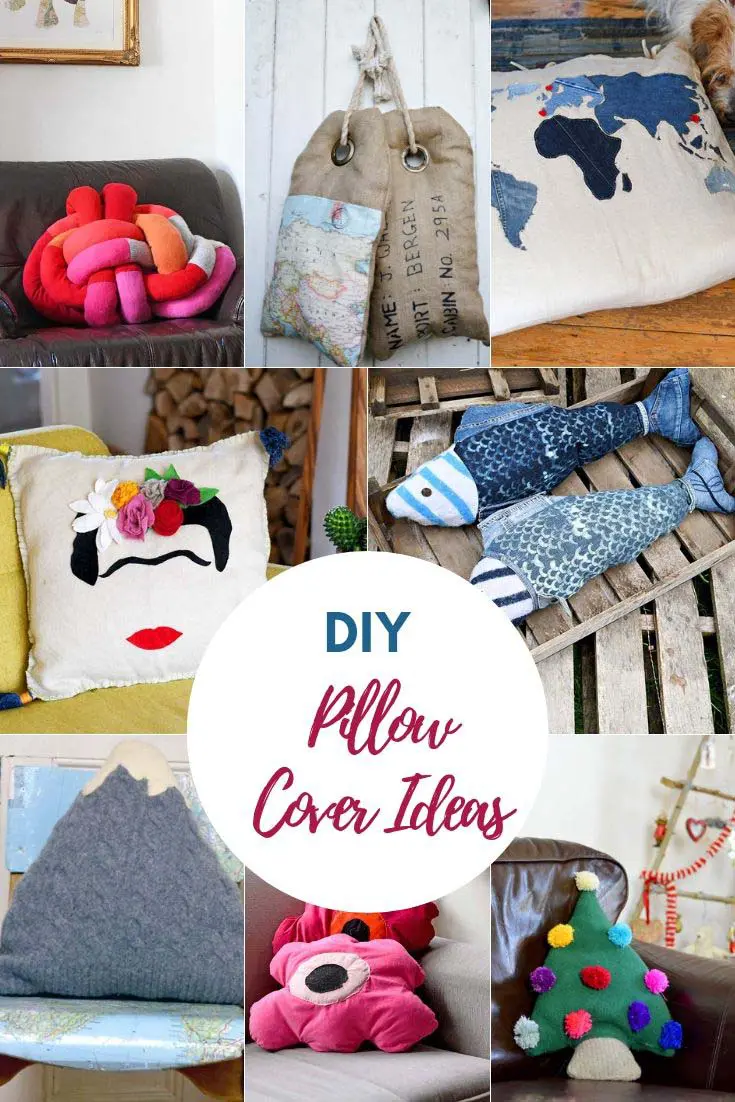 A great use for old jeans is to upcycle the denim into pillows and cushions for your home. There are many different ways to make a denim pillow. You can use many different types of crafts to make pillows from crochet to punch needles and applique.
For more fabulous homemade pillow and cushion, cover ideas visit my Pinterest board. Or how about some homemade denim rug ideas for your home?