Every festive season I dig the box of old favourite Christmas ornaments to decorate the tree with. I add a couple of new handmade ones to the collection each year, including these cotton reel map Christmas ornaments.
Most of the ornaments on our tree are handmade or have some personal significance. There are the ones that the kids made at school and ones that we have collected from holidays.
Every year when I dress the Christmas tree with this mismatch of ornaments, it tells a story.
Ornaments picked up on trips abroad trigger memories of those beautiful vacations. Handmade ornaments the kids have made evoke happy memories of Christmas past.
Map Christmas Ornaments
The map Christmas ornaments will join this box of unique decorations, mainly as I have used maps of areas memorable to us. If you use maps of places with a personal connection, these ornaments will make a unique gift too.
I also upcycled old wooden cotton thread spools and buttons to make the map ornaments. Along with the old road maps, this just added to the vintage feel to these Christmas ornaments.
I find old road maps are great for crafting at Christmas as often they are printed in festive colours. Many of the vintage road maps I have in my stash are printed on white paper with parks and countryside marked out in green and roads in red.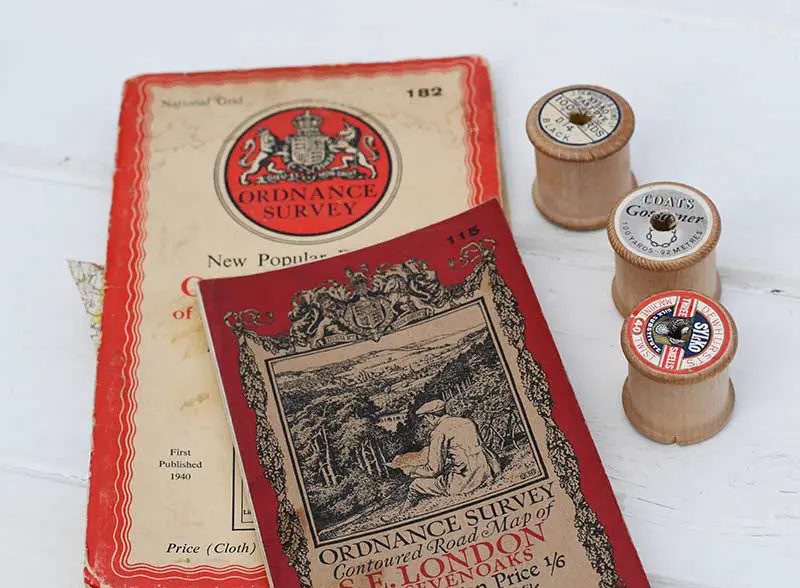 We're a participant in the Amazon Services LLC Associates Program, an affiliate advertising program designed to provide a means for us to earn fees by linking to Amazon.com and affiliated sites. As an Amazon Associate, I earn from qualifying purchases.
What You Need
Maps – I used old road maps. However, there are lots of maps you can download online for free and use. This is handy if you are looking for a map of a particular city or country. There are lots of vintage maps here to download for free.
Red embroidery thread
Paper beads or beads from an old necklace. Mini craft bells.
Glue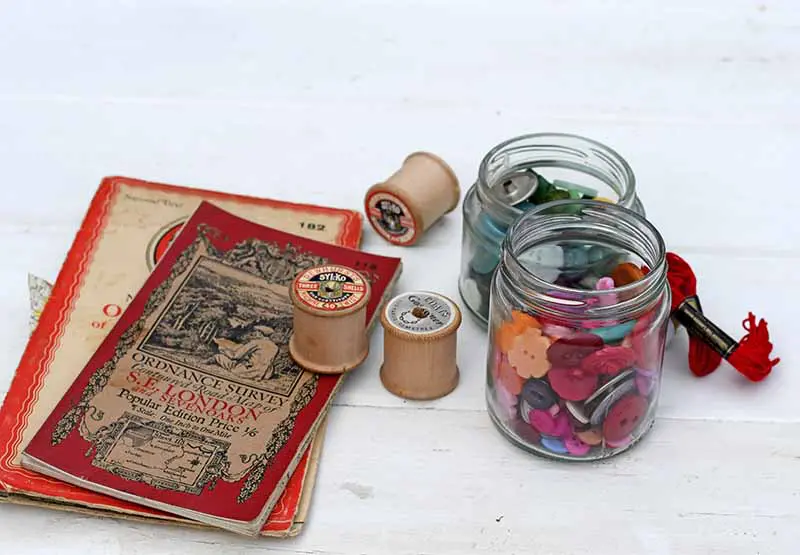 How To Make A Map Christmas Ornament
Step 1: First, decide on what map you will use. You might want to use a map of a favourite holiday destination, where you live or where you met your partner. If you can't decide, you can always make more than one map ornament.
Step 2: Measure the circumference and height of the cotton reel spool. Cut out a strip of the map using these measurements. Wrap the map around the centre of the spool and glue it in place.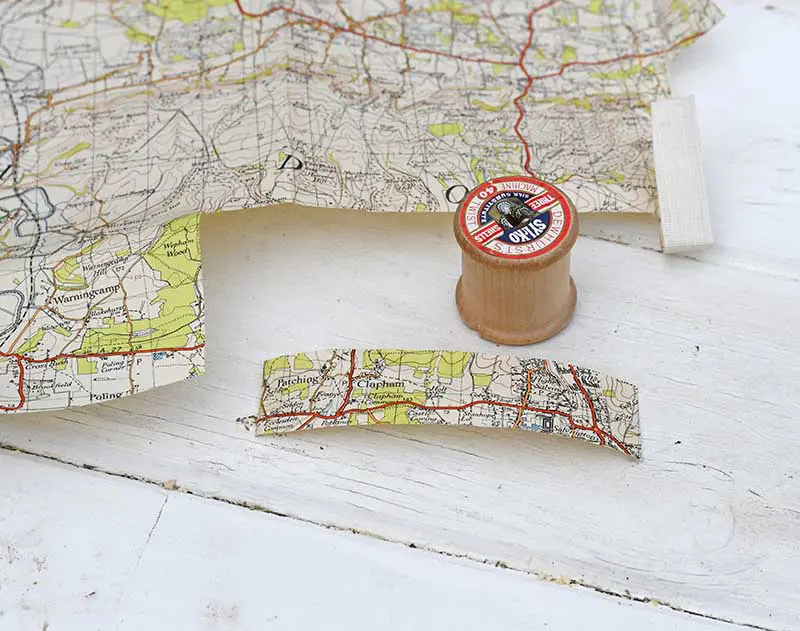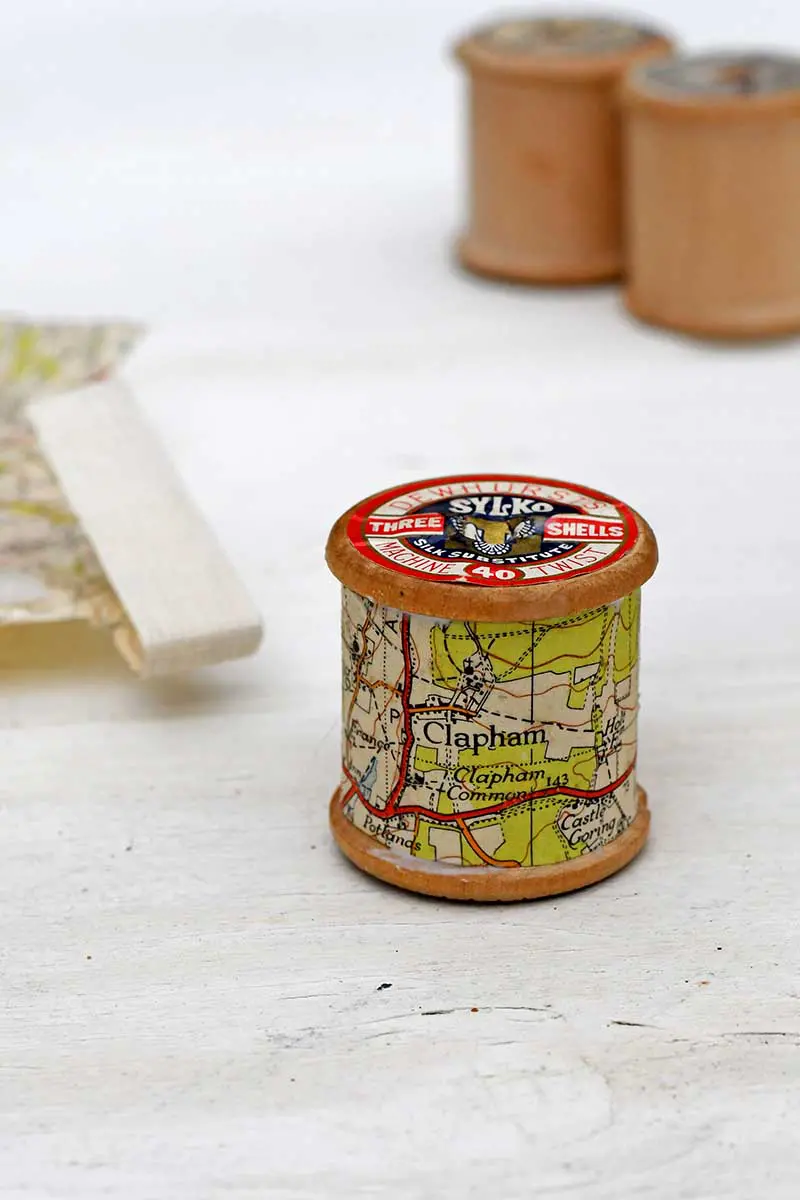 Step 3: Next, raid your sewing stash for some old buttons in Christmas colours of green or red.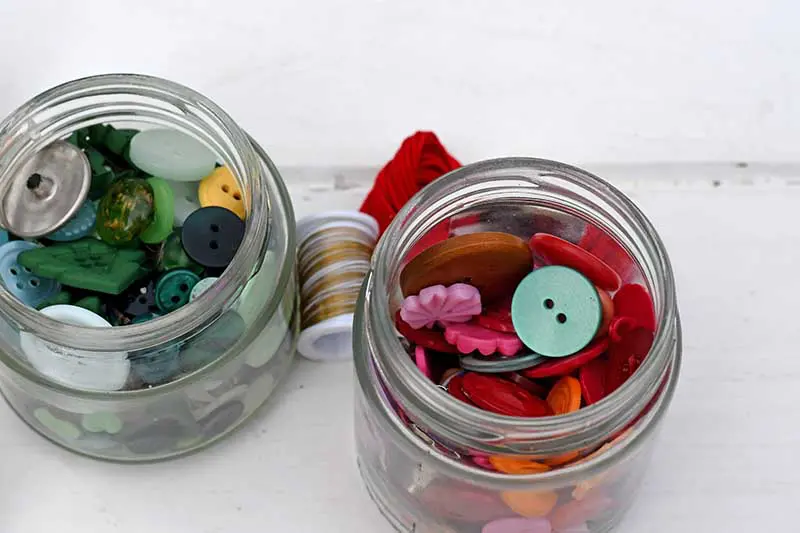 Step 4: Use jewellery wire to thread a few buttons in descending sizes. Then add the map Christmas ornament spool and then thread some more buttons. I also threaded a paper bead.
Make sure you have the map spool the right way up when you thread it. I forgot to do this the first time, and I had to remake the ornament.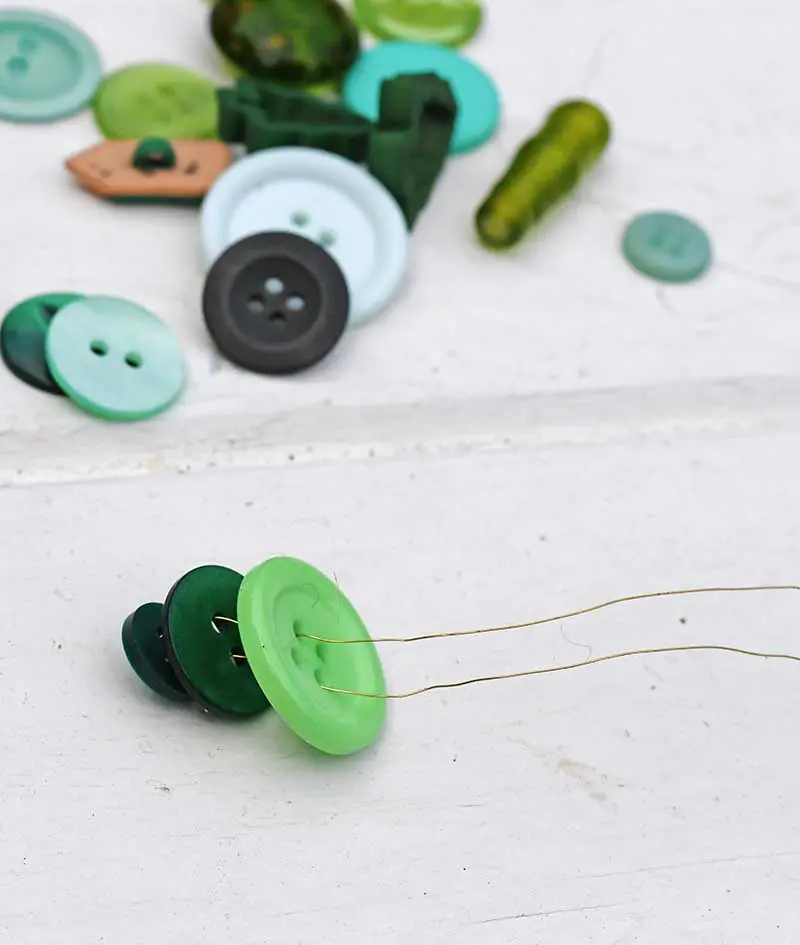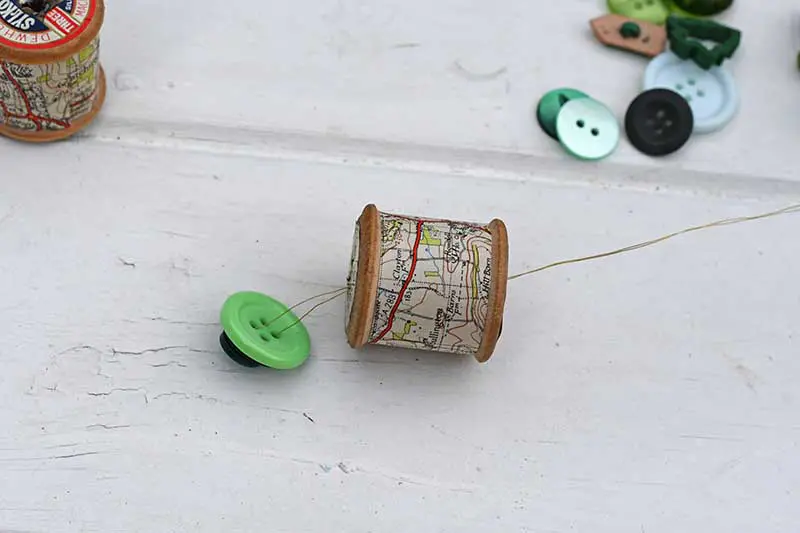 Step 5: Finish off the map Christmas ornament by adding red embroidery thread to hang it from. While putting the buttons away in my craft cupboard, I came across a jar of mini craft bells. I decided to add one to each ornament.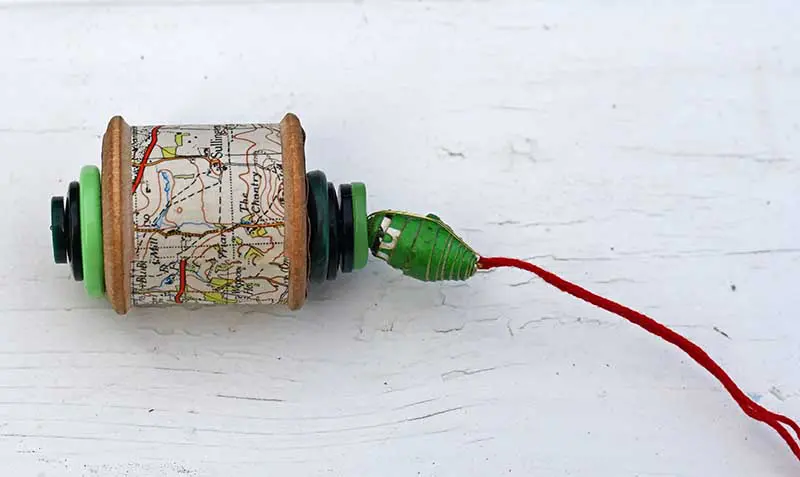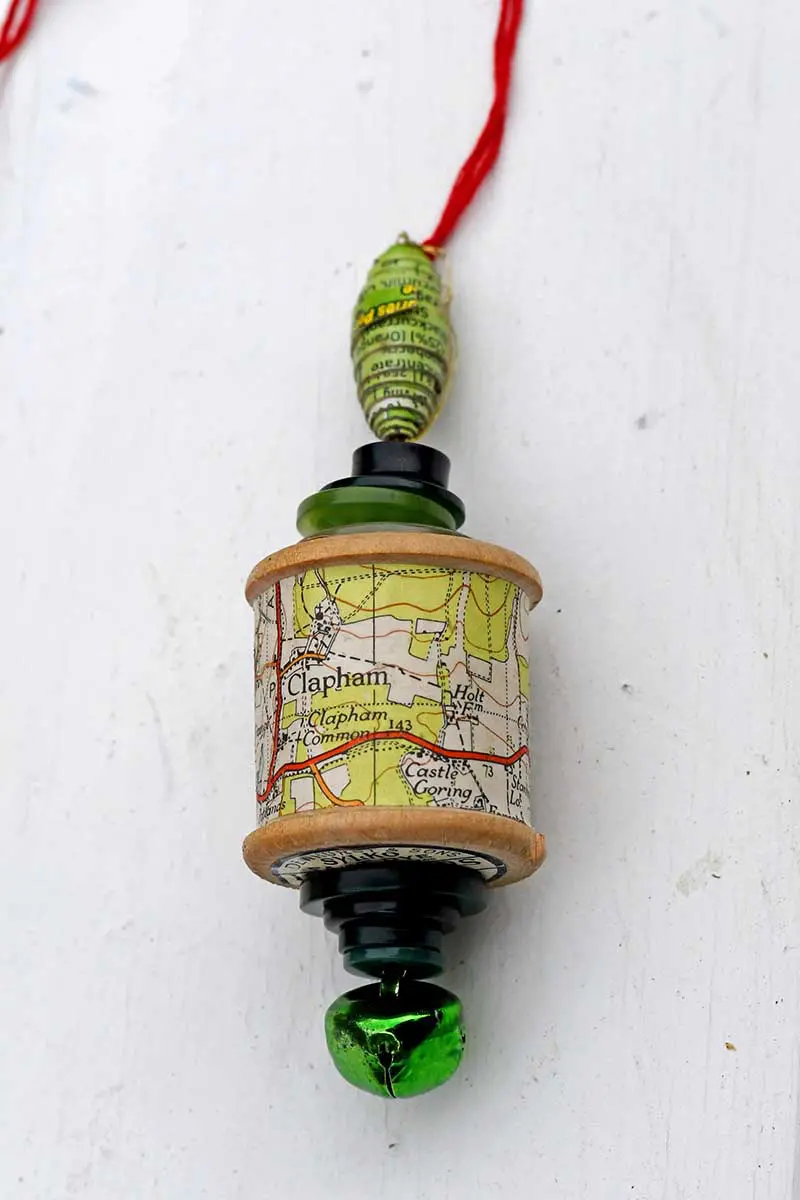 I couldn't decide on just one particular place for my map Christmas ornament, so I made three.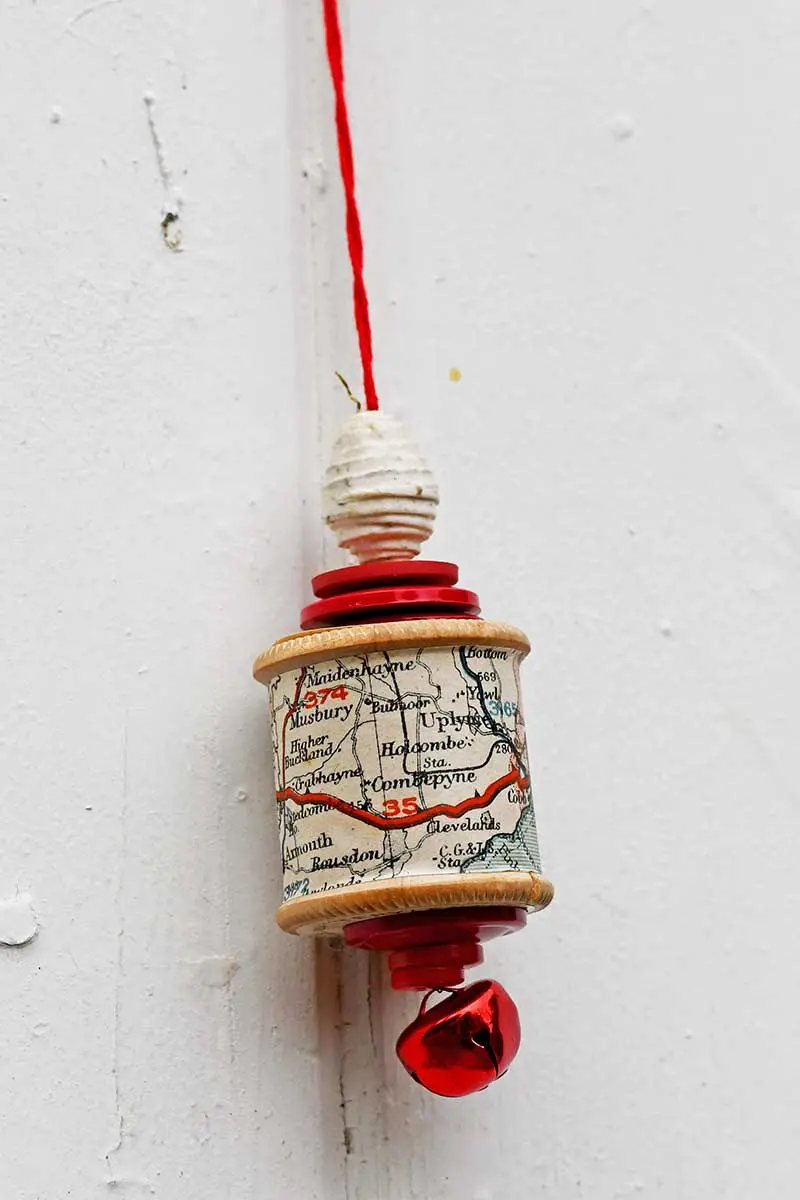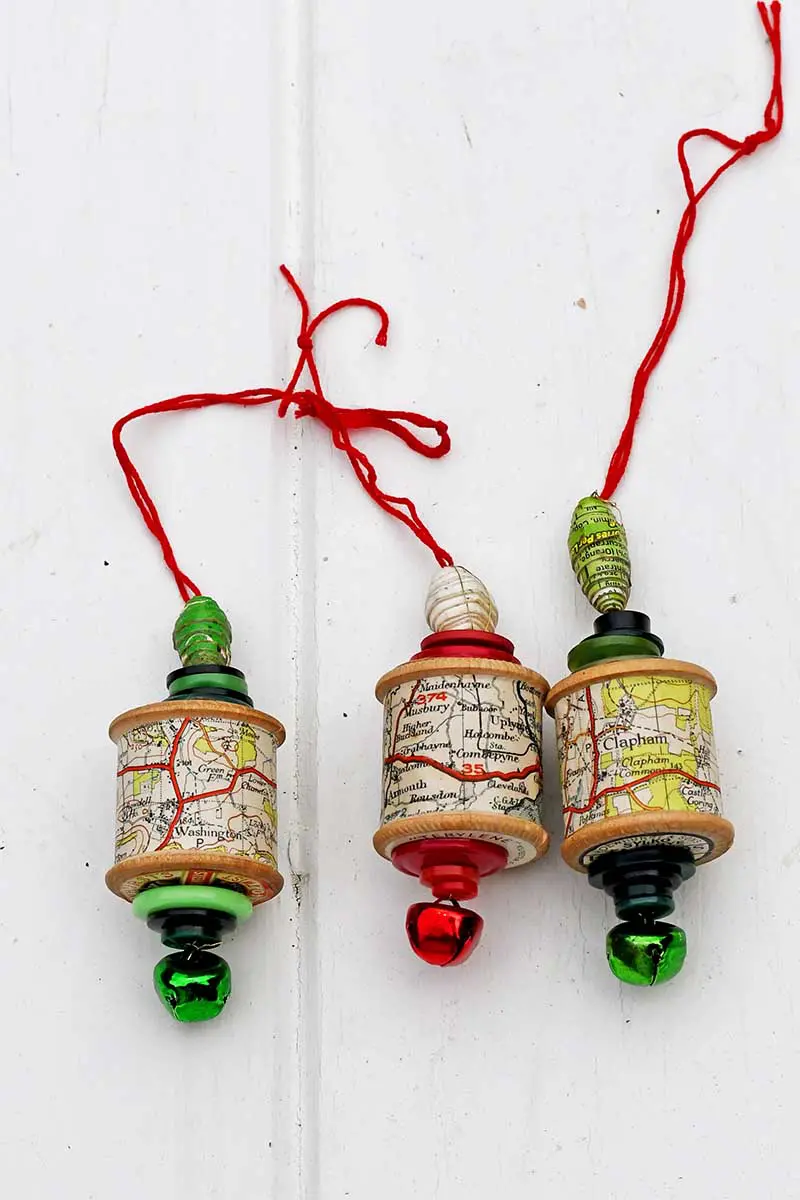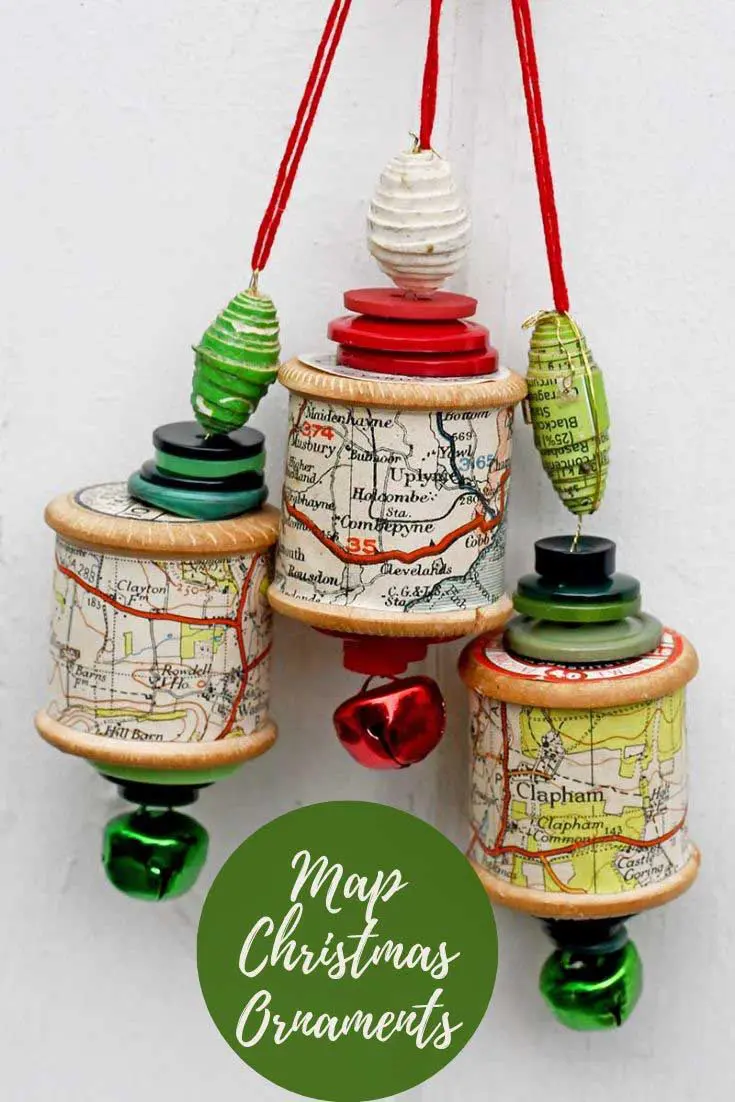 As these map Christmas ornaments are made from old sewing notions, they would also make a fun gift for a seamstress.
Cotton reels and buttons remind me of Christmas. My grandmother used to keep her buttons and cotton reels in a large Christmas Quality Street tin. Oh, the disappointment of opening the tin expecting a toffee only to find sewing stuff!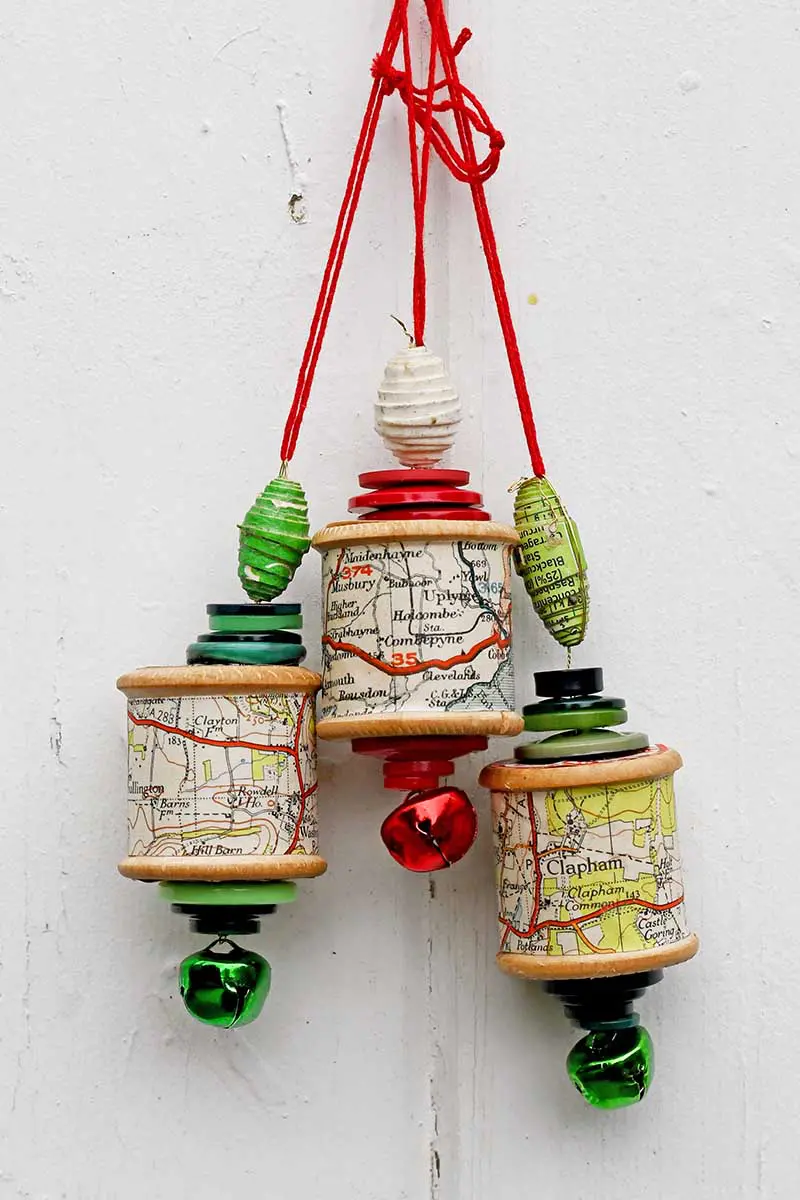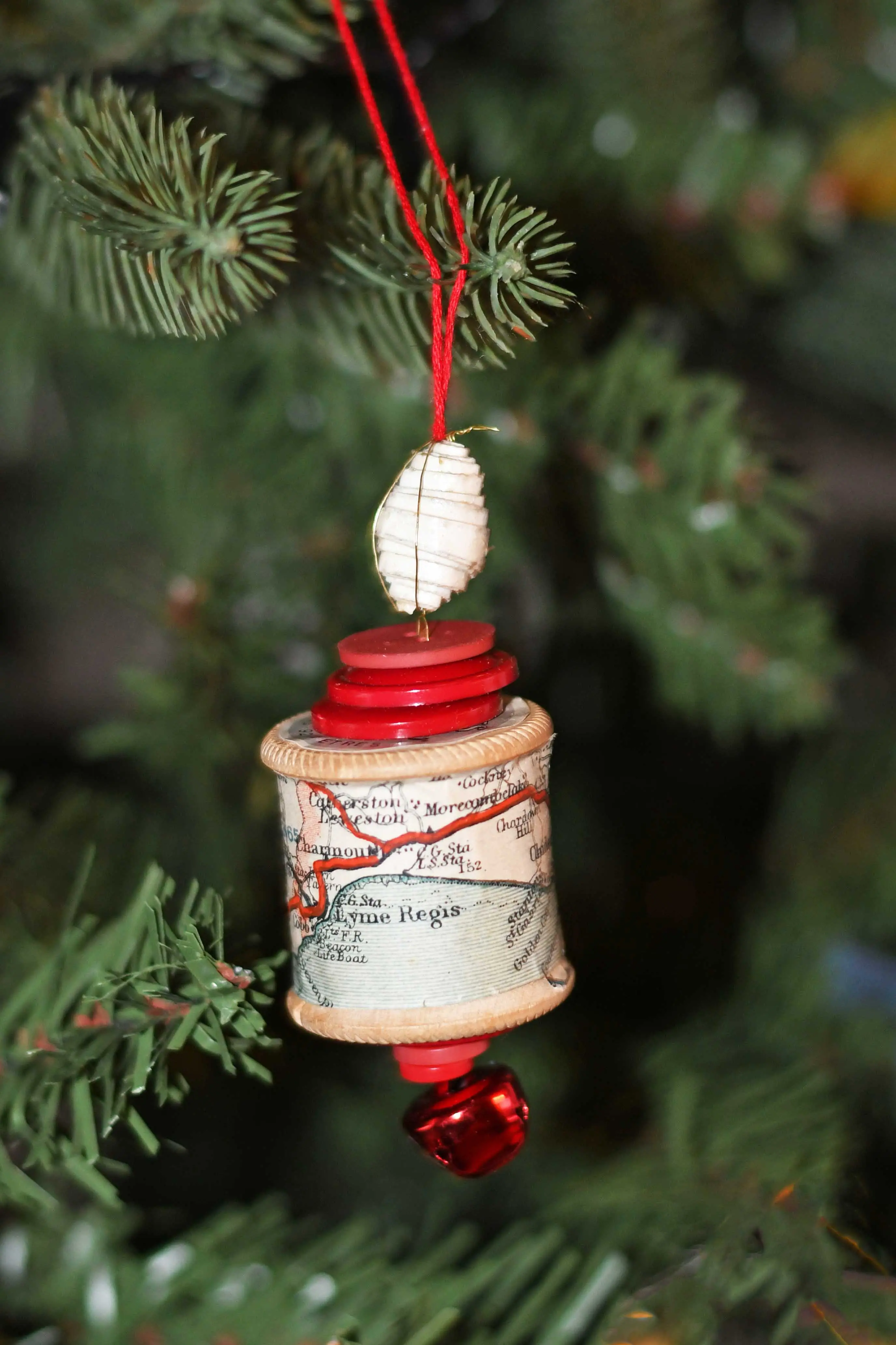 If you like these map Christmas ornaments, you should check out some of my other upcycled Christmas ornaments, like these map pine cones and cute wine cork Christmas characters.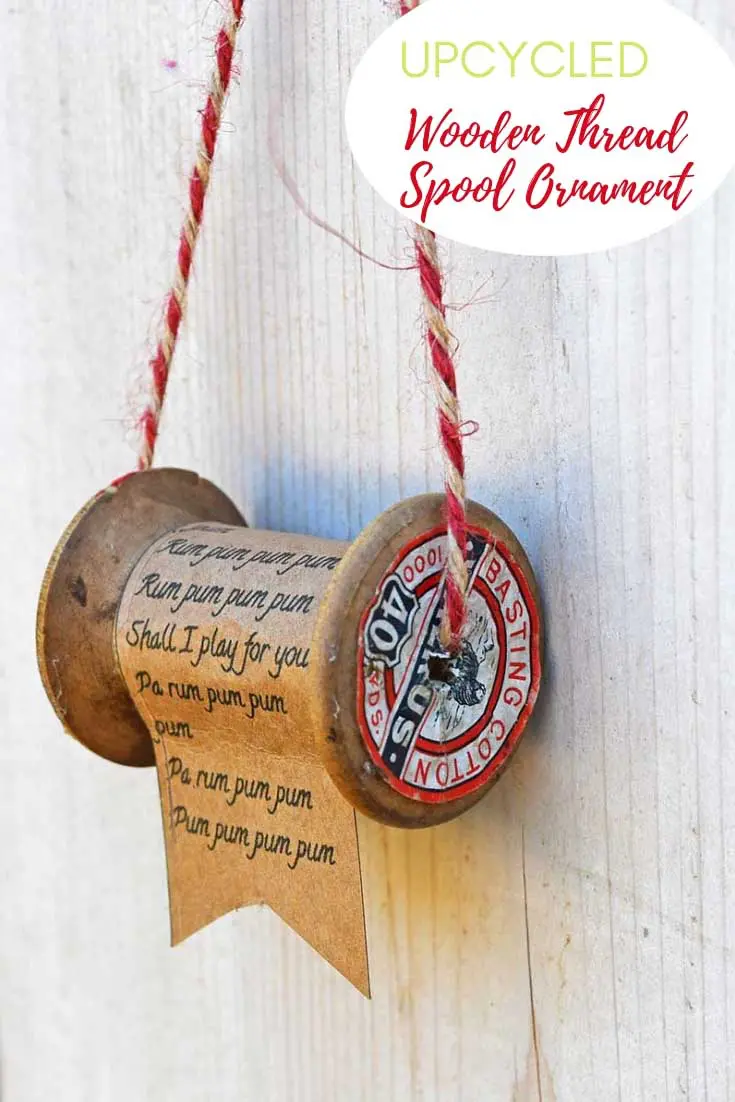 You will find many more clever upcycling ideas like this one here.
For more Christmas ornament crafts, visit allfreeholidaycrafts.