I usually make my hubby something for Valentine's day. Not because I'm a hopeless romantic but because it also happens to be my birthday, and I want to share the joy. This year I made a personalized map gift.
Often I bake him some heart-shaped cookies to take to work or a cake. However, he's on a no-sugar kick, so I had to think of something else this year.
I made him this sweet framed personalized map gift for his desk. The framed heart is made of 2 maps of places special to my husband and me.
Hong Kong for me, as that is where I'm from. Bergen (Norway) is where my hubby's family is from. Also, we both fantasize about getting a cottage in the Fjords when we want to escape from everyday life.
I made him personalized map treat bags before, which he loved, but this is more of a keepsake gift.
How To Make A Gorgeous Heart Map Gift
Not only is this personalized map heart a lovely Valentine's gift it would also make a great engagement or anniversary gift for a couple. You could use maps of the towns where they were born.
For this gift, I also painted an Ikea Ribba frame with gold and red paint to give the gift a more Valentine's feel.
We're a participant in the Amazon Services LLC Associates Program, an affiliate advertising program designed to provide a means for us to earn fees by linking to Amazon.com and affiliated sites. As an Amazon Associate, I earn from qualifying purchases.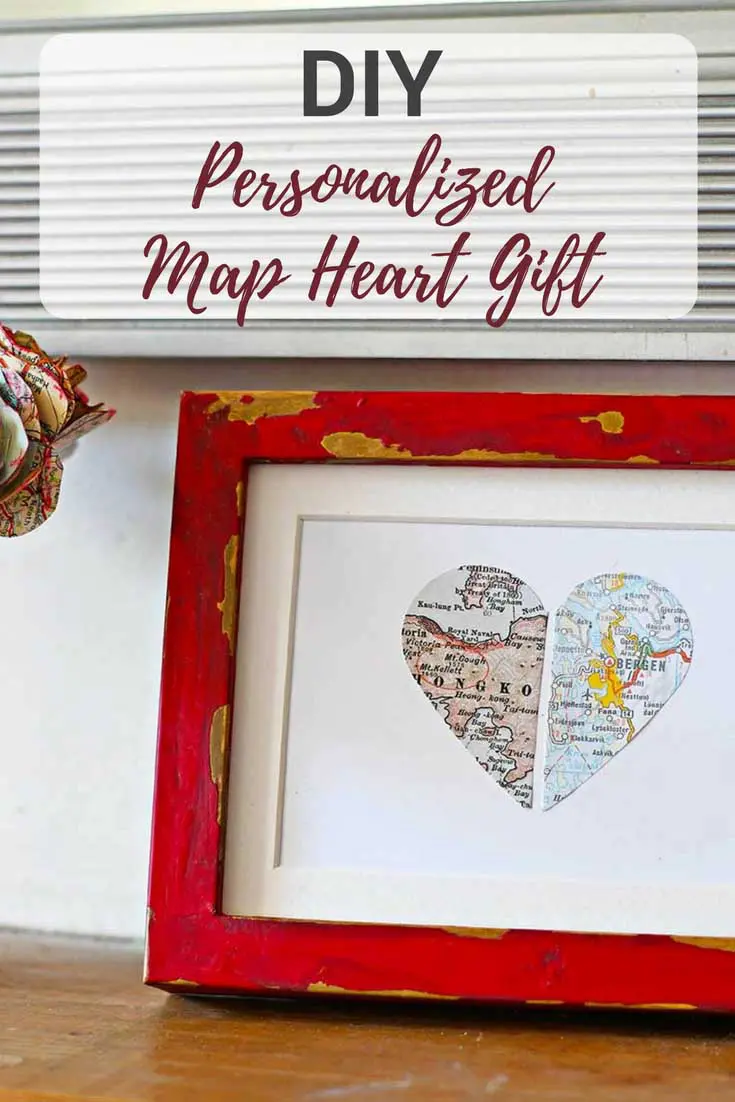 What you need
Personalized maps – You can use old road maps, an atlas, or even download and print maps from the internet. Remodelaholic has some great free printable maps
Heart templates, such as a heart-shaped cookie cutter or even an extra-large heart punch
Scissors
Glue Stick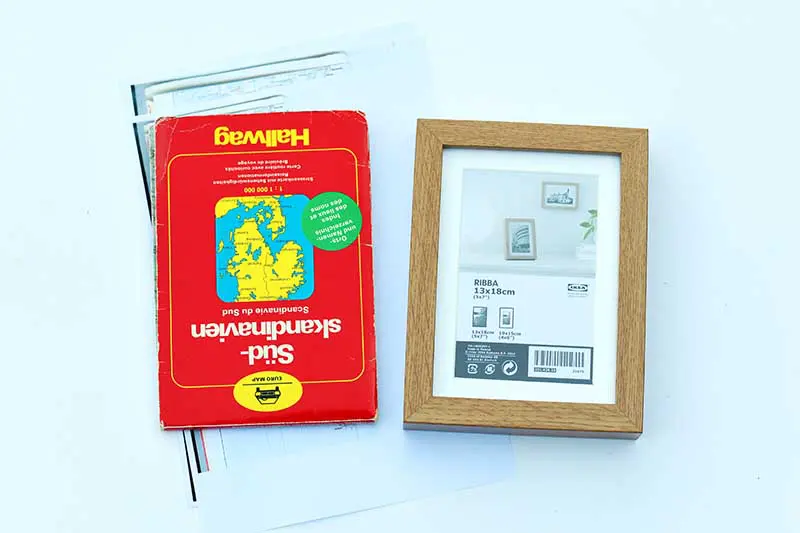 How to make a personalized map gift
Step 1: Firstly, I chose my maps. For the Bergen map, I used a road map I had for Norway. As I didn't want to ruin the original map, I photocopied the relevant bit of the roadmap. Photocopying maps is a good idea, especially if you want to reduce or enlarge your map.
For the Hong Kong map, I just did a google search and printed off the map I wanted. There are lots of free vintage maps on Pictureboxblue.com.
Step 2: Next, using a heart-shaped punch, I punched out a heart of the bit of the map I was interested in. You can draw around a template and cut out your heart shapes if you don't have a heart punch.
Top tip: Heart-shaped cookie cutters make great templates.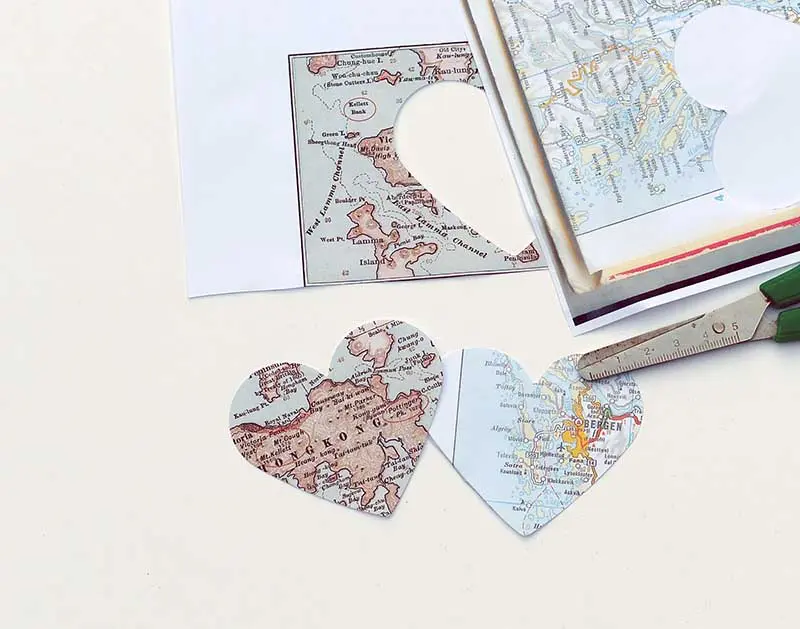 Step 3: Next, I folded each heart in the half and cut down the middle. Then using a glue stick, I stuck one half of each heart on the background paper of the photo frame.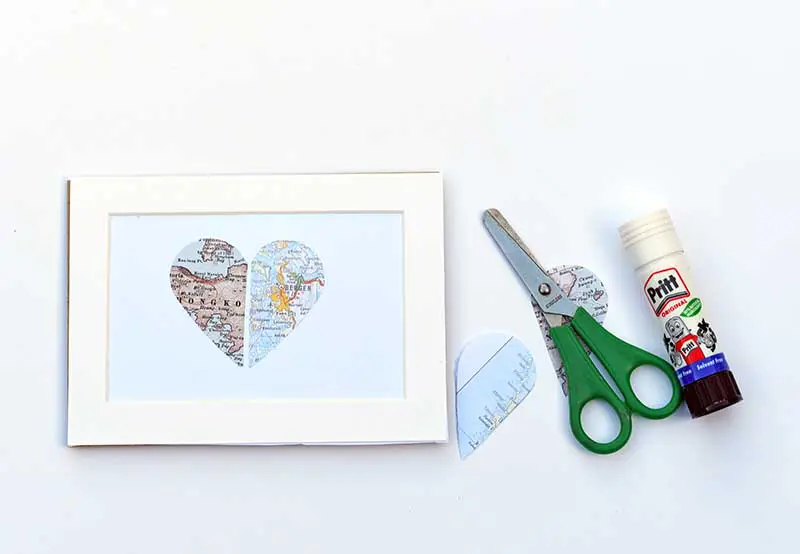 Painting the Ikea Ribba Frame
I used the same paint method with my pineapple stencilled table upcycle to achieve a shabby effect in red and gold with the Ikea Ribba frame.
Step 4: First, I spray-painted the frame gold. Once that was dry, I smeared vaseline on the bits where I wanted the gold paint to show through before repainting the frame. This time with red chalk paint.
Step 5: Once the chalk paint was dry, I rubbed the frame with a cloth to remove the red paint where the vaseline was smeared. Finally, the frame was sealed with clear wax, and the map picture was placed inside.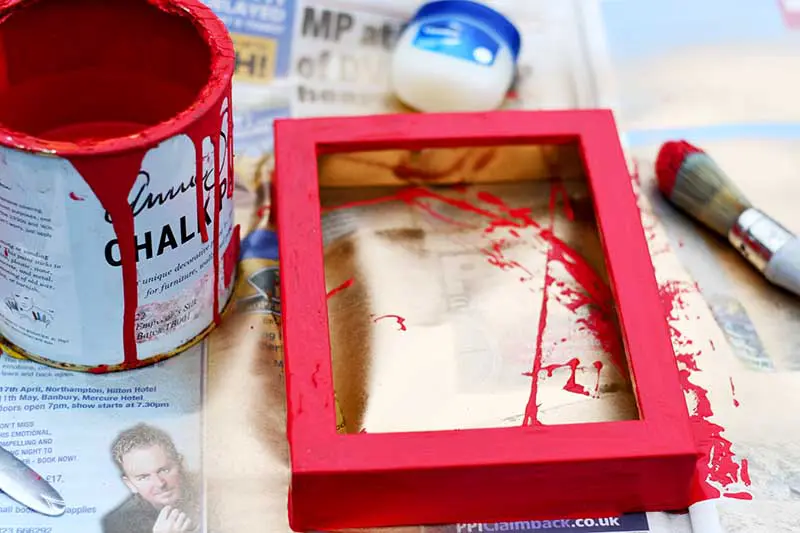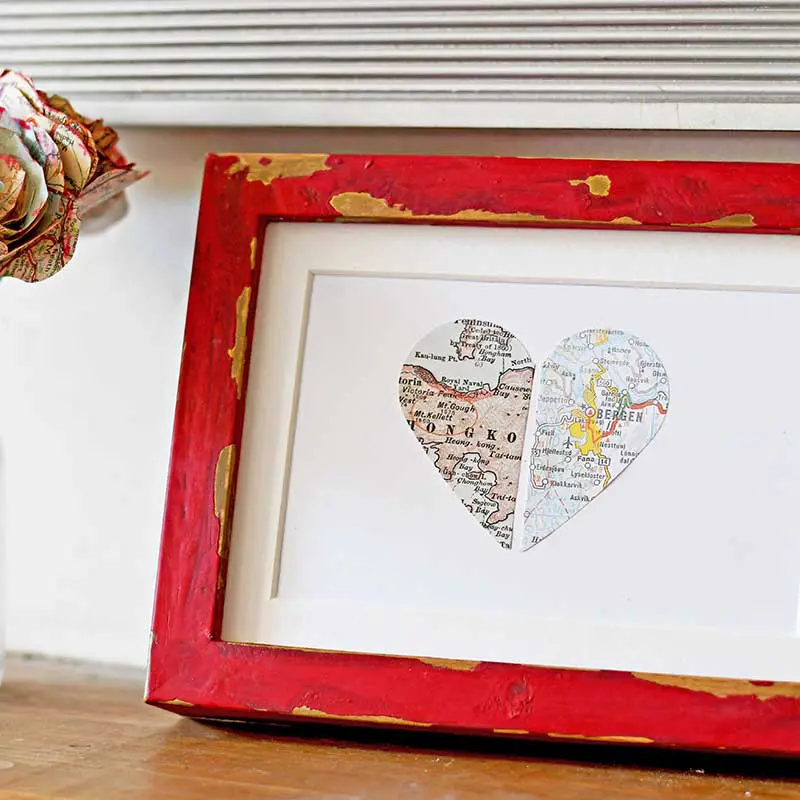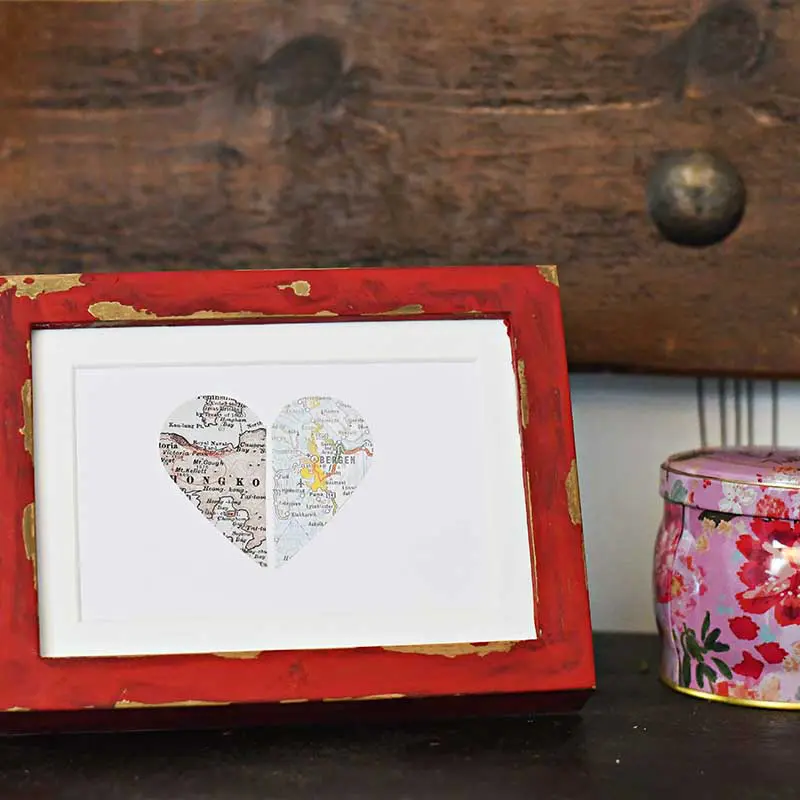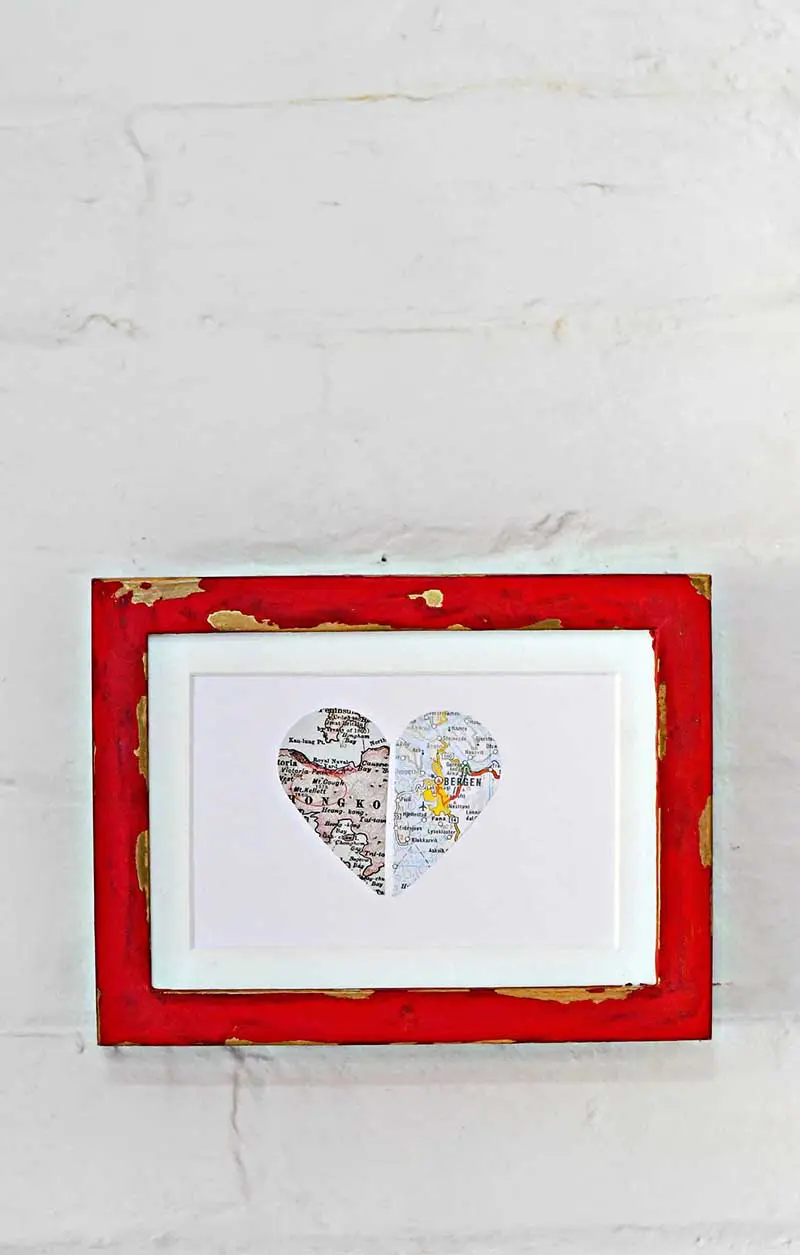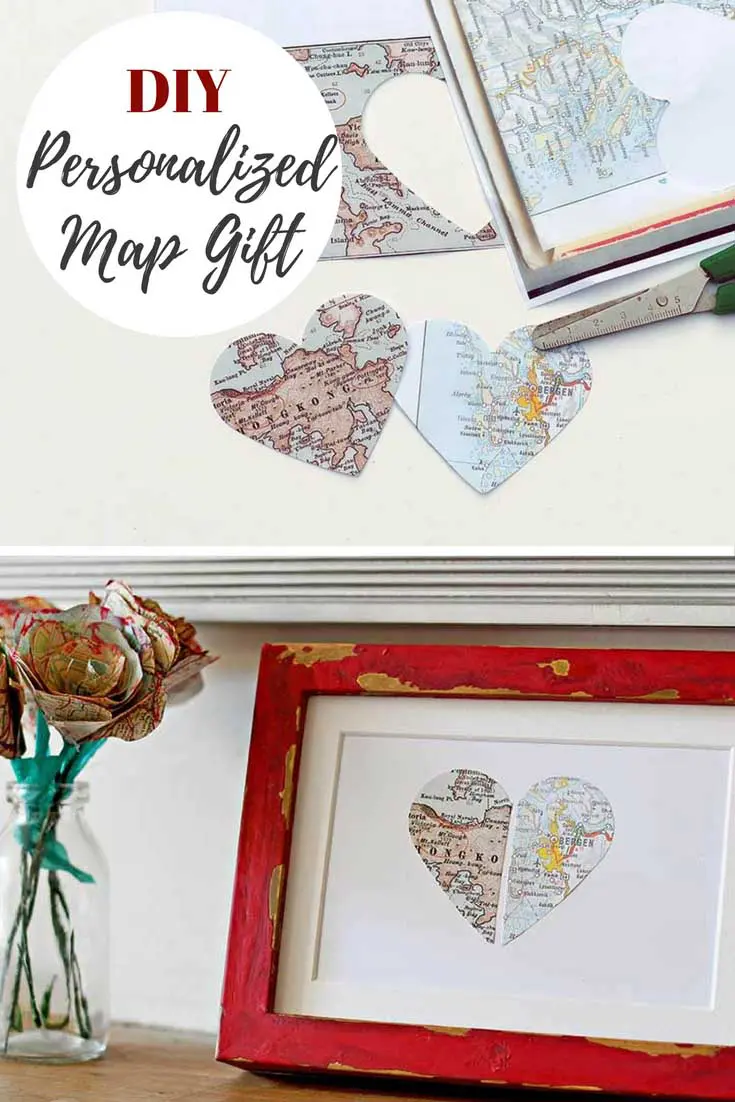 I originally made this as a gift for my hubby for his desk, but as I like how it's turned out, I suggest we keep it in the dining room.
What maps would you use for your personalized map gift? If you are from the US, you might want to check out these free vintage US state maps to print.
You should check out my printed map picture frame if you're looking for more personalized map frame projects.
Other personalized map gift ideas to make are, world map necklaces or map rock keychains.