You get two crafts in one with this Paper Mache heart and watercolour hearts decoration.
That wasn't the initial plan. What happened was that after I made the Paper Mache heart, I was left with all these beautiful sheets of watercolour-painted sheets of paper.
The paper looked like tie-dye in a mixture of pinks and orangey reds. Instead of putting them in the bin, I made a paper heart wall hanging.
That often happens to me when I'm crafting and I get an idea for another project. I usually end up making more than one thing. I believe creativity is born from creativity. The more you make, the more ideas you have.
Whenever I suffer from a creative block, I start making something. Often using my hands again is enough to get the ideas flowing.
It doesn't have to be crafting. Cooking something new, or even just sorting out my craft cupboard, can help the creativity flow again.
Heart Wall Decoration
I made these watercolour heart decorations for Valentine's, but I will keep them up all year round. Many of my handmade Valentine's crafts stay on my gallery wall all year round, like my pinecone flower heart and neon heart light.
On my mantle, the embroidered hearts I made last week will stay for the rest of the year. I like to have symbols of love around my home in the form of heart decorations, especially with how the world is now.
I say this with almost every craft, but I had fun making the paper mache heart and the hanging heart wall decoration.
The fun bit was playing with the watercolour inks and trying different techniques. I played around with salt and alcohol, experimenting with their effects on the inks. I used the same inks for my Scandi-style doodle flower decorations.
Both adults and children can enjoy this craft. I know the children would enjoy playing with the watercolour inks to get a tie-dye effect.
We're a participant in the Amazon Services LLC Associates Program, an affiliate advertising program designed to provide a means for us to earn fees by linking to Amazon.com and affiliated sites. As an Amazon Associate, I earn from qualifying purchases.
What You Need
Scrap piece of cardboard – I used a large Amazon box. The size depends on how big you want to make your Paper Mache heart. My heart was approx—30 cm (12 inches) at its widest point.
Paper kitchen towels
Masking tape
Newspaper
Pins
Watercolour paper pad – no need to buy an expensive pad; the cheaper ones will do for this craft.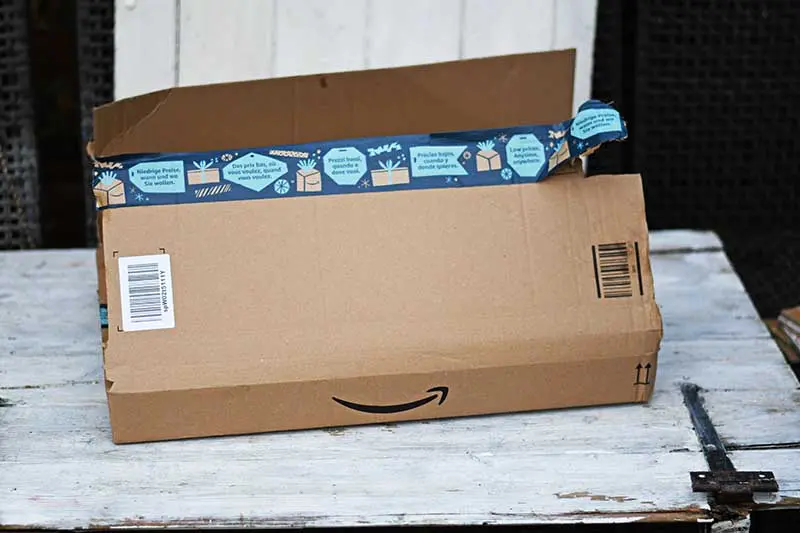 For the hanging watercolour decoration.
Branch for hanging
Assorted Lampwork beads to act as weights
Watercolour inks in a pipette jar in at least three different pinky-red colours. Such as crimson, light rose and pastel red.
Sea salt
A small amount of alcohol. I used a miniature bottle of gin from my cocktail cabinet.
Large artists paintbrush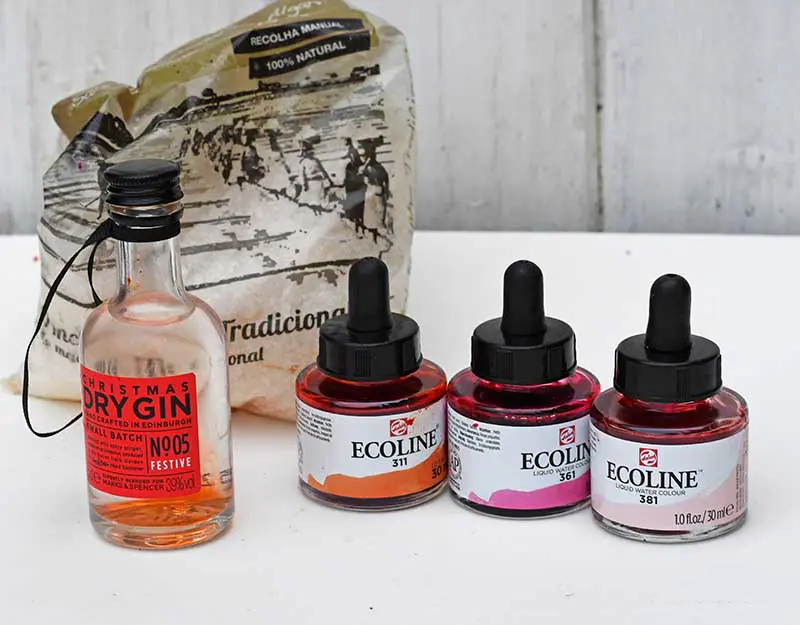 How To Make The Paper Mache Heart
Step 1: Make a cardboard base for the Paper Mache heart. Fold a large piece of paper in half. From the crease, draw half a heart, and cut it out so that you end up with a perfectly symmetrical heart template.
Place the heart onto the scrap cardboard and draw around it with a sharpie.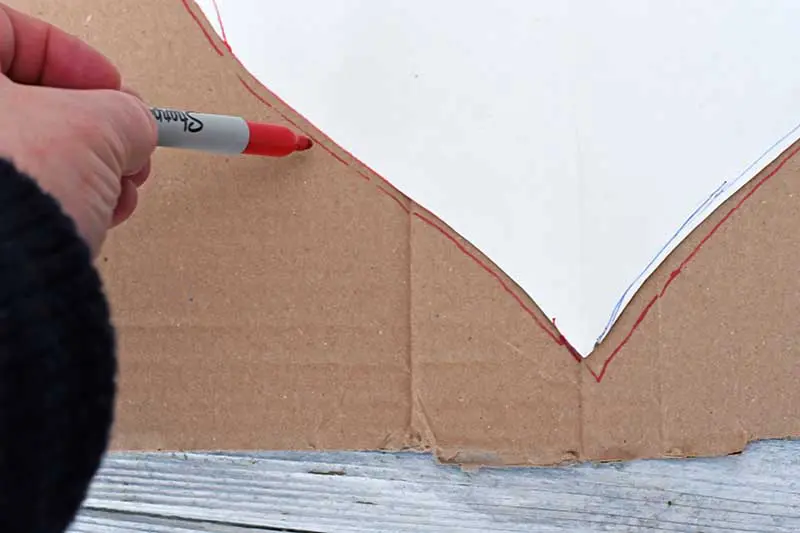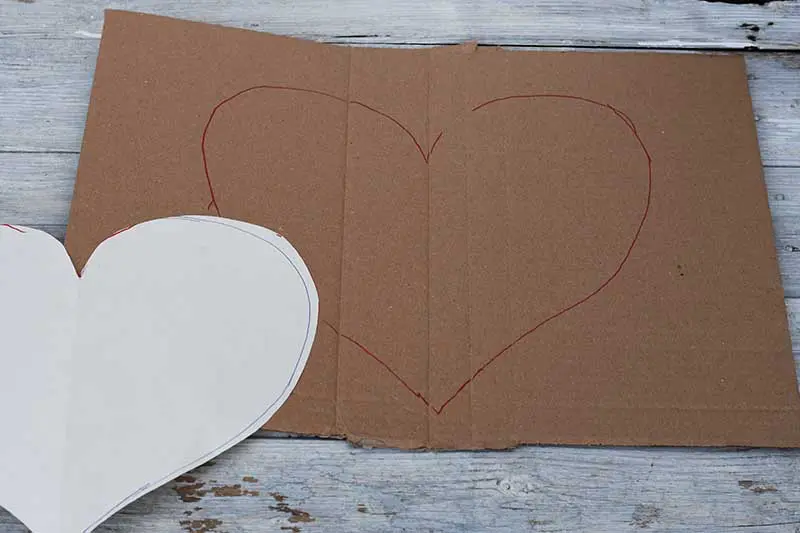 Step 2: Then, cut out the cardboard heart. To make the heart 3-D, screw up sheets of kitchen paper into balls and tape them to the cardboard heart with masking tape. Carry on until the whole heart is covered.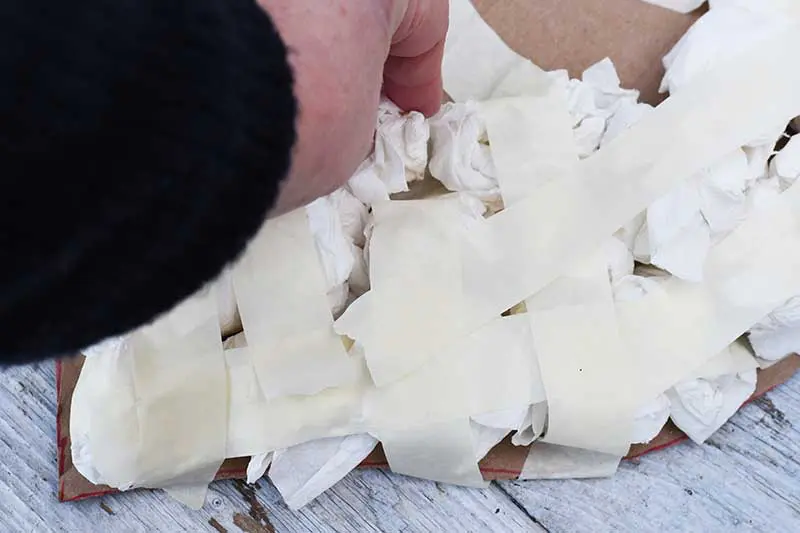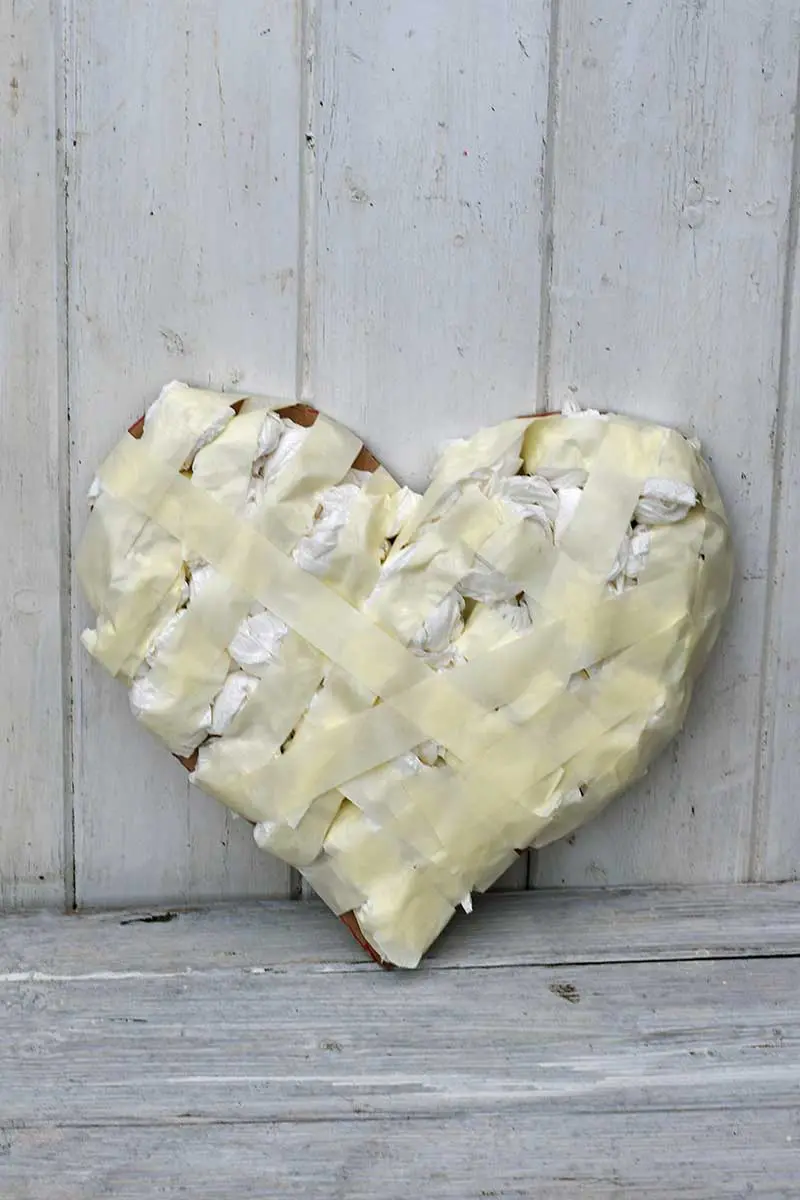 Step 3: Next, using newspaper strips, paper Mache the heart. I pretty much use the same method as with my paper Mache bowl. Cut the newspaper into strips, then cover them with a 50/50 mixture of glue and water.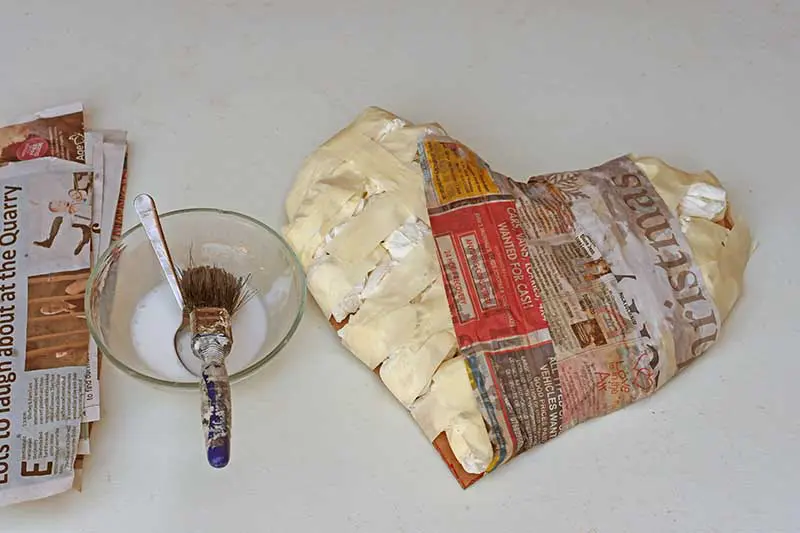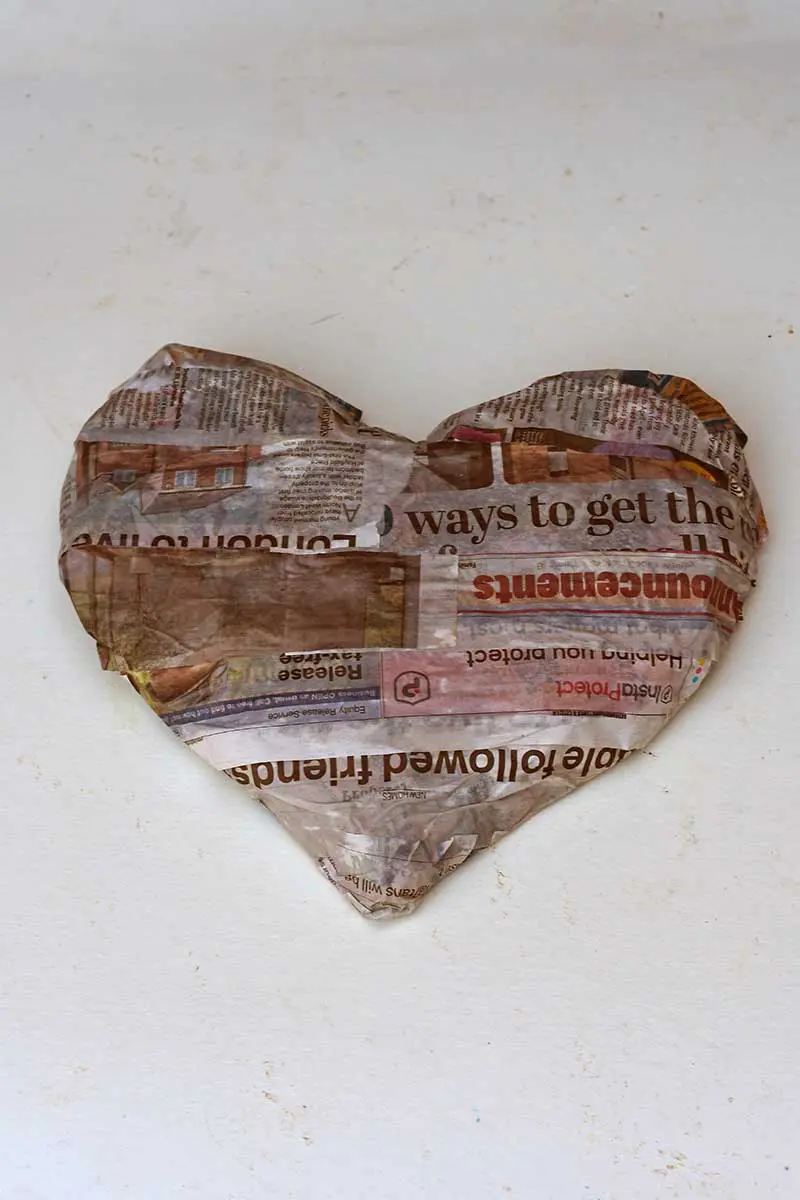 Step 4: I bent a small wire into a curve to make a hanging hook for the 3D heart. I then taped this to the back of the heart.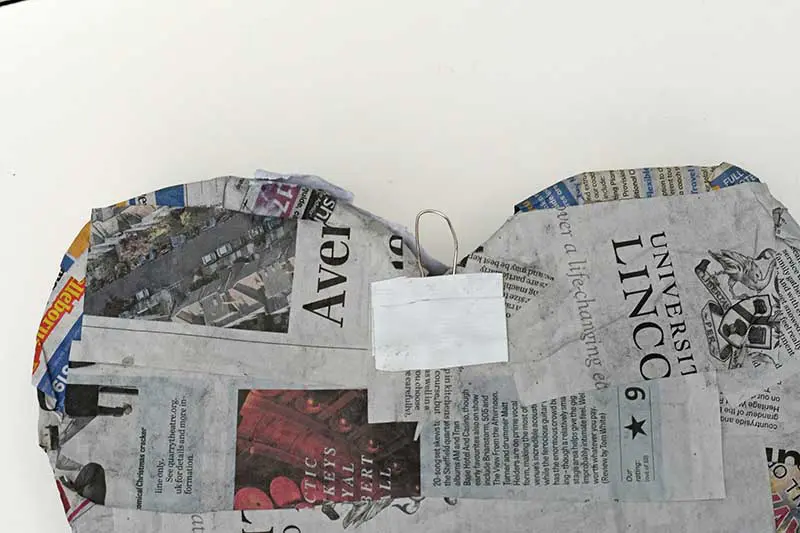 Step 5: Once the newspaper layer on the heart has dried, apply a second layer. This time though, use torn strips of watercolour paper.
I used watercolour paper to paint the paper Mache heart with watercolour inks. The watercolour ink effects I wanted to use work best on watercolour paper.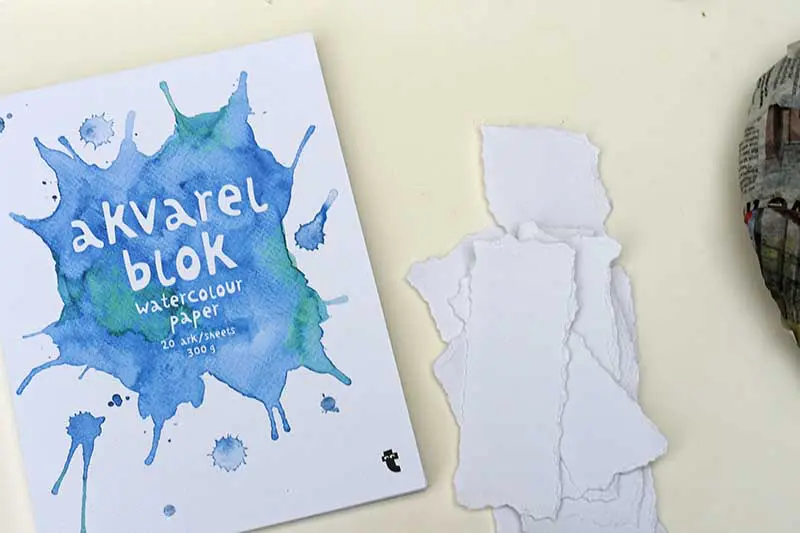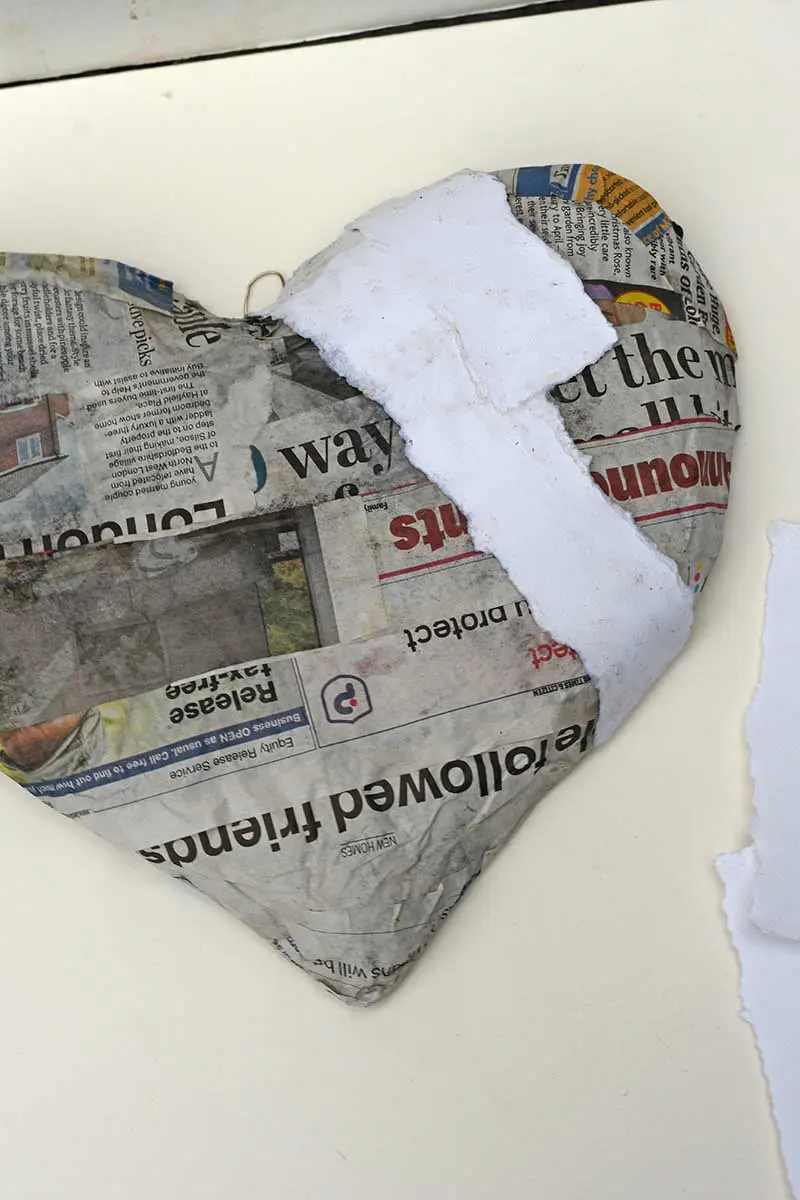 Top tip: Watercolor paper is stiffer than newspaper. If you wet the paper more, it will be easier to stick to the newspaper. I also used pins to hold the watercolour paper in place as it dried, especially around the curves.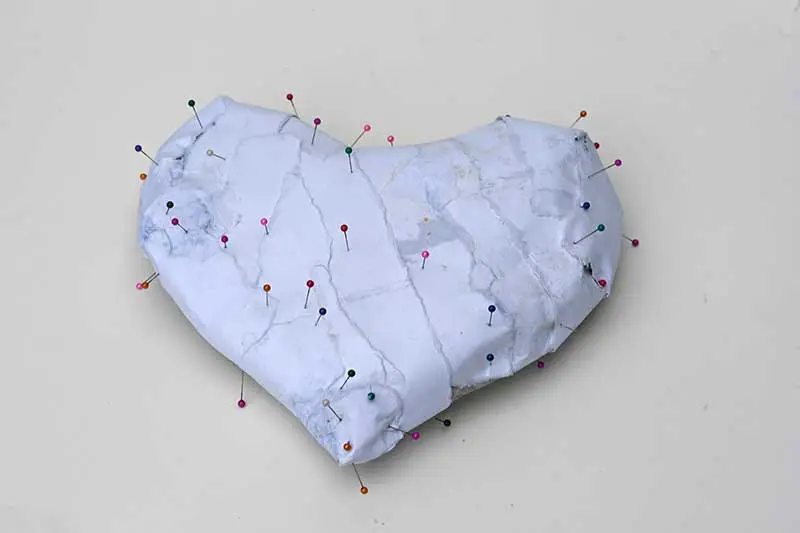 Painting with the watercolour inks
Step 6: Practice before painting the paper Mache heart with watercolour inks. Wet the watercolour paper liberally with water first. Then add the inks one by one using the droplet.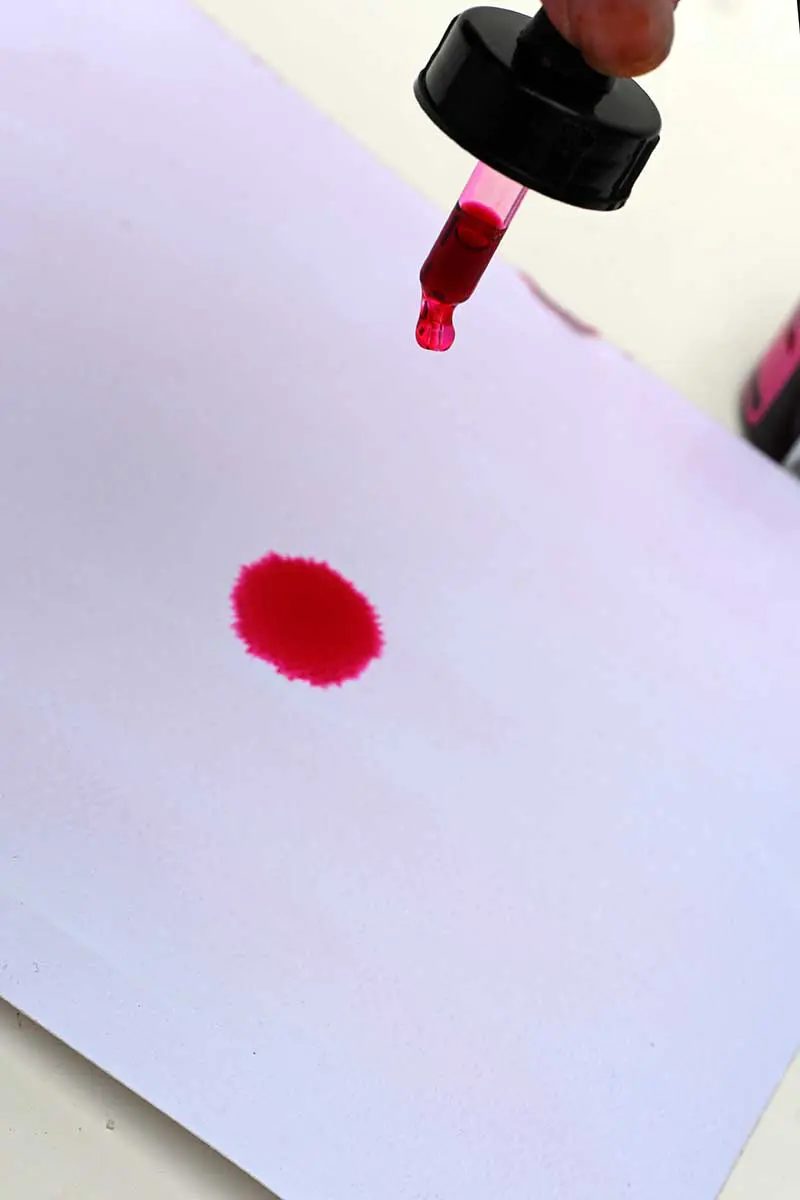 Step 7: Experiment by adding salt or droplets of alcohol to the wet ink. Both will react with the watercolour inks to create different effects.
Salt soaks up the water from the inks, creating areas without as much pigment. Different-sized salt crystals will produce different results.
Alcohol will cause the ink to repel, pushing it away while exposing a lighter colour.
Don't throw away your practice sheets; keep them to make the hanging watercolour heart decorations below.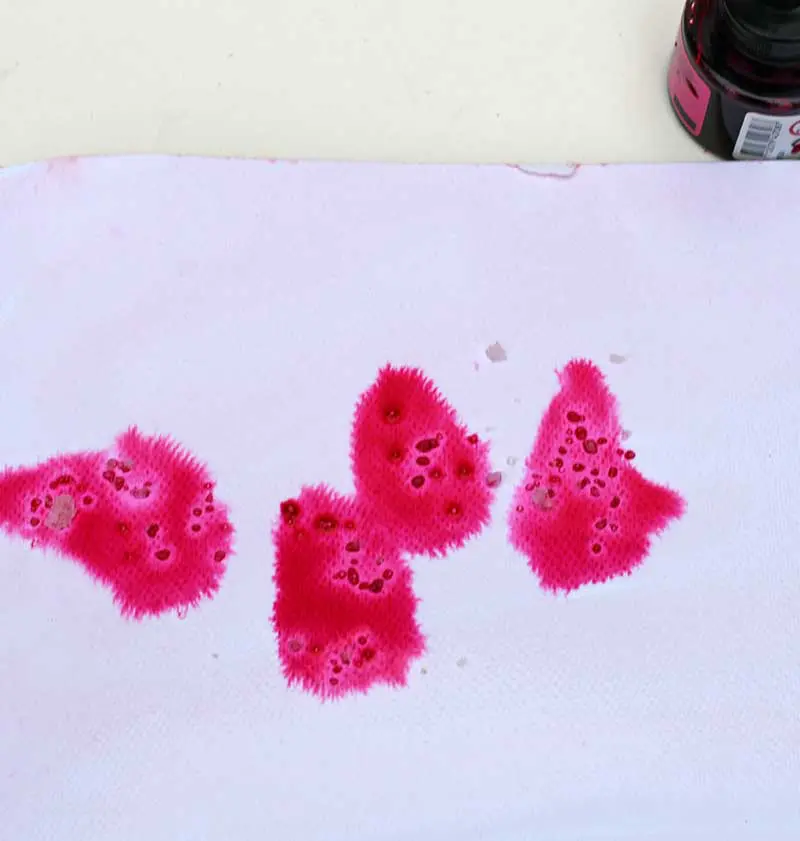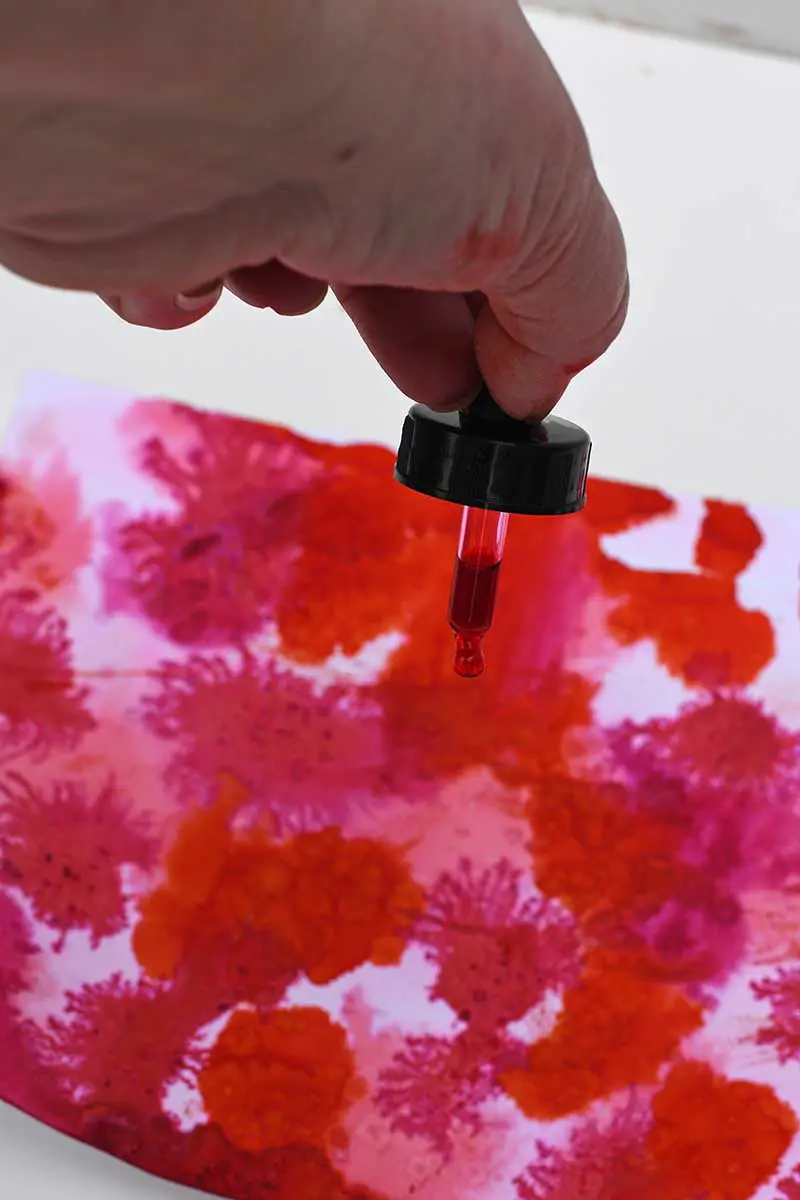 Painting the Paper Mache Heart
Step 8: Once comfortable with the watercolour inks, paint the paper Mache heart. First, saturate the heart by brushing it all over with water.
Top tip: I coloured my water with a small amount of pink watercolour ink. This made it easier to see which parts of the heart were wet.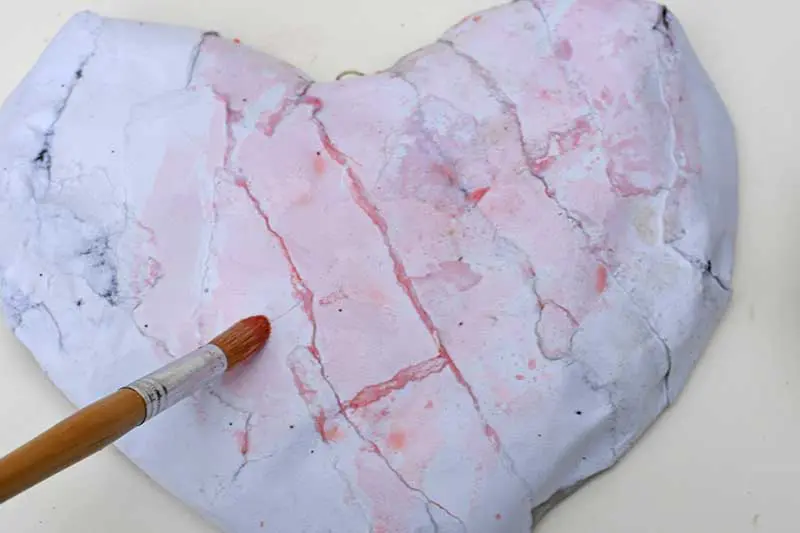 Step 9: Paint the heart with ink droplets as you practice. I added salt and drops of alcohol to create interesting patterns. I think my Paper Mache heart looked like it had been tie-dyed.
When the watercolour ink has dried, brush away any salt crystals.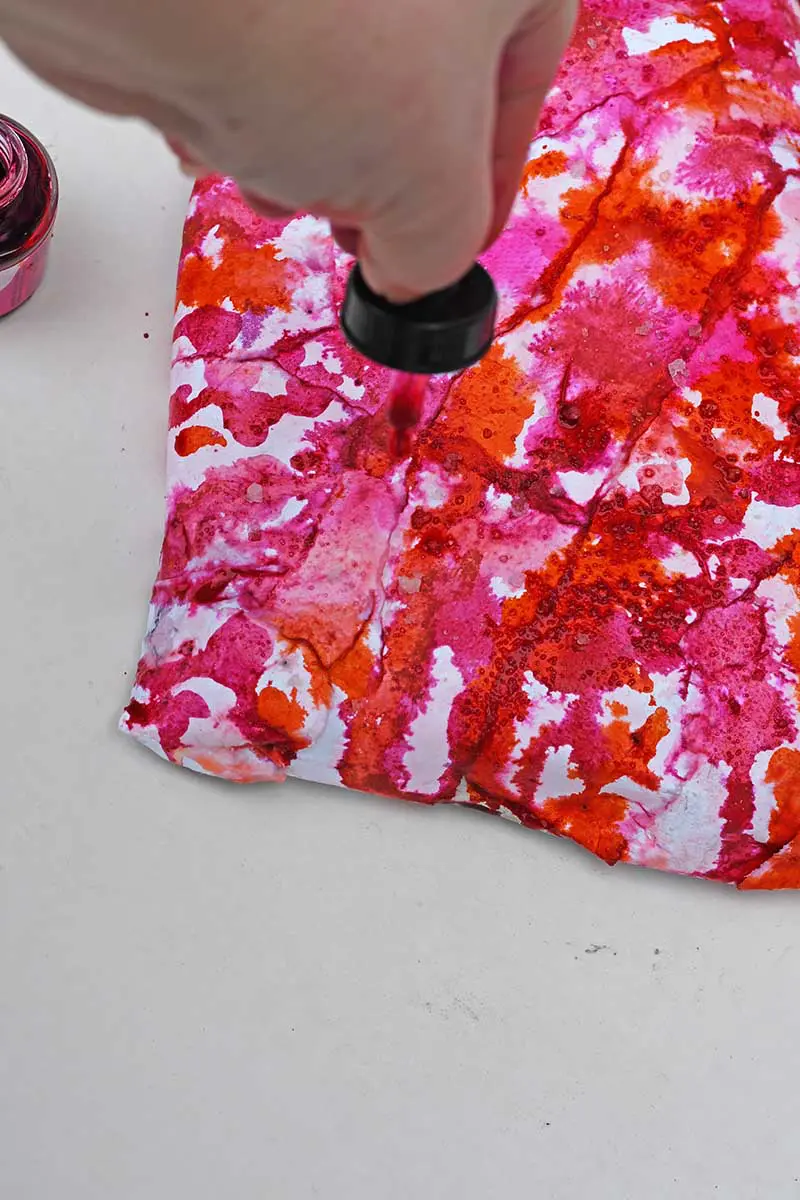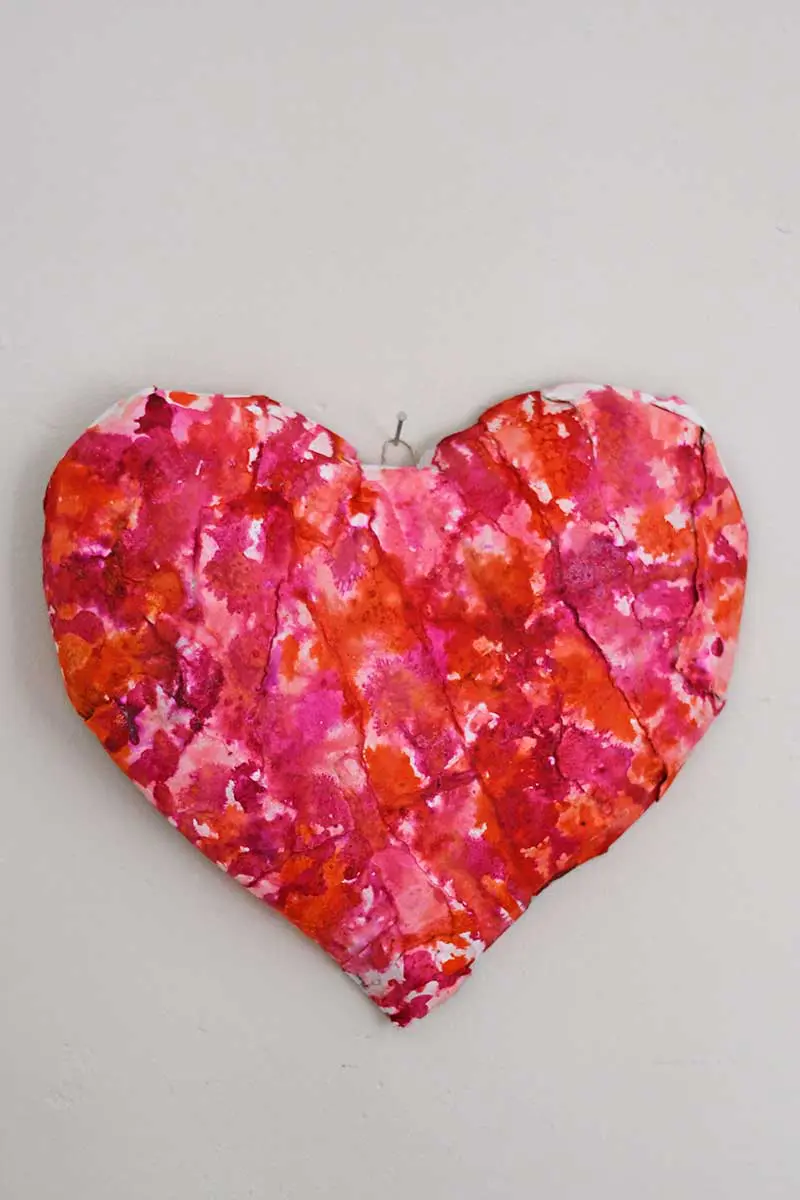 Making the Watercolor Heart Hanging Decorations
Step 10: First, punch paper hearts from the watercolour practice sheets using a giant heart craft punch. I used 30 paper-punched hearts in total.
If you don't have a heart craft punch, draw around a heart template and cut the hearts out by hand.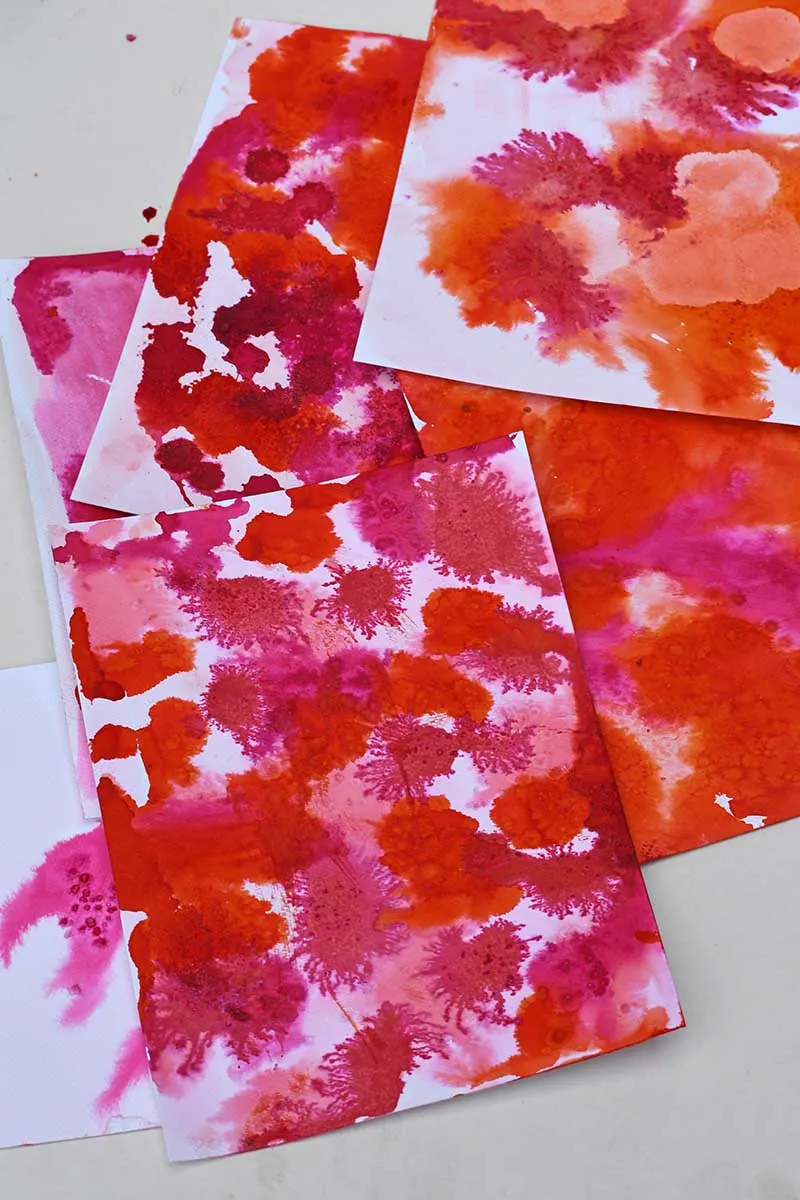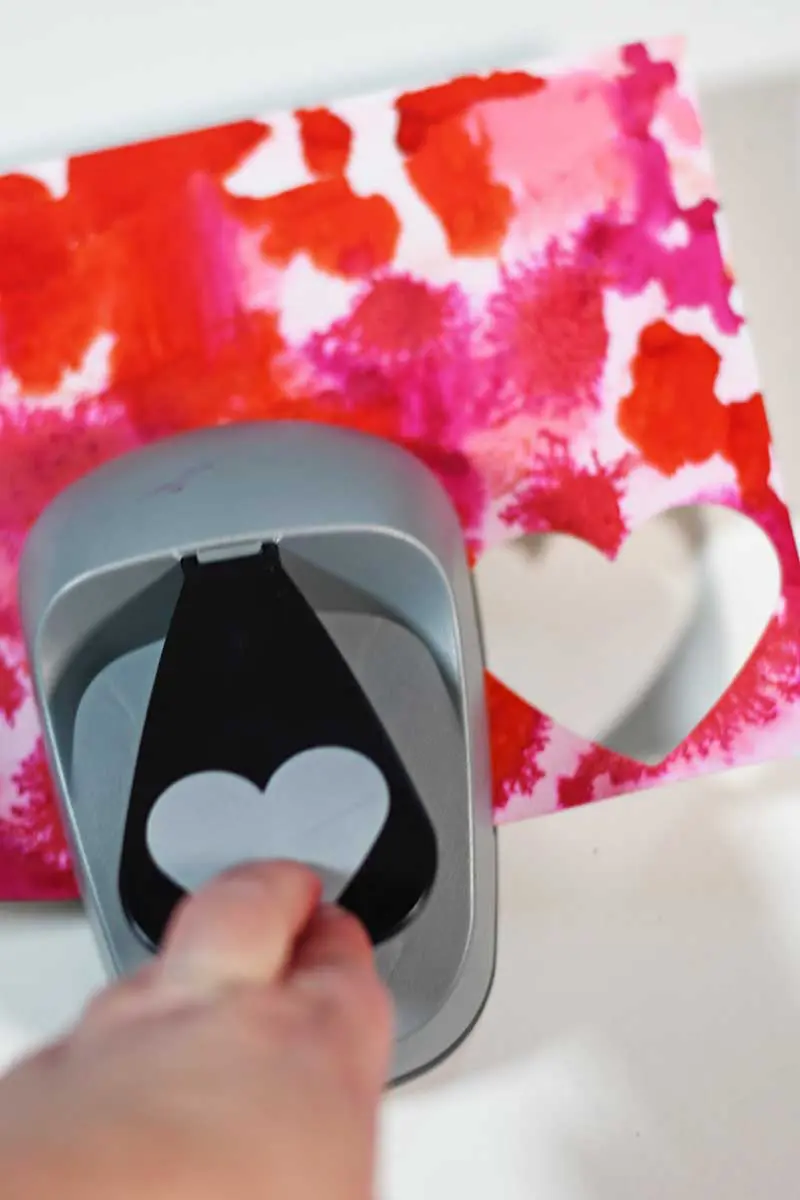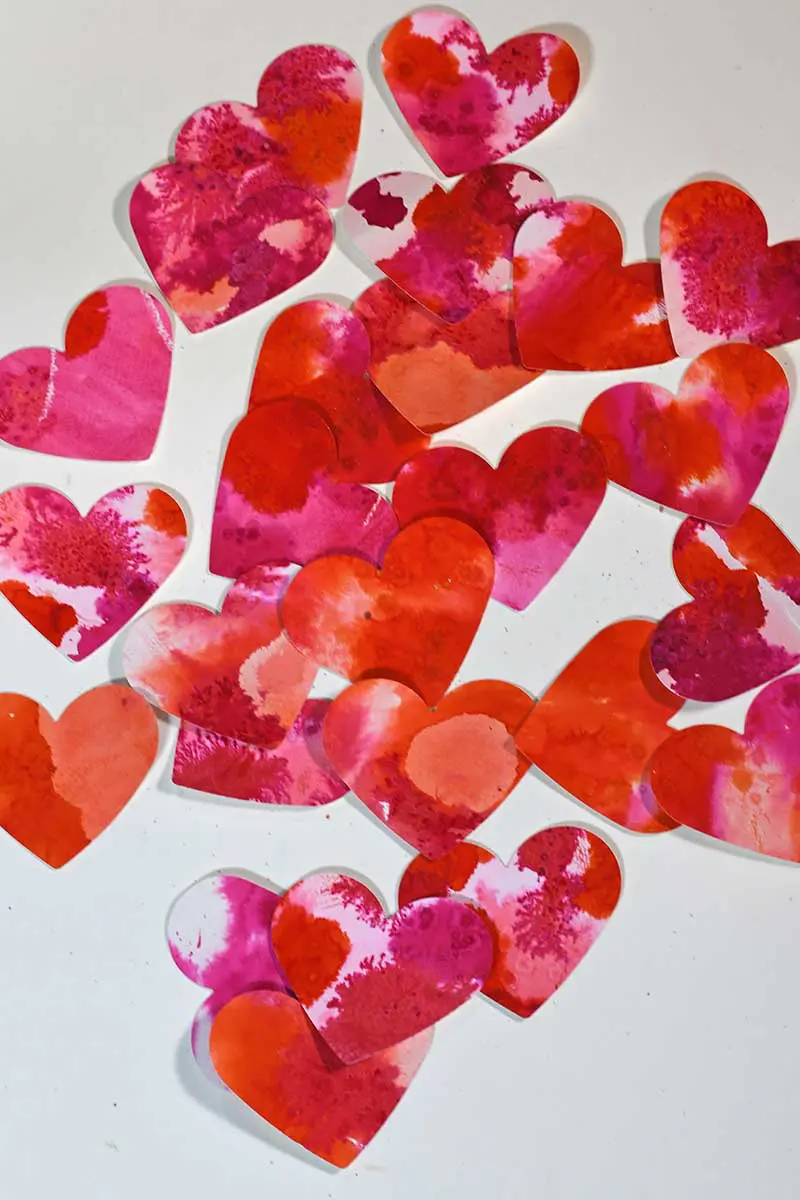 Step 11: Cut the pink twine into five equal lengths of about 70-80cm. Then use masking tape and tape six hearts along the string. Make sure the twine is fixed down the centre back of each heart.
Space the hearts out about 2.5cm (1″) apart.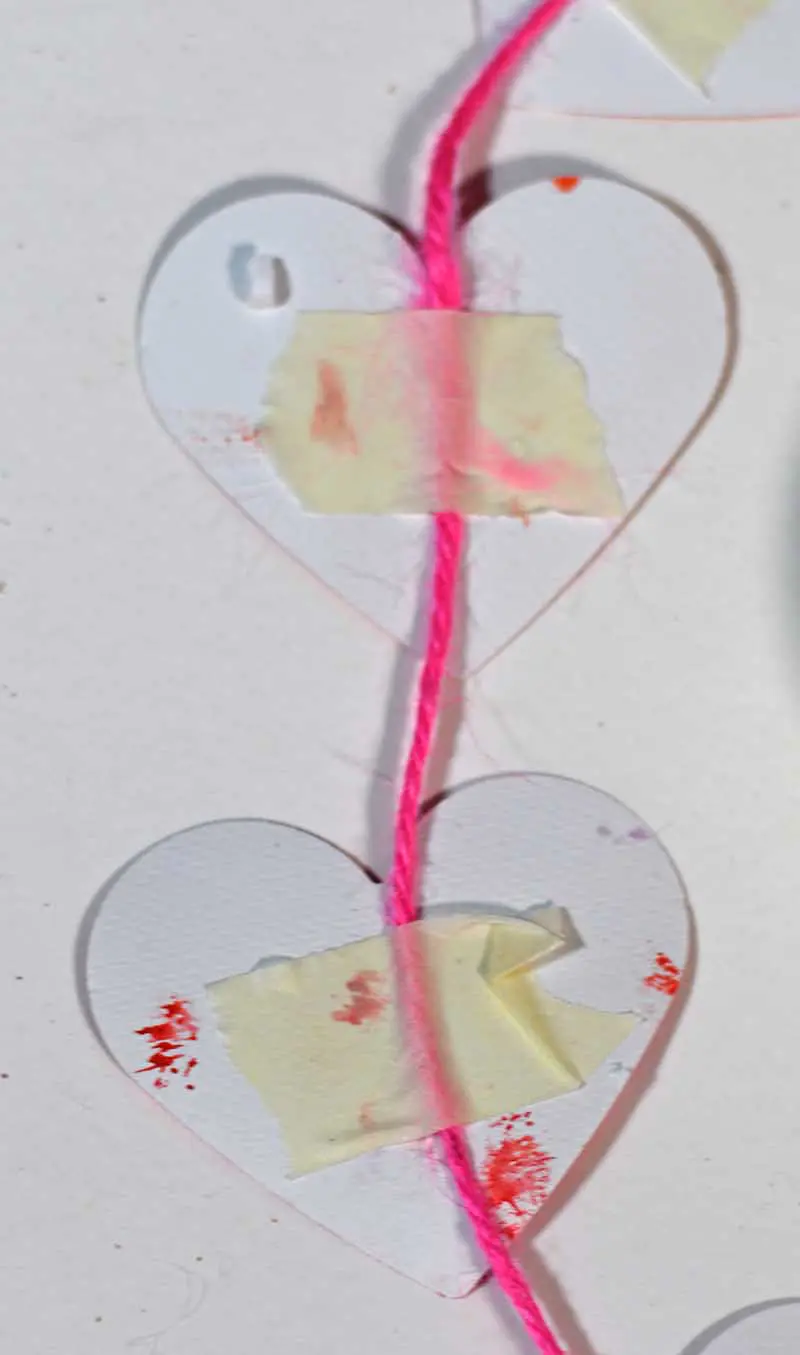 Step 12: To help the heart decorations hang straight, tie a bead to the end of the twine by giving them a little weight.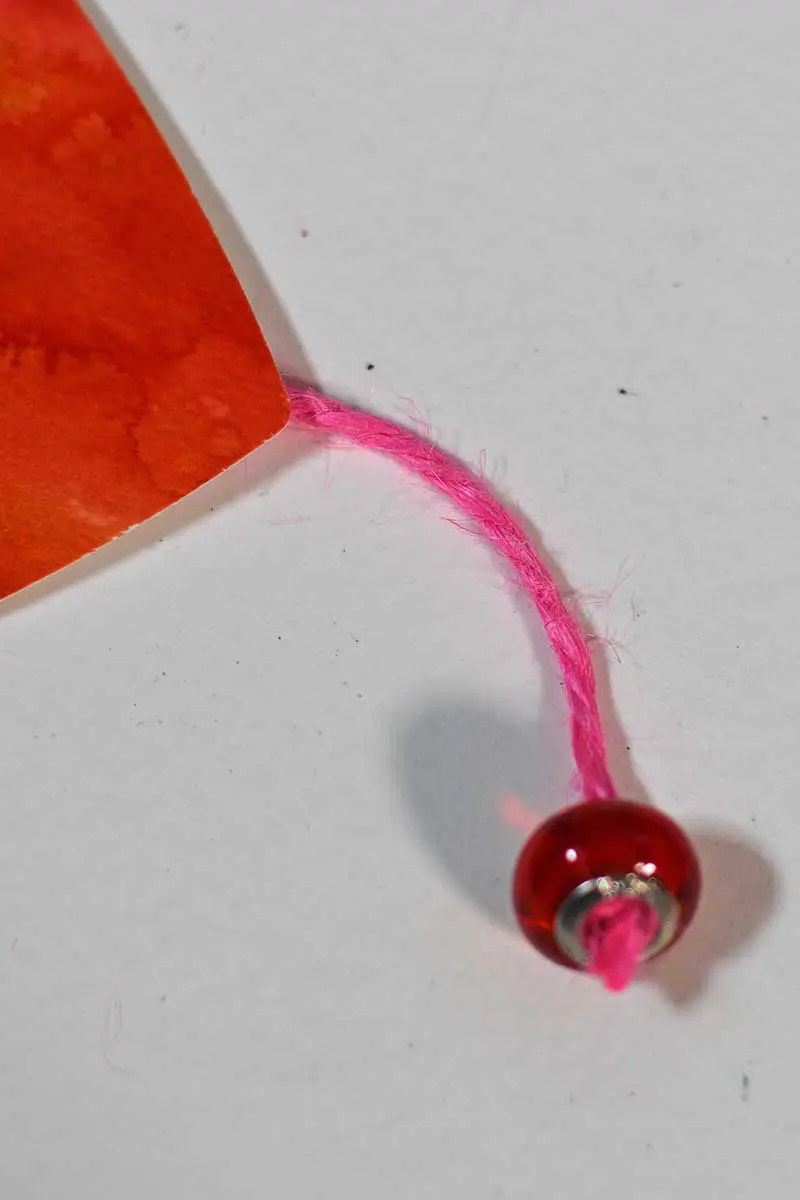 Step 13: Attach the five watercolour heart twines to a branch. Space them out equally.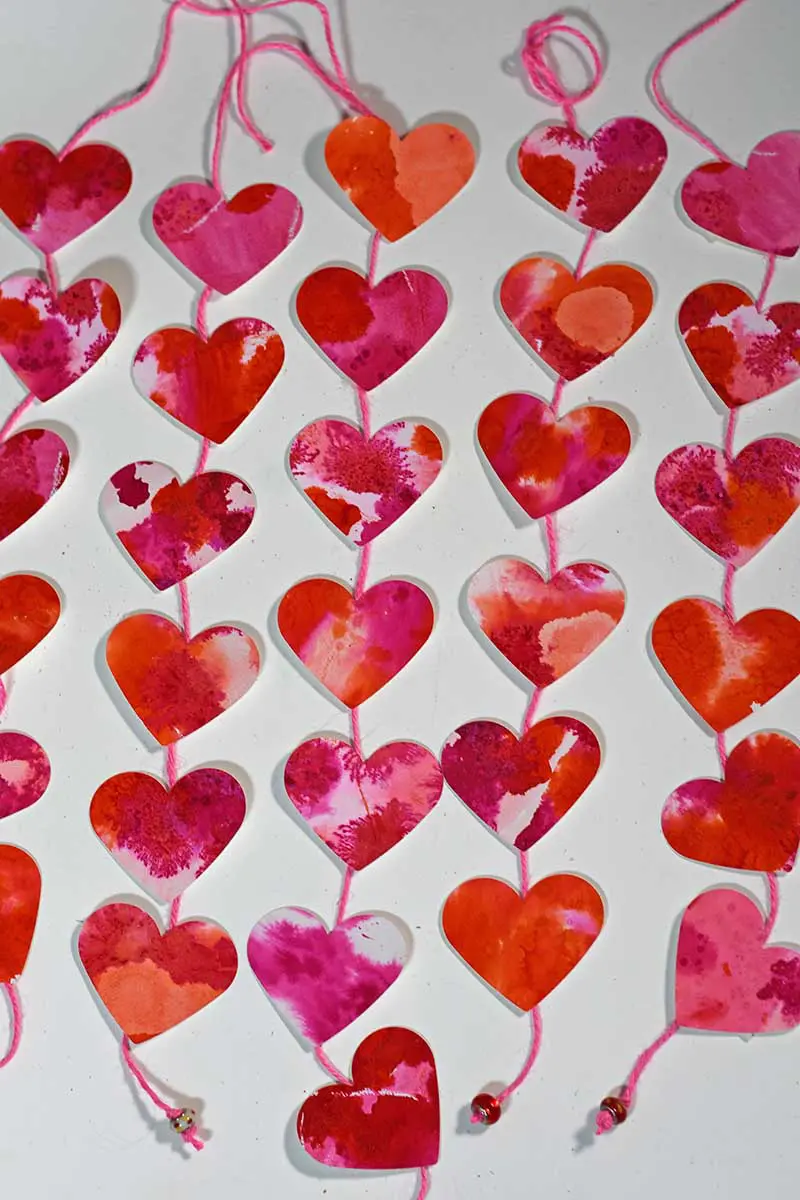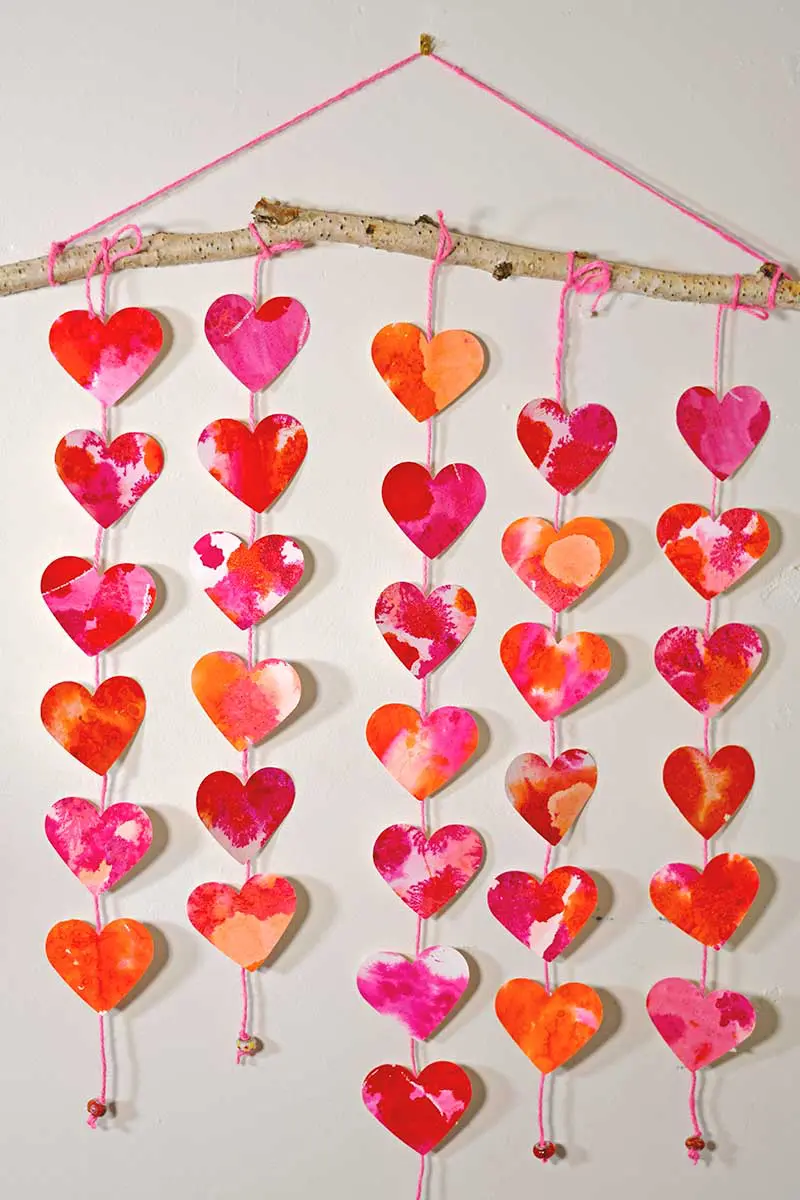 I love how both these decorations look together. The big paper Mache heart hangs above all the smaller watercolour hearts.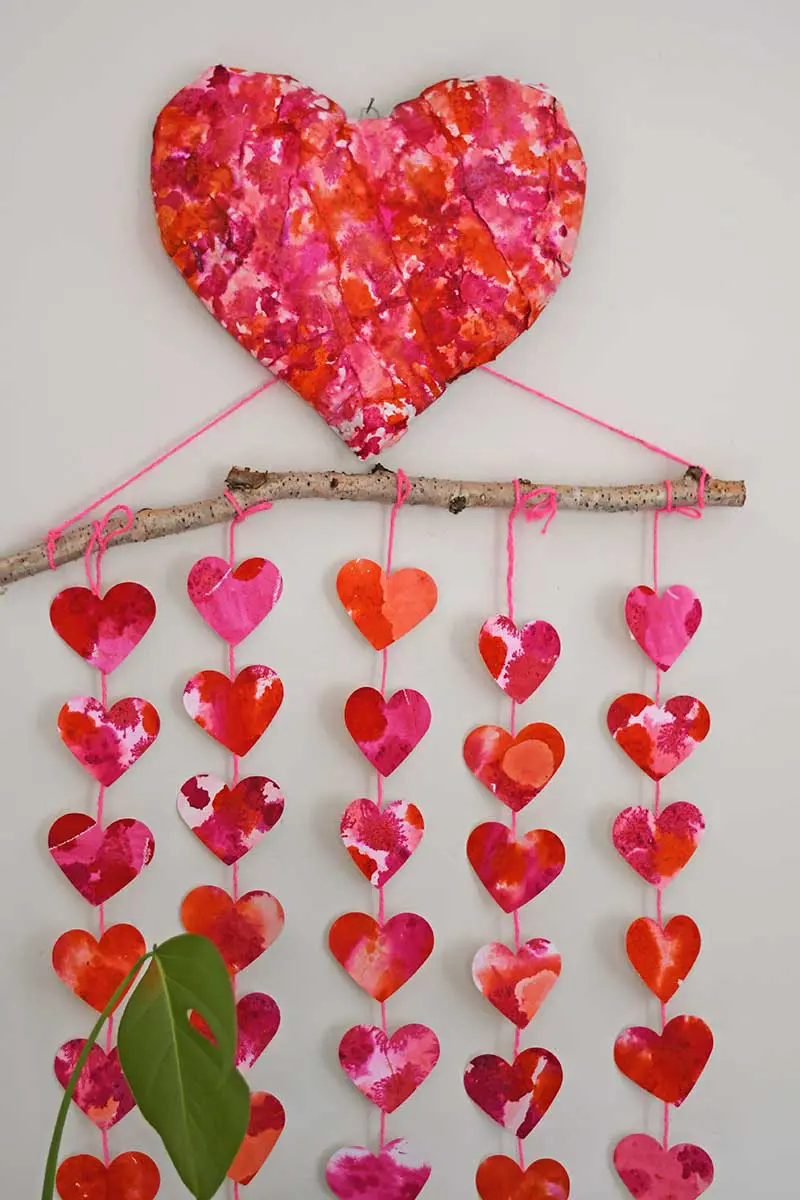 These watercolour heart decorations can also be hung as garlands, like the map heart garlands I made.
I often use a branch to hang to make wall decorations, my most popular is probably my denim feathers hanging.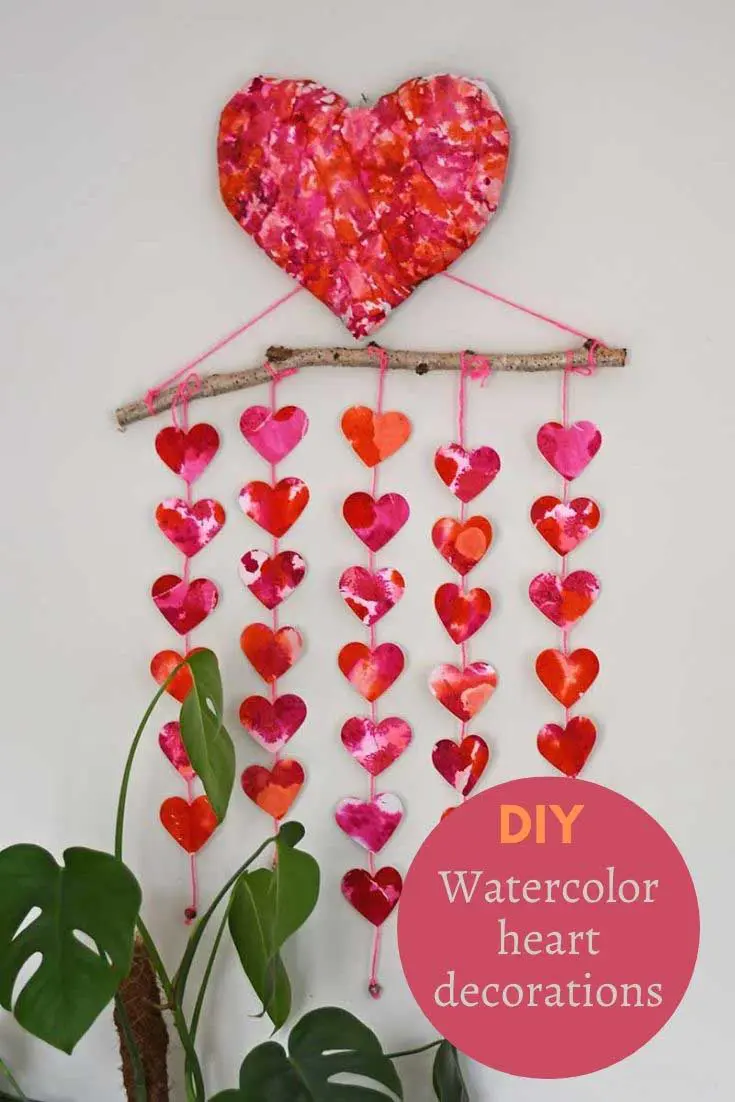 Yield: A watercolor painted 3D heart and wall hanging
How to make a 3D Paper Mache Heart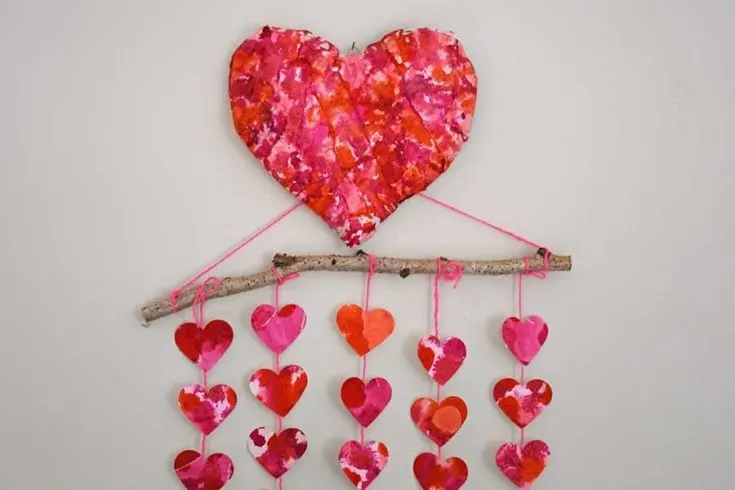 This tutorial shows you how to make a stunning 3D paper Mache heart, to hang on your wall as a fun decoration. The heart is painted with watercolor inks using some clever techniques.
Total Time
12 hours
50 minutes
Materials
Scrap cardboard from old packaging about 40cm square
Kitchen paper
Masking tape
Watercolor paper
Craft glue
Watercolor inks in pinks and reds
Salt and small amount of alcohol
Instructions
Make a heart template out of paper between 30-40 cm in size. If you fold the paper in half and then draw the heart, you will get a symmetrical shape.
Next, use the paper template and draw around it onto the cardboard. Then, cut out the cardboard heart.
Next, screw up kitchen paper sheets into balls and then stick them to the cardboard heart. Use masking tape to hold the kitchen paper balls in place.
Next, when the whole heart is covered in kitchen paper, cut up newspaper into strips about 3-4cm wide.
Paste the strips of newspaper with a 50/50 water glue mixture. Stick them one by one to the heart until it is all covered.
When the newspaper has dried, tear watercolor paper into strips. Next, cover each watercolor paper strip in the glue mixture. Make sure the paper gets nice at wet. This will make it more pliable.
Cover the heart in the watercolor paper strips, use pins to keep the paper in place as the glue dries.
Once the watercolor paper has dried remove the pins.
Then, wet the paper again with a brush and water.
Using a pipette drop watercolor inks onto the heart in different shades of pinks and oranges.
Before the watercolor ink dries add salt and small drops of alcohol to the ink to create interesting paint effects.
Did you know you can also use watercolour paints on fabric and embroider them to create fun decorations?
Check out some of my other paper mache crafts, such as these cute vintage teacups. Paper doily crafts are also great for Valentine's.
Chinese New Year is often around the same time as Valentine's day. I like to decorate for that holiday too. Check out these colourful printable Chinese paper lantern decorations I made.
You can see more of my papercraft and Valentine's decorative crafts here.