At the bottom of my road is a gorgeous park and river. Most mornings I walk our old dog Toby across the park and along the embankment. The riverbank is lined by thistle plants, which are all dry now. I've picked a few of these and used them to make a lovely thistle decoration for my mantle.
Thistles are the national flower of Scotland and it's Burns night soon. Which makes this thistle decoration is seasonally appropriate. It will go well with my scrap tartan Scottie dogs.
My mother is Scottish, every Burns night growing up, we had haggis. This is was not an easy thing to do whilst living in Hong Kong. As my mother had to order all the haggis ingredients from the butcher and make her own from scratch.
Despite what many non-Scotts believe, haggis isn't a real animal. It's a food item made from offal.
Did you know that it is illegal to import haggis into the US? Due to a ban on some of its ingredients. So I'm sure many Scots in the US must make their own haggis too!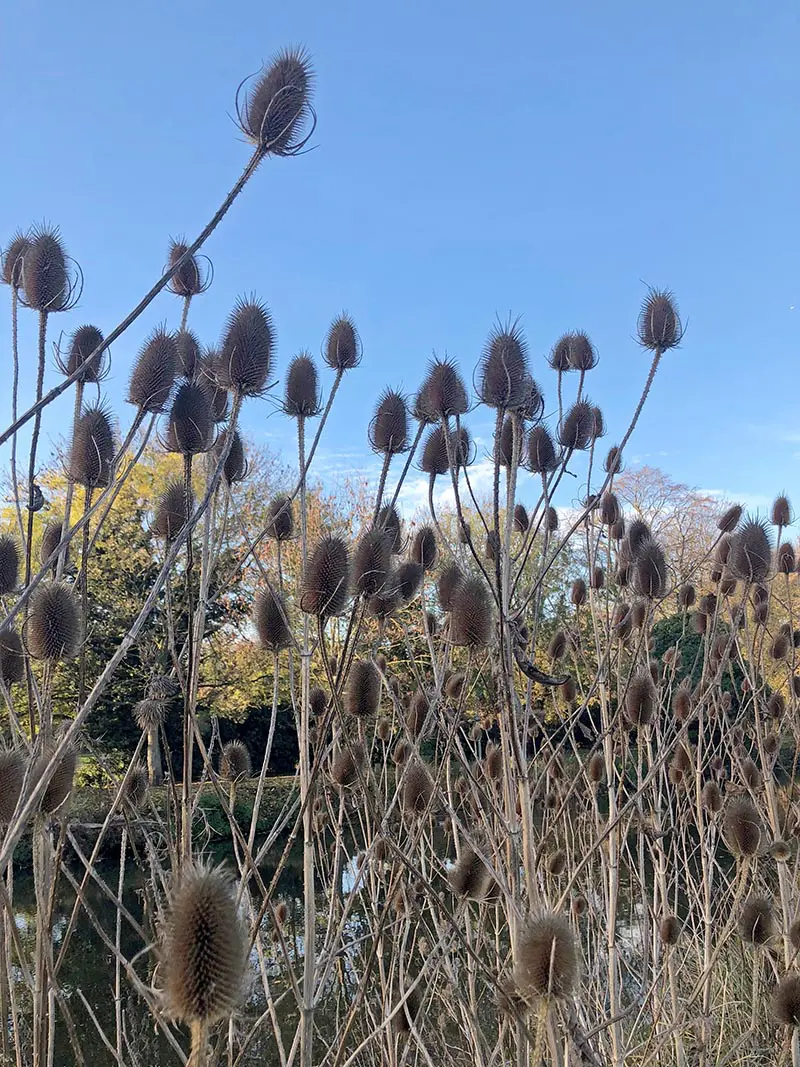 A Colourful Thistle Decoration For Your Mantle
Back to the thistle decoration, I think it has a retro feel to it. As a child, I remember my house being decorated with dried plants such as thistles, bulrushes (cattails) and pampas grass.
I thought I'd give the thistles a modern update by spray painting them a rainbow of colours.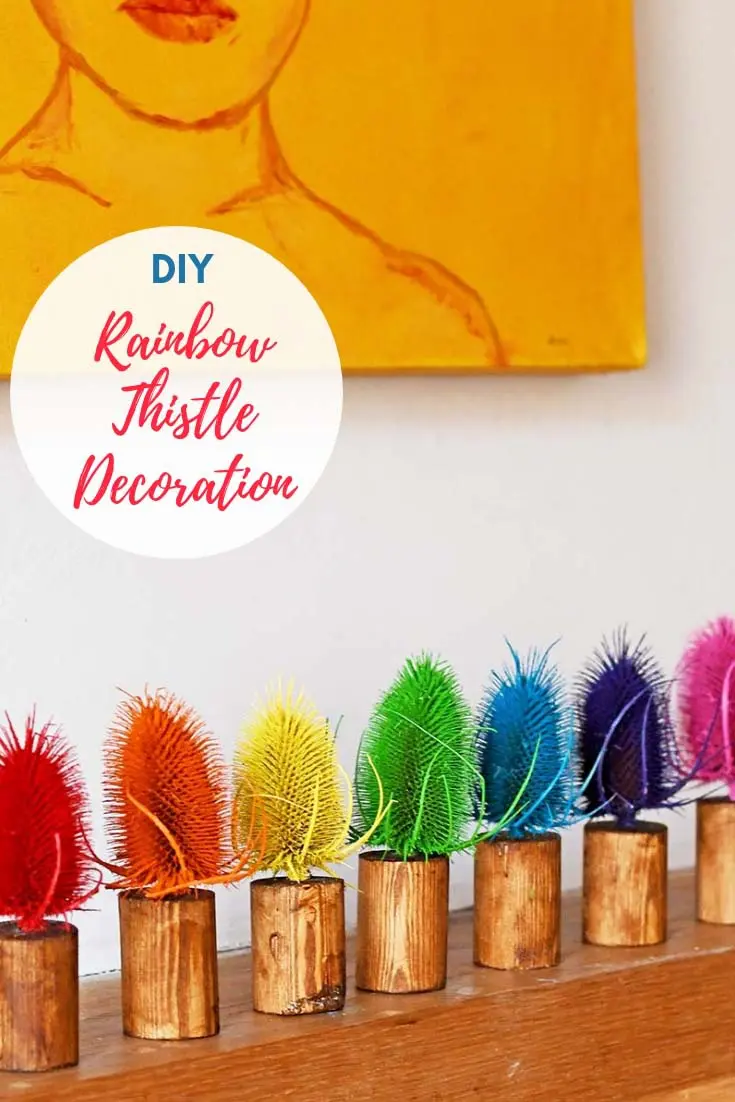 This post contains Amazon affiliate links for your convenience. Click here to see my disclosure policy.
What You Need To Make A Thistle Decoration
Thistles – Thistles grow wild, I picked about 8 from the riverbank.
Secateurs & gardening gloves – Thistles are very thorny, you will want to protect your hands.
Wood dowel approx 3cm in diameter and at least 70cm in length
Spray paints in lots of different colours.
Drill with a wood drill bit as wide as the thistle stem.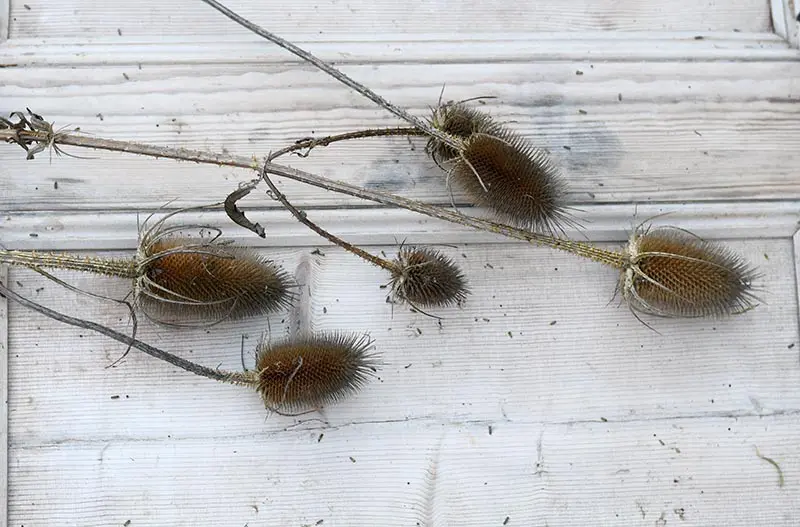 How To Make A Thistle Decoration
1.Using gloves and secateurs pick your dry thistles. Next, spray paint them the colours of the rainbow or near enough. I just used the bits of spray paint I had in my craft cupboard.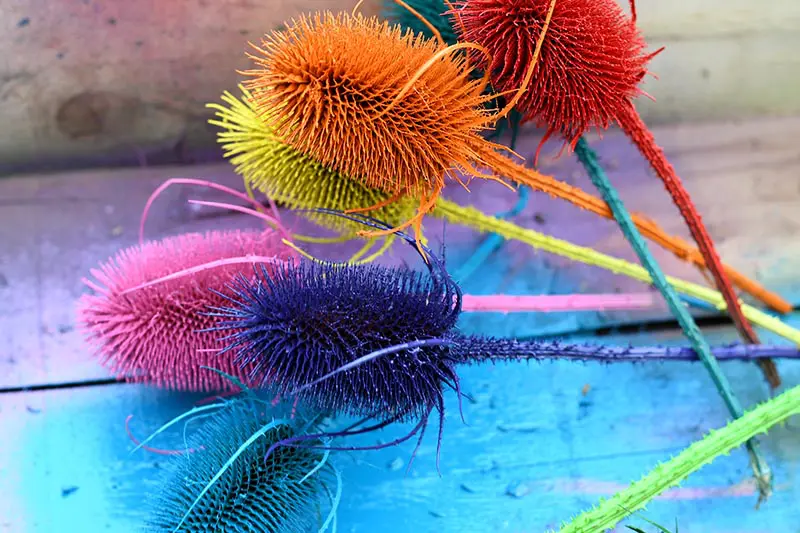 2. Next, saw the wooden dowel into blocks about 5-6 cm (2″) in height. You will need one for every painted thistle. I had seven blocks in total.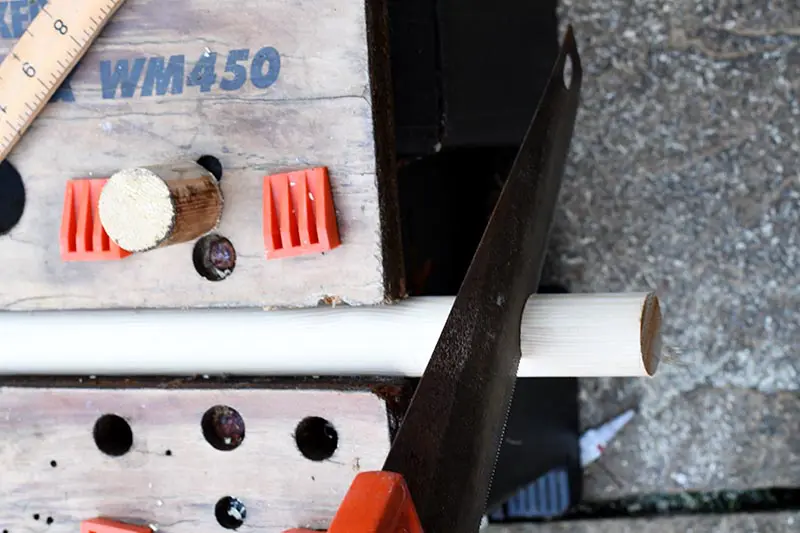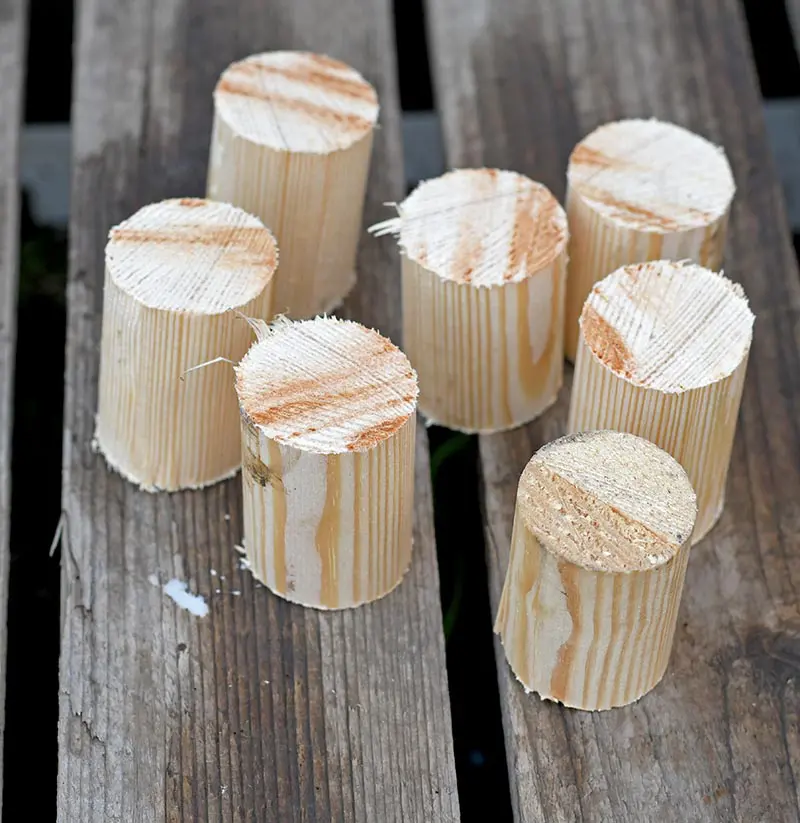 3. Mark the center of the top of each piece of wood and drill a hole in the top. The hole needs to be wide enough to fit the thistle stem and about 2cm's deep.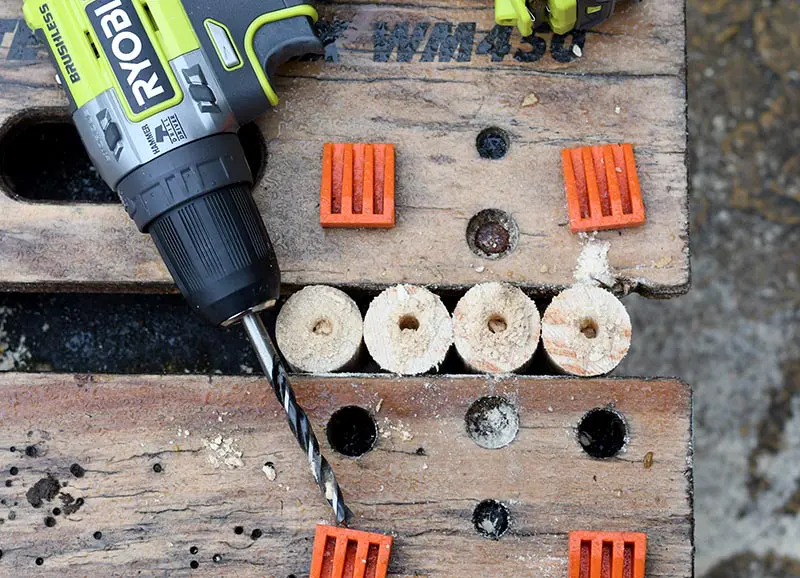 4. Next, sand and smooth each of the wooden blocks. I wanted a darker wood look, so I also stained each block with a walnut wood stain.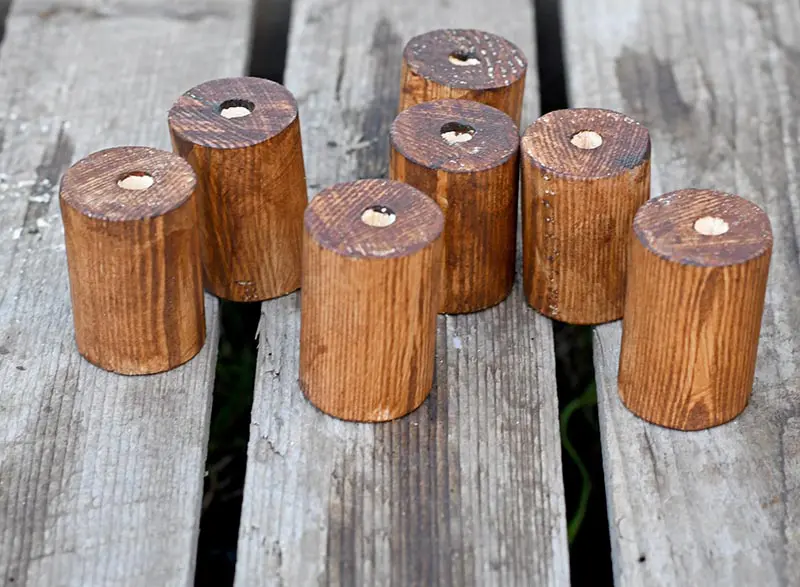 5. Finally, cut down the thistle stems to about 2 cm long. Place one thistle decoration in each wooden block.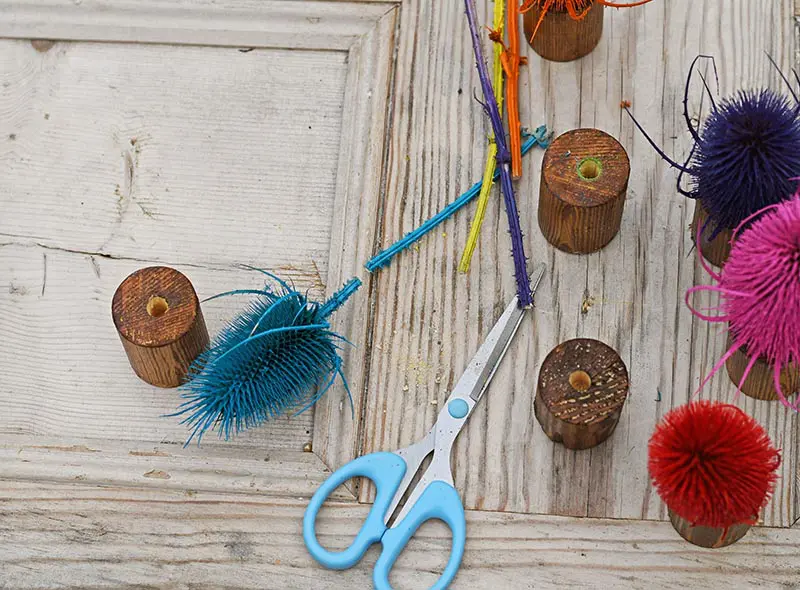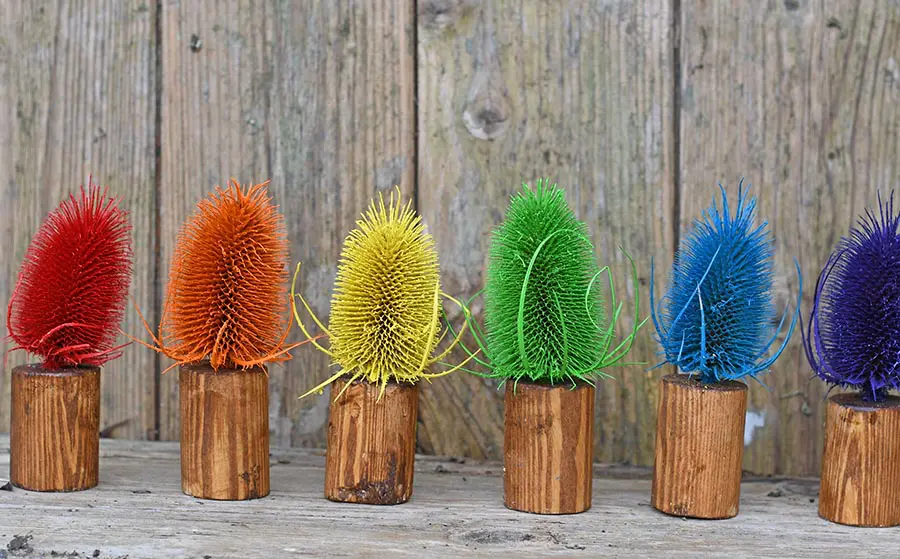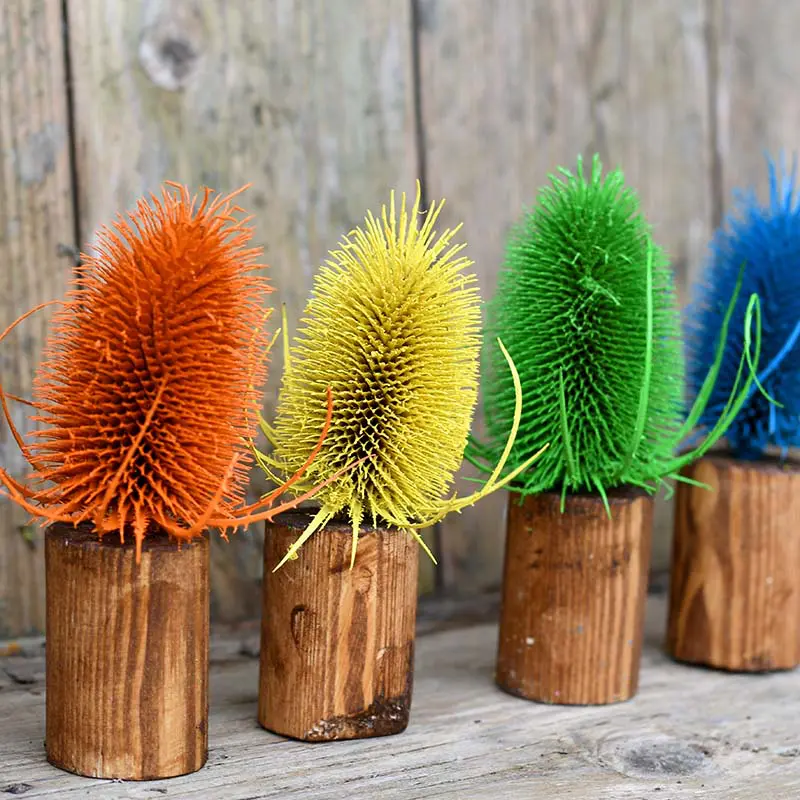 I have put my rainbow thistle decoration on the mantle. It certainly looks bright, colourful and cheery! I won't be just keeping these decorations up for Burns Night (25th January) but for the rest of the year.
Check out these tartan crafts for more Scottish decor ideas.
Being born and brought up in Hong Kong, not only does my family celebrate Burns Night, but we also celebrate Chinese New Year. On the family calendar, it is the next event after Burns's night. I'll see if I can come up with some Chinese New Year decor ideas too!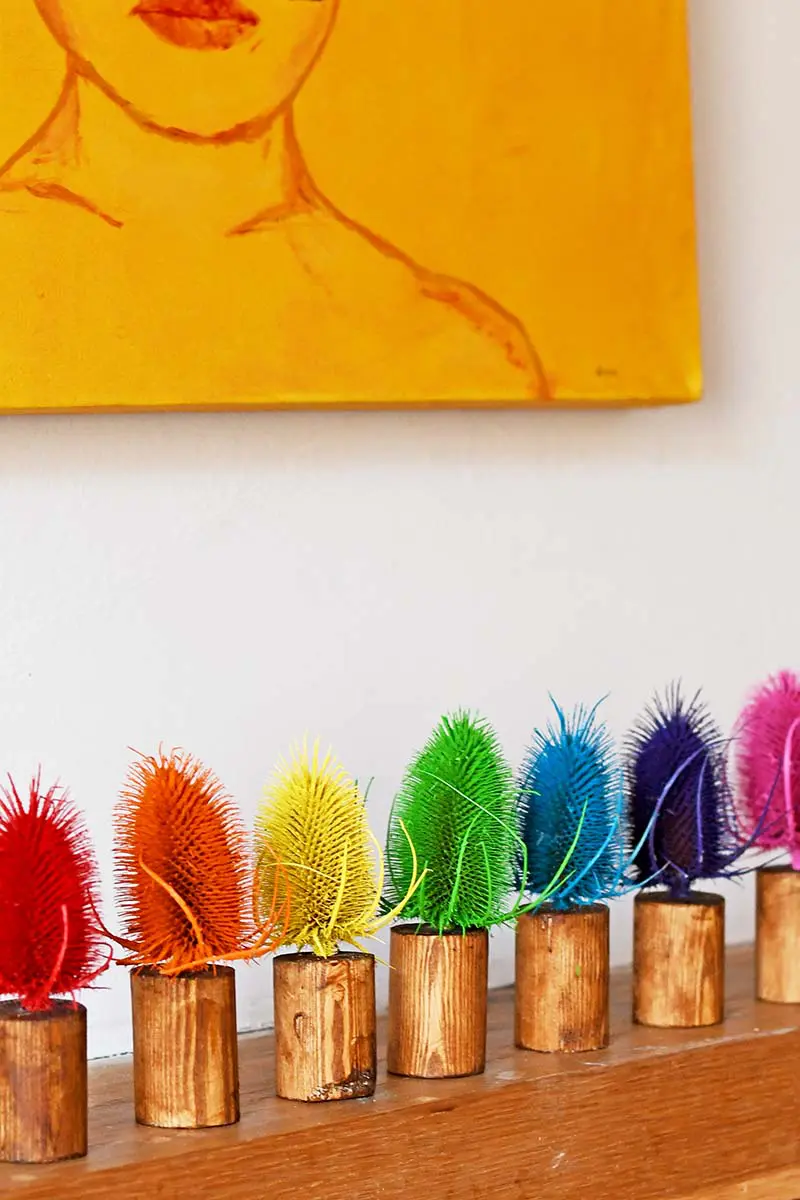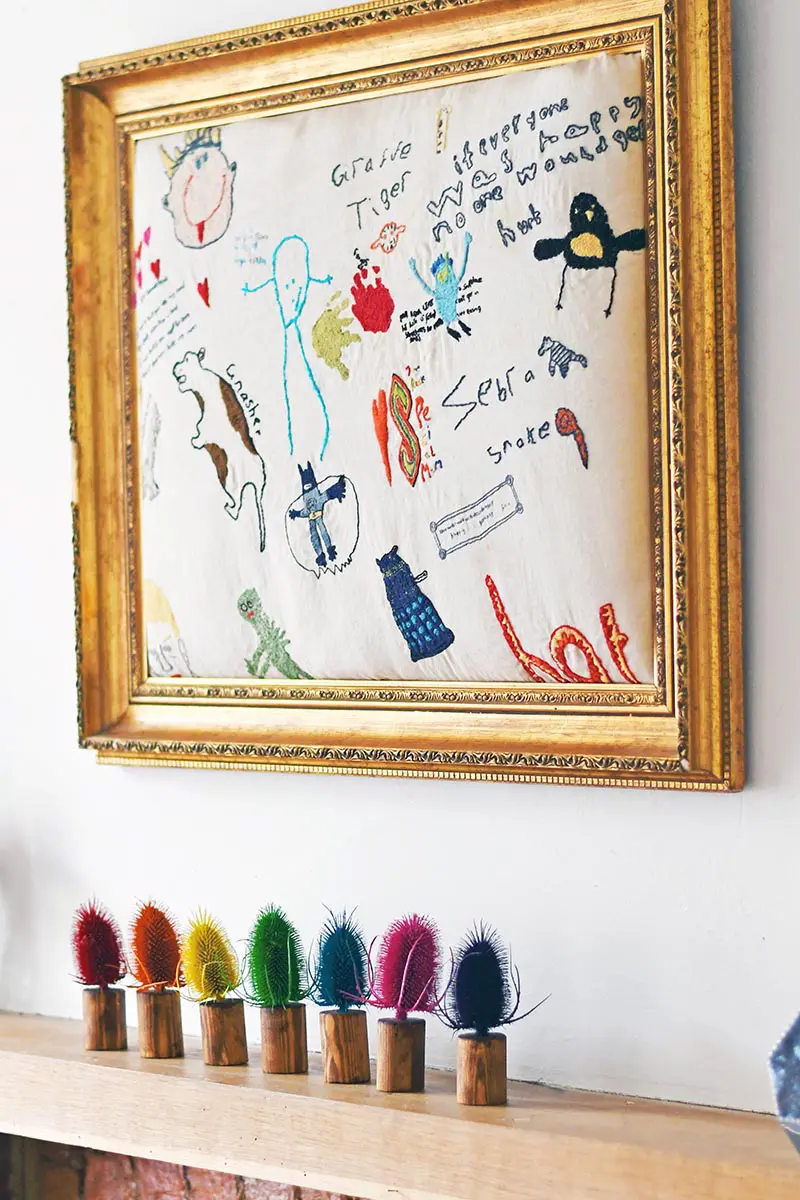 If you are looking for more Scottish themed decorations then you should check out these tartan mini trees and colourful tartan feathers.
Chinese New Year often falls at about the same time as Burn's night. You might want to check out my Chinese paper lanterns craft, which is also very colorful.
If like me you love colourful decor you will love the rainbow DIY pom-pom flowers I have also made to brighten up my home. You may want to check out these rainbow posts.
I have even made thistle type jeans flowers using denim scraps.
For more rainbow crafts check out favecrafts.com