If you have ever been into a Scandinavian home, you will probably have noticed woven hearts decorations. (Sometimes called pleated hearts). These lovely Scandi hearts aren't just for Valentine's but for Christmas and all year round.
Since spotting the gorgeous woven hearts whilst visiting relatives in Norway, I've wanted to make my own.
My mantle has looked bare since all the Christmas decorations have been taken down. I thought I'd cheer it up by making my woven hearts garland to hang on it.
Often Scandi hearts are made from paper or felt in two contrasting colours. As I love to upcycle, my woven hearts are made from my two favourite fabrics to repurpose; denim and sweater wool.
These woven hearts garlands cost almost nothing to make. You need a few scraps of denim and old felted sweaters to make the Scandi hearts. I've also made some Scandi embroidered hearts, which you might want to check out.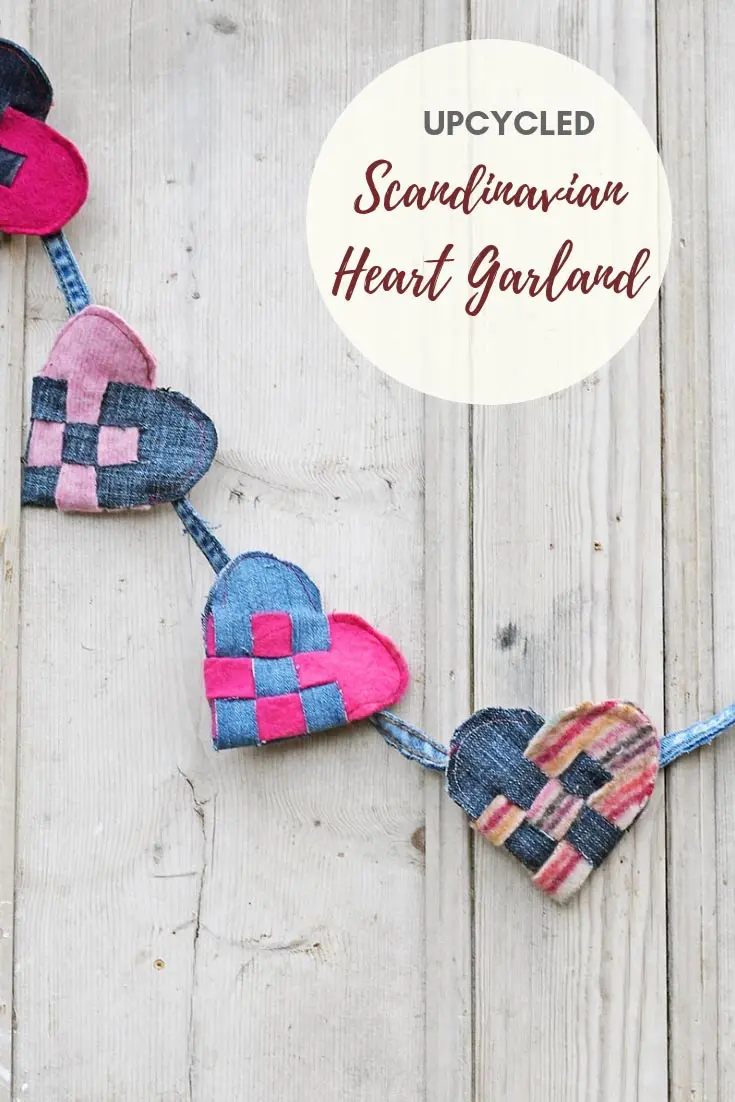 We're a participant in the Amazon Services LLC Associates Program, an affiliate advertising program designed to provide a means for us to earn fees by linking to Amazon.com and affiliated sites. As an Amazon Associate, I earn from qualifying purchases.
What You Need To Make A Scandi Woven Hearts Garland
Paper template – Available to download here
Denim scraps from old jeans
One long seam from the inside legs of a pair of jeans
Felted wool scraps from old sweaters or craft felt
Pen, iron, scissors and glue (or needle and thread).
How To Make A Woven Hearts Garland
Step 1: Cut out the paper template and fold it in half lengthways. Cut the slits where marked.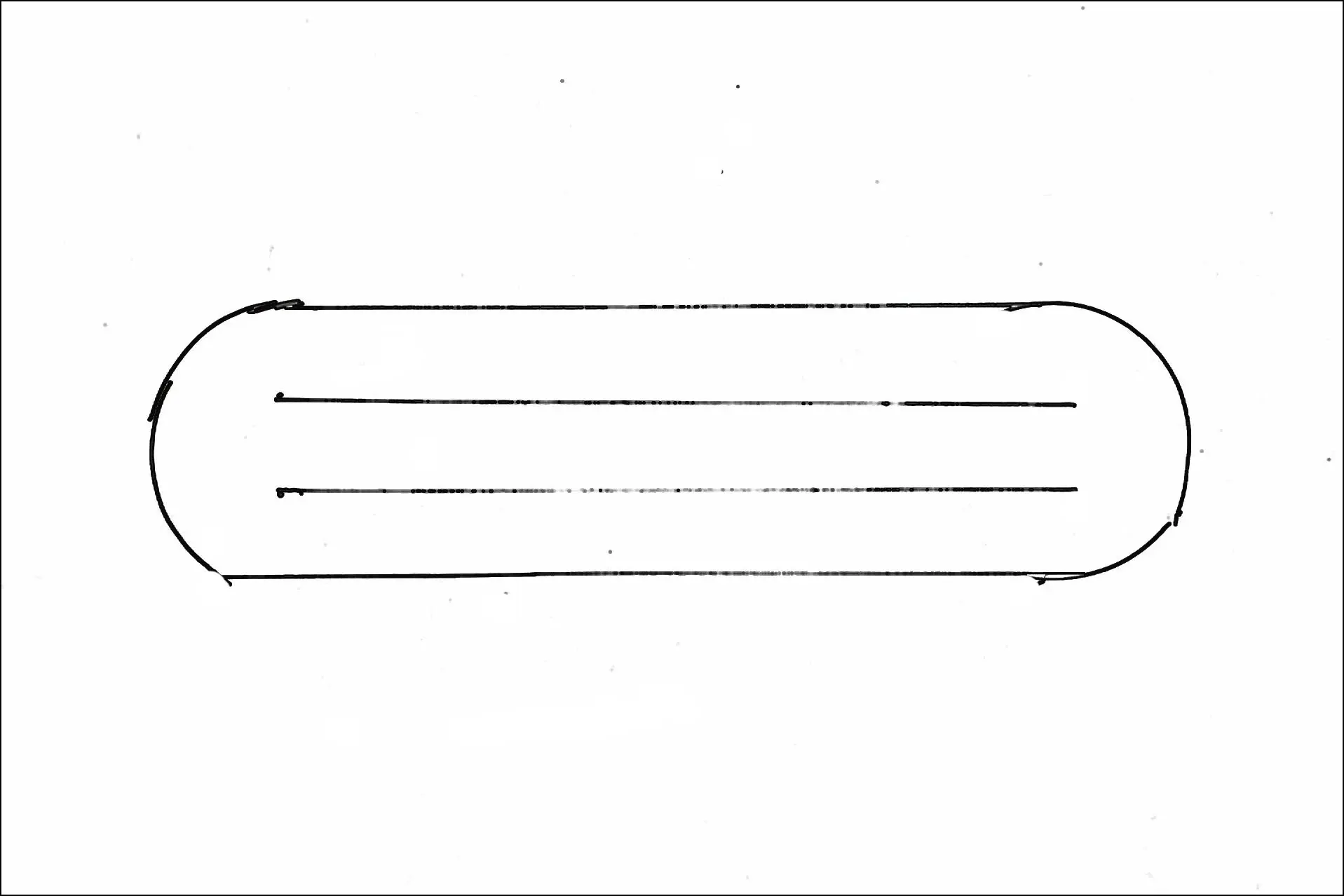 Step 2: First, fold the scrap piece of denim you will use in half and iron in a sharp crease. Place the folded paper template on top of the denim.
Lining up the fold in the paper with the fold in the denim. Draw around the template with a pen.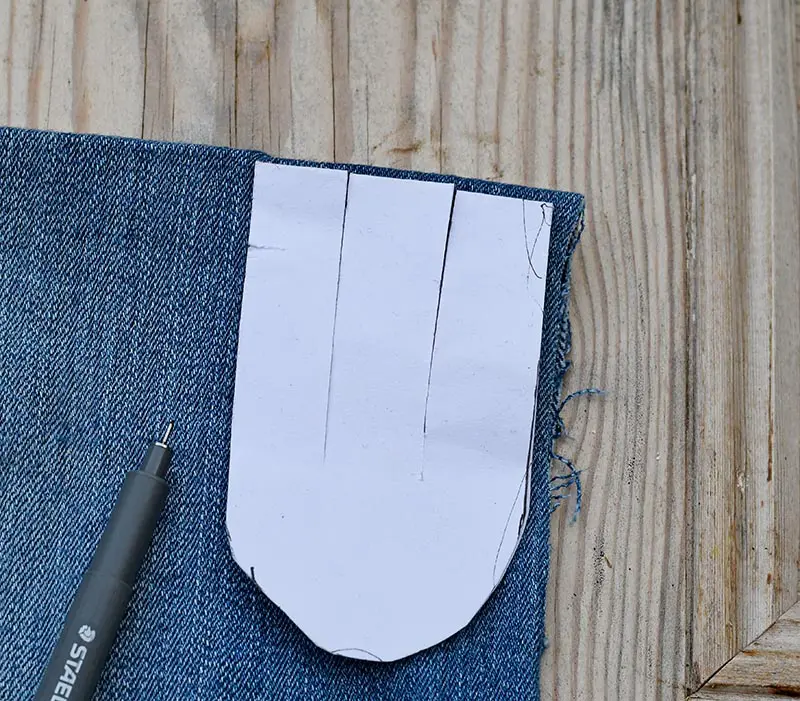 Step 3: Next, cut out this shape and cut in the slits.
If you don't want the denim cut edges to fray, spread a little fabric glue around the edges, as this will stop it from happening.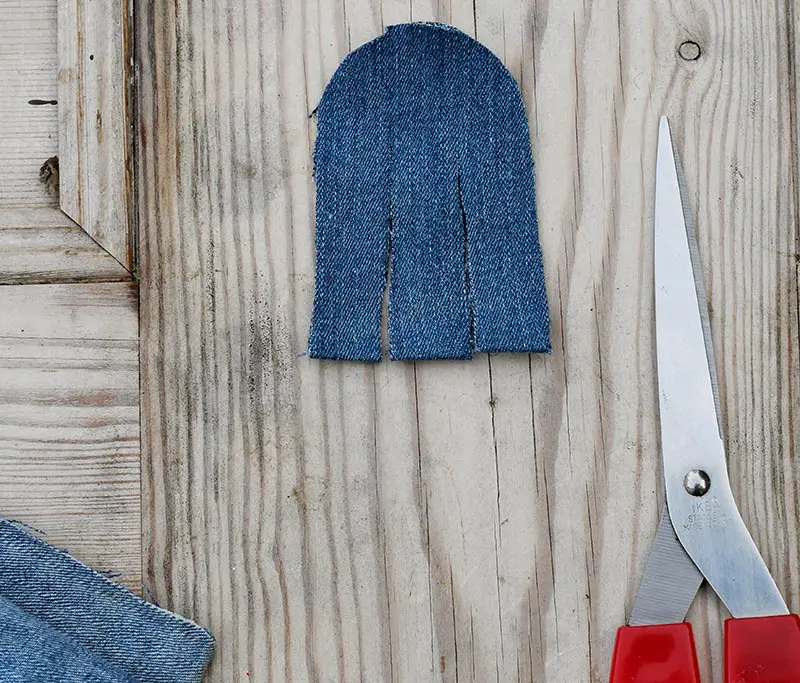 Step 4: Repeat the last two steps with the felted fabric.
The Felt does not fray, so no need to glue the edges.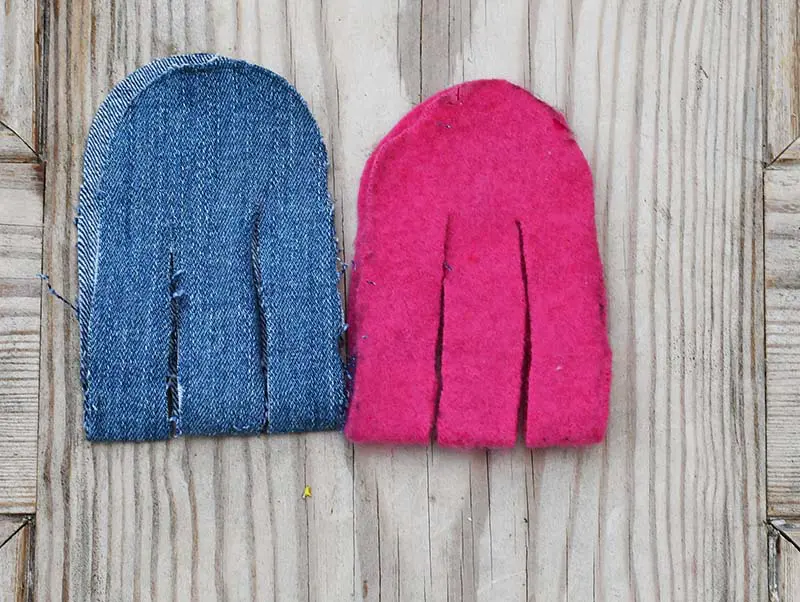 Step 5: For the next step, you need to weave the two heart halves together (like in the picture below). This is a little fiddly, but fortunately, the fabric is flexible and won't tear.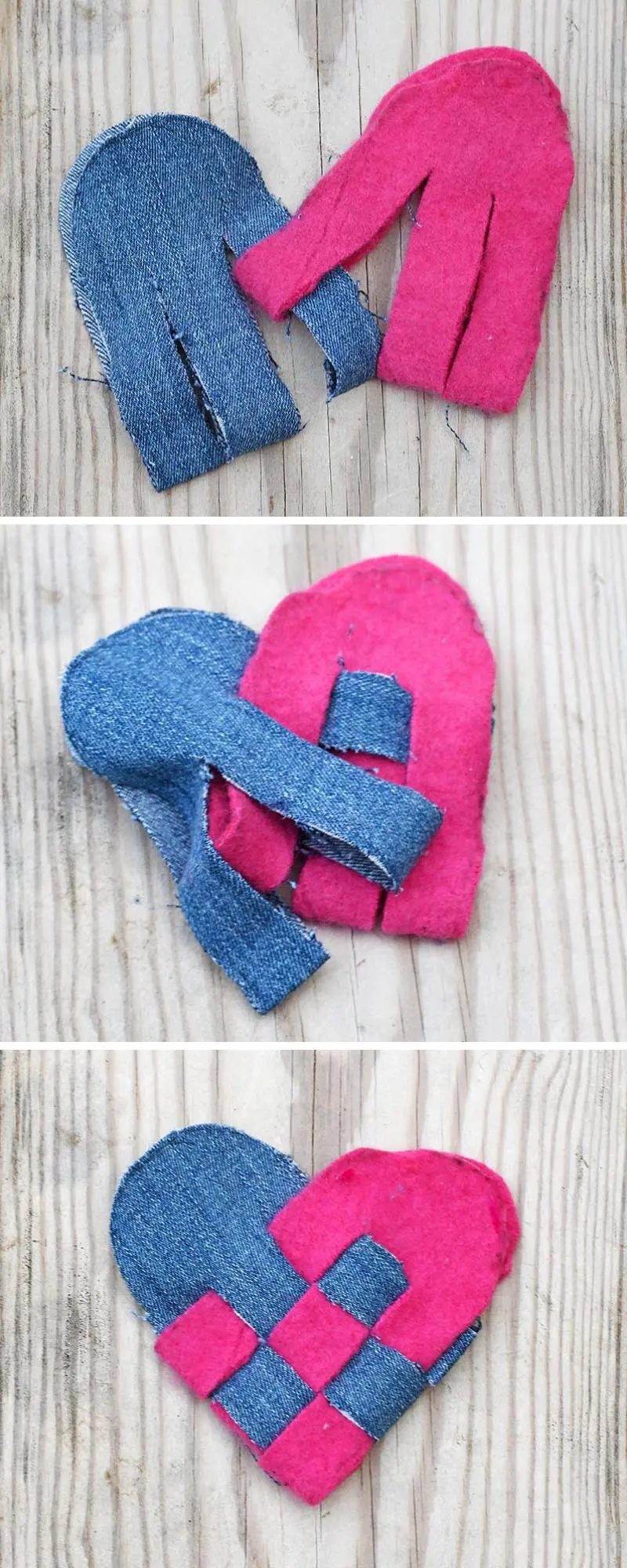 Step 6: Finally, to finish off the heart, I stitched the open round top sides together. Carry on making woven hearts until you have enough for a garland.
You can always use fabric glue if you don't want to sew.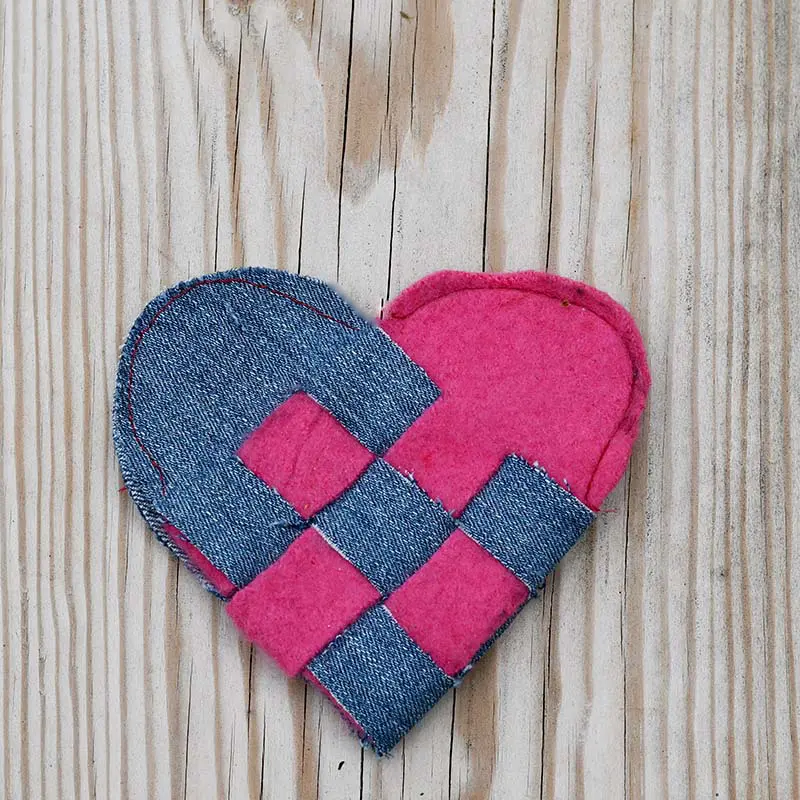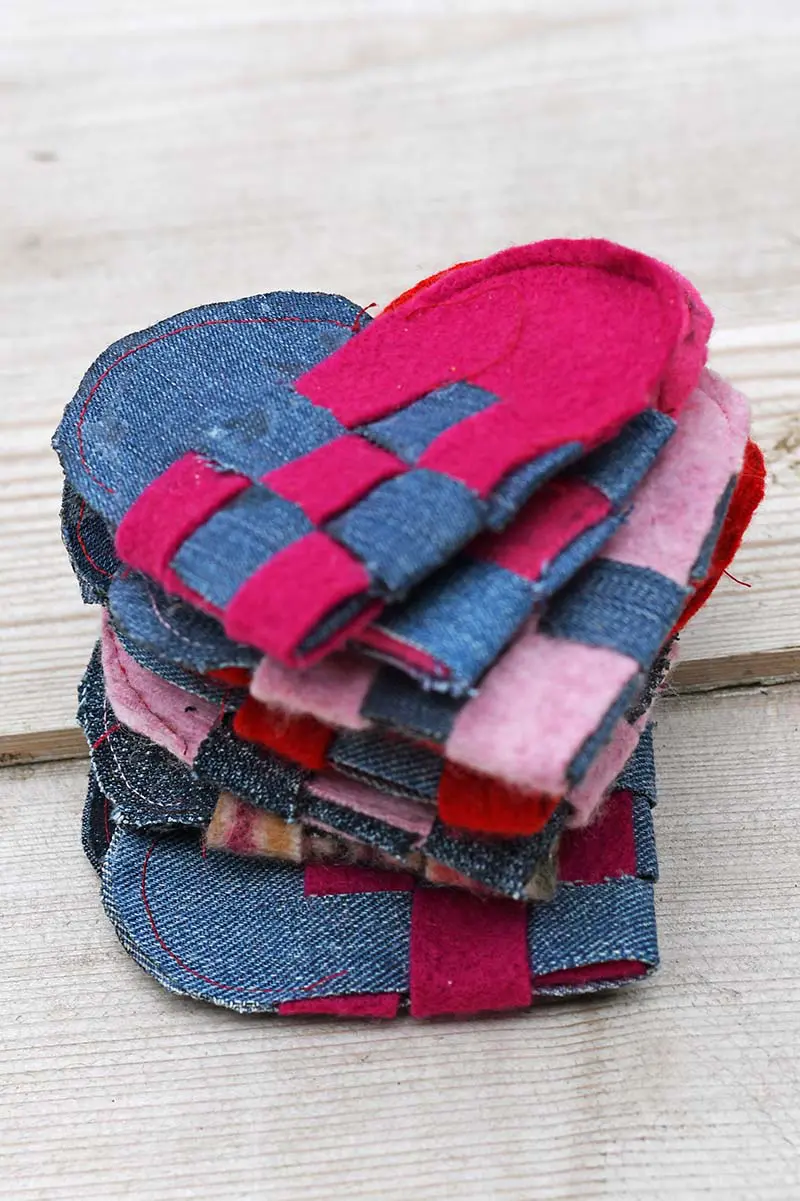 Step 7: Finally, lay out the Scandi hearts in the order you want the colours to appear. Then glue or stitch them to a long denim seam. You can always use twine for this part if you don't have one.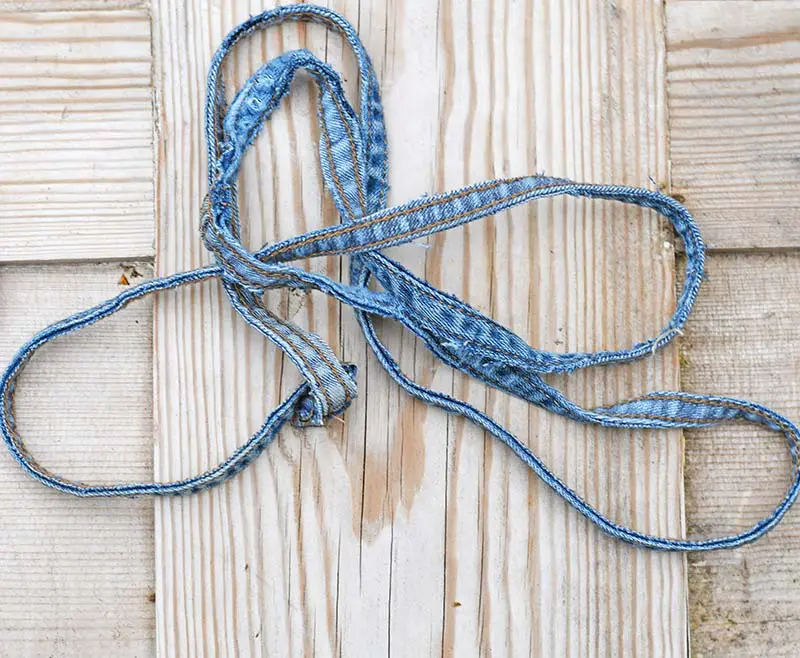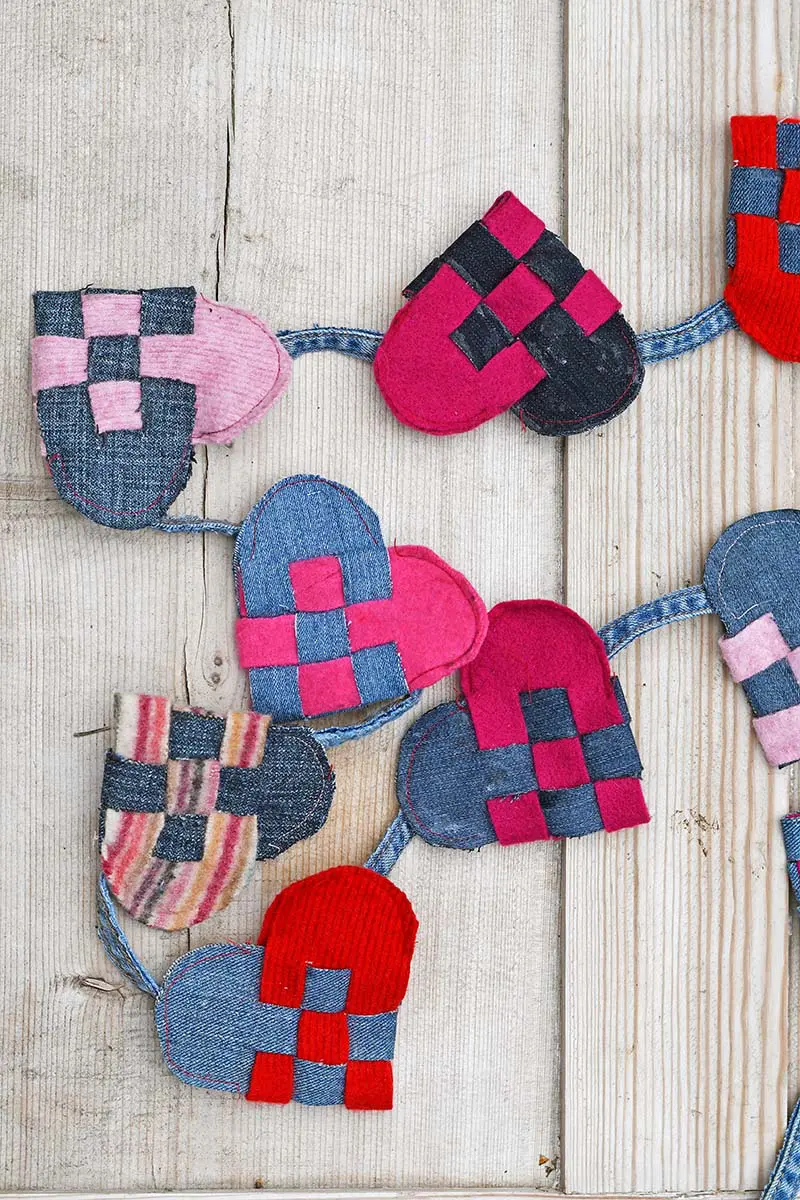 All that is left to do is to decide where to hang your Scandinavian heart garland.
I like to hang mine on the door to my bedroom. I might just put it on the mantle for Valentine's week. It's my birthday on Valentine's day, so I like to put some decorations up!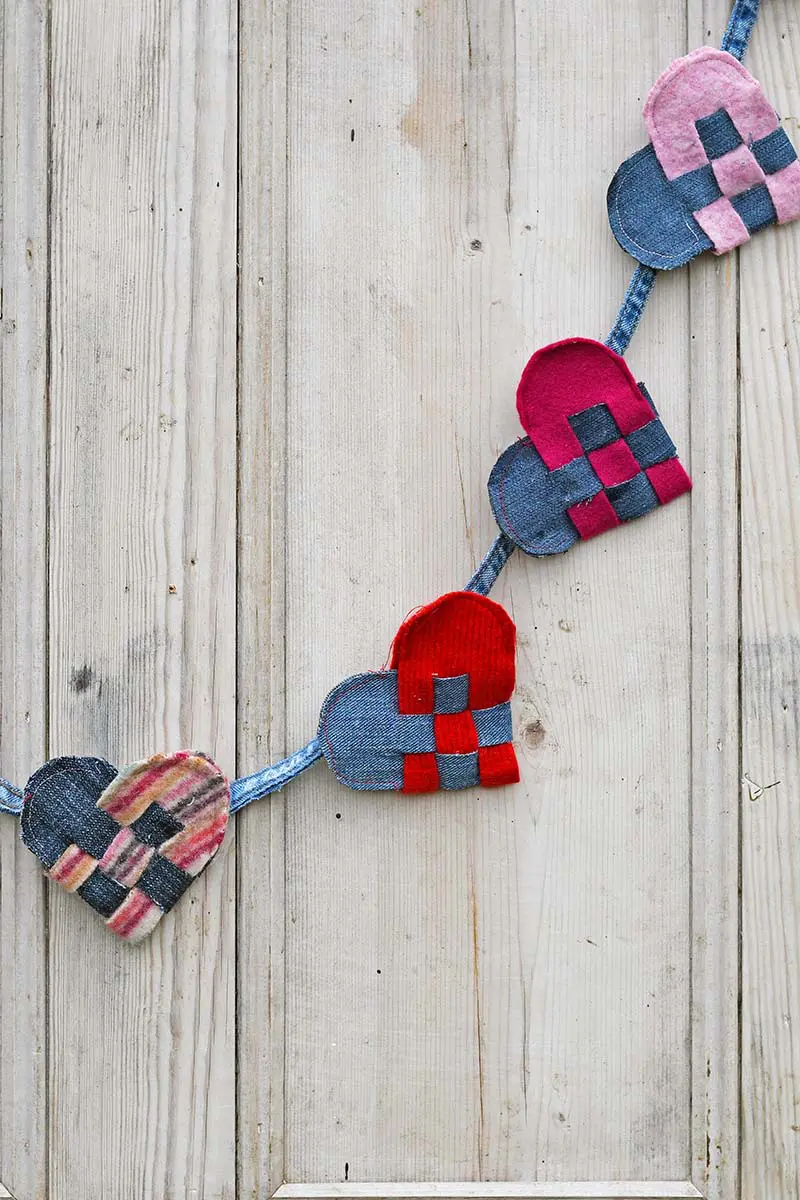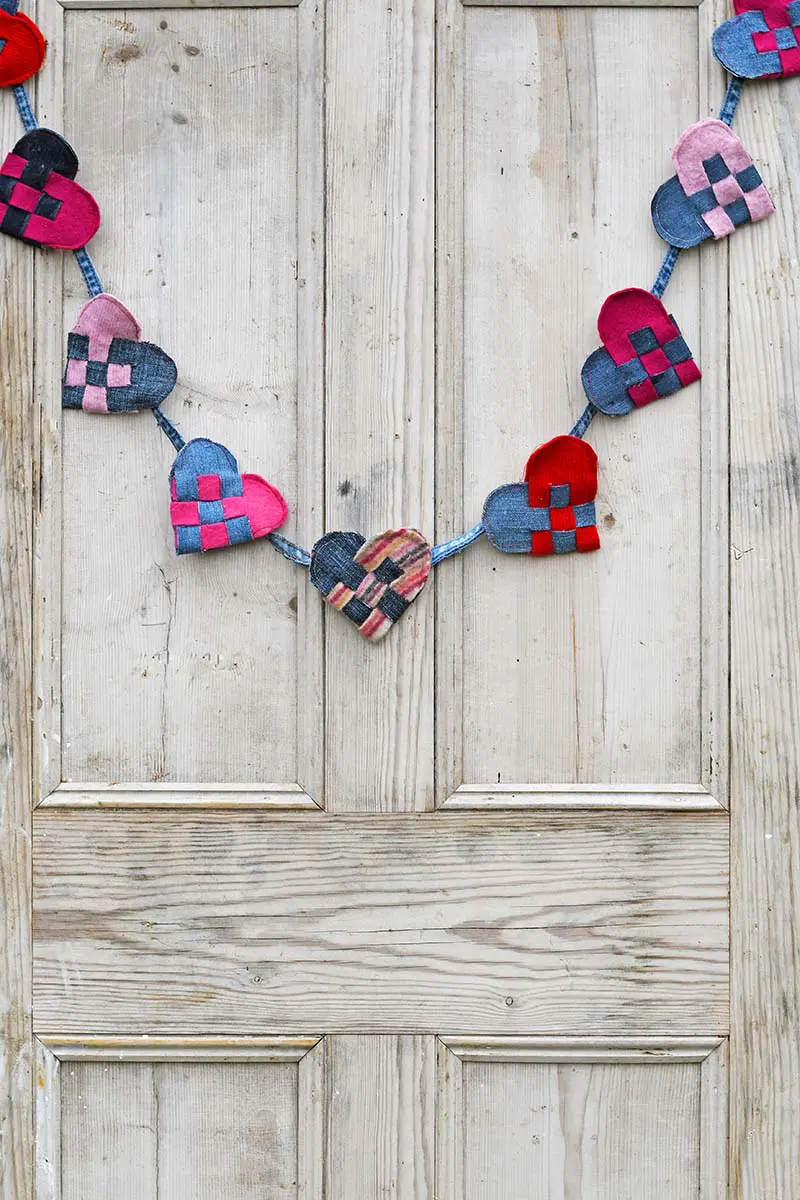 These Valentine's hearts are featured in the A to Z of denim crafts and in this collection of adult Valentine crafts.
There is a tutorial for making the paper version of these woven fabric hearts in this collection of DIY Scandinavian decorations. The paper ones can be opened up to form little hanging baskets for the Christmas tree.
As well as making denim hearts, I also make patchwork denim stars.
If you liked this post, you might want to check out some of my other scrap denim and sweater wool posts.
The Best Denim Valentine's Upcycles and Crafts