My house is full of flowers and plants both real and faux. I love to reflect nature in my home decor and it features heavily as a theme to my crafts and upcycles. Here I've made pom pom jeans flowers from repurposed denim scraps.
I have made a denim flower bouquet previously but these were based on roses. Roses are a popular theme with my flower crafts, I've also made old map roses and sweater felt roses. This time I decided to try another type of flower made out of jeans scraps.
I'm not quite sure what plant these pom pom jeans flowers reflect in nature exactly they remind me of thistles. It doesn't really matter though as I love them on my mantle.
I've also made fabric sunflowers out of denim to wear as a corsage.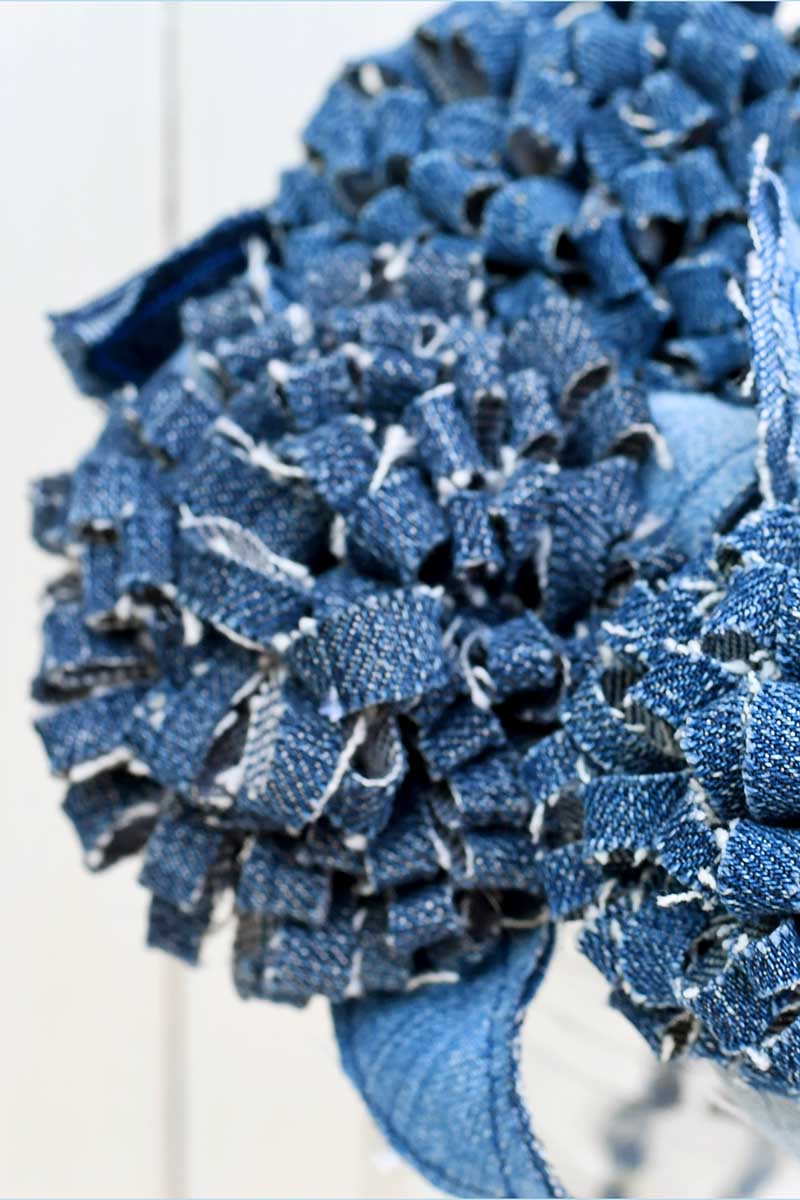 Repurposing Jeans into Flowers
I'm a big fan of repurposing old jeans for home decor. The easiest denim crafts are the no-sew jeans upcycles. Though there is a small amount of sewing with this jeans upcycle, it could just as easily be a non-sew project. The sewing can be replaced with some strategic fabric glue.
The whole craft is very affordable as with many of my crafts it is an upcycle of waste fabric. It is a very easy, quick and fun upcycle.
I made five of these pom pom jeans flowers in total, in various shades of denim.
Firstly because one of the beauties of upcycling old jeans is showing off the shades of indigo they come in. I think that particularly works well with these flowers.
Secondly, I prefer items in odd numbers when it comes to interiors, as I think it adds interest and is visually more appealing.
We're a participant in the Amazon Services LLC Associates Program, an affiliate advertising program designed to provide a means for us to earn fees by linking to Amazon.com and affiliated sites. As an Amazon Associate, I earn from qualifying purchases.
What You Need
Scraps of denim from old jeans.
Garden wire or wire from an old coat hanger
Sewing machine or needle and thread or fabric glue
Scissors, rotary cutter and mat.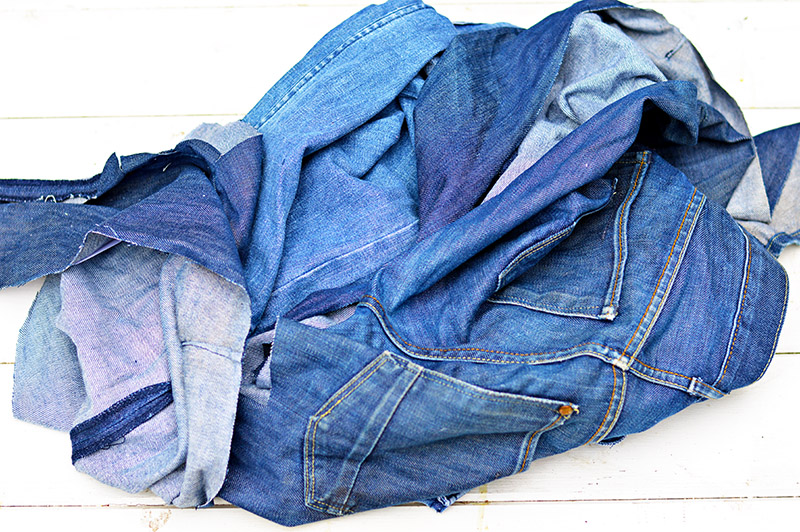 How To Make Denim Thistle Flowers
1.. The first thing to do is to cut the jeans scraps into long strips. The strips should be about 8cm wide and at least 40cm long. The longer the strip of denim the bigger the thistle jeans flower.
I cut the denim from several different pairs of jeans in different shades of indigo. However, you can use just the same pair of jeans if you want flowers in the same shade of blue. You just need one of these strips per flower.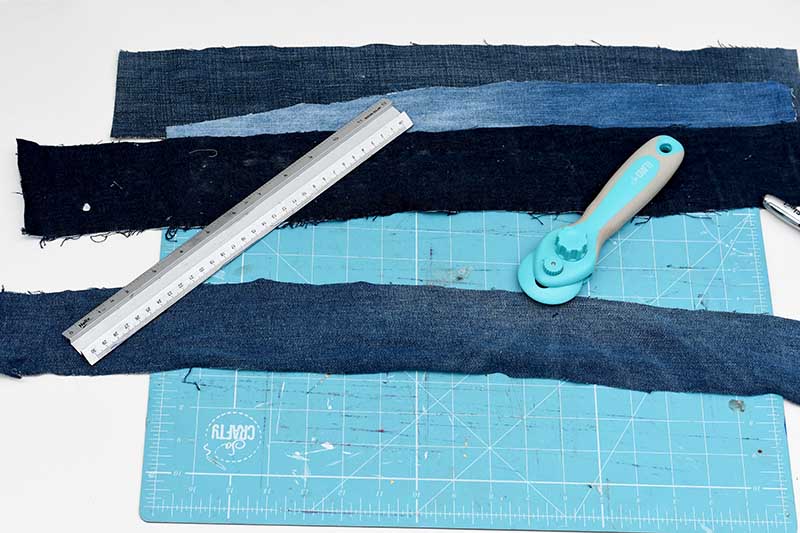 2. Next, fold the long strip of denim in half lengthways then stitch along the bottom edge to hold the fold in place. The strip should be folded so that the wrong sides are touching.
Top tip: If you do not want to do any sewing then simply glue the two edges hold the fold in place.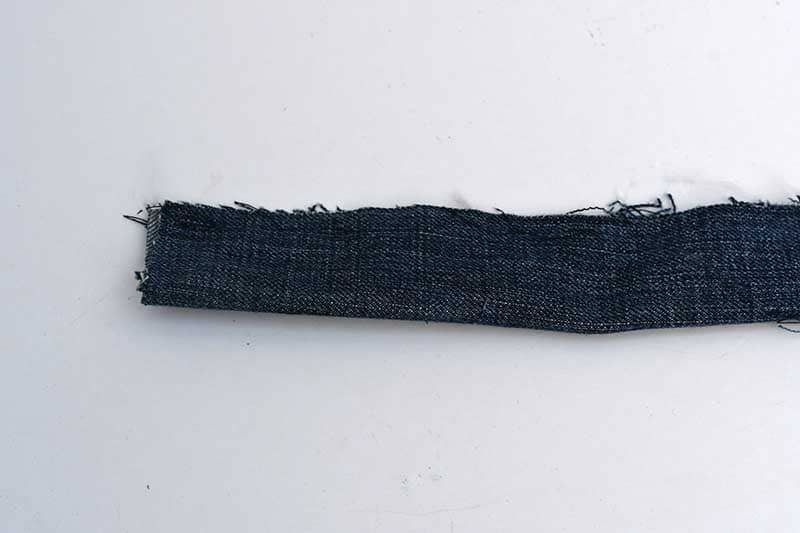 3. Then, with a pair of scissors cut into the crease of the folded denim strip. The cuts should be about 5-6mm wide and about 2cm long. Cut along the whole length of the strip of denim.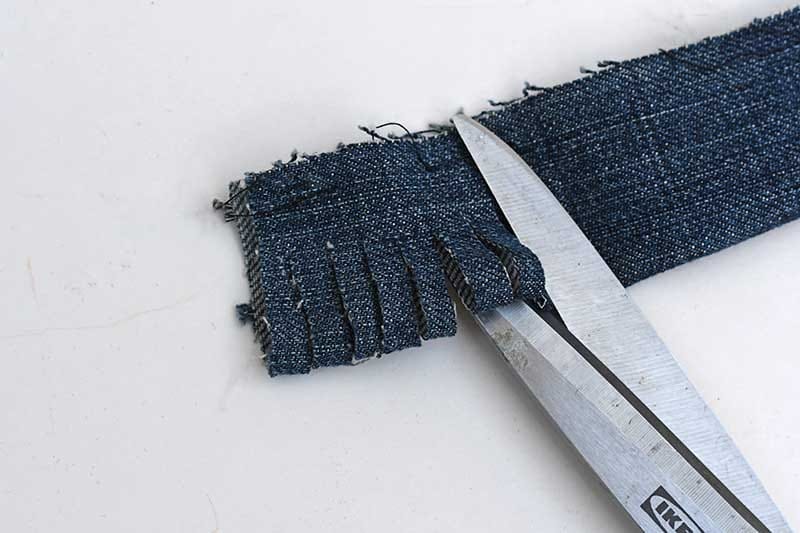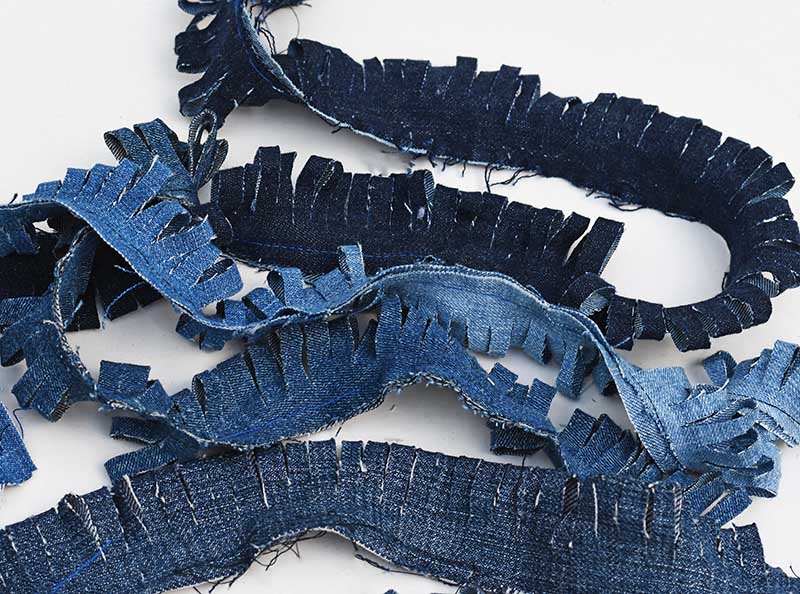 4. Next, cut the wire about 30cm in length, this will be the stem. Using a glue gun stick one end of the cut denim strip to the end of the wire.
Then, wind the denim strip around the wire and secure the end with a dollop of hot glue.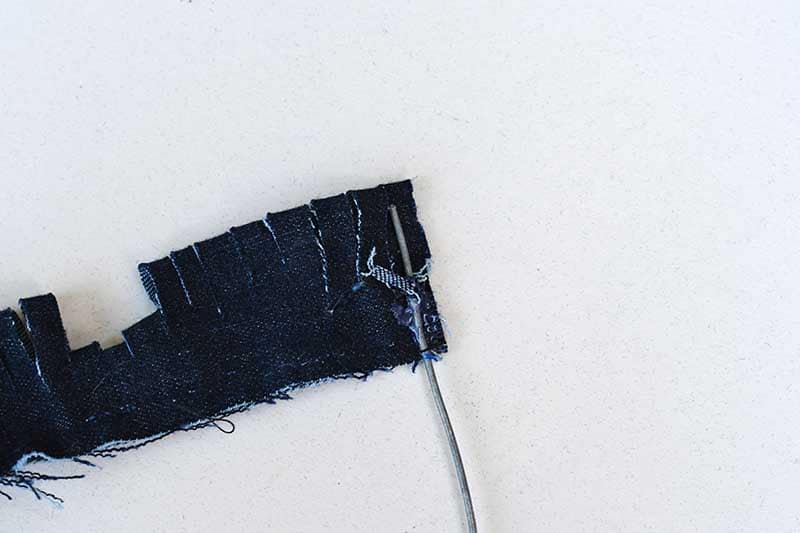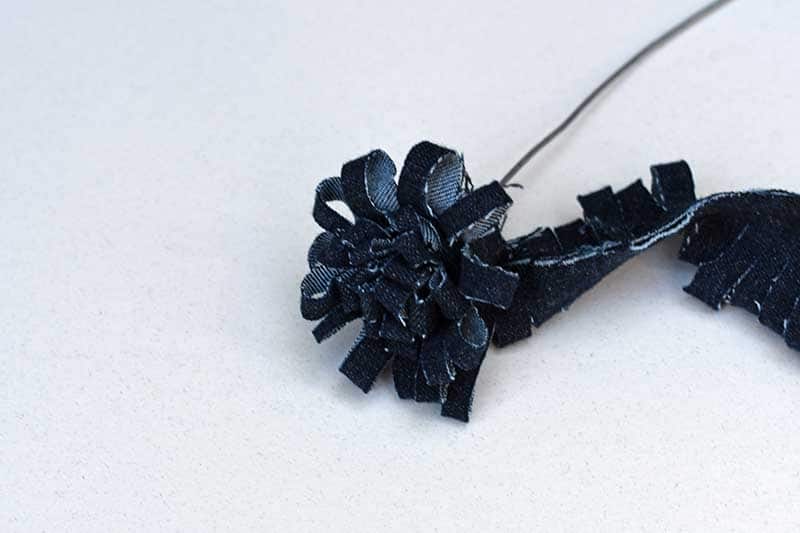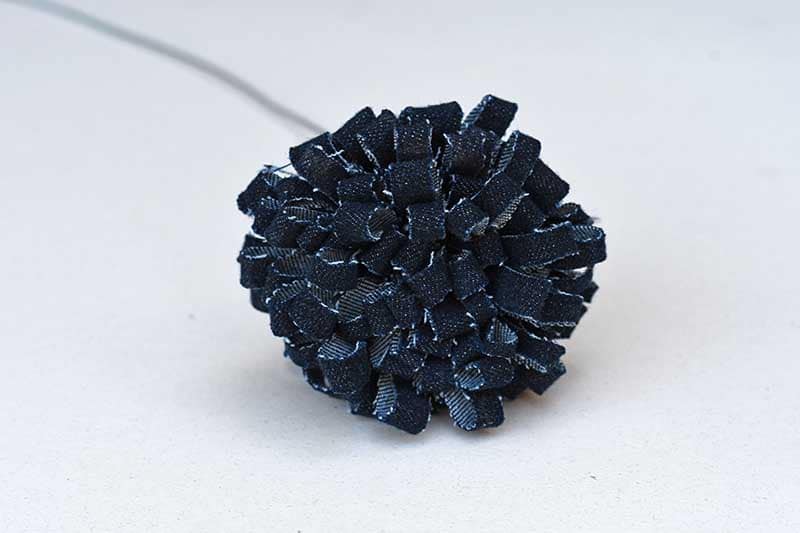 5. The base of these jeans flowers looks a bit unsightly, so I made some leaves to tidy it up. For both the leaves and stem I used denim in a different shade of indigo to the flower.
Using the leaf template cut out two pieces of denim. Either, glue these pieces wrong sides together or pin them and then stitch together. I stitched my leaves.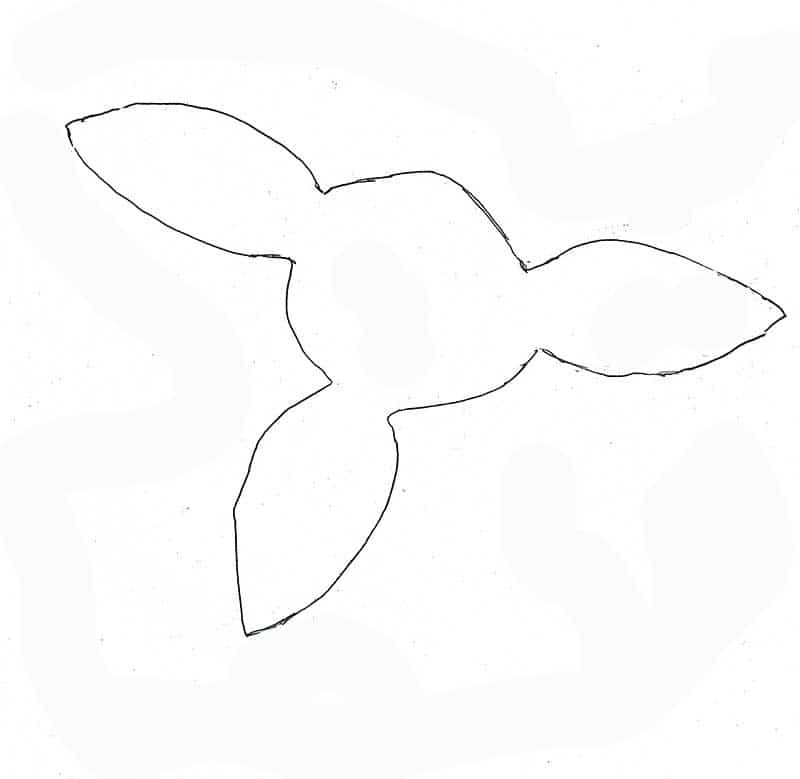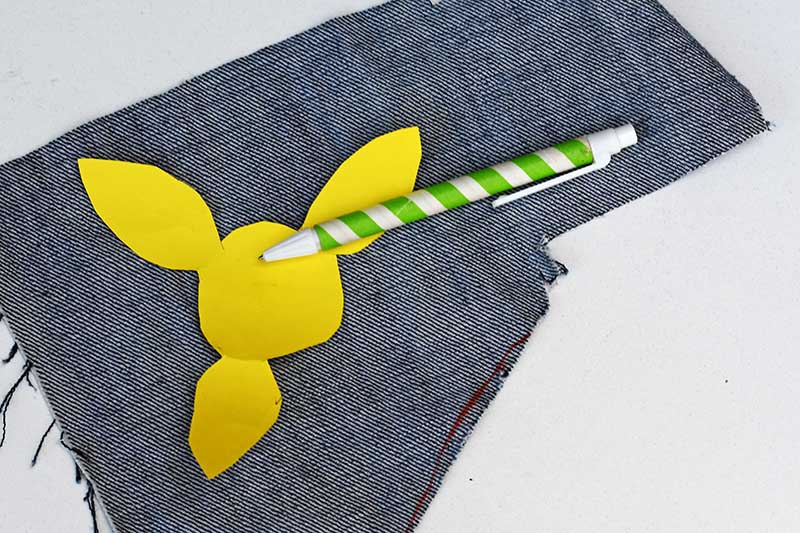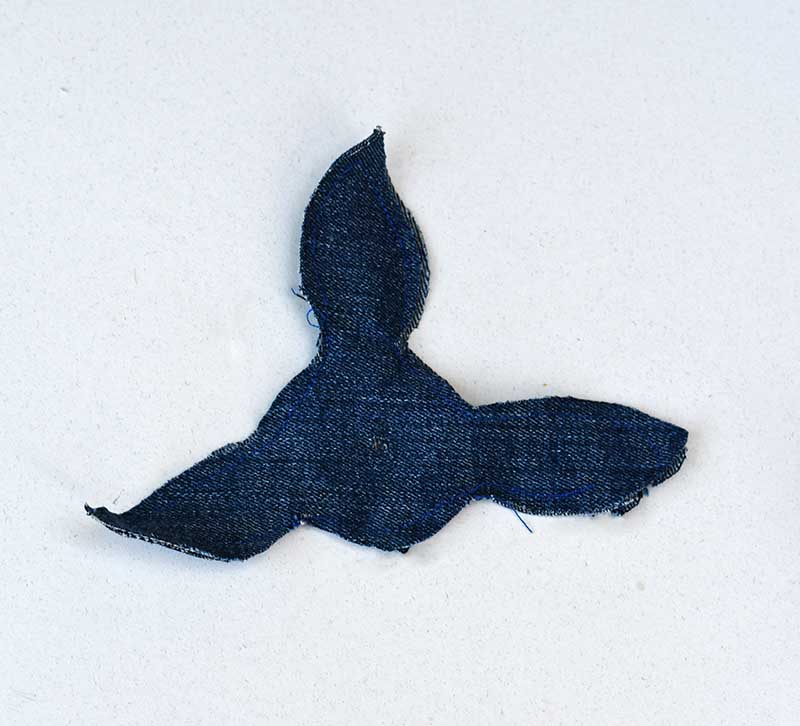 6. Next, cut a small hole in the middle of the denim leaves. Then thread this through the wire stem. Use hot glue to secure the leaves to the base of the wrapped jeans flower.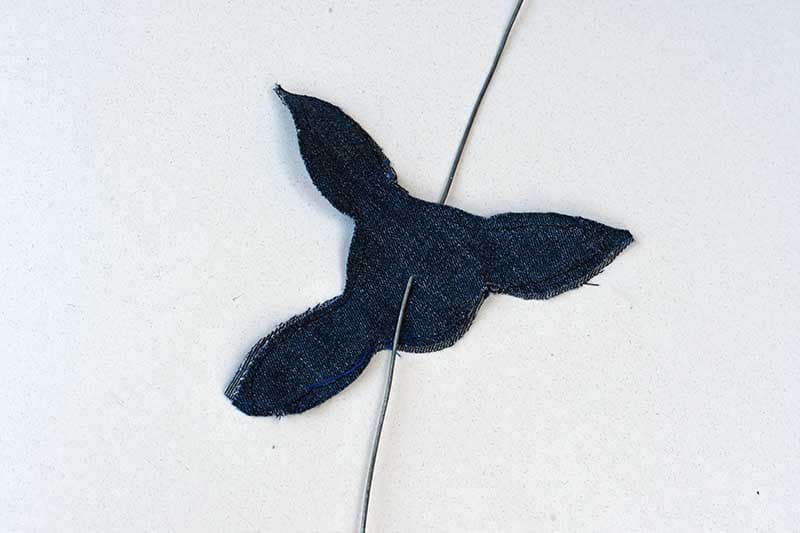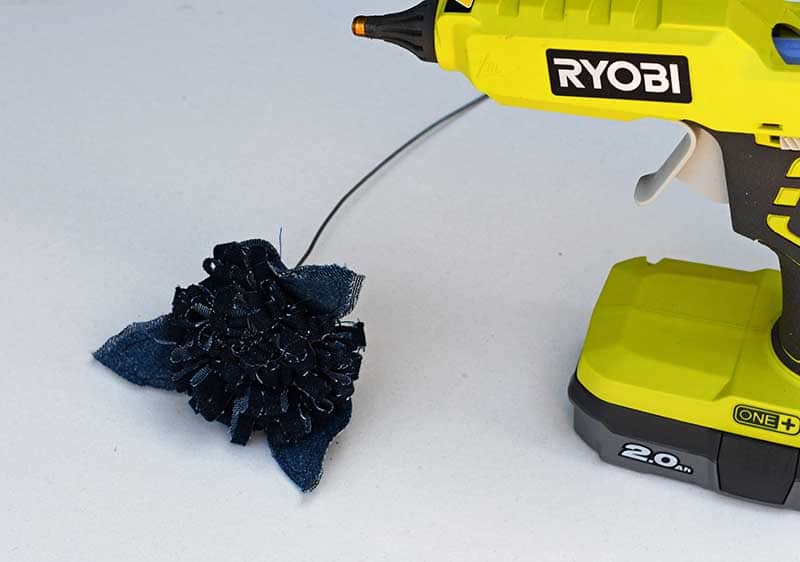 7. Finally, finish off the flowers by covering the wire stem. Cut a strip of denim about 1cm wide and 30cm long. Wrap this around the exposed wire stem and secure it in place with hot glue.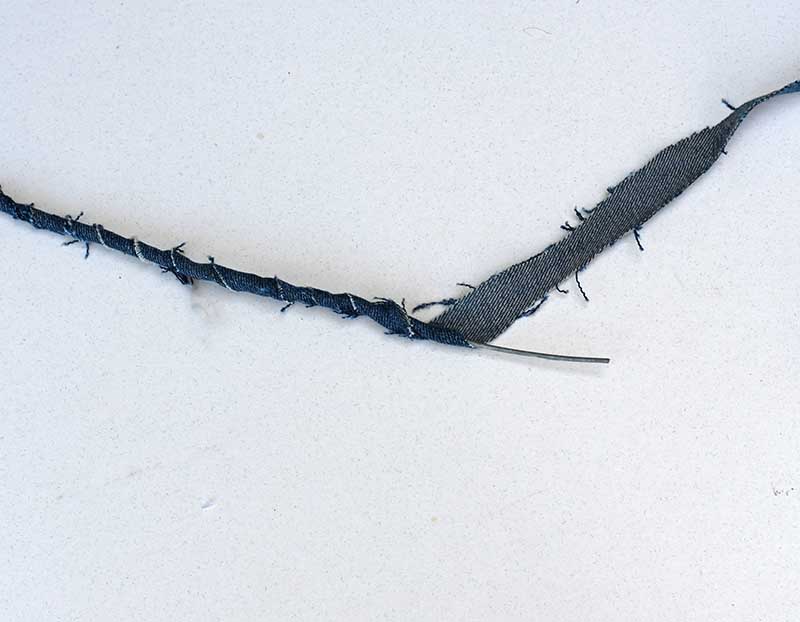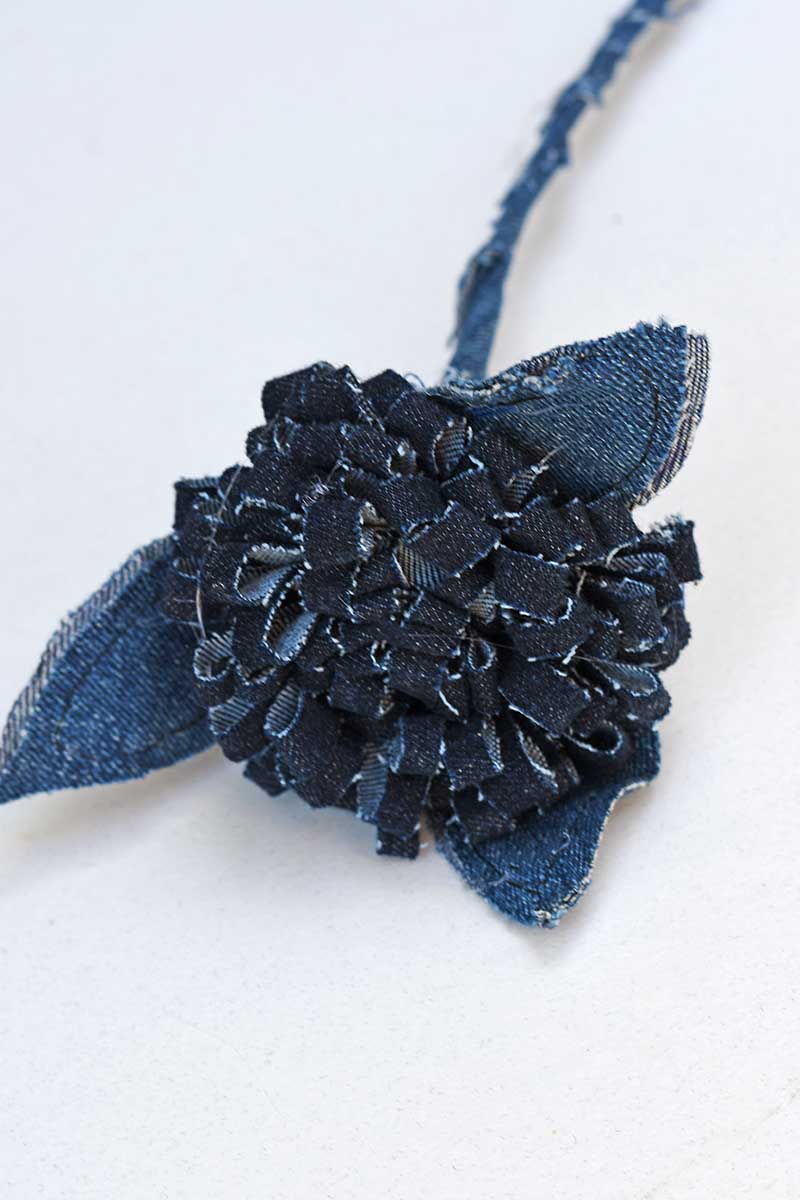 Repeat the steps with different shades of denim to end up with a bunch of jeans flowers. There is some flexibility in the wire stem enabling the flowers to be bent which helps with their display.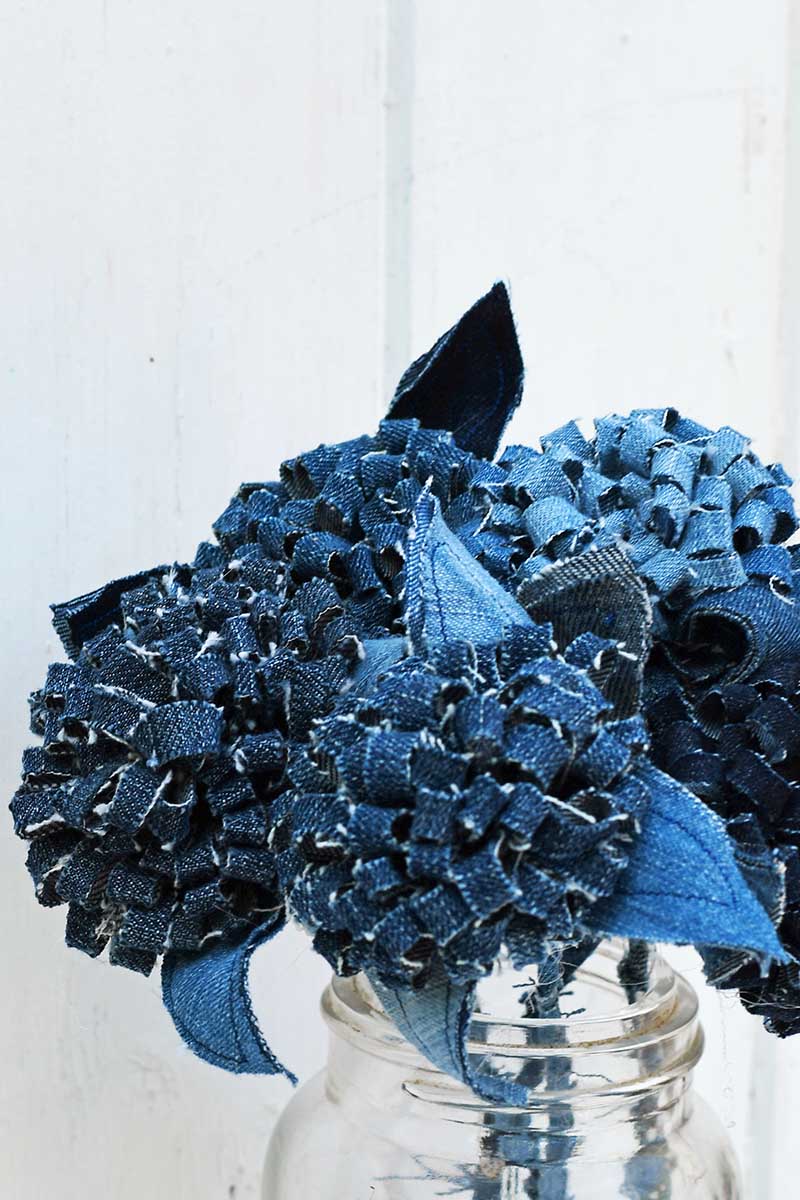 The jeans flowers look cool in a vase on the mantle. I will be making some more without the stem to use as a decorative broach for my jacket and also to use as a fun present topper.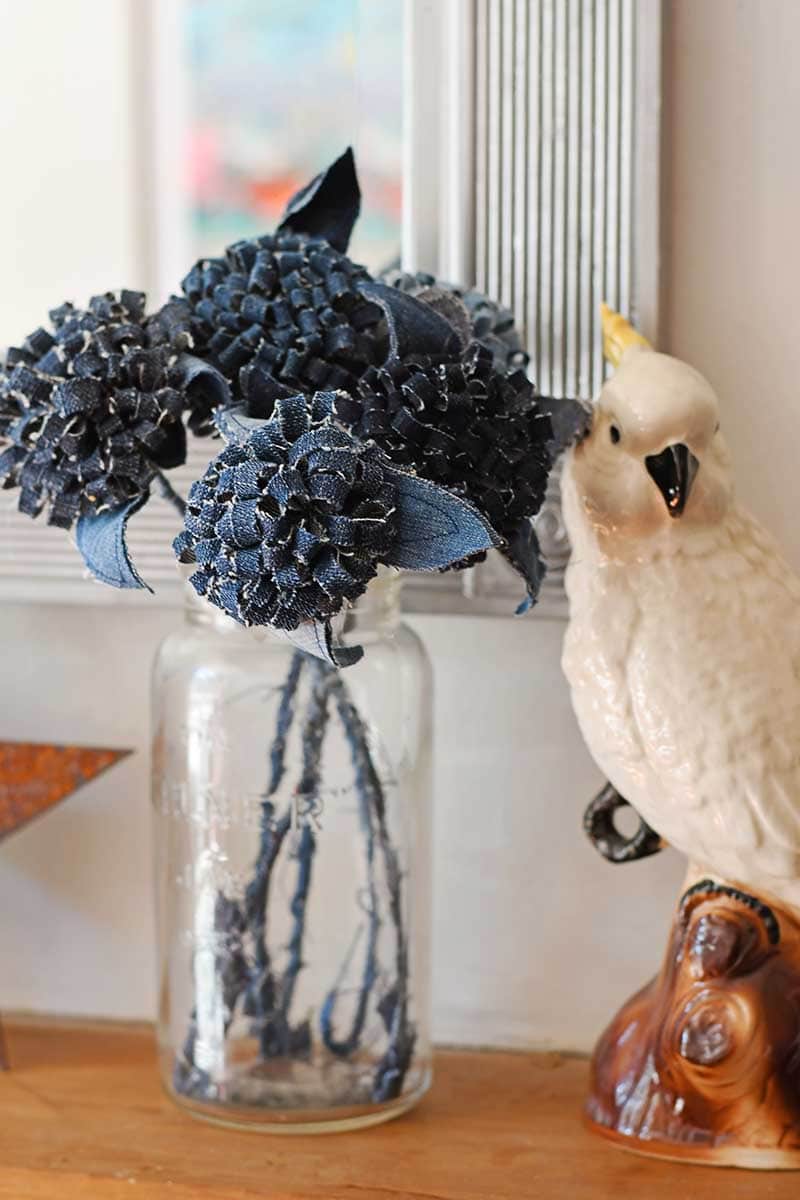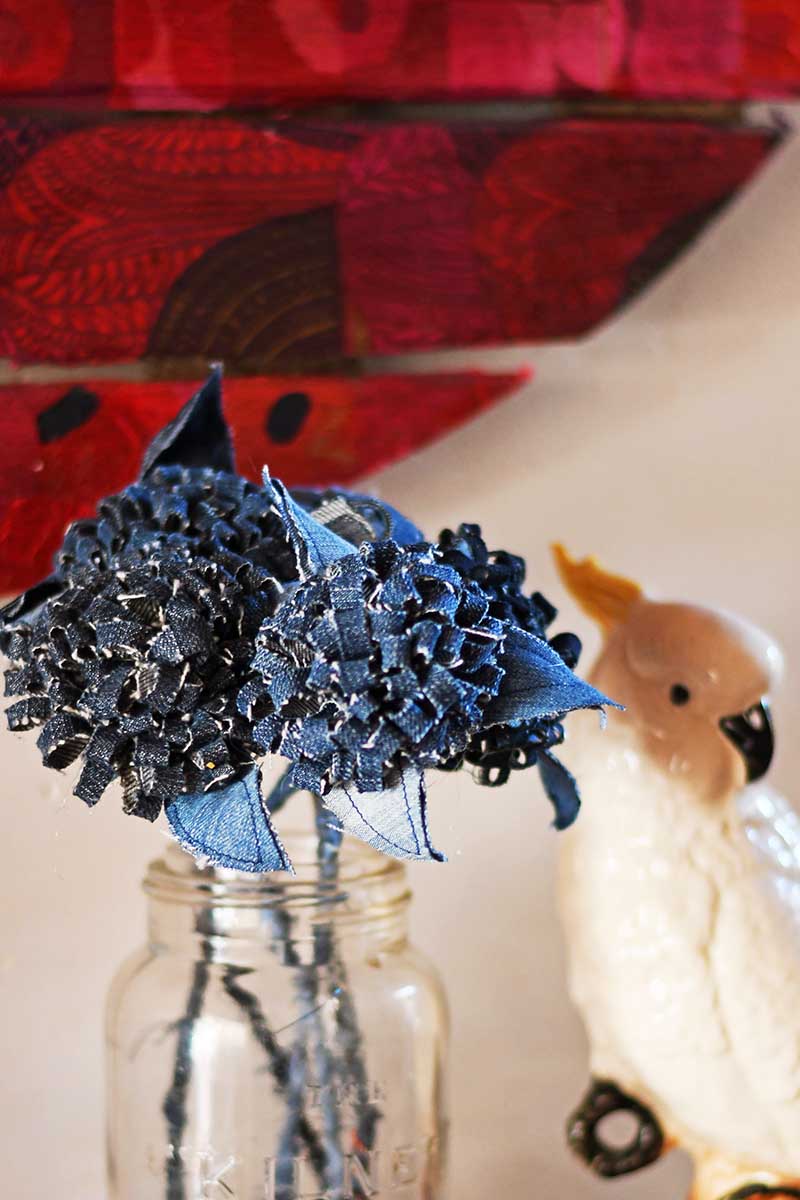 I liked the mason jar vase I used on the mantle for these denim thistles as you can also see the stem. But, I think these jeans flowers would look great in the Shibori indigo planters and jean planter I made. They also looked good next to the denim bunnies I made for my mantle.
Also denim and leather is always a good combo, so perhaps I could put some in my leather Boho vase.
As well as faux fabric flowers, I make faux plants such as sweater felt cacti and plastic bottle succulents. Jean scraps are also fun to repurpose into other nature-themed crafts such as denim feathers and faux moths taxidermy.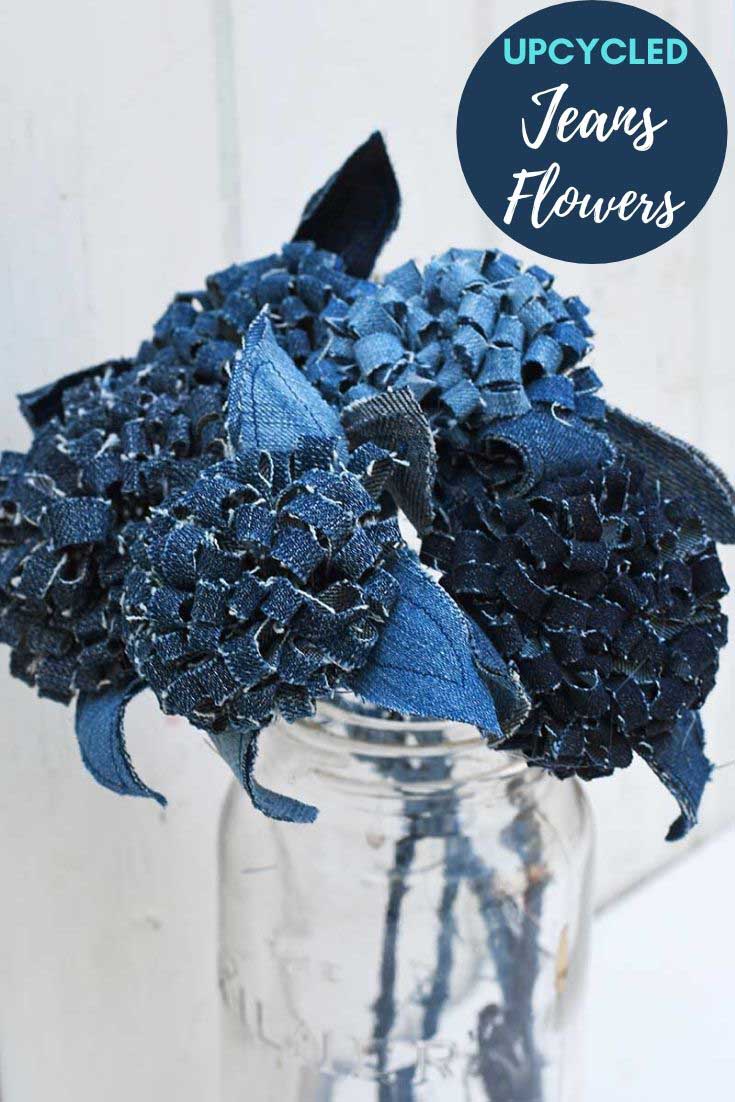 Yield: Jeans Flower
Pom Pom Jeans Flower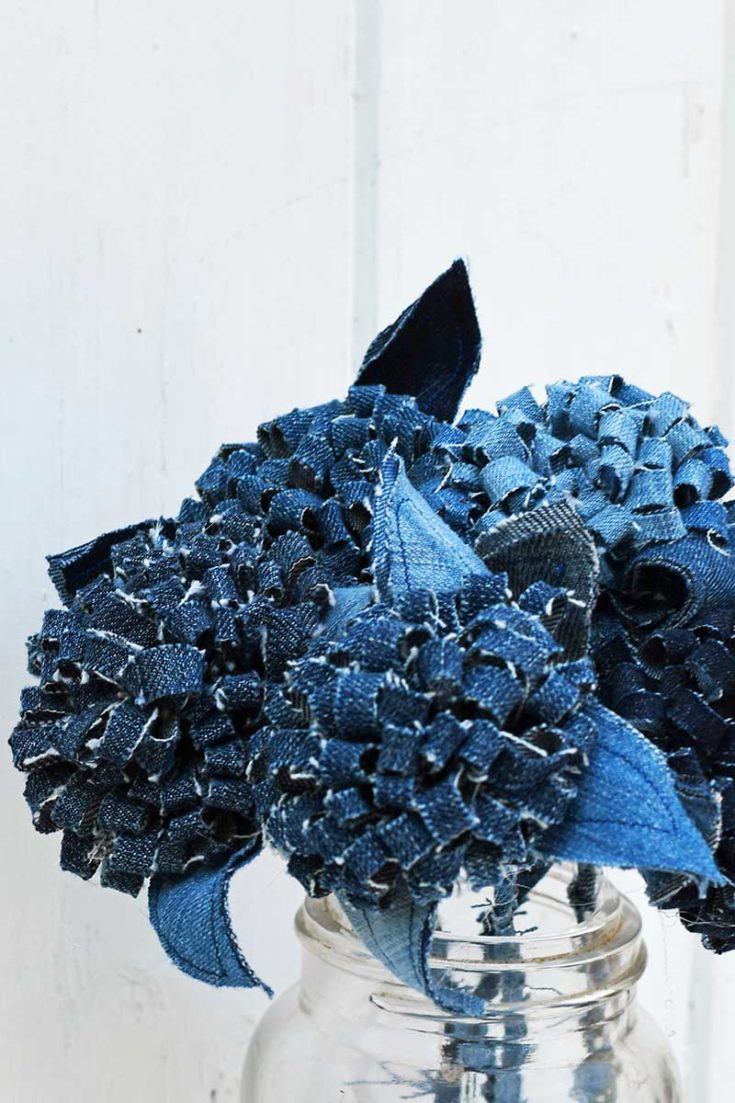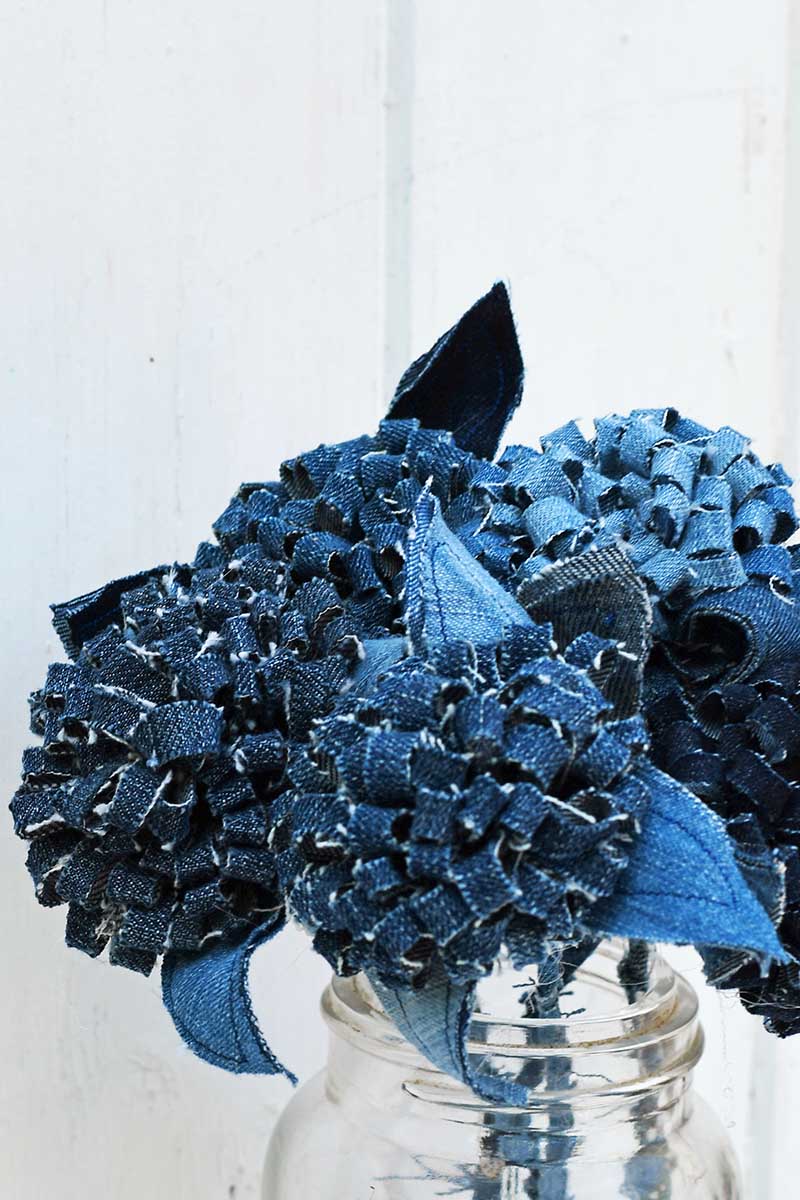 Make a gorgeous bouquet of indigo flowers for your mantle using your old jeans. This craft is a very affordable fun denim upcycle. Can be either a sew or no-sew denim craft.
Total Time
1 hour
10 minutes
Materials
Denim scraps from old jeans
Garden wire
Tools
Hot glue gun
Scissors
Rotary cutter and mat
Needle and thread or fabric glue
Instructions
Cut the denim into a strip about 8cm by 40cm.
Fold the denim strip in half longways, so the wrong sides meet. Either fold or stitch the denim strip.
Using scissors cut into the denim fold at 5mm intervals about 2cm depth along the whole length of the denim strip.
Glue one end of the cut denim strip to the garden wire and wrap it around the wire securing the end with hot glue.
Next, make the leaves of the jeans flower, with the template.
Make a hole in the center of the leaves and thread it through the wire stem. Use a hot glue gun to secure the leaves to the base of the pom pom flower.
Next, cut a long thin strip of denim and use this to cover the wire stem. Wrap it around the wire securing it at both ends with hot glue.
Repeat steps one to seven with denim from different jeans to make flowers in several different shades of indigo.
Place the flowers in a mason jar vase.
These pom pom flowers made out of old jeans featured in the A to Z of clever upcycling crafts and resources.
I also share my sewing ideas on allfreesewing.