I don't know if it's because of the Scottish blood in me, but I do like a bit of tweed and tartan. I've used my fabric scraps to make some tweed and tartan trees. This will add a bit of a Celtic theme to my mantle this festive season.
Tweed and tartan are traditional Scottish woven woollen fabrics. You can often pick up bags of offcuts and scraps of the fabric at fabric stores or online. Or even better, you can upcycle fabrics from old tartan and plaid shirts for this tabletop Christmas tree craft.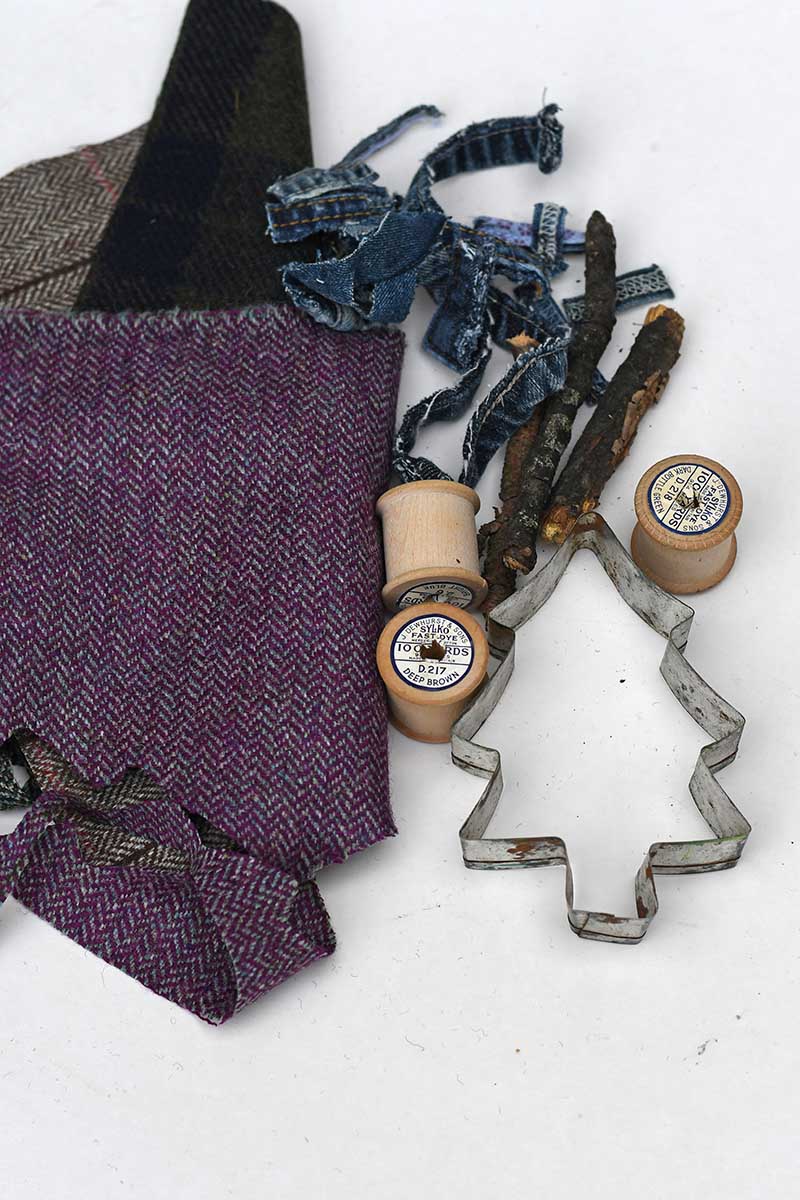 Making upcycled mini Christmas trees are on my Christmas crafting list every year. I made repurposed denim trees a couple of years ago, and last year I made Scandinavian Felt Trees. Now I have acknowledged my family's Scottish heritage with these tweed and tartan trees.
I've exploited the woven nature of tartan cloth in the past to make some fringe cone trees and colourful fabric feathers. For these trees, I've chosen scraps in more muted and natural tones.
I've always had a thing about tartan and plaid. This time of year, I tend to live in plaid shirts. Worn with jeans, of course! The combination of plaid and denim looks so good together. So I decided to add some denim to these mini trees.
The seams and belt loops of old jeans were upcycled to decorate the base of the tartan trees. The combination of denim and tweed works so well. I made a mini tartan and tweed forest, as creating them was fun.
We're a participant in the Amazon Services LLC Associates Program, an affiliate advertising program designed to provide a means for us to earn fees by linking to Amazon.com and affiliated sites. As an Amazon Associate, I earn from qualifying purchases.
What You Need To Make Tweed & Tartan Trees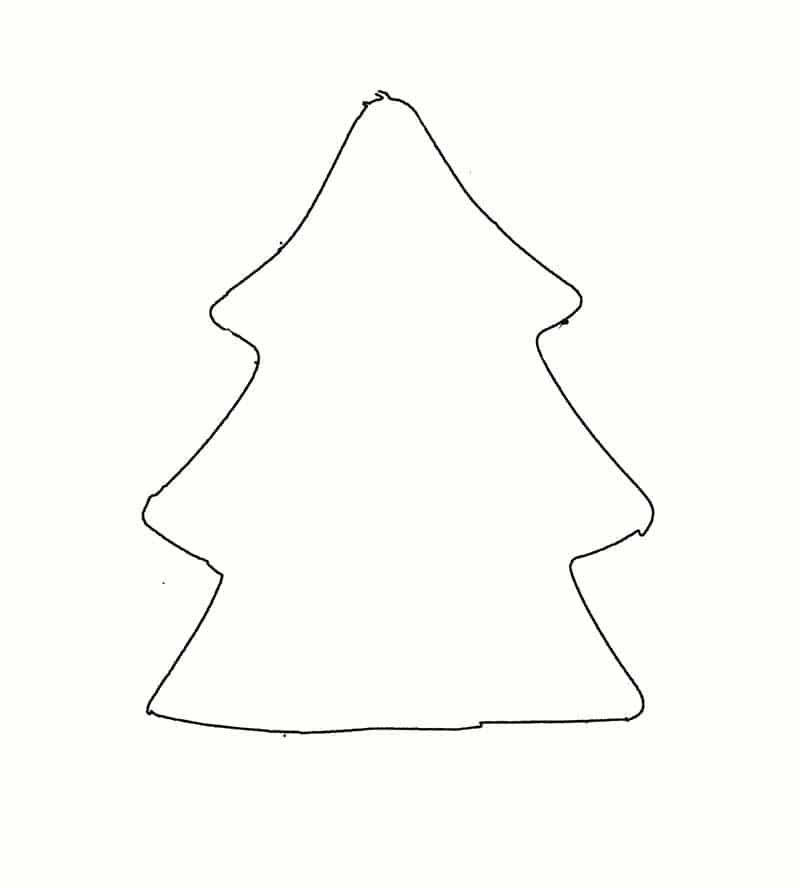 How To Make The Tabletop Fabric Trees
Step 1: First, use the Christmas tree cookie cutter or my template to draw around it on your fabric scrap.
You will need two identical Christmas tree shapes. I fold over the fabric before drawing around the template. When I cut out the shapes, I will get two identical trees.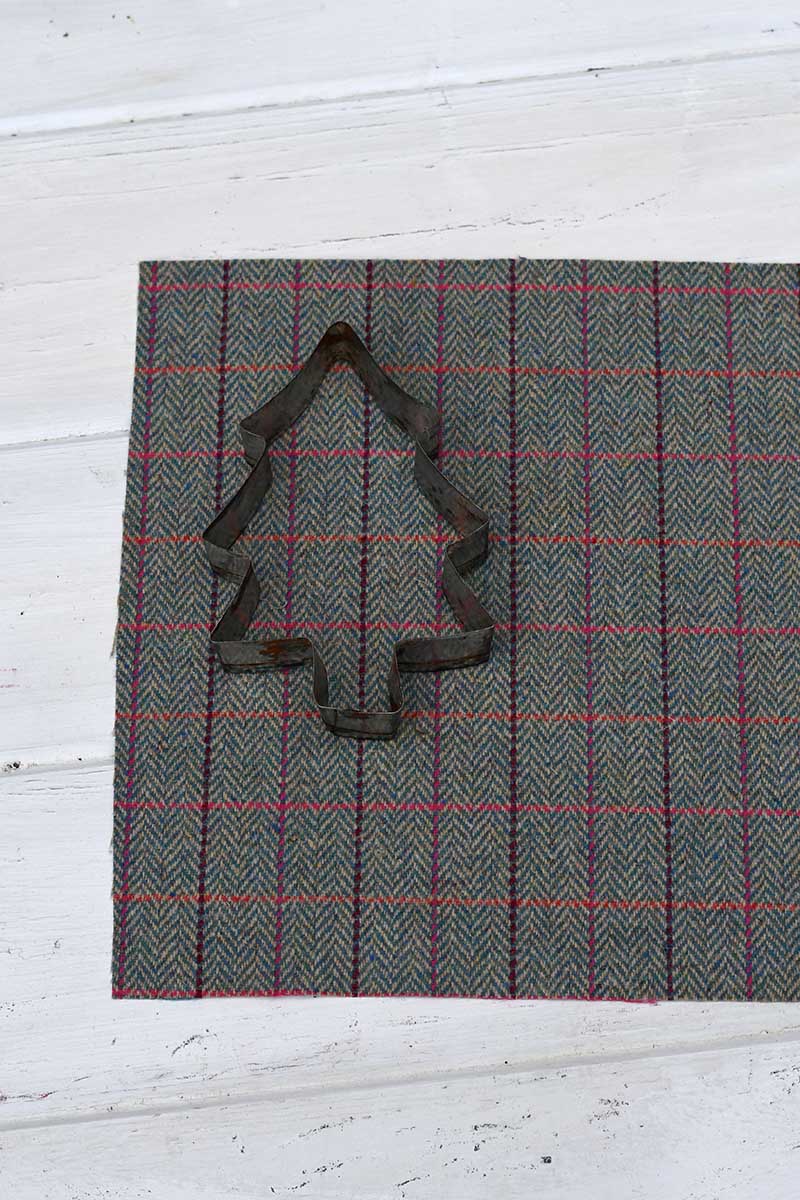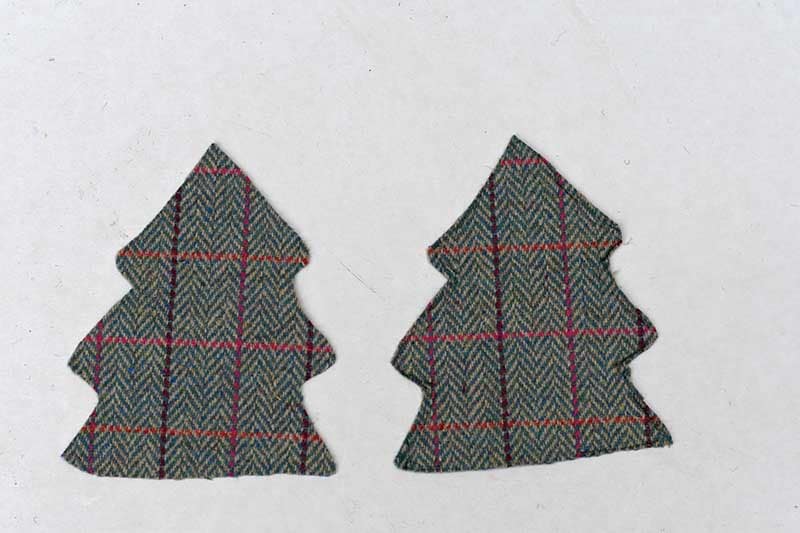 Step 2: Next, pin the two Christmas tree shapes together. You will notice that with most tweed, tartan and plaid fabrics, the fabric looks the same on each side.
Sew the shapes together about 3mm from the edge. I used a sewing machine and a small stitch for this. However, you can sew your trees by hand. The edge of the fabric may fray, but I think this only adds to the look.
Remember to leave a small gap at the bottom for the fiberfill and trunk.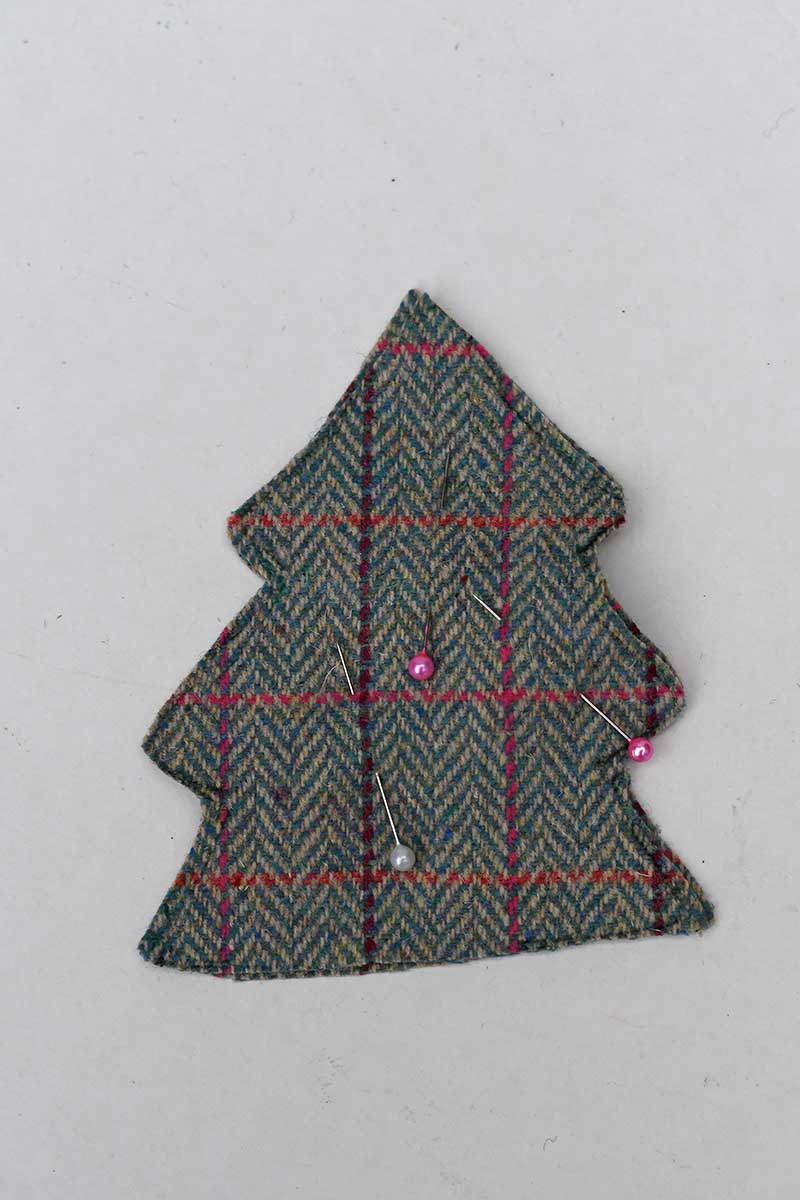 Step 3: Next, stuff the trees. Just use a small amount of stuffing to give the trees a 3D shape but not too much. Use a chopstick to push the fiberfill into the points of the tree.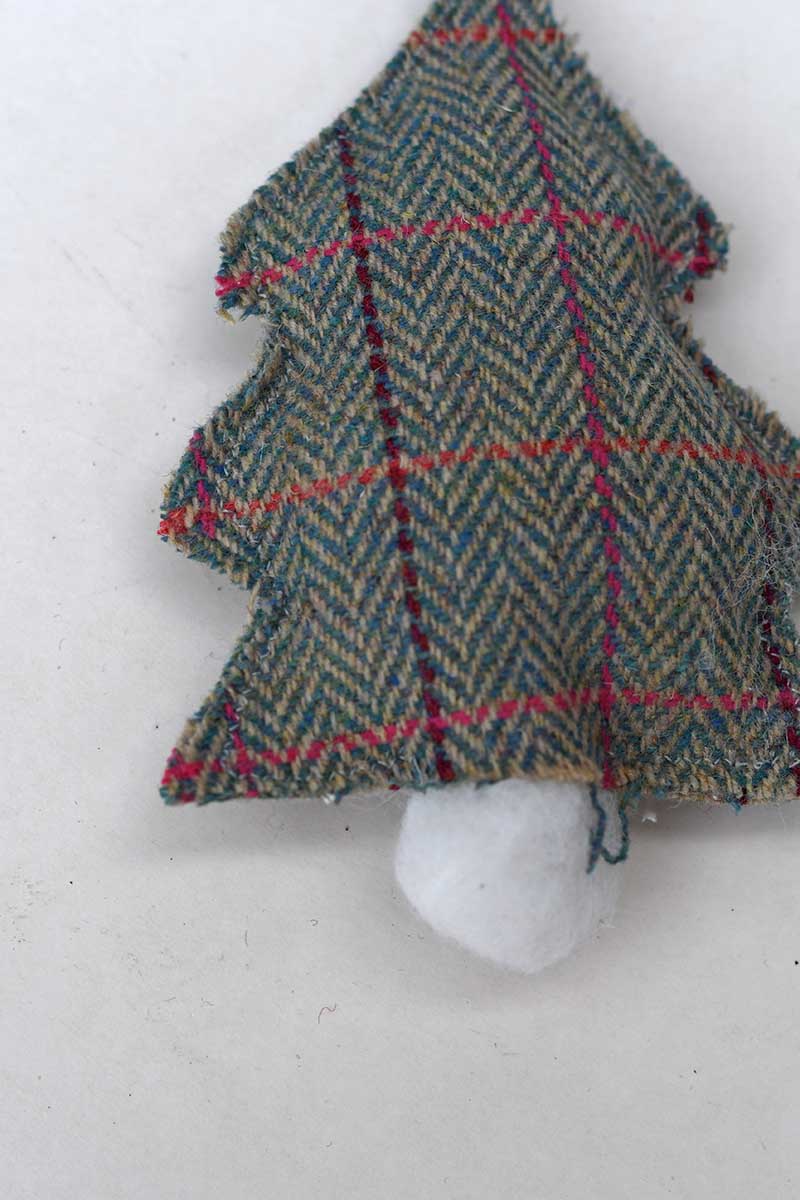 Step 4: Add a small twig (about 6cm long) into the hole. Sew the hole shut and tightly around the twig trunk. A small dab of glue between the fabric and the twig may also help keep it in place.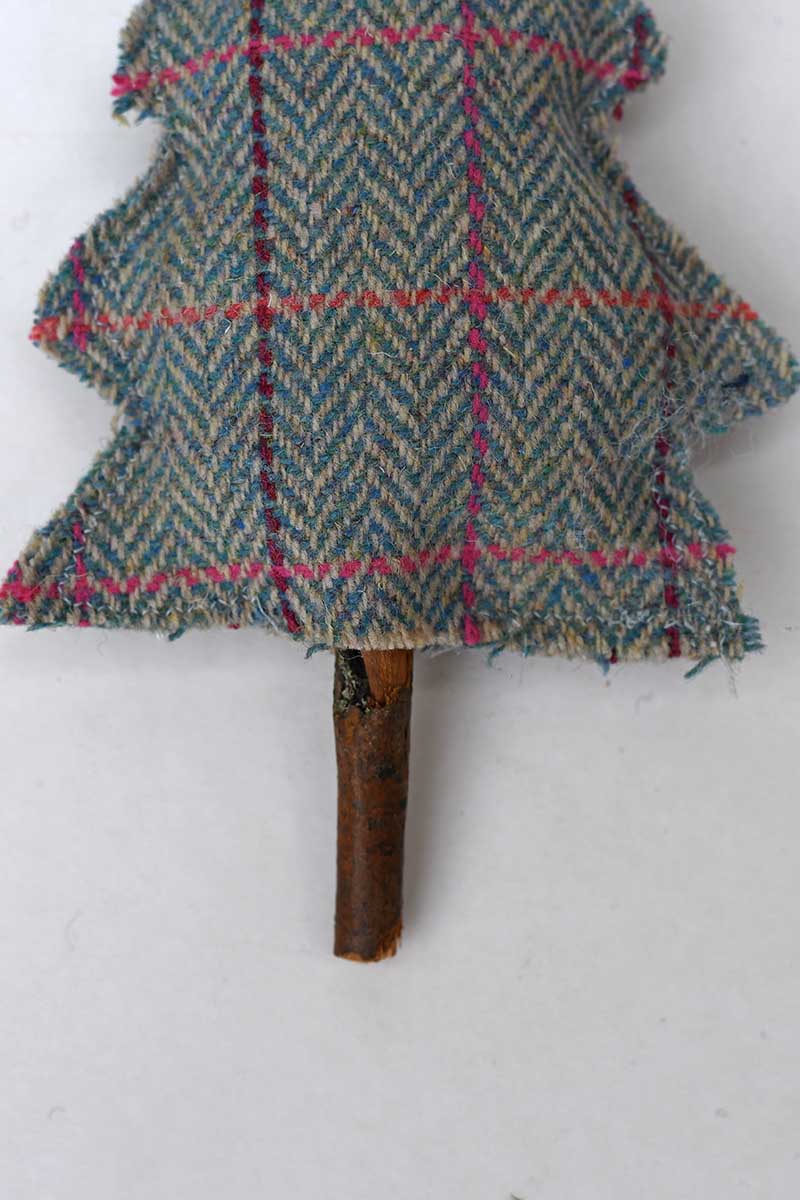 Making the Fabric Christmas Tree Base
Step 5: Next, use a wooden thread reel to make the tartan tree's denim base. Wrap denim seams or belt loops around the centre of the wooden spool. Use a small dab of hot glue to keep the denim in place.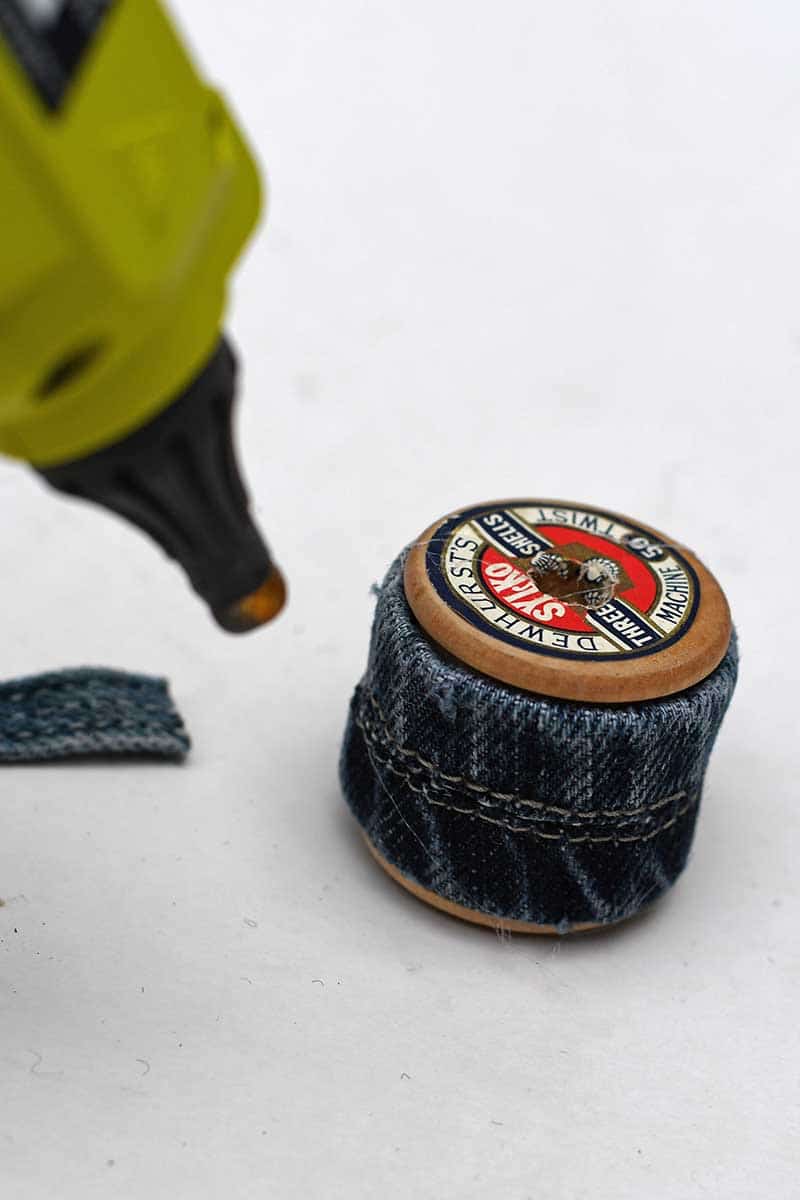 Step 6: Finally, stick the twig trunk into the hole at the top of the thread spool. Hopefully, it should be a nice, snug fit. If not, use some hot glue to keep the trunk in place.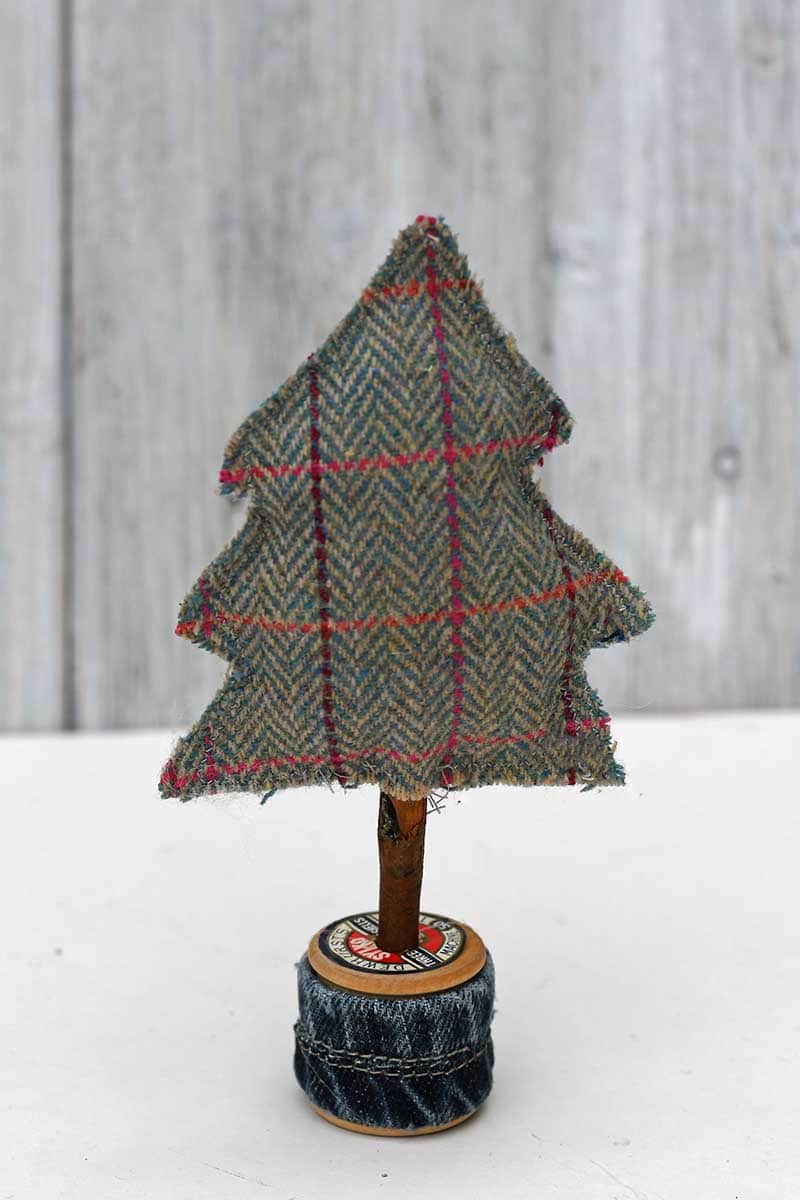 I made a few of these tweed and tartan trees in a different upcycled fabric. I will be making some more with an old plaid shirt of mine to add to the collection.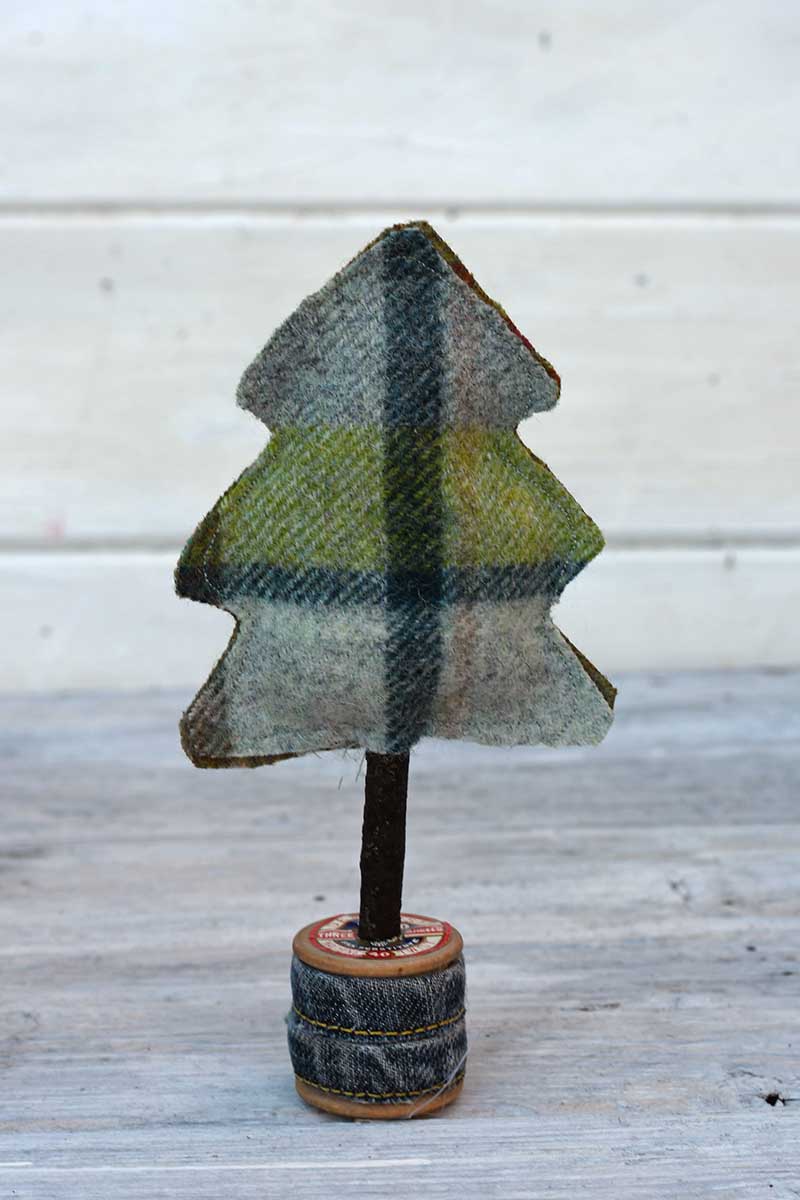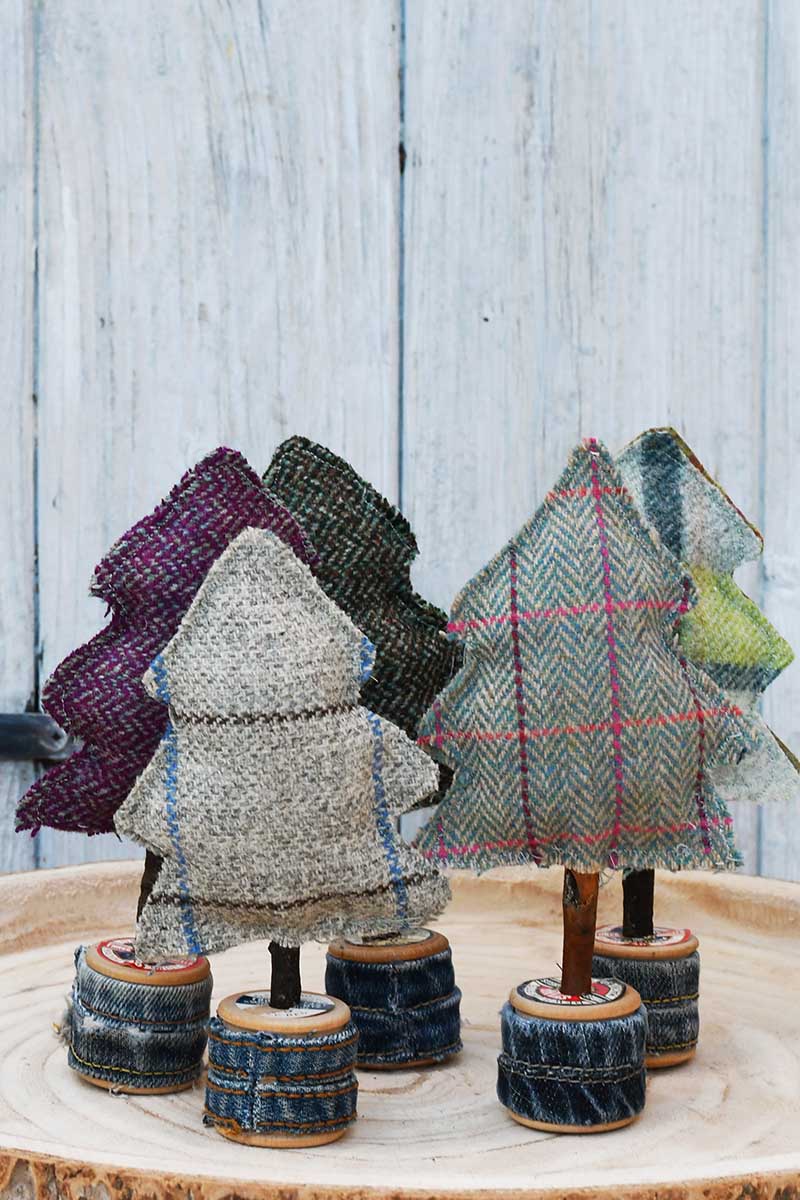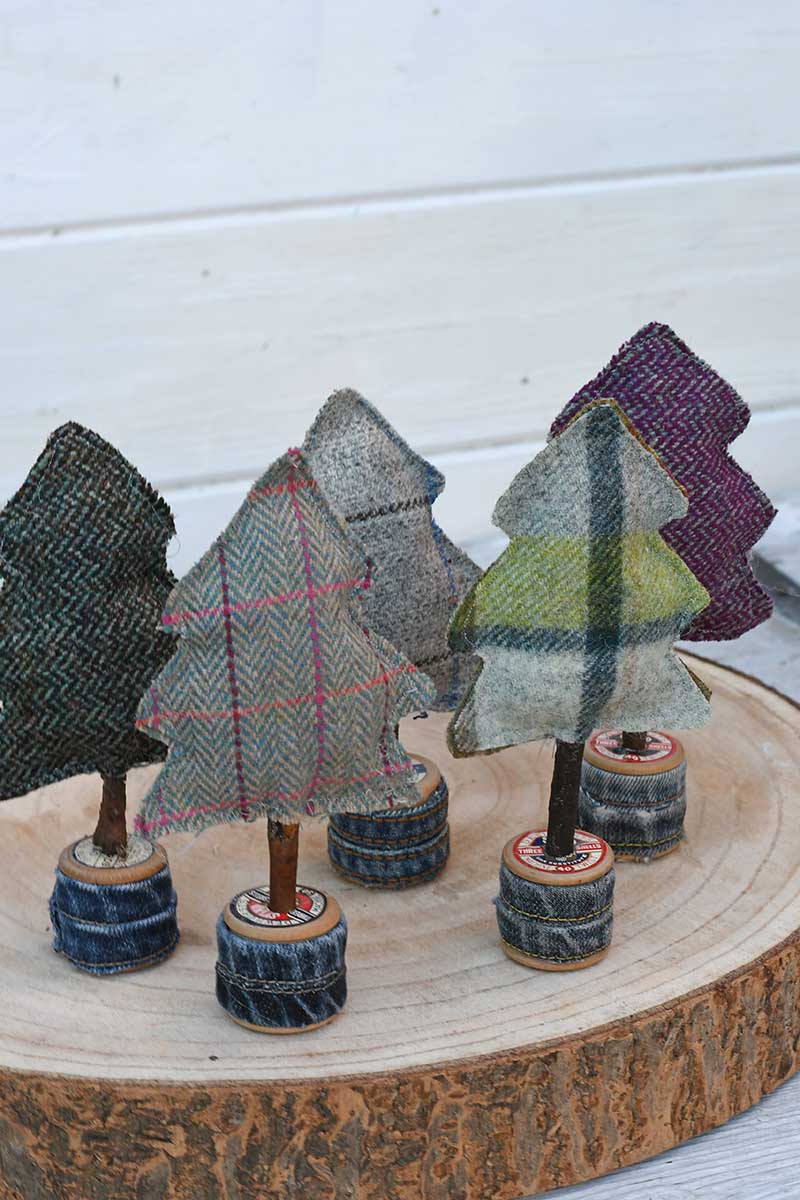 This isn't the only Scottish-themed decoration I've made for my home. I've also made a rainbow of painted thistle decorations and tartan Scottie dogs.
I also have used old thread spools to make upcycled Christmas ornaments before. One with a scroll and another one personalized with maps.
I still have some wooden cotton reels left, so I think I might make more personalized map ornaments, but this time with Scottish maps to keep with that Celtic theme.
Christmas cookie cutters are handy as templates for lots of crafts and upcycling; I used this Christmas tree one and some others to make a cute upcycled sweater felt hanging for Christmas.
These trees are featured in the round-up of cool Christmas crafts and DIYs.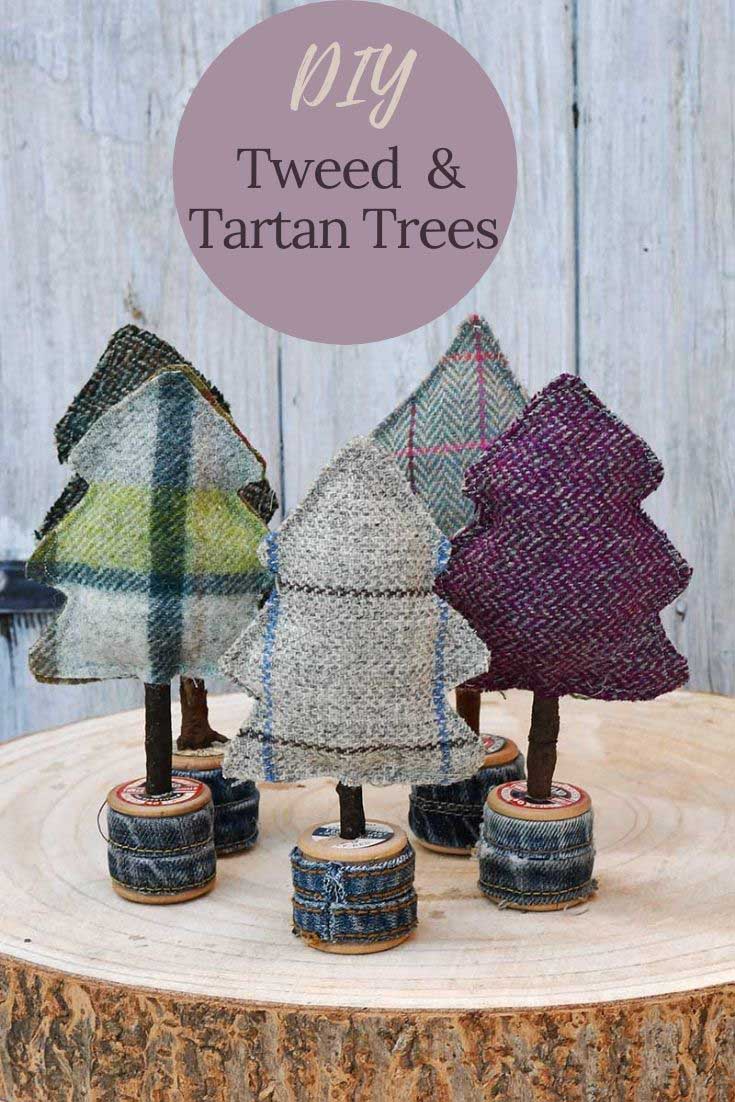 Yield: Upcycled fabric tweed and tartan tabletop tree decorations
Tweed and Tartan Trees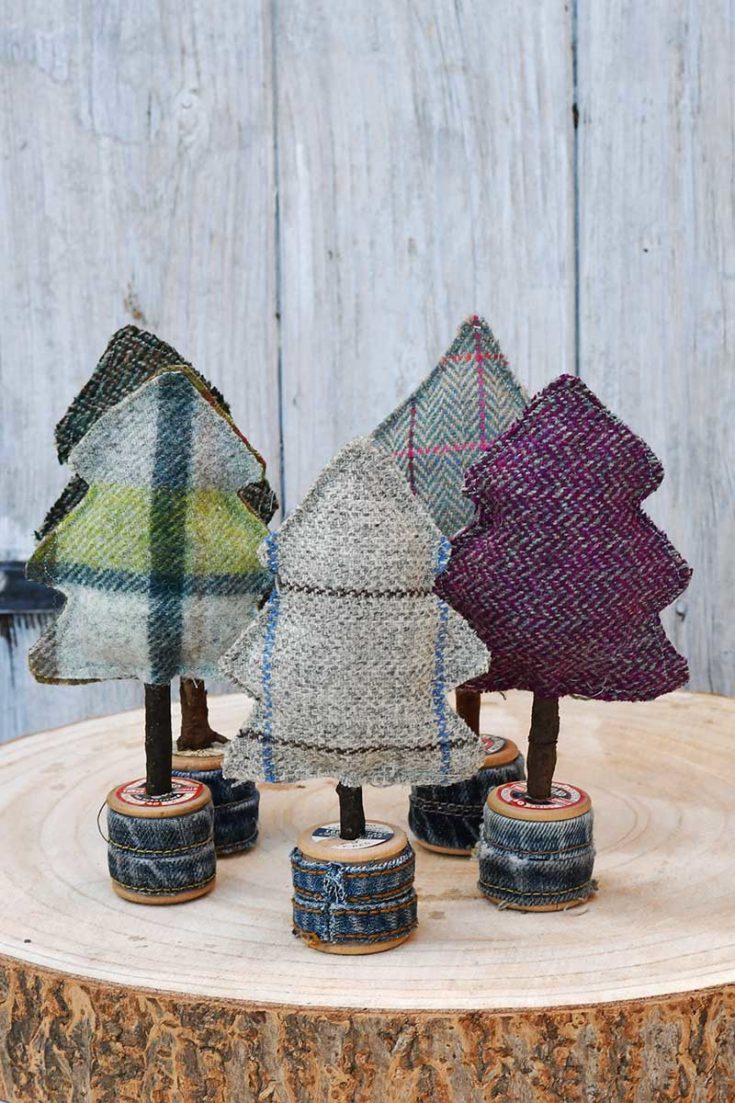 Add a Scottish feel to your fall and Christmas decorations with this upcycled fabric tweed, tartan and plaid tabletop trees.
Materials
Tweed, tartan fabric scraps or an old plaid shirt.
Denim seams or belt loops from old jeans
Twigs about 6-7cm long
Old wooden thread reel spools
Large Christmas tree cookie cutter
Fiberfill
Tools
Hot glue gun
Needle and thread
Sewing machine (optional)
Instructions
Using the Christmas tree cookie cutter as a template, draw around it on the fabric scrap.
Cut out 2 identical Christmas tree shape for each tartan tree.
Pin the Christmas tree fabric shapes together and sew very close to the edge. Leave a whole for the fiberfill
Loosely fill the tree with fiber, poking the stuffing into the corners of the tree.
Stick a twig in the hole in the base of the fabric tree. Sew the hole shut and the stick trunk in place.
Next, cover the thread spool in denim seams. Use hot-glue to keep them in place.
Finally, stick the trunk of the tartan tree into the hole in the middle of the cotton reel spool.