When clearing out my kitchen cupboards the other day I came across a collection of souvenir tea towels. I was particularly struck by a map tea towel and decided to use it to reupholster a footstool.
Some of the tea-towels were mementos from vacations or I had been gifted them. There were some Christmas themed ones which although very attractive, I wanted to use an all year round tea towel.
There were a couple of map tea towels in the stash which is not surprising as my love of maps is well known. I decided to use one of these map tea towels for this DIY.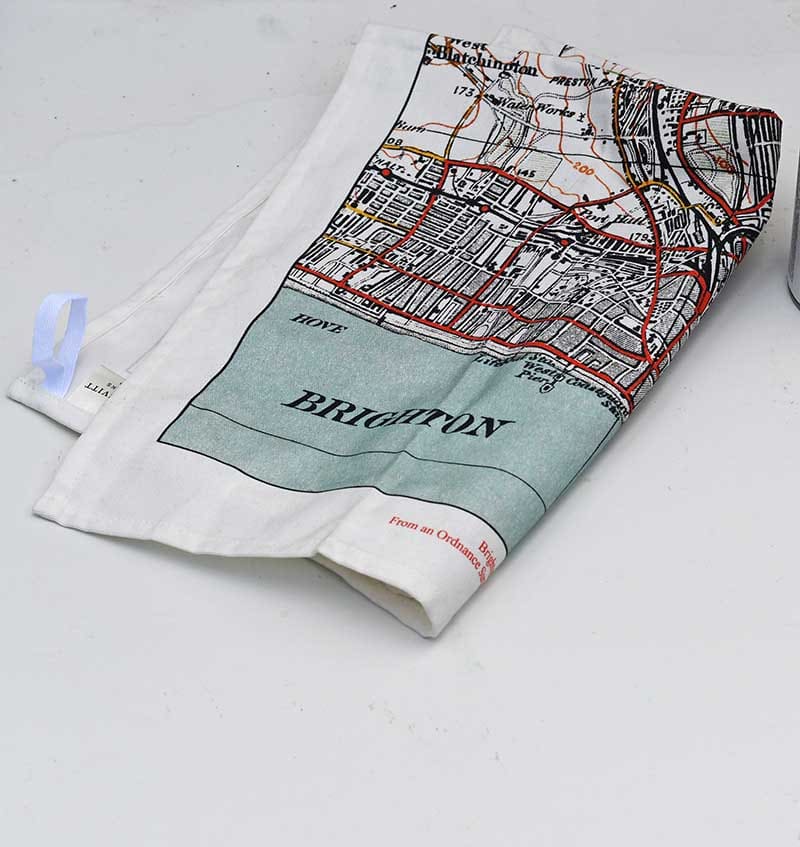 It was a toss-up between a tea towel of a vintage map of Canada or one of a map of Brighton. I decided to go with the Brighton one in the end. Brighton is one of my favorite cities in the UK and I visit it regularly.
It's such a vibrant and diverse city and it's by the sea. I really miss the coast and it's good for my soul to visit it every so often. Lucky for me Brighton is really easy to get too by train from Bedford.
Upcycling A Footstool With A Map Tea-Towel.
Because I love maps so much I have quite a bit of map themed decor in my home. Such as DIY world map desk in my study with a map Moppe storage drawers.
In my lounge, I have an IKEA map lamp hanging from my ceiling and personalized map pillows on my couch. But it doesn't end there, my travel-loving son has a map mason jar bank in his bedroom. Along with a map magnetic board above his desk and luggage tag pillows on his bed.
As you can see I'm a bit map-obsessed, but in these rooms, there was no map footstool!
Footstools are an underrated item of furniture. I've upcycled a couple in the past from my handy denim storage ottoman and velvet DIY floor pouf.
Now that more of my family is spending more time at home the footstools are becoming a hot item. For some reason its more comfortable to rest your feet on a stool when lounging around watching telly.
Personally, I use my footstool as an extra side table to keep my coffee and magazines within an arms-length, when lounging on the couch.
To ease the pressure, I managed to find an old footstool to upcycle and add to the collection. Here I show you how easy it is to reupholster a footstool with a tea towel.
No sewing or specialist skills are need with this quick, easy and affordable DIY.
We are a participant in the Amazon Services LLC Associates Program, an affiliate advertising program designed to provide a means for us to earn fees by linking to Amazon.com and affiliated sites. As an Amazon Associate, I earn from qualifying purchases.
What You Need To Reupholster A Footstool
Footstool – you may have one already that you want to change to fit your decor. Or you might want to make it more personal with a souvenir tea towel of a place special to you. Footstools can easily be found in junk/thrift shops.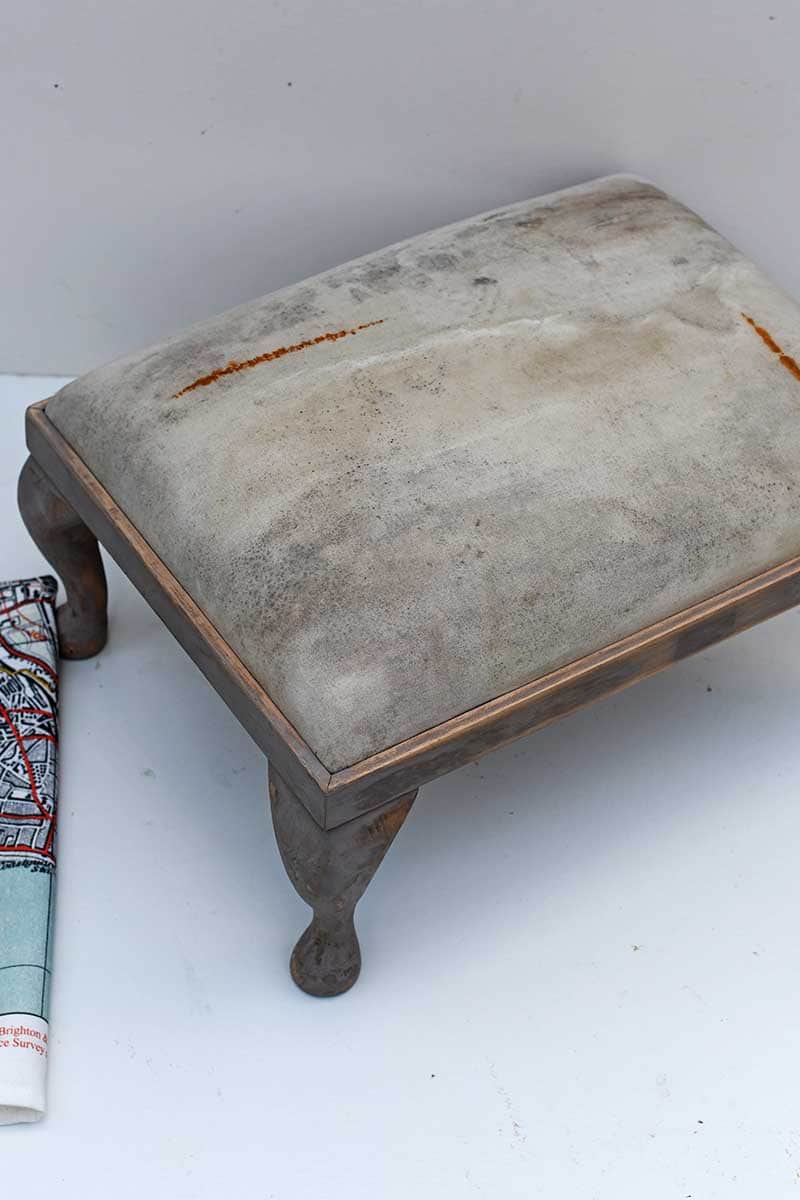 Tea towel – most tea towels should be more than big enough to cover the average-sized footstool. Choose a tea towel that you like for the colors and pattern or because it has personal meaning to you. Just make sure that the pattern of the tea towel will fit the footstool you have chosen.
If you don't have a tea towel that suits your needs you can find  wonderful vintage tea towels on Ebay, Etsy and Amazon.  Cavallini makes a collection of tea towels based on vintage images and maps.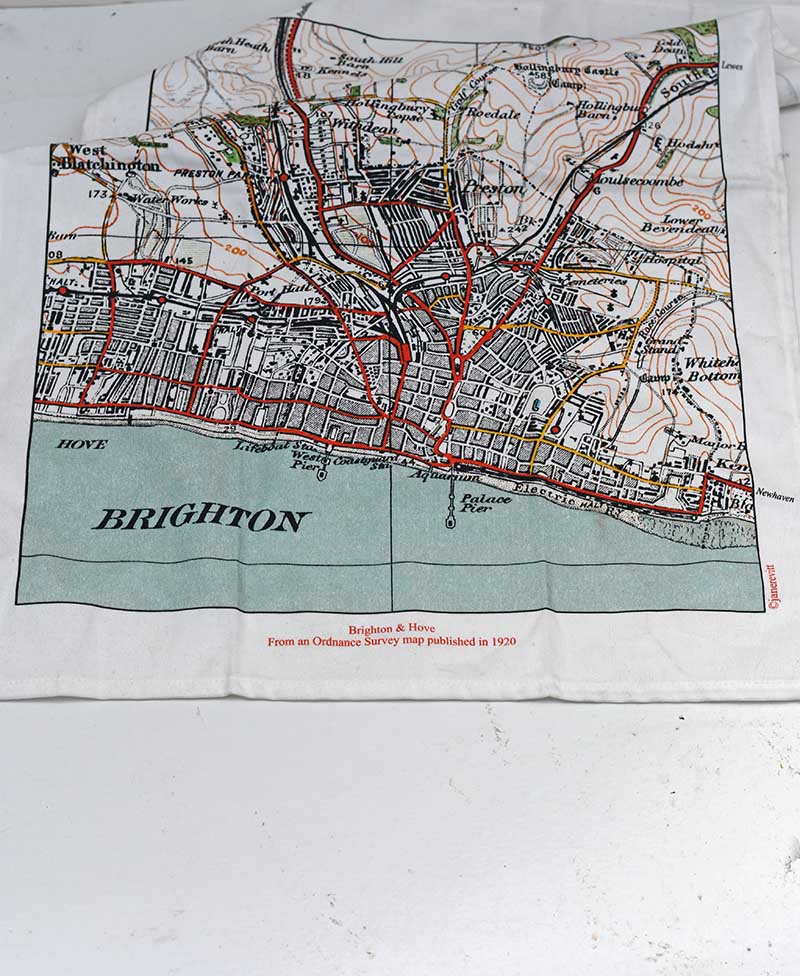 Paint if the footstool needs it
How To Reupholster A Footstool
1.The first thing I did remove the upholstered seat from the base of the footstool. Often this just involves removing screws from the underside of the footstool.
If you are changing the existing cover, remove the old cover.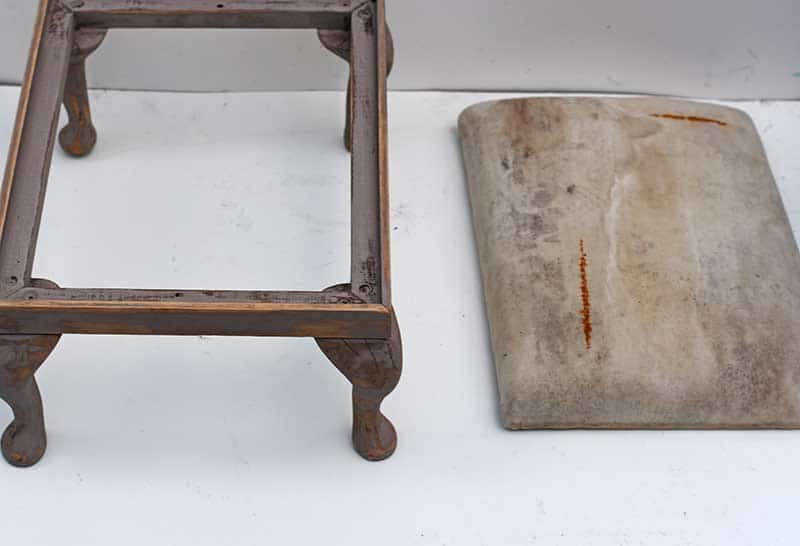 2. Next, paint the base of the footstool if you need to. I painted my footstool in graphite chalk paint.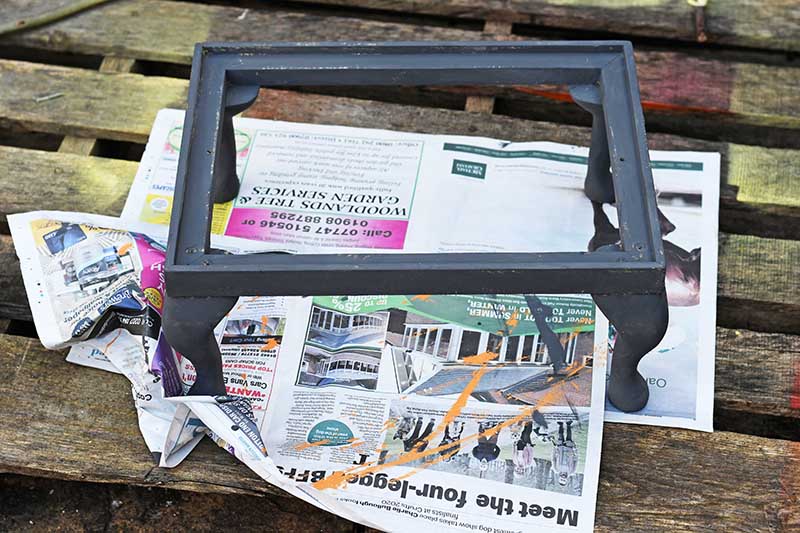 3. To reupholster the footstool pad with a tea towel, first, lay the tea towel over the top of the seat. The tea towel is likely to be bigger than the seat pad, so you will want to arrange the tea towel to make sure you get the pattern you want on the top.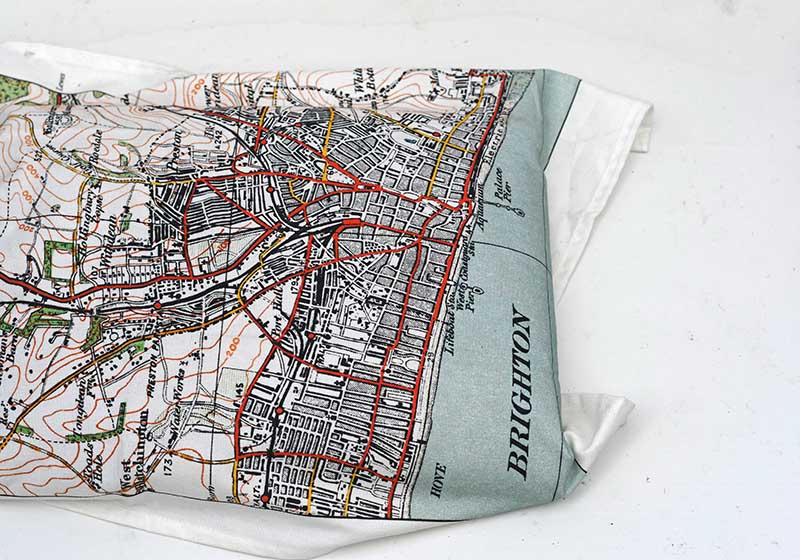 4. Once you are happy with the positioning of the tea towel, turn over the seat pad. If you have lots of excess tea towel you may want to trim it.
However, I didn't want to cut my tea towel in case I wanted to use it again in the future for another project.
Attach the tea towel to the base of the seat pad using the staple gun. Staple down the sides first pulling the tea towel taught. Next, staple the corner folding them in as you go (like hospital corners on a bedsheet).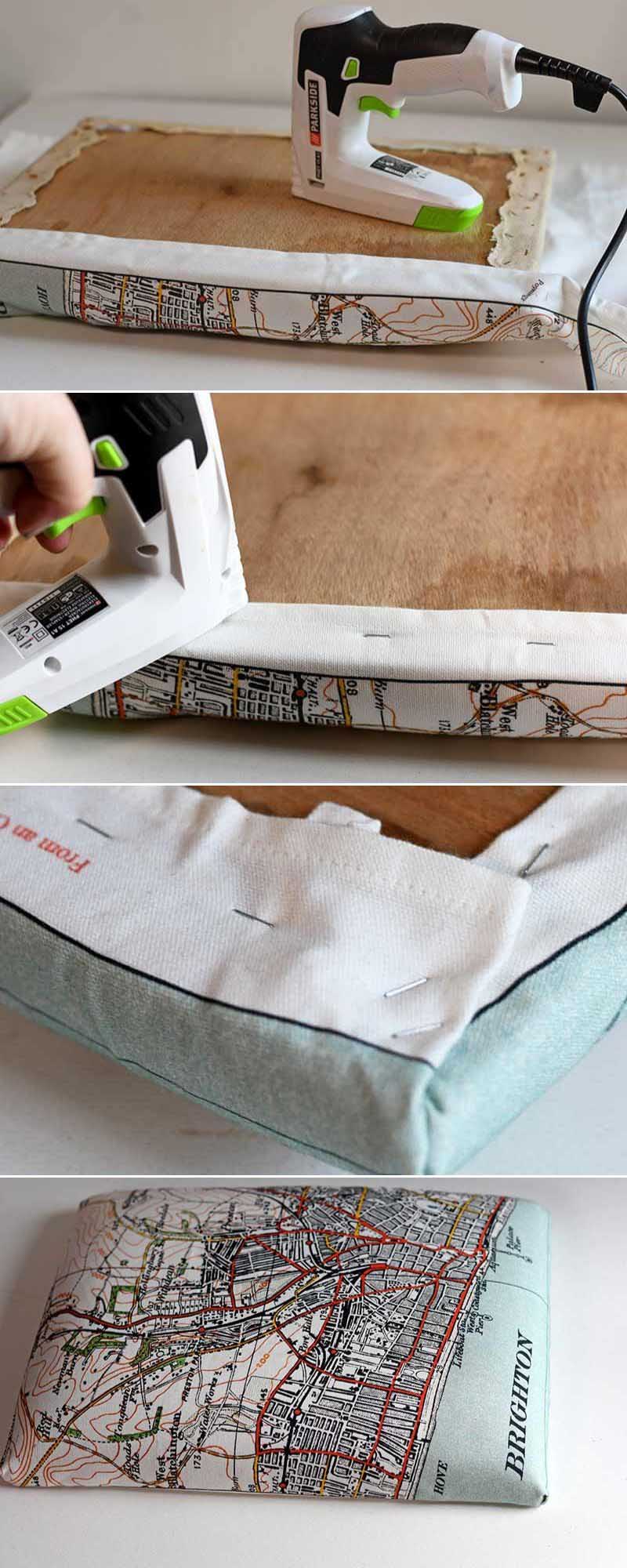 5. Finally, all that is left to do is to fix the newly upholstered tea towel footstool to the base.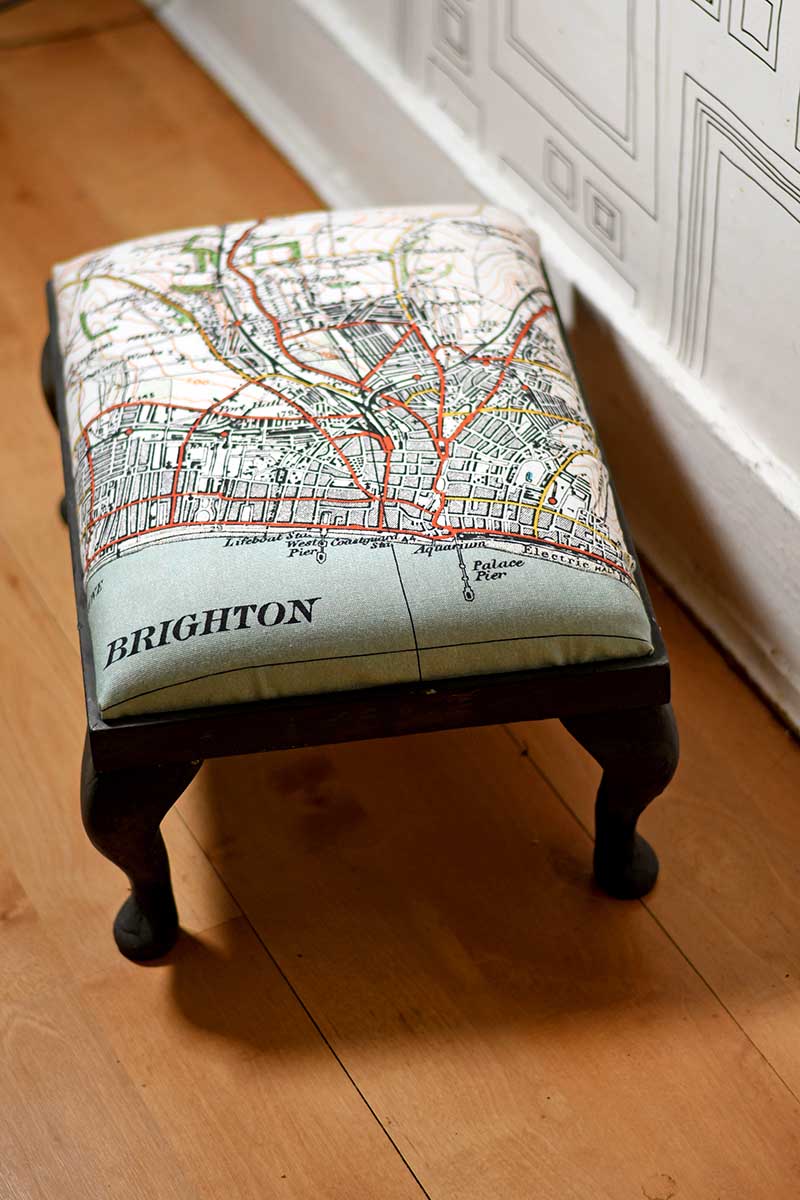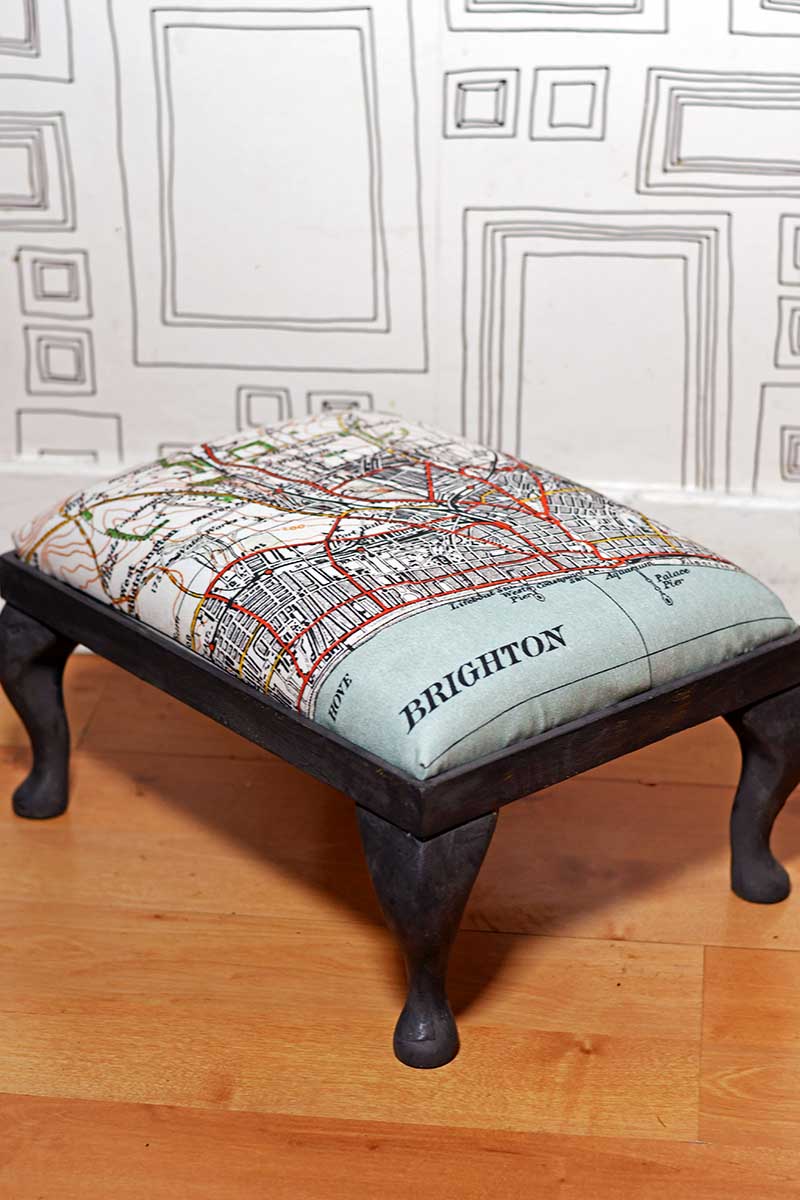 I love my new footstool as it reminds me of one of my favorite places, Brighton. Also, if I fancy a change it would only take me about 10 mins to remove this tea towel and replace it with another one.
I could even perhaps replace it with a Christmas themed tea towel when I put my decorations out in December.
I still have quite a stash of vintage tea towels and I can reupholster some of my dining room chairs with them using this same method. Just like I did with my denim patchwork chairs.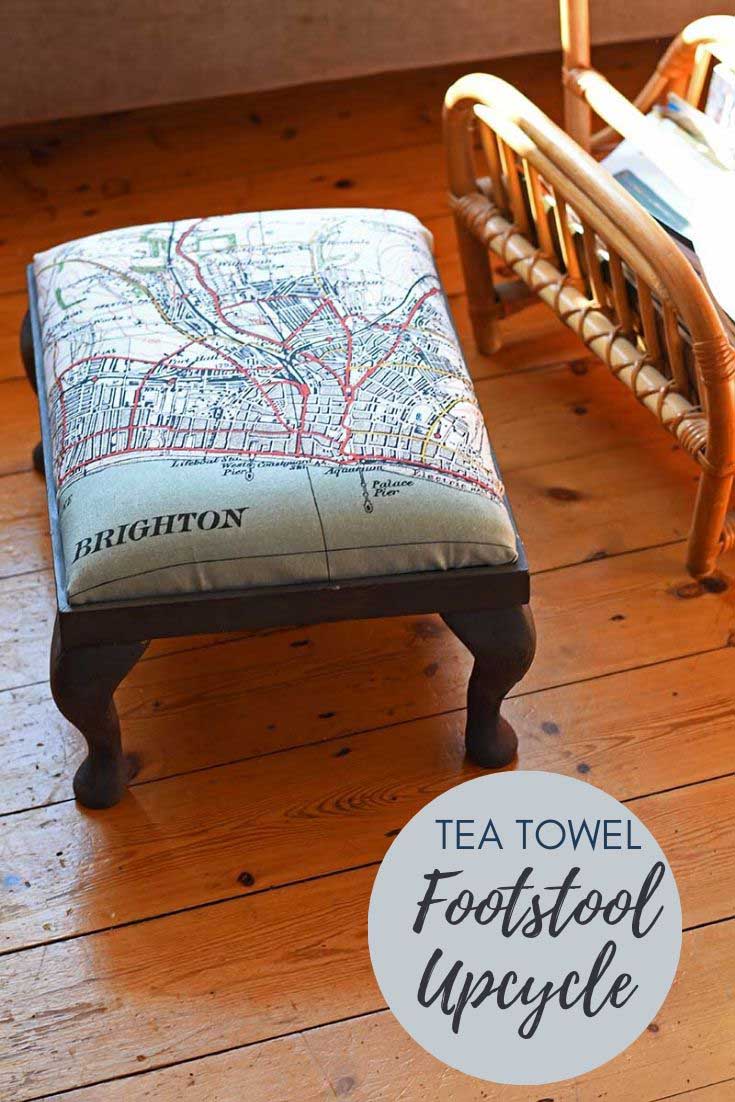 Yield: Upholstered Footstool
Reupholster A Footstool with A Tea Towel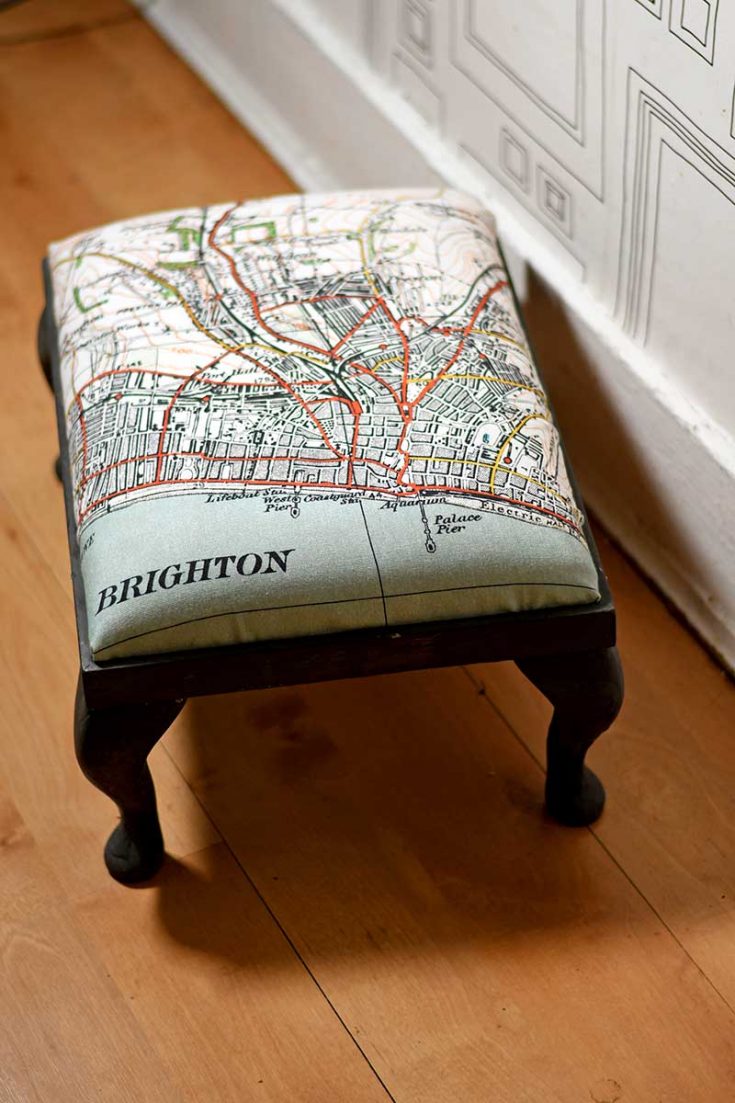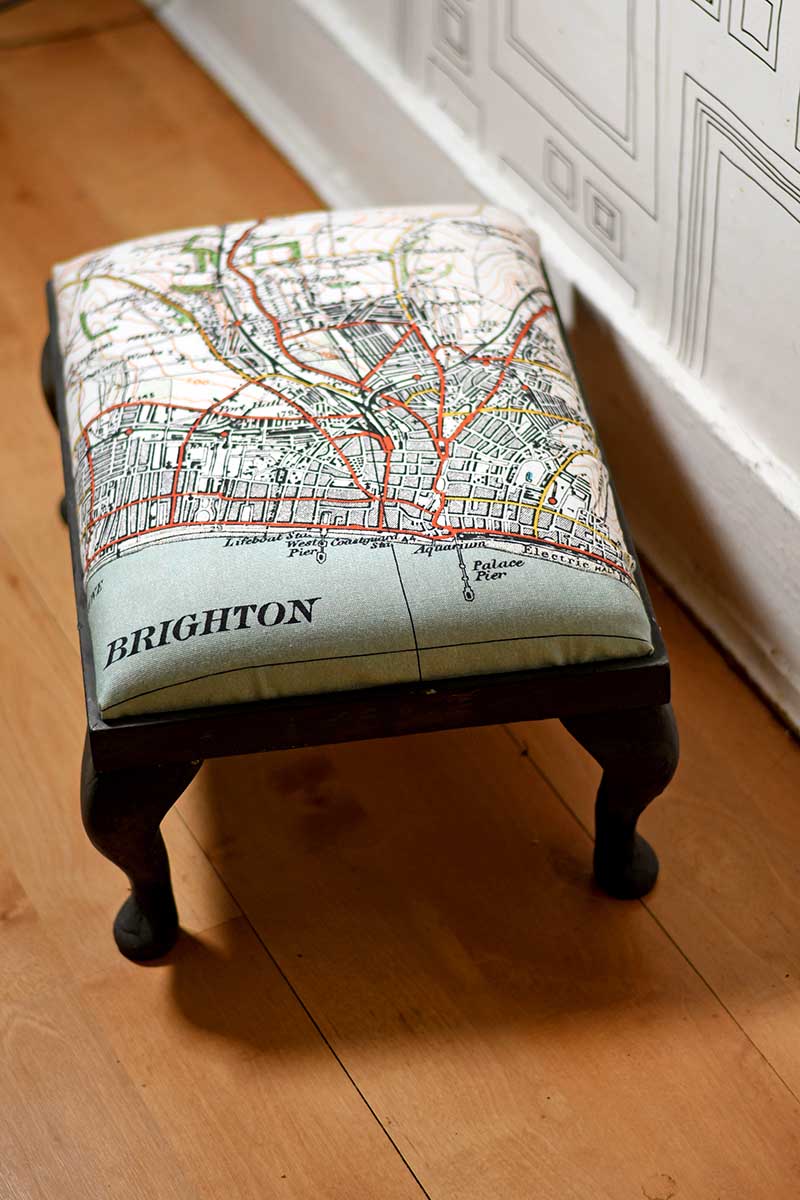 This is a really quick and affordable way to reupholster an old footstool with a tea towel. Tea towels are very affordable and come in many fantastic designs, this is also a really great way to great a unique piece of furniture.
Materials
Old footstool for reupholstery
Tea towel in pattern of your choice
Chalk paint
Tools
Electric staple gun
Paint brush
Instructions
Dismantle the seat pad from the base of the footstool. It should just unscrew.
Next, paint the base of the footstool in the color of your choice.
Place the tea towel over the top of the footstool and arrange how you would like the design to fit.
Turn over the seat pad and tuck the tea towel around the edges.
Next, using a staple gun fix the tea towel to the base. First, staple the sides and then staple the corners. With the corners tuck the tea towel as you would on a bed when making hospital corners.
Finally, reattach the newly reupholstered tea towel to the base of the footstool.
For more upcycled furniture ideas visit cheapthriftyliving.com