A step-by-step tutorial, on how to use a tea towel (dish towel) to transform a dining chair into a unique and cool piece of furniture.
It's so easy to use a tea towel to reupholster seat pads. A couple of my dining chairs were looking a bit grubby and unloved. They were comfy, handy folding chairs and I didn't want to get rid of them, so I gave them a makeover.
Most of the furniture in my home has been upcycled and re-upcycled. Not only is it an affordable and easy way to personalize your home decor, but it's also fun to do. I had recently reupholstered a footstool with a map tea towel which gave me the idea for this chair upcycle.
Why Use A Tea Towels / Dish Towels
I don't know if it's because we drink a lot of tea and have a lot of teacups to dry, but we Brits, call the cloth that you use to dry the dishes with a tea towel. Americans tend to call them dish towels.
I have a collection of tea towels that I've bought to support small businesses and designers. When visiting independent shops, often I will just buy something small. Such as a print, greetings card, paper napkins or tea towels.
I use paper napkins for decoupage and tea towels for crafting. Tea towels are a great source for linen and cotton fabric with cool and fun patterns on them. They are great for smaller projects when you just need a small amount of fabric.
I love maps and much of my upcycled furniture has a map theme. If I see a tea towel with a map of somewhere special, I will buy it. I also like colourful patterned tea towels produced by many independent fabric designers.
What I Used For Tea Towel Chair Upcycle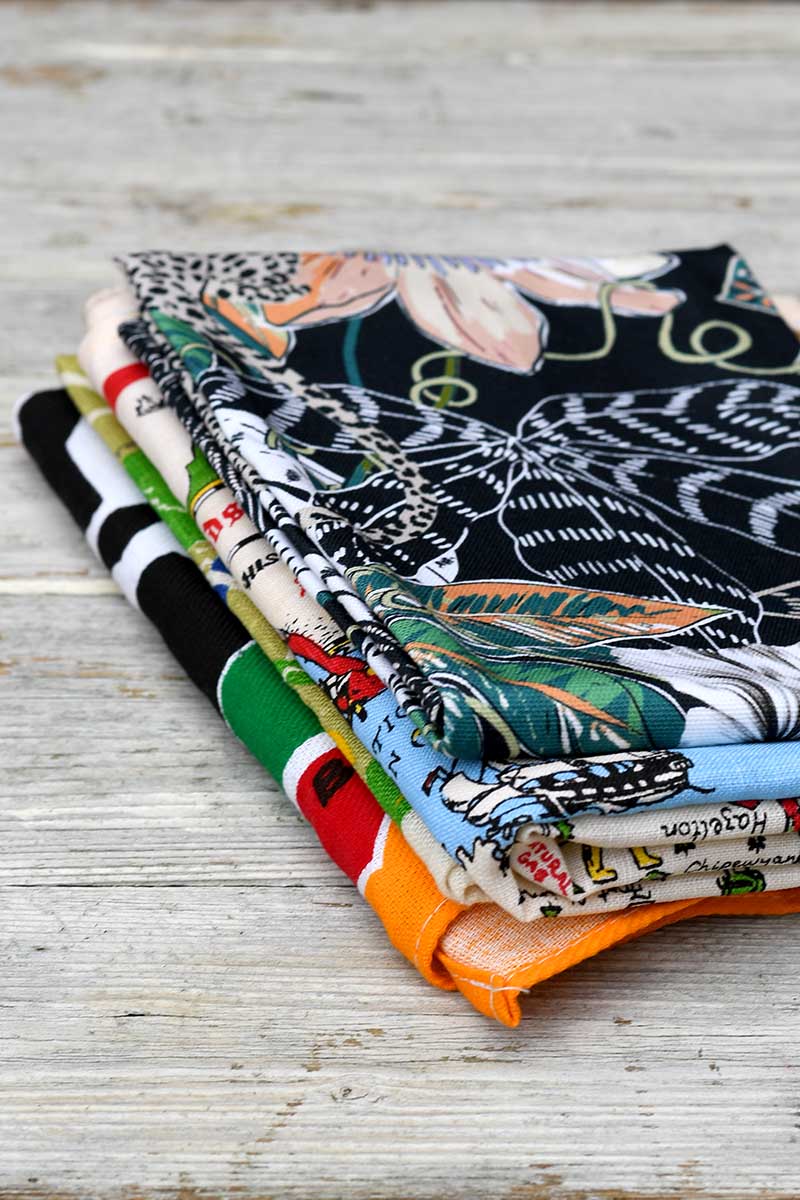 How To Upholster A Dining Chair With A Tea Towel
Step 1: First, remove the seat pad from the dining chair. This should simply unscrew from the frame. Don't worry if you can't remove the seat pad, it should still be possible to reupholster it.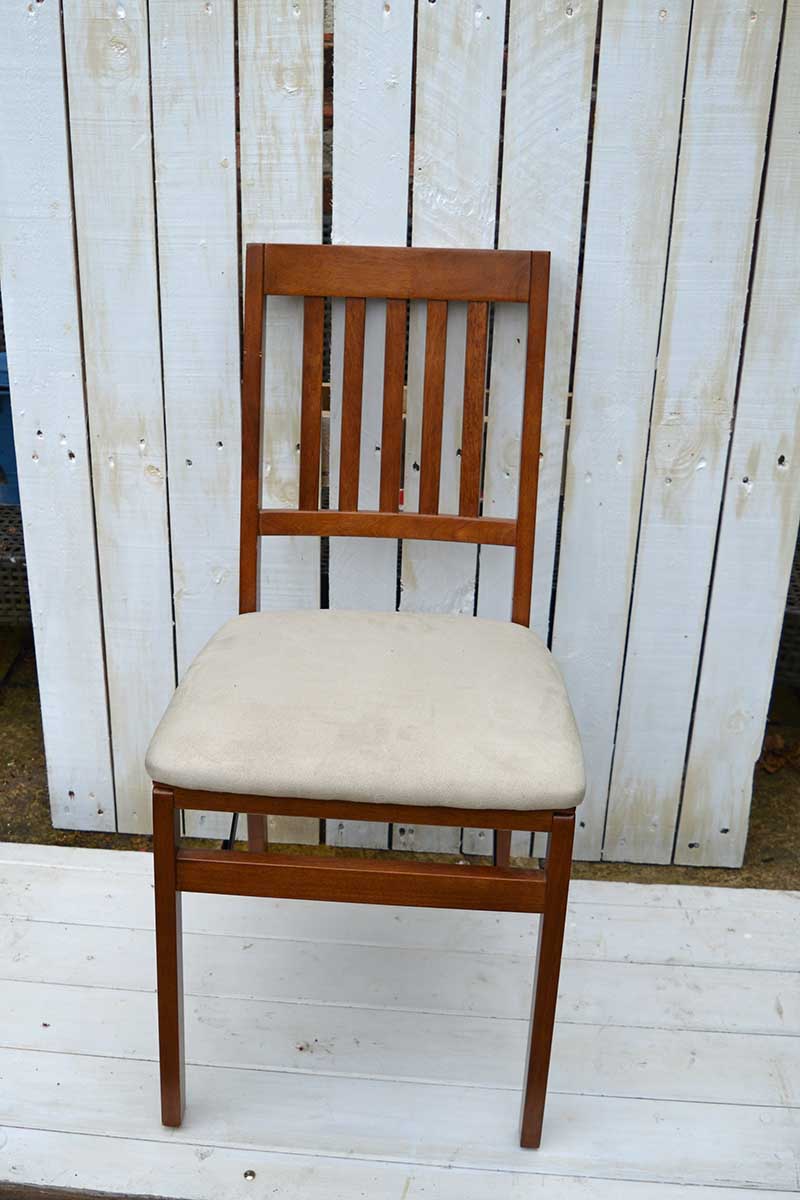 Step 2: Next, I painted the dining chair frame in black chalk paint. The black chalk paint matched my upcycled cocktail/craft cupboard. Also, I'm a bit of a lazy painter and you need very little prep if any with chalk paint.
I paint furniture with a round brush (sash brush), as this helps prevent brush marks. It also makes it easier when painting fiddly bits like spindles on chairs.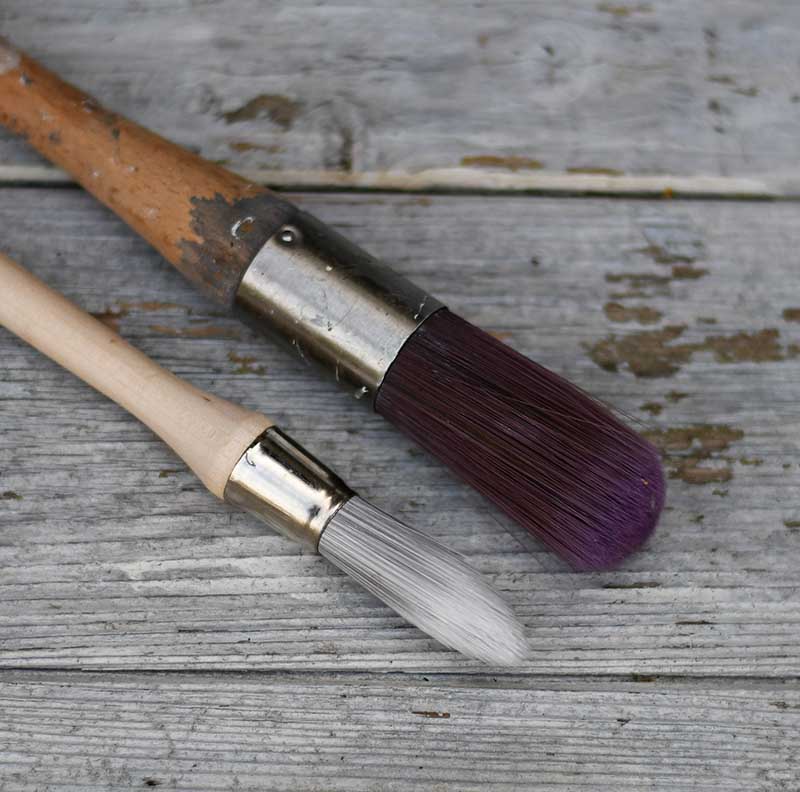 Two coats of chalk paint were given to the chair frame. Make sure that you turn the frame upside down at some point when painting. It's easy to miss bits of the frame if you just paint it in one dimension.
When the paint was fully dried, I added two coats of matt varnish to protect it. Dining chairs get a lot of use and manhandling, I wanted to make sure they were protected with varnish.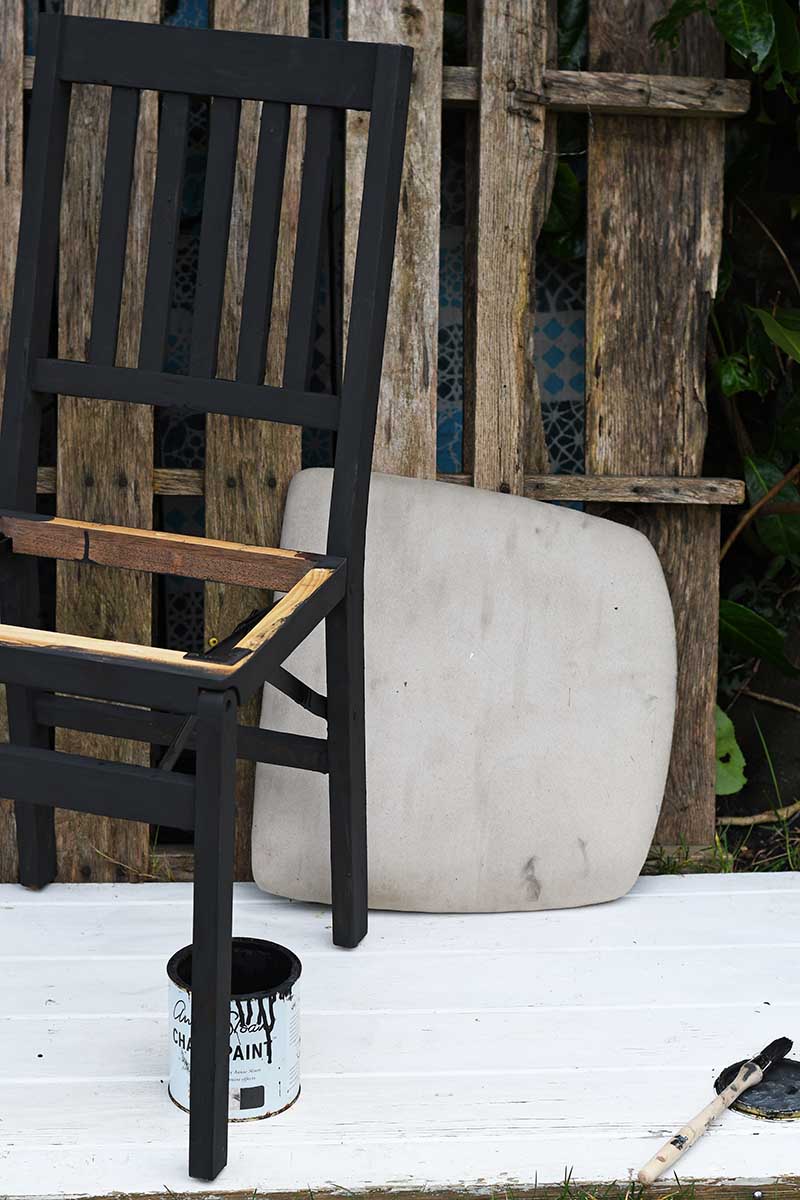 Upholstering the Seat With A Tea Towel
Step 3. First, make sure the tea towel is large enough to cover the seat pad. Most tea towels should be big enough. Lay the tea towel over the seat pad and ensure there is enough fabric so it can be stapled to the back of the seat pad.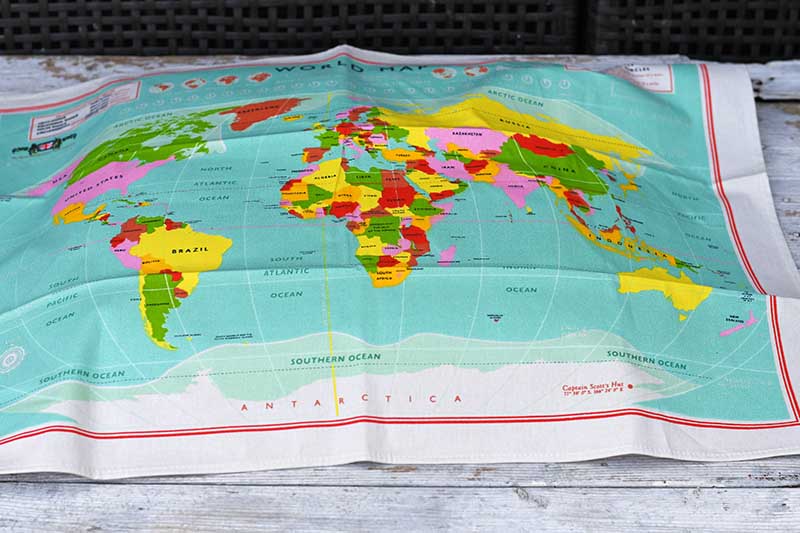 If there is not quite enough fabric or it's a little tight, unpick the seams of the tea towel. This will should give you an extra couple of centimetres of fabric to work with.
If you happen to have an extra-large seat pad and one tea towel is not quite enough, sew strips of plain linen to the sides to make it bigger.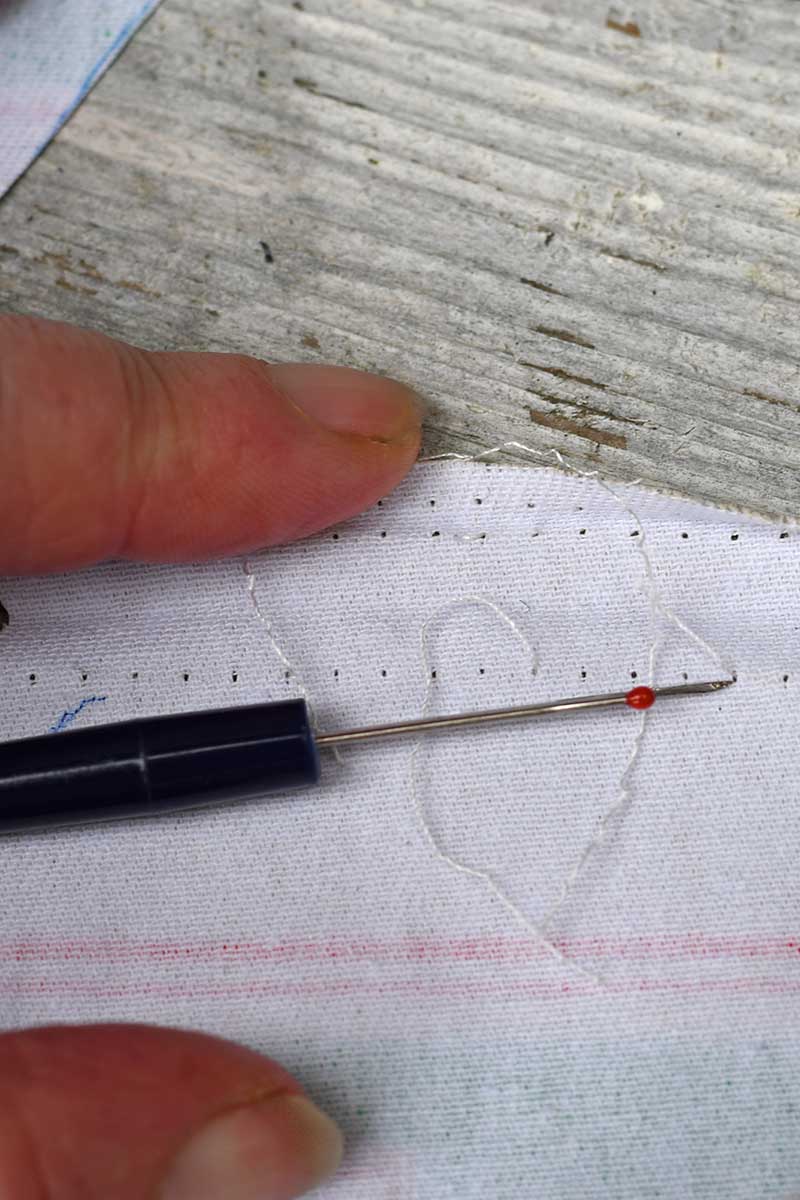 Step 4: Next, place the tea towel face down onto a flat surface. Then, lie the seat pad face down on top of the tea towel. Make sure the design is in the centre.
With a pen, draw on the tea towel were to cut away any excess fabric. Use a pair of scissors to cut away the excess fabric.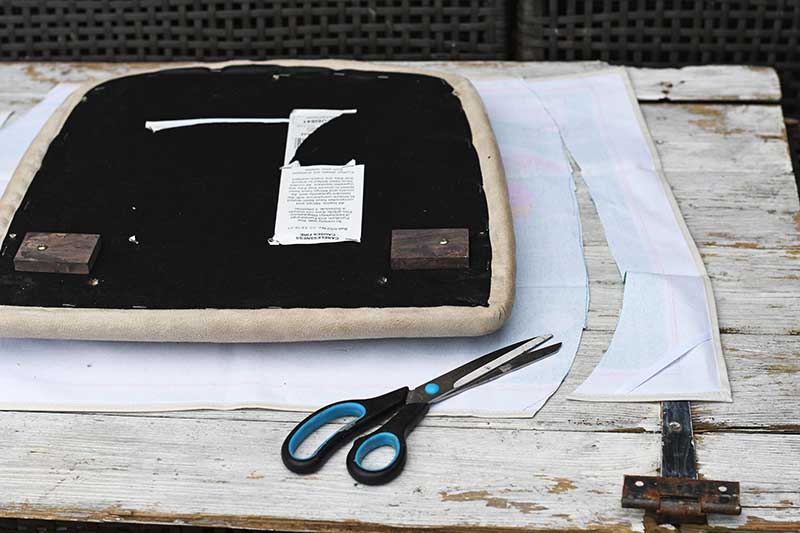 Step 5: Next, staple the edge of the tea towel to the back of the seat pad. Start off by stapling the centre point on each side of the seat pad. Pull the tea towel taught around the seat pad as you staple.
At the corners fold in the fabric to neaten them up, a bit like how you would do hospital corners when making a bed.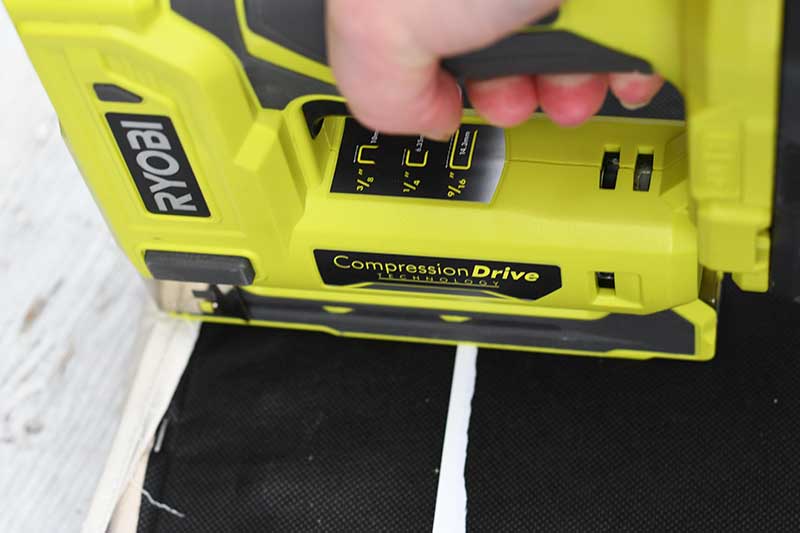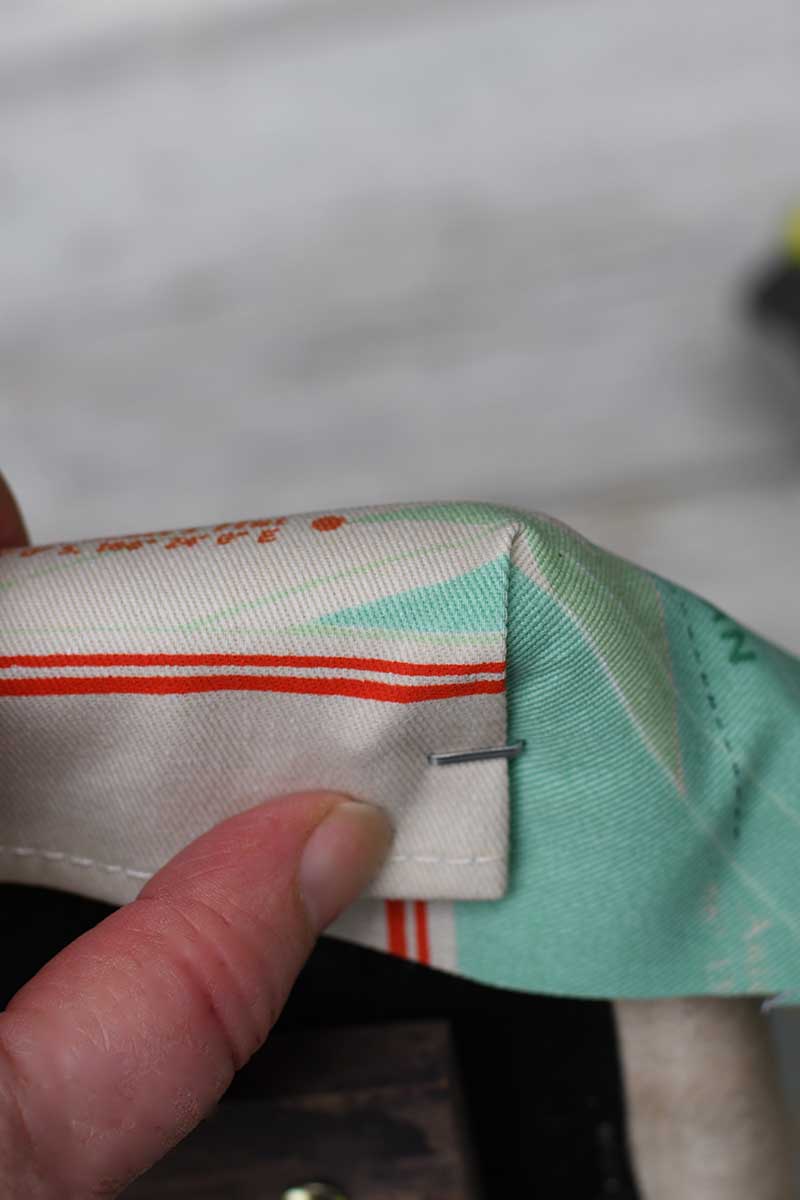 Step 6: Once the corners are stapled in, finish off stapling the rest of the fabric. You can never have too many staples, I place mine about 5mm apart all around the edge of the seat pad.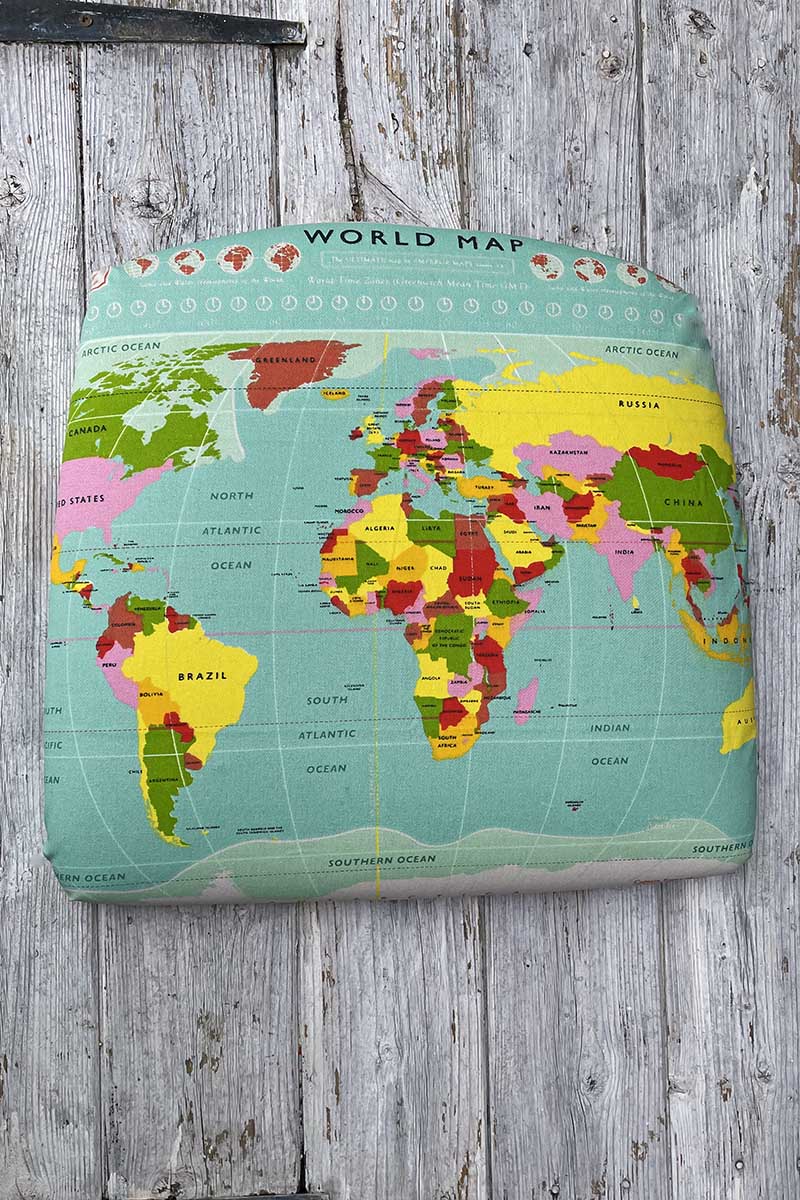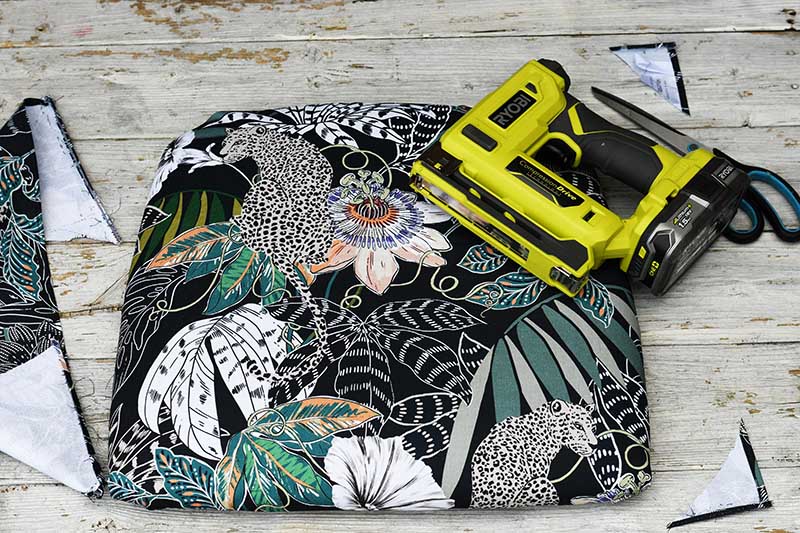 Step 7: Finish off by spraying the tea towelled covered seats with Scotchguard fabric protector. This will help protect your upcycled dining chairs from spills and stains.
A fire-retardant spray is also available if needed.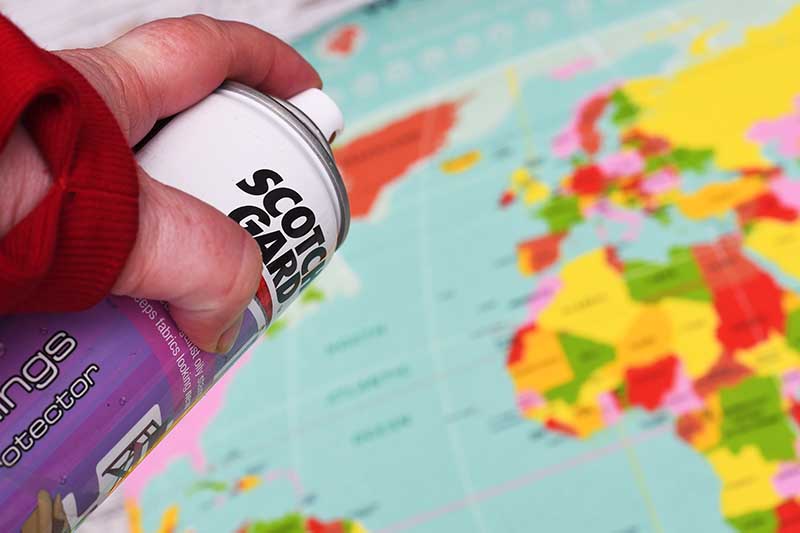 Then simply screw the seat pads back onto the painted chair frames.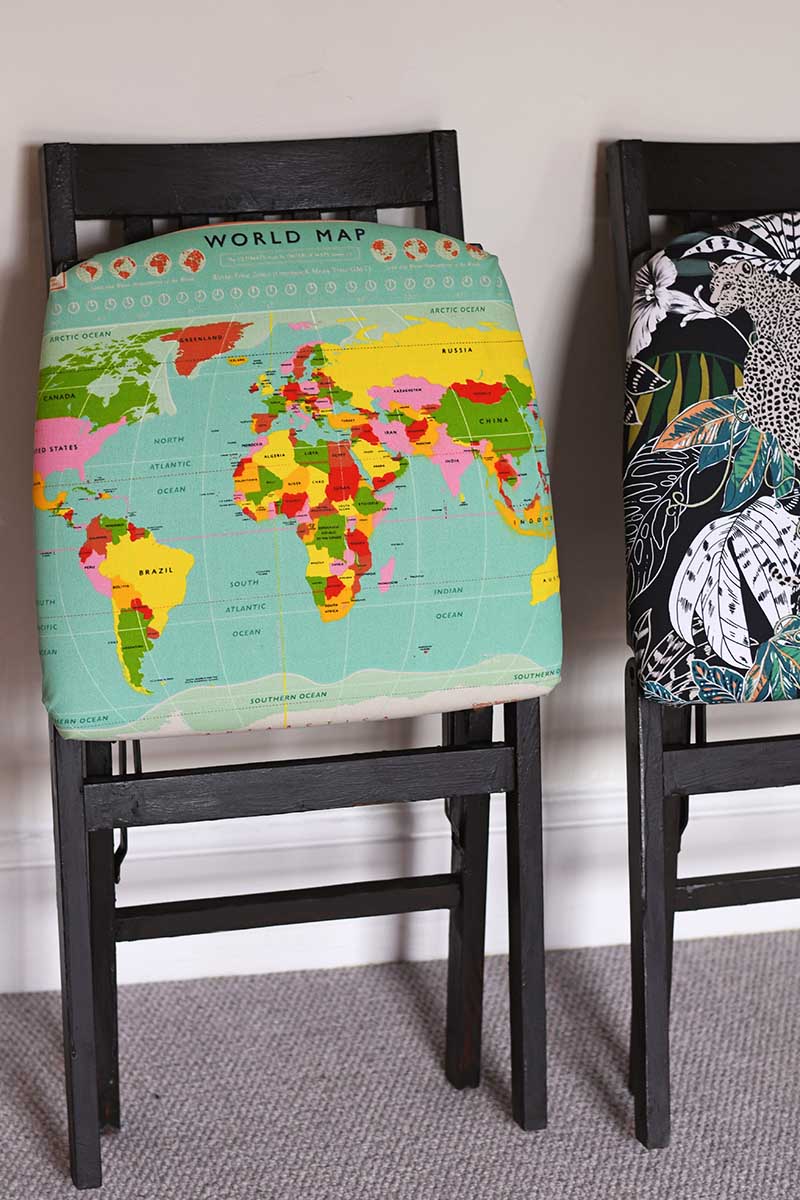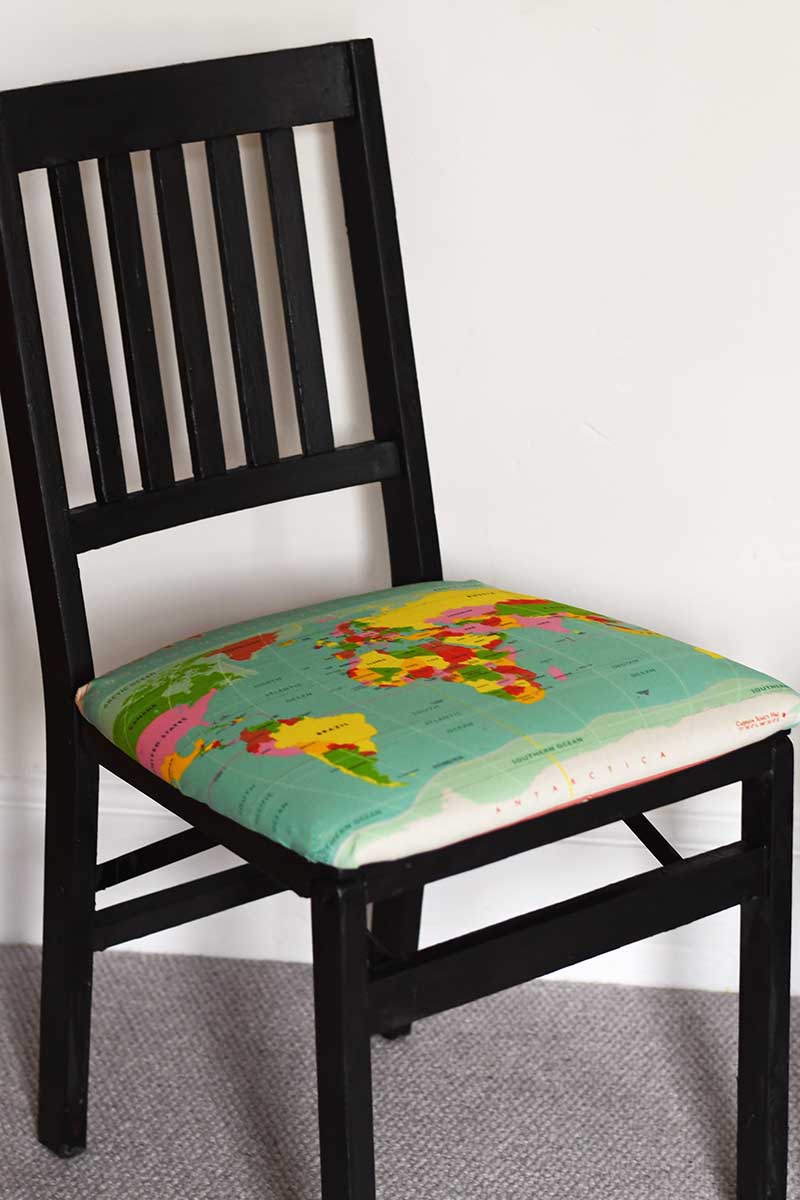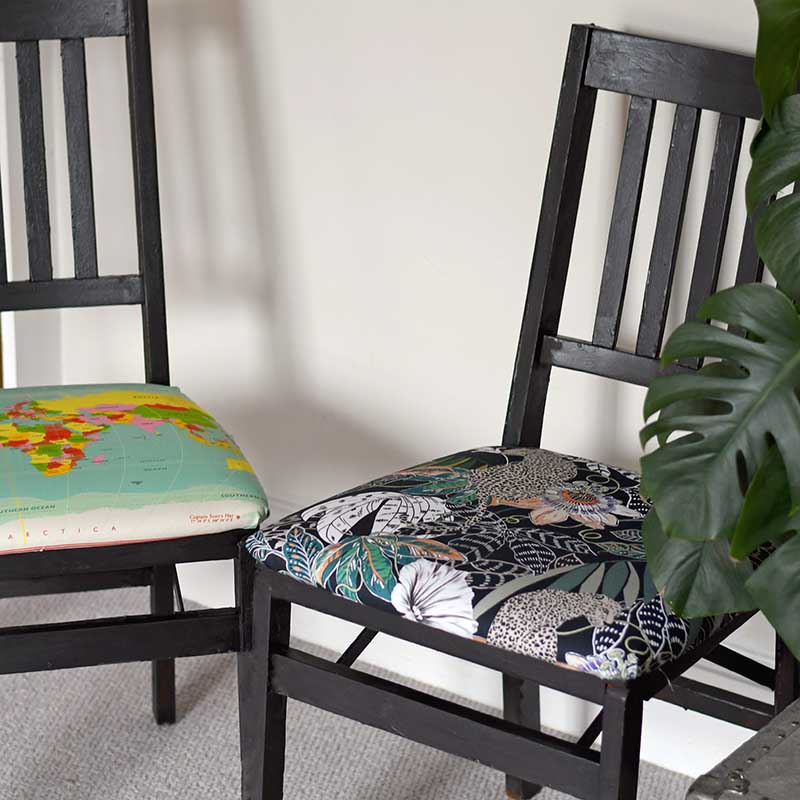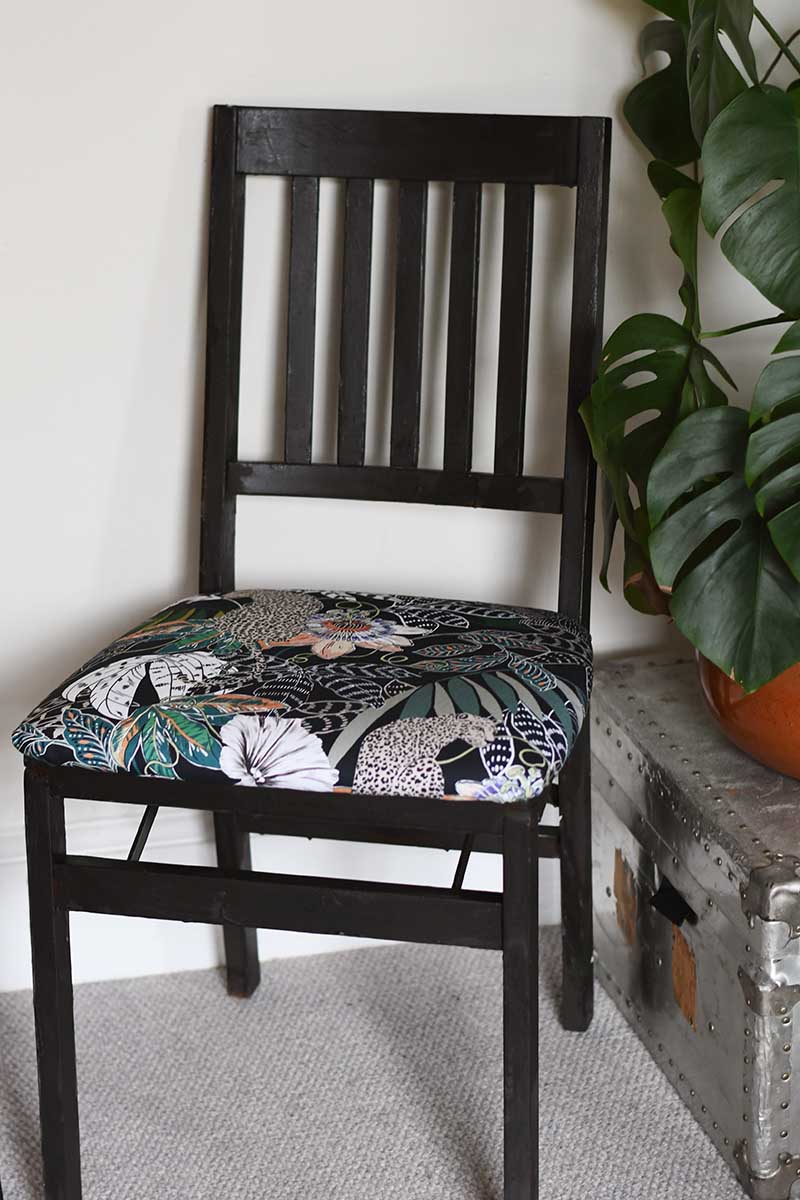 I love how the chairs turned out and the fact that each one is different. They will sit in the dining room with the other denim patchwork chairs I upcycled a couple of years ago. If you are looking for more tea towel ideas check out these cool tea towel crafts.
By the way, this isn't my first map chair upcycle I also have a trio of decoupaged map chairs in my home. One of which sits at my DIY world map desk, which I'm currently working from.
Other fun furniture upcycles on the site to check out are: