The other day when rummaging through my upcycling shed for some old knobs. I came across 2 rather battered ping pong bats. I loved the shape of them and thought that they looked a bit like baubles that's when I got the idea to upcycle ping pong bats.
The ping pong bats were well past their best and were battered and worn. We used to have an outdoor table tennis table and I think the bats had been left out one too many times in the garden. That is why they were in such a bad state.
My husband and three sons are racquet sports fanatics. In the past, I have upcycled some of their old badminton shuttlecocks into Christmas angels. I thought it would be fun to add to that theme with these upcycled ping pong bats.
My boys are also big tennis and squash players too. If you have any ideas for Christmas upcycles themed around these sports I'd love to see them. The upcycled ping pong baubles do make for a fun Christmas decoration for sports fanatics.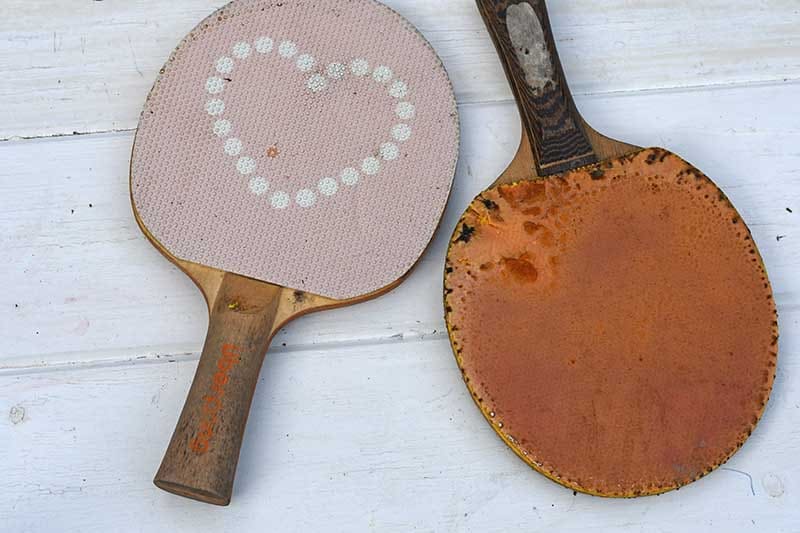 We're a participant in the Amazon Services LLC Associates Program, an affiliate advertising program designed to provide a means for us to earn fees by linking to Amazon.com and affiliated sites. As an Amazon Associate, I earn from qualifying purchases.
What You Need To Make Ping Pong Baubles
Old ping pong bats – You can sometimes pick these up really cheaply at your local thrift stores.
White paint
Black paint
Fine nibbed drawing pen
Nail varnish pens – or acrylic paints in various colours
How To Upcycle Ping Pong Bats
1. Firstly, remove the rubber pad from the front of the ping pong bats. Simply pull it away from the wood. If you are left with any residue sand it away.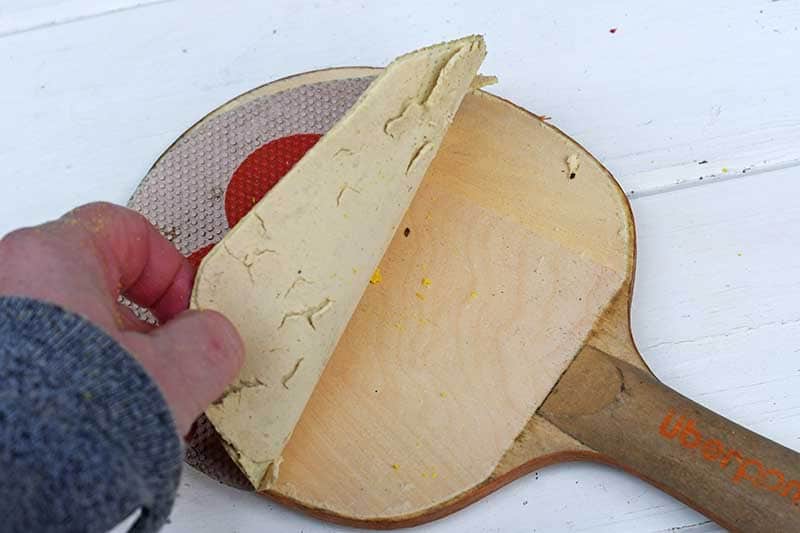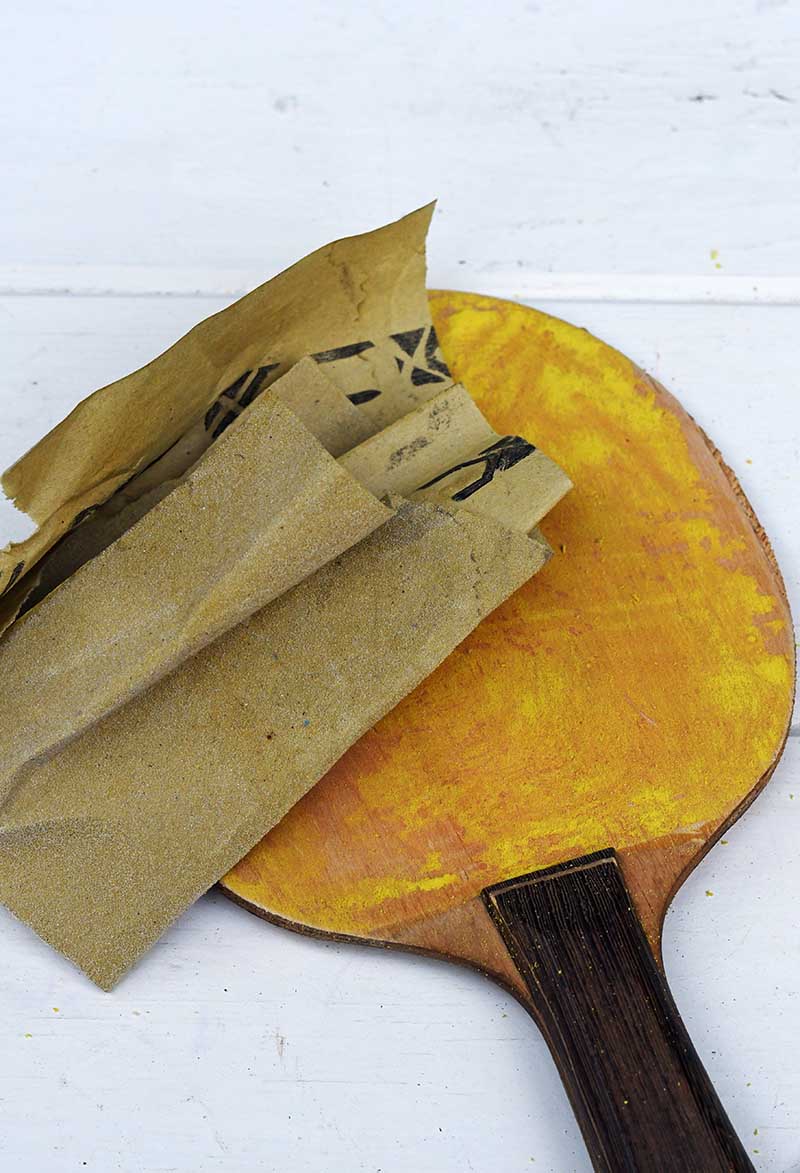 2. Next, spray paint the ping pong bats white or cream.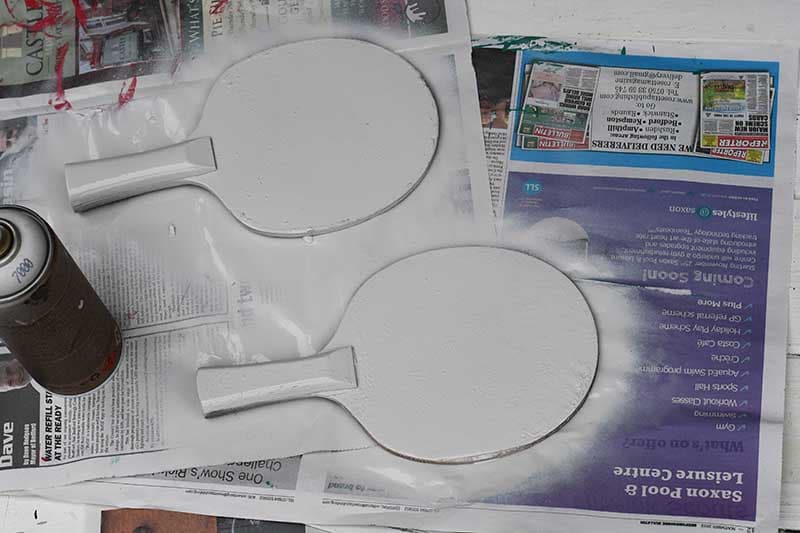 3. Next, paint the ping pong bat handles black.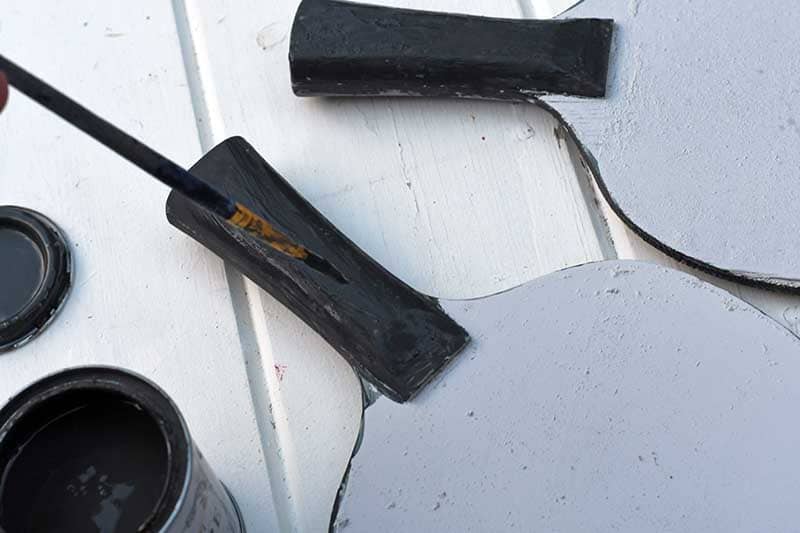 4. Then, using the black drawing pen sketch out your bauble design onto the ping pong bats. I used similar bauble designs that I painted for my Christmas tree wall art.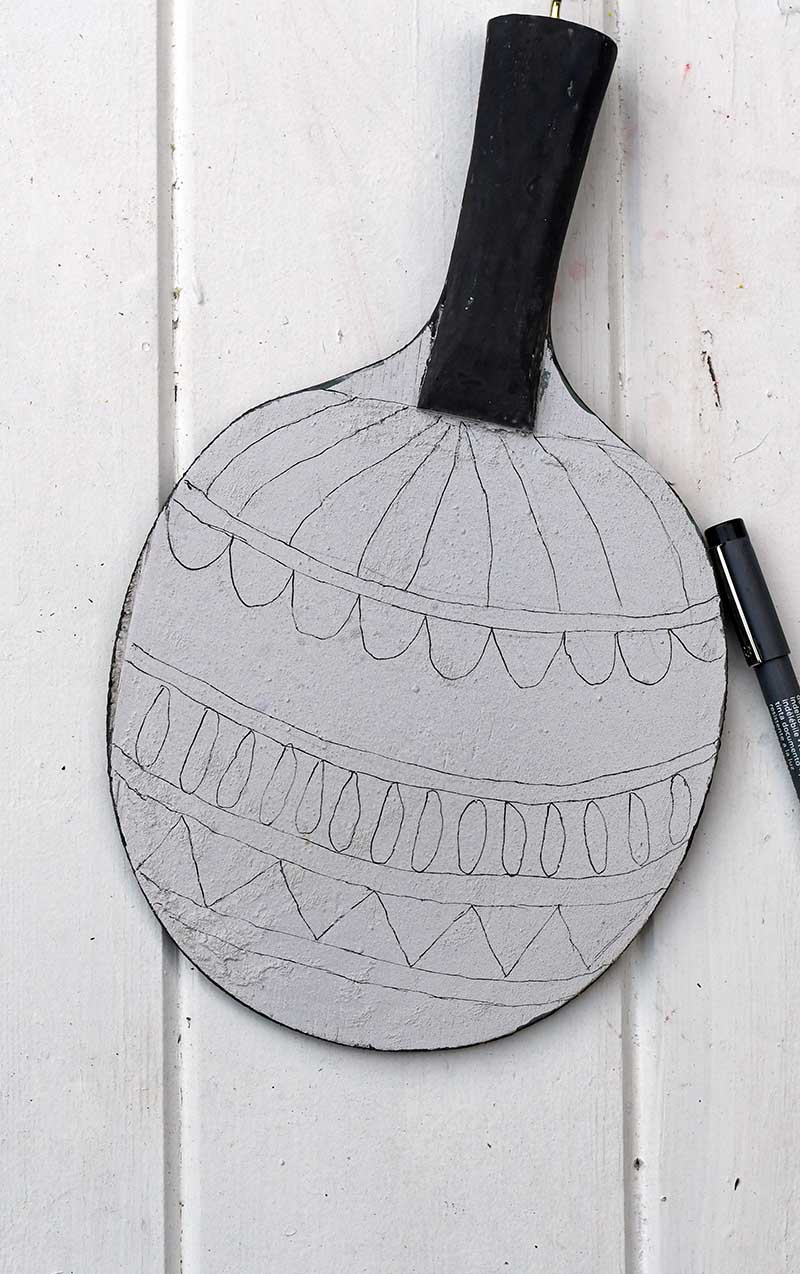 5. This next bit is the fun bit of the ping pong bats upcycle. I coloured the bauble design using nail varnish pens. I decided to use the nail varnish as I thought they would give the painted baubles a nice shiny finish that would last. Plus I also came across the pens in my upcycling shed and wanted to use them.
Acrylic paints would work just as well though.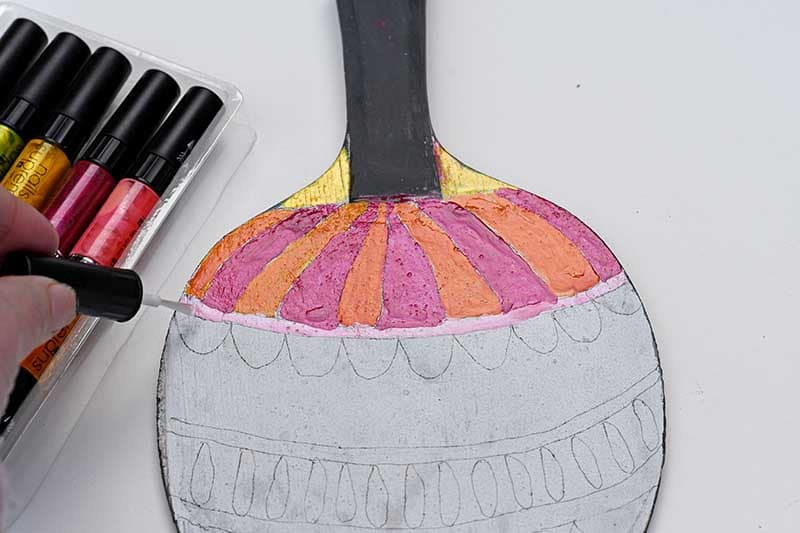 6. Finally, to finish off the upcycle ping pong bats screw in a brass mug into the top of the handle. Then attach the gold velvet ribbon to the hook and hang the bauble from it.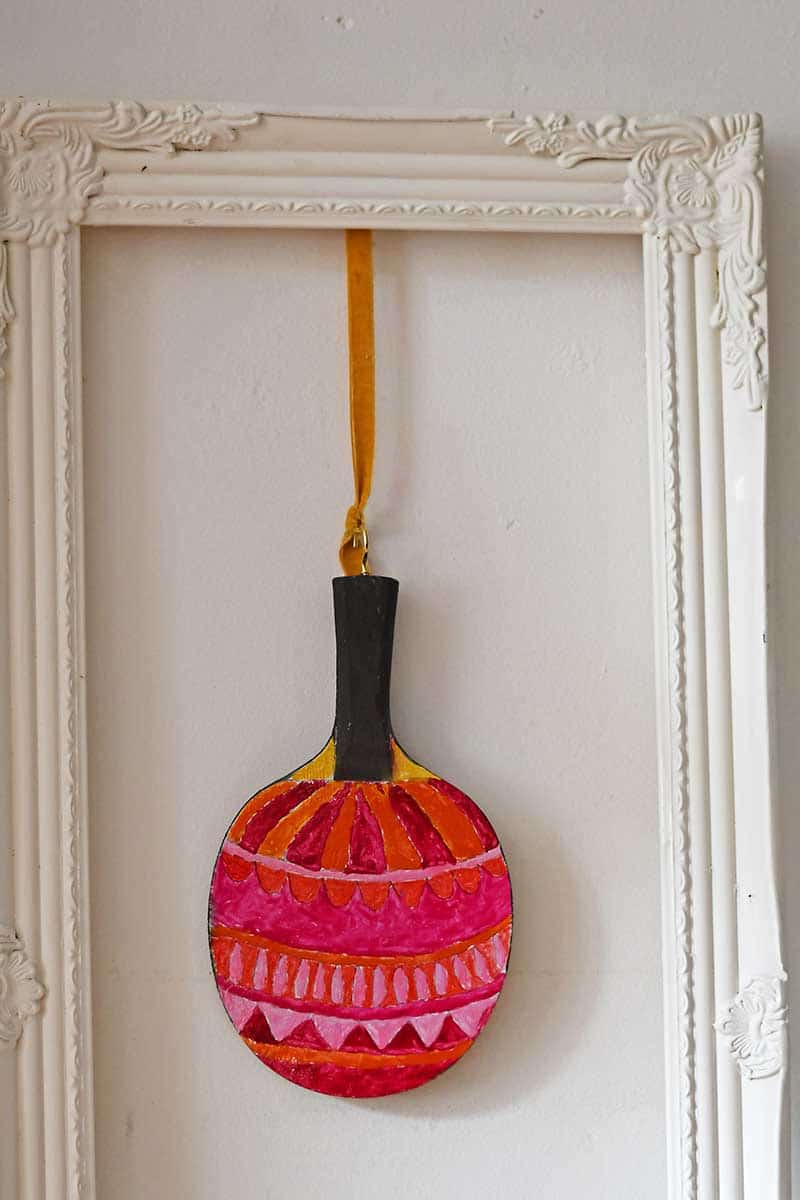 I loved upcycling the ping pong bat into a hanging handmade Christmas ornament I made another one. This time I coloured the bauble blue and green. I'm now on the lookout for more ping pong bats to upcycle into more colourful ornaments.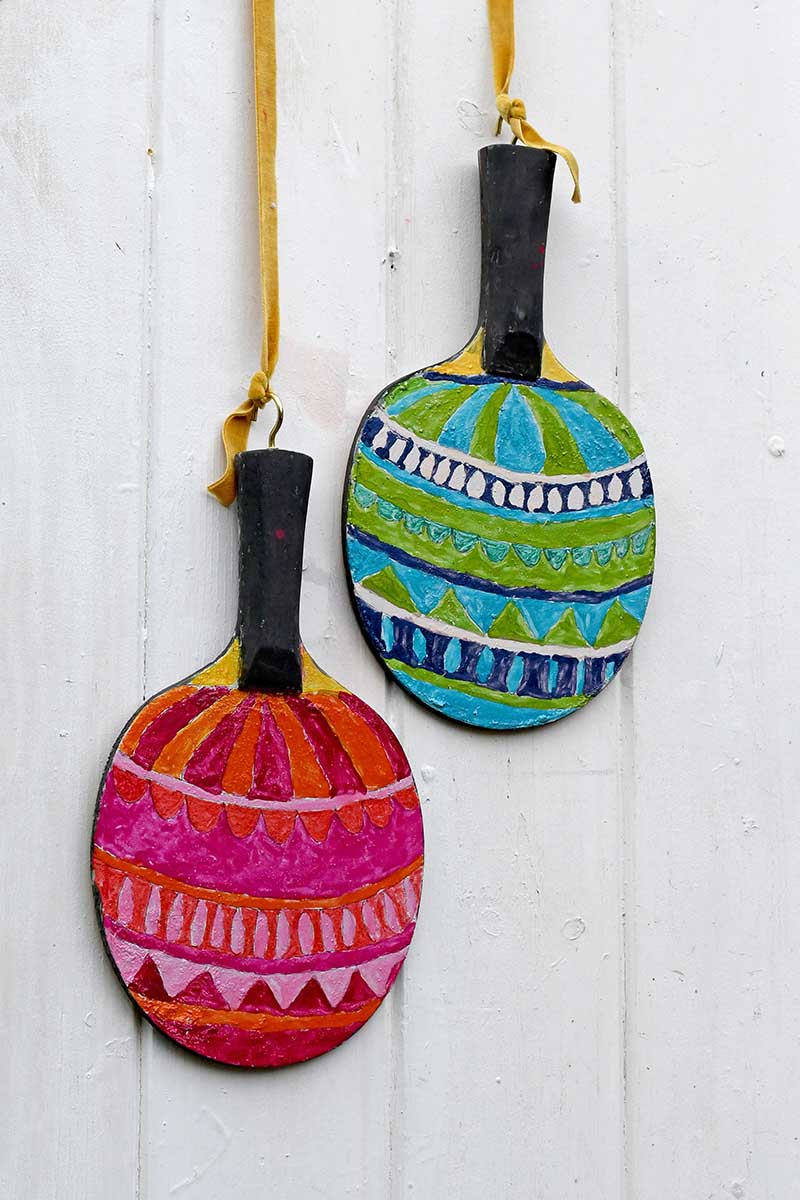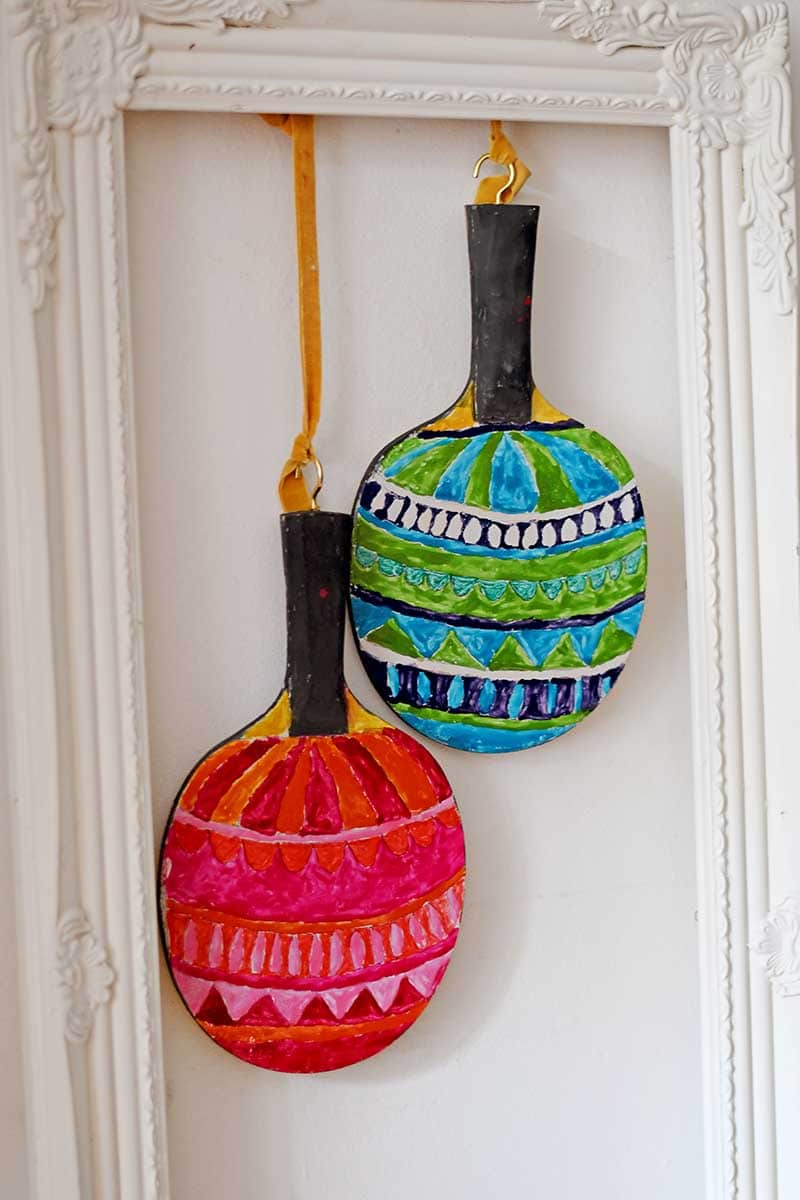 If you liked these giant upcycled ping pong bat Christmas ornaments then check out these other upcycled Christmas decorations.
For more green crafting ideas visit Cheapthriftyliving.com