How to Make Personalised Map chairs
These  gorgeous map chairs are really easy to make for very little cost. They are also extra special, as I made them with maps that have great sentimental meaning.  

My husband's family is from Norway and my kids love the place so I made one with a Norwegian map.  Hong Kong is a special place full of magical memories for me, as I was born and bought up there. Therefore I used a Hong kong street map for another,  and finally a London tube map for the third chair, as I love London having lived, studied and worked in the city.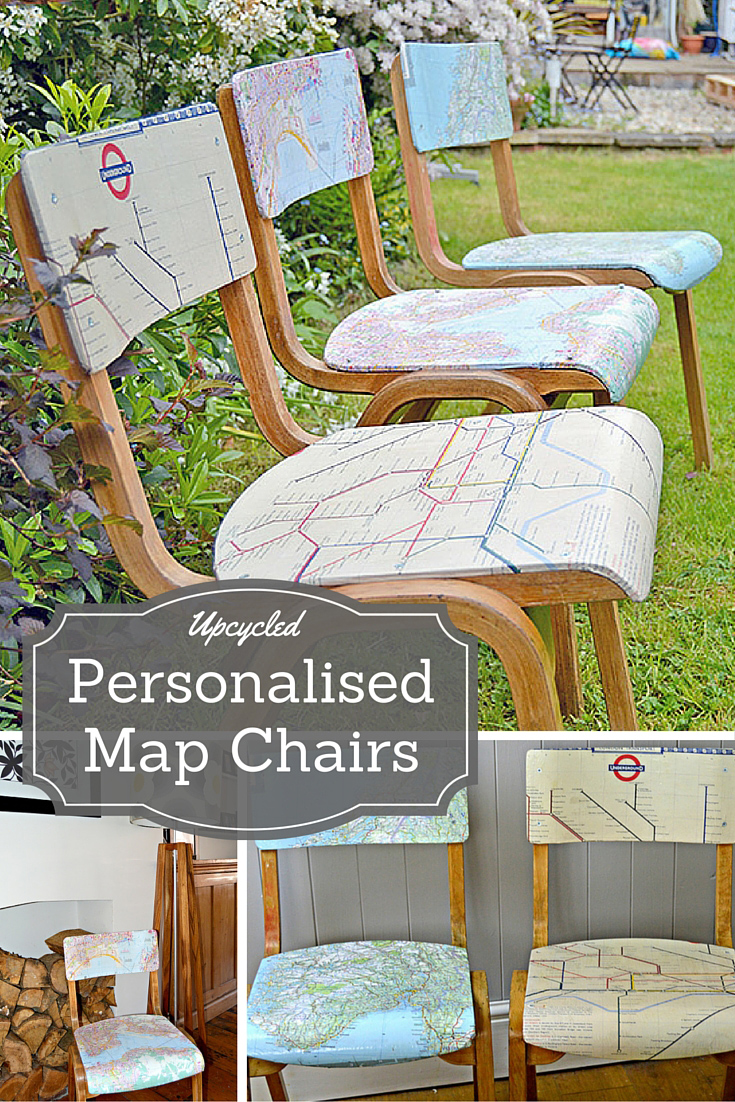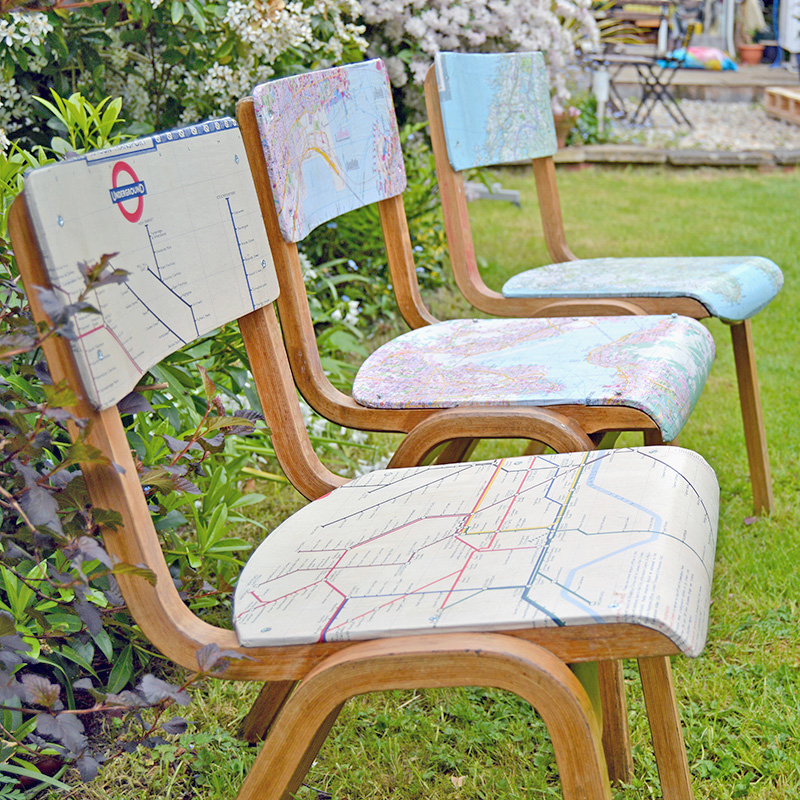 This post contains amazon affiliate links for your convenience. Click here to see my disclosure policy.


What you need to make the map chairs
Old school chair, or any chair with wooden seat and back
Maps – can be road maps, street maps or even Click here to see my disclosure policy. " target="_blank" rel="nofollow">wrapping paper with a map print
PVA glue or Mod Podge
Brush for glue
Sandpaper
Scissors, scalpel
Waterproof varnish
Screwdriver

I'm fortunate in that I have a junk shop at the bottom of my road and live round the corner from an auction house, so it's easy for me to find old chairs. The chairs I used here actually came from my local scout hut, where I'm a Beaver leader. As you are covering the chairs in maps they don't need to be in the best of condition so you should be able to pick them up very cheaply from your local second hand store.

You can use any maps to cover your chairs. However you might want to personalise your chairs by using a map local to you, or a map of a favourite holiday destination. The London underground chair was made using 2 sheets of Cavallini tube map wrapping paper.


How to make map chairs
1. Dismantle you chairs if possible, remove seat and back.

2. Sand lightly all over to provide a key.

3. Wipe and remove dust, dirt etc.




4. Place chair and seat back on top of maps, and cut maps to size allowing for a small overlap.

5. Cover the surface to be decoupaged evenly with PVA glue using a brush.

6. Carefully place the map on top of the PVA glue. Squeeze out bubbles with a small wallpaper roller or by gently running an edge of a credit card over the surface. I covered the screw holes with the map.

7. When wrapping the map round the edge of the chair you will find it easier if you cut small slits into the maps especially round curved edges.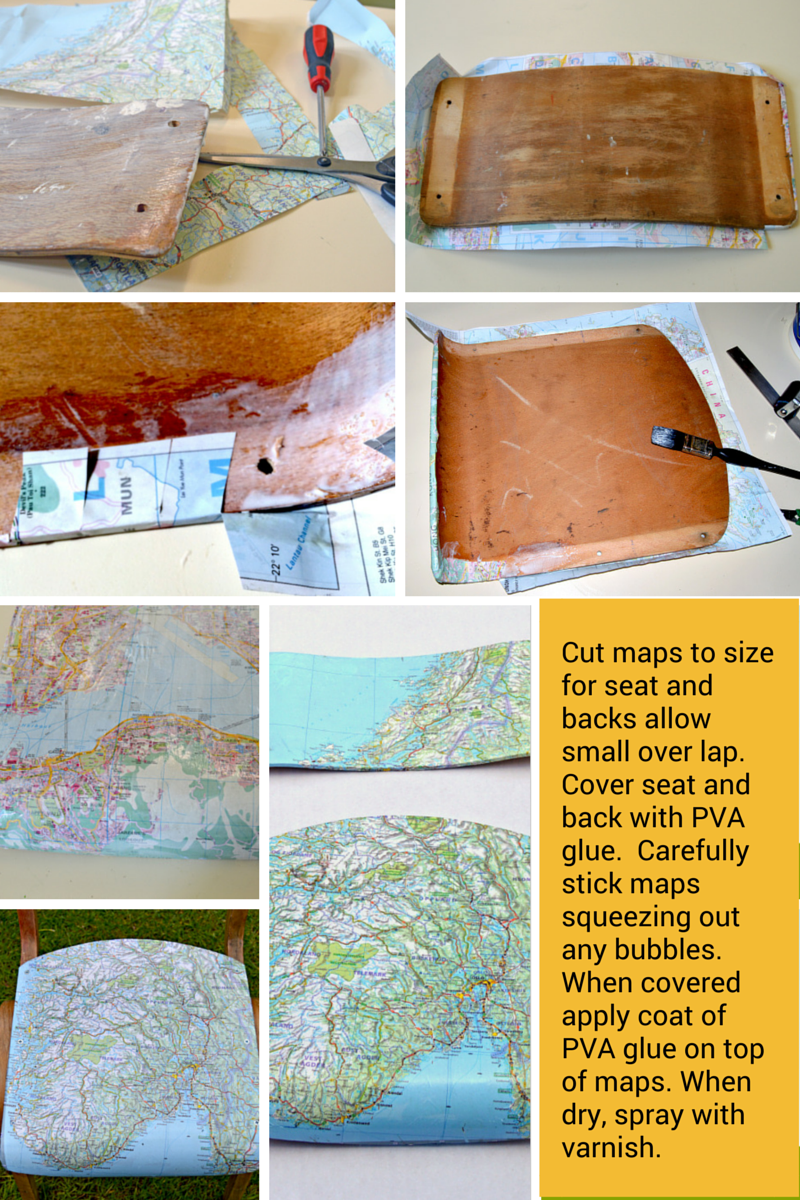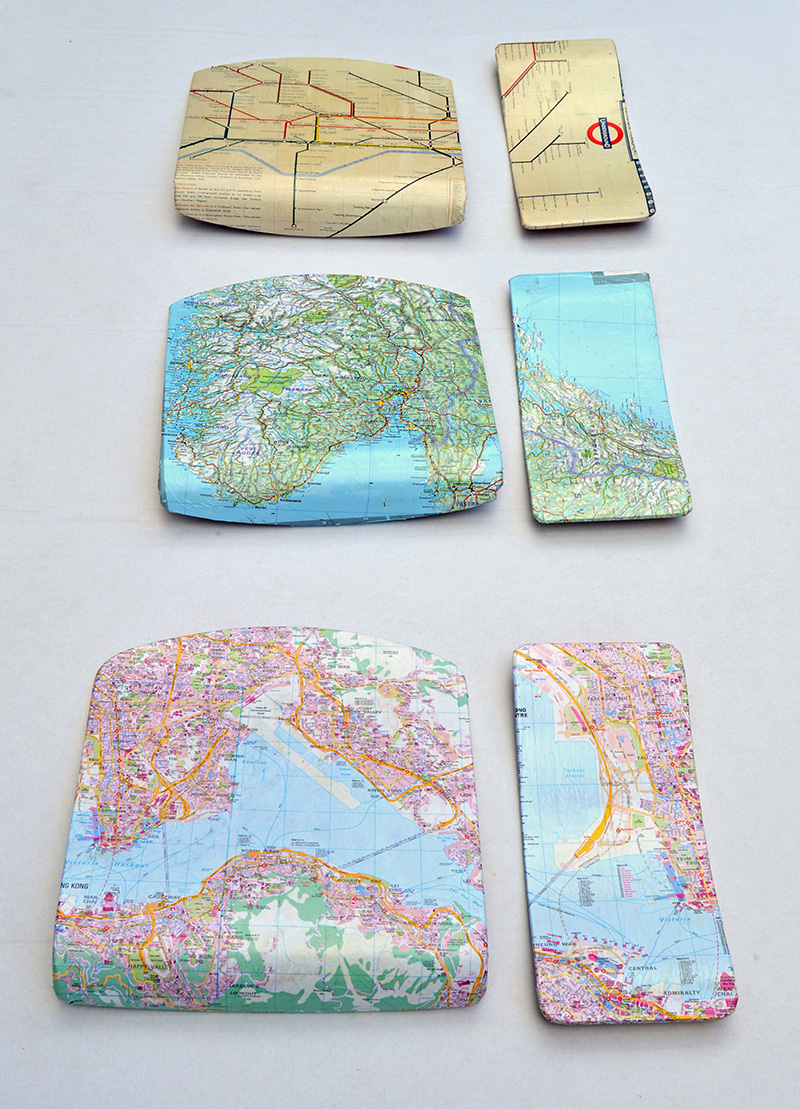 8. When the stuck down map has dried, paint a layer of PVA glue over the top. Don't worry that it looks milky, this will dry clear.

9. After the PVA glue as dried (preferably over night), cover the chairs with a protective varnish. I use an acrylic varnish spray for this.

10. Finally when all dry, locate original screw holes now covered with paper. Pierce through the maps and screw chairs back together.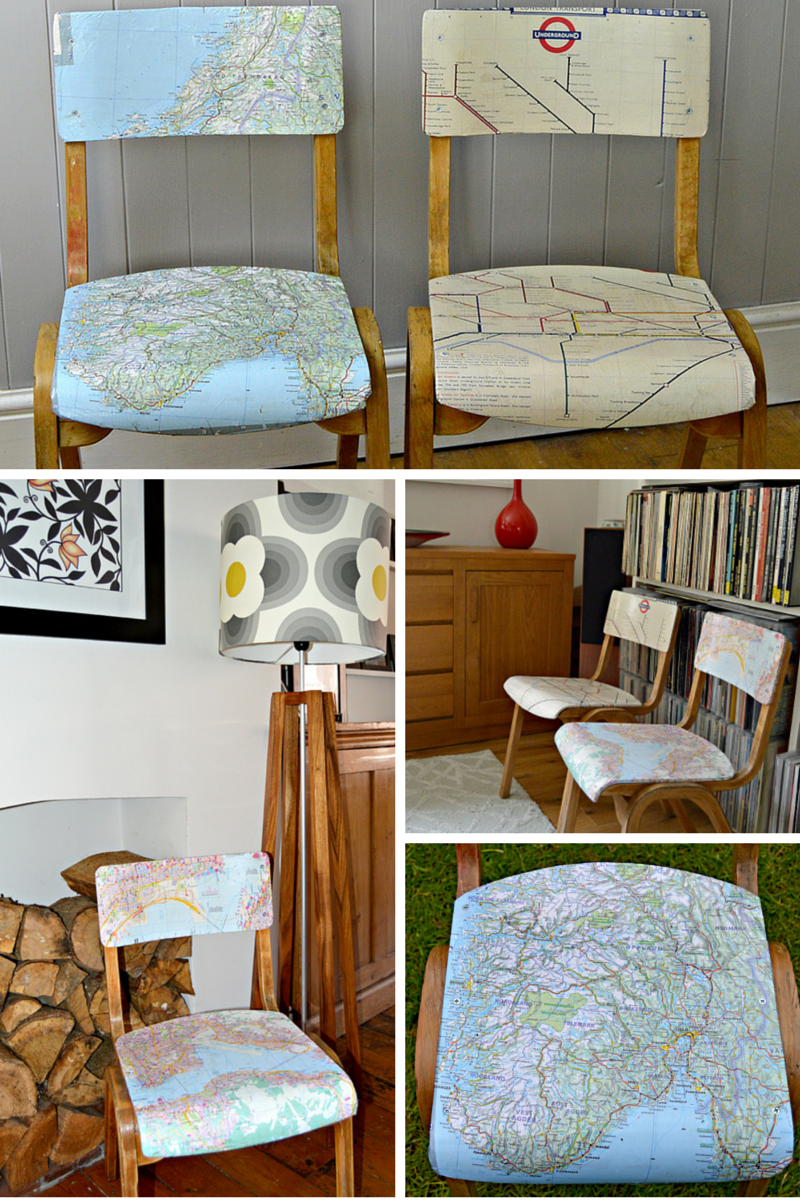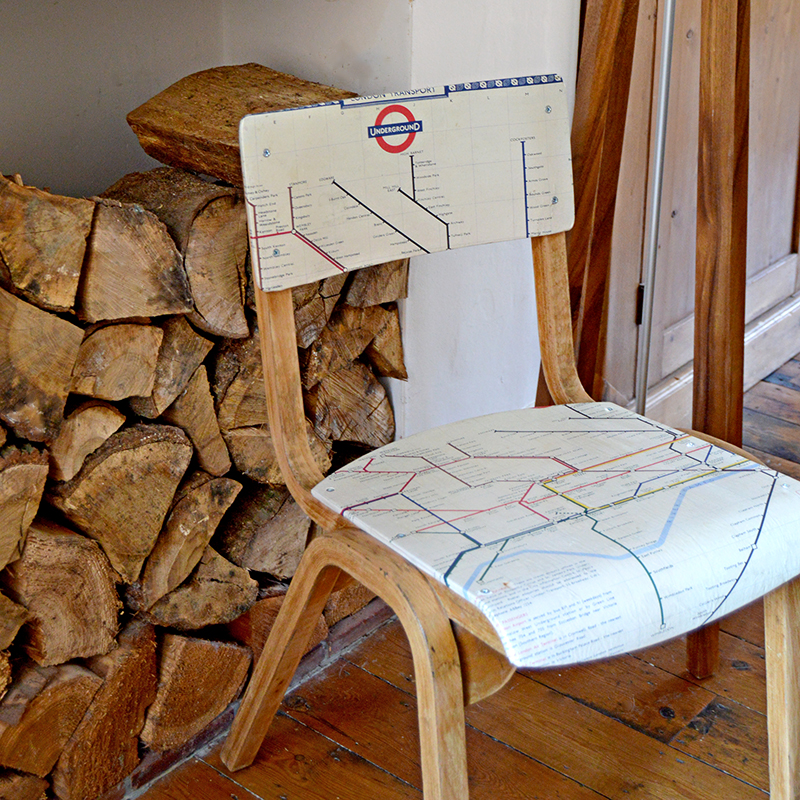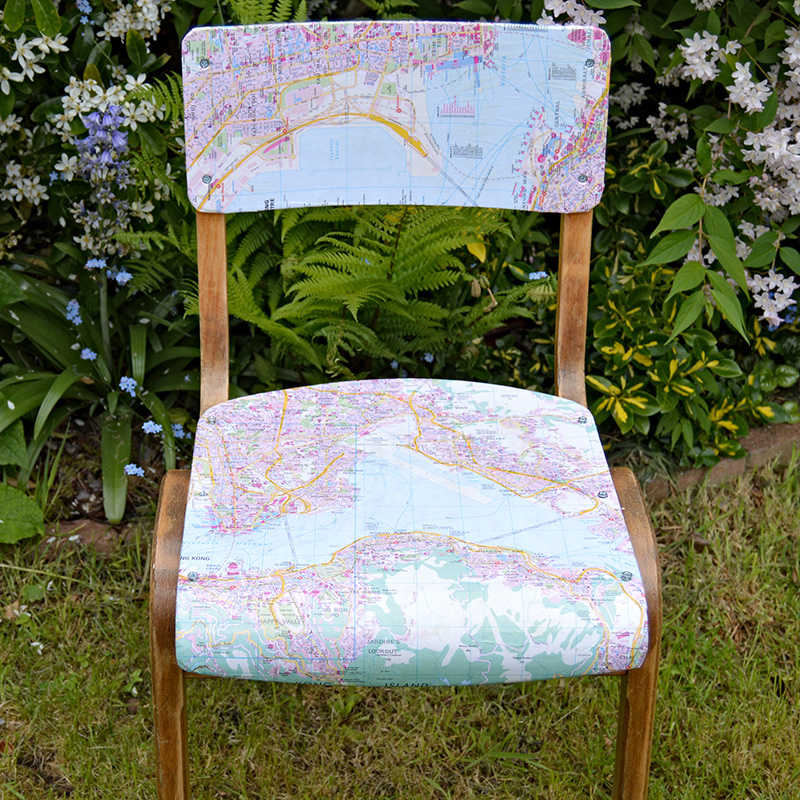 I love these chairs and may make some more for my dining room. The Hong Kong map chair has the most sentimental value for me, but I think aesthetically the London Underground Map chair is my favourite.

You might want to check out some of my other Map upcycles:
Brilliant Vintage Map suitcase
Upcycled Map Magnetic Board
IKea Hack – Map Table
Easy Map Table Mats