A Simpe but really effective Ikea Hack – Map Table
A few weeks ago I posted about how I had personalised some old wooden chairs by covering them in maps.

After reading this post my friend Leonie was inspired to make her own map project. She was in the process of revamping her teenage sons room, ready for his return from travelling around Australia and Asia. In his room was an old IKEA side table which she upcycled with a world map. Creating a gorgeous map table.

This was a really simple and quick way to transform a boring old side table into something with the wow factor. On his return her son Jack loved his new table and looking at all the countries he had visited on the map.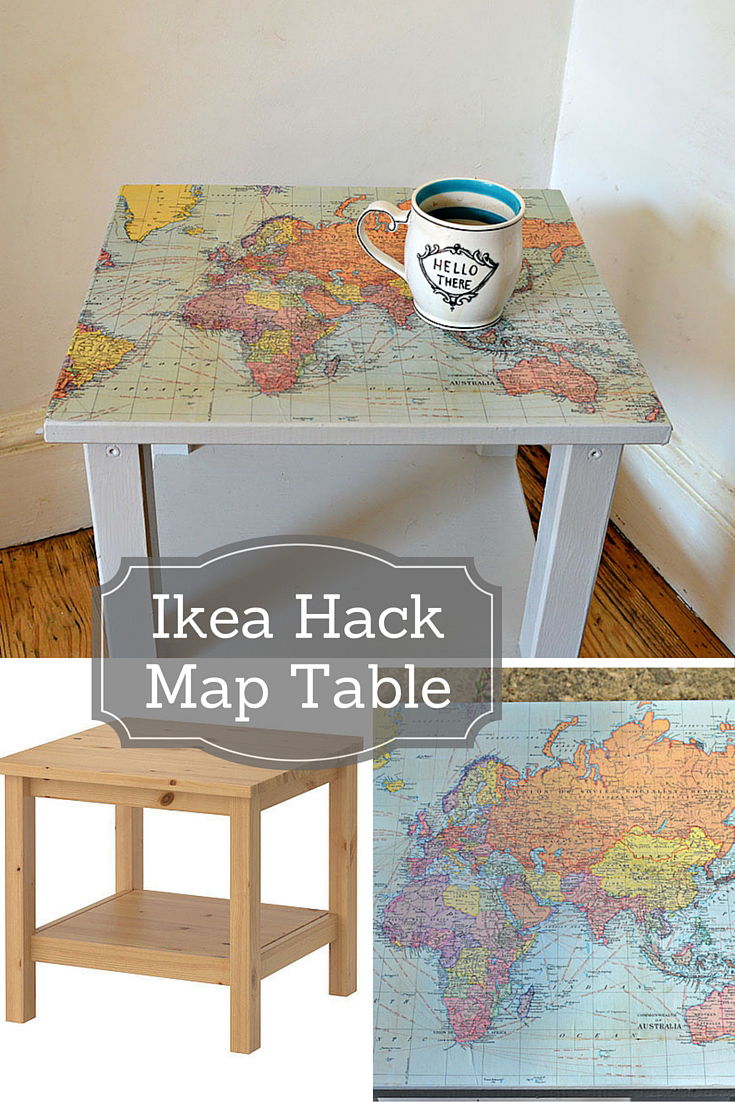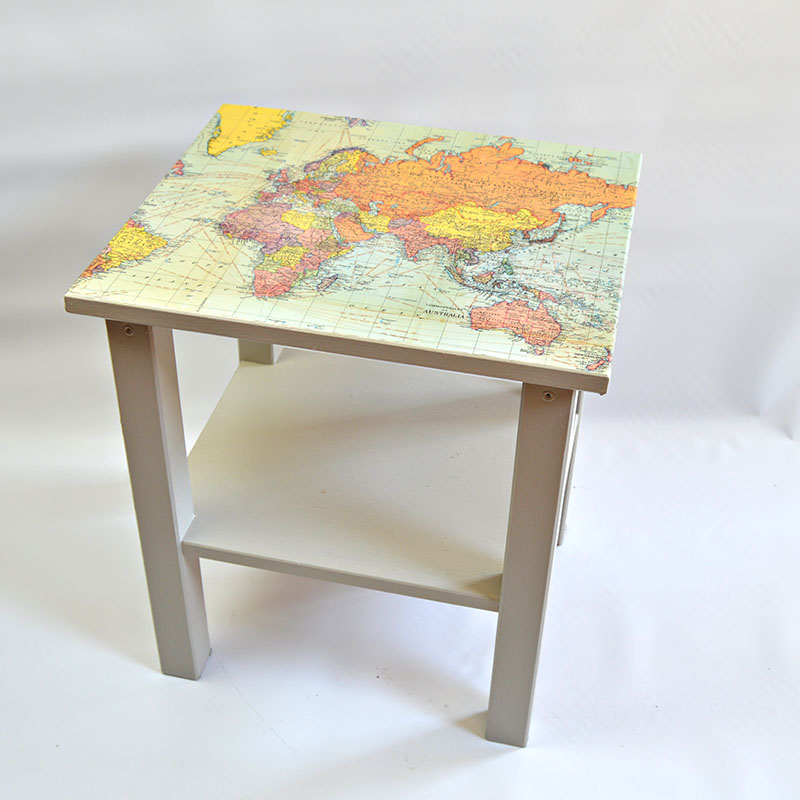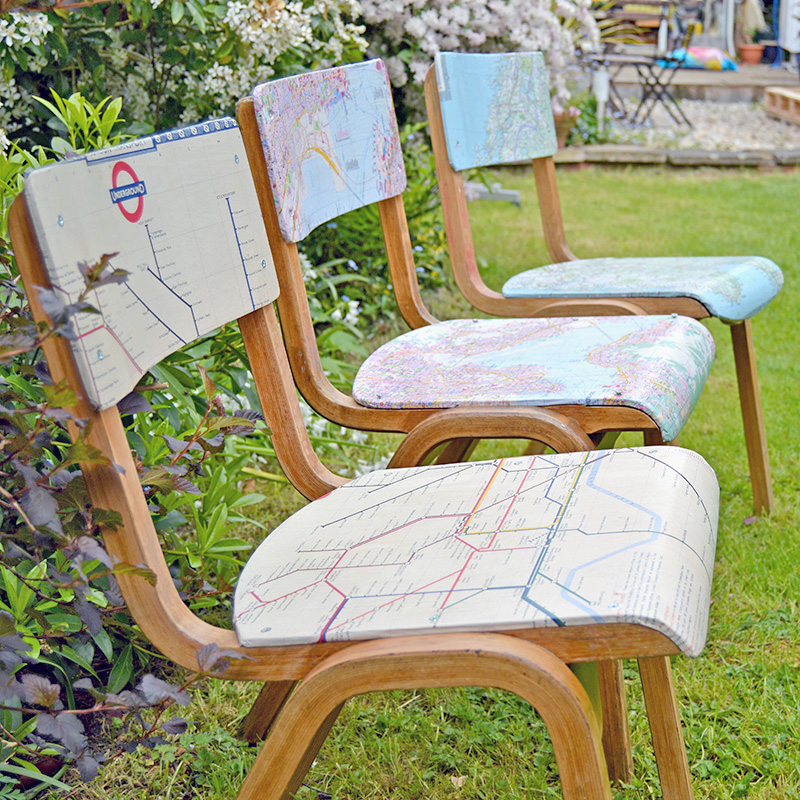 This post contains amazon affiliate links for your convenience. Click here to see my disclosure policy.

What you need to make a Map Table
Old Table – the table used here was and IKEA Hemnes table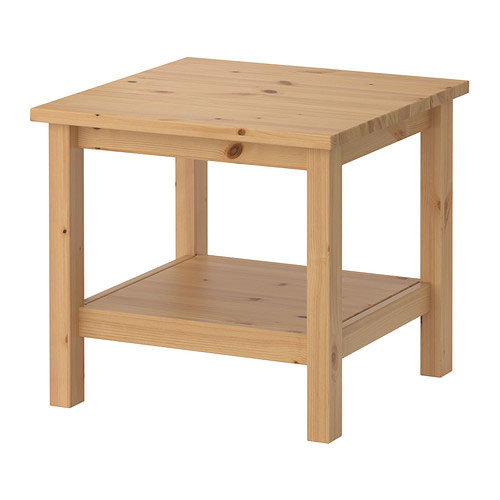 Grey chalk paint
Paint brushes
Mod Podge or PVA Glue
Acrylic Varnish or Waterproof Glue
Glue brush
Map – Map used here was a cavallini world map wrapping paper
Craft Knife
How to make a Map Table
Clean and Paint the table in the desired colour. If you use a chalk paint there is no need to sand and prep the table first.
Carefully measure out the top of the table. Roll out your Map and cut out the section that you need using these measurements
When the paint is fully dried. Cover the table top with a layer of PVA glue. Leave to dry slightly so tacky.
Place your cut out map on top of the glue using a ruler to squeeze out any bubbles.
Paint a layer of PVA glue (mod podge) over the top of the map, leave to dry over night.
Cover the table with a final protective layer this time use waterproof PVA glue (mod podge) or acrylic varnish.
IKEA Map Table Hack – Using Image Transfer
Another way to transfer a map to a table is with Mod Podge image transfer. Using Mapbox, I created a map of my favourite city, Hong Kong.

However, this time rather than decoupage I transfered the image to a table top using Mod Podge. You can see how I did it here.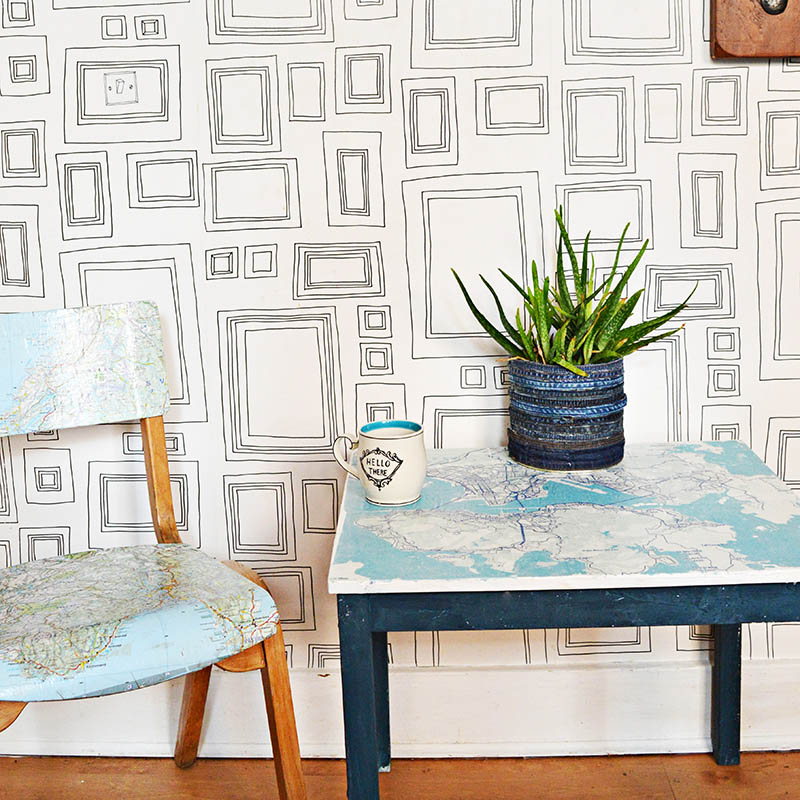 I'm really chuffed that Leonie was inspired to make her map table after reading my post and I am grateful to her for sharing her project with me. If you have any map projects I would love to hear from you. I have pinterest board dedicated to Map projects.





If you liked this post you will also like some of my other map posts:
Simple Ikea Moppe Map Hack
Easy Map Place Mats
Upcycled Map Magnetic Board and Pins
Brilliant Vintage Map Suitcase