Are you looking for sustainable holiday crafts? Dive into our art project using old Christmas cards and giving festive memories a new lease on life.
Every Christmas, our homes get a little brighter with cards filled with holiday cheer from loved ones. They find their place on our walls, mantelpieces, and sometimes even our fridges. But when the season ends, tossing them away feels like a waste, especially when they're bursting with memories.
I've made hanging Christmas card ornaments, giving our Christmas tree a personal touch of nostalgia. Each ornament told a story, a memory from yesteryears. But this year, I felt inspired to do something different.
Instead of upcycled ornaments for the tree, I wanted these cards to adorn our walls. The idea? To create a unique piece of Christmas wall art that celebrates the season and the memories that come with it.
Art projects using old Christmas cards, like this mosaic masterpiece, are not just about crafting; they're about cherishing memories. Whether you hang it in your own space or gift it, it's a beautiful blend of recycling, creativity, and the timeless spirit of Christmas.
Recycled Christmas Craft: Mosaic Art from Old Cards
We're a participant in the Amazon Services LLC Associates Program, an affiliate advertising program designed to provide a means for us to earn fees by linking to Amazon.com and affiliated sites. As an Amazon Associate, I earn from qualifying purchases.
Materials Used
Old Christmas cards
Hexagon punch or cutter
A sturdy base (like cardboard or foam board)
Frame and mount (optional)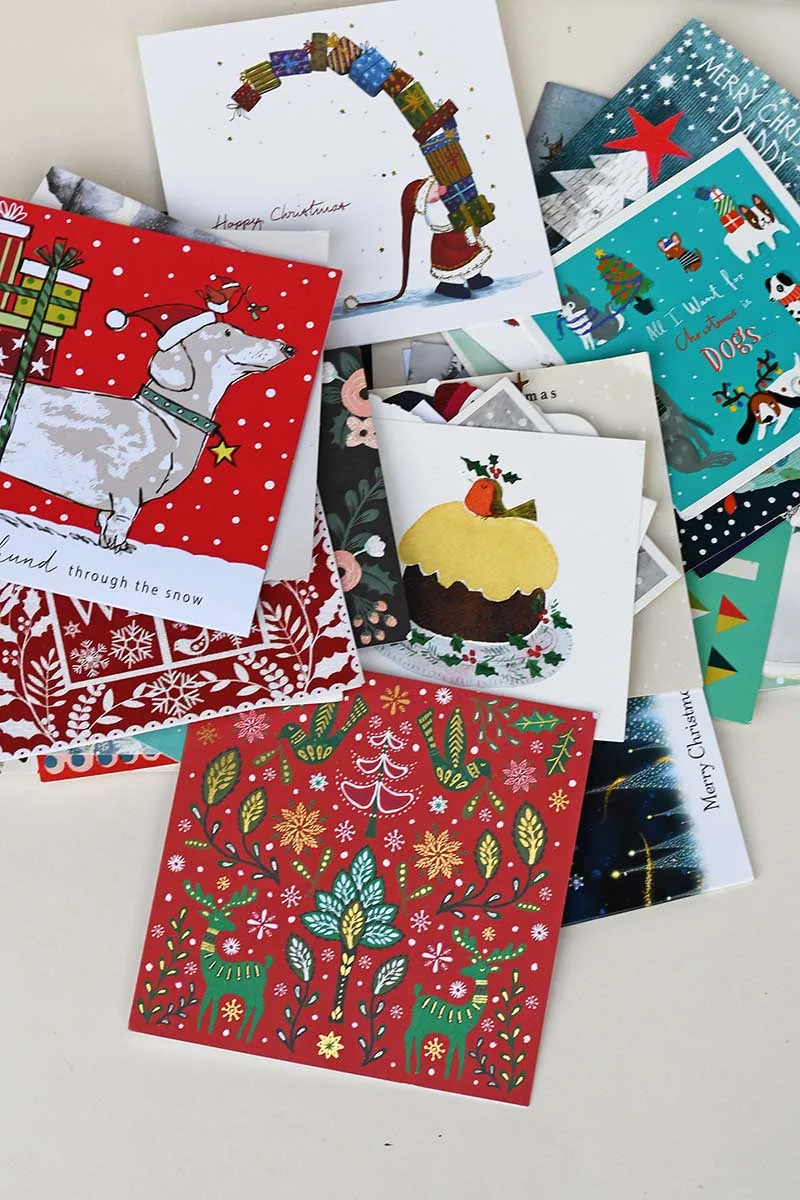 How To Make Christmas Card Mosaic
Step 1: Sorting and Selecting: Begin by sorting your Christmas cards. Group them by colour, pattern, and design. This will make it easier to visualize your mosaic and select the best pieces for your tree, sky, and snow.
Step 2: Punching Out Hexagons: Methodically cut out shapes with your hexagon punch or cutter. Remember, variety is key. Some cards might have glitter or foil accents – these can add a touch of sparkle to your mosaic!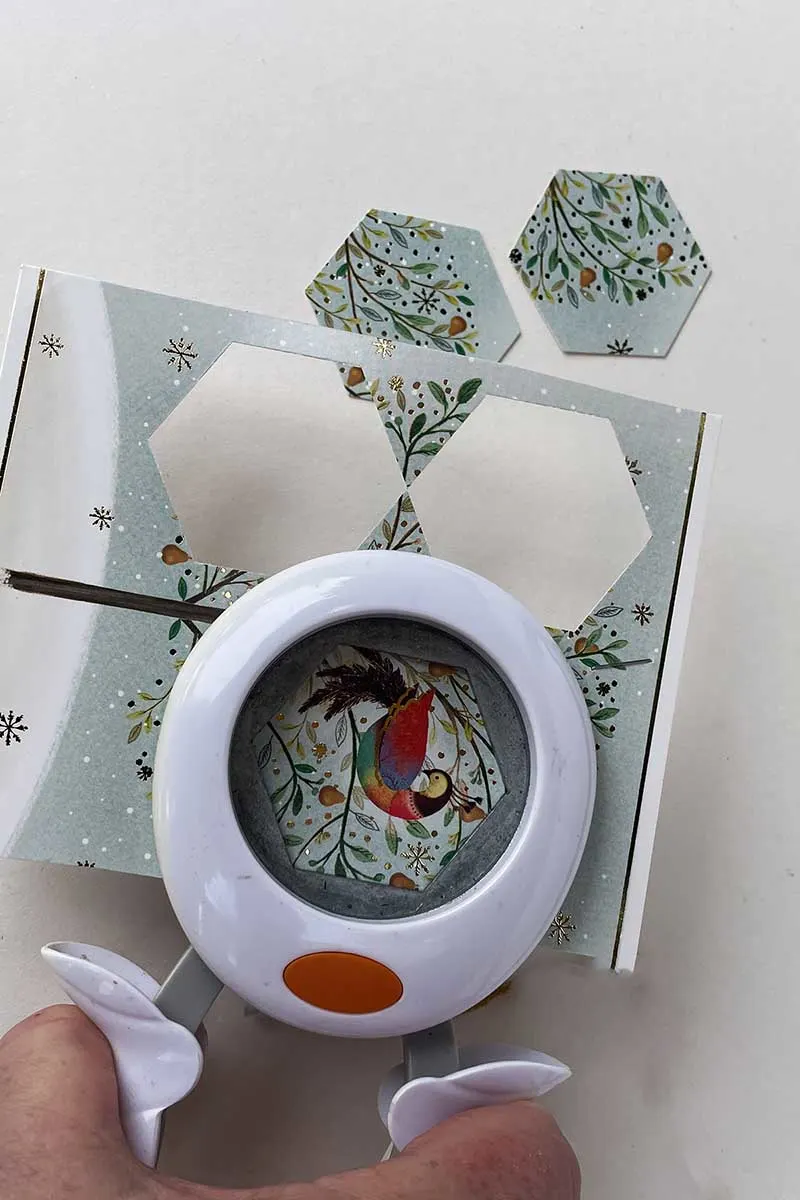 Step 3: Choose the frame and mount for the Christmas card art. A frame can elevate your artwork, making it look even more professional. Opt for a frame that complements your design. The mount will give a clean edge, especially with uneven borders. Then, mark out the area for the visible mosaic.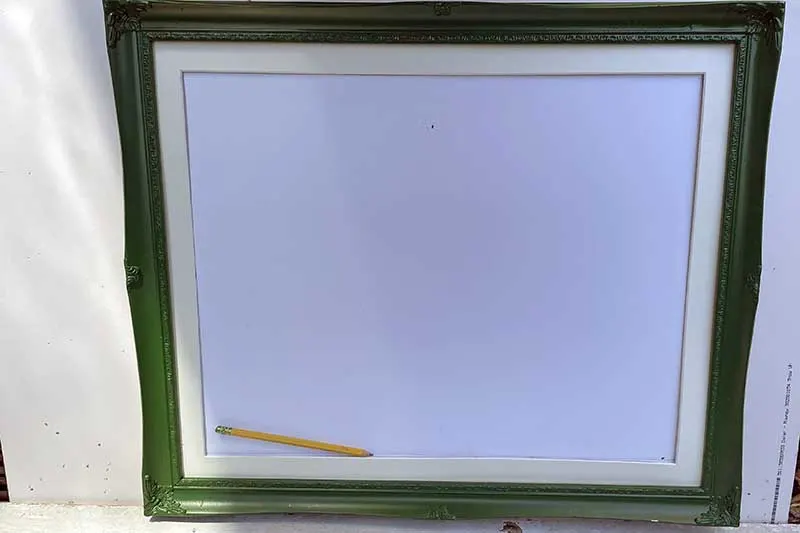 Step 4: Designing the layout: Lay your design on the base before glueing. I started with the Christmas tree, using green and red hexagons. I used white or light-coloured hexagons for the snowy ground and the sky, different shades of blue. You may want to try out other festive designs or spell words with the hexagons.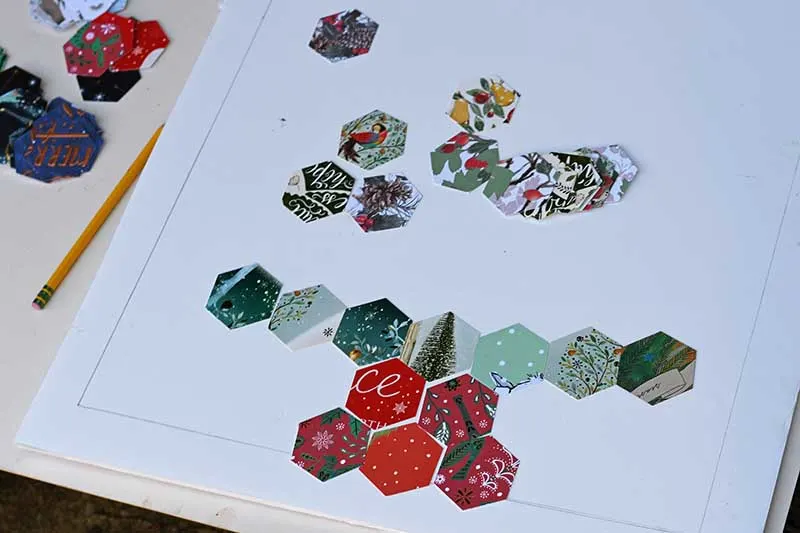 Step 5: Adhering the Pieces: Once you're happy with your layout, carefully glue each hexagon. I just used a glue stick for this.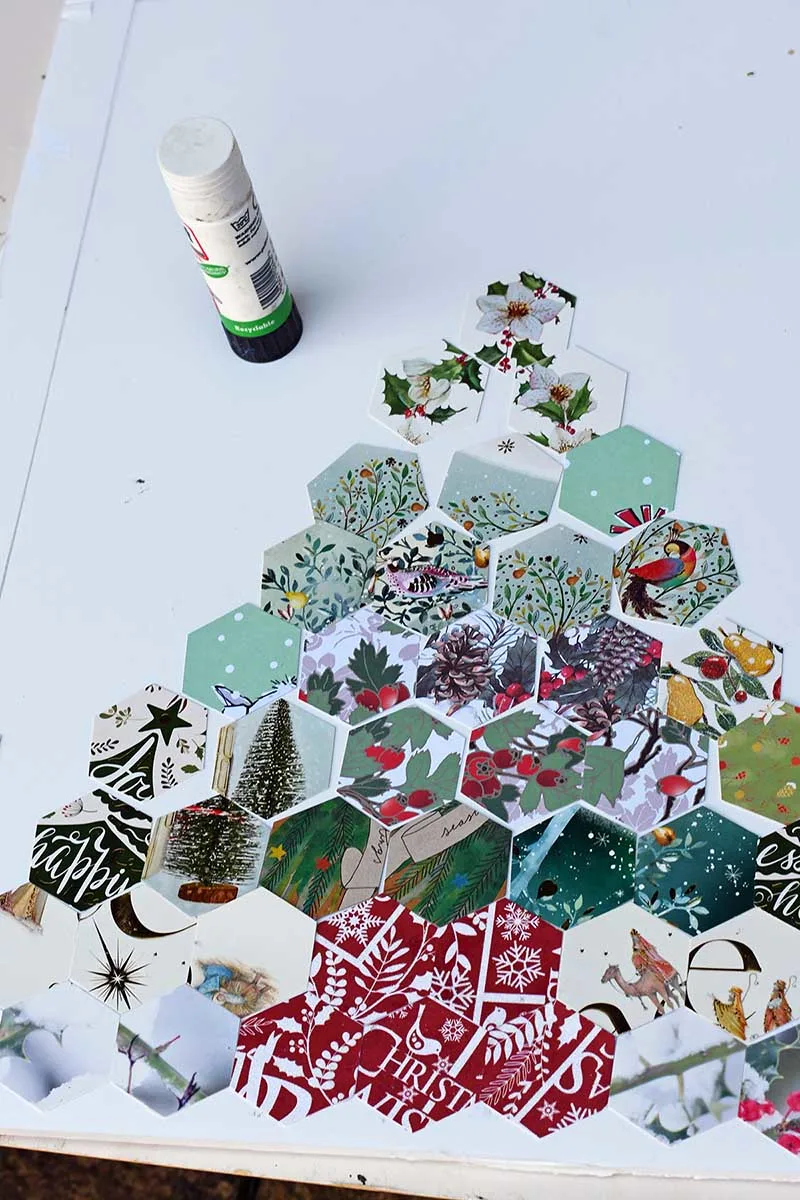 Step 6: Framing: finish by framing your Christmas card artwork with a mount.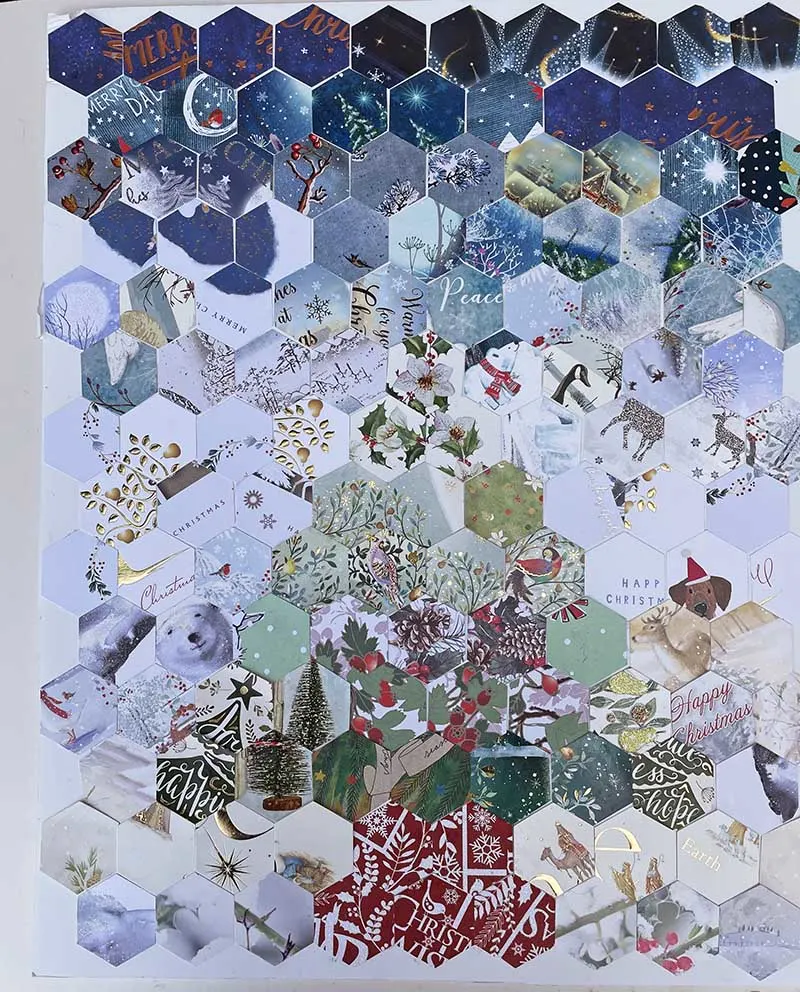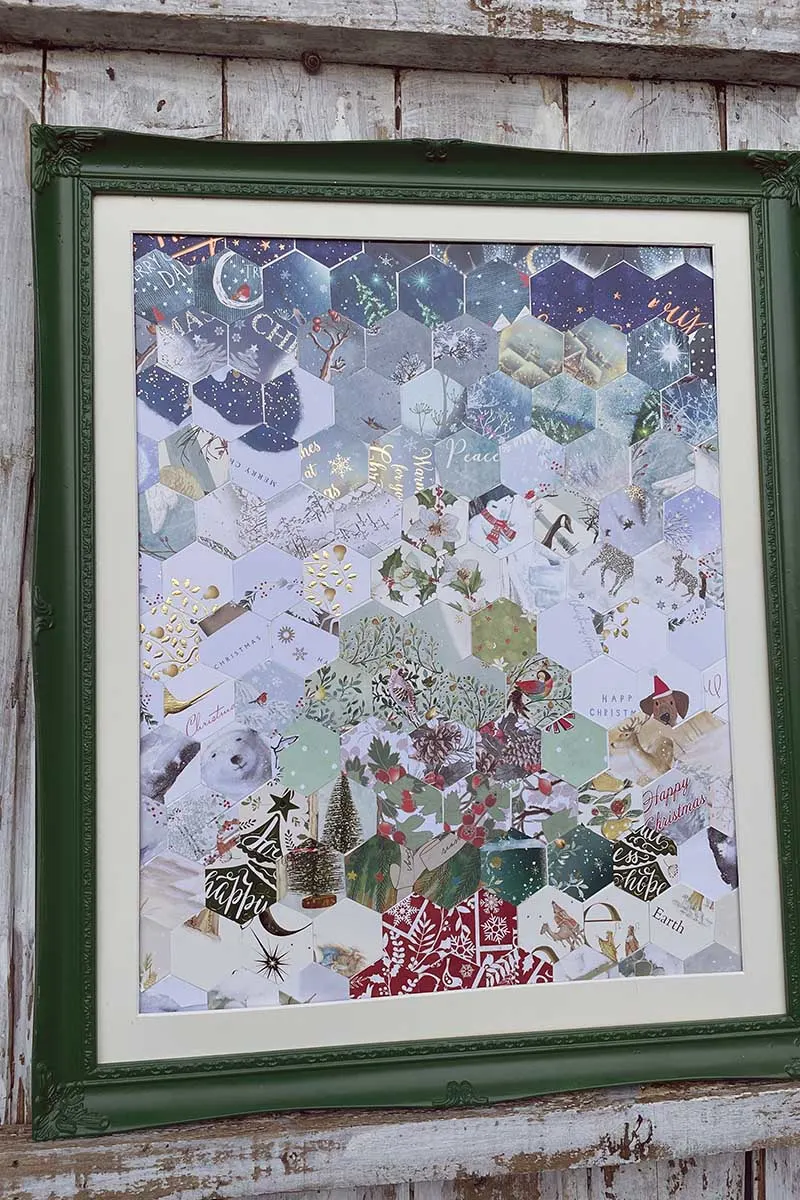 Variations & Tips
Personal Touch: Place memorable cards in noticeable spots to make the artwork even more special.
Gift Idea: This mosaic art can be a heartfelt, handmade gift with memories and love.
Incorporate Text: Use snippets of text from the cards, especially heartfelt messages or greetings, as part of your design. This can add a personal touch and evoke memories.
Use a Template: Consider using a template to aim for a specific shape or design. Place it over your base and arrange your card pieces within its boundaries for precision.
Mix Mediums: Combine your Christmas card art with other materials like ribbons, buttons, or beads. These can be ornaments on your tree design or stars in your sky.
Play with Borders: Using card pieces instead of a regular straight edge, consider creating a scalloped or wavy border. This can add a playful touch to your artwork.
Photo Integration: Some Christmas cards come with family photos. Integrate these into your design, especially if you're creating a memory-themed artwork.
Background Basics: If placing your mosaic on a canvas or cardboard, consider painting or covering the base in a neutral colour first. This ensures that gaps between card pieces don't stand out too much.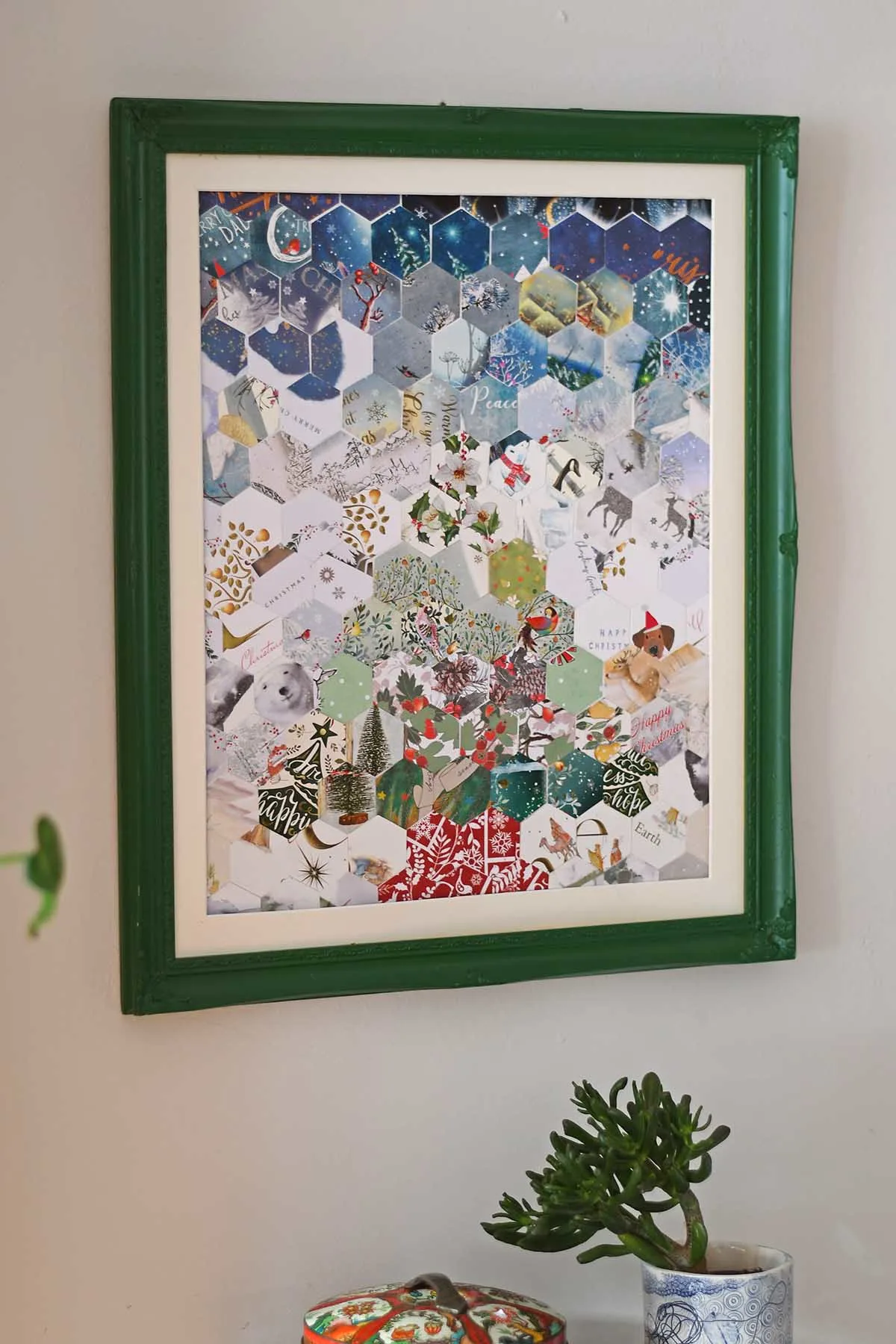 Other Christmas Crafts
There are many more repurposed and upcycled Christmas crafts on the site.
Check out these other upcycled cardboard Christmas crafts and these Christmas paper craft ideas.
Other household items that can be repurposed into eco-friendly Christmas decorations to consider are tin cans, old sweaters and denim jeans.
If you love hexagon shapes in crafting, check out all these wonderful hexagon crafts.
And you'll find some wonderful free printable vintage Christmas cards here.