Inside: Craft a hauntingly beautiful space with 25 free Halloween embroidery patterns! Explore a variety of cute designs, from mysterious spider webs to playful black cats.
As the fall season approaches, the enchanting spirit of Halloween starts to surround us. People everywhere search for ways to infuse their homes and attire with this beloved holiday's spooky yet delightful essence.
One charming way to embrace the season is by adorning your space with Halloween decor. And what could be more delightful than crafting your unique pieces? To help you in this creative endeavour, I've rounded up 25 free Halloween embroidery patterns to get you in the spooky spirit!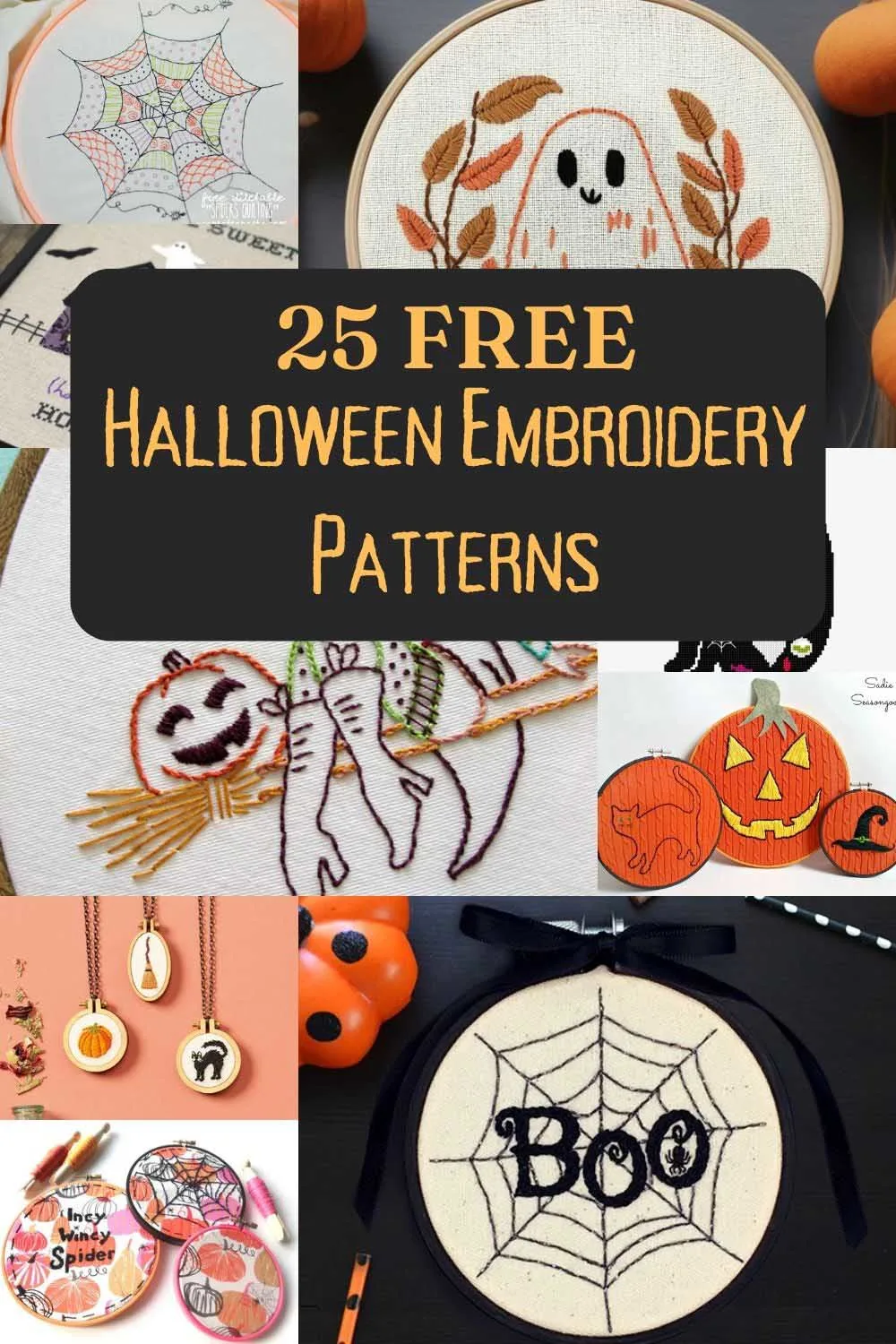 Embroidery, a timeless craft, has a way of adding a unique touch, making it a popular choice for seasonal decorations. The collection features various Halloween embroidery designs catering to every skill level.
Whether you're a seasoned embroiderer or a beginner eager, these patterns offer diverse options to bring a touch of Halloween charm into your life.
In this roundup, you'll discover many cute designs that can transform any fabric into a Halloween masterpiece. Imagine a playful black cat prancing around your cushion cover or a whimsical spider web adorning your table runner – endless possibilities!
And, if you're looking for an eco-friendly option, why not try using bamboo embroidery hoops? These sustainable alternatives add an earthy touch to your creations and align with environmentally friendly choices.
As you delve into these free designs, you might stumble upon a few that scream "Happy Halloween" in the most adorable way. These patterns are perfect for those who love to spread Halloween cheer by adding festive touches to their apparel, home or even gifting handmade treasures to loved ones. The joy of creating something from scratch and witnessing it bring smiles is genuinely unparalleled.
These Halloween embroidery pieces will undoubtedly elevate the spookiness of your space.
Magical Threads: Explore 25 Free Halloween Embroidery Patterns for a Bewitching Decor
Embrace the Halloween spirit with our collection of 25 free embroidery patterns! Craft unique Halloween decor, discover cute designs, and explore the magic of black cats and spiderwebs. Sustainable bamboo hoops are included. Let the Halloween crafting begin.
More Embroidery Design Ideas
If you are looking for Halloween machine embroidery designs, check out the embroidery online website.
Another idea is to stitch the Halloween embroideries on paper; check out my embroidery guide. These embroidered fall leaves are a great example of paper embroidery.
Or you could combine the embroidery with watercolour paints.
Remember, Christmas is not far away so you should check out these fabulous 30 Christmas embroidered ornaments.