Besides the day itself, my favourite part of Christmas is the crafting. Every year I love to make some new upcycled Christmas ornaments for the tree.
There are no fancy colour schemes of matching baubles on my tree. Instead, it is a mismatch of quirky upcycled ornaments, many of which have a story to tell.
This makes it an exciting tree to look at and often sparks conversation as people ask me about particular ornaments.
I've even personalized some of them by decoupaging them with maps of their favourite places. Or by using personal objects such as loved ones' old eyeglasses.
There is no need to visit the craft shop and buy expensive materials to craft with. It's amazing what you can make with the stuff you already have.
There is something very satisfying about upcycling and making your Christmas decorations for free. It saves you money, but you can feel a bit smug about being more environmentally conscious and not wasting resources.
I'm a huge fan of upcycling, repurposing crafts, and always looking for new ideas.
Some upcycled materials used to make the Christmas ornaments are obvious ones to repurpose. Such as wine corks and tin cans. Others, however, really think outside the box. Who'd of thought you could make an upcycled Christmas ornament out of a switch plate or eyeglasses?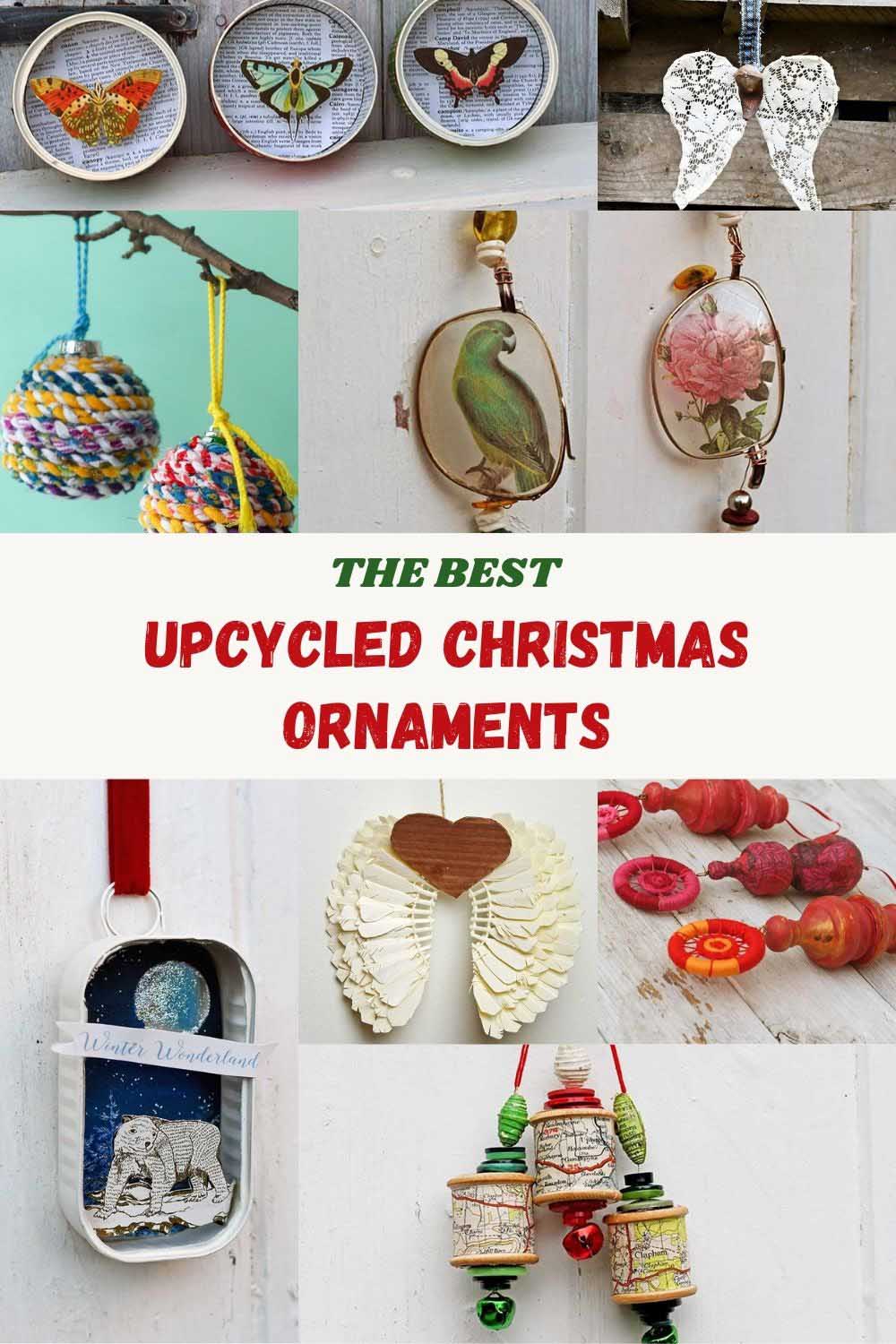 It's not just Christmas ornaments that can be made from repurposed materials; many of the cool adult Christmas crafts in this list are also made from them. You might want to check out this fabulous collection of Christmas crafts made using old jeans.
For Christmas crafts that use materials from the natural world, check out these Christmas nature crafts.
If you have made any upcycled Christmas ornaments, I'd love to hear about them in the comments. I'd love to hear about the more unusual material repurposed into a Christmas ornament.
The Upcycled Christmas Ornament Ideas
Check out these fabulous fig ornaments made from fabric scraps.
If you are looking for an alternative upcycled Christmas tree to hang these upcycled ornaments, check out these fabulous ideas. Also, there are many cardboard Christmas craft ideas, embroidered Christmas ideas and a fun collection of Christmas wine cork crafts.
You might like to check out these upcycled Halloween crafts too.