I have a thing about DIY feathers at the moment. I love to make denim feathers by fraying scraps of old jeans. This time I've made scrap fabric feathers.
It's quite a relaxing craft to do in front of a box set and doesn't require much concentration.
One night when I was making my latest batch of denim feathers, I got the idea to make these tartan feathers. The denim feathers are great but tend to be only one colour.
When you think of real feathers in nature, they are often multicoloured and patterned, not just of one colour. I thought, how can I make faux feathers colourful like real feathers?
That's when I thought of making DIY feathers with tartan fabric scraps. Tartan is a woven material like denim, so the same method of making feathers should work with both fabrics.
Tartan, Plaid & Flannel Fabric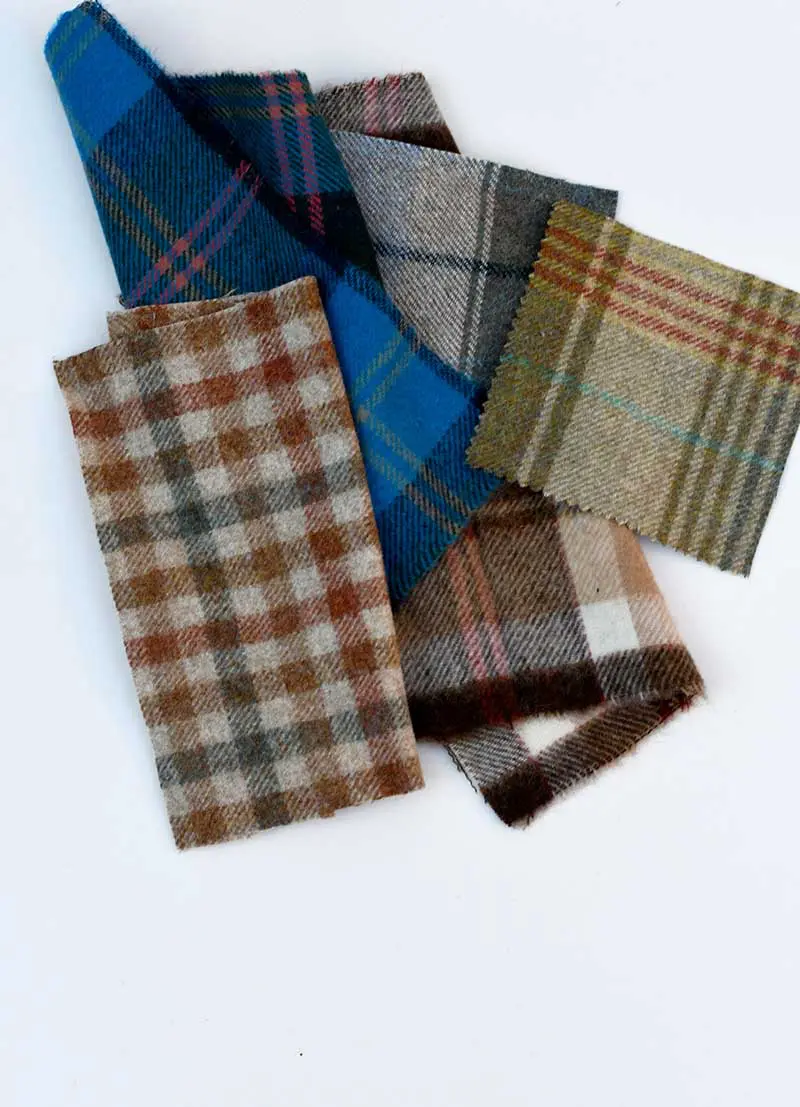 When discussing the materials, the word tartan seems to be interchangeable with the word plaid and flannel. There is much debate about the definition of each type of fabric.
Wikipedia defines tartan as a patterned cloth consisting of crisscrossed horizontal and vertical bands in multiple colours, and tartans originated in woven wool.
The site also states that the term plaid is commonly used in North America to describe tartan. Flannel is a soft woven fabric, and the term "flannel shirt" is often used casually to mean any shirt with a plaid/tartan pattern.
Having a Scottish mother, I am familiar with and drawn to the tartan fabric; that is why I have plenty of scraps. I also love to wear warm flannel shirts in the autumn, so I have some plaid scraps.
Whether you call it tartan, plaid, flannel or buffalo, check does not matter for this faux feather craft. You must ensure that the fabric scraps are woven (preferably wool) and have some checkered pattern.
We're a participant in the Amazon Services LLC Associates Program, an affiliate advertising program designed to provide a means for us to earn fees by linking to Amazon.com and affiliated sites. As an Amazon Associate, I earn from qualifying purchases.
What You Need To Make The DIY Feathers
Scraps of woven woollen fabrics, tartan, plaid or flannel. Old plaid shirts or upholstery fabric samples would work well with this faux feather craft. The more colourful the fabric pattern, the brighter the DIY feathers will be.
Needle and threads in assorted colours
Black Sharpie
Scissors
Feather's template (free to download on the denim feather tutorial).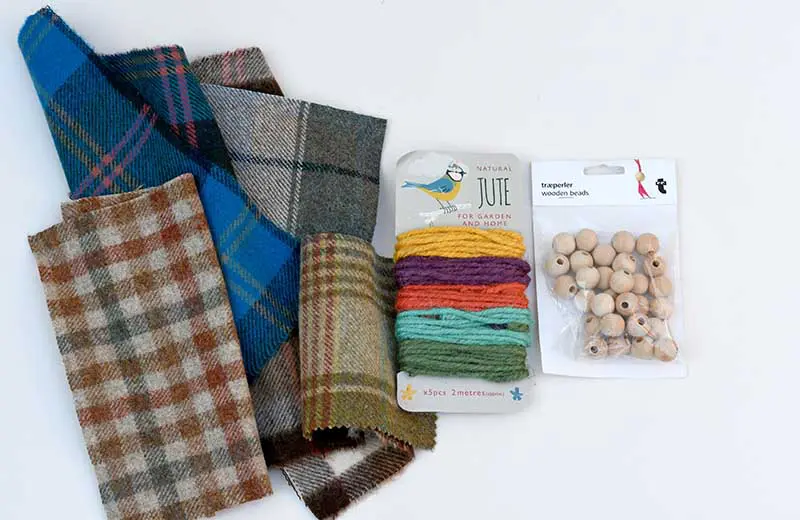 How To Make The Scrap Fabric Feathers
Step 1: Download the feather template from the denim feathers page (see link above). Or draw your feather shape on paper. Cut out the feather shape in the size you want to make your faux feathers.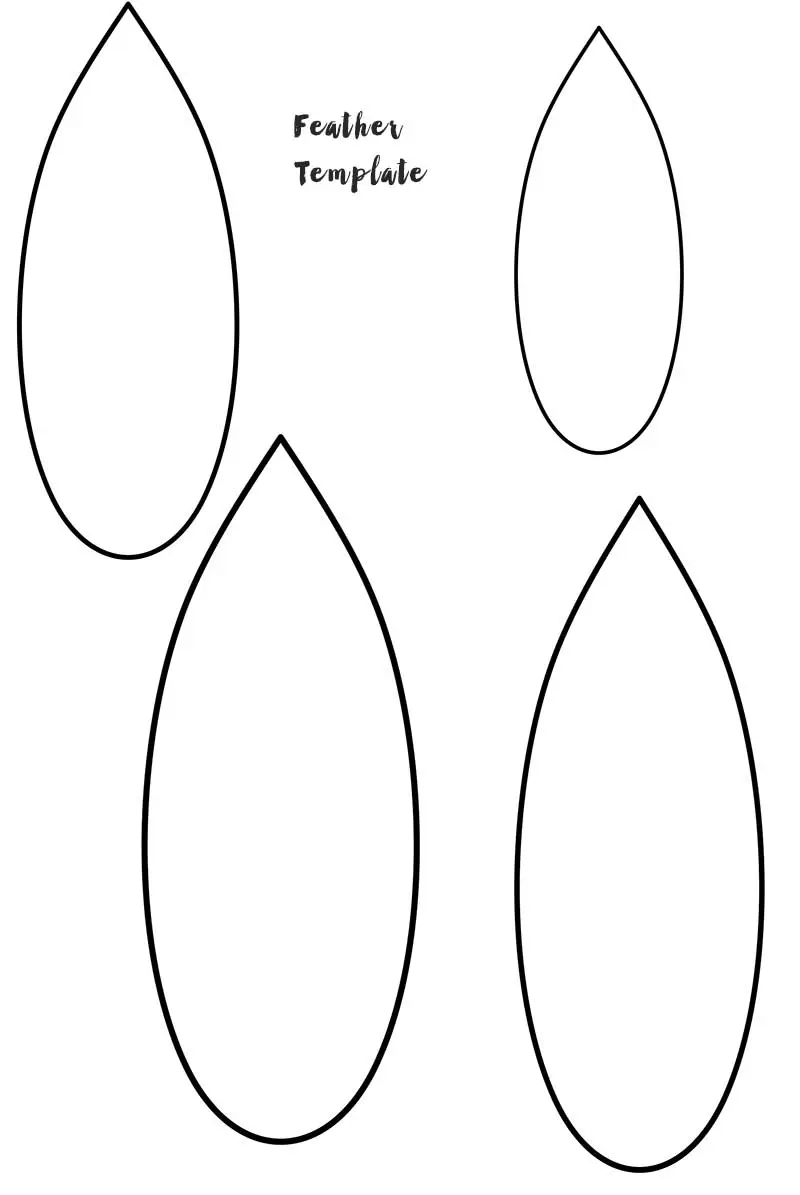 Step 2: Place the feather shape onto a scrap of tartan fabric and draw around it. Depending on which way you lay your feather, the pattern and colour of your feathers will vary. Cut out the feather shape with a pair of scissors.
You must lay the feather template in the same direction as the fabric weave, horizontally or vertically, but not at an angle.
My fabric scraps were large enough to make two feathers, so I made one feather in each weave. I laid the feather template horizontally for one faux feather and vertically for another.
This gave me two DIY feathers in different patterns and colour combinations from the same scrap fabric.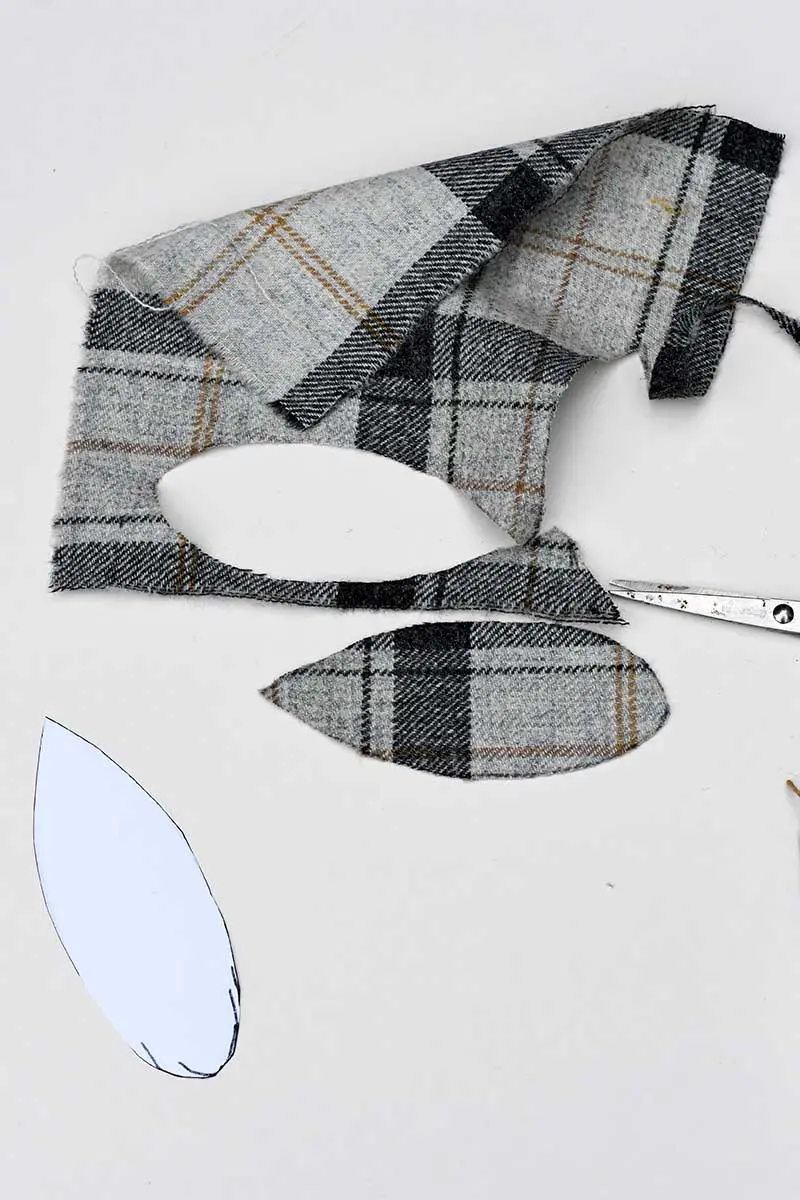 Step 3: Cut a twine length of about 30-40cm. This twine will not only form the centre spine of the feather but also give you something to hang the DIY tartan feathers with.
Lay the twine down the centre of the faux feather shape. I then stitched the twine with a needle and cotton, the same colour as the fabric. I used a simple stitch around the twine to keep it in place.
Stitch the whole length of the faux feather spine.
You can glue the twine in place instead of stitching, which is what I did with the denim feathers. However, I thought I would stitch in the twine spine this time as I thought it would look better with the tartan/plaid fabric scraps.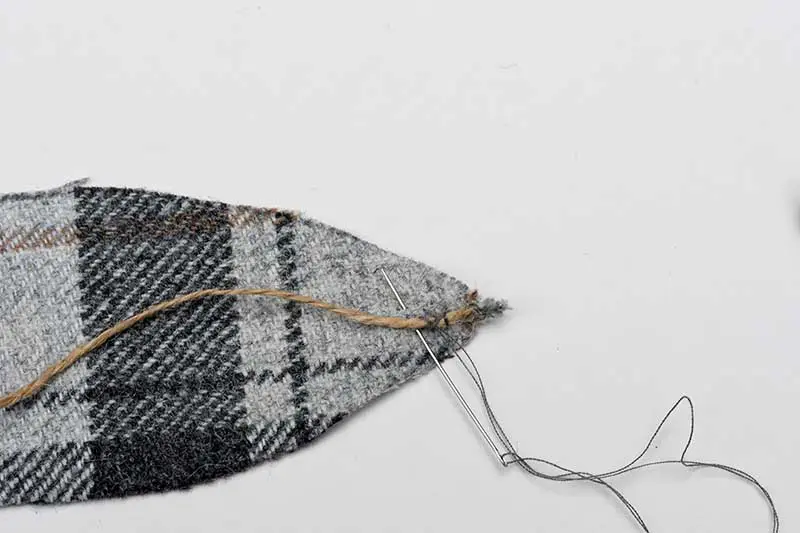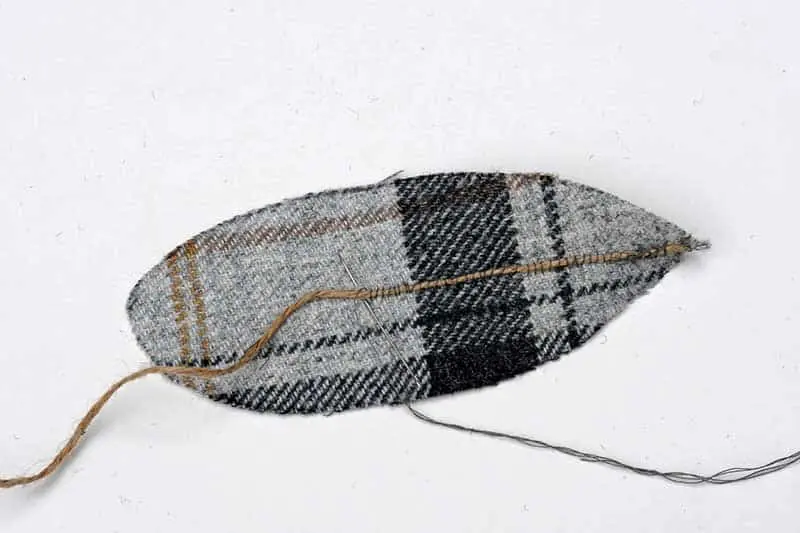 Making The Faux Feathers By Fraying
Step 4: Once the twine spine is firmly in place, it's time to turn the scrap fabric into a feather. To do this, slowly pull out the threads from the long sides of the fabric scraps.
Pull the feathers out one by one until you reach the centre spine. Make sure you pull the threads out on both sides of the centre. You are just fraying the woven fabric.
I've also used this method to make frayed tartan cone Christmas trees.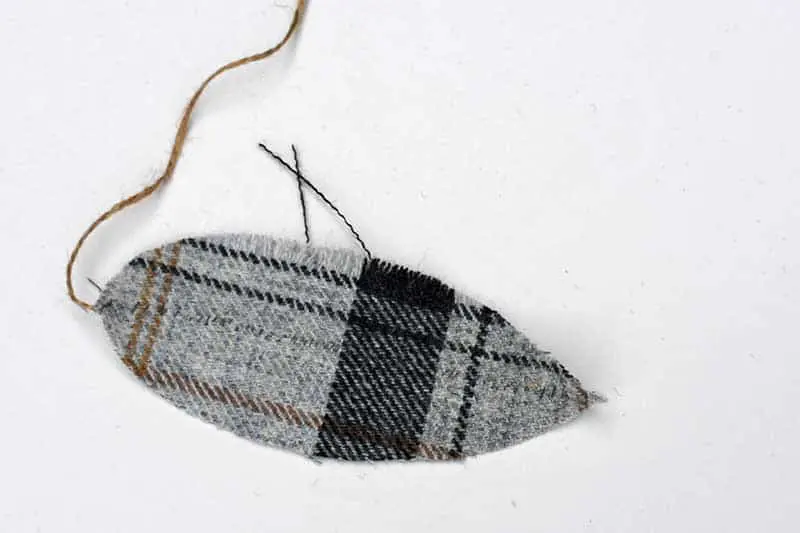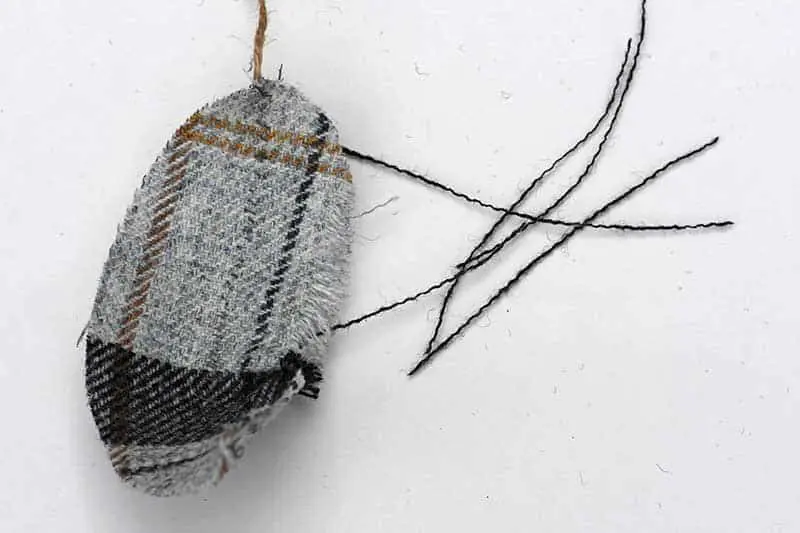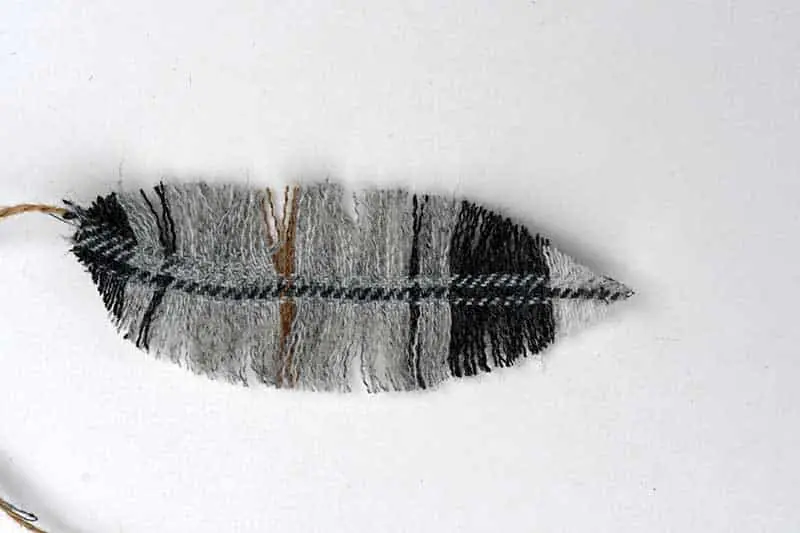 Top Tip: If the fabric is tightly woven, it may be challenging to pull the threads. Especially as you get to towards the centre spine, I find if this is the case using a pin to tease out the lines one by one helps.
Also, a bit of patience too!
Step 5: I added wooden beads to finish these DIY feathers. As well as being decorative, the beads add a bit of weight to the light feathers, which helps them hang better.
Place the two feathers you made from the same piece of fabric together. Tie their twine lengths with a simple knot, then thread two beads onto the twine.
The knot is to stop the beads from slipping.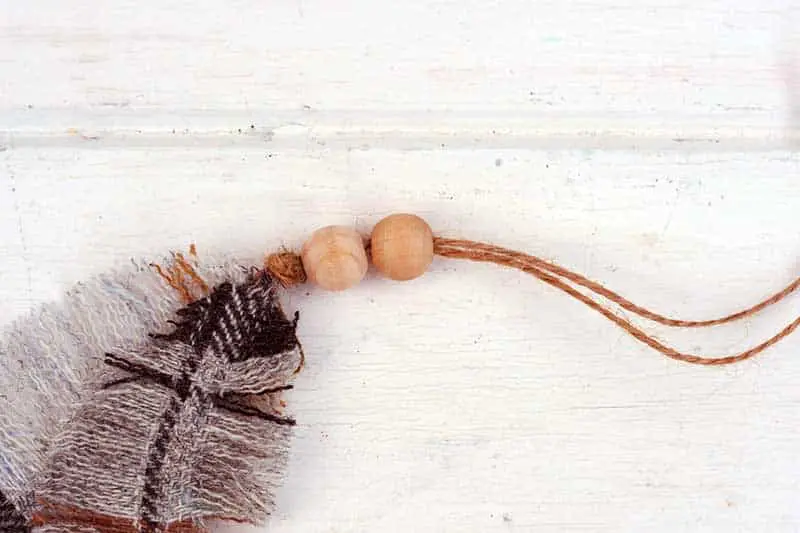 Even though both tartan feathers are made from the same fabric, their colours and patterns will vary.
This is because of the different coloured threads pulled from each feather. The colours will depend on whether the feather was cut vertically or horizontally from the tartan/plaid fabric.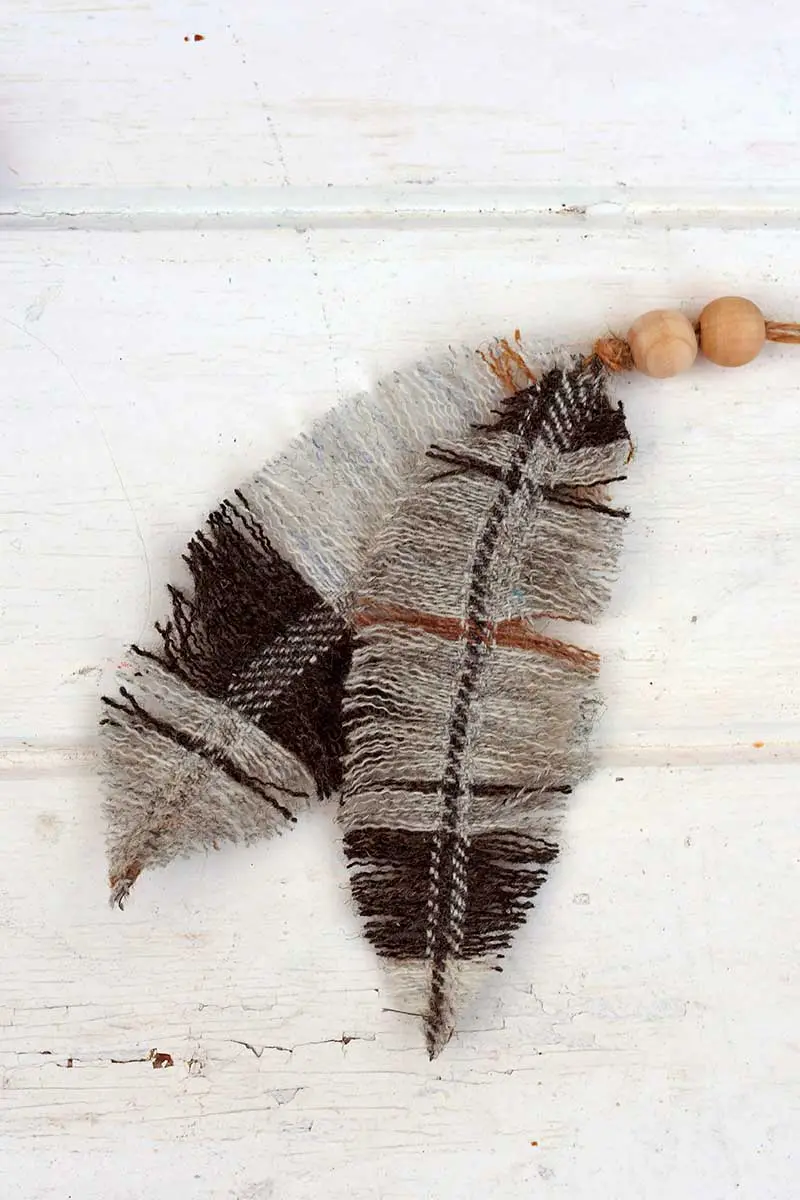 This is illustrated more clearly with the red tartan feathers below. Again both DIY feathers were made from the same upcycled plaid shirt.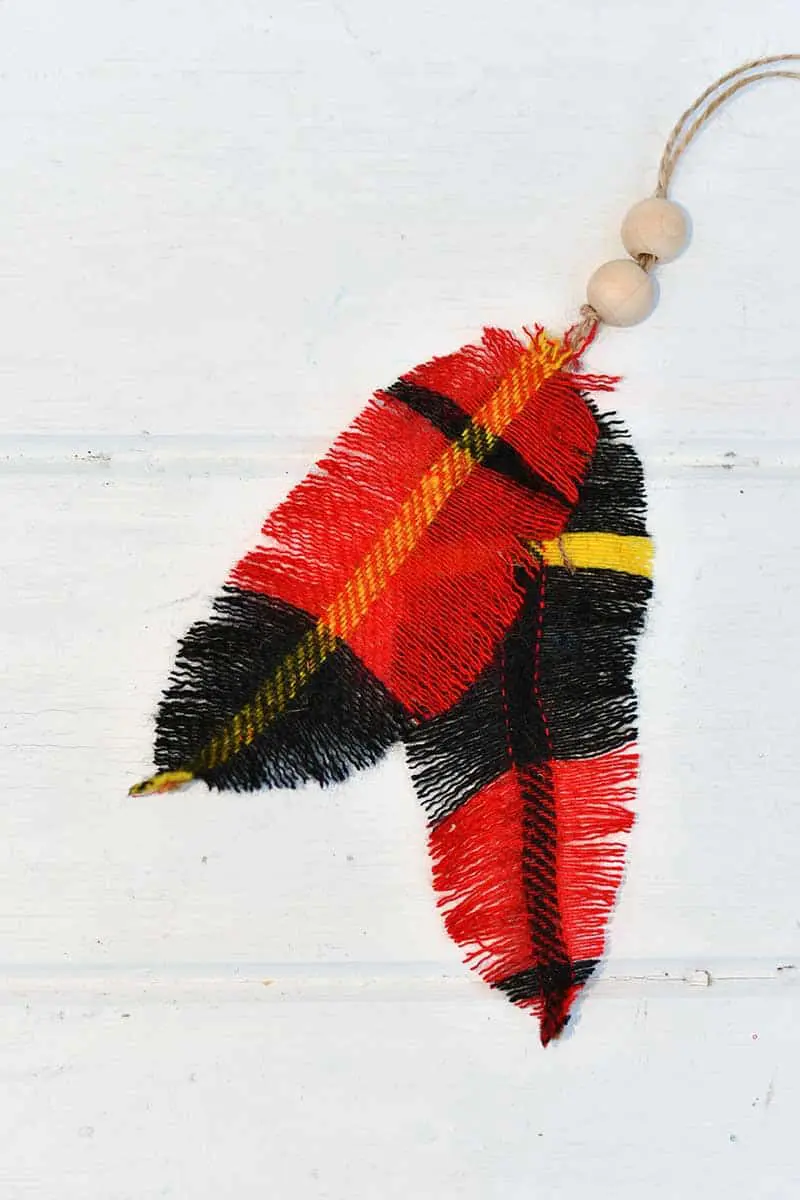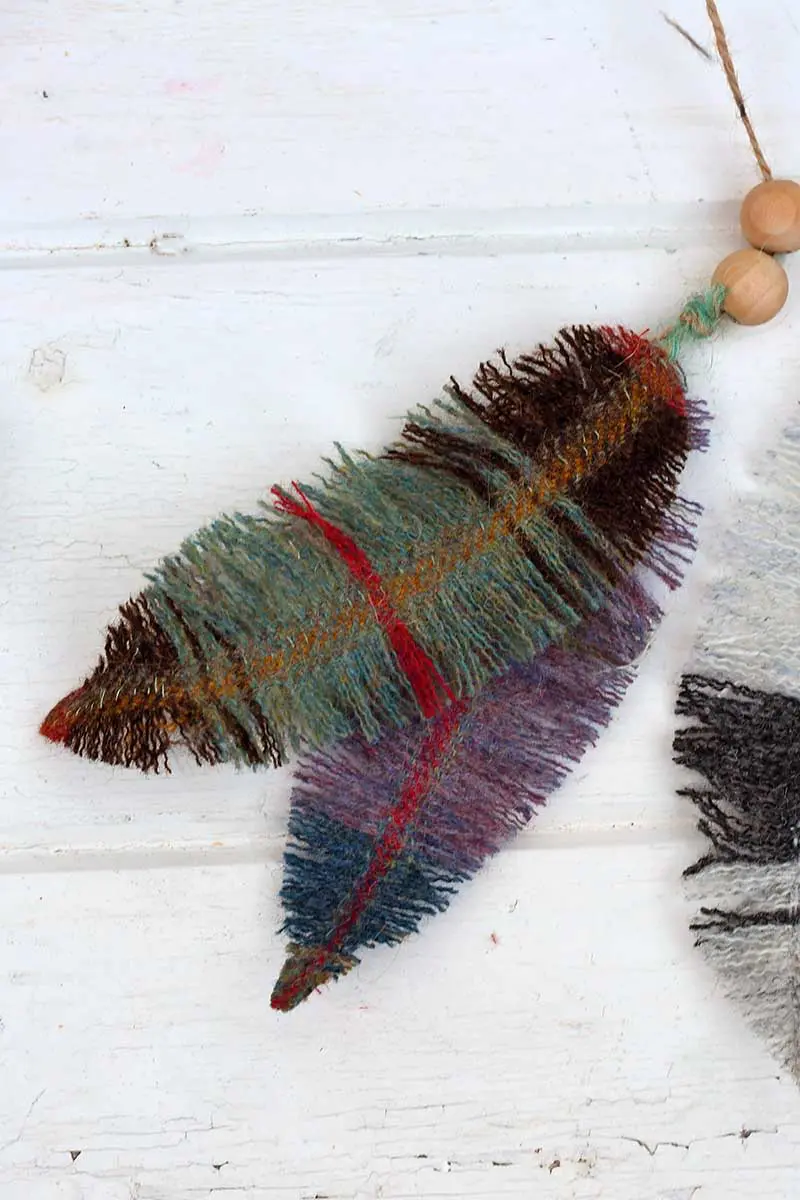 What To Do With The Faux Feathers
Once you start making these DIY feathers, they get pretty addictive. Trying out different plaids and tartans is exciting to see how these faux feathers turn out.
I imagine them coming from some exotic-looking tartan Scottish bird!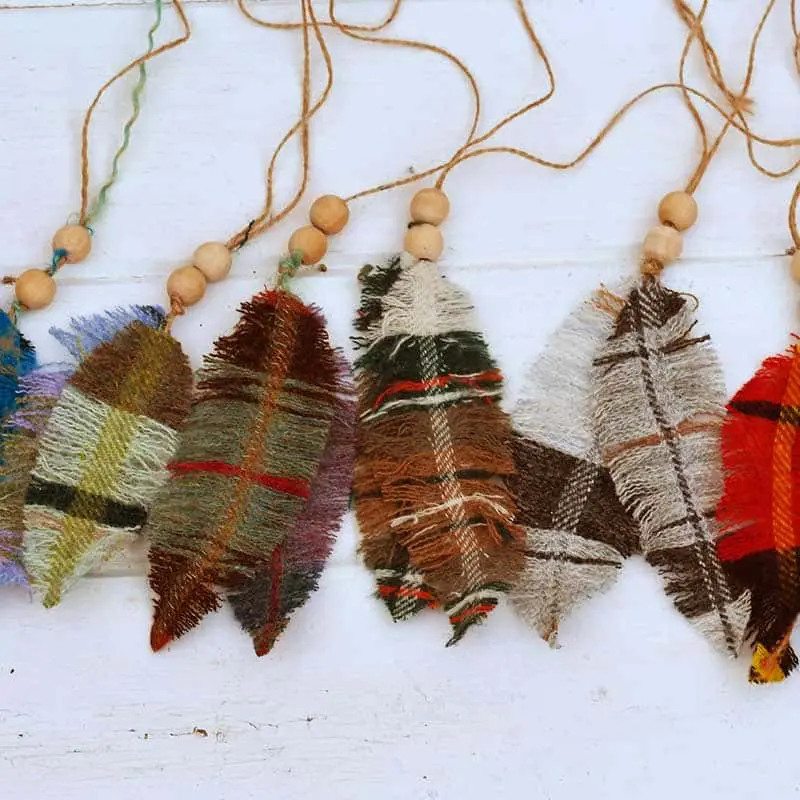 I decided to display my colourful array of tartan feathers on a simple wall hanging by simply tying them to an old branch.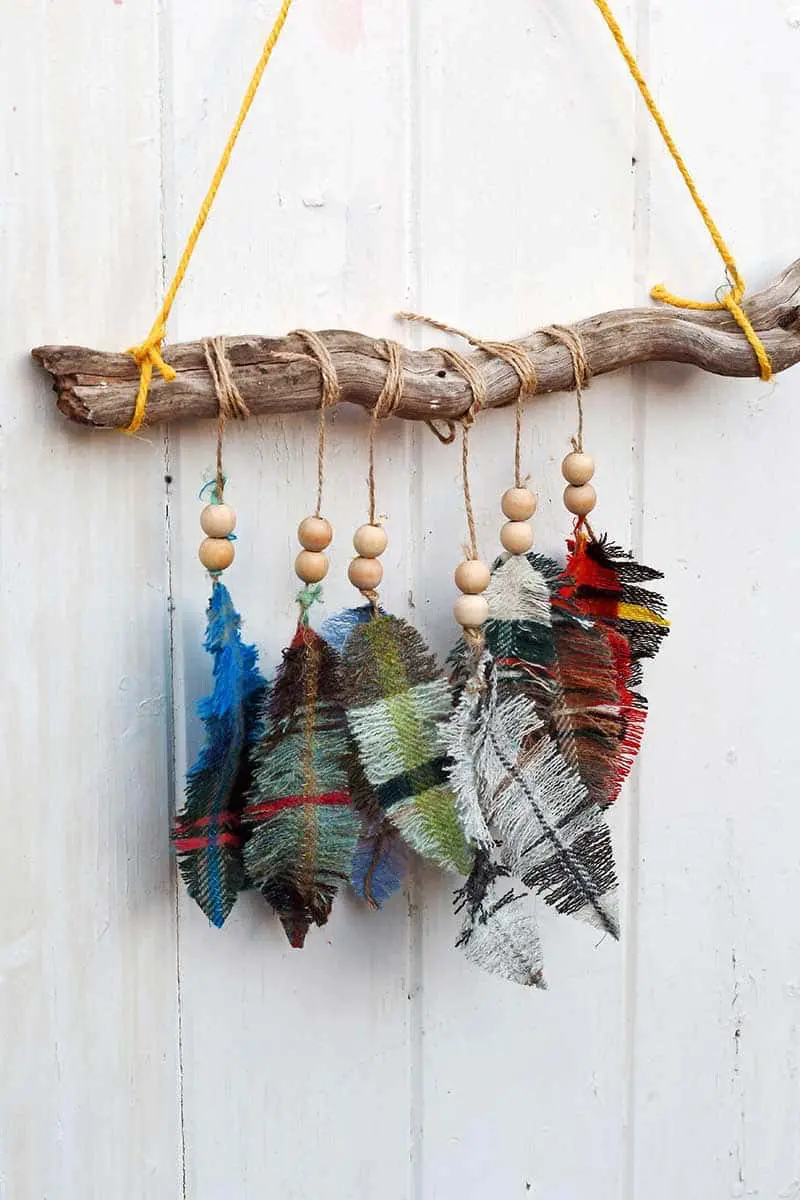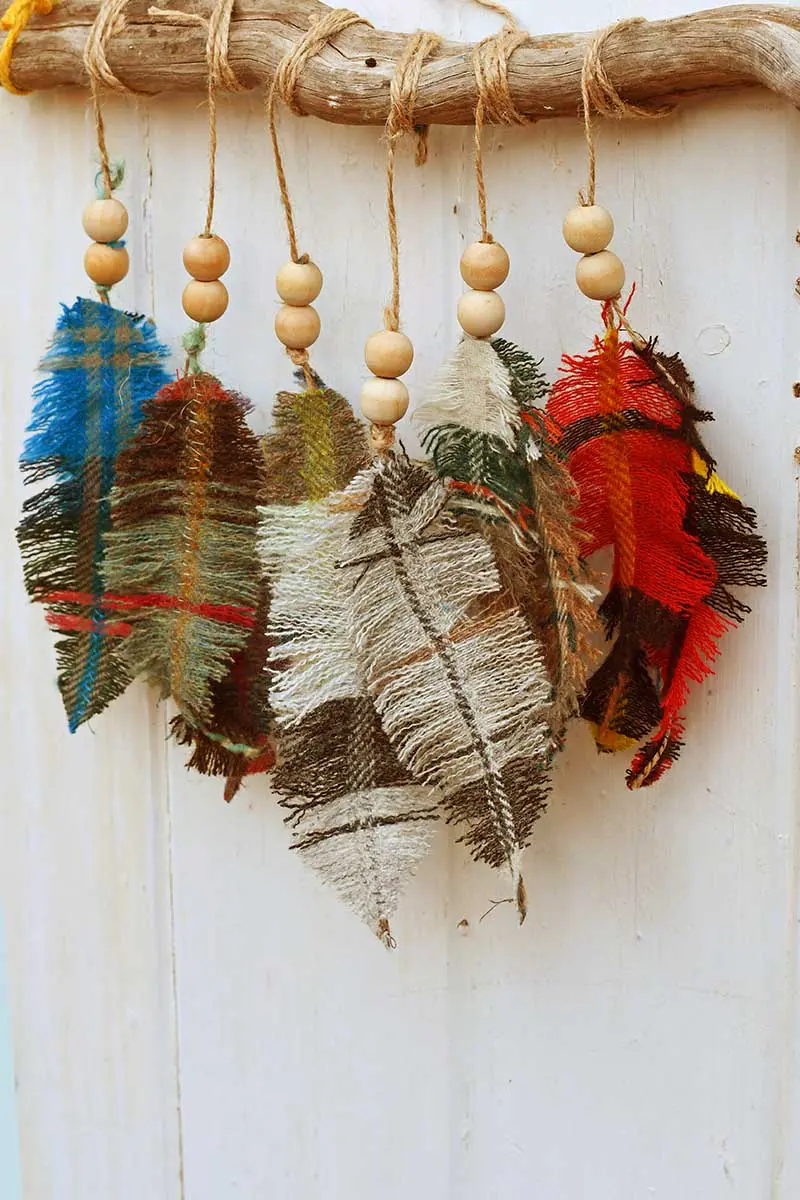 Smaller feathers would make fabulous earrings. All you need to do is add a simple earring hook. They would also make a great necklace.
I've even made a DIY feather lampshade before, but that took a lot of feathers. I will make these colourful feathers and garlands with them or use them to adorn planters or even just as cute present toppers.
Ask relatives and friends if you don't have tartan or plaid clothes to upcycle. I have seen bundles of tartan scraps available on sites like eBay. I've used tartan skirts before to make some cool Gucci-inspired tiger pillows. Check out these other tartan craft ideas.
Charity and thrift stores are also excellent places to hunt out tartan and plaid clothing. If you are a bit cheeky, a good source for woven tartan and plaid is free fabric samples, especially those from upholstery stores. As you only need tiny pieces of fabric to make these craft feathers, fabric samples are perfect.
As well as making feathers out of fabric, you can make them out of paper. I made some map feathers from old road maps for a large paper angel wings art to hang in my bedroom.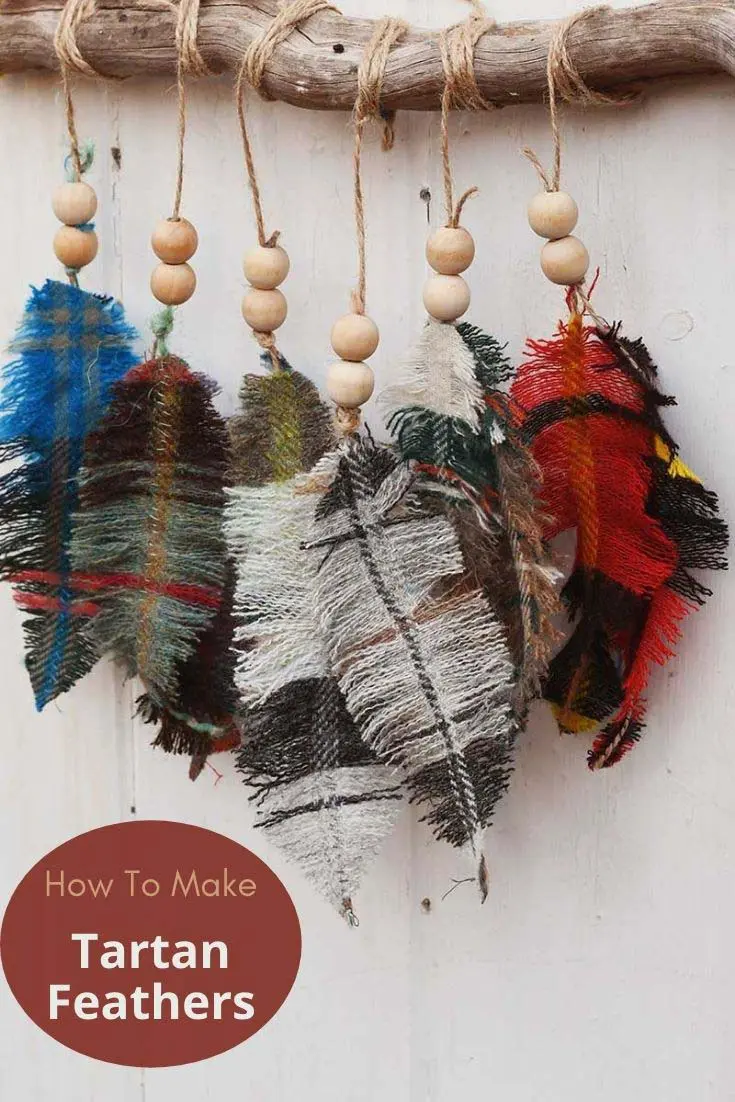 Any tiny leftover tartan scraps can make a Scottish version of these trendy denim earrings or even fabric poppy pod decorations.
I also used some of these tartan and tweed fabric scraps to make myself a forest of Scottish tartan mini trees and tartan Scottie dogs for my Christmas mantle.
Yield: Tartan and Plaid Faux Feathers
Tartan & Plaid DIY Feathers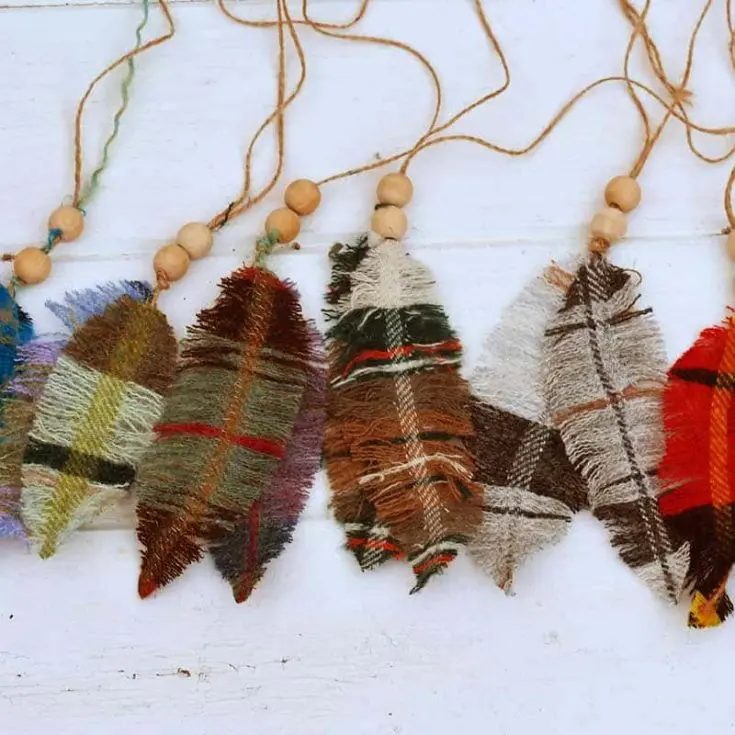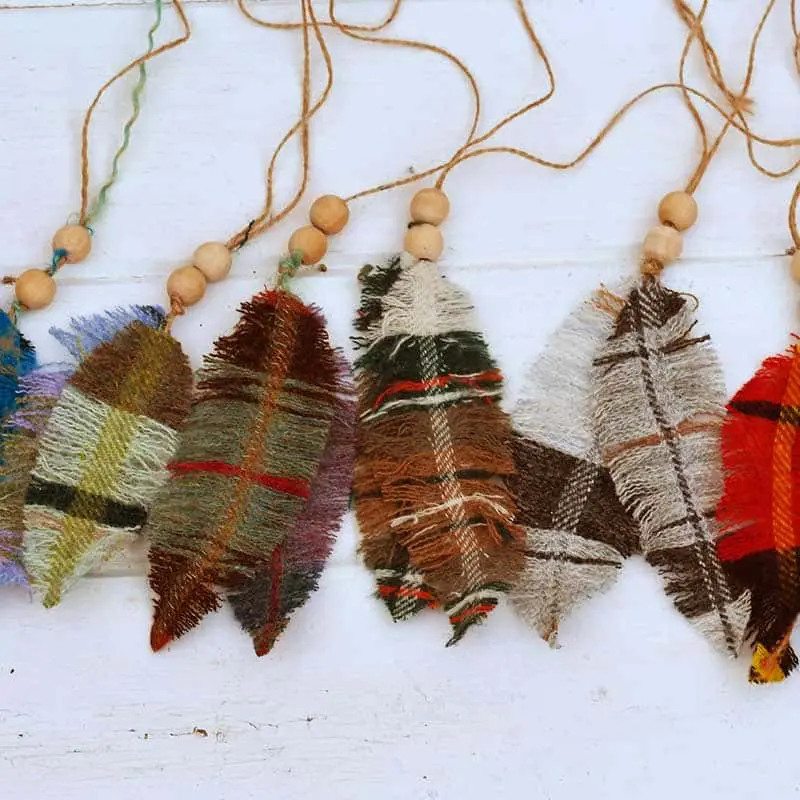 These fabric DIY feathers are made in a very similar way to my very popular denim feathers. They are made with scraps of tartan and plaid fabrics which gives them lovely patterns and colors. I warn you this is an addictive feather craft, soon you'll be wanting to make feathers out of your old plaid shirts.
Materials
Scraps of woven wool plaid or tartan fabrics
Natural twine
Wooden beads
Instructions
Download the feather template from my denim feathers tutorial.
Cut out the feather size you want to make from the template
Place the feather shape onto the fabric lying in the same direction as the weave. Draw around the feather shape with a sharpie.
Cut out the feather shape.
Cut a length of twine 30-40cm long.
With a needle and thread stitch the twine down the center of the feather shape so that it acts as a spine. Use a simple stitch around the twine.
One by one plug the threads from the long edge of the feather shape. Start at the outside edge and remove the threads one by one until you reach the center spine.
Remove the threads on both sides of the spine.
Make another feather this time cut out the shape with the template at 90 deg to the first feather.
When the two feathers are finished tie them together by using a simple knot in the twine.
Thread two wooden beads onto the twine.
Hang from a twig using the excess twine.
Recommended Products
As an Amazon Associate and member of other affiliate programs, I earn from qualifying purchases.