Inside: A step-by-step DIY to make denim earrings with a Boho style from jeans and cardboard scraps.
I don't wear jewellery every day, but I love adding a couple of pieces when I'm going out somewhere. For me, jewellery is not about showy expensive items but a chance to hint at my personality.
I love upcycled Jewelry and have a beautiful silver bracelet made from a bent spoon which seems appropriate for a crafter. And I recently made some Marimekko earrings to reflect my love for Nordic designs.
I made a pair of DIY denim earrings to show off my love of repurposing old jeans. They look like something I would find in my favourite shop Anthropologie, as they have a Boho flavour.
But they are a lot cheaper as they cost almost nothing to make. All you need are some fabric scraps left over from other denim crafts and a bit of cardboard.
(There is a printable how-to card for this craft at the end of the post.)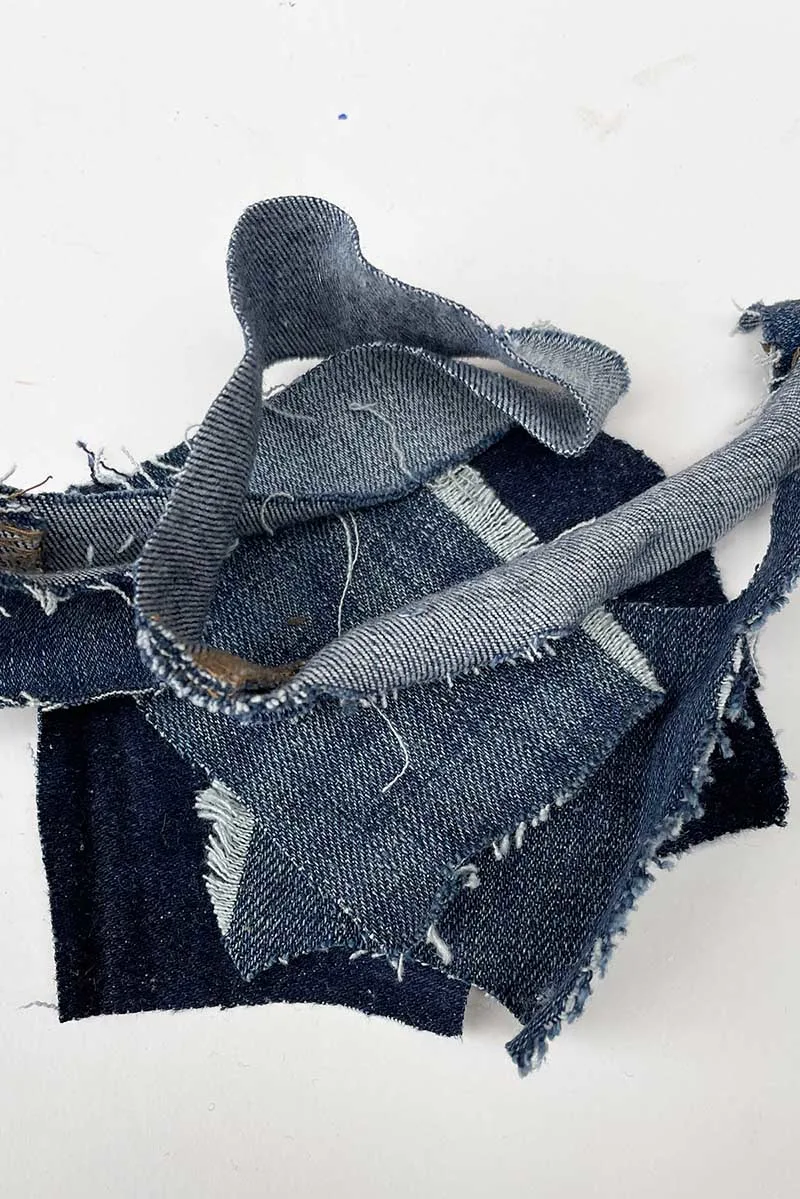 We're a participant in the Amazon Services LLC Associates Program, an affiliate advertising program designed to provide a means for us to earn fees by linking to Amazon.com and affiliated sites. As an Amazon Associate, I earn from qualifying purchases.
What You Need For Denim Earrings
Denim scraps – you only need the smallest pieces, and it's good to have denim in different shades of indigo.
Small scrap cardboard – Used the front of an old cereal box
Tacky fabric glue
Large round puncher – this is optional. You can use scissors
Crop-o-Dile – hole puncher and eyelet tool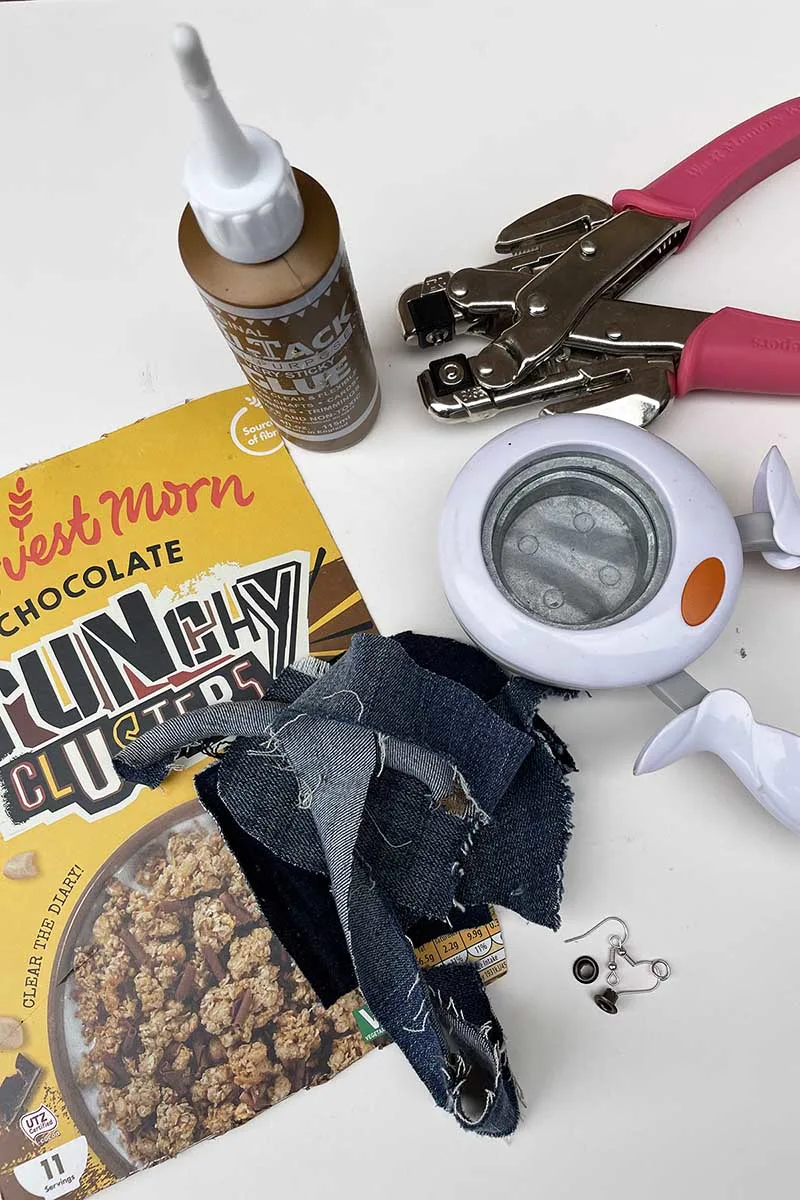 How To Make The Earrings
Step 1: The first thing you need to do is to cut out two cardboard rounds about 2″ in diameter. I used a puncher for this. If you don't have one, use a compass (or small glass), pen and scissors to cut the cardboard.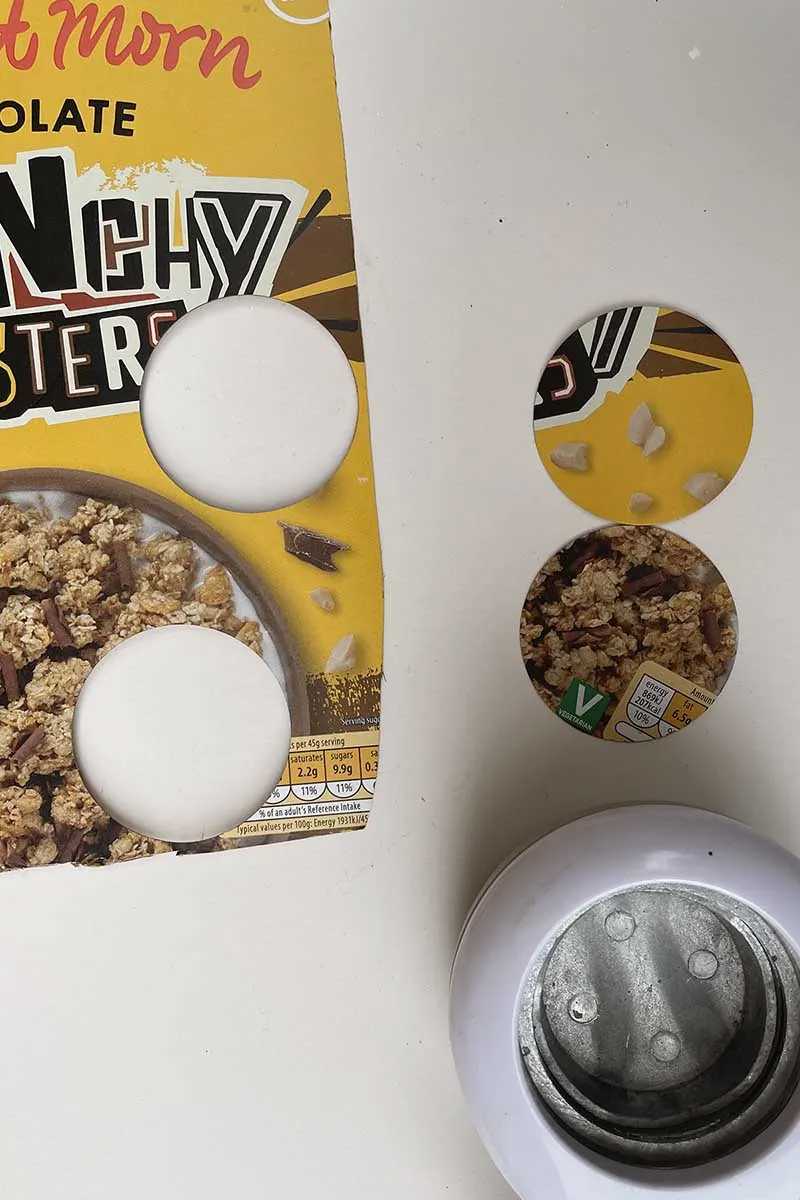 Step 2: Cut out three small denim scraps, each big enough to cover over a third of the cardboard disc. Try to use denim in different shades of indigo. Fray the edges of two of the fabric strips by pulling out threads.
Top tip: There are two good examples of fraying denim with these DIY tassels and denim feathers.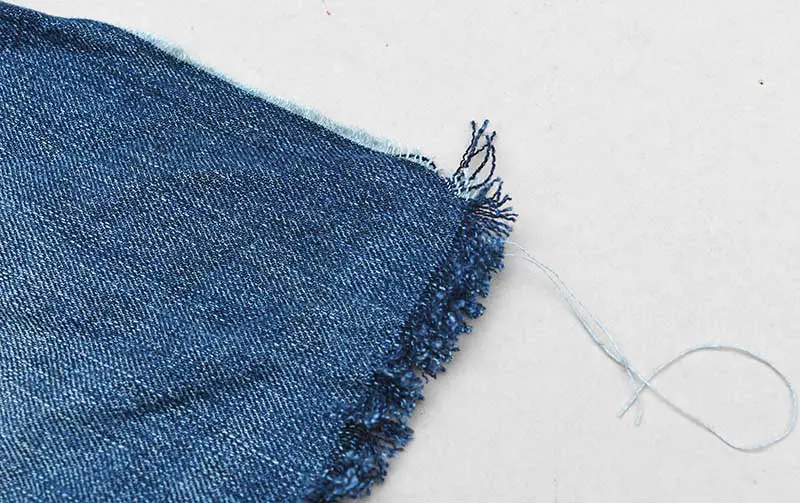 Step 3: Glue the pieces of denim onto the cardboard round. Make sure that they overlap slightly. Then cut away any excess denim.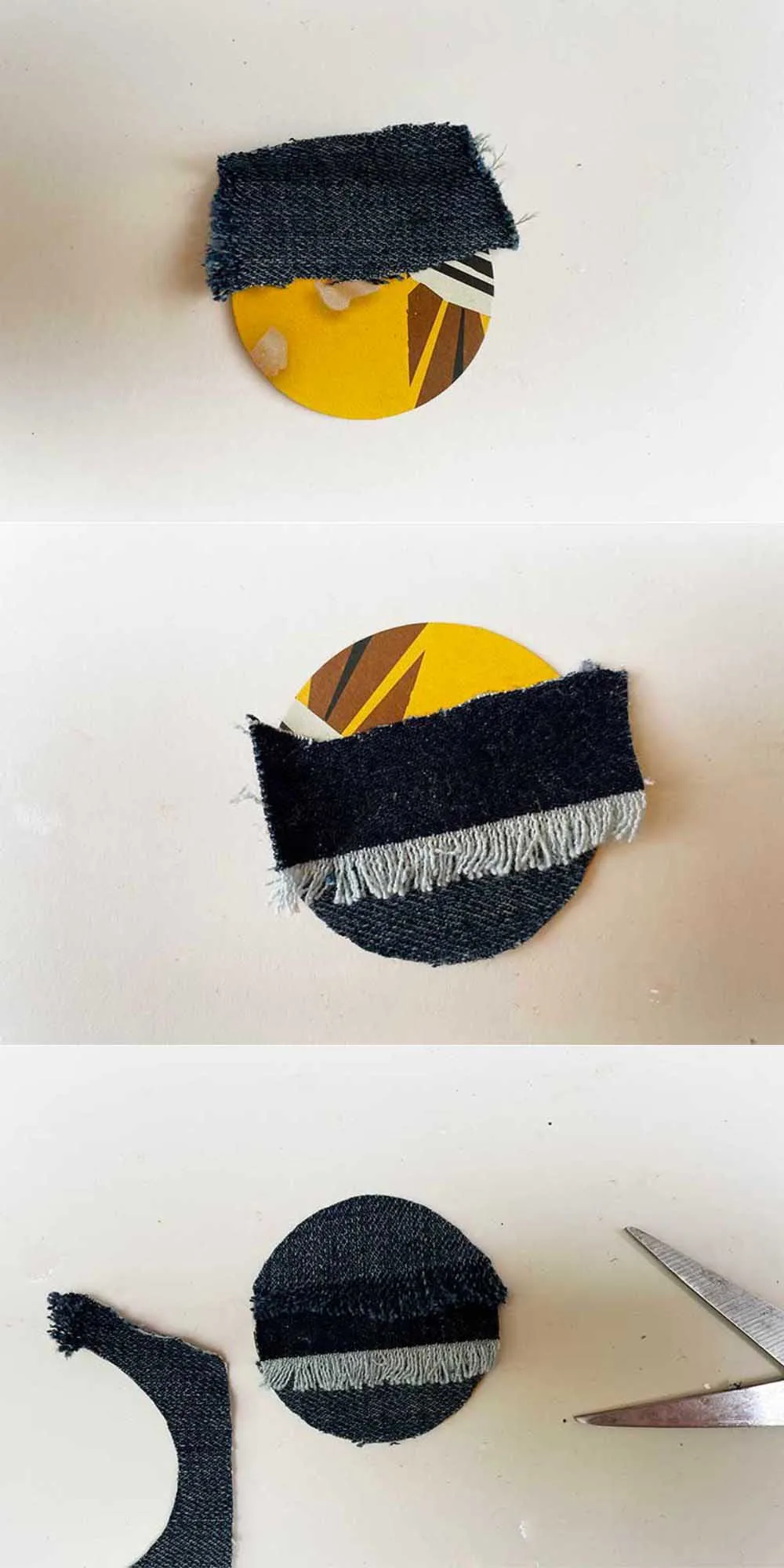 Step 4: Cut out a disc of denim fabric to glue to the back of the earring, again trim away any excess fabric. At the same time, cut a skinny and long strip of cloth. Stick this around the edge of the cardboard.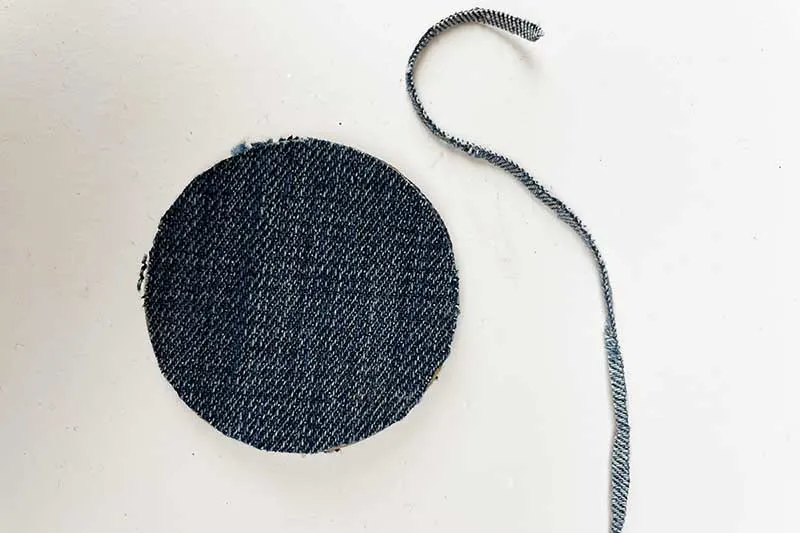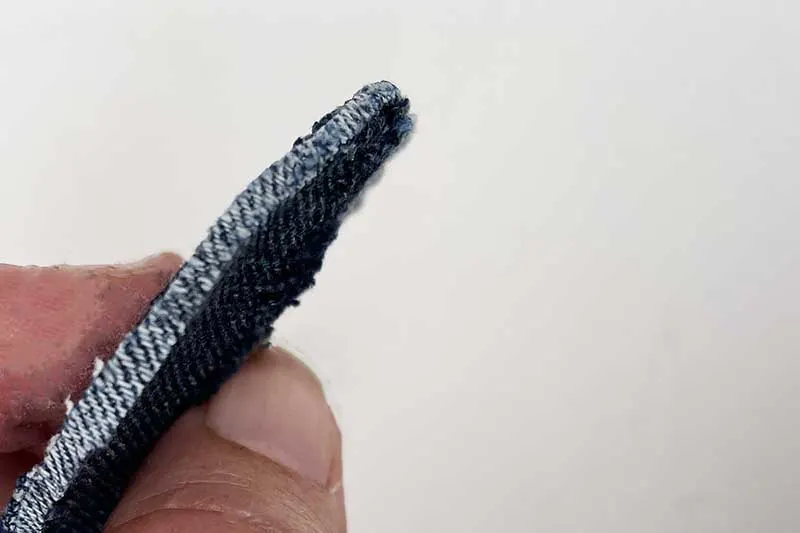 Step 5: Punch a hole near the top of the earring and fit a small eyelet in the spot.
Top tip: Ensure you've got the earring the right way up before punching the hole. I made this mistake and had to remake the earring.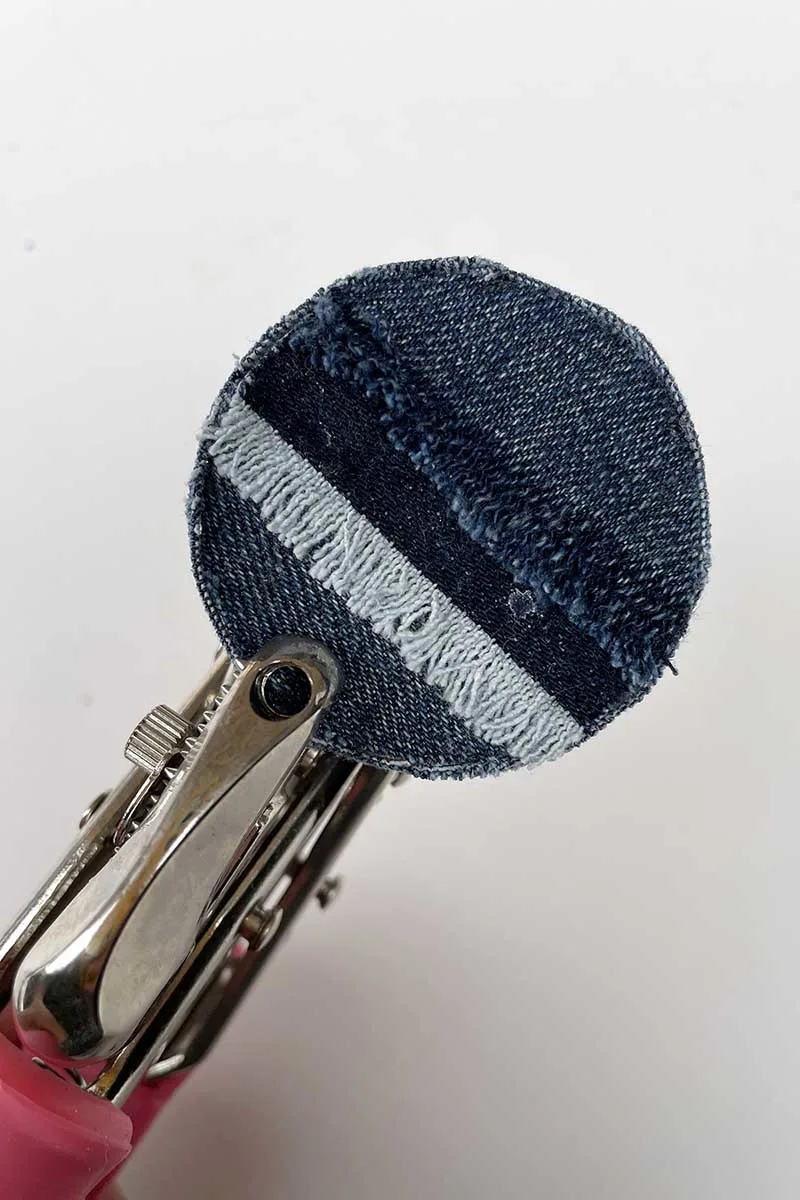 Step 6: Finish the denim earrings by adding a jump ring and hook to the hole. Hopefully, you have made two earrings simultaneously and now have a pair.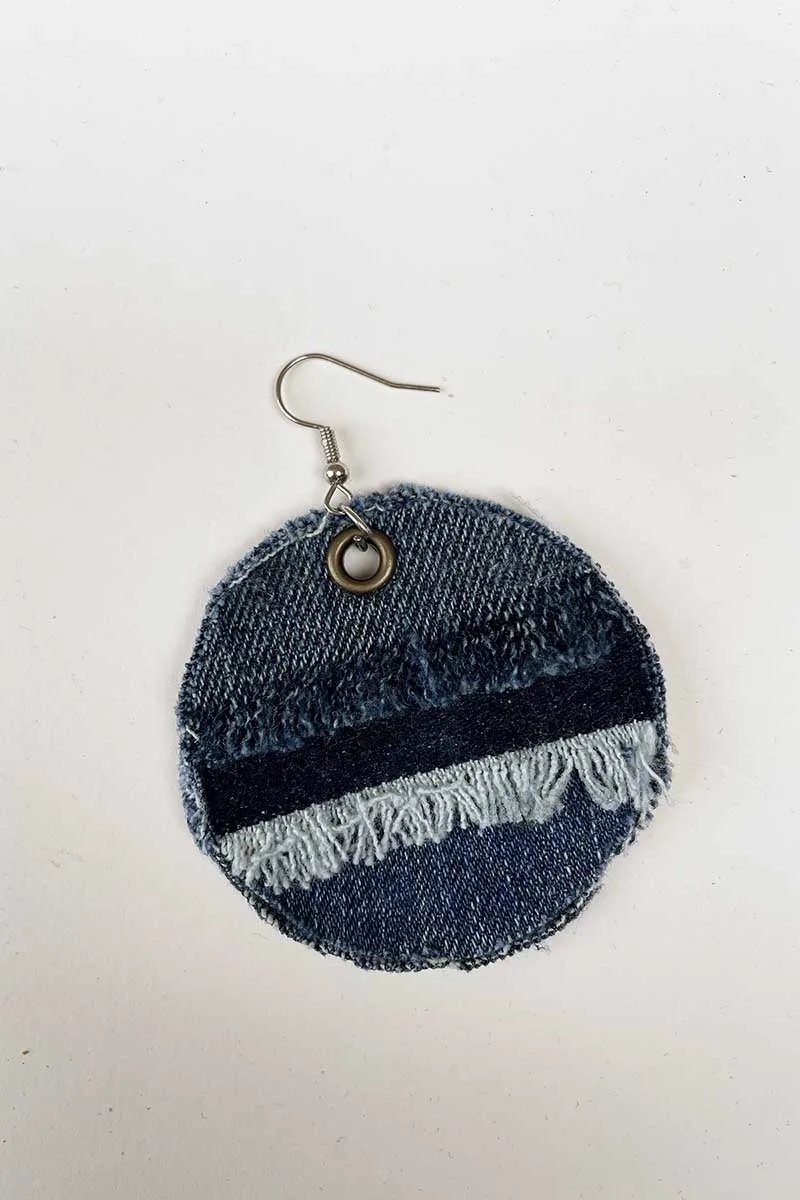 The Finished DIY Denim Earrings
I love how the earrings turned out; they were quick and easy to make. You could make several pairs at once, and the only cost is for the very cheap hooks. Or you could even repurpose clips from other earrings.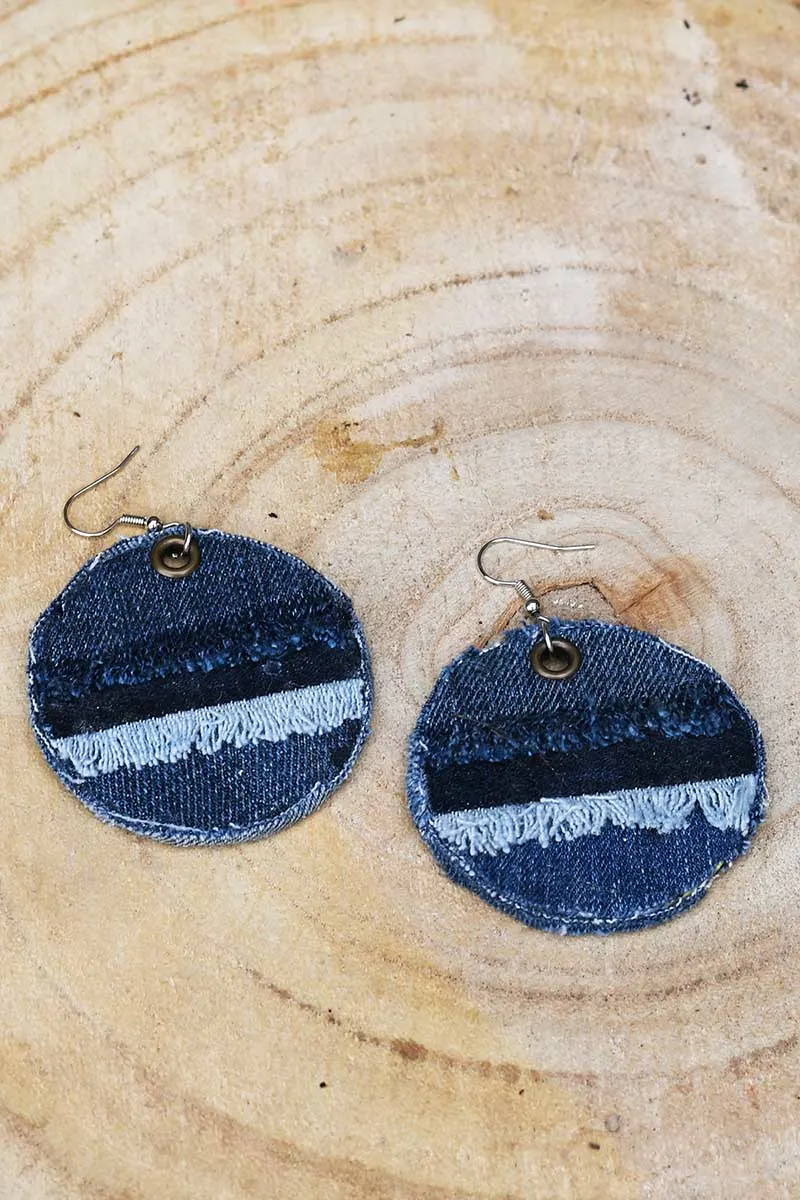 Experimenting with other woven fabrics besides denim to make the same earrings would be fun. I have some tartan scraps, which would work as the tartan fabric can also be frayed.
They would make a lovely handmade gift idea and a fun craft to sell.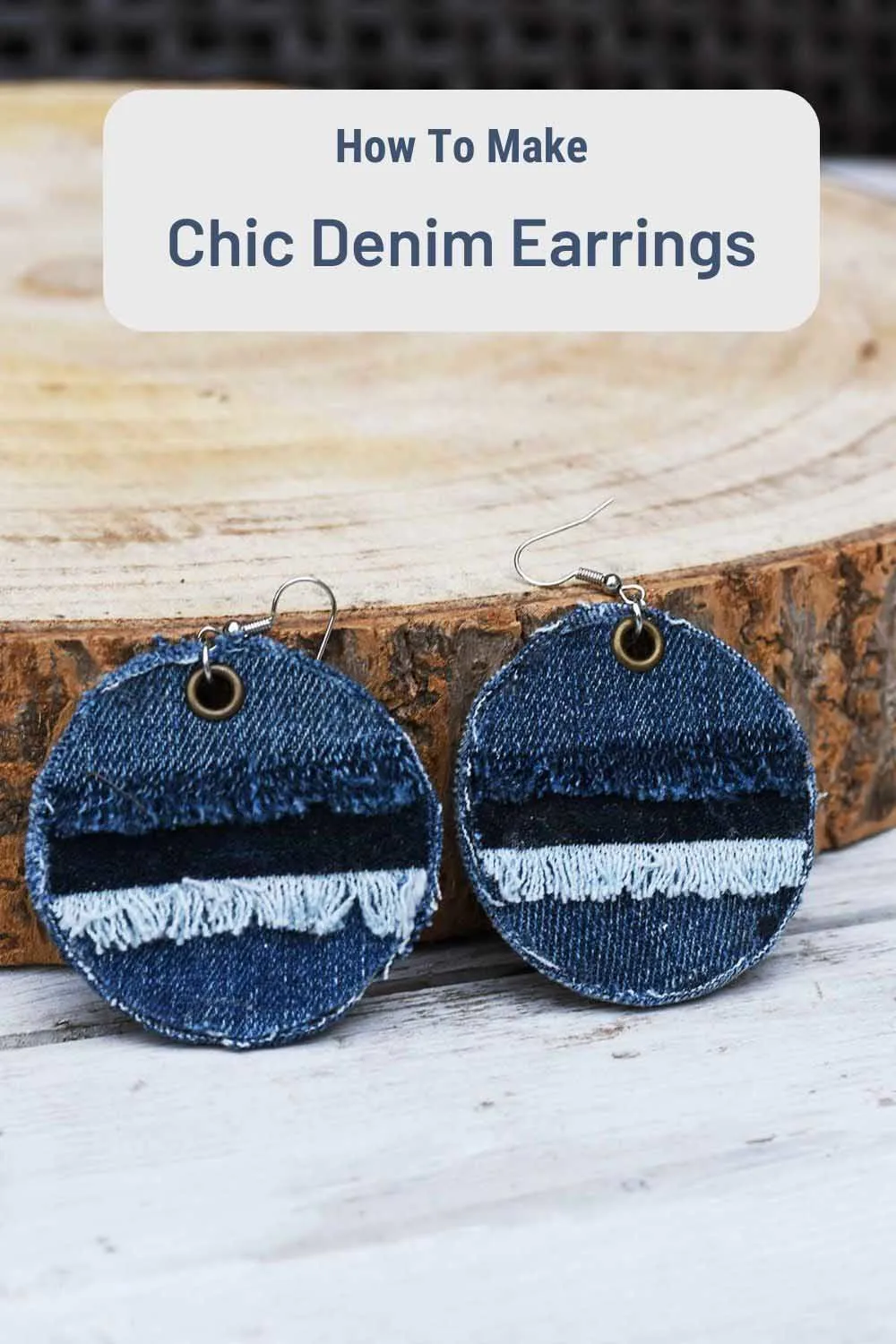 Other Upcycled Jewellery Ideas
The earrings go well with the denim bracelet I made from old jeans seams. You'll find many more DIY bracelet ideas here. They would make a lovely handmade gift idea for friends.
You can use materials besides denim to make upcycled jewellery; I have used old maps to make paper beads for bracelets and necklaces. Even old eyeglasses have been repurposed into pendants. But one of my most unusual upcycle jewellery idea is the avocado pit bracelet.
Don't forget to check out my many other no-sew denim projects, including denim beads used to make a lovely necklace.
Yield: Chic Boho denim earrings
DIY Denim Earrings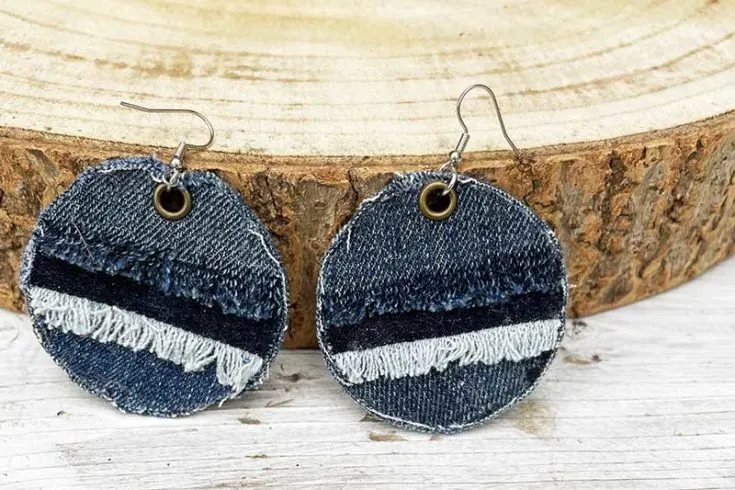 The upcycled denim earrings are cheap and easy to make, but they look like they belong in a shop like Anthropologie. It is a fun way to use up jeans scraps, and they make a stylish accessory for denim lovers.
Materials
Denim scraps - small pieces in various shades of indigo, from old jeans.
Small amount of scrap cardboard from packaging such as a cereal box
Tacky fabric glue
Jump rings and earring hooks
Tools
Scissors
Crop-O-Dile or eyelet tool
Large round puncher or glass pen and scissors
Instructions
First, cut out two rounds of cardboard about 2" in diameter. Either use a punch or draw around a glass and cut with scissors.
Next, cut three different scraps of jean fabric—enough denim to cover each cardboard round by at least a third. Fray the edges of two of the pieces by pulling the threads.
Glue the fabric pieces to the cardboard, so they overlap. Then trim away any excess with scissors.
Then s a single piece of denim for the back of the cardboard. Cut a long thin strip of denim and glue this along the edge.
Use the eyelet tool to punch a hole in the earring's top and add a small grommet. Then add the jump ring and hook to finish off the earrings.