Inside: A fabric flower pattern and a step-by-step tutorial to make poppy seed head decorations.
My day starts with a long walk and then coffee!
The walks vary from country park hikes to urban rambles. In spring, wild poppies line the paths on both treks. They are one of my favourite flowers, and at the end of the summer, I love to pick the dried poppy seed heads and put them in a vase for decoration.
Many of my crafts involve mimicking nature with paper and fabric. For example, I made fabric mushrooms, map roses, denim flowers, velvet figs and felt succulent gardens.
This time I've created a pattern to make fabric flower poppy seed pods.
(There is a printable how-to card for this craft at the end of the post.)
Fabric Poppy Seed Heads
I have designed a straightforward fabric flower pattern with only one shape. Make poppy seed heads in different sizes by shrinking or enlarging the pattern.
I warn you, it's addictive, and I made loads of these poppy pods in an assortment of fabrics and colours.
This hand-sewn craft uses a simple blanket stitch and running stitch. Each poppy head takes about 20 minutes to make.
Make them whilst watching a box set on the telly; it's a good couch craft.
Making these poppy seed pods is a fun way to use fabric scraps. You can make them in velvet, denim, linen and colourful pieces of cotton.
Fabrics that fray work best, but the pattern can be tweaked to work with non-fraying materials such as felt.
We're a participant in the Amazon Services LLC Associates Program, an affiliate advertising program designed to provide a means for us to earn fees by linking to Amazon.com and affiliated sites. As an Amazon Associate, I earn from qualifying purchases.
The Fabric Pattern & Guide
What you need to make one poppy seed pod
A scrap of fabric about 12″ (30cm) by 6″ (15 cm)
Needle and thread in a similar colour to the fabric
A small amount of fiberfill
Bulldog clip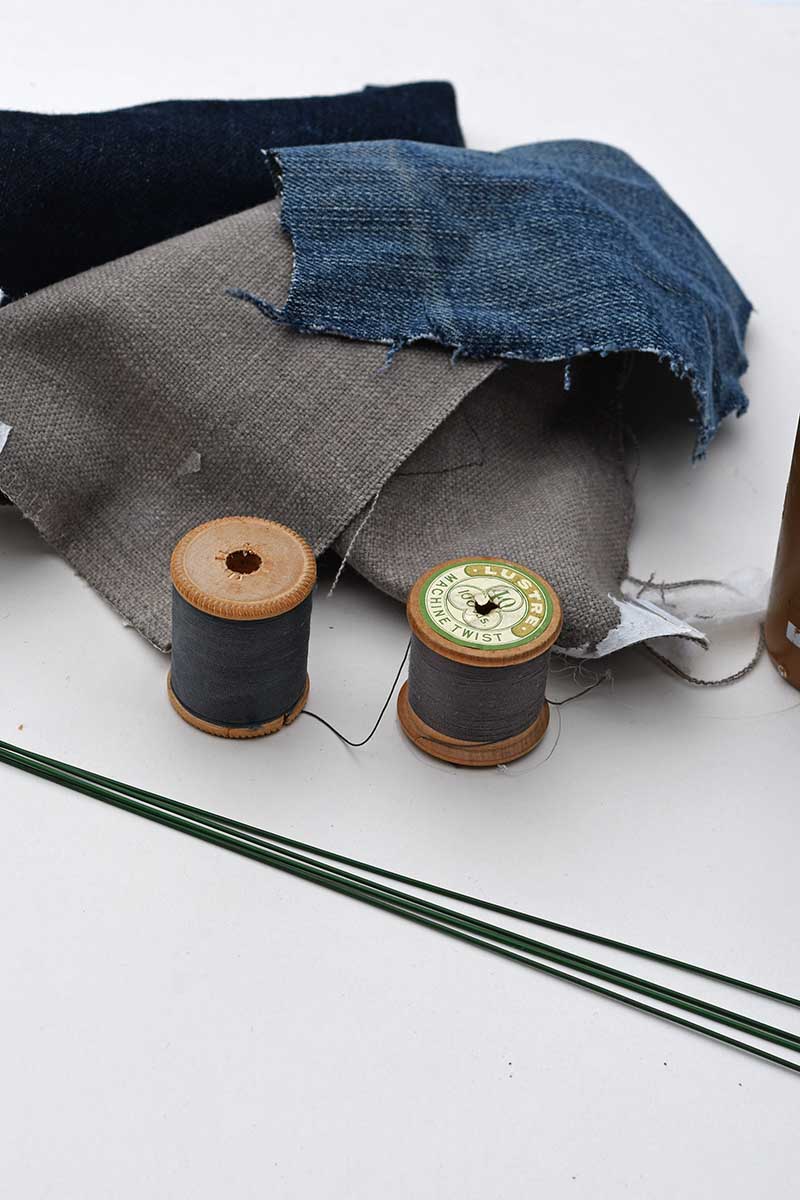 The fabric flower pattern
Download the template below here.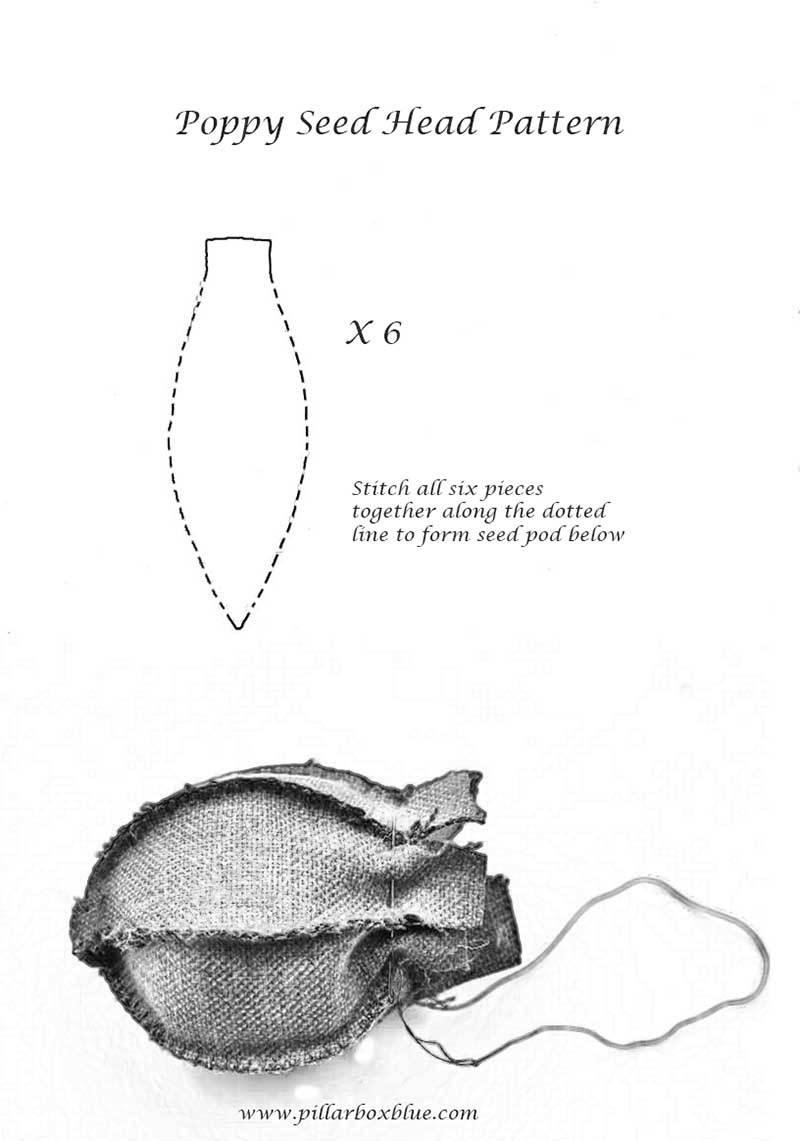 Step 1: Download and print out the pattern and then cut out the template shape. Draw around the shape six times on the fabric.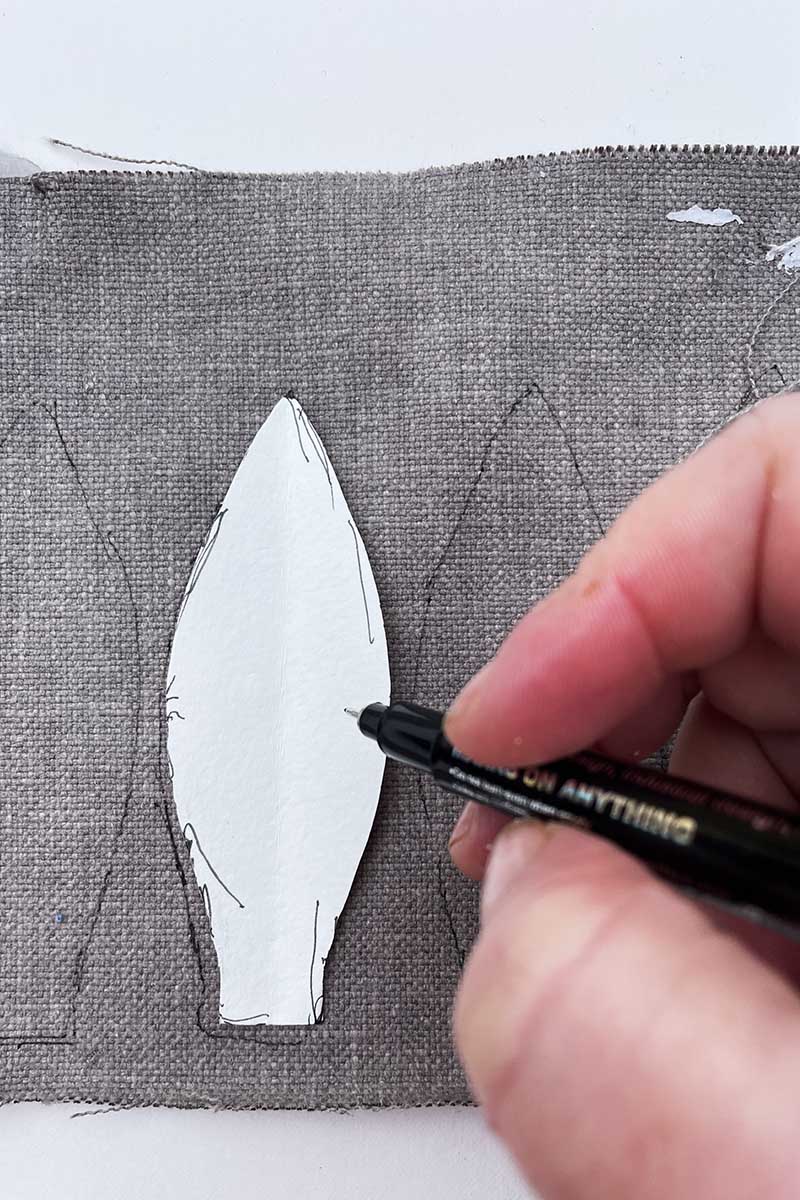 Step 2: Cut out the fabric shapes to have six identical pieces.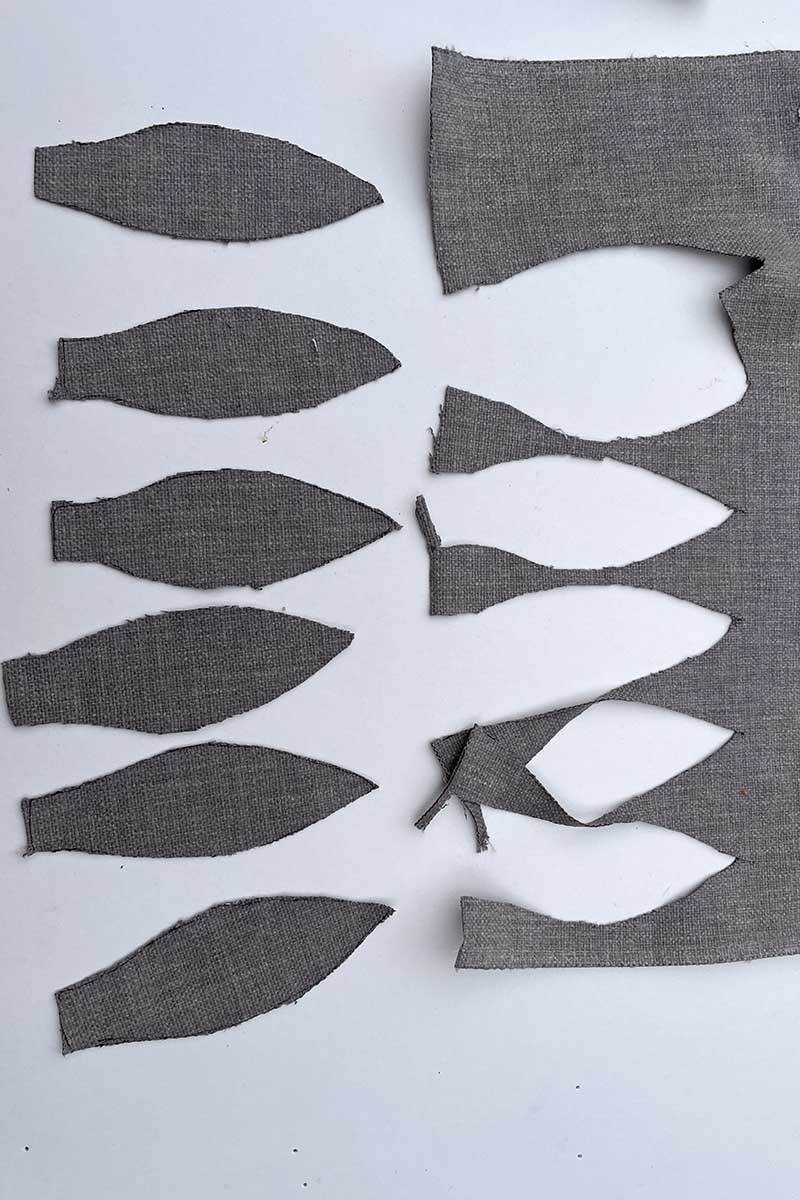 Step 3: Pin two of the fabric shapes together. Stitch them along one long side using a simple blanket stitch. Start the stitching about 3mm from the pointed tip and then sew along the edge stopping about 1cm from the top.
The segments will be well-defined using a blanket stitch, just like they are with real poppy seed pods.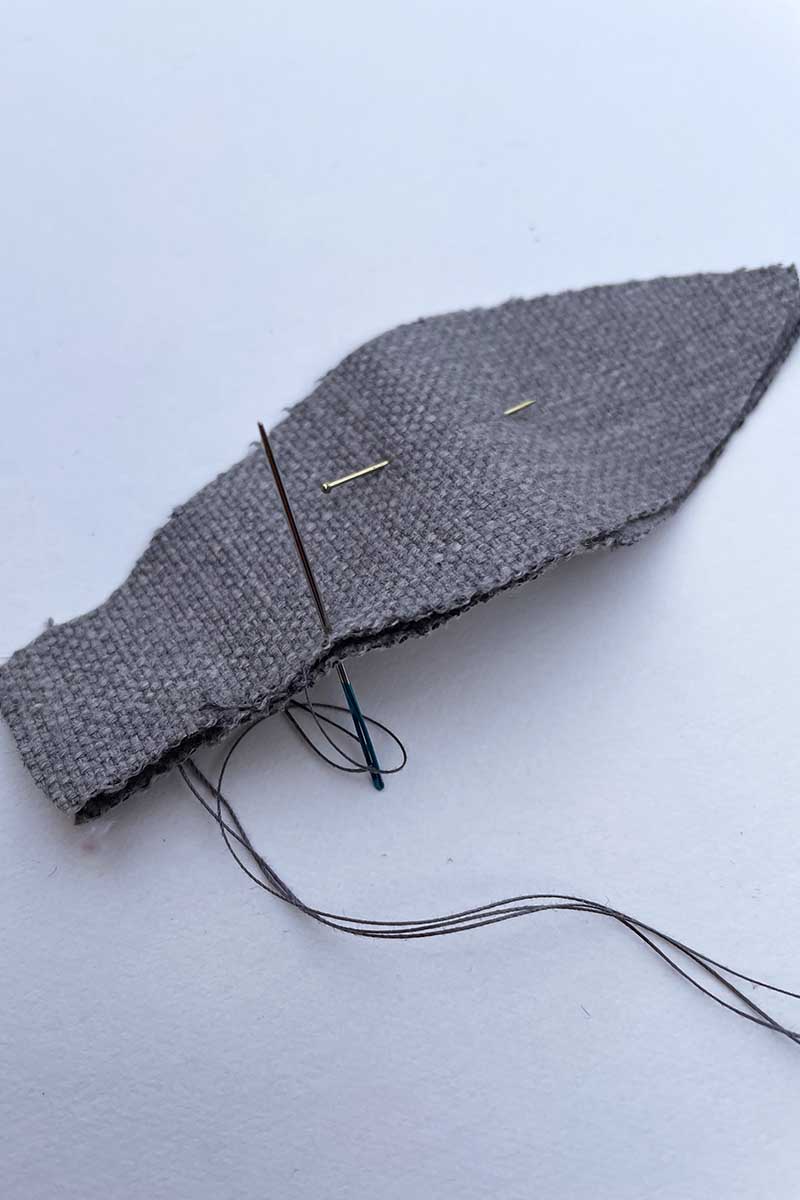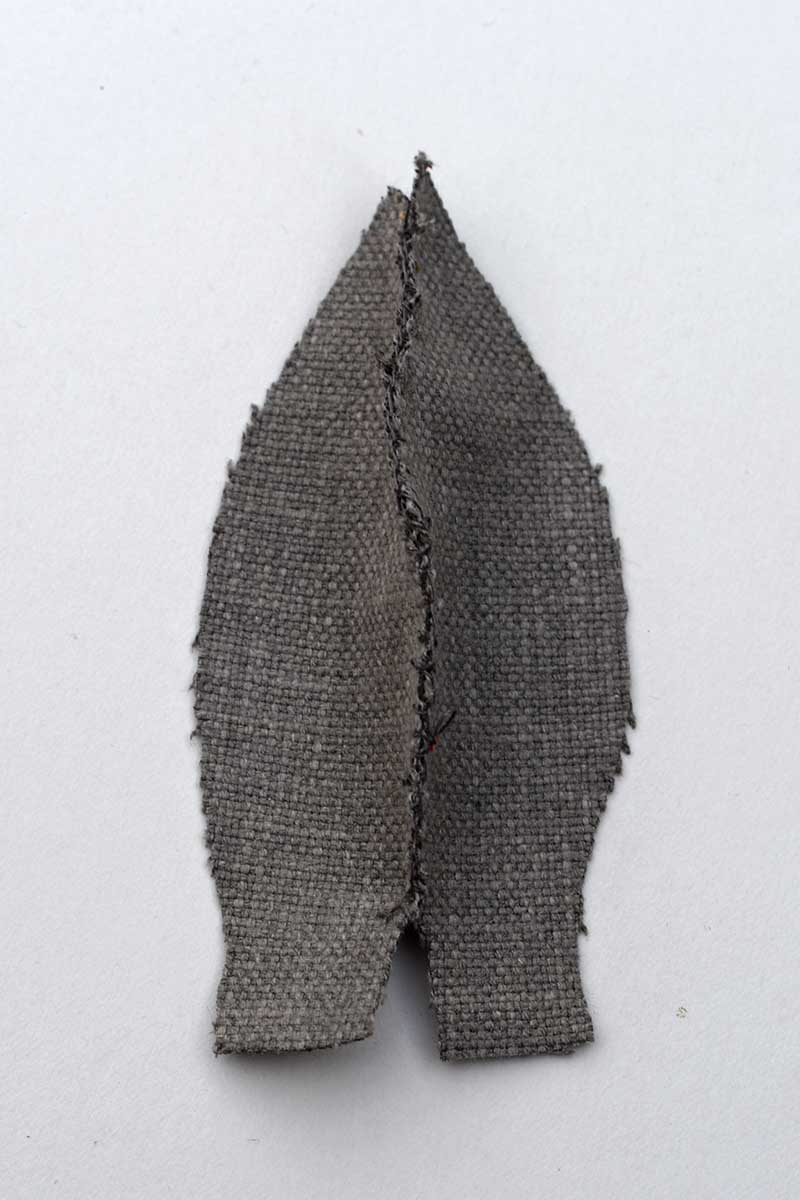 Step 4: Keep sewing the shapes until all six are together.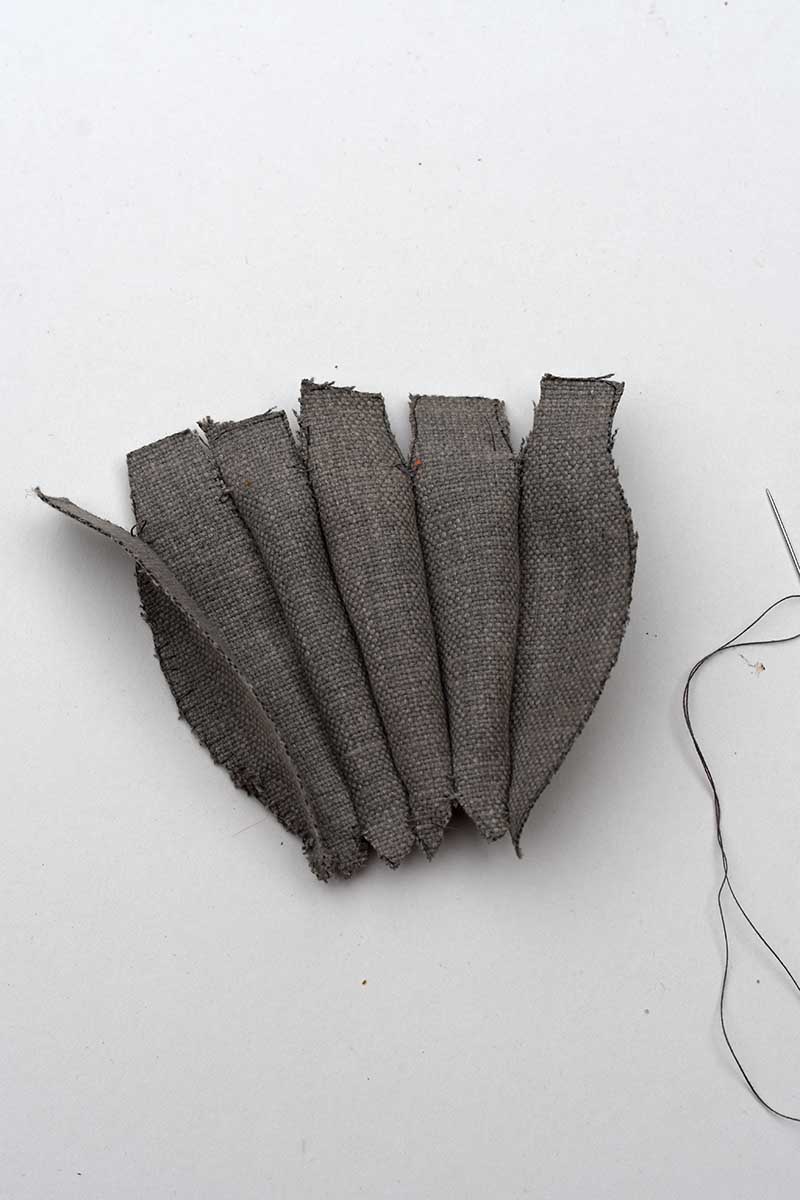 Step 5: Sew up both ends of the shape to form the seed head body. Then stuff it with fiberfill.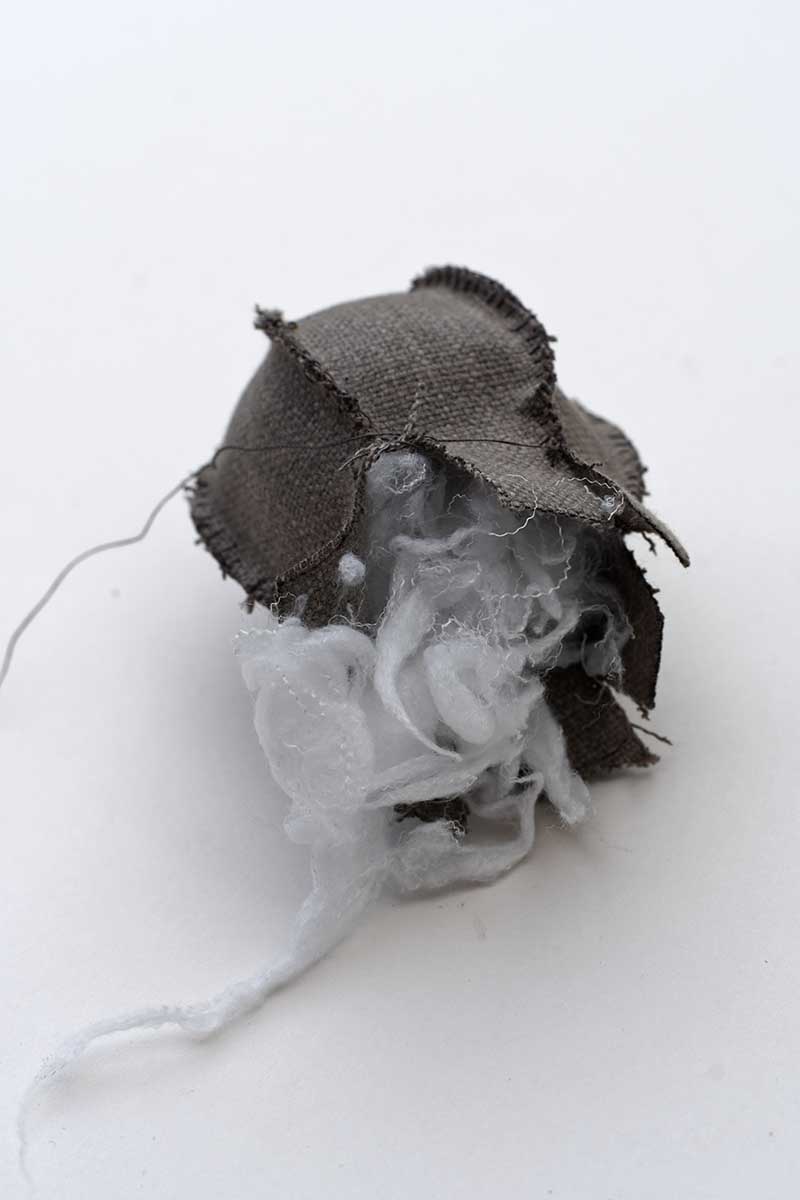 Step 6: Use one long running stitch and pull tight to close and gather the top of the poppy pod. (Just like the one I used to make these sweater balls).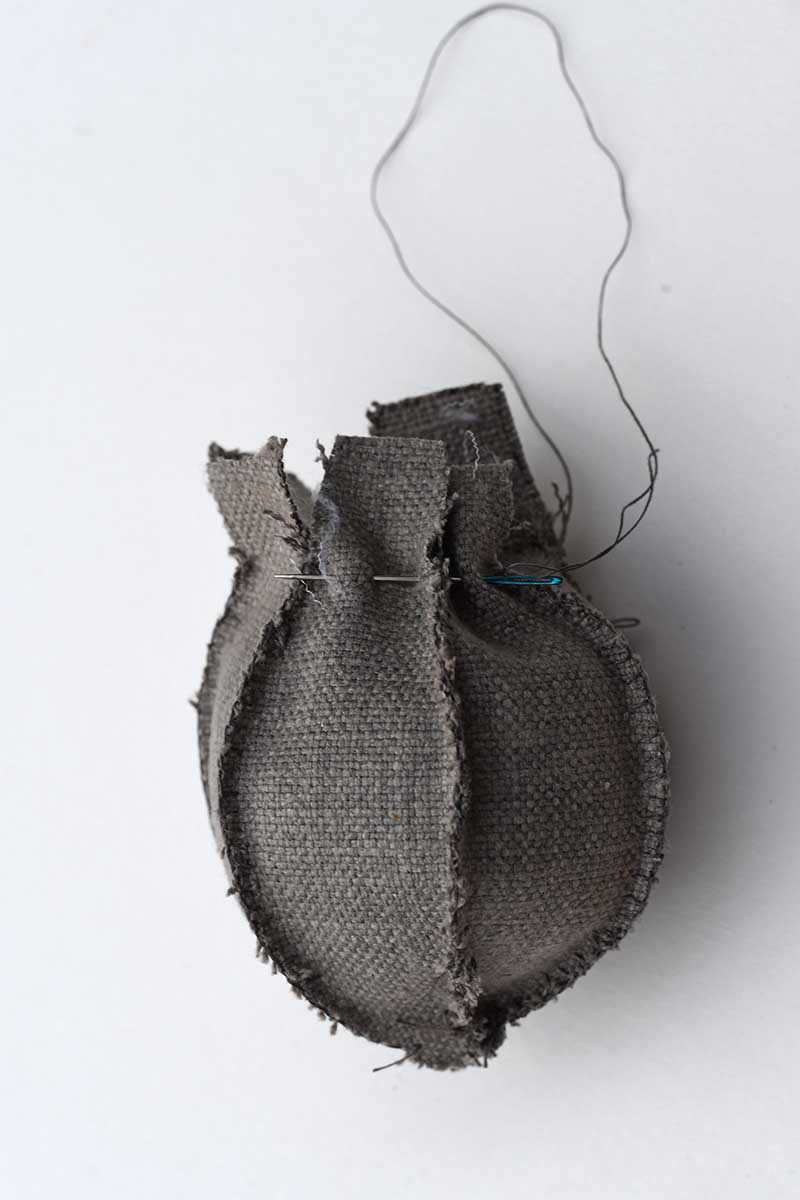 Step 7: Pull the woven threads at the top unstitched 1cm of the pods to fray them.
Using fabric like felt that doesn't fray, just cut small slits in the material to mimic fraying.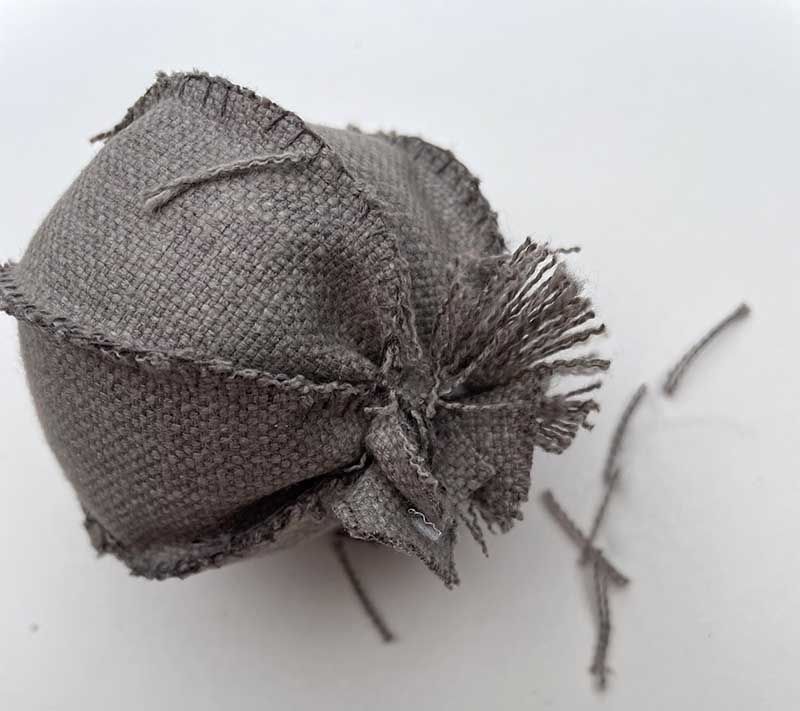 Making the Poppy Pod Stem
Step 8: Cut a strip of fabric about 30cm long and 5mm wide. ( You can use several shorter strips to make the length).
Step 9: Cover the floral wire in double side sticky tape and wrap the strip of fabric around it.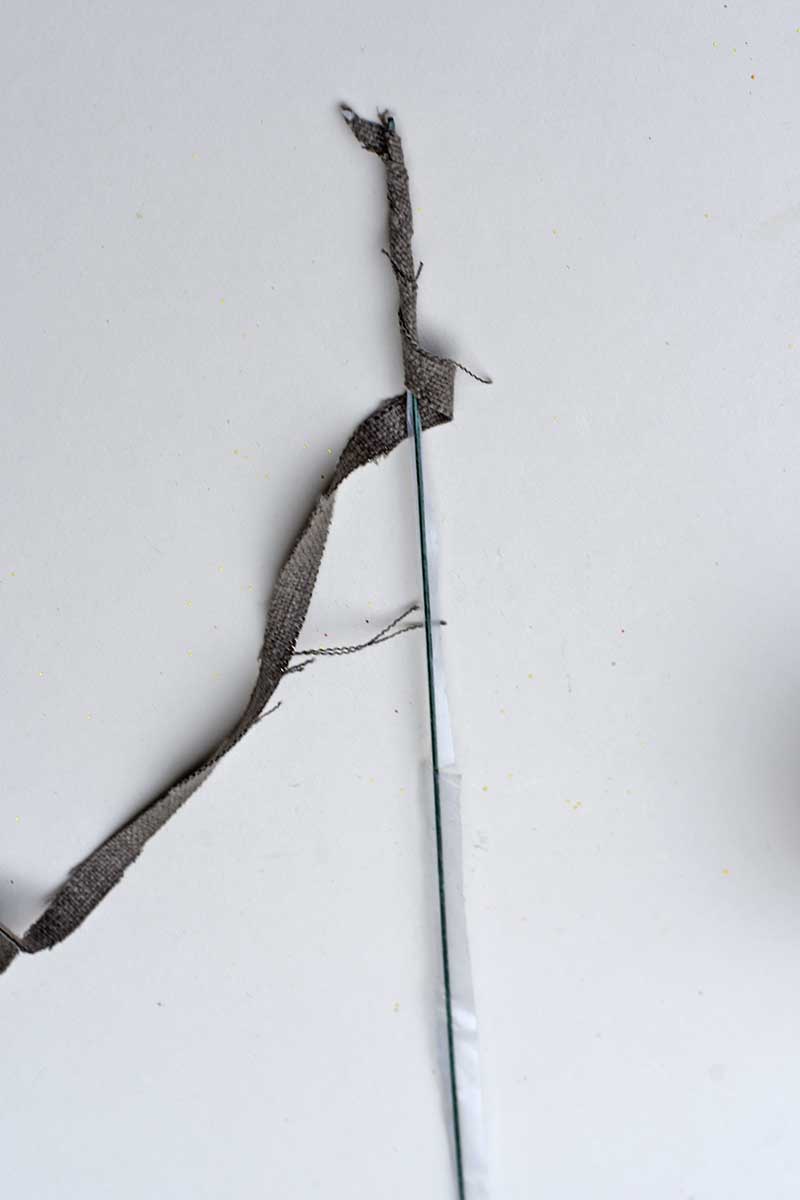 Step 10: Finish off the poppy by sticky the stem in the bottom of the seed head. Use fabric glue to hold it in place.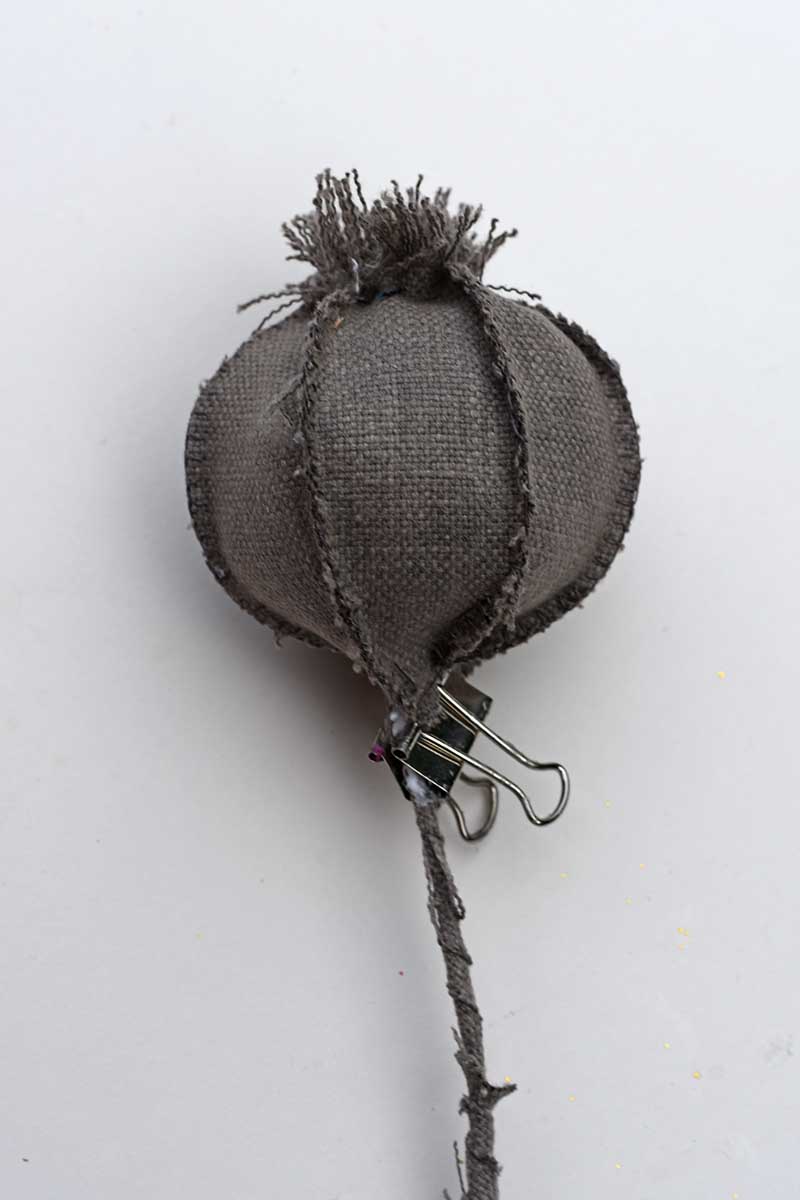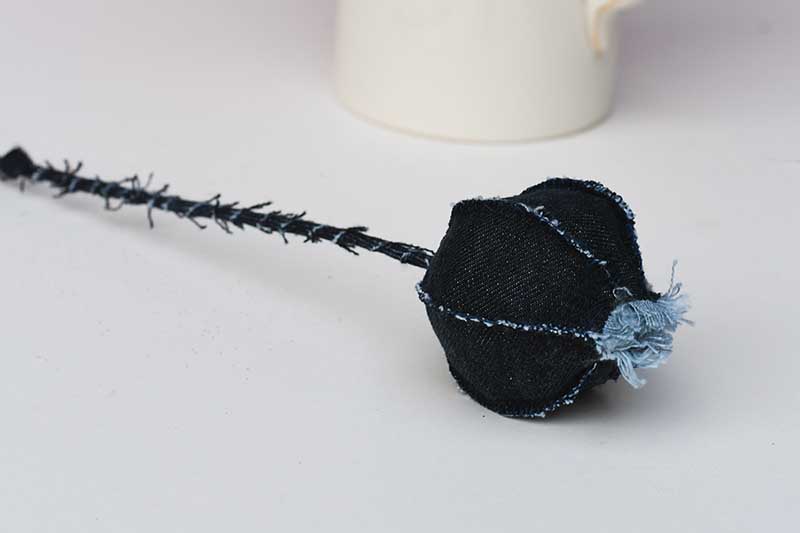 More Fabric Poppy Pods
As I said at the beginning, this is an addictive craft. I made loads of these poppy seed heads in fabric scraps, including repurposed old jeans.
The velvet ones were made from sofa swatches. I even made some in tartan to go with my tartan feathers.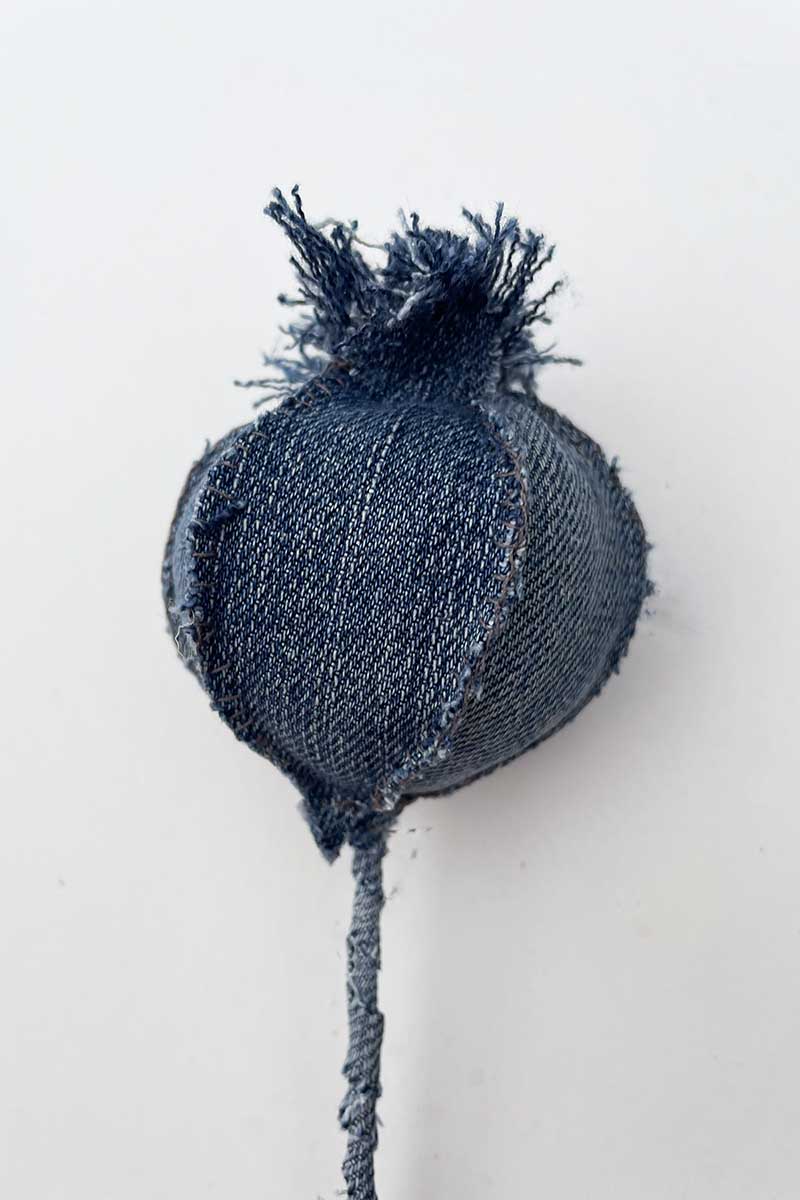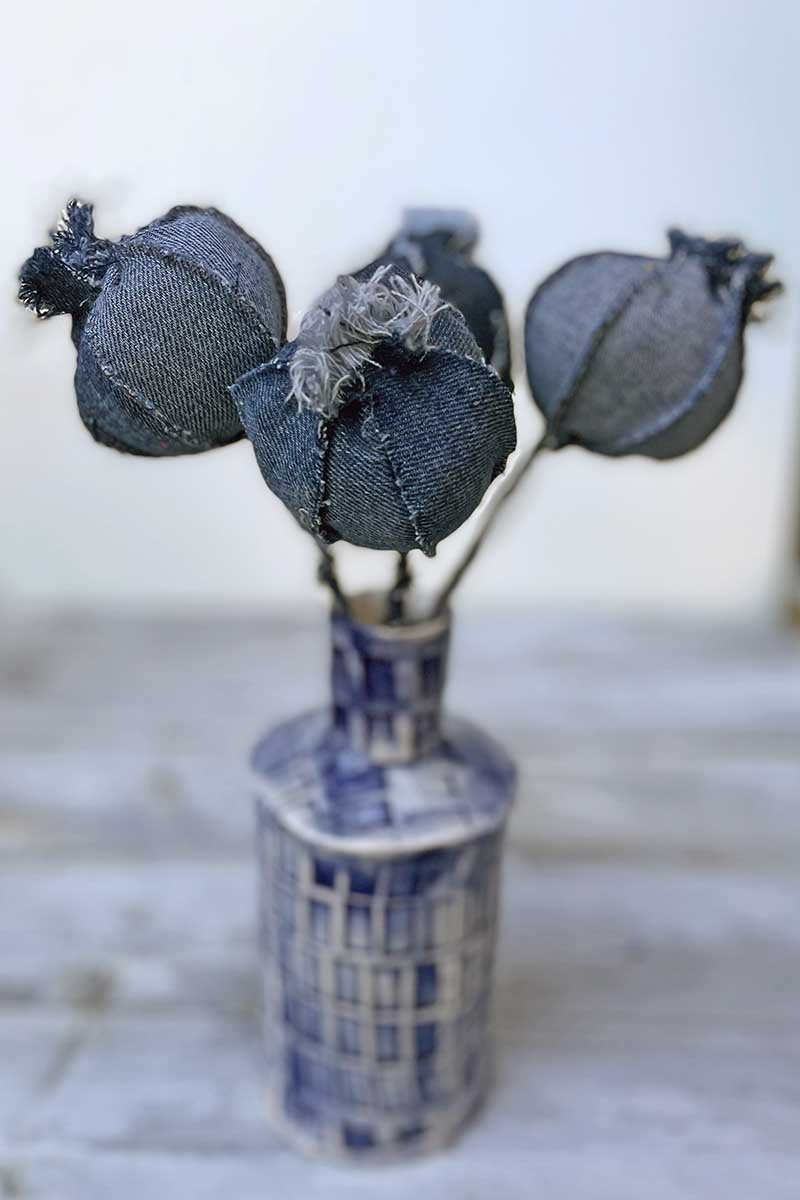 Unlike real poppy seed heads, you can make these fabric ones in various colours and even use patterned fabric scraps.
I do think the ones in tartan look a bit like Scottish thistles.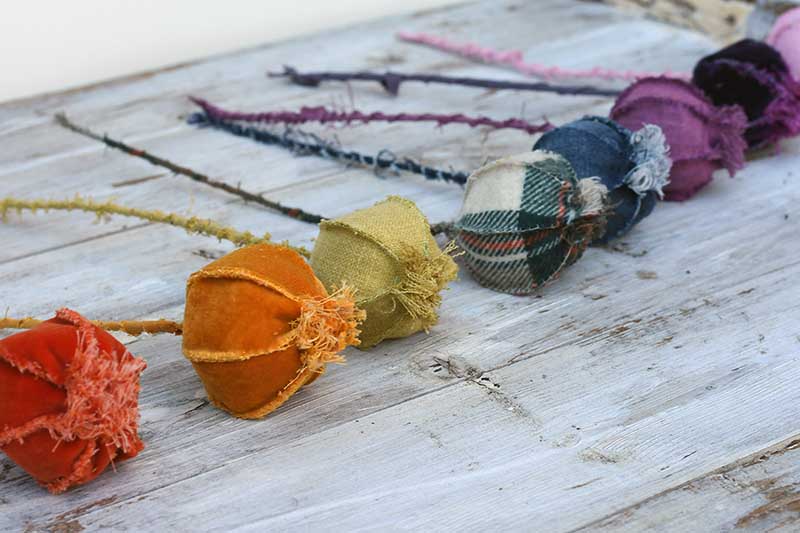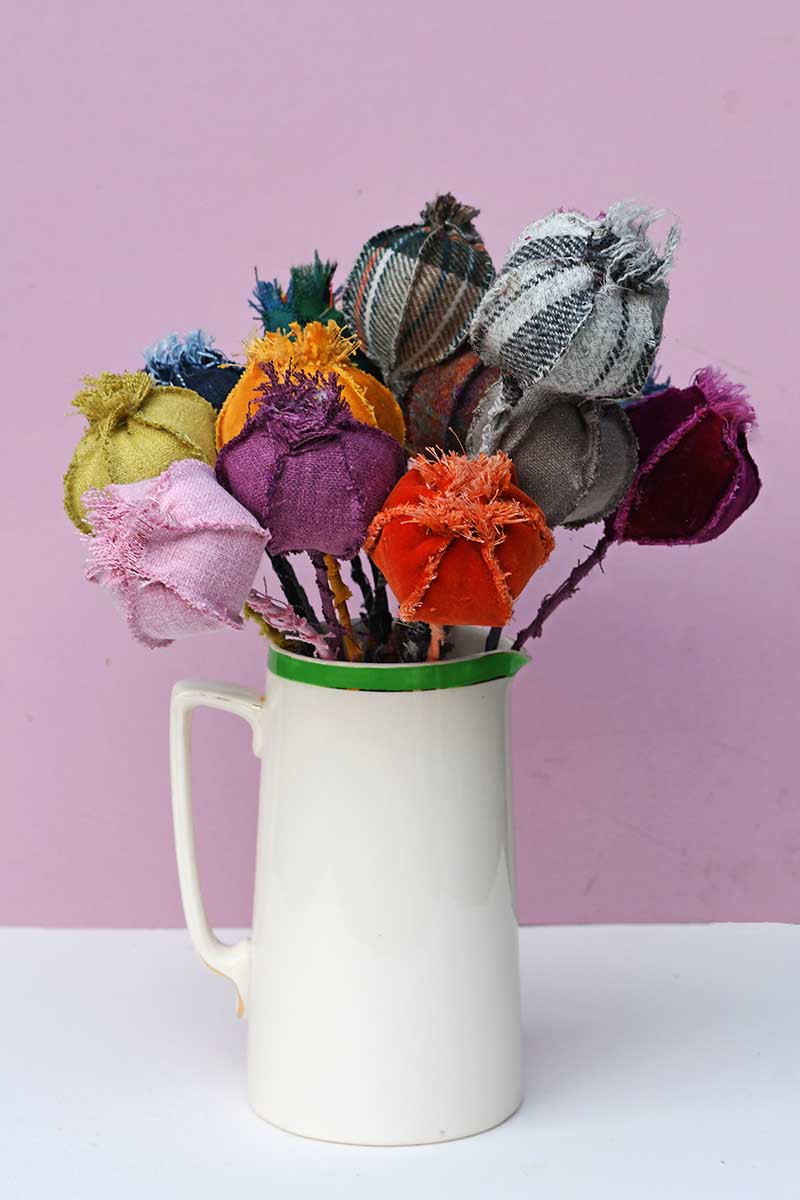 They make lovely handmade gifts. I have given my friends and family vases of these fabric flowers in their favourite colours. Choose colours that will match your decor.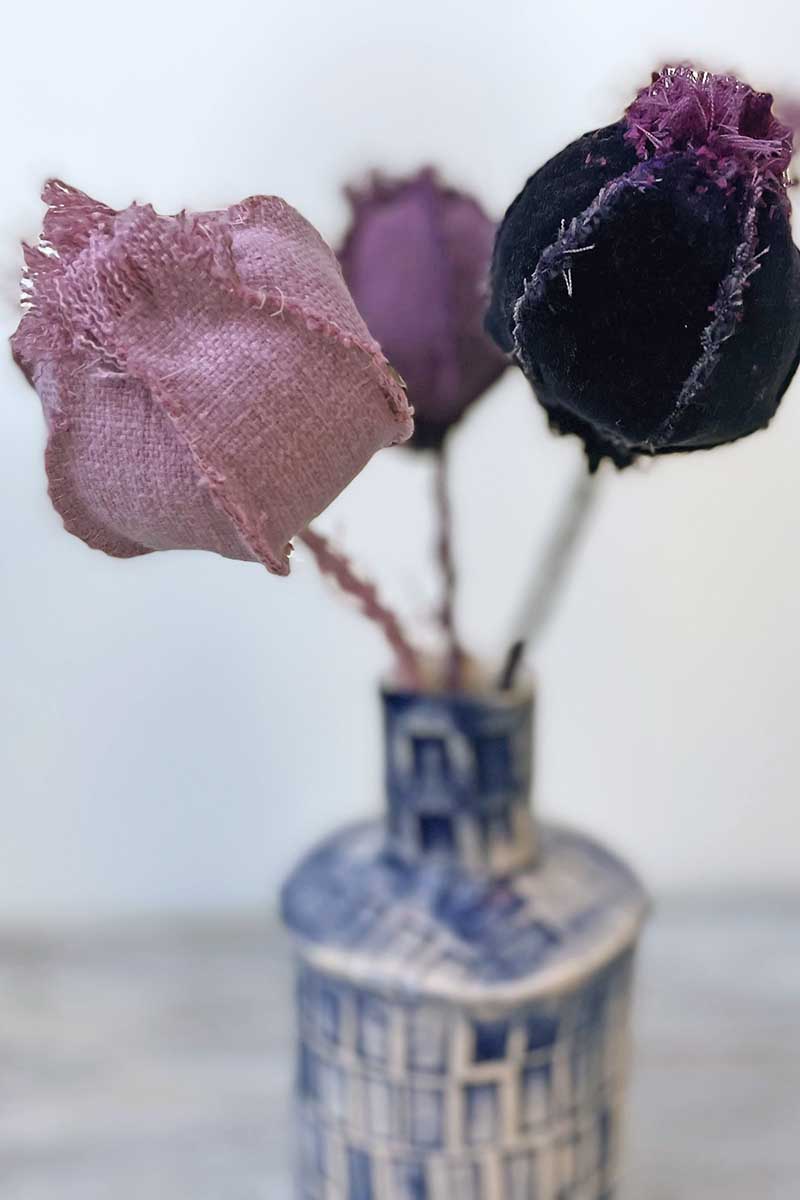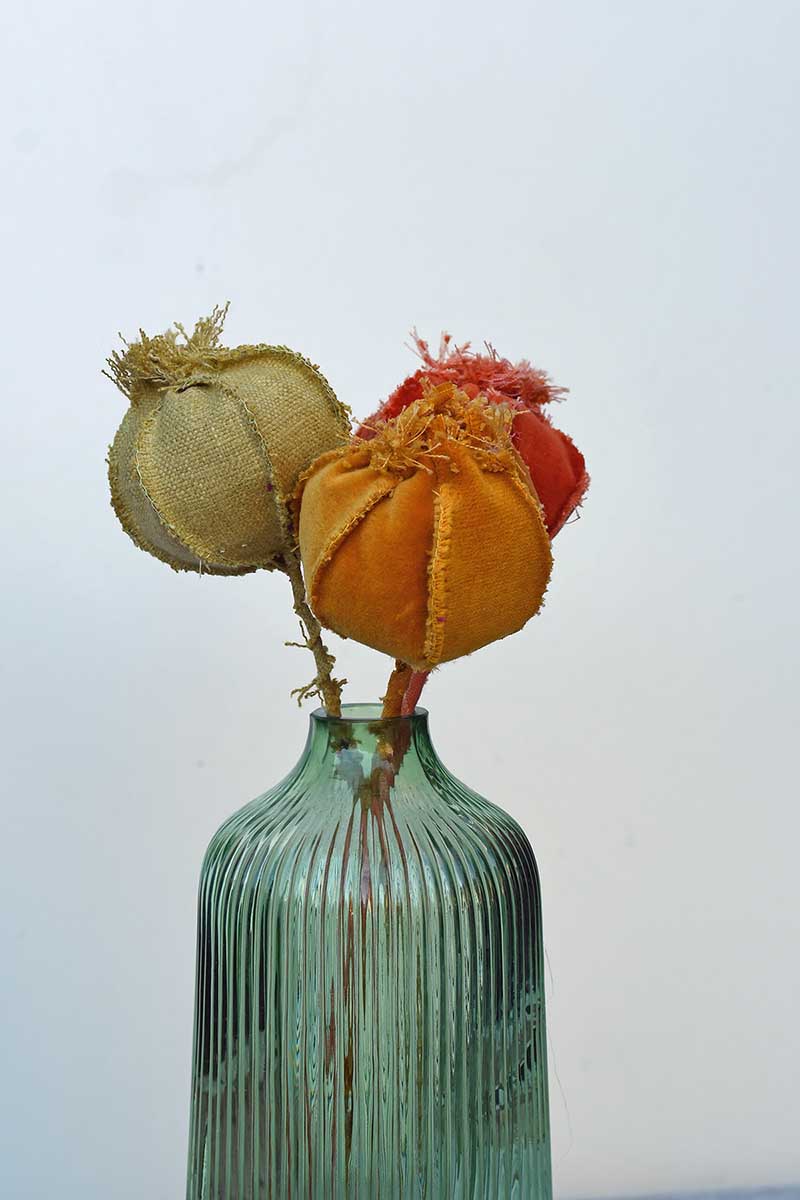 If you liked this post, you should check out my denim pom pom flowers and repurposed fabric flowers.
Yield: A fabric poppy seed head.
Fabric Poppy Seed Pod Decorations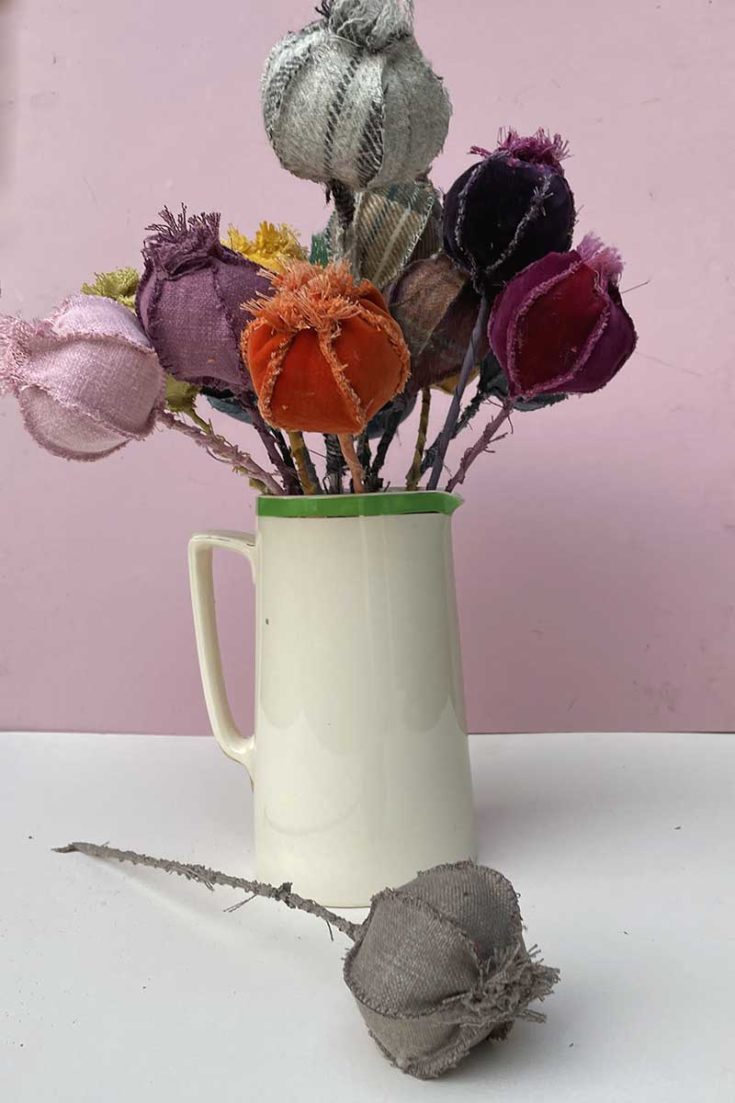 This is a fun scrap fabric buster and hand-sewn craft to make gorgeous poppy seed heads out of material. You can use velvet, cotton, linens, tartan and denim to create this unique decoration.
Materials
Fabric scraps in the colour and material of your choice (but woven fabrics work best).
Floral wire stem
Double sided-sticky tape
Fabric glue
A small amount of fiberfill (I use the stuffing from old pillows).
Tools
Needle and thread in a colour similar to the fabric.
Scissors
Instructions
Download and print out the free fabric flower pattern. Cut out the template shape.
Draw around the cutout paper shape onto the fabric six times and cut out six identical pieces.
Hand-stitch all six pieces together along the long edge, one by one. Use a simple blanket stitch.t
Once all the pieces are stitched into a pod shape, stuff with fiberfill.
Close the top of the poppy head with a single running stitch pulled tight.
Pull the threads out of the top of the poppy pod to fray it.
Cut a long strip of fabric about 5mm wide. Cover the floral wire in double-sided sticky tape, then wrap the fabric strip around the wire.
Finish the poppy by sticking the stem into the bottom of the seed head and glueing it in place.
Pin for later!