Inside: An easy tutorial on how to make a draught excluder from a jeans leg.
My Victorian townhouse is the bee's knees during the scorching summers – it's like Mother Nature's own AC. But, come winter, and brrr… it's an icicle party! Thus began my quest to combat the winter chill, and what better way to do it than with some denim DIY magic?
The wind howls through the gaps like a headbanger at a metal gig, and my sash windows and vintage doors rattle like maracas. It's charming, in a "haunted mansion" kind of way. But I adore my old windows and doors – they've got character! No way am I trading them for plastic.
Enter the DIY denim draught excluder – the ultimate showdown between my home and the wintry fiend that is the draught. Armed with old jeans, I stitched up a storm for my doors and windows. But wait, there's a twist!
I couldn't resist jazzing up my denim warriors with British humour. One of my draught excluders is now the proud bearer of "Mind The Gap" – if you've been to London, this one's a classic; it's practically the city's catchphrase! And then, the cherry on top, another draught excluder, struts around with "Draft Dodger" emblazoned on it (shoutout to the genius reader who suggested it!).
These denim door snakes don't just fight the cold; they do it with sass and a wink. So grab your old jeans, and let's show those draughts what we're made of!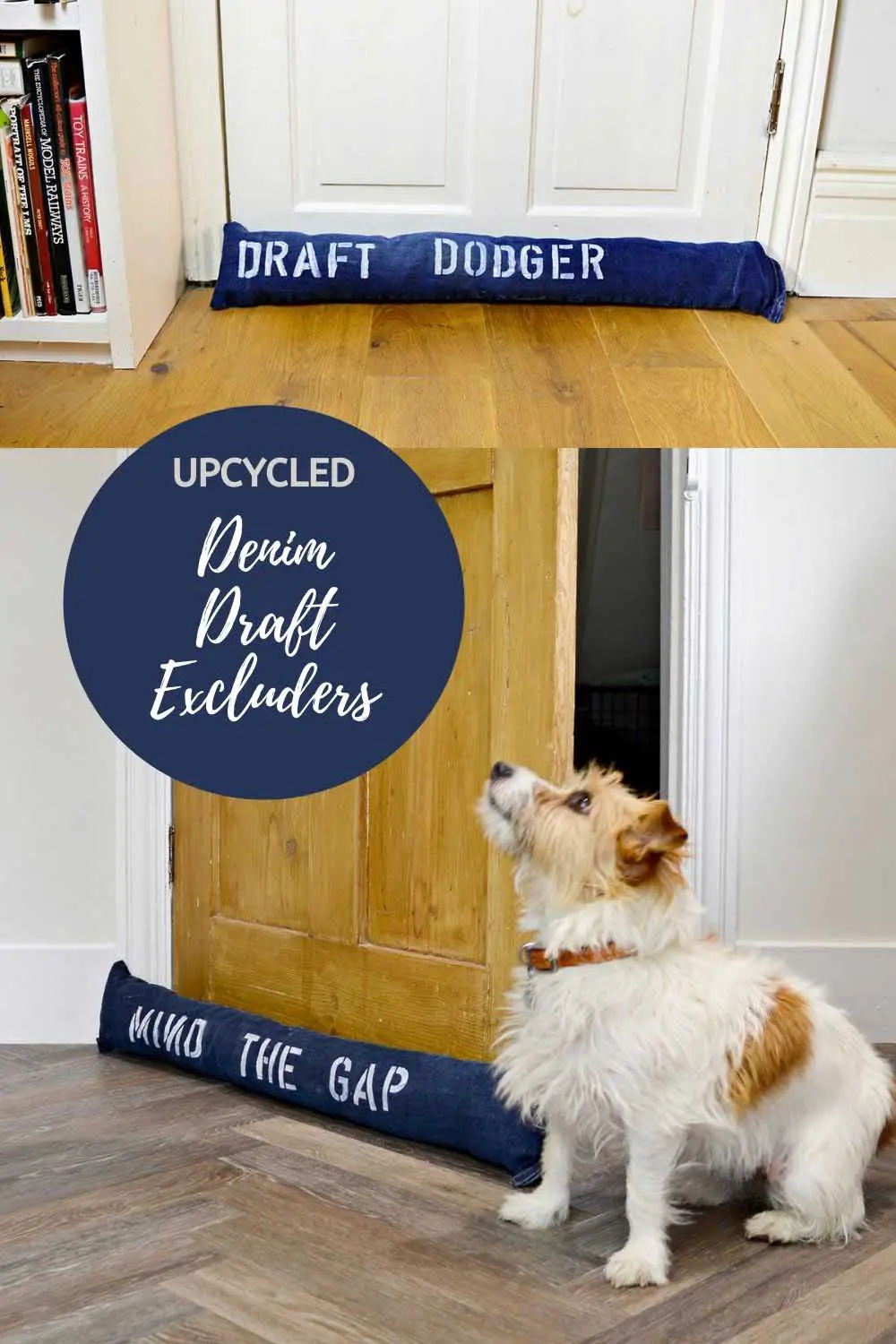 FAQs about How to Make a Draught Excluder
What materials do I need to make a draught excluder?
To make a basic draught excluder, you'll need fabric (such as old jeans or any sturdy material), a sewing machine or needle and thread, scissors, a ruler, pins, and filling material like rice, beans, or polyester stuffing.
Can I make a draught excluder without sewing?
Absolutely! If sewing isn't your cup of tea, you can use fabric glue or iron-on adhesive to seal the edges of the fabric. Just make sure it's secure enough to hold the filling material.
What can I use as a filling for my draught excluder?
You can use rice, dried beans, sand, or polyester stuffing. Some people also like to recycle old textiles, like t-shirts or towels, by cutting them into strips and using them as stuffing.
How long should my draught excluder be?
Measure the width of the door or window where you want to place the excluder, and add an inch or two for seam allowances. The excluder should cover the entire width to prevent draughts effectively.
Can I add some fragrance to my draught excluder?
Yes! Mixing in some dried lavender or adding a few drops of essential oil to the filling material is a great idea. This way, your draught excluder also acts as a lovely fragrance diffuser.
How can I clean my draught excluder?
If you're using rice or beans as filling, it's best to spot-clean the excluder with a damp cloth. If you're using polyester stuffing, you can usually machine wash it on a gentle cycle. Always check the care instructions of the fabric you are using.
Can I make a draught excluder with a removable cover?
Definitely! To do this, make an inner draught excluder with plain fabric to hold the filling, and then create a decorative outer cover with an opening (like an envelope or with a zipper) that can be removed and washed.
How heavy should the draught excluder be?
The weight depends on your preference and the size of the gaps you're trying to cover. Generally, it should be heavy enough to stay in place but not so heavy that it's difficult to move or reposition.
Can I personalize my draught excluder?
Of course! Feel free to get creative with fabrics, colours, and patterns. You can also add appliques, patches, or paint on designs to give your draught excluder a personal touch.
We're a participant in the Amazon Services LLC Associates Program, an affiliate advertising program designed to provide a means for us to earn fees by linking to Amazon.com and affiliated sites. As an Amazon Associate, I earn from qualifying purchases.
How To Make A Draught Excluder
What you need
Old pair of adult jeans – kids jeans would do for the smaller window DIY draught excluder.
Sewing Machine- with needles suitable for denim
Fiberfill – you can buy some or use an old pillow. (If making a window DIY draught excluder, you may want to use lentils or rice for the filling.)
White Paint – You can use either acrylic or fabric paint.
If making a window DIY draught excluder, a leather strip or denim seam loop for a hanging tag.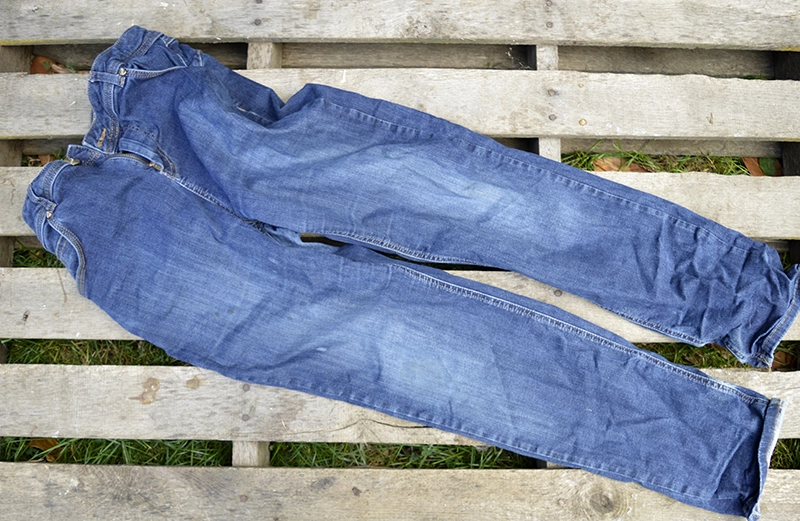 How To Transform A Jeans Leg Into A Door Snake
Step `1: First, measure the width of your door (or window) for the DIY draught excluder. My doorways are approximately 80cm (just over 2.5 feet) wide.
Then turn your jeans inside out and cut the leg to the length of your doorway; most adult jeans should be long enough (if not, you may need to make your DIY draught excluder in two parts).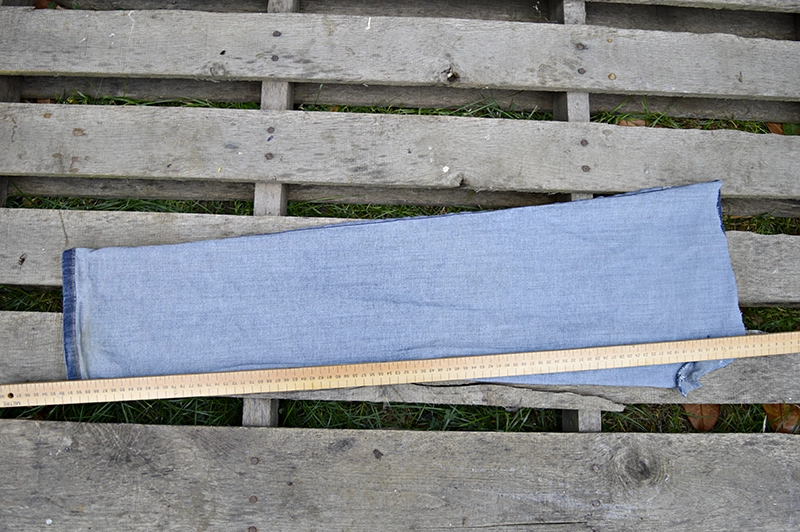 Step 2: The leg of your jean is unlikely to be a completely uniform width across the whole length. Also, it will likely be much fatter than you want for your DIY draught excluder. Therefore you will need to mark and sew down the length of the leg to even it up. I stitched the leg approximately five inches from the seam with the door DIY draught excluder.
The window DIY draught excluder was made much thinner (about 1.5 inches from the seam).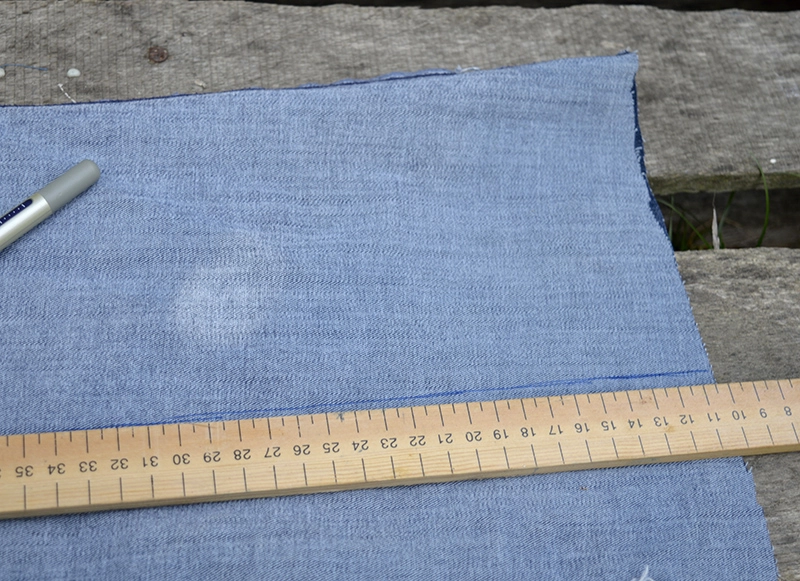 Step 3: Next, turn the jean leg right side out and stencil the pun you have chosen on the front. Whatever paint you use, lay the stencil directly on the denim, and hold down the stencil as you apply the paint with a dabbing action.
If you use acrylic paint, you may want to set it with an iron and a 50/50 vinegar/water mixture (like I did with my doily stencilled pillow and denim stencilled table runner)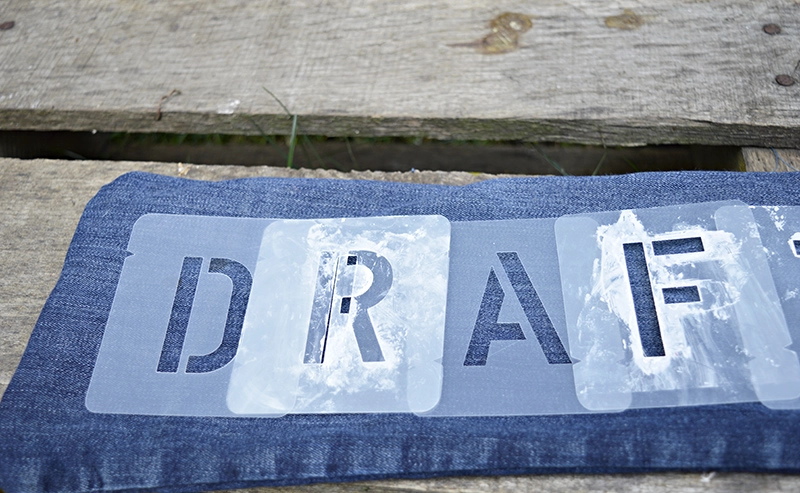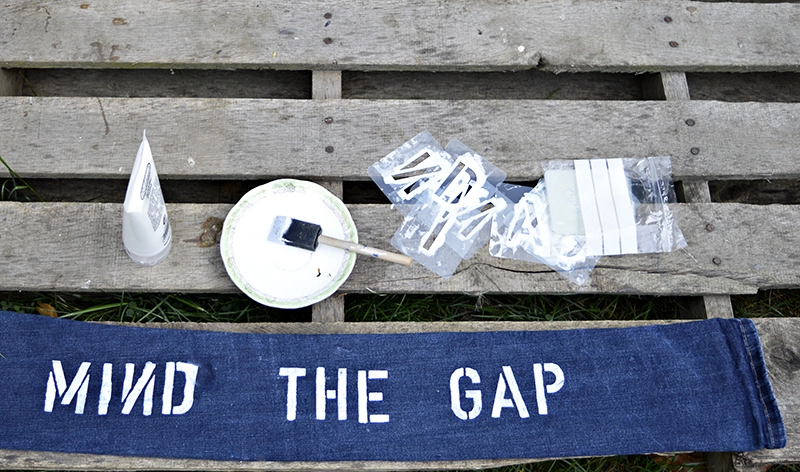 Step 4: Fill your DIY draught excluder once the paint is dry. For the door excluders, I use fibre fill from old pillows.
However, for the window excluders, I use either rice or lentils. This gives weight to the window draught excluders, which help them mould to the gaps in the window. As well as keeping out draughts. The heavier filling also helps stop the sash windows from rattling in the wind.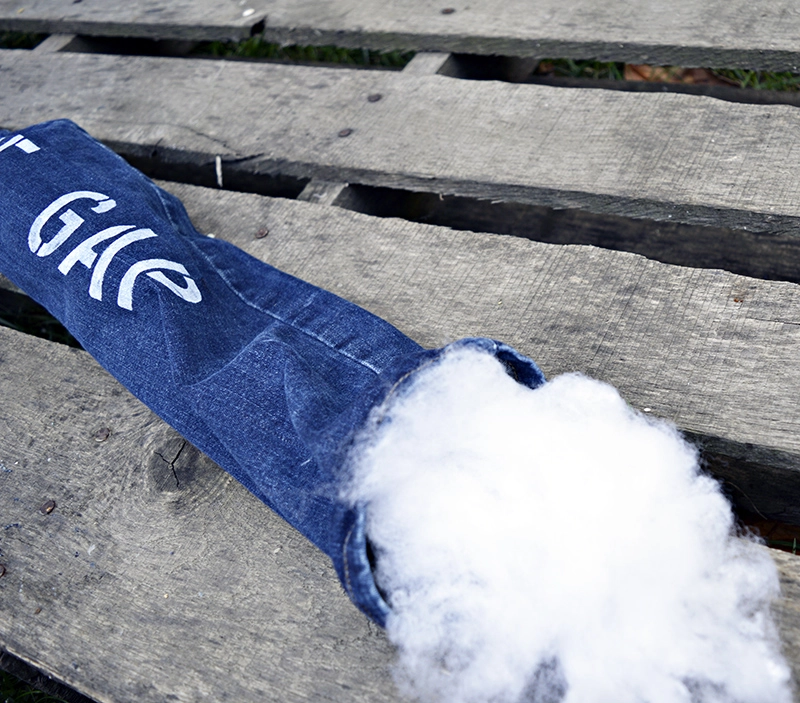 Step 5: To finish, stitch up the ends when full. I add a loop (leather or denim) for the window excluders so I can hang them when not in use.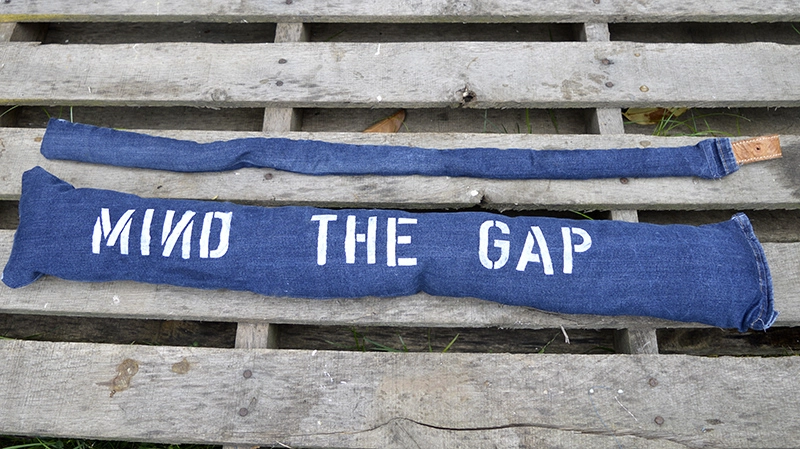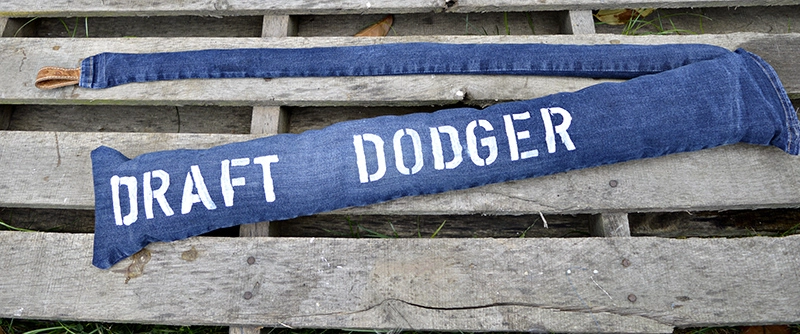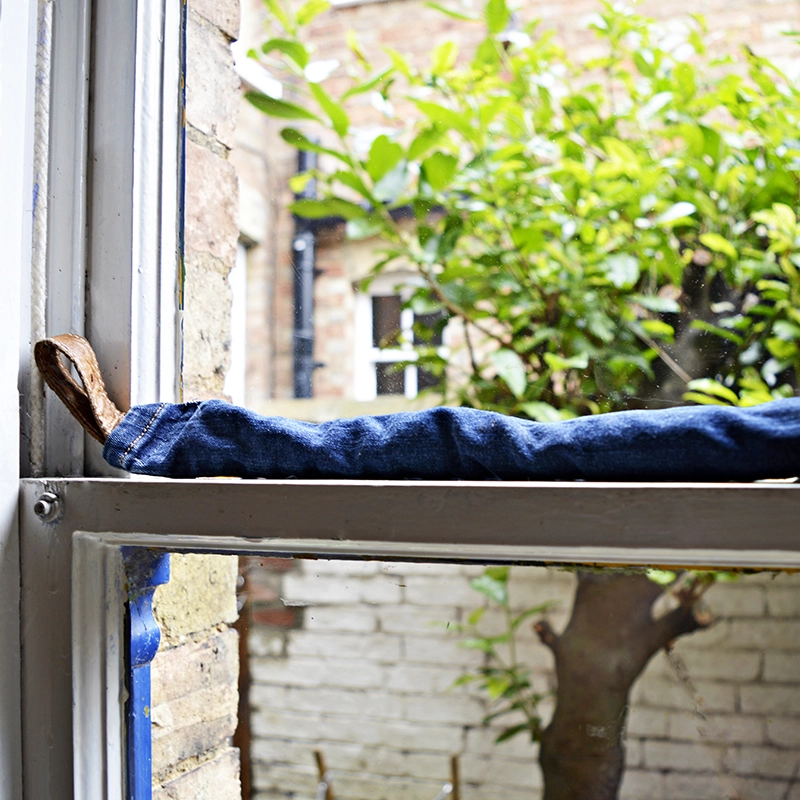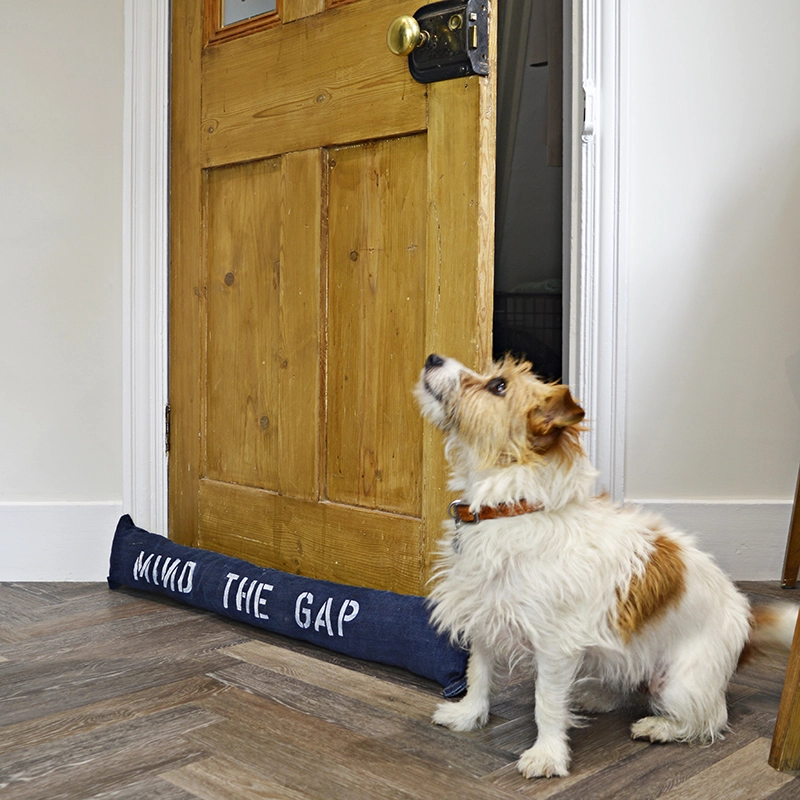 Other Stencil Phrase Ideas
My house has several doors and sash windows, so I have several draught excluders. These denim upcycles only used the legs of the jeans; there are some ideas of things you can make out of the leftover jeans pockets here. You can make cute heart keyrings from small scraps or a bouquet of denim flowers.
If you have any more draught-related puns I could use, I would love to hear them. Here are some others I've already had.
Gap jeans
Gone With The Wind
Catchin' Air
Breeze Blocker
Blowin' In the Wind
Baby, It's Cold Outside
Wind Whisperer
Chill Out
These denim draught excluders are quick and easy to make, but if you want to make a more colourful DIY draught excluder, I have a tremendous free needlepoint pattern here for a funky draught excluder. Also, there are tips for painting on denim here that can be used to decorate your draught excluder.
The denim door snakes also match my decor; I have a waistband denim rug on the floor and in the lounge, some Boho jeans pillows on the sofa. Not to mention all the other upcycled denim decor dotted around the house.

You might also want to check out some of my other popular denim upcycles:
What you can repurpose from one pair of old jeans.
Denim Pocket Organizer
iPhone Denim Pocket Pillow
No-Sew Denim Suitcase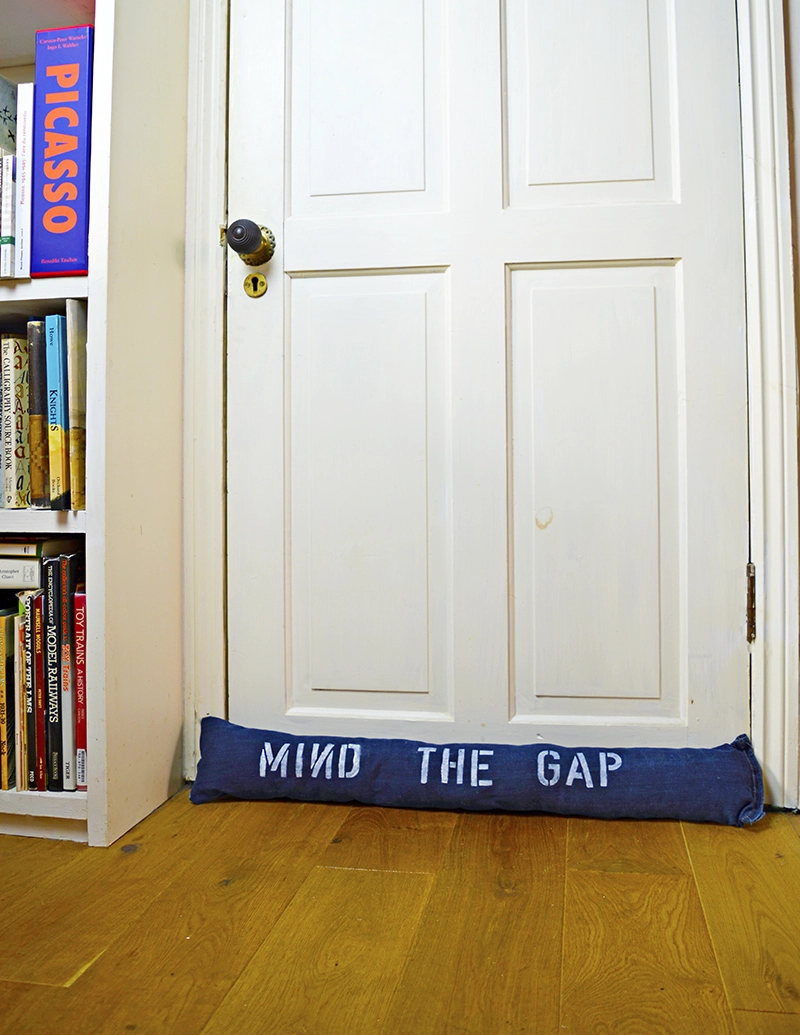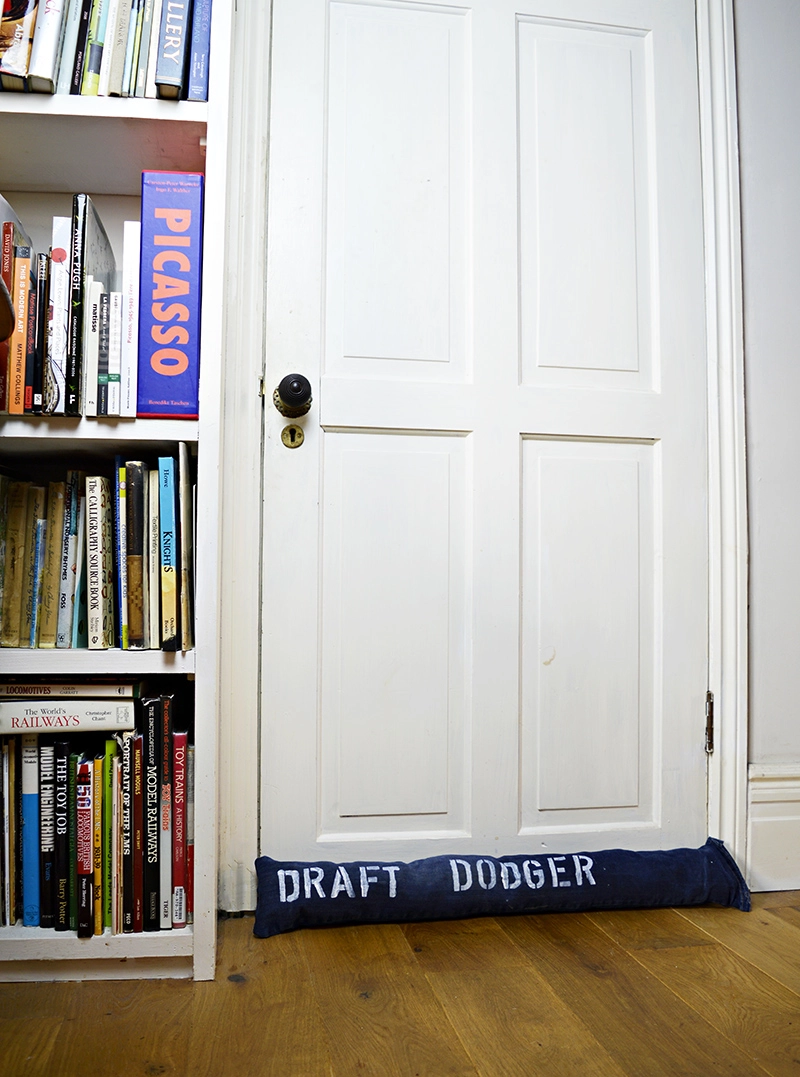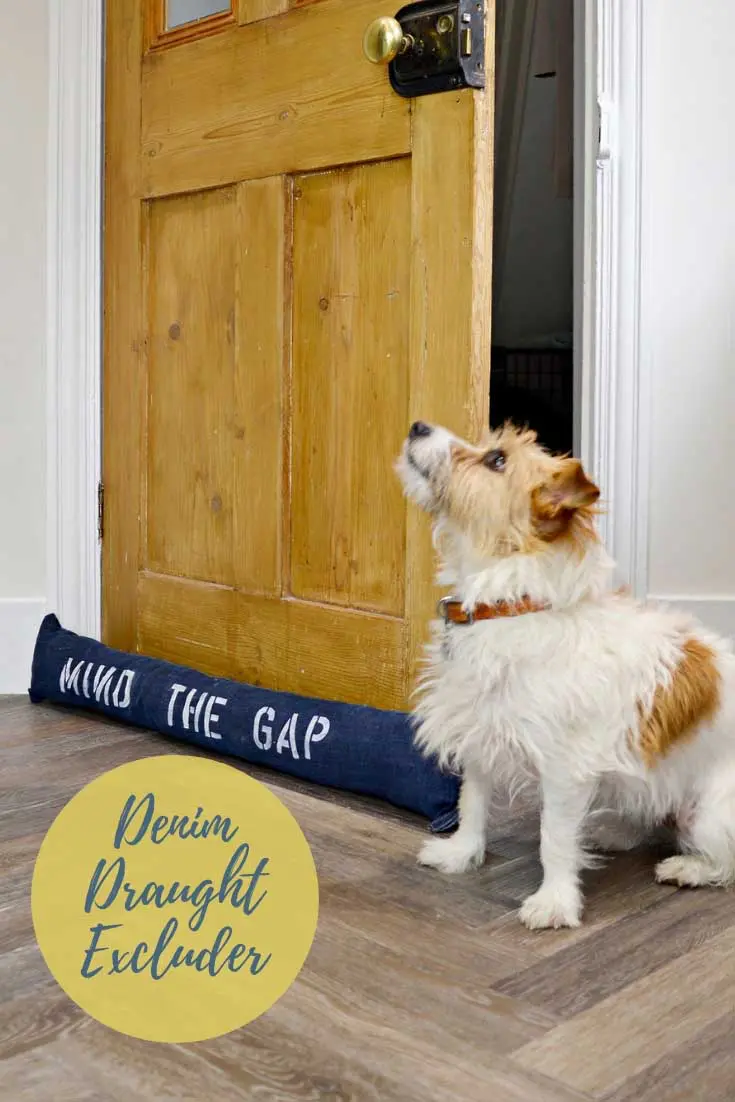 Post updated June 2023