I live in a Victorian townhouse is lovely and cool in the summer and unfortunately cold and draughty in the winter. That's why I made a denim DIY draught excluder.
Like many old houses that cling on to their original fixtures, the wind howls through the gaps. It can be really noisy at times as the old doors and the windows rattle. I love my original sash windows and old doors. I don't want to change them. Therefore to minimize the draughts, I made my own DIY denim draught excluders for both my doors and windows.
The DIY draught excluder for the door is made by upcycling old jeans. I also added a bit of humour to them by stenciling on a pun or two.
One says "Mind The Gap", which if you have ever visited London you would have heard this many times when getting on and off the tube. The other stencil is "Draft Dodger", which I confess wasn't my idea but actually a suggestion from one of my readers.
The denim door snakes also match my decor, I have a waistband denim rug on the floor and in the lounge some Boho jeans pillows on the sofa. Not to mention all the other upcycled denim decor dotted around the house.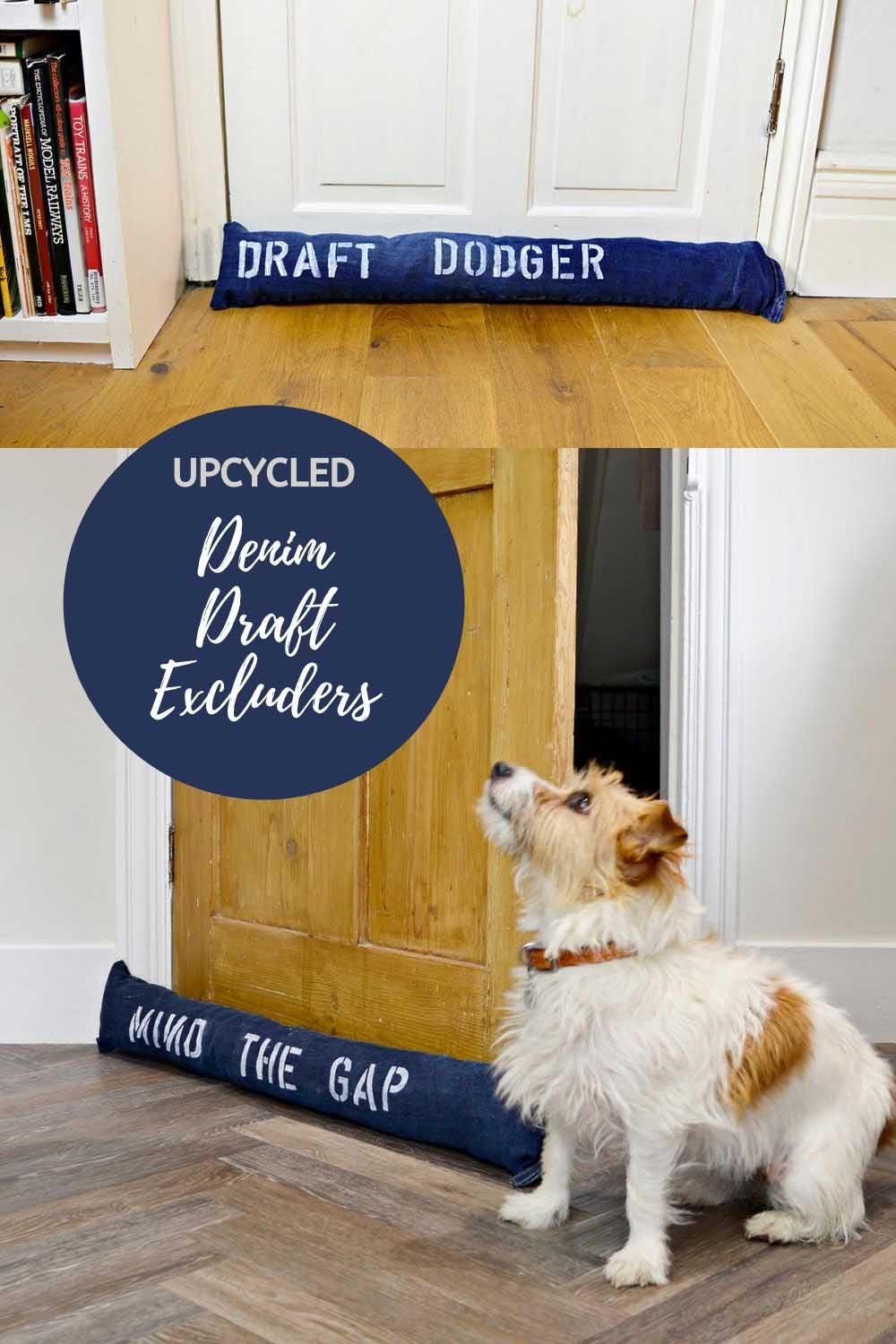 We're a participant in the Amazon Services LLC Associates Program, an affiliate advertising program designed to provide a means for us to earn fees by linking to Amazon.com and affiliated sites. As an Amazon Associate, I earn from qualifying purchases.
How To Make A Personalized Denim DIY Draught Excluder
What you need
Old pair of adult jeans – kids jeans would do for the smaller window DIY draught excluder.
Sewing Machine- with needles suitable for denim
Fiberfill – you can buy some or use an old pillow. (If making a window DIY draught excluder you may want to use lentils or rice for the filling.)
White Paint – You can use either acrylic or fabric paint.
If making a window DIY draught excluder a leather strip or denim loop for a hanging tag.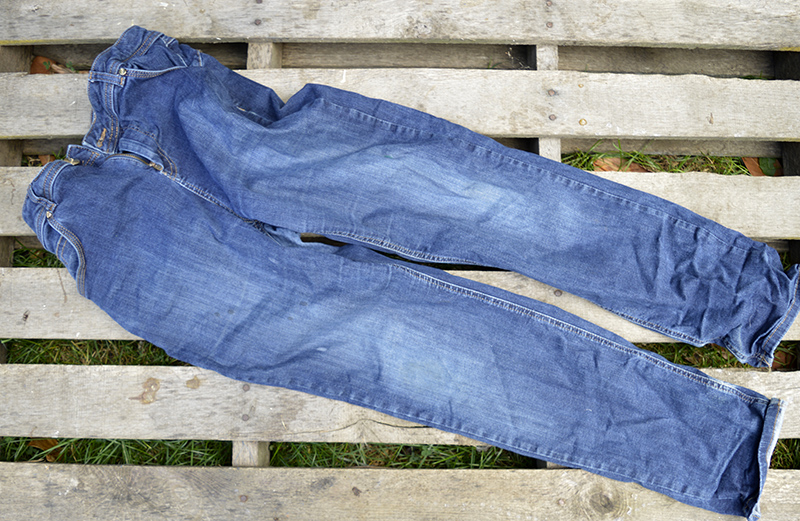 How to make a Denim DIY Draught Excluder
1.. First, measure the width or your door (or window) for the DIY draught excluder. My doorways are approximately 80cm (just over 2.5 feet) wide.
Then turn your jeans inside out and cut the leg to the length of your doorway, most adult jeans should be long enough (if not you may need to make your DIY draught excluder in two parts).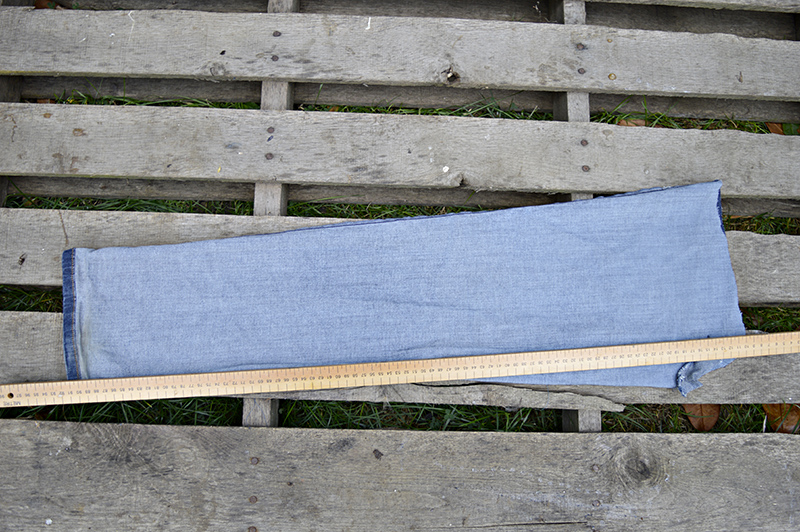 2. The leg of your jean is unlikely to be a completely uniform width across the whole length. Also, it is likely to be a lot fatter than you want for your DIY draught excluder. Therefore you will need to mark and sew down the length of the leg to even it up. For the door DIY draught excluder, I stitched the leg up approximately five inches from the seam.
The window DIY draught excluder was made much thinner (about 1.5 inches from the seam).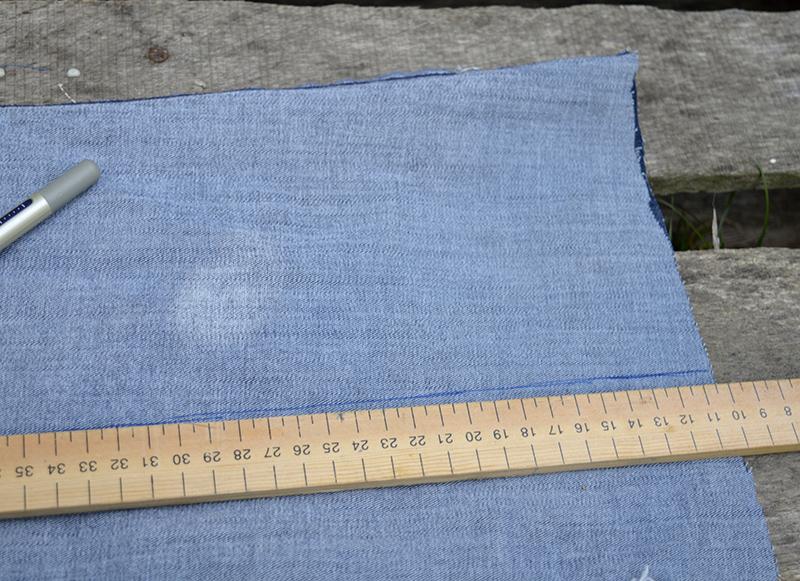 3. Next, turn the jean leg right side out and stencil the pun you have chosen on the front. Whatever paint you use, lay the stencil directly on the denim, hold down the stencil as you apply the paint with a dabbing action.
If you use acrylic paint you may want to set it with an iron and a 50/50 vinegar/water mixture (like I did with my doily stenciled pillow and denim stenciled table runner)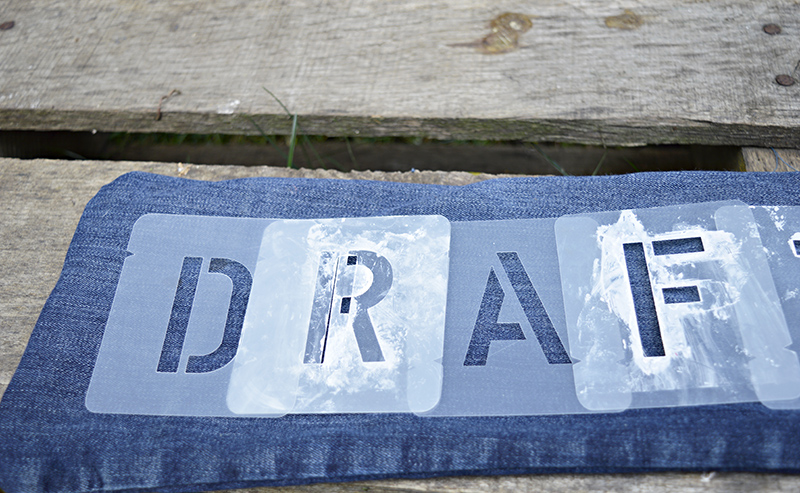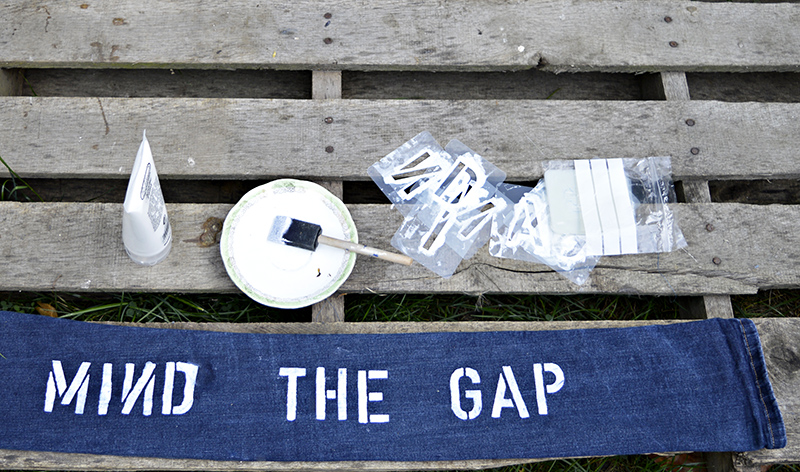 4. Then, once the paint is dry, fill your DIY draught excluder. For the door excluders I use fiber fill from old pillows.
However, for the window excluders, I use either rice or lentils. This gives weight to the window draught excluders which help them mold to the gaps in the window. As well as keeping out draughts. The heavier filling also helps stop the sash windows from rattling in the wind.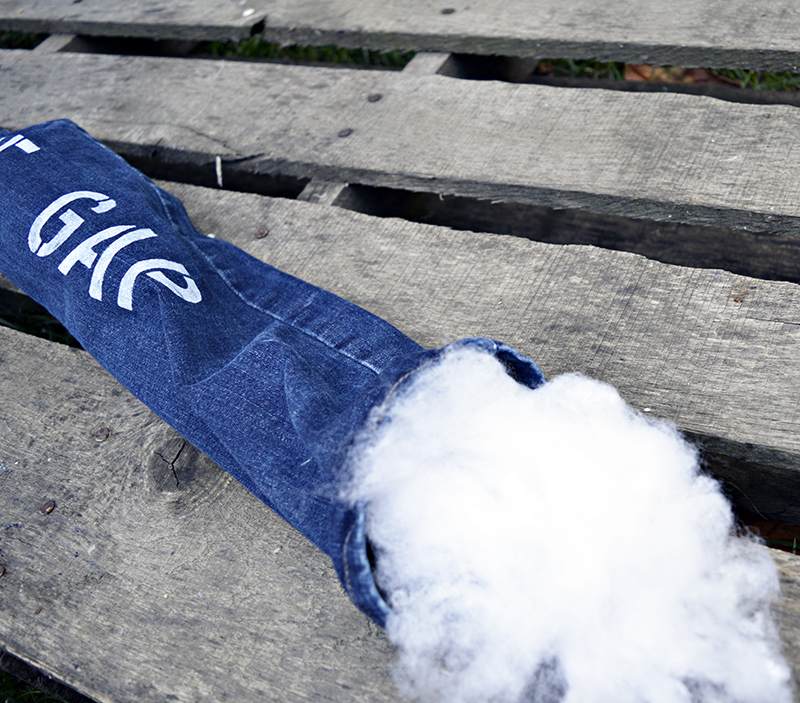 5. To finish, stitch up the ends when full. For the window excluders, I add a loop (leather or denim) so I can hang them when not in use.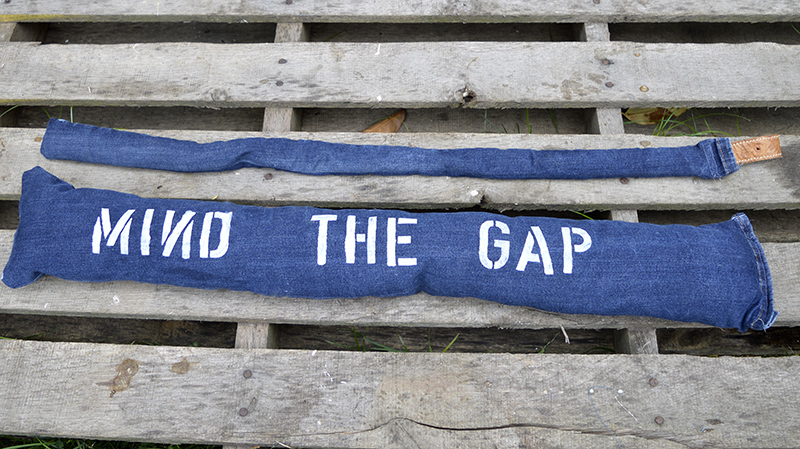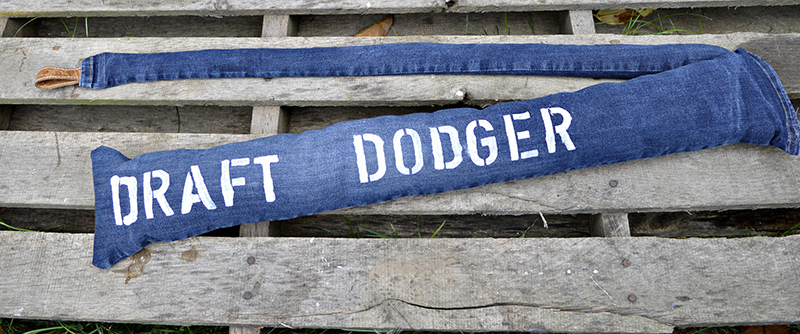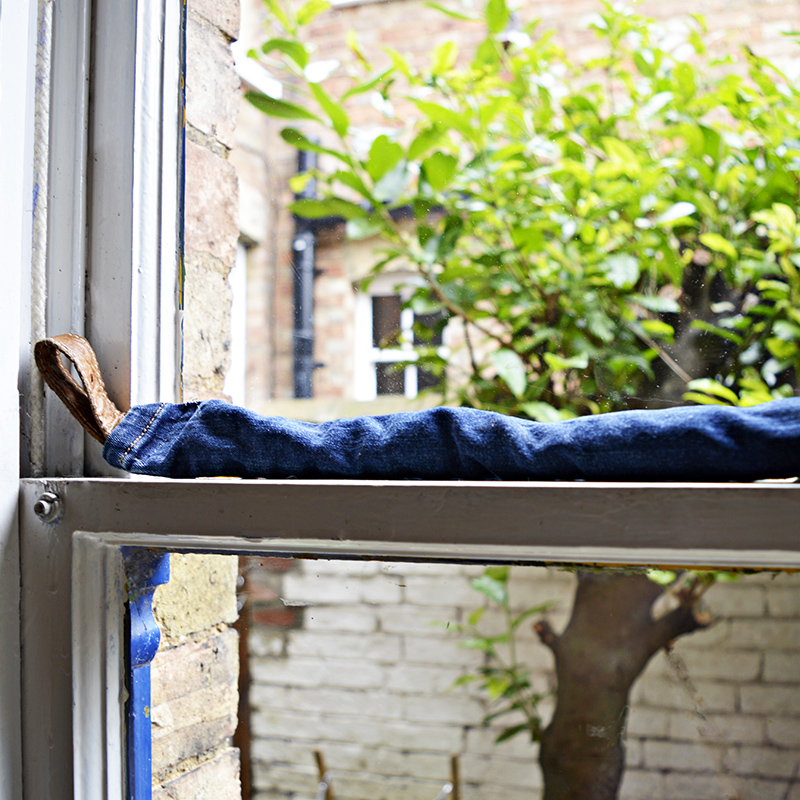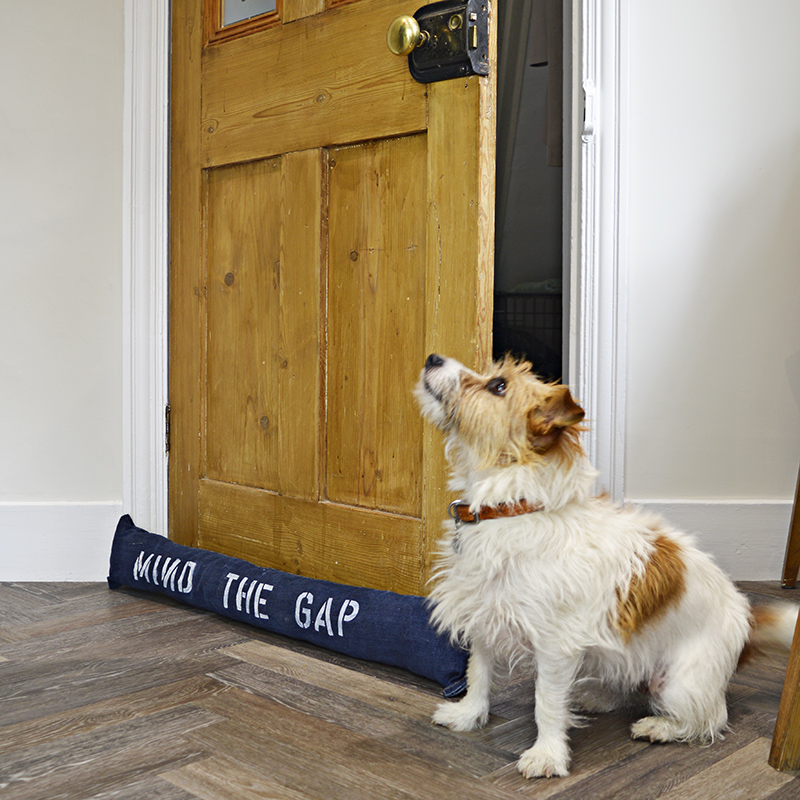 Other Stencil Phrase Ideas
I have quite a few doors and sash windows in my house so have a number of draught excluders. This denim upcycle only used the legs of the jeans, there are some ideas of things you can make out of the leftover jeans pockets here. You can even make some cute heart keyrings out of the small scraps or a bouquet of denim flowers.
If you have anymore draught related puns I could use, I would love to hear them. Here some others I've already had
Gap jeans
Gone With The Wind
Catchin' Air
Breeze Blocker
Blowin' In the Wind
Baby, It's Cold Outside
Wind Whisperer
Chill Out
These denim draught excluders are really quick and easy to make but if you want to make a more colourful DIY draught excluder I have a great free needlepoint pattern here for a funky draught excluder.
You might also want to check out some of my other popular denim upcycles:
What you can repurpose from one pair of old jeans.
Denim Pocket Organizer
iPhone Denim Pocket Pillow
No-Sew Denim Suitcase