Inside: A collection of scrap fabric crafts and projects, including hand-sewn and no-sew ideas.
I hate throwing things away, as I'm sure I can upcycle or repurpose them for another project. It's especially true for fabric scraps left over from other projects. I thought it was time I found some things to make with the fabric scraps in my ever-growing stash.
I have talked about upcycling fabrics before, but this time, I'm talking about using the smallest leftover scraps. It's amazing what you can make from what others would consider rubbish. Many scrap fabric ideas listed below would also make great handmade gifts.
There is a good mixture of sewing and non-sewing fabric crafts. Many are easy to make, even when getting out of the sewing machine.
And, of course, they are all very affordable, as you are just using up the fabric scraps you already have in your stash. Most other materials you might require will be part of your craft essentials and nothing fancy.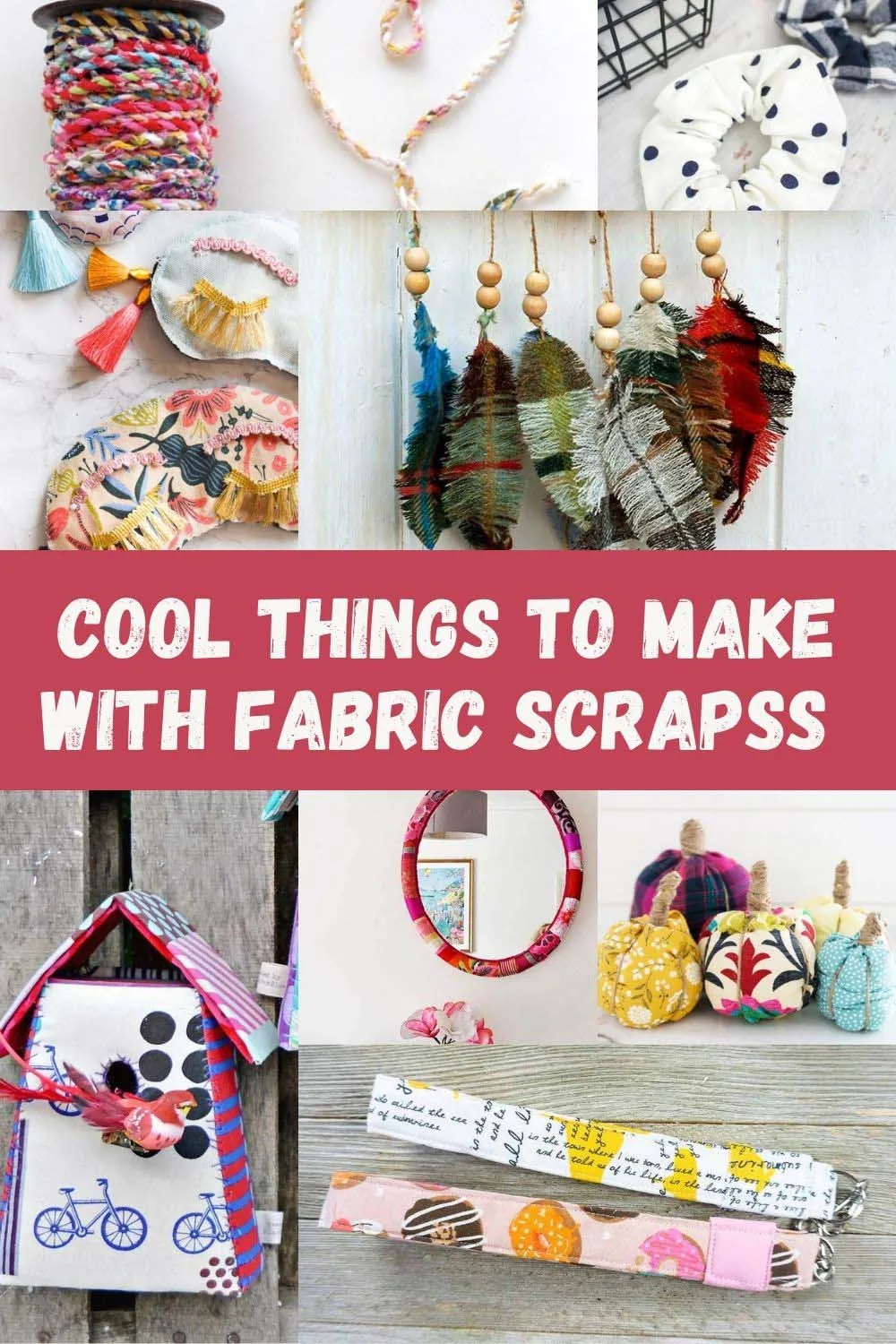 What Scraps To Use
Trimmings and leftover material from other sewing projects. Even the smallest of scraps can be patchworked together to make larger pieces.
Un-donatable clothes, if I have an old shirt that has seen better days. If it's in a particular pattern that I love, I will cut up the good bits of fabric into scraps to use.
Fabric samples and swatches. I keep all the material swatches I get for free from furniture and interior stores. These are excellent ways to get free small fabric samples for projects.
Fabric scraps can be used for decoupage as well as sewing. Check out these decoupaged IKEA Moppe mini drawers.
If you regularly visit this site, you will know I'm passionate about upcycling denim. For these projects, I use every part of a pair of jeans. So much of my scrap denim fabric upcycled crafts can be seen with this collection of no-sew jeans projects or what to craft with jeans seams and upcycled jean pocket ideas.
The Best Things to Make With Fabric Scraps
Do you have a pile of fabric scraps from other craft projects or fabric sample swatches?
This is a list of over 70 beautiful ideas for the scraps. Make them for yourself or give them as gifts; from practical and applicable to fun, decorative and frivolous, various fabric crafts inspire everyone.
You might want to check out these awesome leather craft ideas if you have some leather scraps.
Don't forget to check out many of my other cool adult craft ideas and ideas for upcycling sweaters for Christmas.