This is a tutorial on how to decoupage shoes to make your own designer sneakers. The three designs I used are from my favorite Finnish design studio, Marimekko.
Decoupaging with paper napkins is a very simple and affordable way to get a designer look. Lucky for me Marimekko print many of their iconic patterns and designs onto paper napkins. There are so many to choose from.
My favourite Marimekko print is their iconic Unikko poppy and I have used that many times in my home upcycles. From Nordic Christmas decorations to tabletop wall art, upcycled plastic planters, and even a unique Marimekko bench for my garden.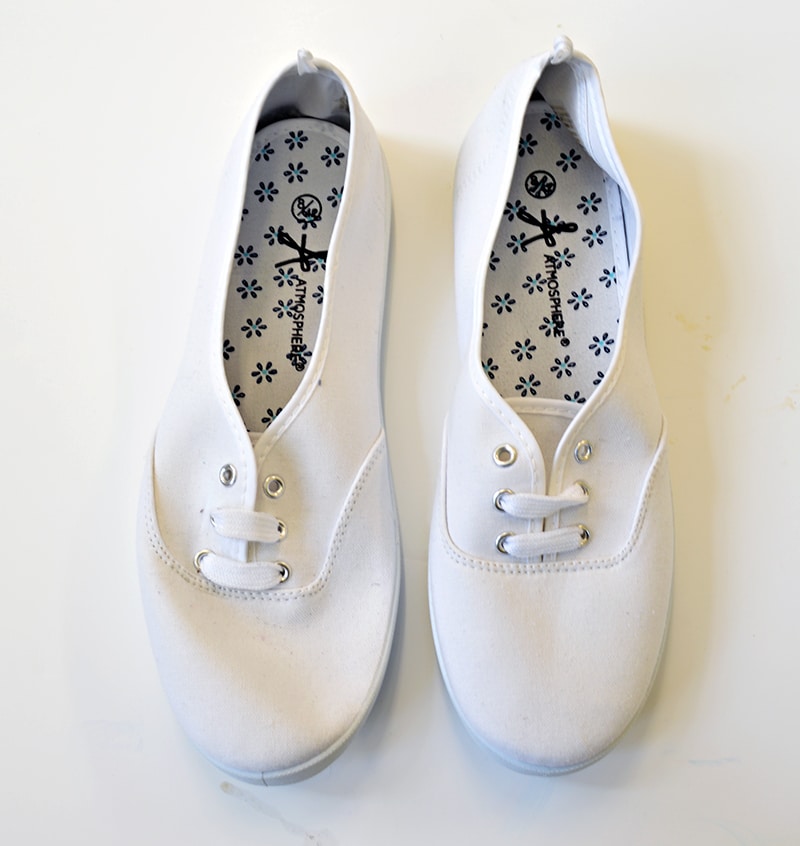 The Decoupaged Sneakers
The sneakers I used for this upcycle where really cheap and affordable, I ended up making three different pairs of decoupaged shoes.
If the truth be told, I couldn't just pick one design so I ended up making three different pairs of Marimekko shoes. They were in different patterns and colours so I had more choice when matching them with my outfits.
Lucky for me this is a really easy craft so it didn't take long to make each pair.
We're a participant in the Amazon Services LLC Associates Program, an affiliate advertising program designed to provide a means for us to earn fees by linking to Amazon.com and affiliated sites. As an Amazon Associate, I earn from qualifying purchases.
What you Need to Make Marimekko Shoes
Pair of white canvas sneakers (whatever style you want)
Marimekko Paper Napkins
Modge Podge Glue Matte
Cling film
Plastic bags
Masking Tape
Fine paintbrush
Foam brush
Waterproof PVA or Mod Podge
Cup of water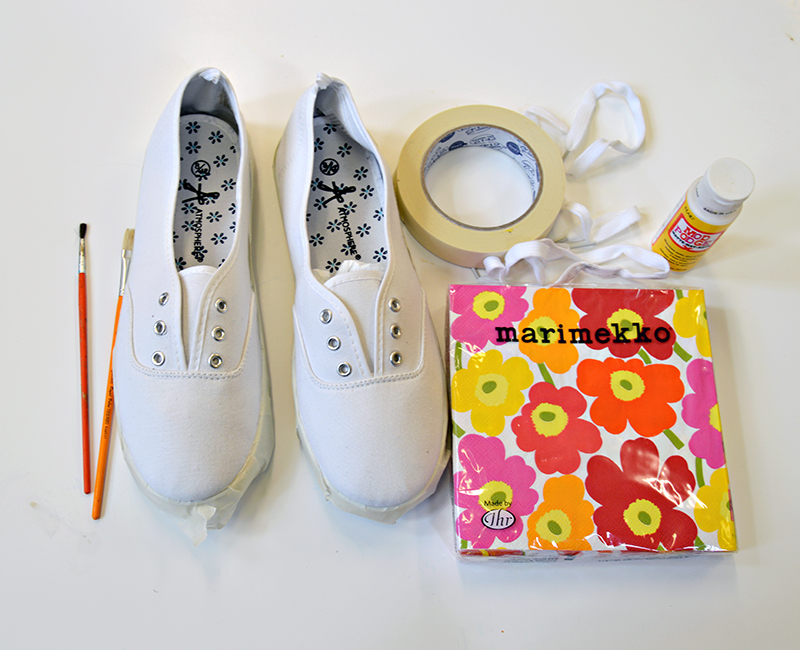 How To Decoupage Shoes / Sneakers
1.. First, prepare the sneakers for decoupage. Remove the laces and stuff the toes with plastic bags so they are firm.
Tape off the area you don't want to be covered in Marimekko napkins, such as the rubber trim on the sole. Don't try to cover eyelets with tape, this is too tricky.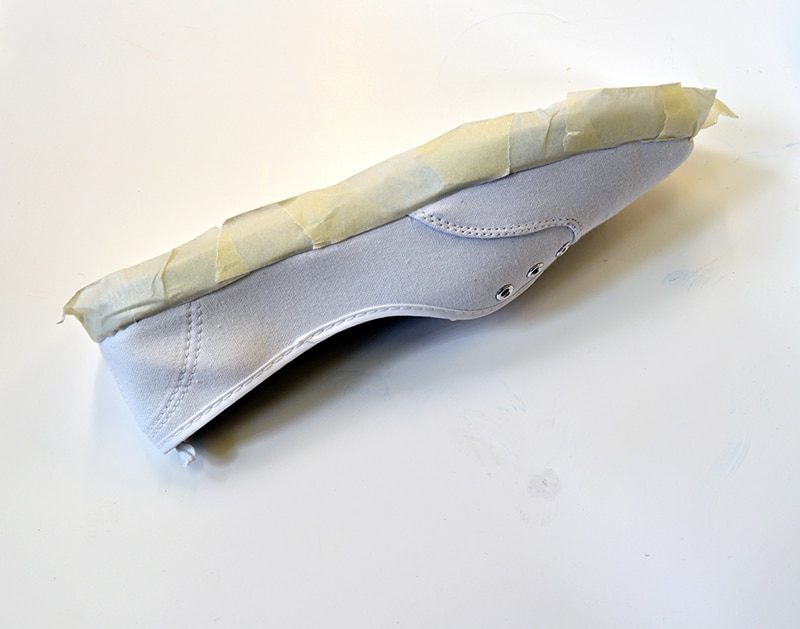 2. Once you have decided on what paper napkin you are going to use, separate the top print layer. Most paper napkins are three ply but only the top layer has the pattern printed on it.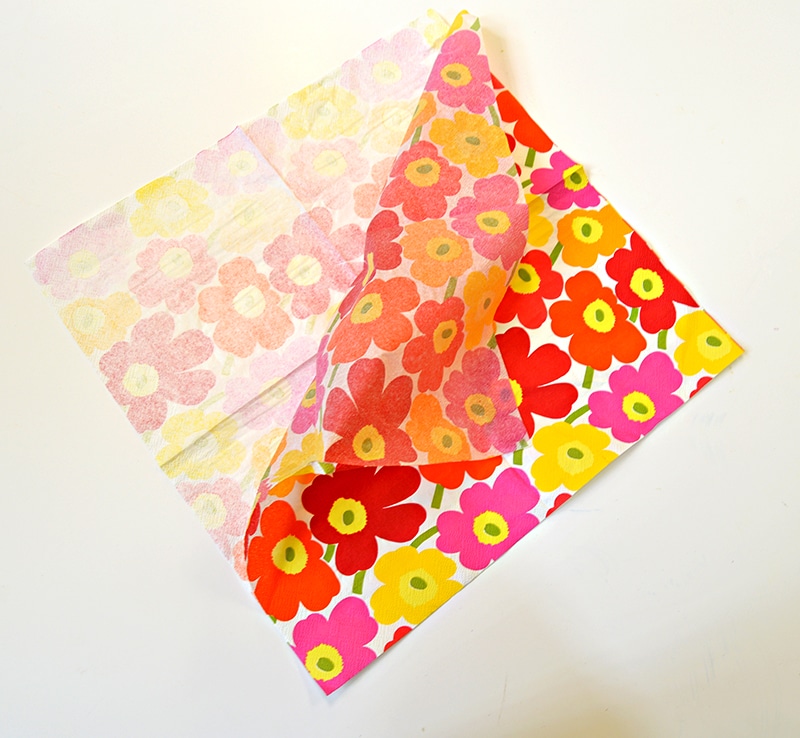 3. Place this separated napkin face down on cling film. You will be tearing your designs out and not cutting as this gives you a nice feather edge.
Decide on the flower you want to use, draw around the flower with a wet paintbrush. This will make it easier to tear around the flower.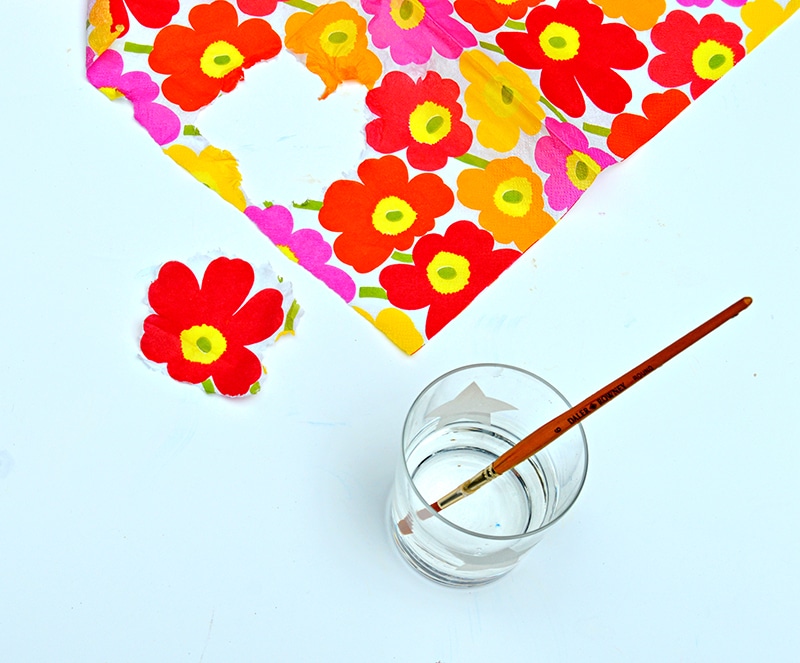 4. Next, cover the whole of the area of the shoe that you want to decoupage with Mod Podge. The Mod Podge is put on the shoe rather than the paper napkin, as the napkin is too delicate.
Then, carefully lift your cling film with cut flower face down and place on the shoe where you want. The flower should now be face up on the shoe carefully press down and straighten out using the cling film. Don't worry about overlapping on to the taped off areas at this stage.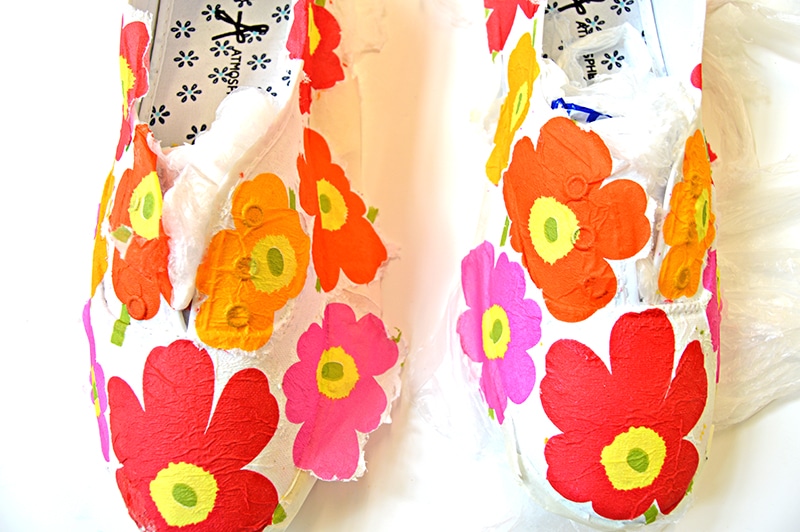 5. Carry on decoupaging the sneakers until the whole shoe is covered. Leave them overnight to dry.
In the morning when the glue has dried use a craft knife to carefully remove and excess napkins on the shoe. For example around the taped-off rubber trim. Punch through the lace's eyelets as well with a sharp object.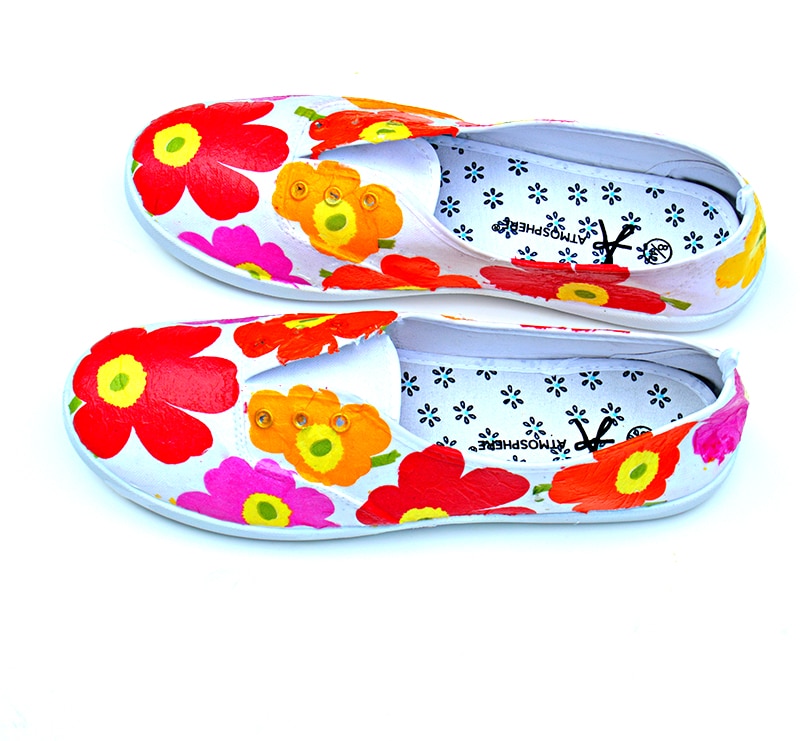 6. To protect the decoupage sneakers, apply another coat of Mod Podge over the top of the paper napkins and leave to dry. To make the shoes waterproof and another lay of outdoor Mod Podge.
7. Finally, to finish remove the tape and insert the laces.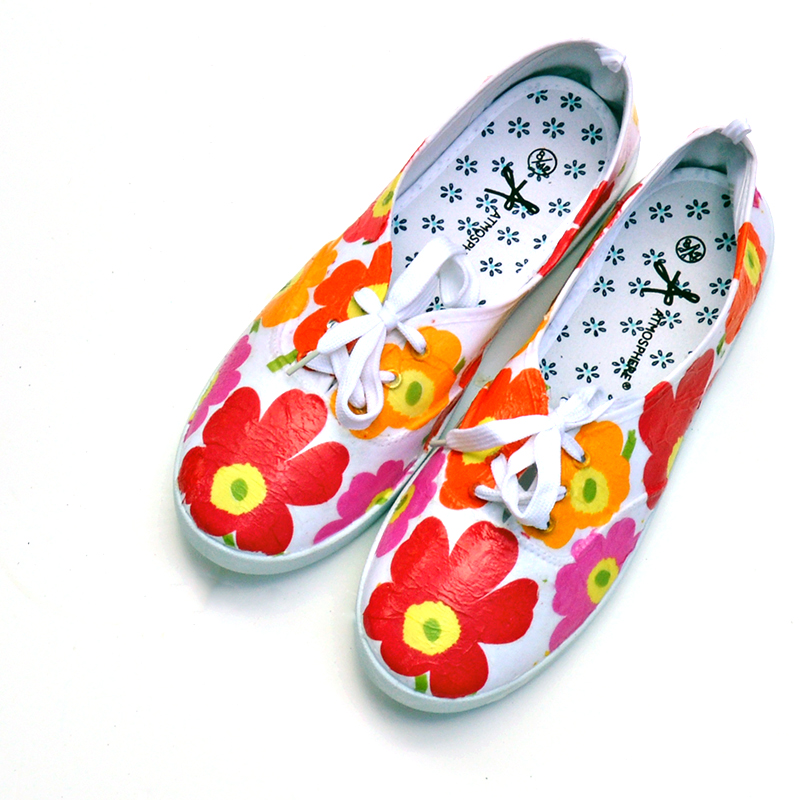 The Three Marimekko Designs
As I mentioned at the beginging I ended up making 3 pairs of Marimekko decoupage sneakers as I couldn't just pick one design.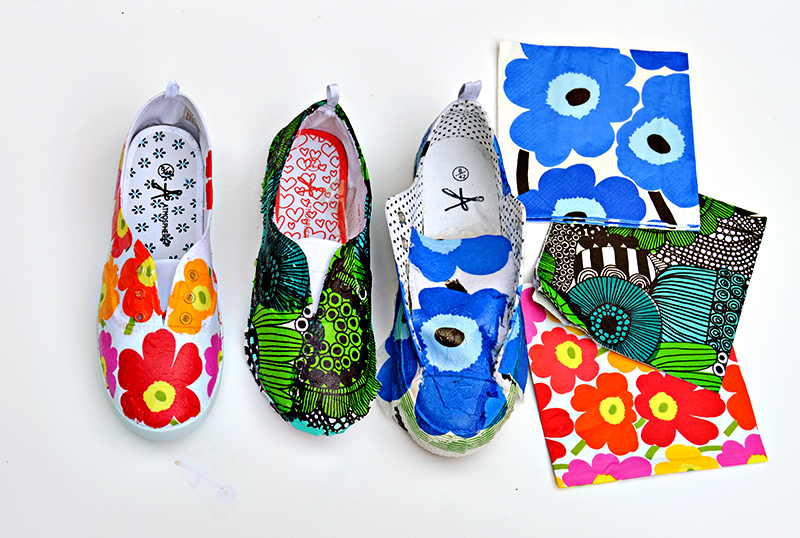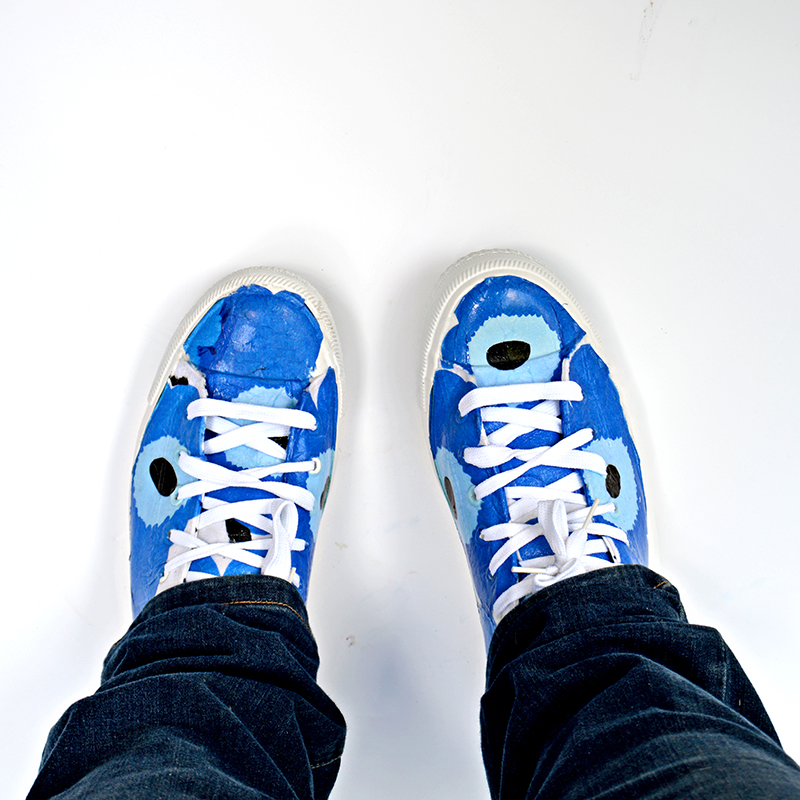 I think the blue Unikko print Marimekko sneakers are my favourite of the three designs. I love the colour and the big poppy print works really well.
The canvas shoes only cost £3 and I used about 3-4 napkins per pair of shoes. You can use any napkin designs you want, so if you're more into Cath Kidston you can use their napkins. Unfortunately, I've yet to find some Orla Kiely paper napkins but as soon as I do I will be covering a pair of shoes with them.
If you are going to give it a go I'd love to know what napkin design you would use.
Other Marimekko Crafts
You can find many more Marimekko crafts and DIYs here.
I don't just use Marimekko paper napkins to upcycle and craft with, they also produce a lovely range of wallpapers. I have wallpapered my stairs with Marimekko wallpaper and made some wallpapered lampshades to match too.
I've even used Marimekko wallpaper samples to make a fun desk caddy.
Even the shed in my garden has been hand painted with a Marimekko design. I told you I am a huge fan of their prints and patterns!






For more summer craft ideas visit allfreeholidaycrafts.com