Inside: Do you want to craft but don't know where to start? This might help, a list of the types of crafts you can do at home with links to free tutorials.
On my living room wall is a framed embroidery sample. I don't mean an old-fashioned Grandma-style Home Sweet Home piece. But a funky free-style interpretation of my children's artwork. The sort of stuff they would bring home in grade 1, and you'd stick on the fridge.
Move your eyes to the couch; you'll find an assortment of handmade pillows. Then look up to the mantle to see a bunch of denim flowers in a homemade vase. Carry on looking around the room; you'll find more handcrafted items.
My home comes across as unique and personal. Guests comment on how happy it feels. The room shows off many different crafts.
Do you want to craft for yourself, to gift or sell? Below I've listed crafts you can do from home, plus handy tips to ensure knockout results.
Why Bother To Craft?
Yonks ago, people crafted because they had to. Because they needed to make the clothes on their back, the utensils to eat with and vessels to drink from. Now we buy what we need; we make things for fun and because we can.
I'm a butterfly crafter flitting from project to project, making fab stuff. Creating is pleasurable and relaxing.
Whilst I'm absorbed in creating, my overthinking brain takes a nap, and my problems disappear.
You can make it nicer than you can buy it! Spend a little effort making things, and you'll appreciate them more.
Maybe crafting is attractive because it's no longer a necessity. "I made that" is so satisfying to say.
Modern twists make traditional crafts popular again. Handcrafted things have always been personal, meaningful, affordable, and fun. Now it's not just about functionality but also fashion and inspiration.
Crafting can be addictive. Once you've tried a few techniques and grasped how easy and pleasurable it is, you'll want to do it again and again.
The list of crafts will motivate you to create and get that making buzz.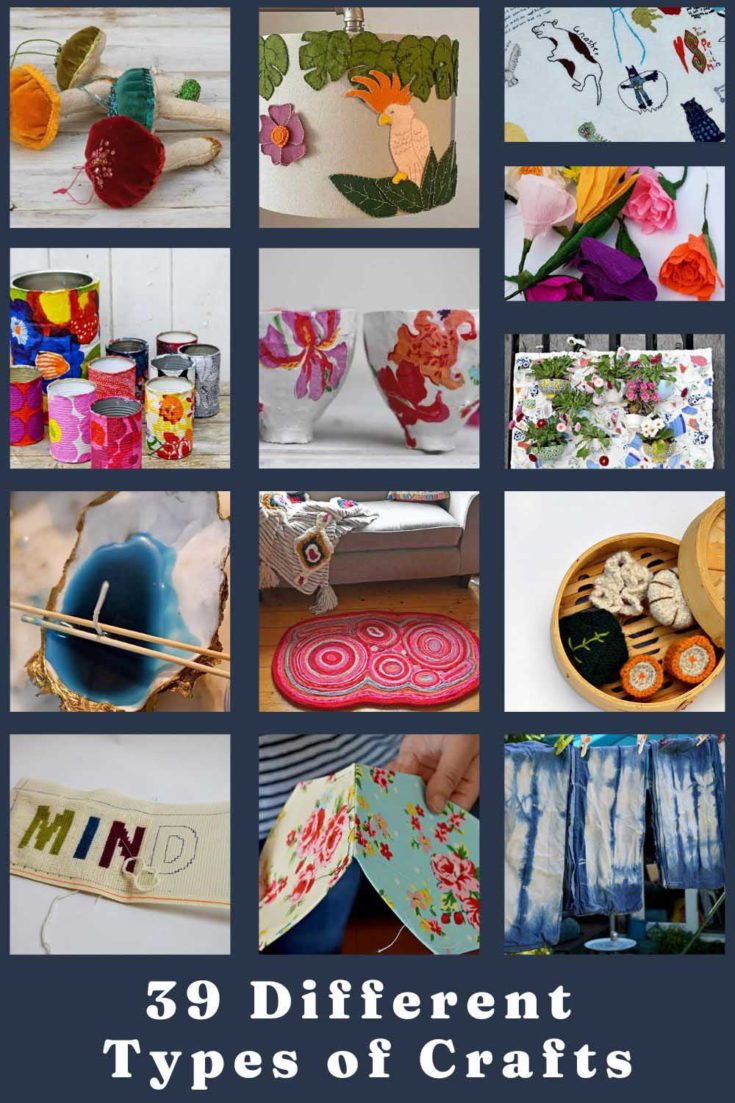 Different Types of Craft – To Awaken Your Creativity
You like the idea of making but are unsure what or where to start. You don't want to spend money on crafting tools you'll only use once. Walk into a craft store. The miles of shelving stuffed with supplies can be overwhelming.
Don't let anyone say they're not creative enough to craft; they just haven't found the right one. Learning creativity is possible; like a muscle, the more you exercise it, the stronger it gets.
There are hundreds of different handicrafts, but this list focuses on the main ones you can do at home, with examples and links to tutorials. Aimed at adult crafters but are often easy enough for children.
Most crafts only use basic craft essentials and no expensive tools, such as electronic cutting machines or kilns. Hopefully, you'll already have the tools needed to hand or can borrow them from a friend.
1. Ceramics and Glass Crafts
Even if you don't have an expensive kiln, there are lots of ceramic and glass-based crafts you can do at home.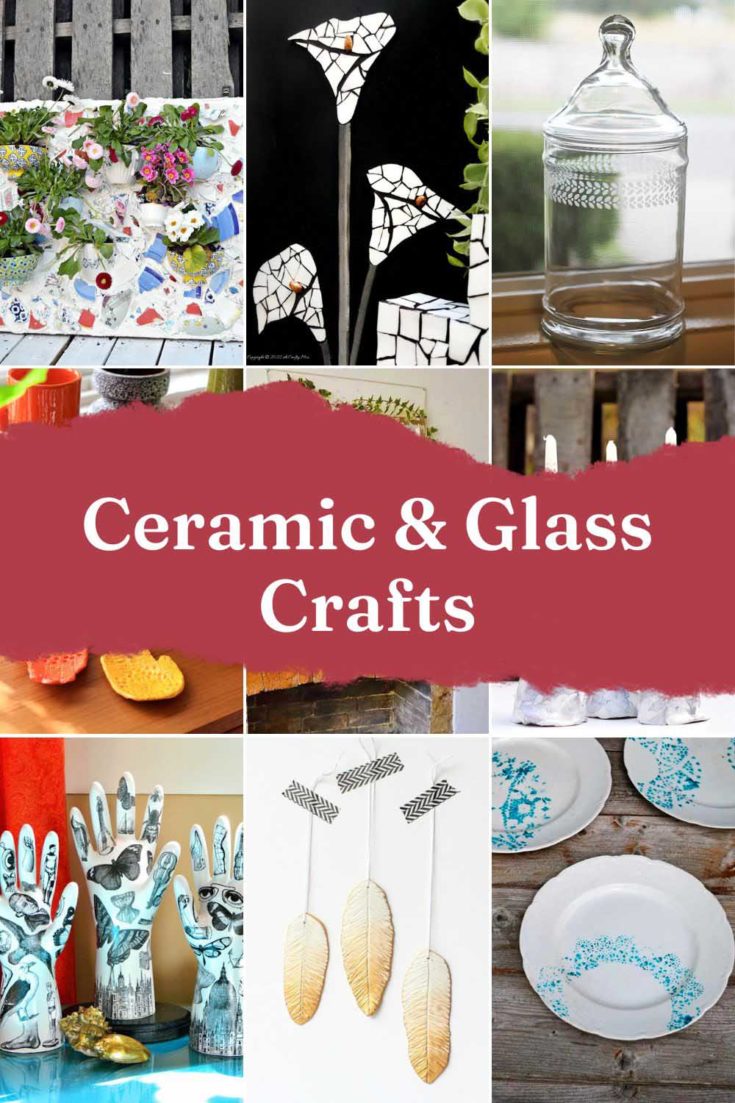 2. Paper Crafts
Far from being flimsy and decorative, paper can be durable, strong, and practical.
Papier-mâche – There are two main types of Papier-mâche, pulp and layered. It's a robust but lightweight modelling technique using waste paper to make crafts, from delicate tea cups to giant cacti.
Origami -The Japanese art oper folding. Start with the famous crane.
Paper cutting – From Japanese kirigami techniques to cutting out images to make paper decorations and framed art.
Decoupage – This is the art of decorating with paper cutouts and glue. Paper napkin decoupage is excellent for transforming trash into treasure, like with these beautiful tin can planters.
Quilling – Sometimes called filigree, roll strips of paper into shape and glue them together to create decorative designs.
Paper Weaving – Make woven baskets and bowls by weaving upcycled magazines and newspapers.
Paper flowers – Make any flower or plant out of any paper. Those made out of Italian Crepe paper are the most realistic, like this flower wall art.
Scrapbooking – A popular craft for making collections of memories in a visual form using paper. Use techniques such as stamping, decoupage to paper cutting to make a scrapbook.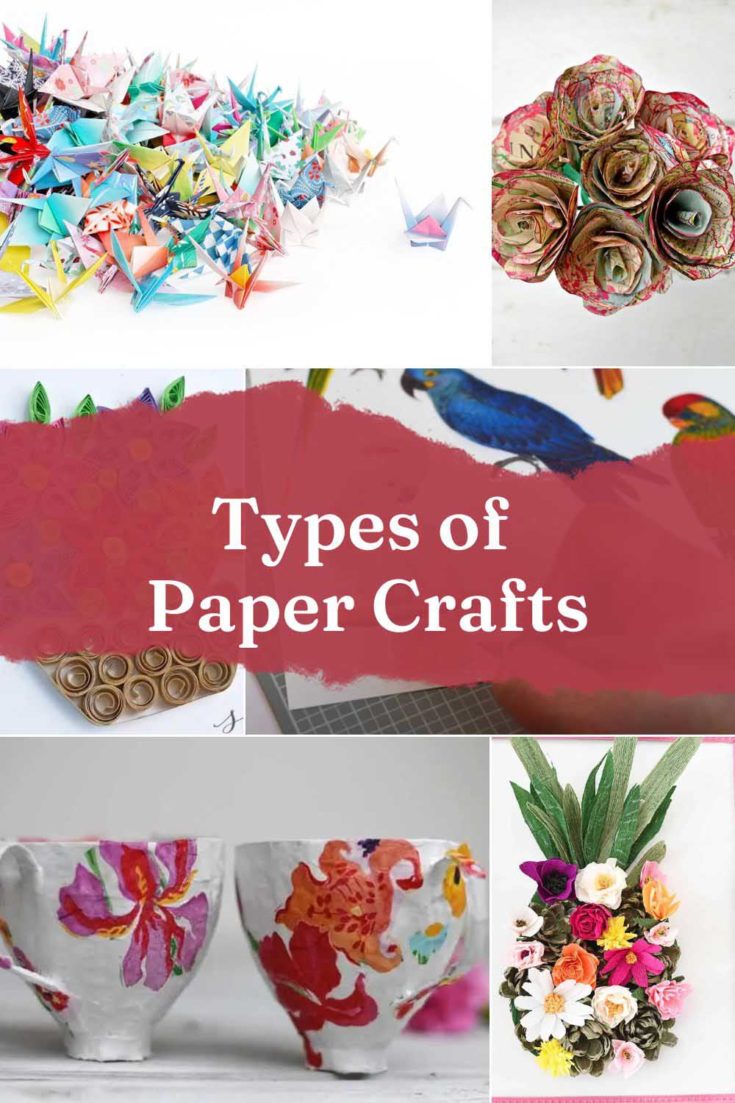 More types of crafts…
3. Textile Crafts
Textile art uses fabrics or materials in one form or the other.
Sewing – The stitching together of different pieces of fabric. Either with a machine or by hand.
Applique uses one or more fabric scraps, stitched on (or applied) to another for decoration. Use a sewing machine or hand stitch the pieces, like these Chinese applique pillows.
Felting – Felt is the oldest textile on earth and one of the simples to make. Combining warm water, fleece and agitation will create a fabric of bonded fibres that won't unravel or fray. Recycle old wool sweaters by felting them in the washing machine. Use the sweater felt for making small Christmas decorations to large felt rugs.
Quilting – The sewing of two layers of fabric with padding in between. Use a sewing machine or hand stitch your quilts. Uses other textile crafts to decorate the quilts, such as applique, embroidery and patchwork.
Patchwork -The process of sewing pieces of fabric together to form a larger design. Geometric shapes in repeating patterns make up the designs, like with these denim patchwork chairs.
Dyeing- The colouring of fabrics with dyes. Use either chemical shop-bought dyes or natural dyes from plants. Fabric dying crafts include tie-dye and Shibori.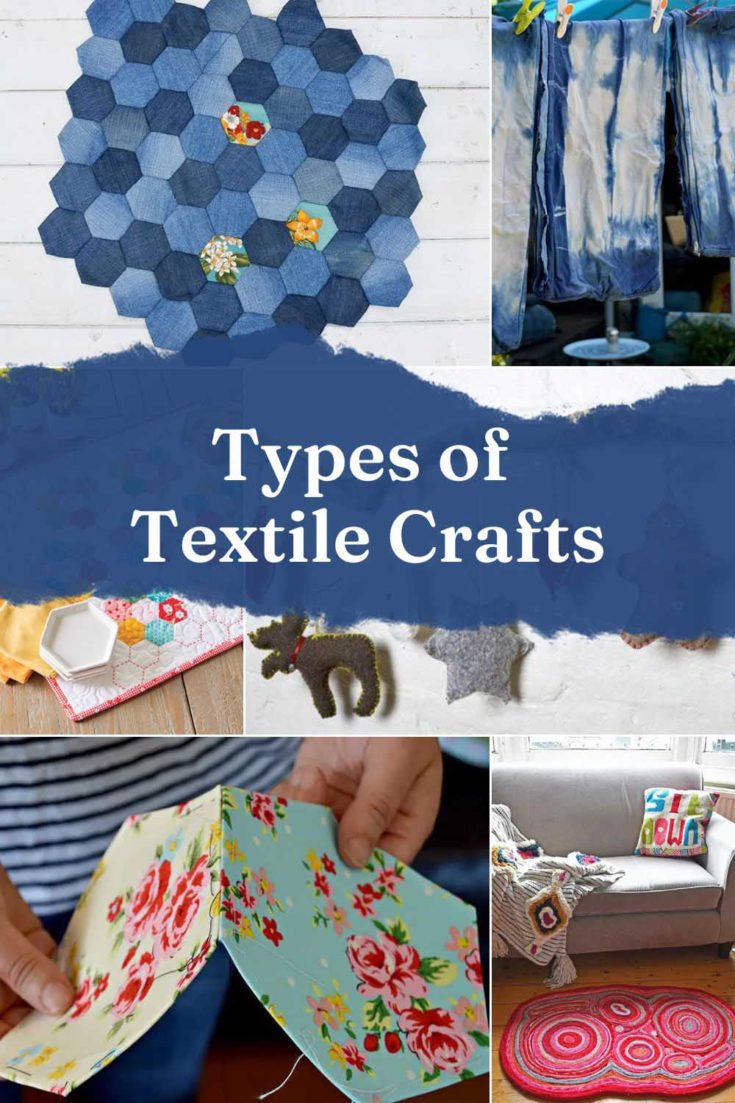 4. Yarn and Fiber Crafts
These types of crafts use yarns and twisted, braided, knotted or sewn threads.
Embroidery – Decorating with stitches by hand or with a machine. There are lots of different types of stitches. But things can be created with just a few basic stitches. It's easy to learn. You can embroider on paper and canvas. as well as fabric.
Cross stitch – An easy form of counted stitch embroidery, using a simple X-shaped stitch. If you use large counted stitches. Use supersized stitches to speed up the craft.
Knitting – Uses two needles to knit yarn together into a fabric. Master the technique with practice. It won't take long for newbie knitters to make a scarf. YouTube videos are a great place to start.
Crochet – Uses one needle to hook yarn into fabric. Unlike knitting, it can't be replicated by a machine. Again beginners start with simple granny squares before progressing to fun 3D structures. Amigurumi is a cute branch of crochet and involves crafting mini figures.
Macrame – Make macrame knots with your hands. This Boho craft was popular in the 60s and 70s but has had a massive comeback.
Punch Needle – Another trendy craft. It's a quick form of embroidery. Create designs using a hollow needle tool to "punch" loops of wool yarn through woven cloth. A fun and fast craft which is quick to master. Great for making wall hangings, pillows and rugs.
Sashiko – Popular with those with a Make Do And Mend philosophy. Traditional Japanese embroidery of simple white stitches on blue indigo fabric. It both decorates and reinforces the material.
Weaving – The interlacing of two sets of yarns or threads at right angles to form a cloth. Use a simple handmade frame to do it at home. Popular textured woven wallhangings are a new twist.
Latch Hook – Used to make small rugs and wall hangings by tieing short strands of yarn to a canvas grid.
Rope Crafts – Make mats, rugs, baskets and many more decorative items for the home by coiling and wrapping rope.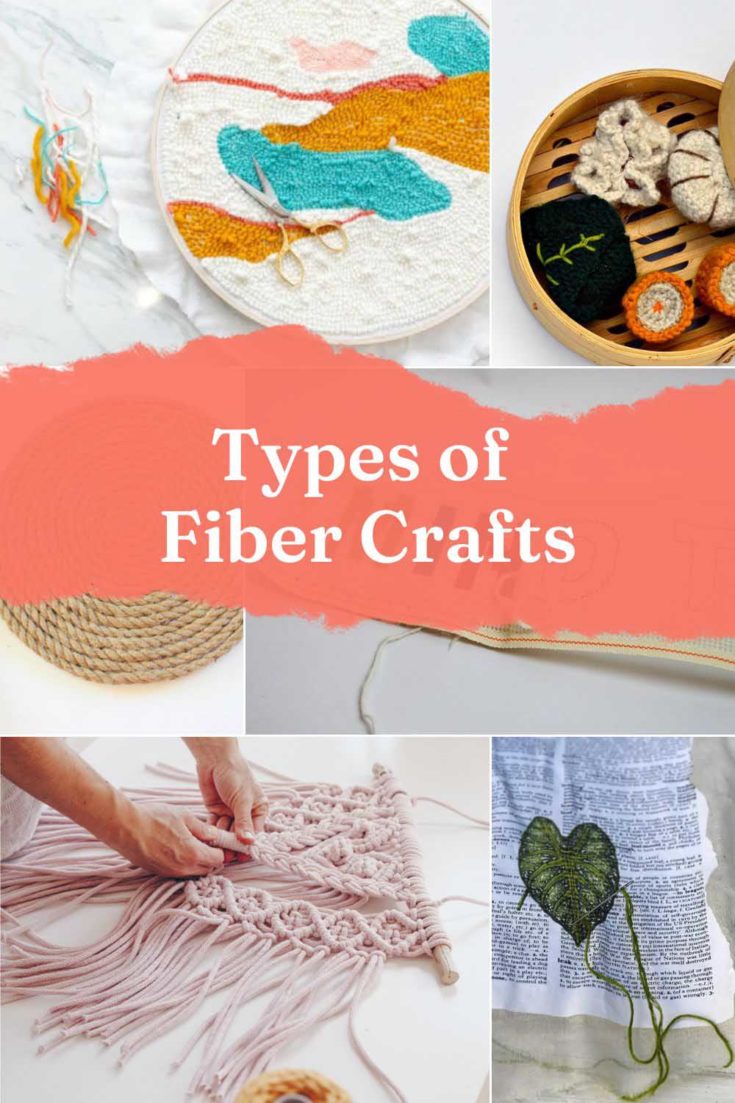 5. Upcycling Crafts
Upcycling is my favourite type of crafting. You make marvellous things without harming the planet as you repurpose and upcycle household materials. Many of the crafts listed use repurposed materials, such as scrap paper with paper crafting and old clothing with textiles.
Plastic Crafts – Use plastic bottles and packaging to make items, from faux plants to cool jewellery.
Tin cans – Decorated, squashed and cut open tin cans to make anything from planters to jewellery. The tin from soda cans is easy to cut, shape and emboss.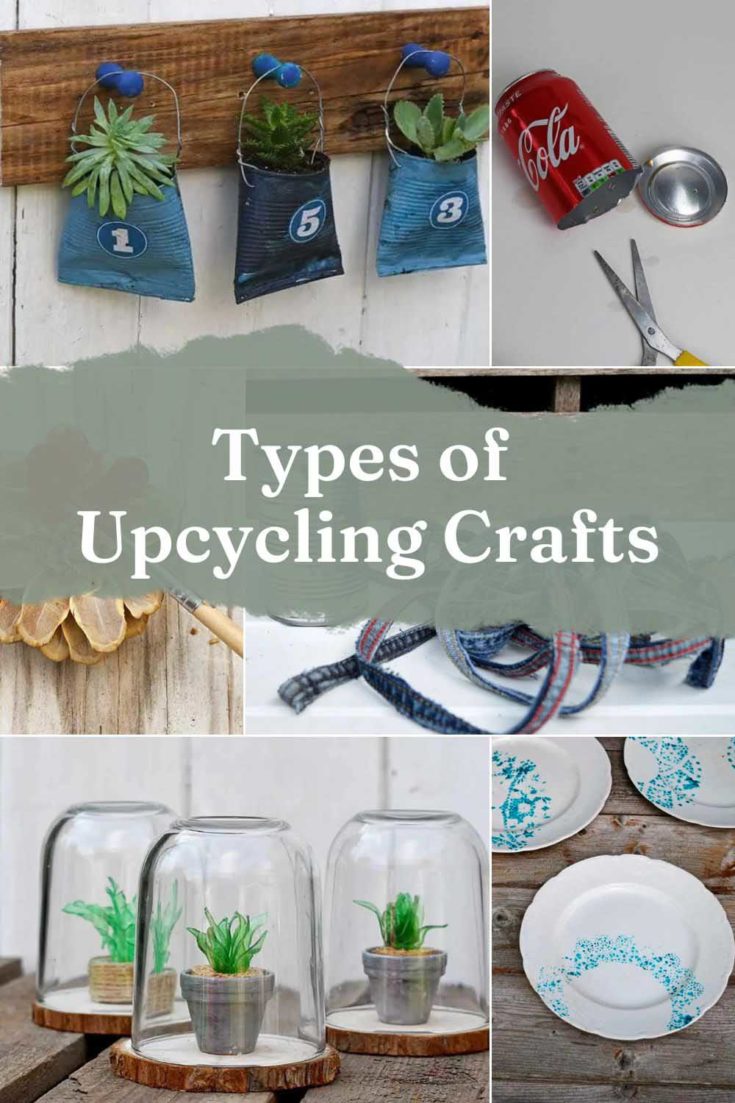 6. Miscellaneous Crafts
These crafts don't fit into the categories above. Many of them are suitable to make as gifts or to sell.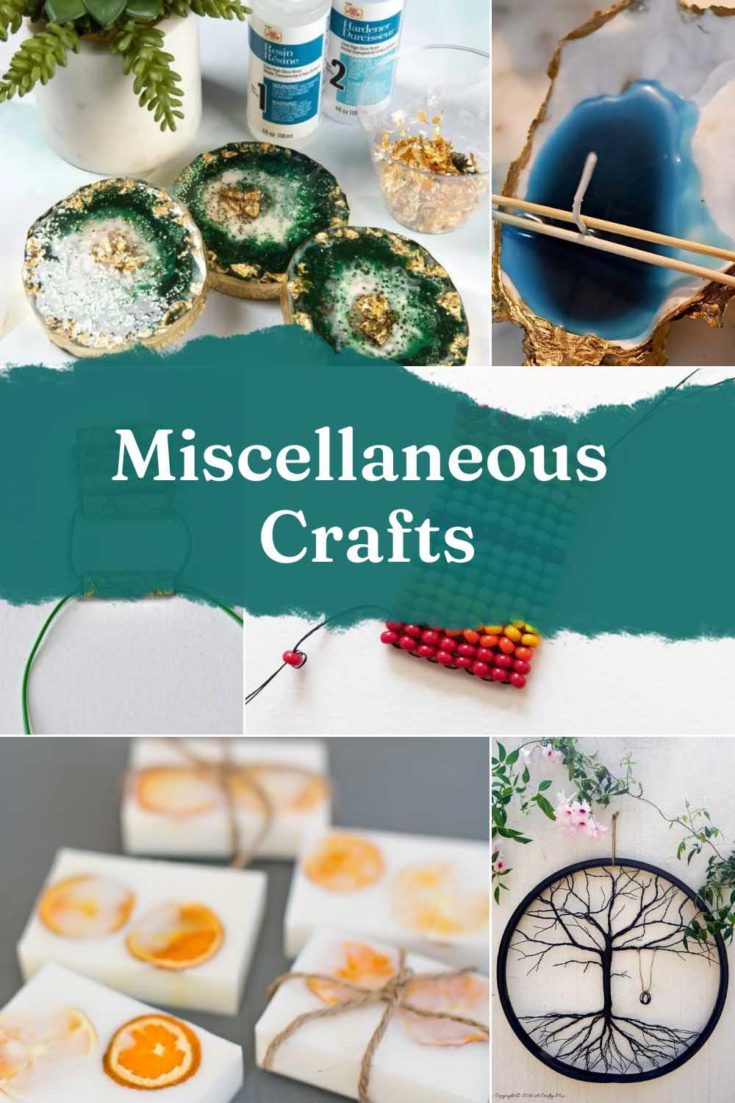 Crafty Advice – That Will Help You Make Fabulous Things
Remember, it's about pleasure and not pressure. Here are some tips to make sure not only do you make great things but enjoy the process too.
Read instructions carefully or watch the youtube video all the way through before you start.
Make sure you have everything you need and have set aside the time.
Craft with a friend if possible. It's more fun to share and chat as you go.
Don't get hung up on perfection. But practice makes perfect.
But above all, dive in and give it ago. If it doesn't work out the first time, try again, it's not always about the end product.
The charm of hand-crafted objects is they have been made with love and care and look handmade. And not mass produced from a soulless factory somewhere.
Now I'm off to make more handcrafted pillows for the couch; I'll try a punch needle for one or even crochet some granny squares for another.