Discover the endless possibilities of crafting with wallpaper samples! Unleash your creativity and transform these versatile swatches into stunning DIY projects for your home and beyond. Get inspired and repurpose these materials into unique works of art that add flair and personality to your living space.
Every time I visit big department stores, I can't resist visiting the home furnishing departments and checking out the latest wallpapers. Often I will pick up a few samples. After I've finished the free samples, I don't throw them away as I love crafting with wallpaper.
Wallpaper is stiffer but more flexible than other papers, which sounds contradictory. It's a bendy paper that can often be wiped clean, which makes it versatile for many crafts.
I'm very creative with my use of wallpaper in the home. I've Marimekko wallpapered stairs, decoupaged table tops with wallpaper, and even made a wallpapered kitchen backsplash.
Wallpaper is also great to upcycle from the kitchen trash can to wallpapered furniture such as mirrors or IKEA Hemenes dressers.
All these outstanding wallpapering projects use rolls of wallpaper or large pieces. But there are still a lot of wallpaper craft projects you can make with the samples of wallpapers gathered whilst deciding on what paper to use for a more significant project.
Firstly, I will show you one of my latest crafting with wallpaper ideas, making upcycled tin can pen pots. Then at the end of the post, there is a list of fabulous wallpaper crafting ideas.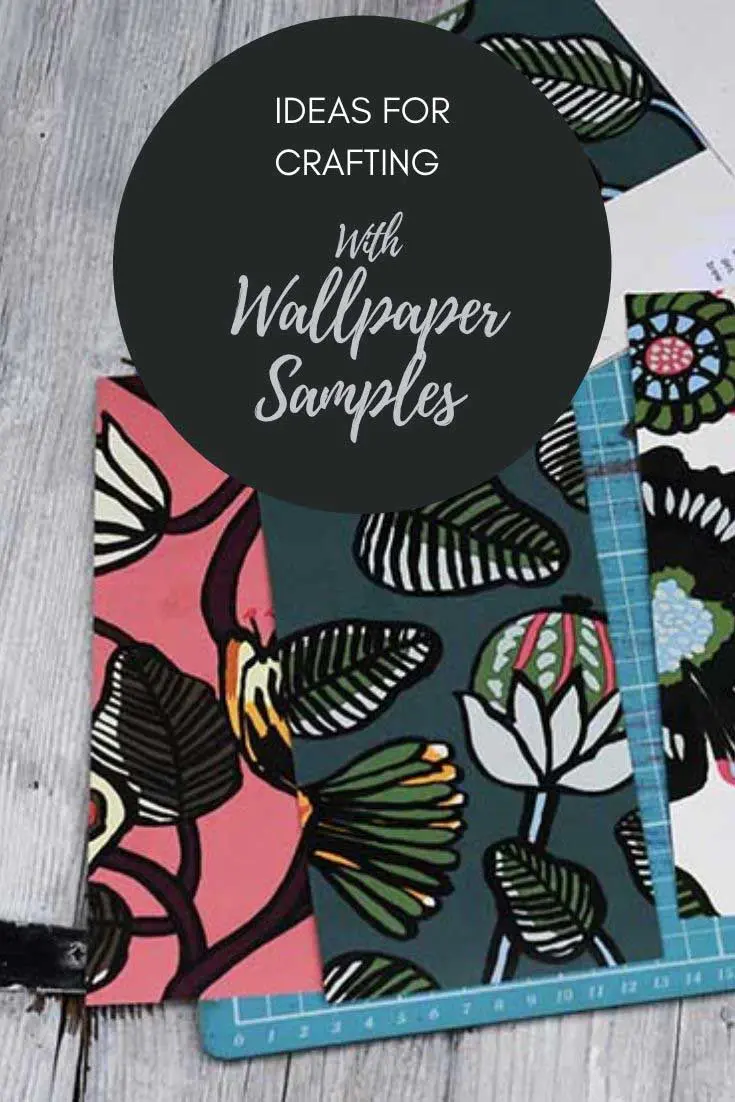 Wallpaper Craft: How To Make A Marimekko DIY Desk Caddy
Whilst trying to decide on wallpaper for the new built-in wardrobes in my bedroom, I ended up with some Marimekko wallpaper samples. I got these samples for free from Wallpapersdirect, which were A4 sample sized.
They were from a Marimekko design called Pieni Tiara. I had a sample from each of the three different colourways it came in. I've often crafted with Marimekko paper napkins, but this time I decided to use these wallpaper samples rather than waste them.
What You Need To Make DIY Desk Caddy
Wallpaper samples or remnants – 3 sheets about A4 size. Most home stores provide wallpaper samples for free.
Three tin cans – I used 400ml-sized food cans.
Wallpaper paste or white glue
Spray paints
Rotary cutter and mat
Two old pieces of wood for the tray
Drill with a round woodcutter saw attachment the size of the tin cans.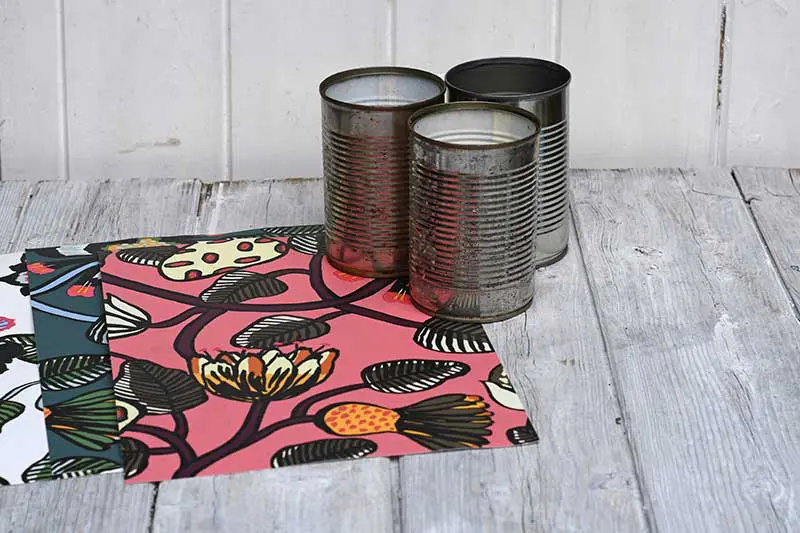 How To Make An Upcycled Marimekko Desk Caddy
Step 1: First, spray paint the tin cans inside to match the wallpaper you are crafting with. I spray-painted the inside of three cans, white, green and pink. Also, ensure that the thin top lip of the tin can is painted, as this will likely show when wallpapered.
Pen pots and utility caddies look much better if they have been painted on the inside and decorated on the outside.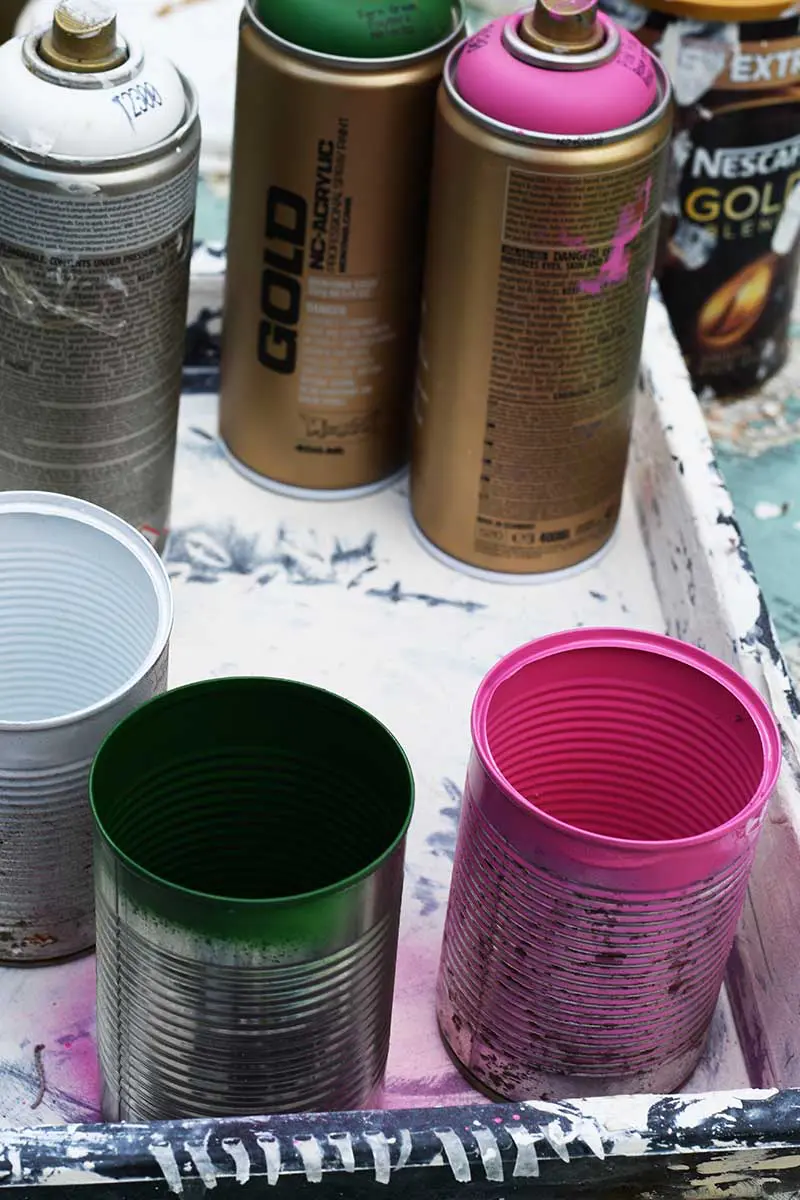 Step 2: Next, measure the circumference and height of the tin cans.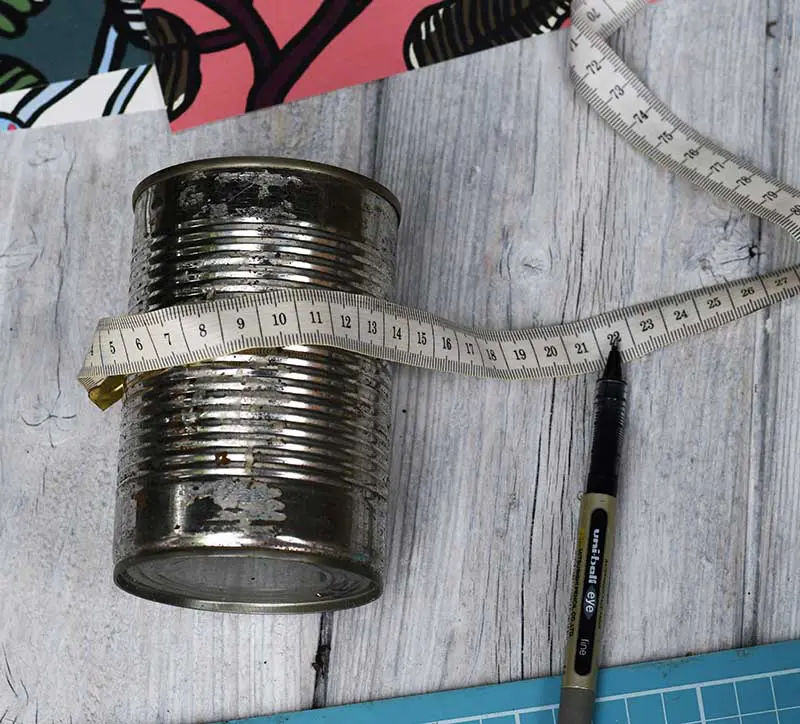 Step 3: Cut the wallpaper sample papers to fit the tin cans using these measurements. Use a rotary cutter, ruler and mat to achieve a neat, accurate cut.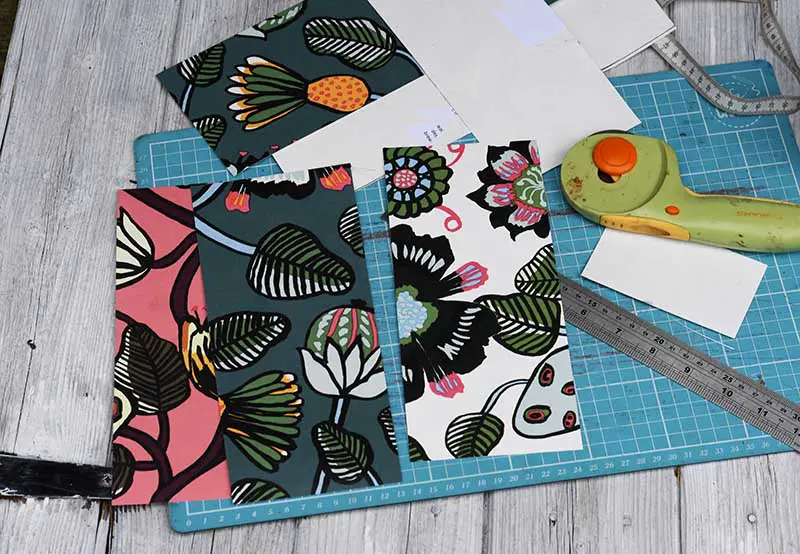 Step 4: Finally, to finish the Marimekko pen pots glue the wallpaper to the outside of each tin can. I used wallpaper paste, as I already had some made up. But white craft glue will work just as well.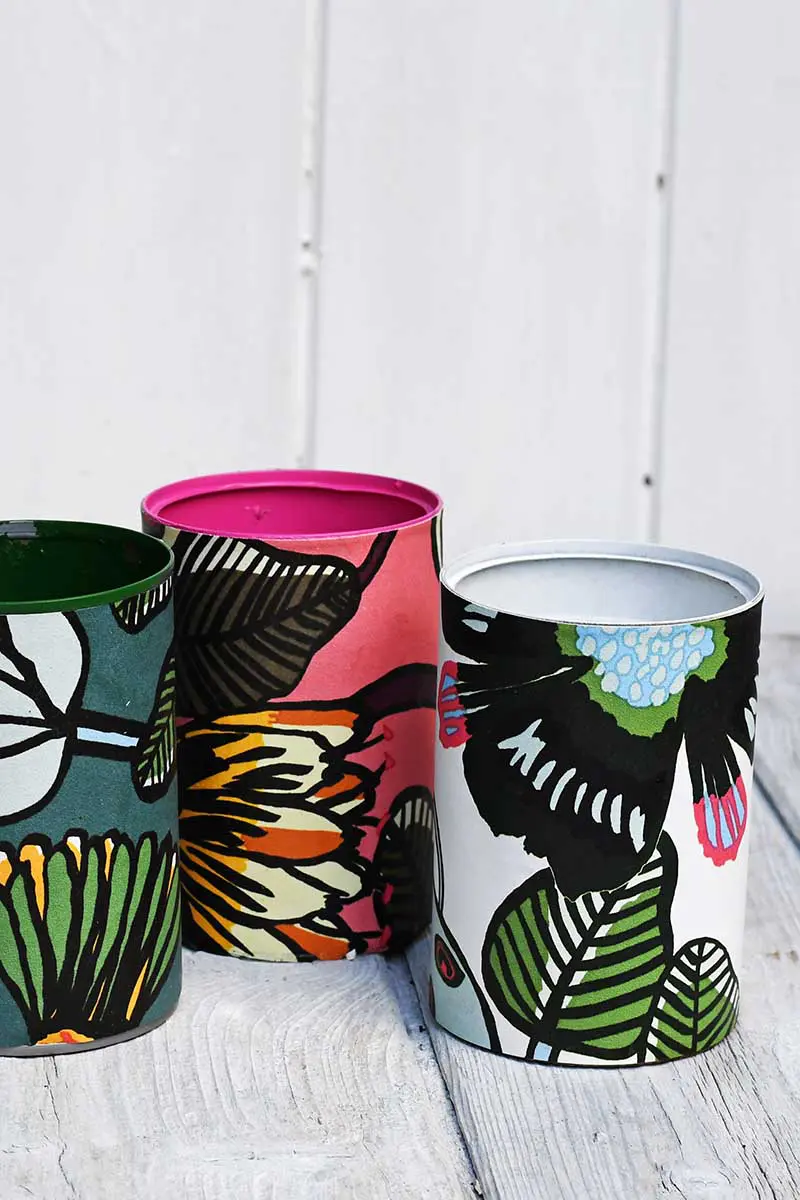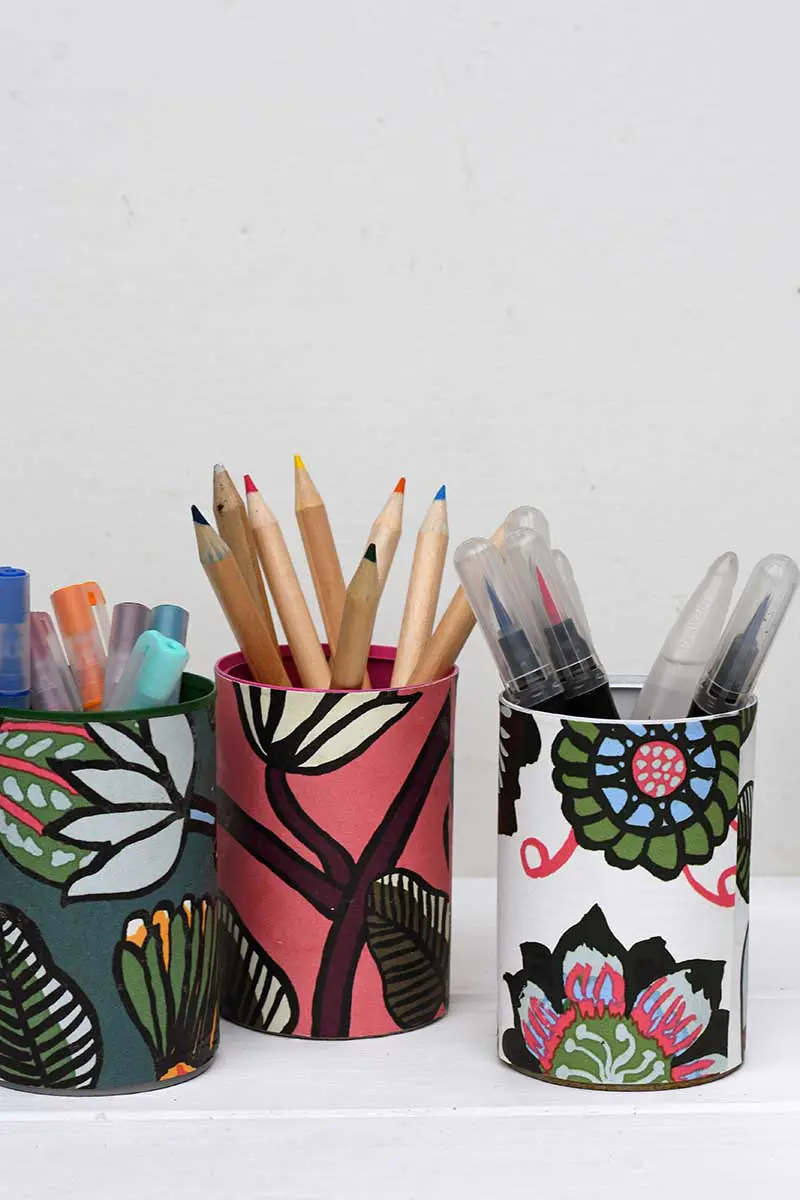 Step 5: Finally, to turn these DIY pen pots into a desk caddy, I made a carry tray for them. I cut round saw holes into a scrap piece of wood to make a holder. Full details of how I did this are on my painted glass bud vase post.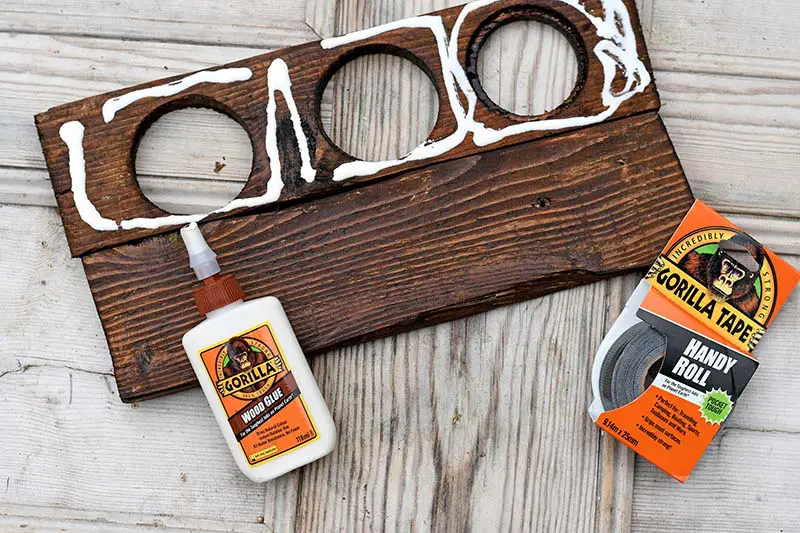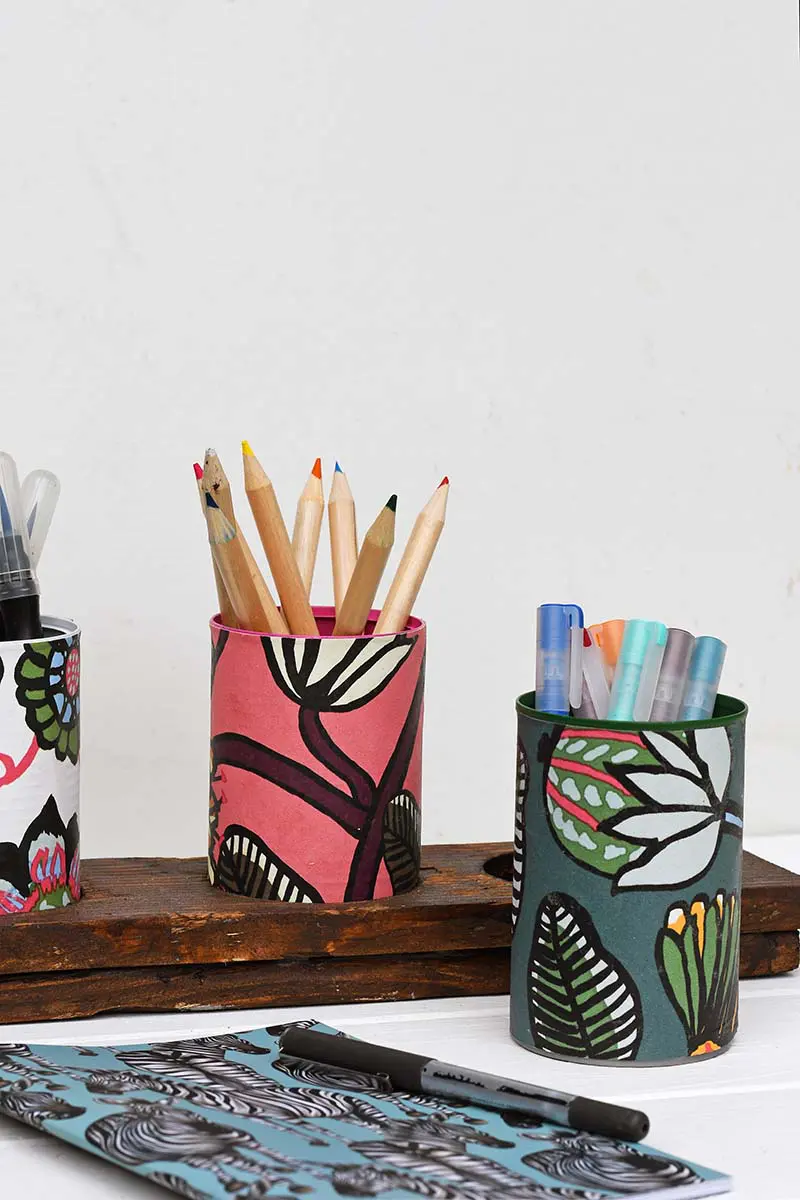 I use these Marimekko pen pots on my desk to organise my pens. They would look just as good in the kitchen used as utensil holders. If you love the designs of Marimekko as much as I do, then you should check out my other Marimekko and Nordic inspired craft. And these other tin can craft ideas include Christmas tin cans.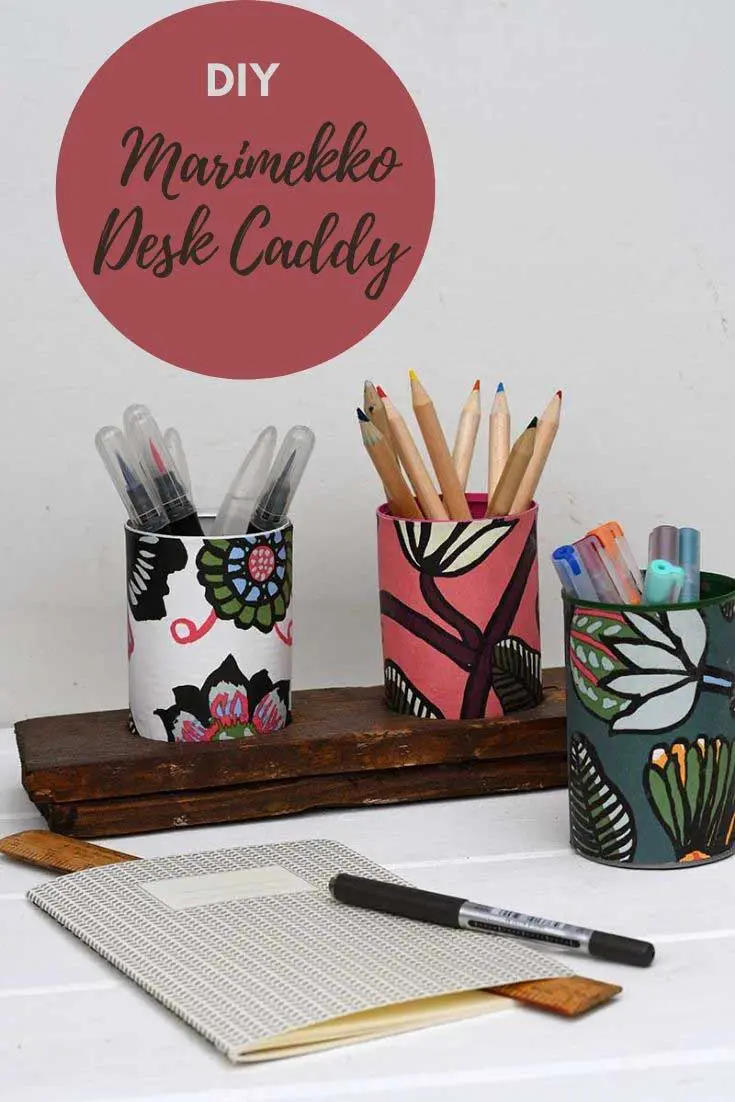 Crafting With Wallpaper Ideas
The following is a collection of more fun crafting with wallpaper ideas for wallpaper samples. I fancy decoupaging my IKEA Moppe Mini Drawers with wallpaper to match the caddy.
If you liked the Marimekko desk caddy, you might want to check out my colourful leather pen pots and other denim and copper craft caddy. Plus, these other adult decoupage ideas.
Check out these other paper crafts for the home.