The sun is finally shining and my shades have come out so I've made myself an upcycled denim DIY sunglasses case.
I'm fed up with damaging my sunglasses when I'm not wearing them. They normally get lost to the depths of my handbag or crushed in my pockets. To stop this happening again I designed a really handy sewn sunglasses case made from my old repurposed jeans.
Mind you, this is no ordinary DIY sunglasses case. As well as looking great it sports a unique pocket feature, for items such as money and cards.
This project is easy to make and uses the often neglected part of upcycled jeans, the front pocket.
To be more precise I used the front right pocket of the jeans with the fifth tiny pocket. This pocket was originally designed for pocket watches. These days this pocket is known as the coin pocket.
DIY sunglasses case with killer pocket feature
When nipping out to the park or the local cafe, I just take my sunglasses in the case instead of lugging my whole handbag out with me.
This DIY sunglasses case would also make a great handmade gift for either a man or a woman. I do find Men really like them though especially for the killer pocket feature as they don't tend to carry around handbags.
This sunglasses case is more like a mini handbag, as the pocket feature leaves room for my phone, money and coffee loyalty card.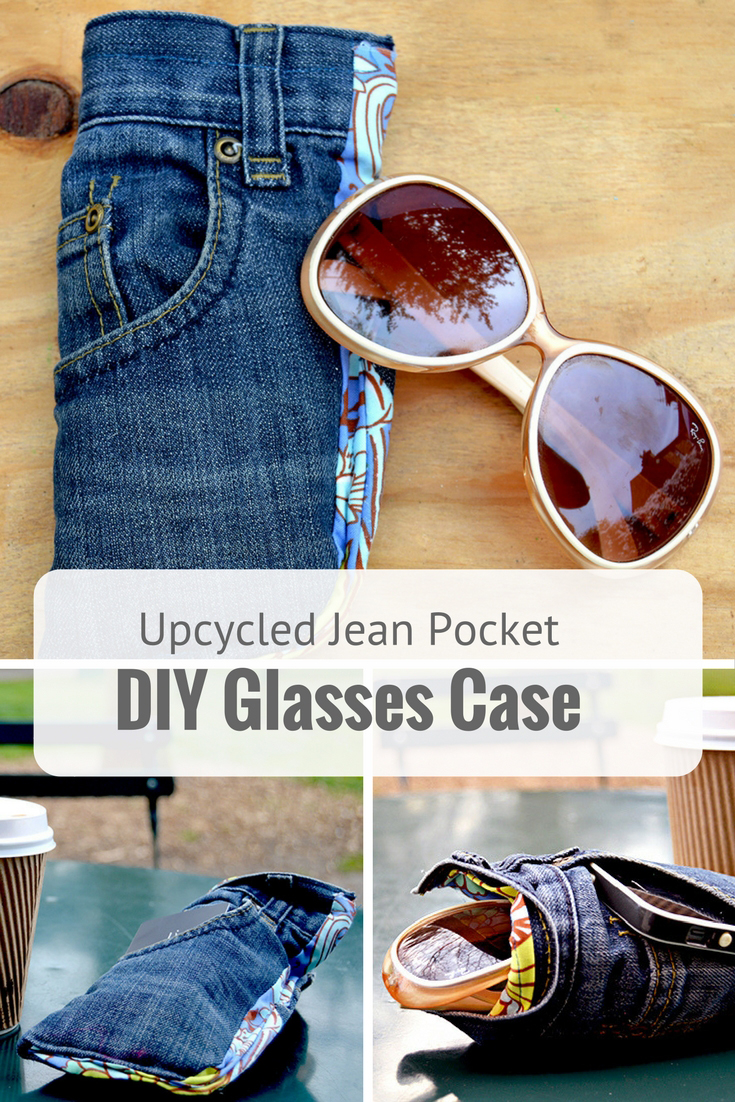 These glasses cases featured under the letter G in the A to Z of denim crafts.
We're a participant in the Amazon Services LLC Associates Program, an affiliate advertising program designed to provide a means for us to earn fees by linking to Amazon.com and affiliated sites. As an Amazon Associate, I earn from qualifying purchases.
What you will need to make a jeans pocket case
Old jeans – To be more precise you want the front right pocket on a pair of jeans. The pocket with the inner coin pocket in it.T
Lining Fabric – You will need no more than a quarter yard. You can choose the fabric to suit the recipient. The lining fabric is a great way to jazz up the sunglasses case by adding some color.
Cotton Thread
Sewing Machine with heavy-duty denim needle – however, if you don't have a sewing machine this project is easily sewn by hand. It will just take a little longer.
Scissors or rotary cutter, pins, pen, round cup/bowl.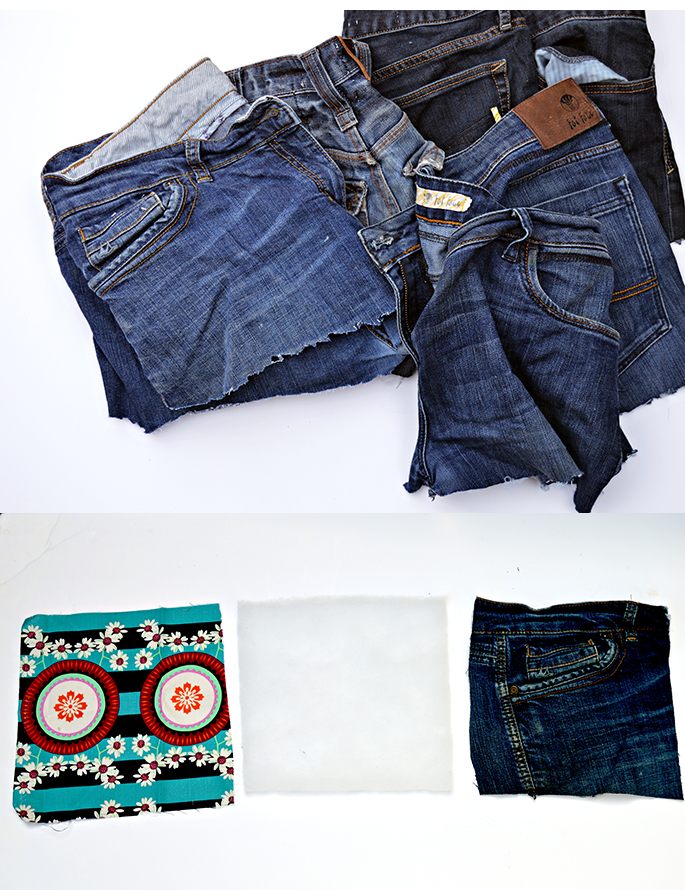 How To Make An Upcycled Denim DIY Sunglasses Case
1.. First, cut out a 22cm square each of lining fabric, wadding, and jeans pocket. I made a 22cm square cardboard template and use this to cut the fabrics with a rotary cutter.
When placing the template over the jeans make sure you get all of the front pocket, whilst moving the pocket lining out the way so that it doesn't get cut as well.
2. Next, round off the bottom corners of all the pieces of fabric. To do this fold your fabric pieces in half, lengthways. Place a bowl/cup over the bottom right corner and draw round it.
Cut the fabric along your mark. Then, unfold the fabric pieces, you will now have 2 rounded corners on the bottom of each fabric piece.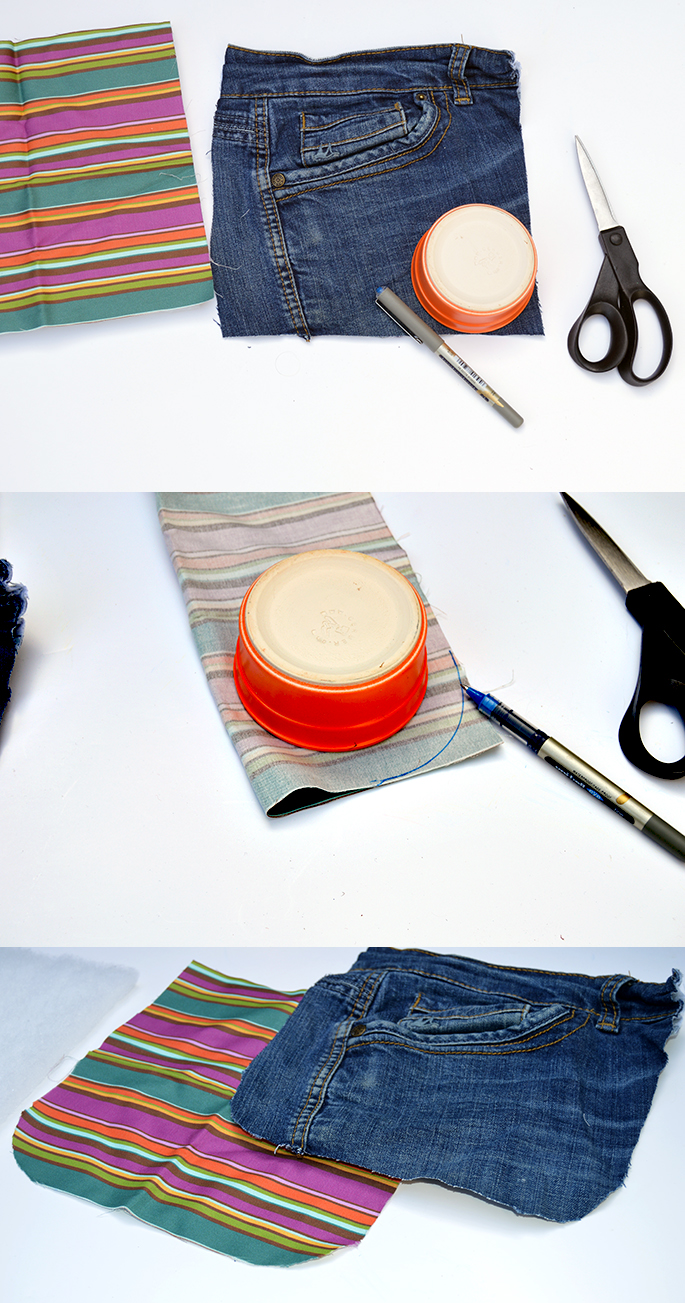 3. Next, put the jeans pocket and lining fabric right sides together. Place this on top of the wadding and pin together.
Leaving an edge of approximately 5mm, sew around the bottom curved edge and 2 sides of the fabric with a sewing machine (or by hand). The top should be left open.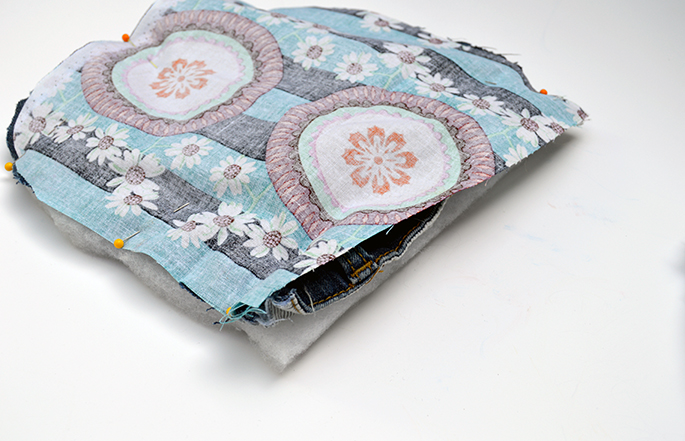 4. Then, trim excess fabric from the corners and turn the fabric sandwich right side out. You should have a rounded square of fabric.
One side denim and the other patterned with a wadded filling. Now carefully turn over a 5mm edge of the lining fabric pin and sew to close the top.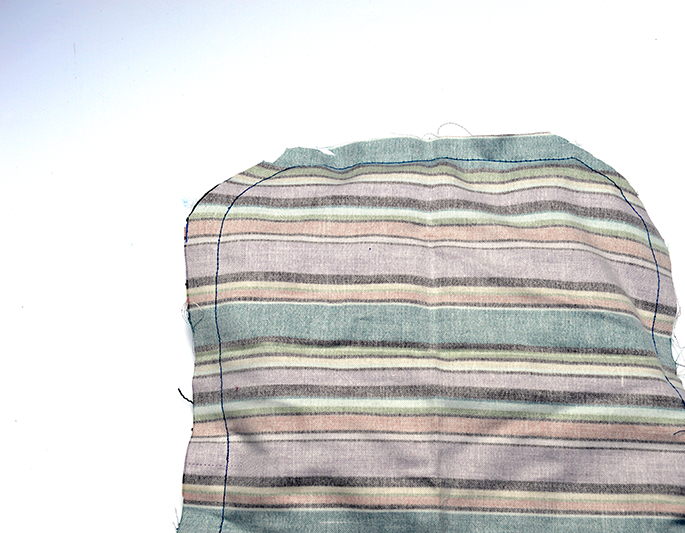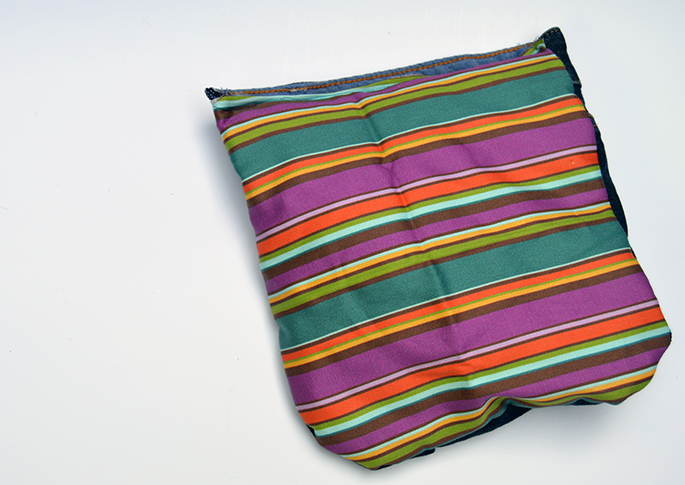 5. Finally, fold the denim pocket pad in half lengthways, with the fabric lining on the inside. Pin and sew around the edge. Be careful as you will now be sewing through many layers of fabric.
This can be tricky, make sure you have a heavy-duty jeans needle in your sewing machine. You can even sew by hand if you want to.
The top waistband of the denim jeans can be particularly tricky. When this is the case, I leave this top 1 inch open.
This doesn't affect the usefulness of the sunglasses case, in fact, I think it makes it more attractive as you can see more of the pretty colorful lining.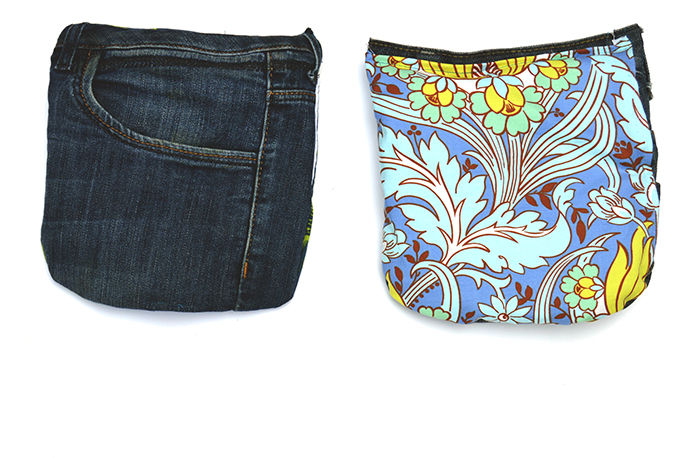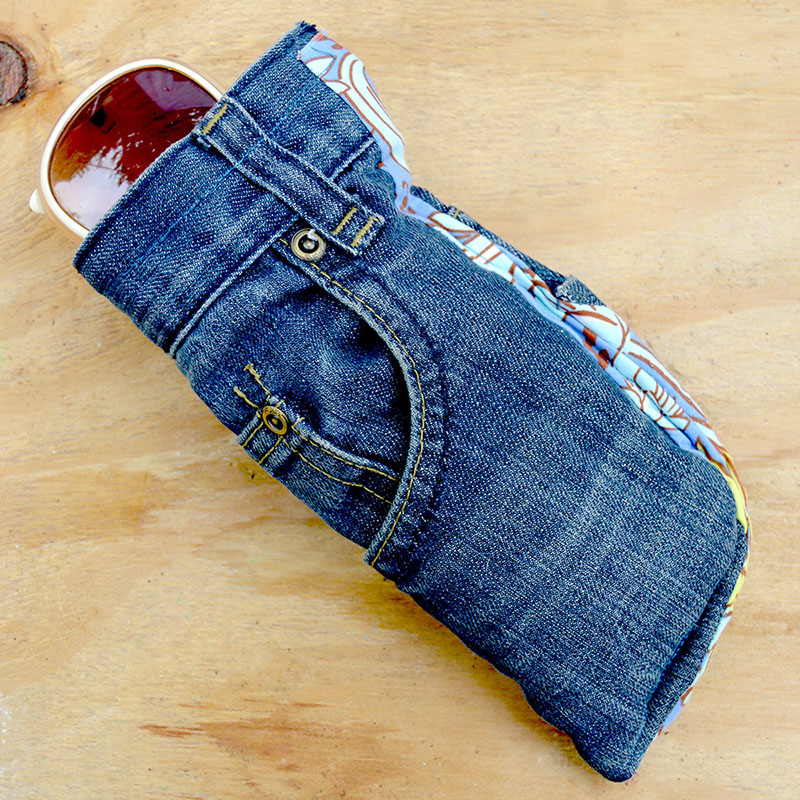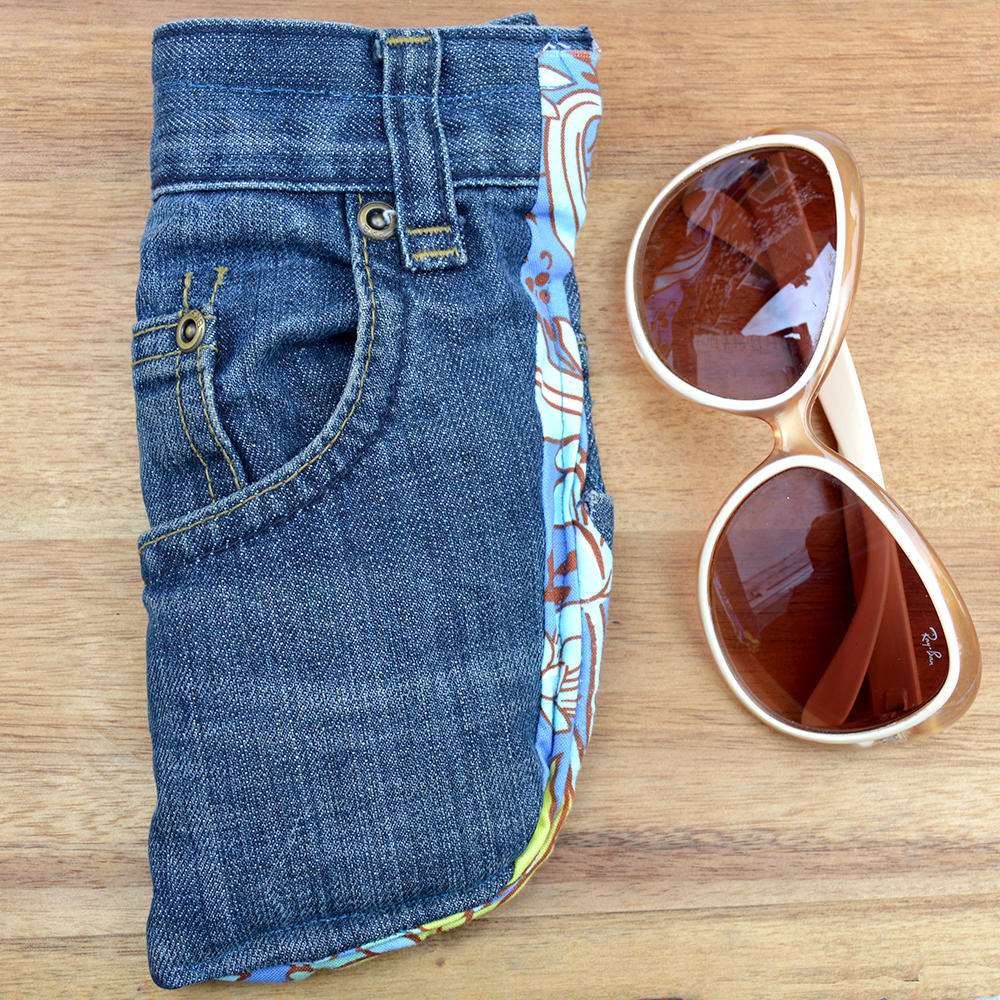 I made four of these upcycled jeans cases at the same time so I had some spare for gifts.
If making the sunglasses case as a gift, you can make it even more personal by using the recipient's old jeans. I love mine and use it all the time, I find the pocket bit so handy.
I have also made a fun embroidered coffee pot cozy in a similar way to these denim glasses case.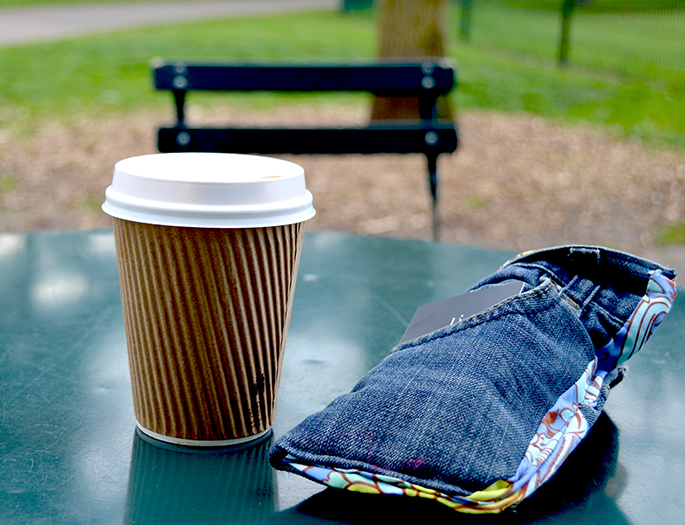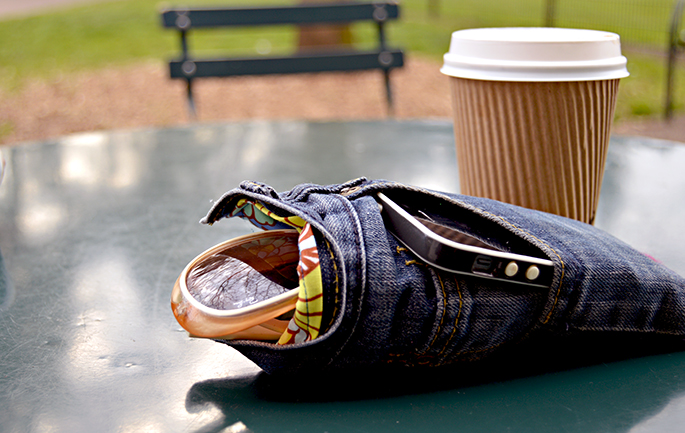 If you are wondering what to do with the remaining back pockets on the repurposed jeans. You can use them to make some cute hanging pocket storage for your craft room.
We are a jeans loving family with three growing boys, so I have a constant supply of old jeans to upcycle.
As I had so many denim pockets from this supply, I made my son a great denim pocket wall organizer and his very own iPhone pocket pillow for his bedroom.
Yield: DIY sunglasses case with killer pocket
Denim DIY Sunglasses Case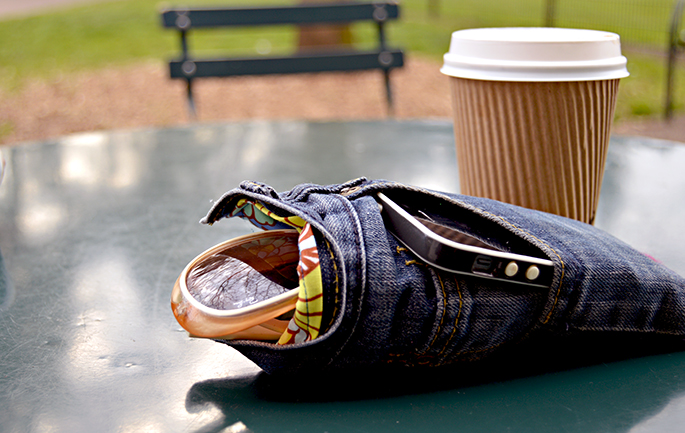 This is no ordinary DIY sunglasses case, it has a unique pocket feature. This sewn case is made from the front right pocket of a pair of jeans. So not only is it a sunglasses case but there is also room for your phone and cards.
Materials
Front jeans pocket
Fat quarter patterned fabric
Thin wadding
Tools
Needle and thread
Sewing machine (optional)
Rotary cutter and mat
Round bowl or cup
Instructions
Make a cardboard template 22cm squared
Use this template to cut out a 22cm square of denim from the front right pocket of a pair of jeans
Also, cut out 22cm square of patterned fabric and wadding
Using the bowl as a template round off all the bottom corners of the three fabrics
Place the jeans and patterned fabric right sides together then pin to the wadding
Stich around the fabric leaving the top open. Then turn the pocket right-side out
Sew the top closed
Finally, fold the pocket in half length ways with the lining fabric on the inside. Stitch up the side to hold it in place.
Here are some of my other denim upcycles from old jeans you might want to look at.
Ikea Hack – Denim Chair Upcycle
Easy No Sew Denim Suitcase
Denim handmade dog toys