Repurposing Jeans Waistbands Into A Gorgeous Denim Rug
A denim rug has been on my upcycling bucket list for ages. And what a great way to start off a new year of crafting by finally making one. I'm pleased that I can tick the denim rug off my list. But I'm really chuffed with how it's turned out.
Originally the rug was going to be for my son's room to go with the denim pocket organiser I made for his wall.


Not anymore! I love it so much I'm going to have it on show elsewhere in the house. Probably in the hall or the dining room, I haven't decided yet. I may just have to make another one.
I think the rug looks so good, as it's made with only waistbands. Which are the most interesting part of a pair of jeans.
The striped effect from all the different shades of indigo and the odd leather label really give the denim rug character. I have used all the families' old denim and so I can recognize the waistbands from some old favorite jeans.
As they are so thick denim waistbands can be a bit of a pain to sew. That's the beauty of this rug DIY, it's a no-sew one (yeah!). Which has to make it one of the easiest upcycled denim rug tutorials.
I used an IKEA Signe rug as my backing for this upcycle. That actually then makes it an IKEA hack, so I can tick that box too.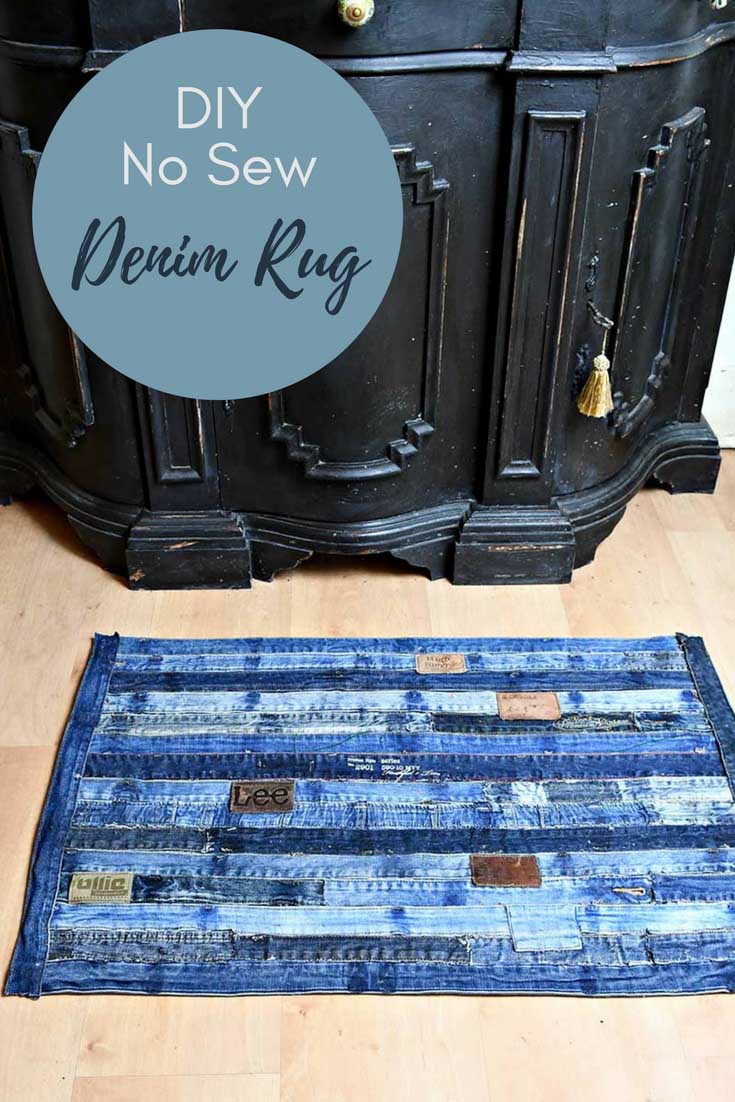 This post contains Amazon affiliate links for your convenience. Click here to see my disclosure policy.


What You Need To Make A Denim Rug
Denim waistbands from old jeans.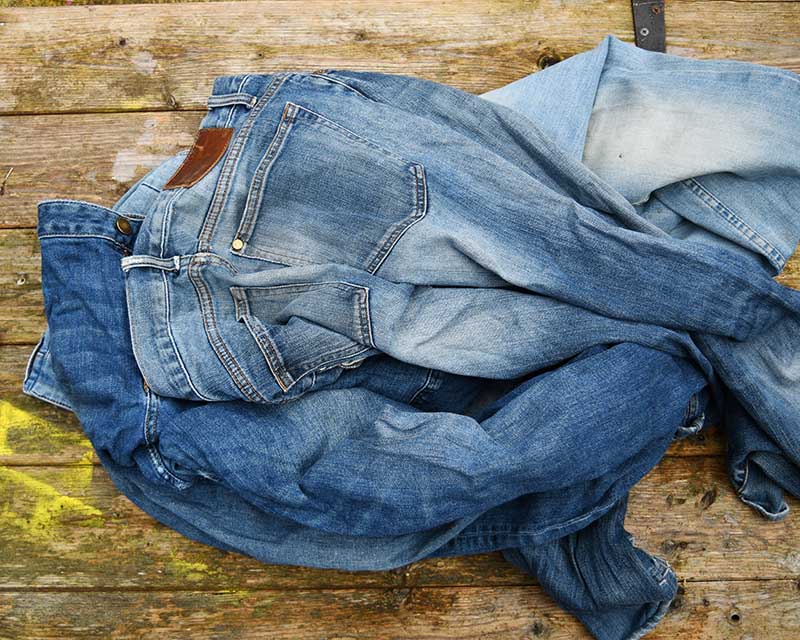 IKEA Signe rug or any other small rug or non-slip mat. The IKEA Signe rug is only £1.90. That's why I used it. It was cheaper than buying a non-slip underlay.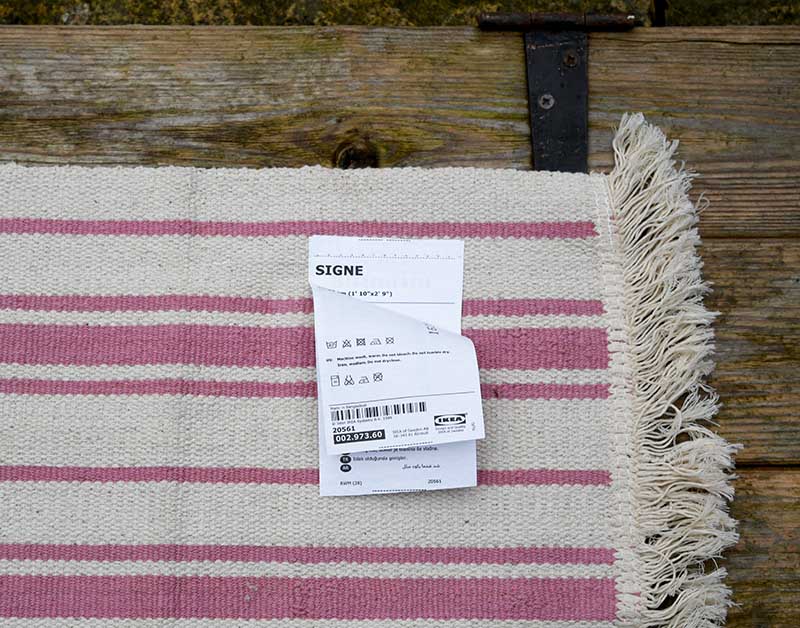 Fabric Glue – You will need a lot of this, at least a whole tub. Gorilla glue contact adhesive clear is a good glue to use as it's waterproof.
Large glue brush
Box of thumbtacks/drawing pins
Large foam board or corkboard. ( Preferably as big as the rug).
Scissors
How to Make an Upcycled Denim Rug
First, cut the waistbands from the jeans as close to the seams as possible. Use a mixture of jeans waistbands from dark to light denim to show off the shades of indigo.
Don't worry if some of your waistbands are not intact or are a bit small. All bits of the waistband will be useful.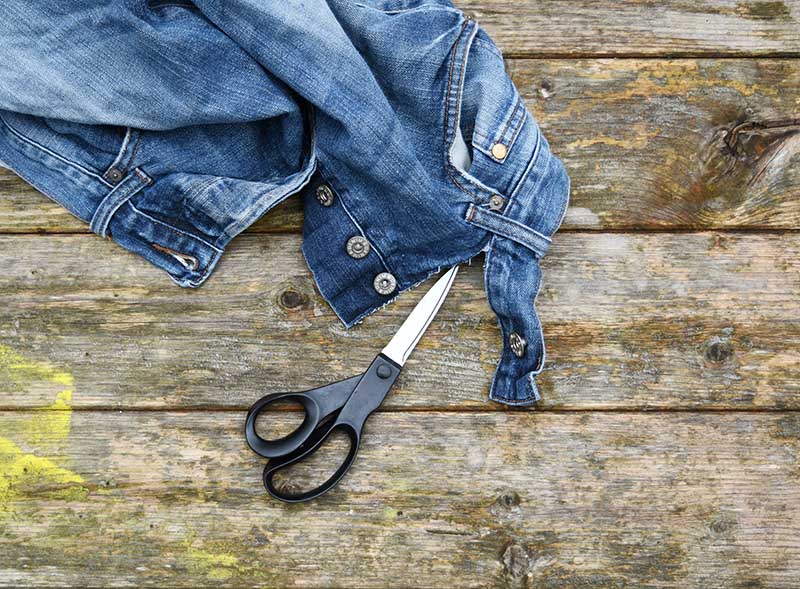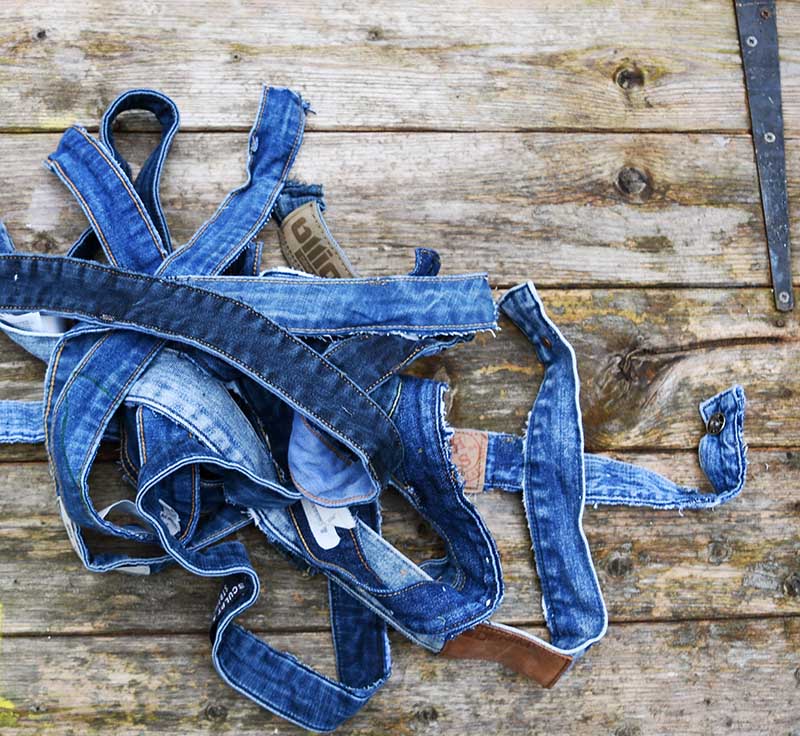 2. Cut off the belt loops and save them for another project. However, if the waistband has a nice leather label on it, don't cut that off. Labels will add further interest to the rug.

Snip off the end of the waistband with the button on. As I didn't think to stand on a jeans button in bare feet would be very comfortable. A bit like standing on lego but maybe not quite as painful.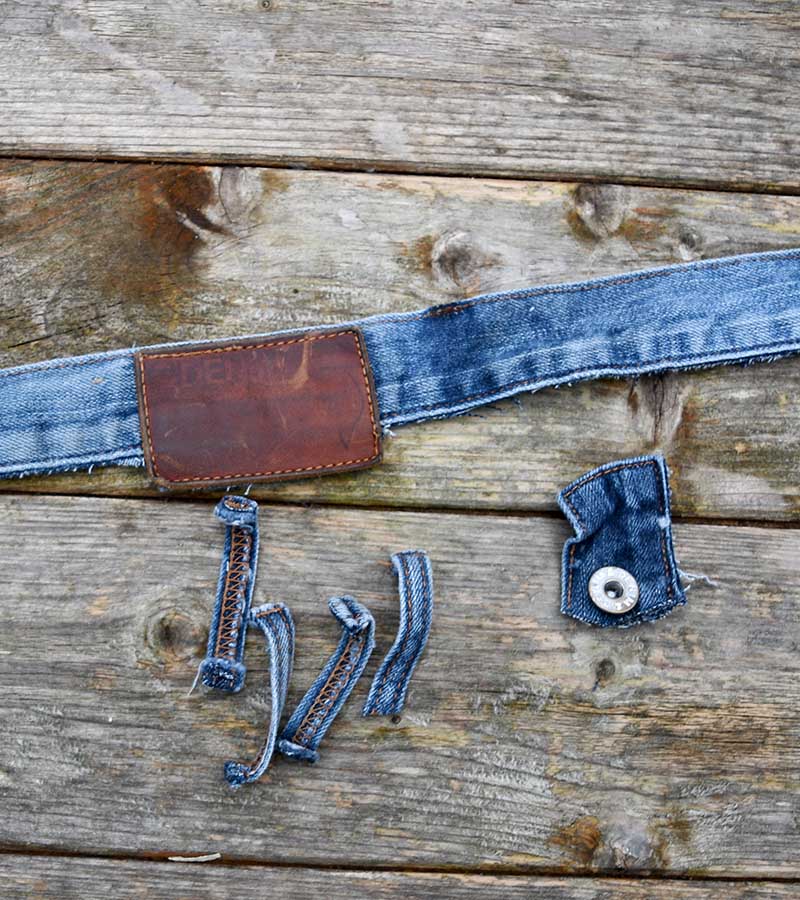 3. Next, cut the fringe off the IKEA Signe rug and lay it down on top of the foam board.
4. Assemble the rug using the same method I used to make my jeans handmade advent calendar. That is I apply glue to both the rug and the back of the waistband and then stick them together. To ensure that glue adheres to the fabric use thumbtacks to hold down the denim as it dries.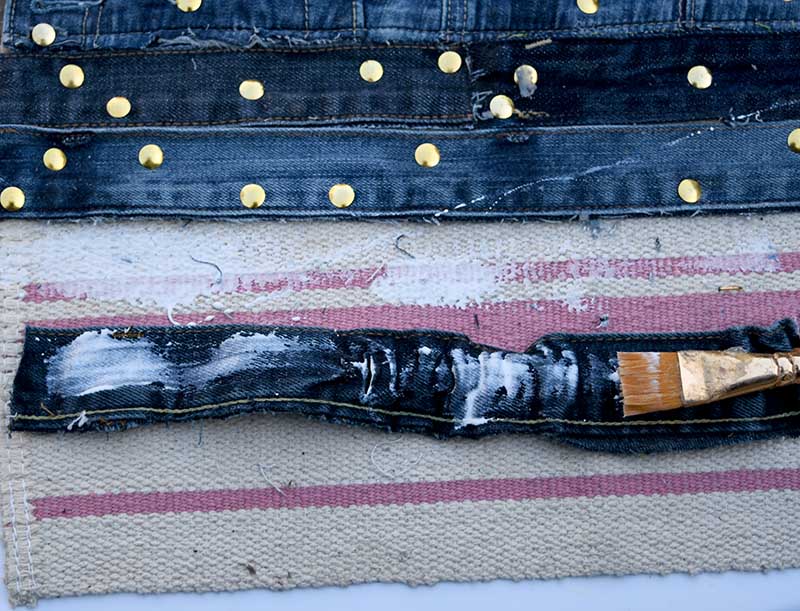 5. The denim waistbands were stuck down in strips. Sometimes the waistband was long enough to cover the whole width of the rug. Other times I used 3 or 4 waistband offcuts to make up the width.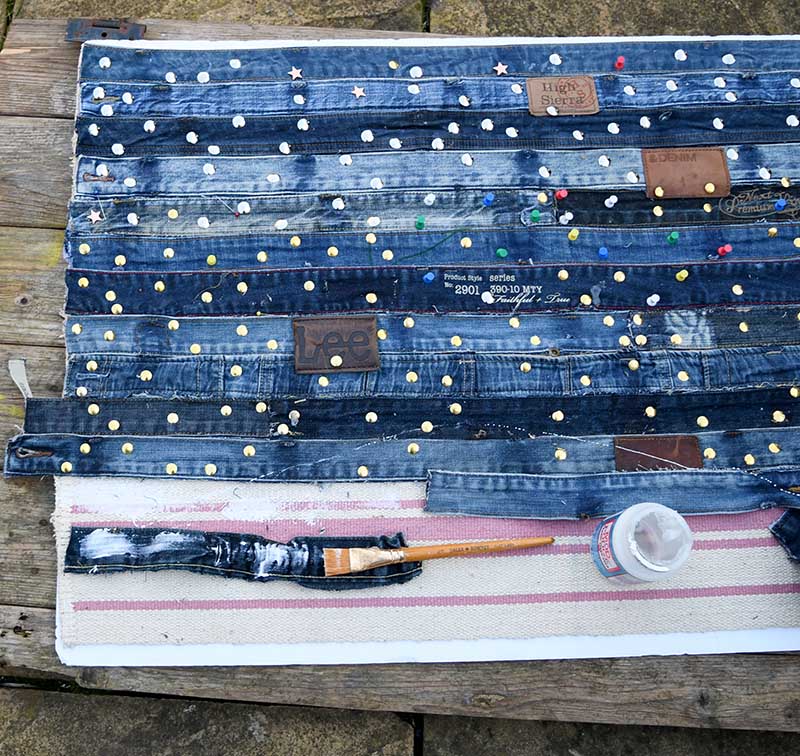 6. Carry on until the whole rug is covered. Then trim off any overlapping excess.
Tidying up the edges
1. Finally to neaten up the edges of the denim rug. Use 2 waistbands as binding, as I did with my
recycled sweater blanket
.
Firstly, split the denim waistband open at the seams.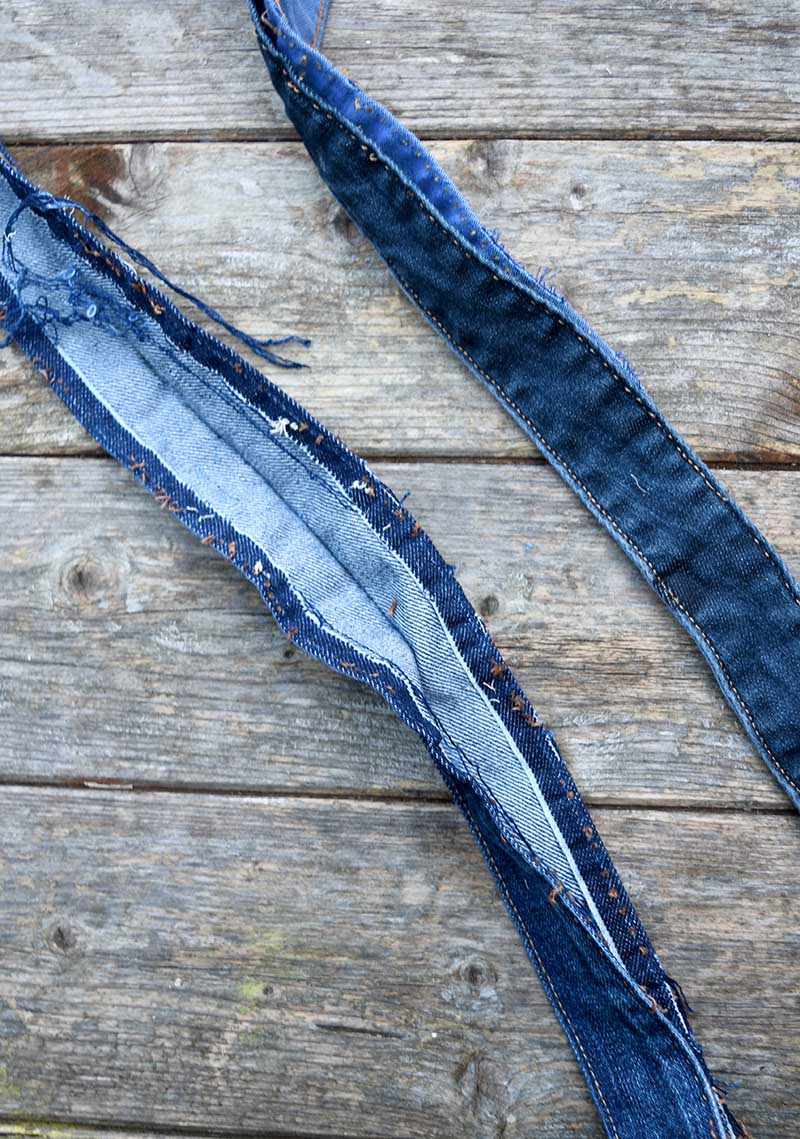 2. Next, apply glue to the inside of the waistband and then sandwich the edge of the rug in between it.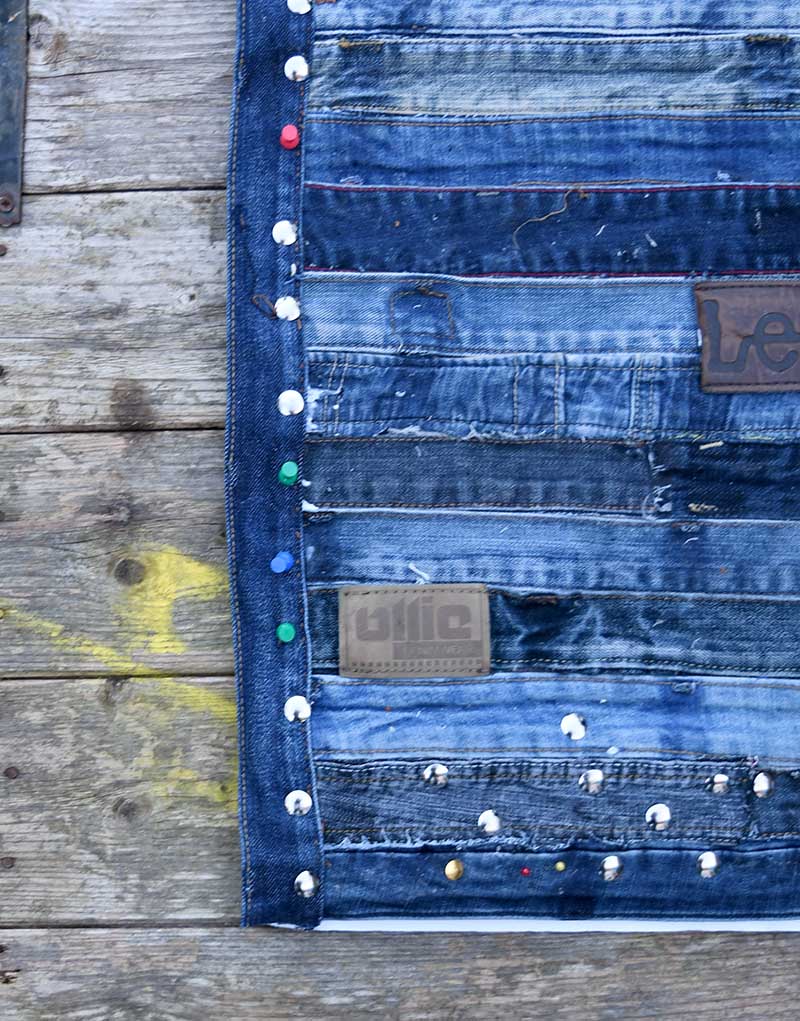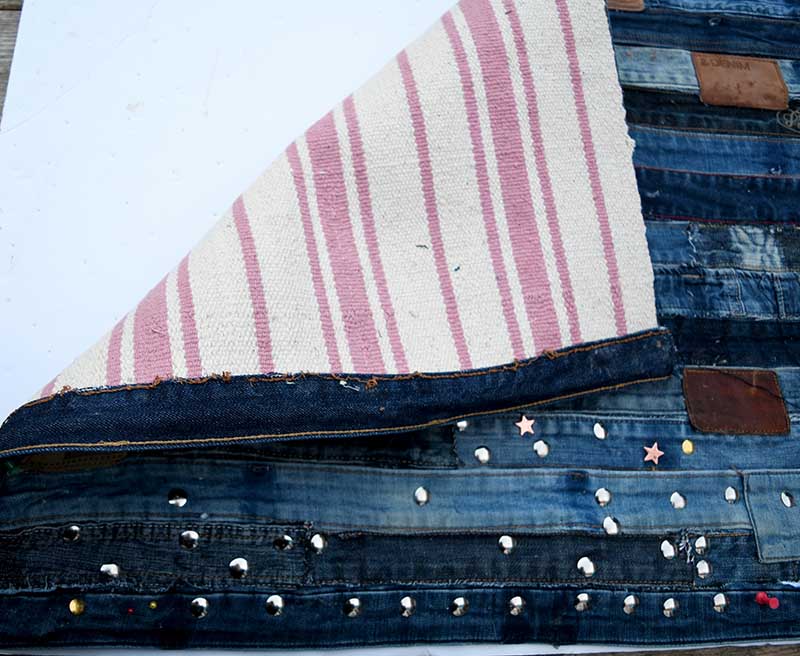 3. Finally, once all the glue has dried remove all the thumbtacks. With fabric glue, you should be able to wash the rug with warm soapy water if needed. But as you know denim is great for hiding the dirt.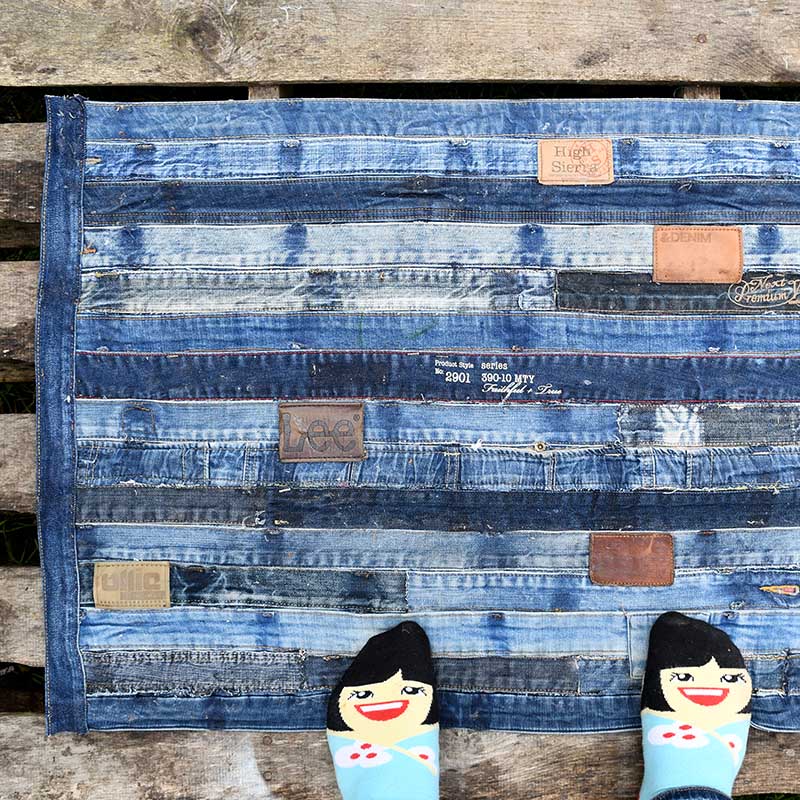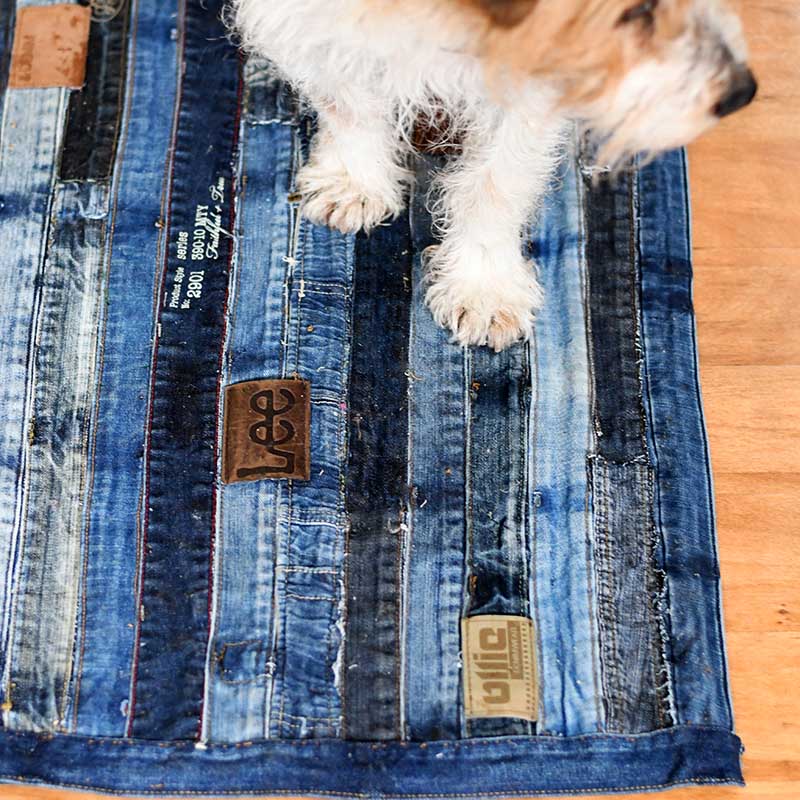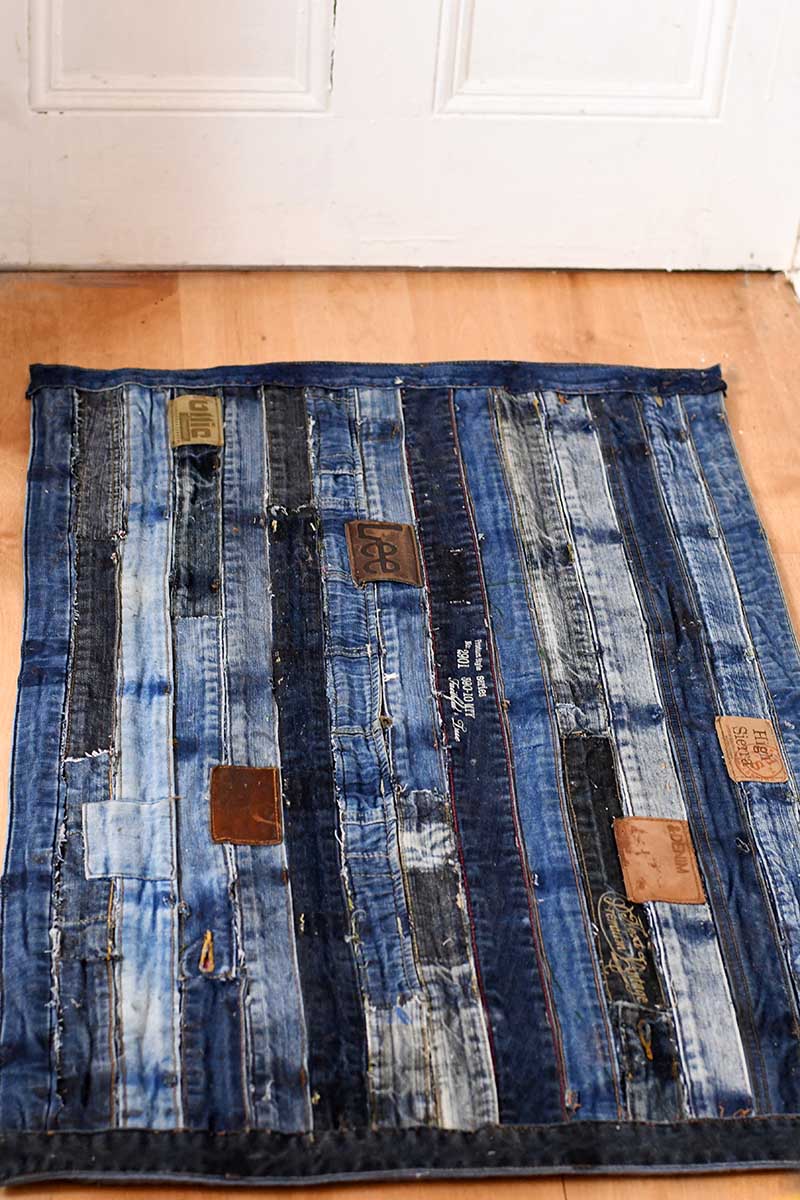 I'm so pleased with this rug. So, I'm now saving up my denim scraps to make an even larger one. Hopefully, it won't take too long.
My family and friends know how much I love to upcycle denim so they happily hand me over their old jeans to repurpose. I'm sure if you let your friends and family know you are after old denim they will happily give you their cast-offs.
Yield: Denim rug
Make A Denim Waistband No-Sew Rug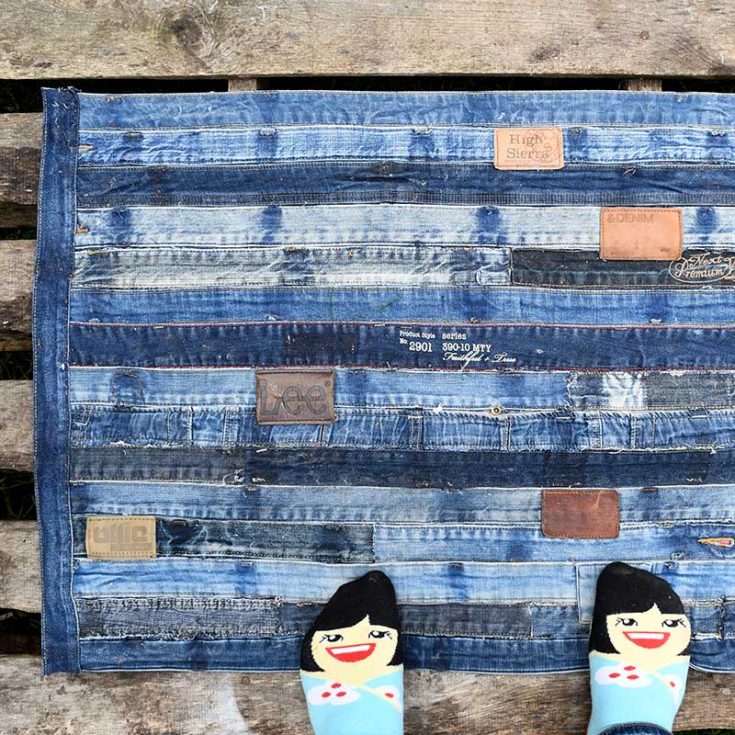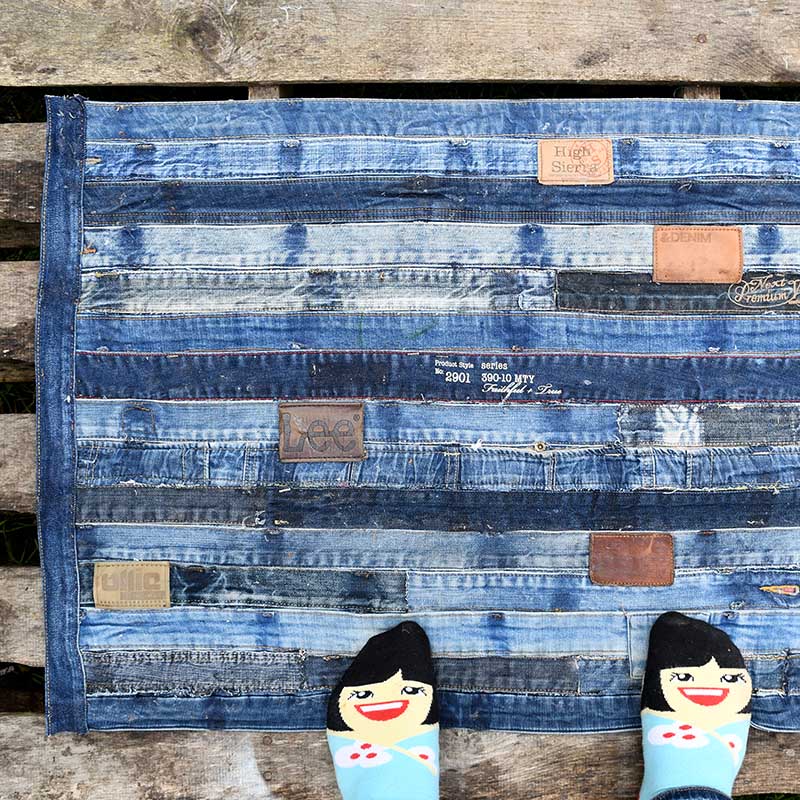 A simple way to make a no-sew rug for the home using the waistbands of old jean.
Materials
IKEA Signe Rug
Denim waistbands from lots of pairs of jeans
Gorilla Glue Clear Contact Adhesive
Tools
Scissors
Foam Board
Thumb tacks (drawing pins)
Instructions
Cut the waistband to the length of the rug.
Place the IKEA rug on a foam board
Cover the back of the waistband and the rug with glue
Stick the waistband to the rug.
Use thumb tacks to hold the waistband in place as the glue dries.
Make a trim using more waistbands
Recommended Products
As an Amazon Associate and member of other affiliate programs, I earn from qualifying purchases.
If you are wondering what to do with all the other bits of denim from a pair of jeans you should check out my denim page for inspiration. Or visit the DIYideacenter for even more denim ideas.