Inside: A free pattern and tutorial to make a sparkly fabric fig out of fabric scraps.
I love those sparkly glass ornaments you get in many fun shapes, from avocados to vintage cameras. But clumsy me is fed up with smashing them; they are just too delicate.
So when I found myself eyeing up a glass fig ornament, I decided I'd better make a more robust fabric version. I love how the fabric fig ornament turned out so much that I made a few as family gifts and even managed a denim version.
And I added lots of glass beads and tinsel for the sparkle.
Why figs? My parents have lived in Portugal for the last 25 years, and when I visit every summer, we eat tons of fresh figs. Everyone I know in Portugal has a fig tree in their garden! So they remind me of my parents and lazy summers in the Algarve.
Making Fabric Figs
These fabric ornaments are easy to make, and I used scrap velvet fabric to make them feel glamorous, just like I did with my fabric mushrooms.
Each fig is a hand-sewn craft that can be done on the couch whilst watching TV. That's why I ended up making so many. They also cost virtually nothing to make.
We're a participant in the Amazon Services LLC Associates Program, an affiliate advertising program designed to provide a means for us to earn fees by linking to Amazon.com and affiliated sites. As an Amazon Associate, I earn from qualifying purchases.
What You Need
Scrap fabric – I made the fig's skin in purple velvet, with a cream linen front and green felt leaf. You can make it with all felt fabric or whatever material you want. I even made one in denim.
Needle and thread
A small amount of fiberfill – I use the stuffing from old pillows.
Assorted glass seed beads and glitter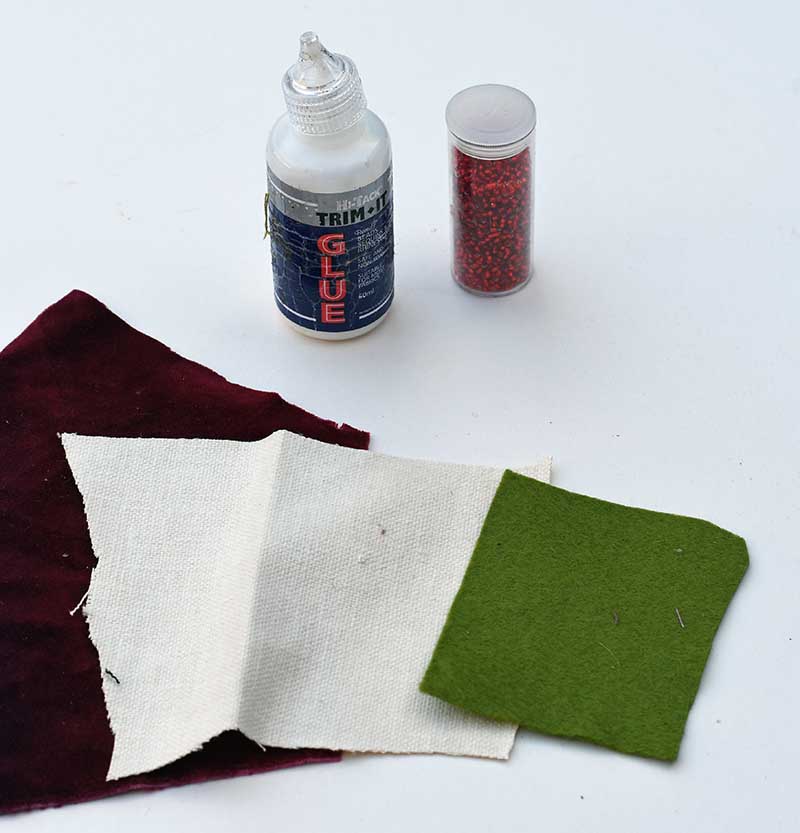 The Free Fig Pattern
Download and print out the free fig pattern here. The fig is made up of six pieces.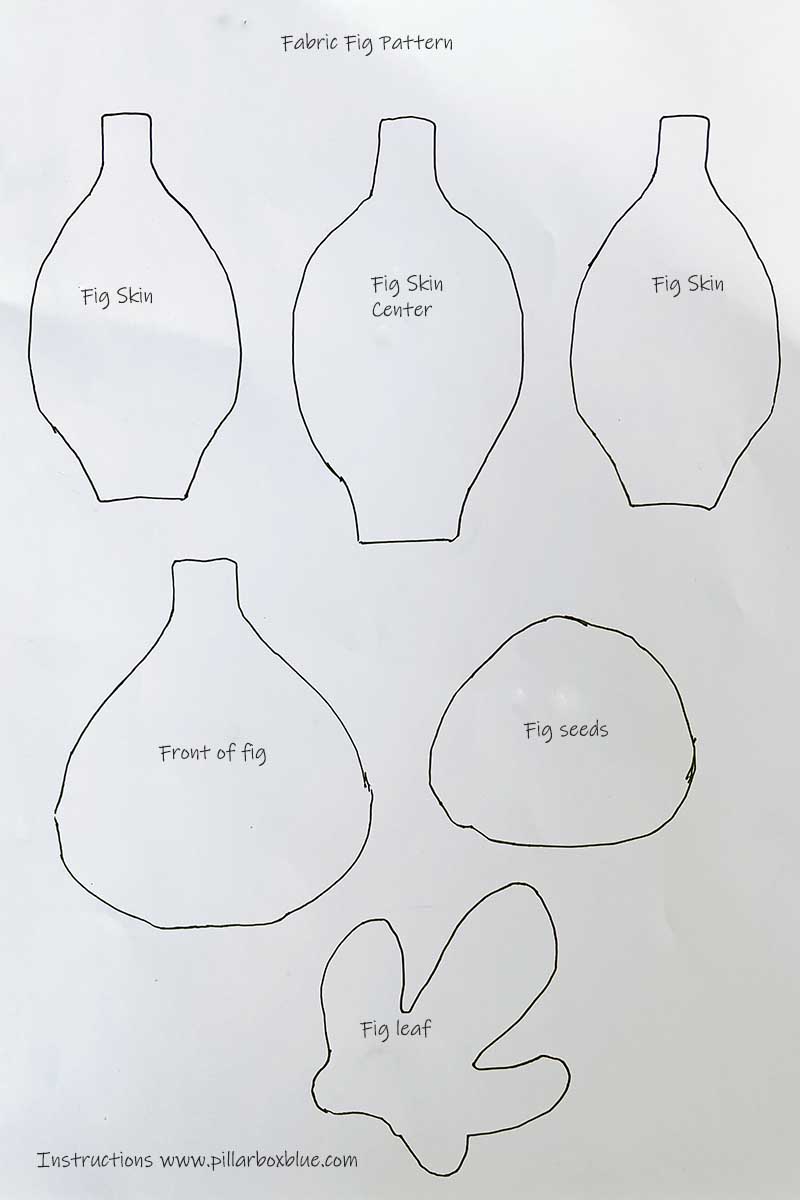 How To Sew The Fabric Fig
Step 1: Print and cut out the fig pattern. Draw around each shape. I used a purple velvet fabric for the three skin pieces and the seed piece. A cream linen fabric was used for the front of the fig, and a green felt was used for the leaf.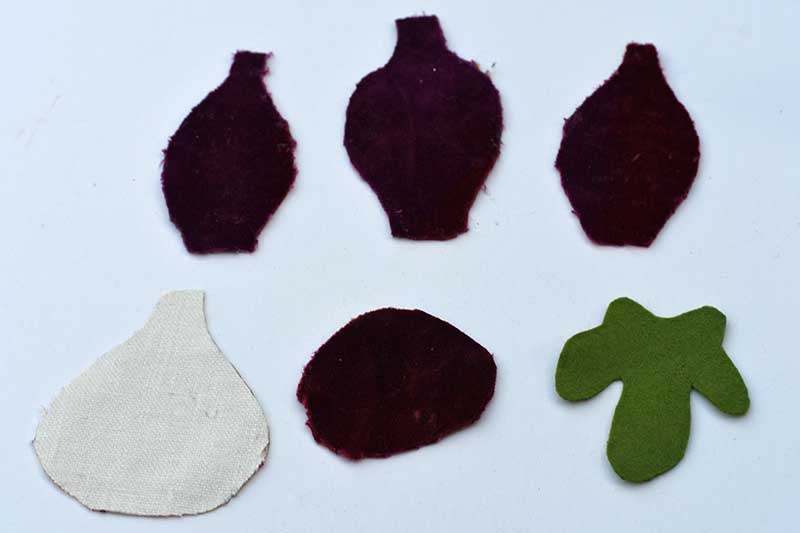 Step 2: I dabbed white glue around the edges to stop the velvet and linen fabric pieces from fraying. If you use fabric such as felt that doesn't fray, skip this stage.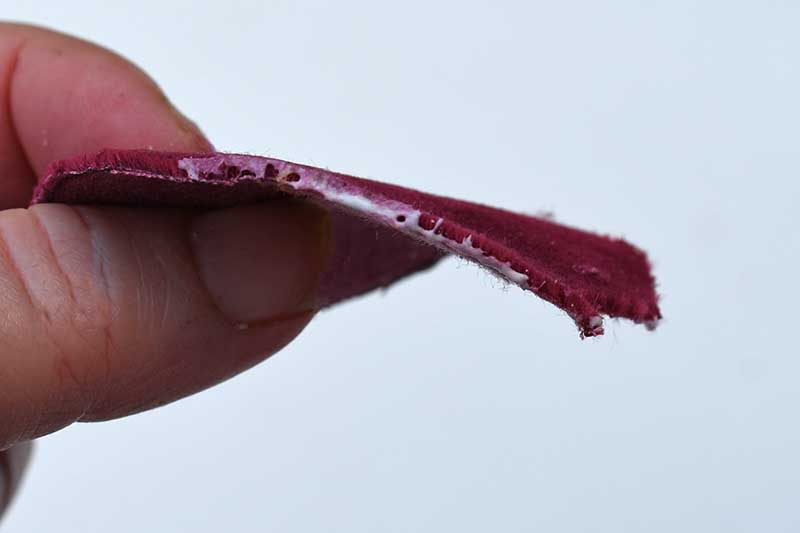 Step 3: Pin the centre velvet fig skin piece to one of the outside pieces' right sides together. Make sure the top of the fig lines up. You will notice that the centre piece is longer than the sides.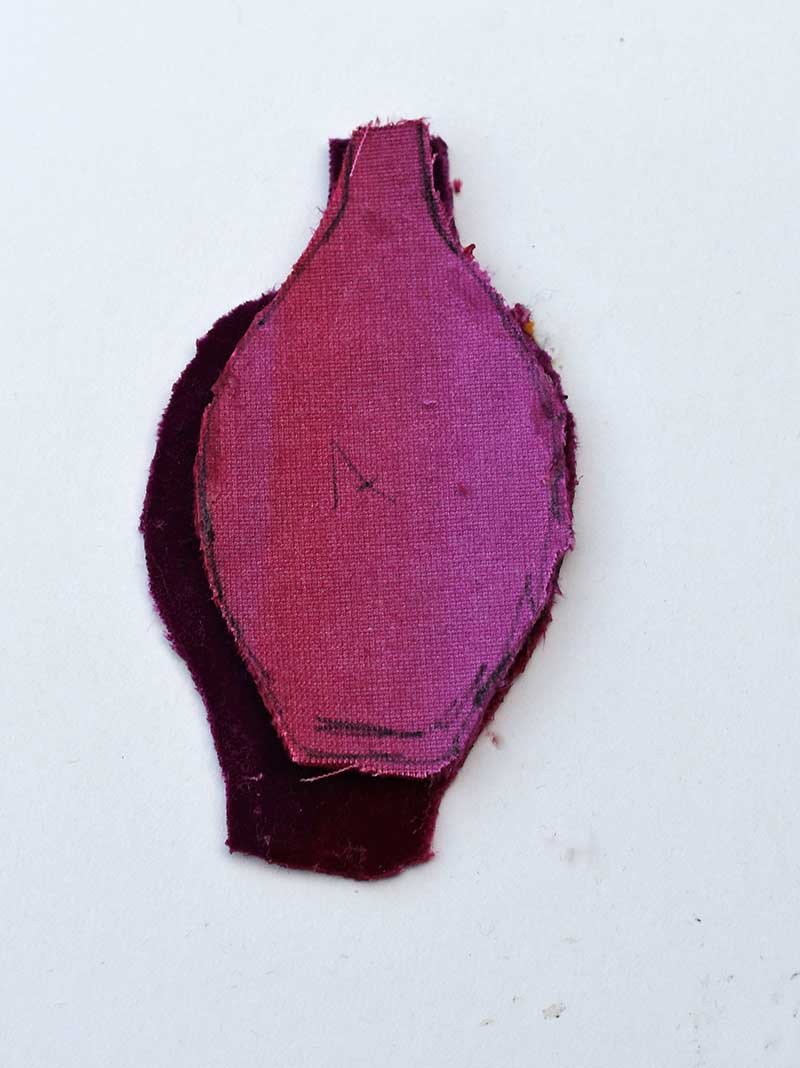 Step 4: Hand-stitch these two pieces together and then repeat with the third velvet piece on the other side. The sewn velvet should open up into a kind of bowl shape.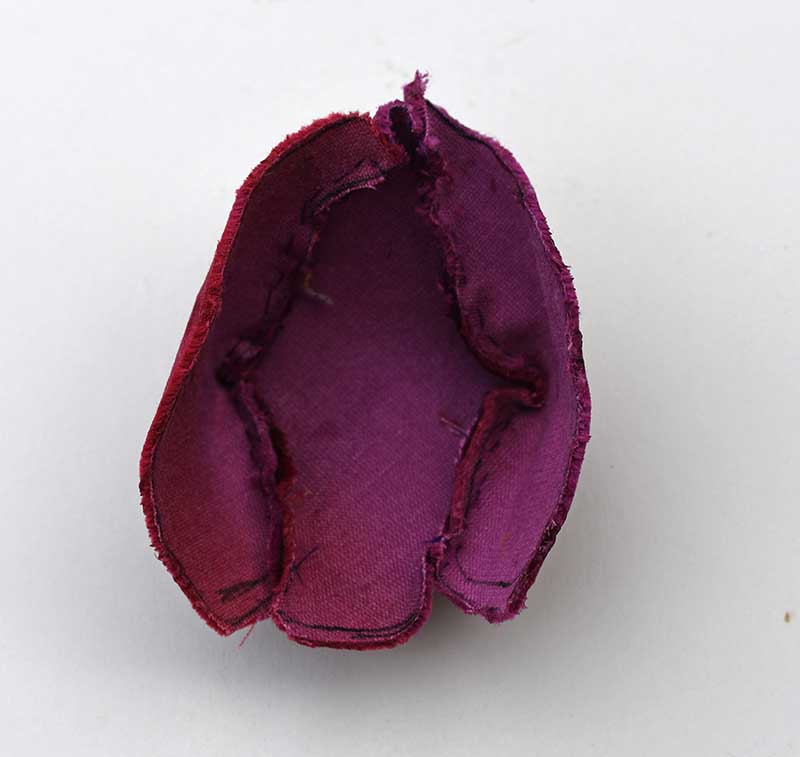 Step 5: Pin the two bottom side edges to the middle piece and stitch them together. This will make the fig skin curl round more.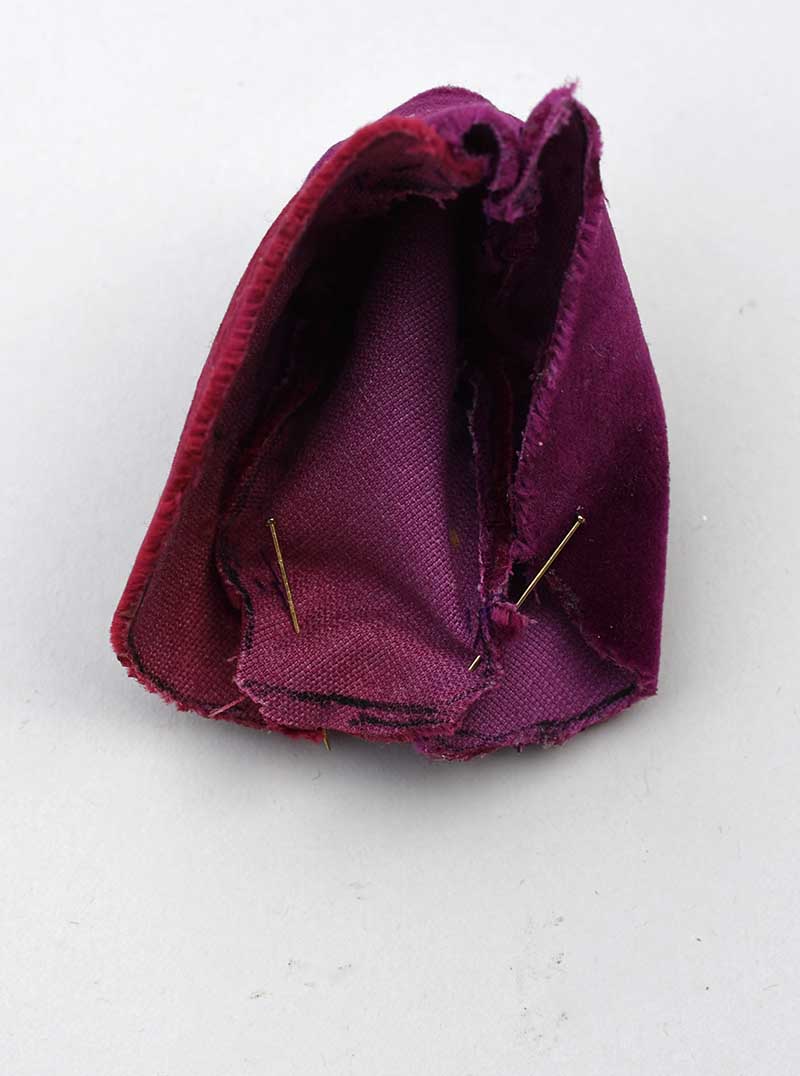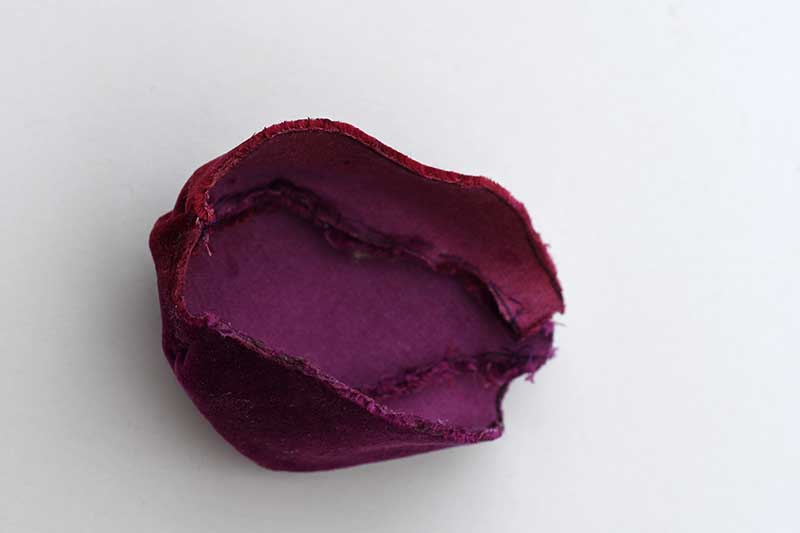 Step 6: Pin the cream linen front piece to the velvet back. And stitch it in place using a simple blanket stitch, leaving a hole for stuffing.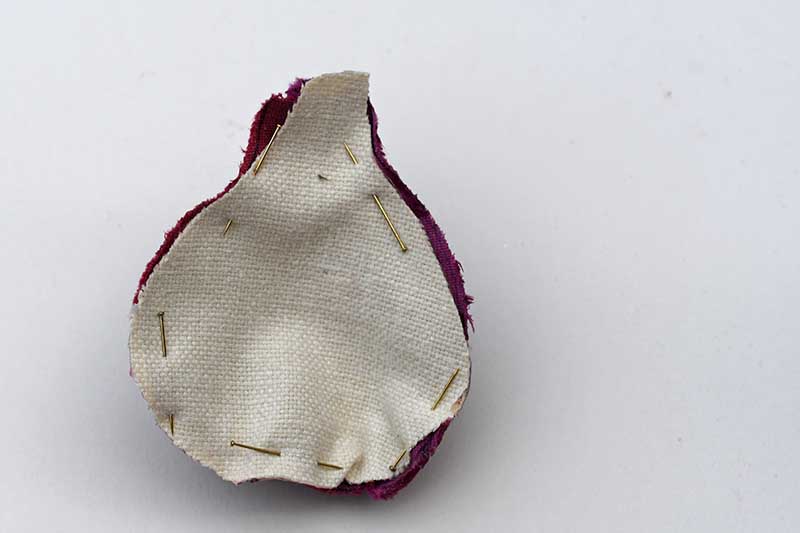 Step 7: Stuff the fig firmly with fiberfill and stitch up the hole.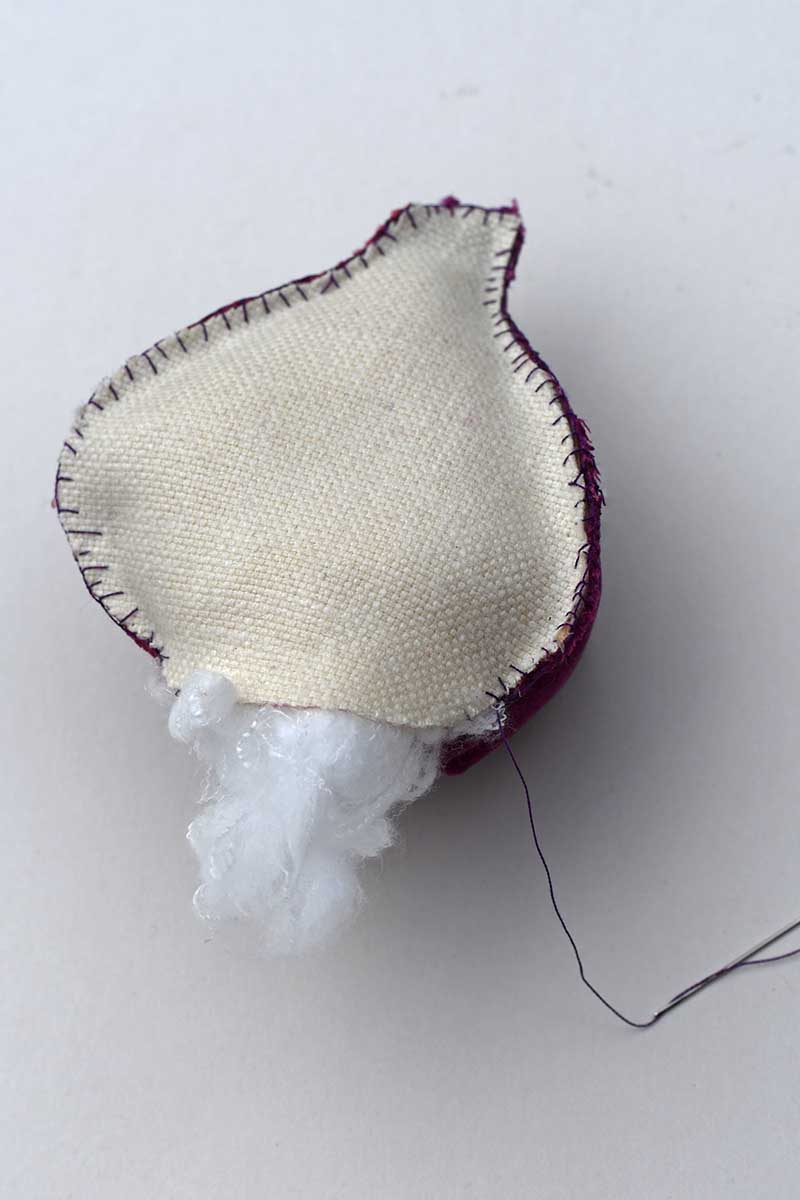 Making The Seeds
Step 8: Take the round velvet fabric meant for the seeded bit of the fig. Stitch assorted seed beads on the top.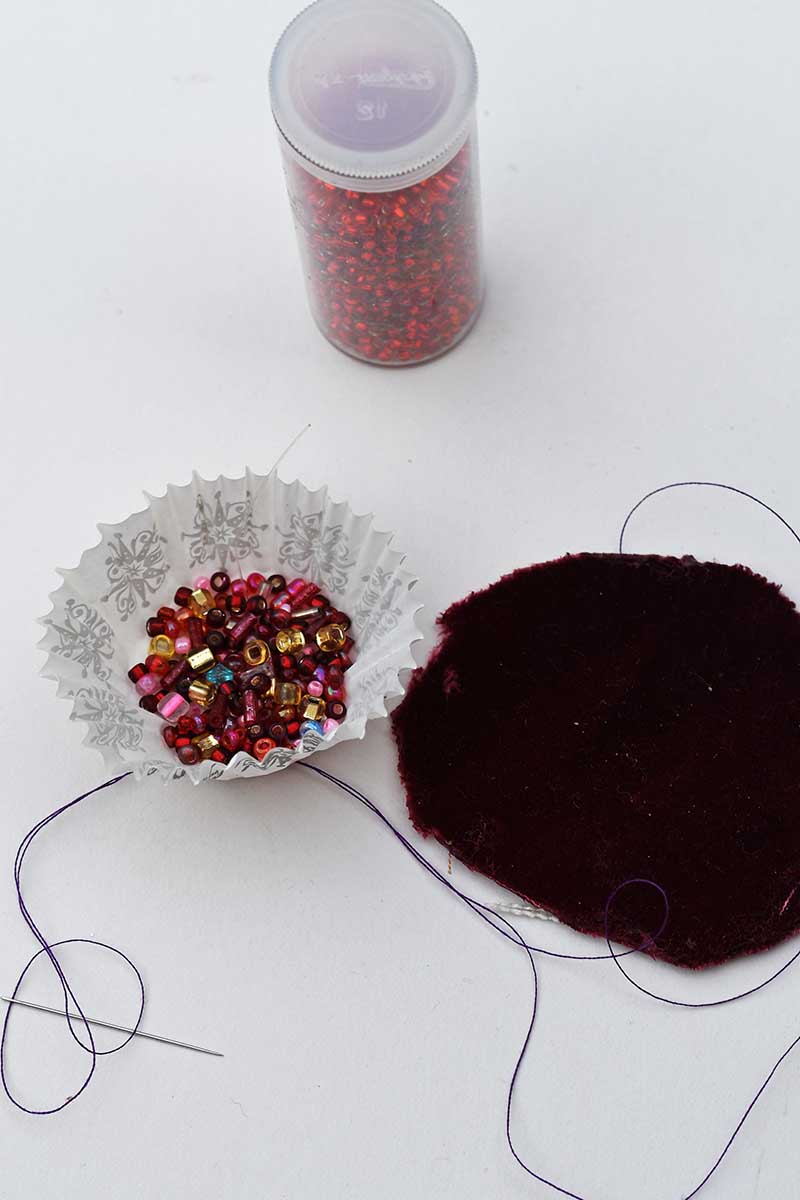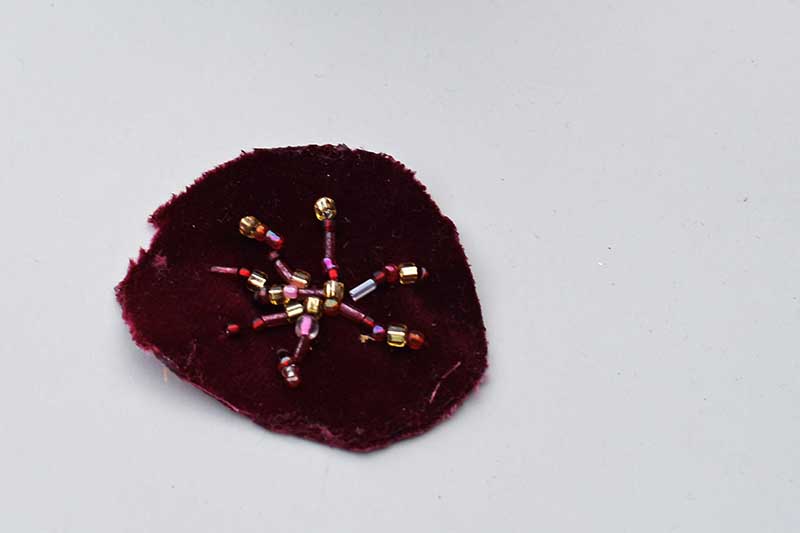 Step 8: Cover the seeds and the velvet fabric with Trim-it glue. Then sprinkle on glitter and more tiny beads.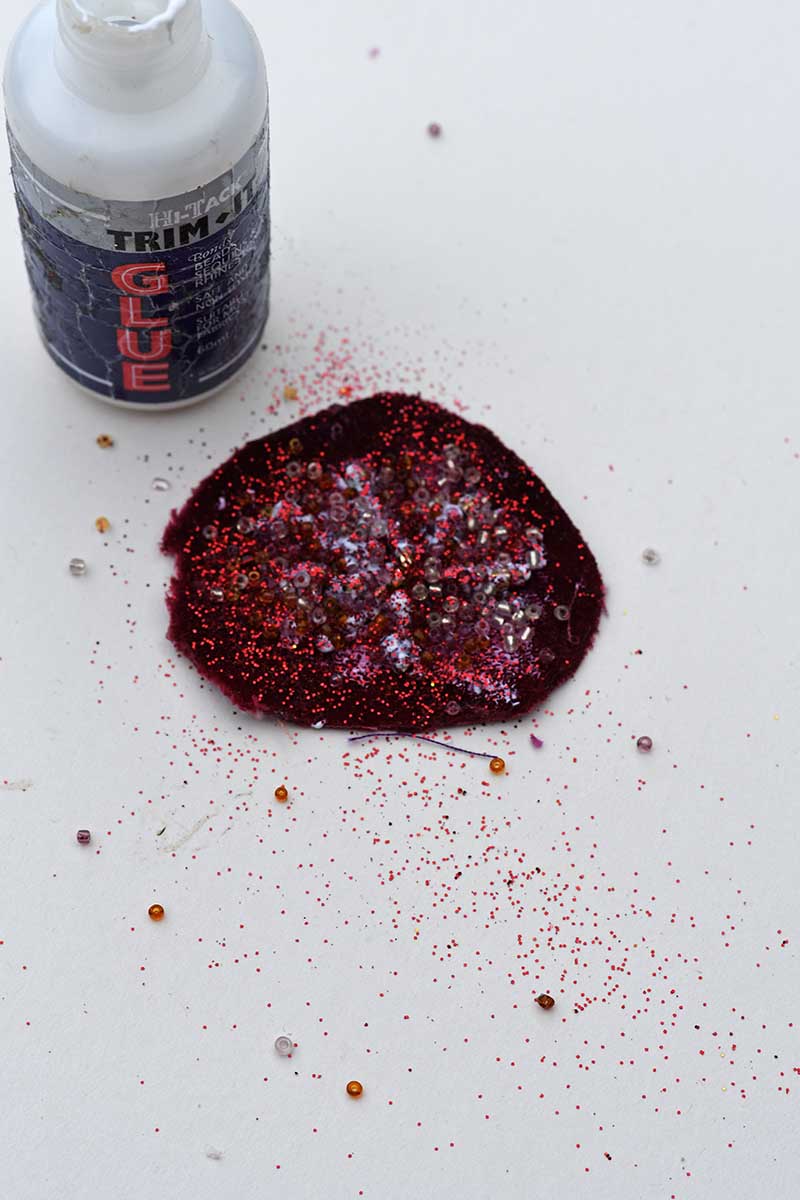 Step 9: Once the glue has dried, stitch the seeded fabric to the front of the fig. Again use a simple blanket stitch.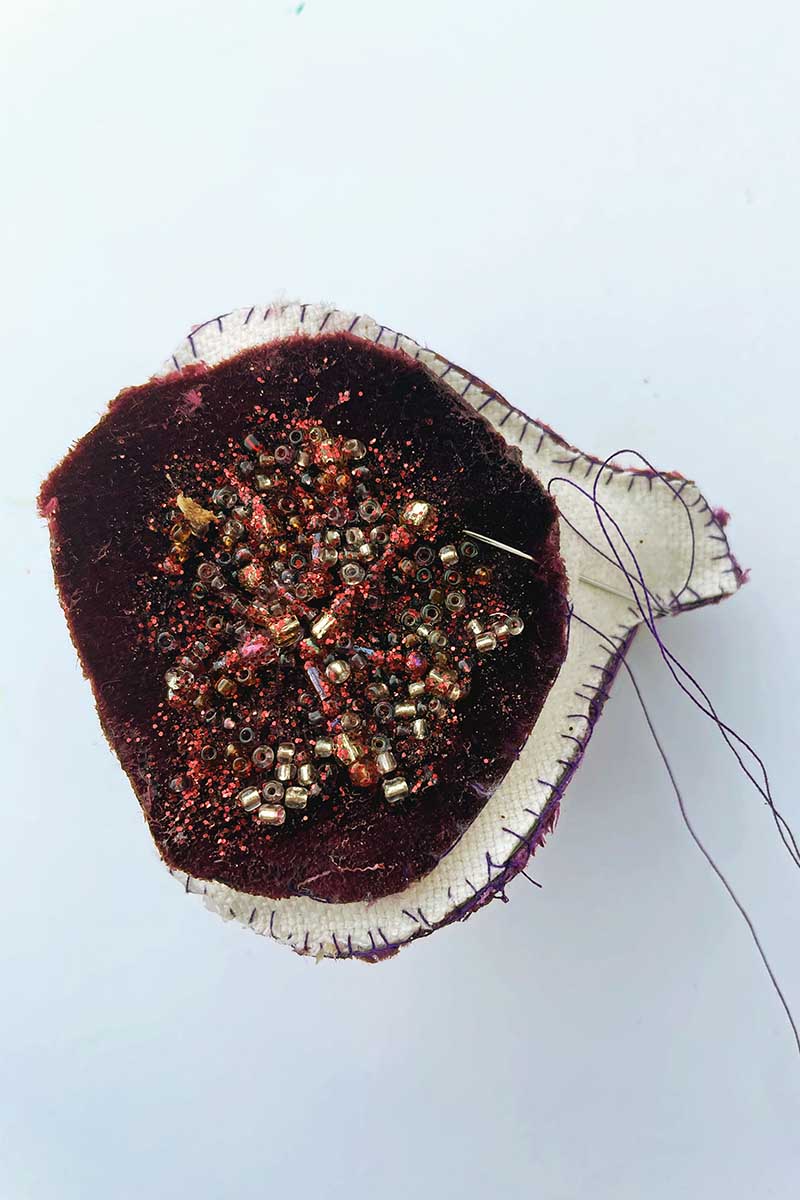 Stitching the Leaf
Step 10: Use a green thread to embroider some veins onto the felt leaf.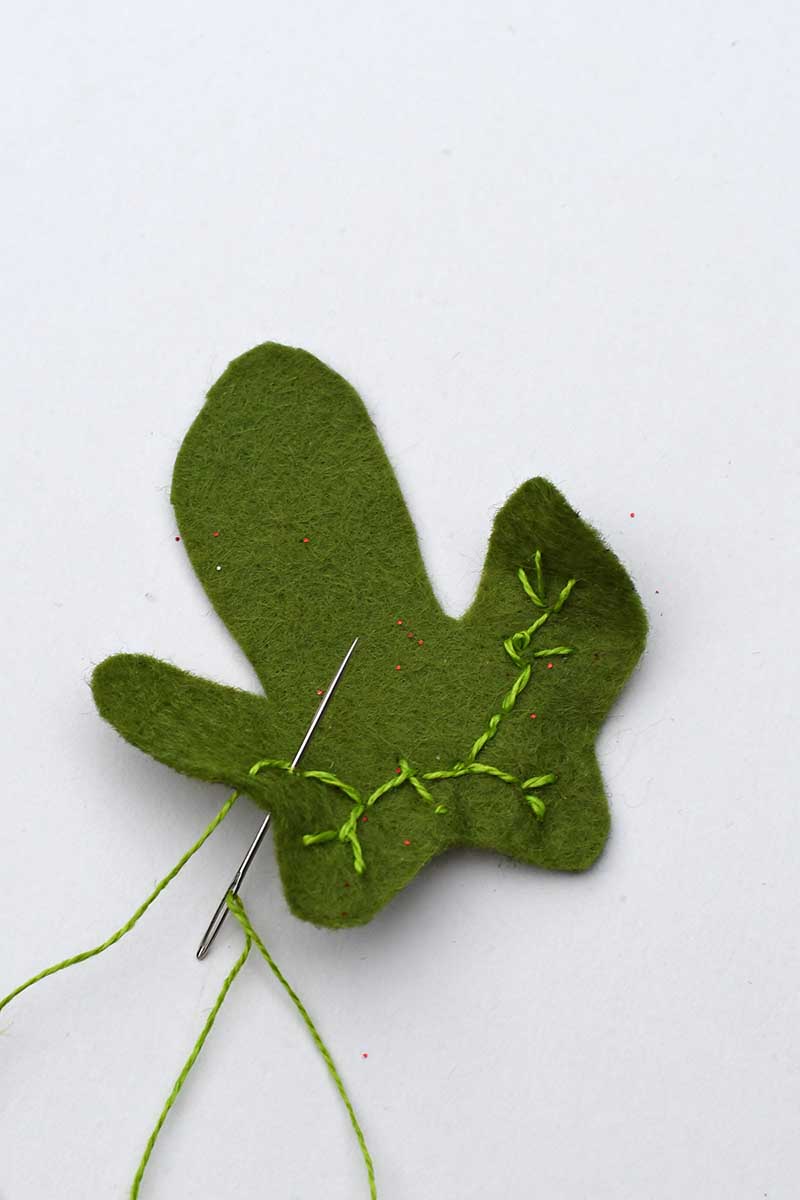 Step 10: Finish off the fabric fig ornament by stitching the leaf and some hanging cord to the top of the fig.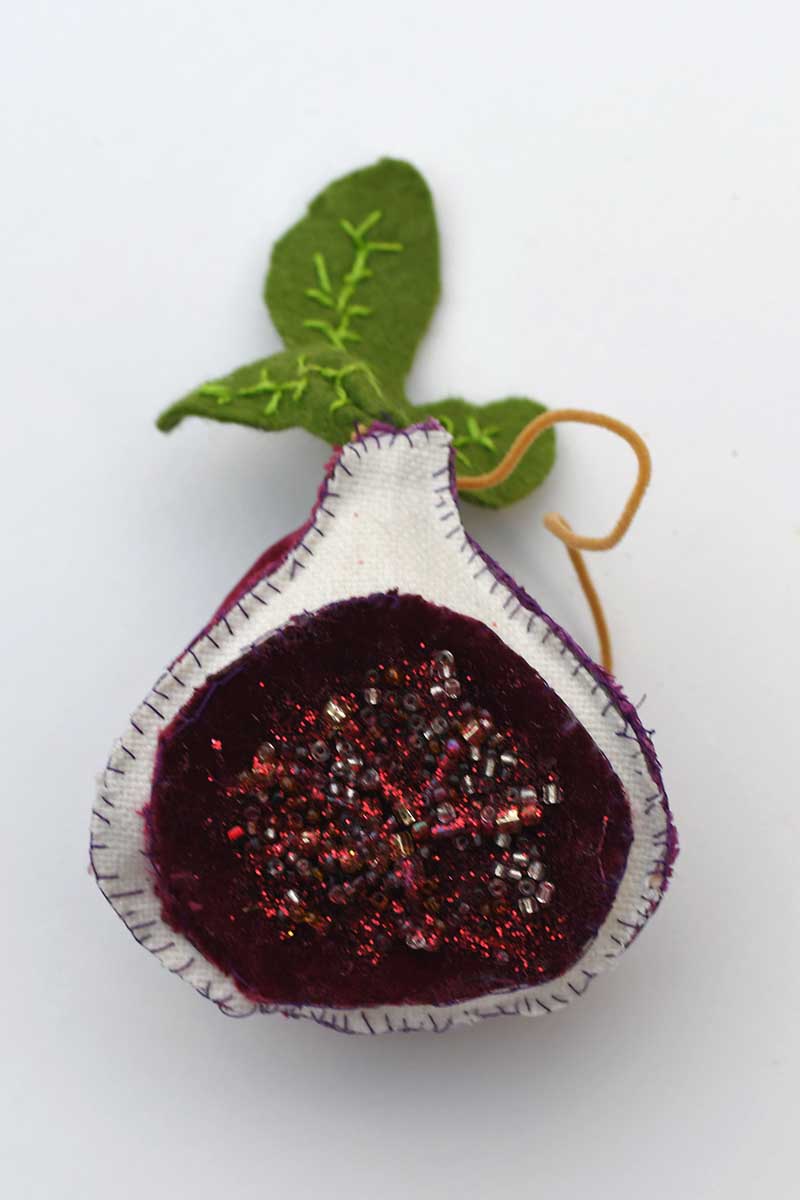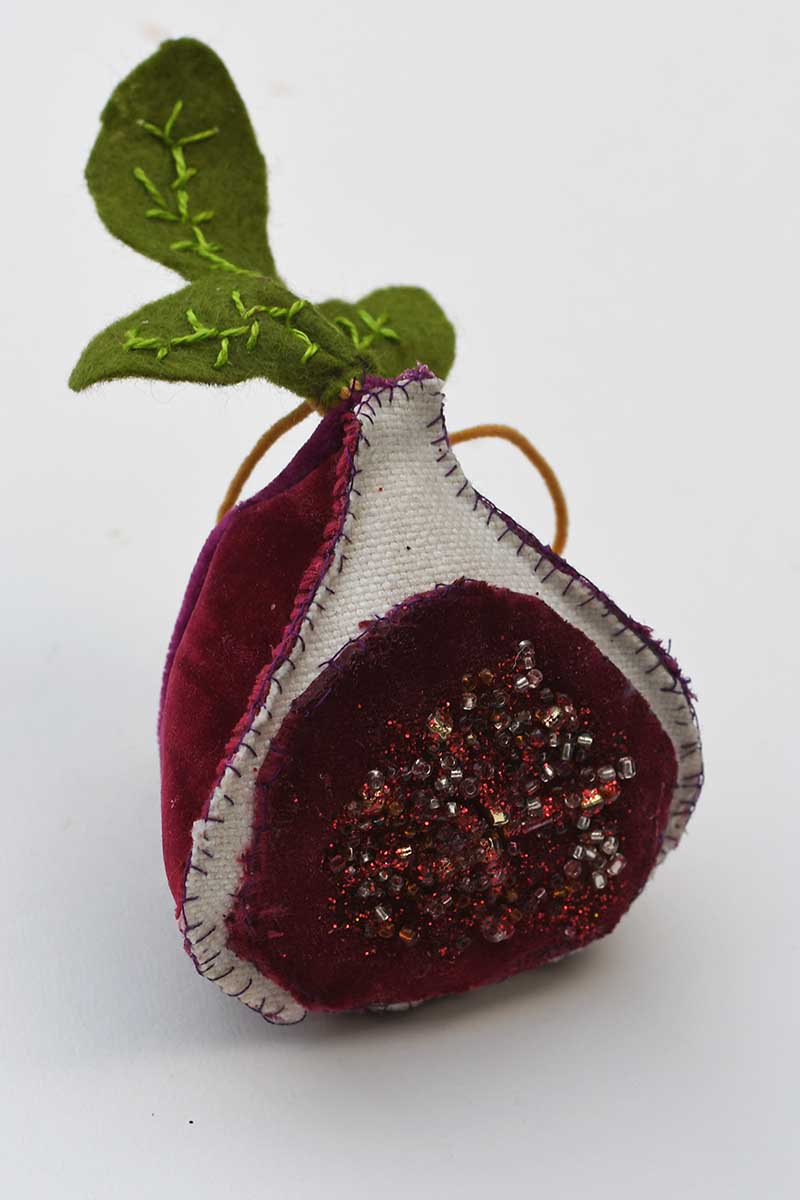 This gorgeous fig is now ready to hang from your tree. The lovely glass beads on the front will glimmer in the light.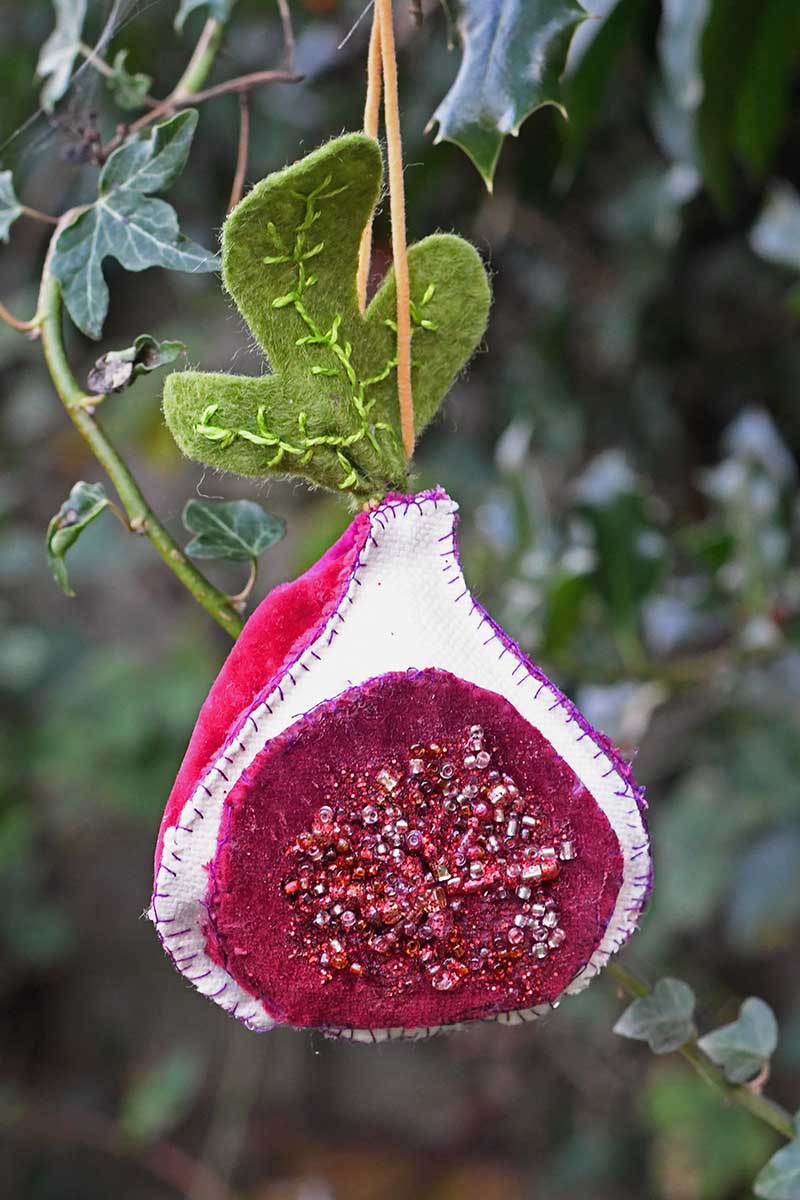 I enjoyed making this fig ornament so much that I made lots of them.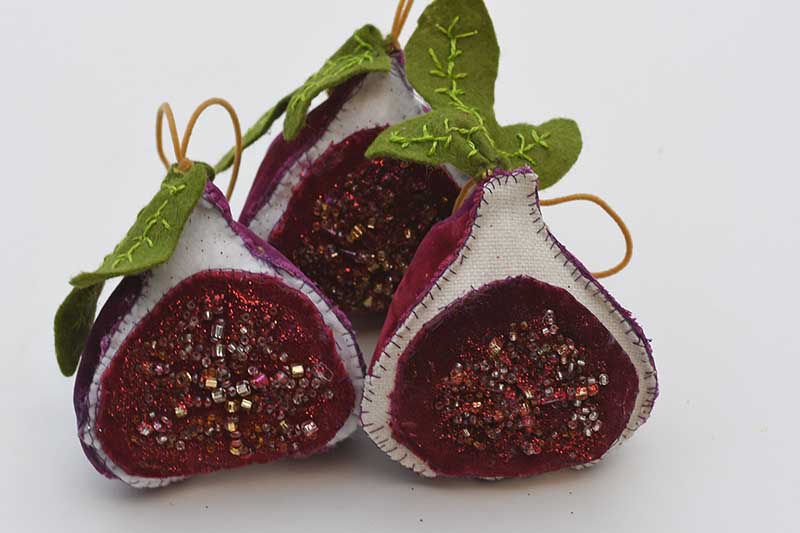 I chose scraps of velvet to make these figs as I wanted a luxurious look. But you can make these fabric figs in any material you like, such as felt.
I love making denim Christmas ornaments, so I even made a denim version of this fig using scraps of material from old jeans.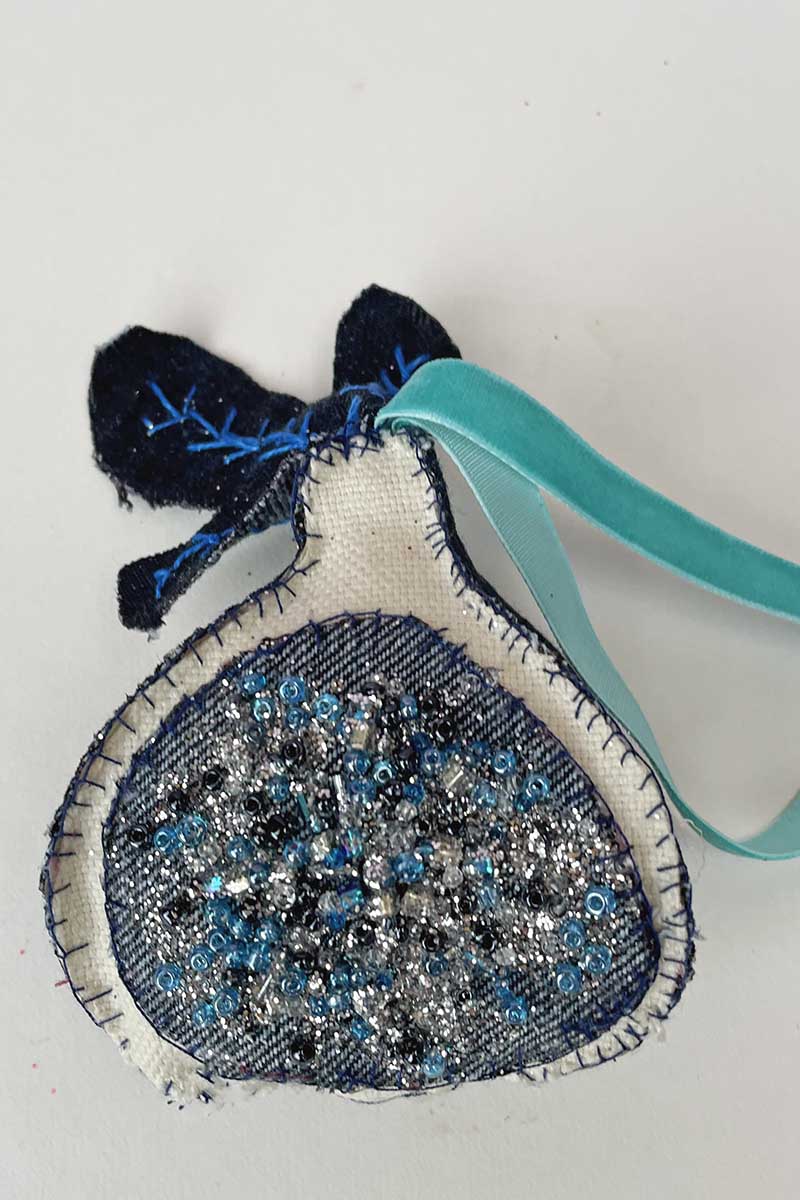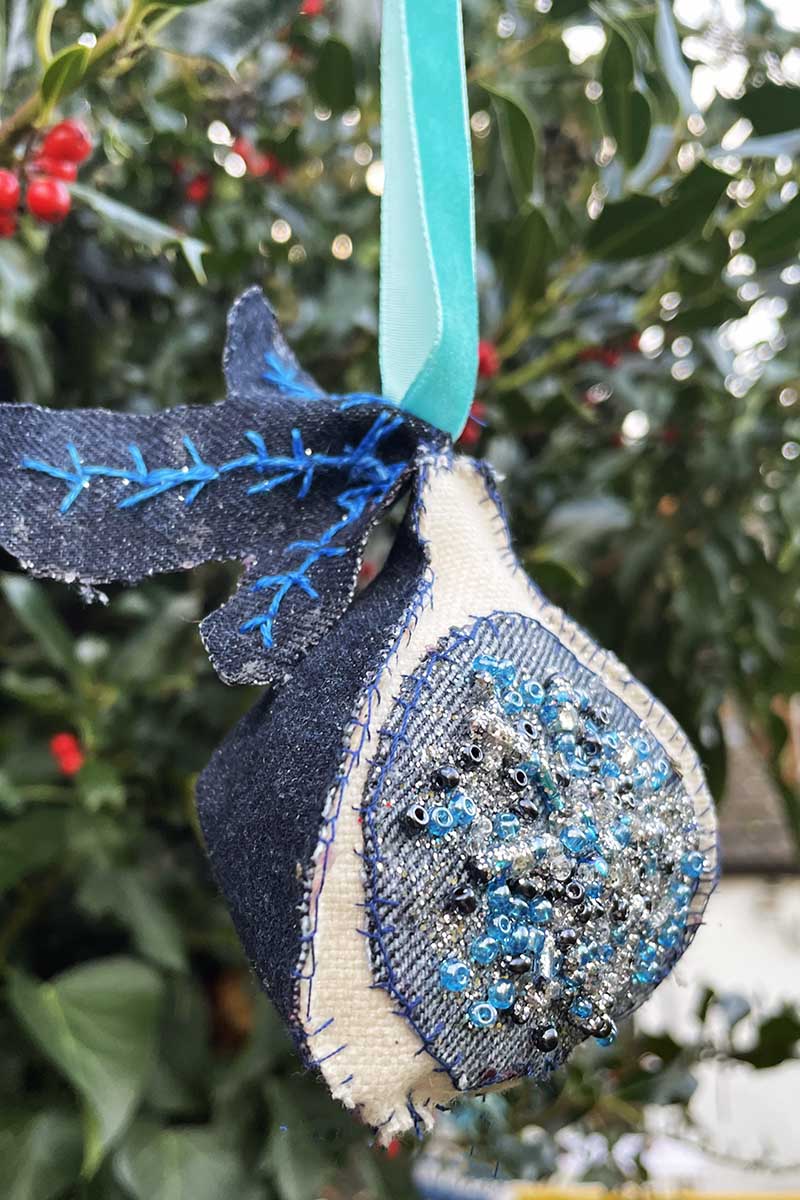 Another fun thing to make out of velvet scraps is these fabric poppy seed pods.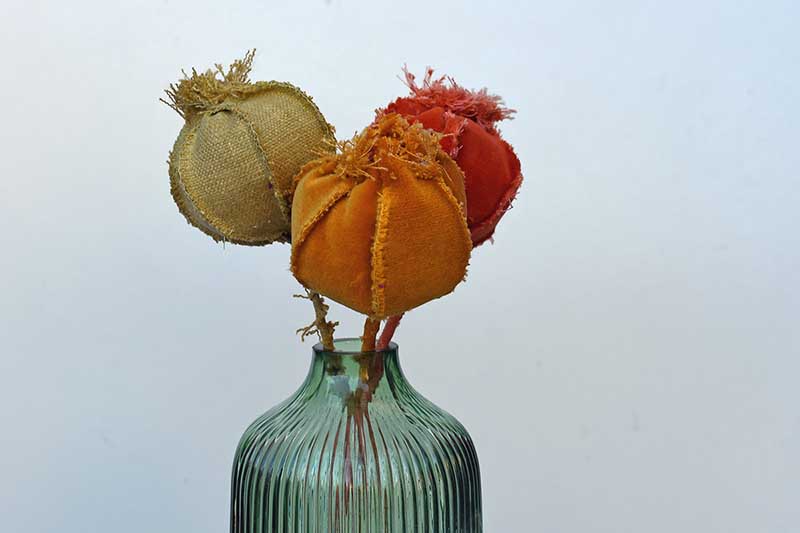 You might like to check out these other nature-themed Christmas ornament ideas and these upcycled Christmas ornaments.
Pin for later!