Inside: An incredible collection of easy hand sewing projects and tips perfect for adults and teens to try.
I've never seen someone so still and concentrated as my husband when he sits down to watch his favourite programmes on TV. He moans that I'm like a fidgety toddler, and my motor never stops running.
But I have found that I can sit still if I occupy my hands. So I tend to do small craft projects like sewing in front of Netflix. It keeps my hands busy, the rest of me still and stops my husband from giving me filthy looks 🤣
10 Reasons to Get Hand Sewing
If you can sew it on a sewing machine, then the chances are that you can stitch it by hand; it just might take you a lot longer!
There are many other reasons you might want to try some hand sewing projects; these include:
Not having a sewing machine or access to one
Not worth the fuss of getting the sewing machine out for a small project
The sewing project is an awkward or 3D shape
Hand sewing gives you more control when you need to be precise with small sewing projects, decorations and repairs.
Hand sewing is meditative and relaxing. When I'm focused on an easy sewing project, all the usual chatter in my head disappears.
Most hand sewing crafts are small and portable. You can sew anything anywhere.
It's a quiet craft unless you accidently stab yourself with a needle🤣
Some delicate fabrics are better if sewn by hand.
Other fabrics, such as denim seams and waistbands, are too thick and bulky to sew on a domestic machine.
It improves hand-eye coordination in both children and adults.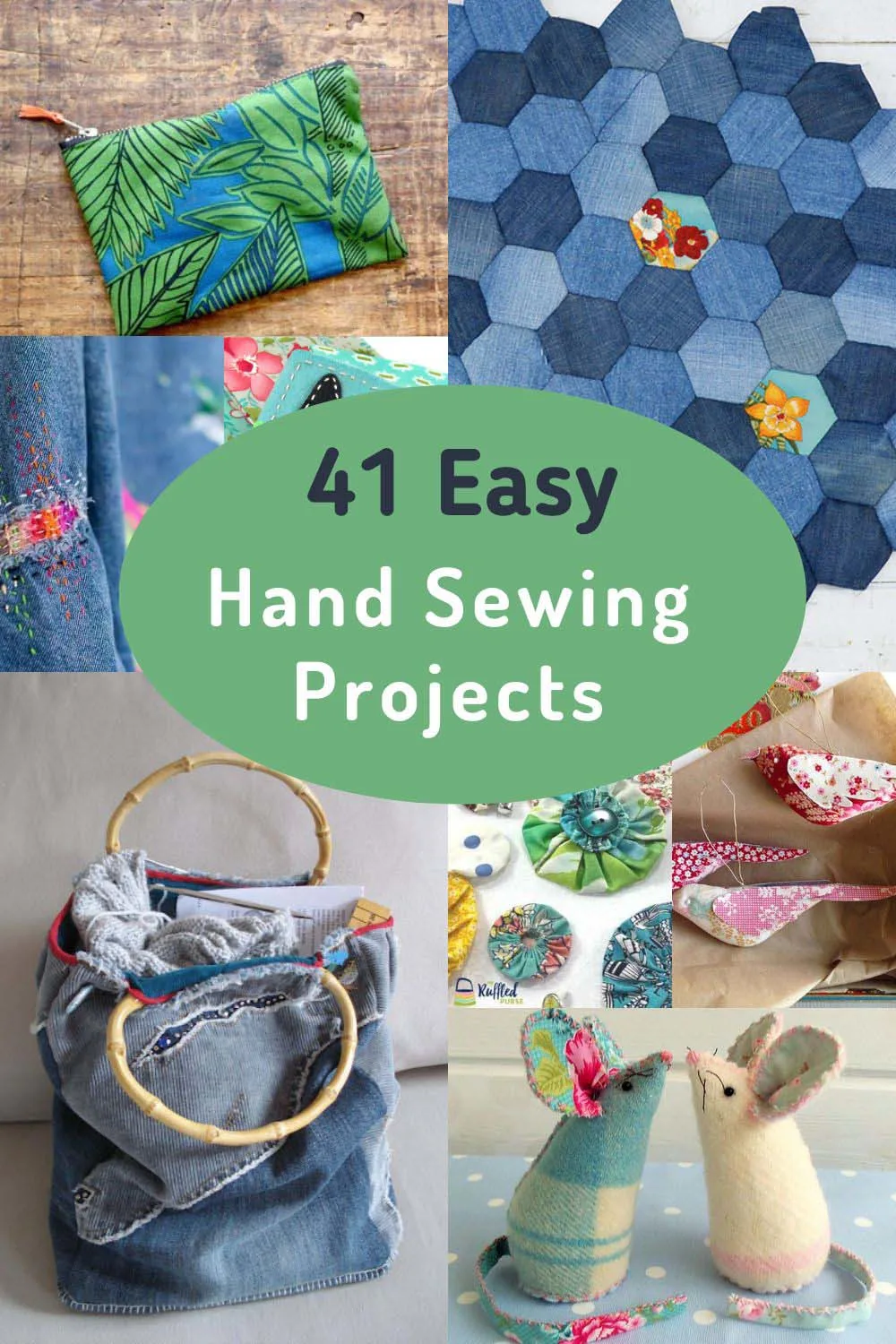 Top Tips For Stitching By Hand
Before you start hand sewing, you will need to know how to tie a knot in the thread to start a project. You'll find five different ways to do that here.
Have good lighting so you can see what you are doing.
Mark out any seam lines or stitching patterns with a disappearing marker.
Use good quality needles for hand sewing. Use different-sized needles for different projects; check the pattern. Sewing silk uses small needles, whereas embroidery needles are larger.
Make sure the thread is not too long. Any longer than 50cm, it is likely to tangle.
A needle threader will make threading needles so much easier. The holes on standard hand sewing needles are teeny!
Learn basic hand stitches such as running stitch, back stitch, blanket stitch, ladder stitch and whip stitch.
45 + Easy Hand Sewing Projects
An incredible collection of easy hand sewing projects and tips perfect for adults and teens to try. Everything from small felt ornaments and decorative embroidery to larger patchwork pieces for the home, including bags and pillows.
Un-donatable clothes can be cut up into material for your hand-sewing creations.
If you enjoyed these easy hand-sewing projects, you might want to check out this collection of denim sewing crafts, or have you tried sewing on paper?
Handmade fabric flowers are fun hand-sewing crafts.