Inside: A collection of DIY dog accessories from leads to toys that can be made at home.
If you are a regular reader of Pillarboxblue, thank you first! And second, you've probably noticed I have a dog. Toby is a beloved but now rather old (15 years) rescue Foxy Russell. He keeps me company while I craft and often sneaks into the photos.
Who doesn't love pampering their dogs with lots of love, cuddles, and, yes, even accessories? For many pet owners, dog accessories are not just frivolous frills but fun and functional items that express their pet's personality.
Dog accessories can be a bit pricey, so I thought I could make some for Toby out of stuff we already have. And upcycle materials like denim from jeans and other old clothes unsuitable for donation.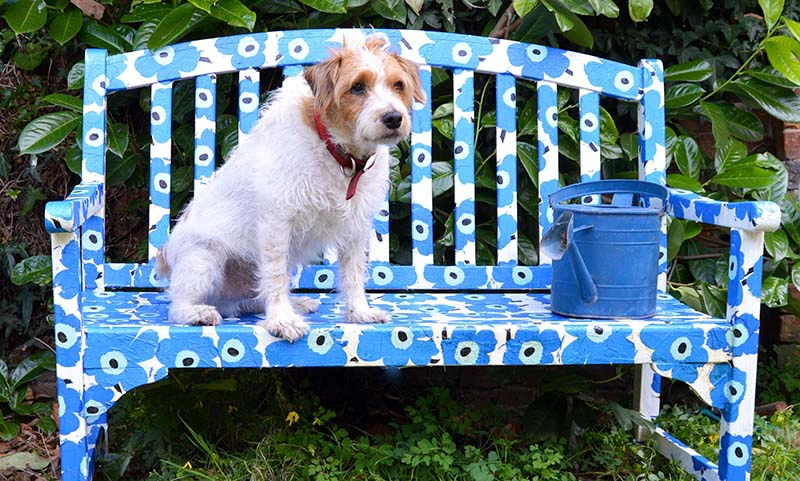 Denim Dog Accessories
Denim is a popular choice for making dog accessories for several reasons:
1. Durability: Denim is a solid, durable fabric that can withstand wear and tear, making it perfect for pet accessories that need a lot of use.
Easy to Clean: Denim can be easily cleaned; this is a massive plus since pet accessories can get dirty quickly. Most denim materials are machine washable and do not stain easily.
Comfort: Despite its toughness, denim is also quite comfortable. It's a breathable material, which is particularly good for pets as it can help prevent overheating.
Affordability: Old jeans that are no longer wearable can be upcycled into dog accessories, making denim a cost-effective choice for DIY projects.
In conclusion, denim's strength, comfort, versatility, and affordability make it an excellent material for dog accessories.
However, it's important to remember that while denim is generally safe, you should always ensure the finished product has no loose threads or small, chewable parts that could be a choking hazard for your pet.
DIY Dog Accessories & Crafts
This is a curated list of excellent DIY dog accessories and crafts; you can make your beloved pooch from leads and leashes to toys and coats.
I think the denim dog bone toys are my favourite DIY dog craft on the list. However, Toby has started to lose his hair through old age, so it might be time to make him a denim dog coat.
Another way of showing love for your dog is to paint them some personalised giant wall art or a create map dog portrait.