Inside: how to upcycle old jeans and all the things that you can make with just one pair.
Don't you hate it when your favourite jeans are no longer wearable? Mine always wear away on the inside of the thighs. I've tried patching them, but that doesn't last.
I can't give them to the charity shop and the material is too good to throw away. So I keep the jeans for upcycling and crafting. It's amazing the number of wonderful things you can make by just upcycling one pair of jeans.
My popular A to Z of denim crafts is full of hundreds of denim upcycles. But many of these ideas, such as denim rugs and quilts, involve repurposing more than one pair of jeans.
I realize that you might not have a stash of old jeans to repurpose but just one pair.
It might be that, like a few of us, you can no longer get into your favourite pair of jeans, due to those extra lockdown pounds. Or you could be one of the lucky ones that actually lost weight, and your old jeans are now too big.
Or they might, just no longer be fashionable and have seen better days!
Maybe you're not sure whether to put those old jeans in the donate pile or to actually upcycle and repurpose them. Hopefully, after checking out these ideas, you'll be inspired to upcycle them!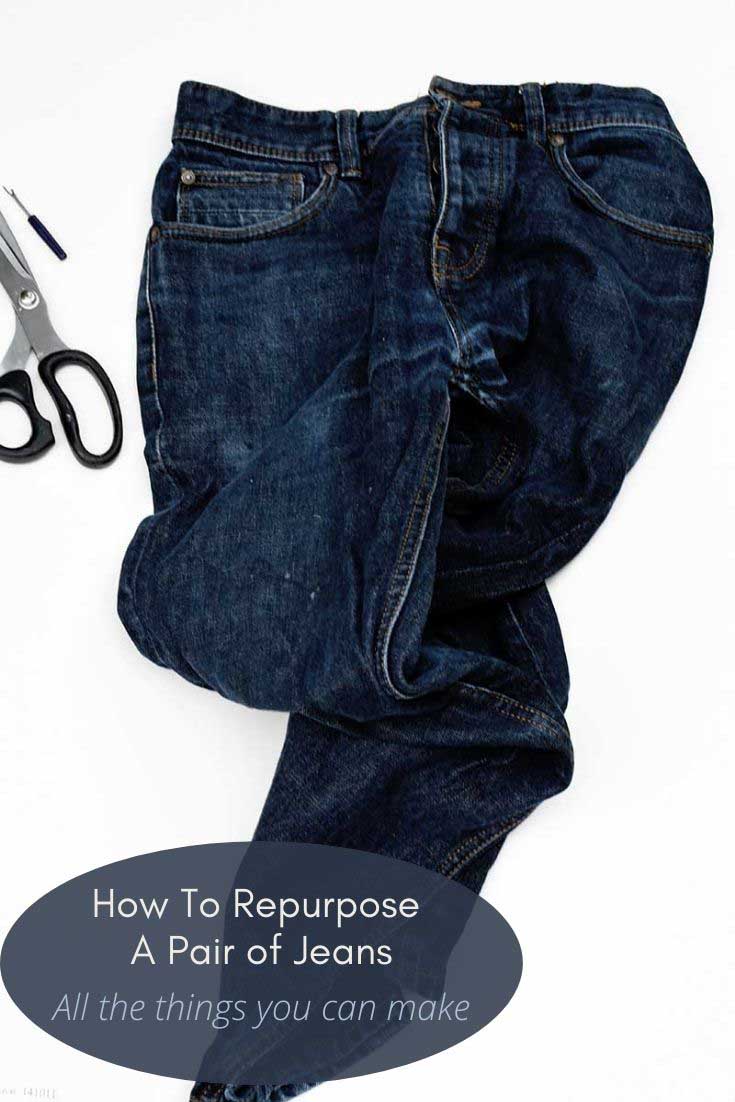 How to Upcycle Jeans and Take Them Apart
I will show you how to take apart and deconstruct a pair of jeans into different parts to upcycle. There is a lot more you can make out of a pair of jeans than just bags and cut-off shorts!
And even if you just cut off the legs to make shorts, there is still plenty of things you can make from the cutaway denim fabric.
I'll think you'll be pleasantly surprised by the number of denim upcycles you can get out of just one pair of jeans. They will keep you crafting for a while. Many of the ideas would actually make great homemade gifts too.
We're a participant in the Amazon Services LLC Associates Program, an affiliate advertising program designed to provide a means for us to earn fees by linking to Amazon.com and affiliated sites. As an Amazon Associate, I earn from qualifying purchases.
What You Need And Where To Start
I just use two main tools when taking apart an old pair of jeans to upcycle. And that is a good pair of sharp fabric scissors and a seam ripper.
The seam ripper is used to unpick the stitches in the jeans. Hold the fabric with the seam facing you and then carefully stick the long sharp pointed end of the ripper in between the stitches.
As you pull the ripper up the sharp edge on the ripper blade will cut the thread. Carry along with the fabric until all the stitches are removed. The first stitch is always the hardest to remove.
If you want to go further and remove the rivets and buttons from a pair of jeans, I recommend using a good set of pliers with a wire cutter edge. Personally, I like to keep the buttons on with my denim upcycles, as I feel they add character to my craft.
Before deconstructing your old jeans to upcycle, think carefully about what you are going to make. For example, some denim upcycles just require you to cut the back pocket right up to the seam, like these hanging pockets. Another denim pocket upcycle may also need some of the denim fabric that surrounds the pocket.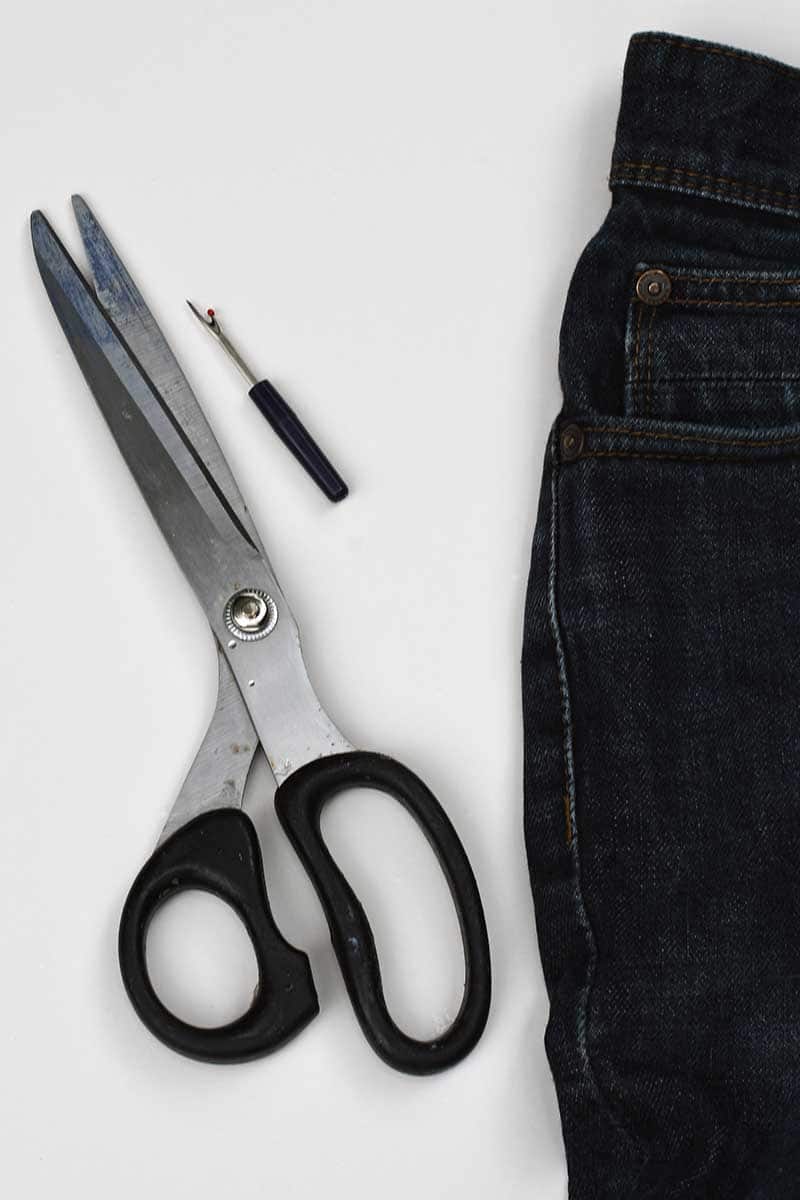 1. Upcycling the Jeans Waistband
The waistband on a pair of jeans is often the thickest part. This is because it is constructed of two layers of denim stitched together, sometimes with a piece of fabric sandwiched in between them.
The thickness of denim waistbands can make them difficult to sew, but they are plenty of things you can do with them that don't involve stitching.
The belt loops are attached to both the waistband and the main part of the jeans. Before removing the waistband, you will need to use a seam ripper to remove the belt loops from the waistband.
Keep the belt loops as they are great for adding personality to denim upcycles and can be used as hanging loops, like with these denim heart keychains.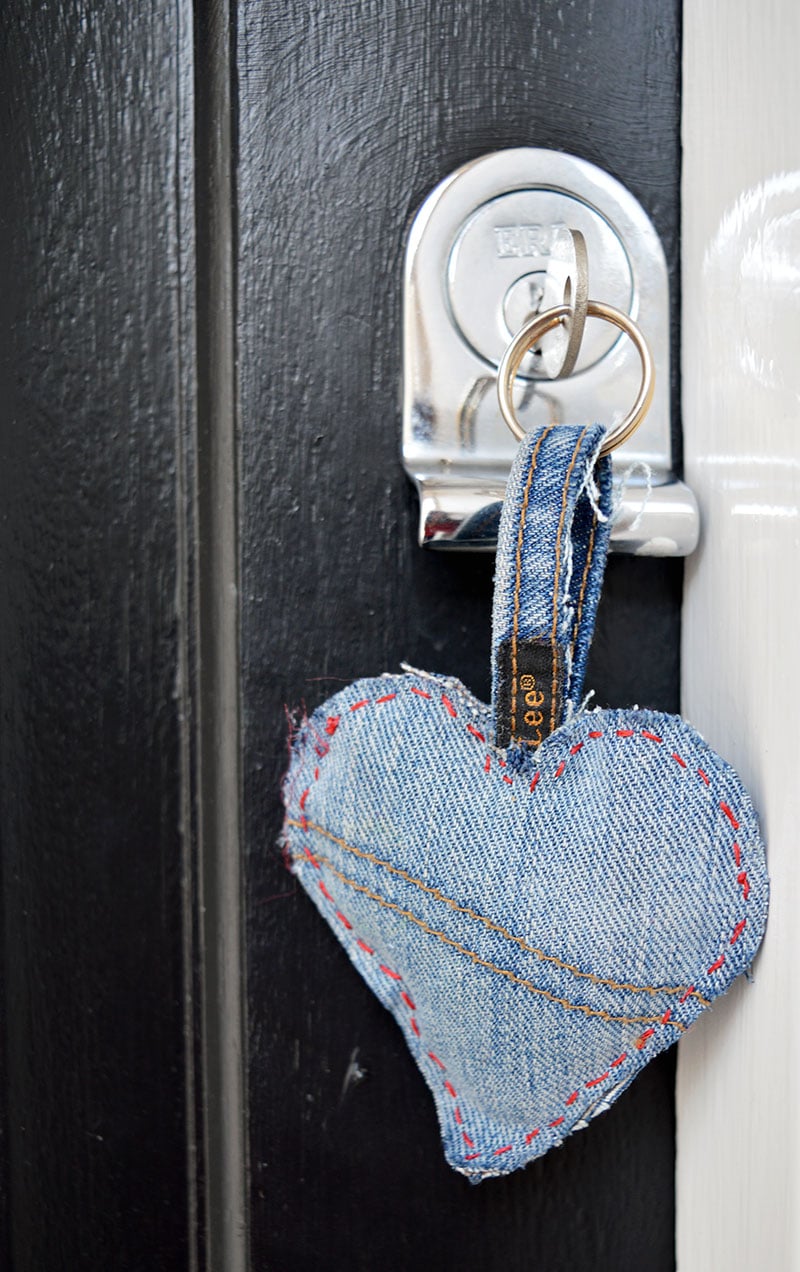 The waistband can be removed from the jeans two ways. The first is to cut the waistband from the top of the jeans, as close to the seam as possible.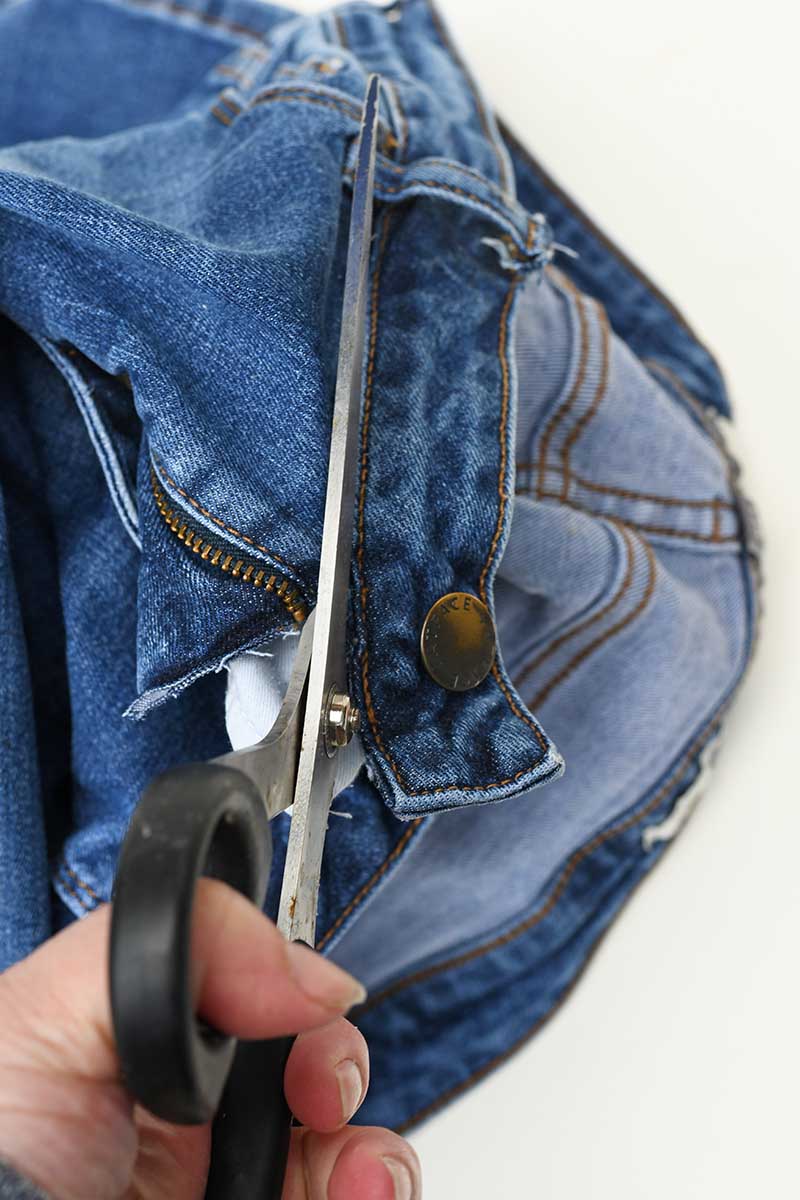 The second is to use the seam ripper to unstitch the waistband from the top of the jeans. With this second method, the waistband will be open at the bottom edge.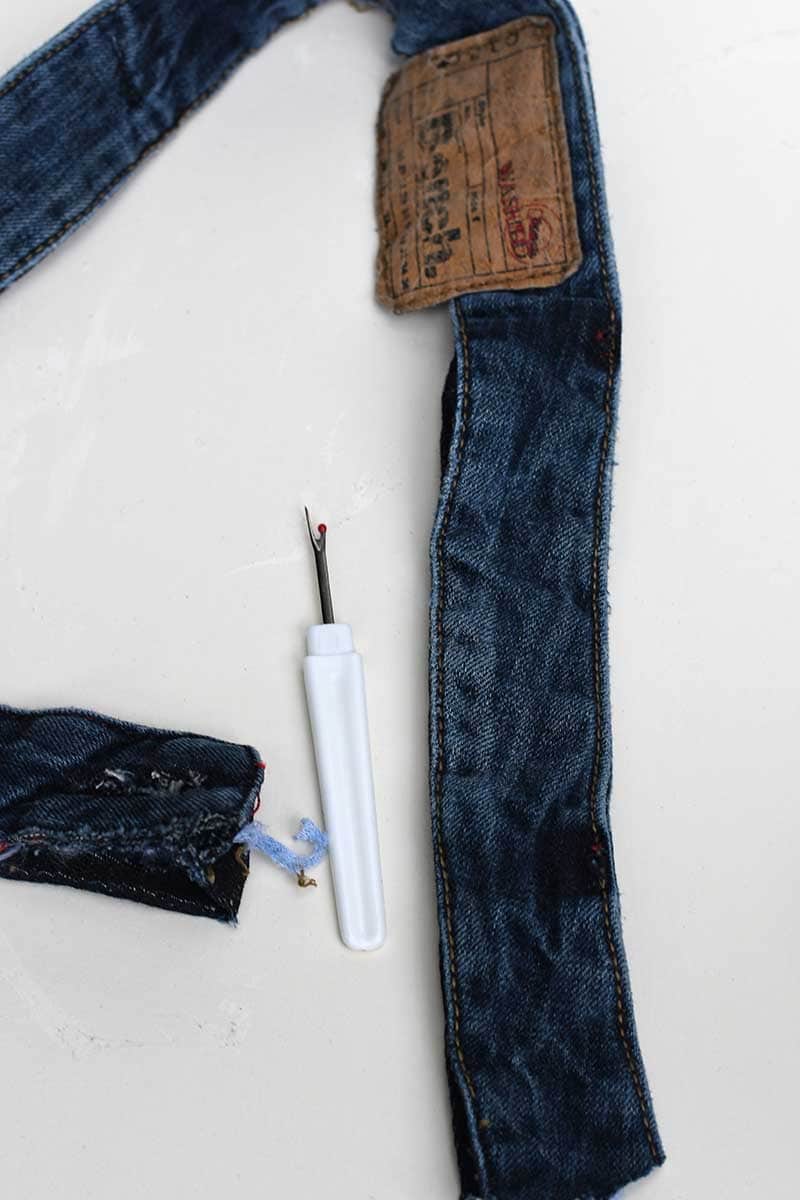 What You Can Make With A Jeans Waistband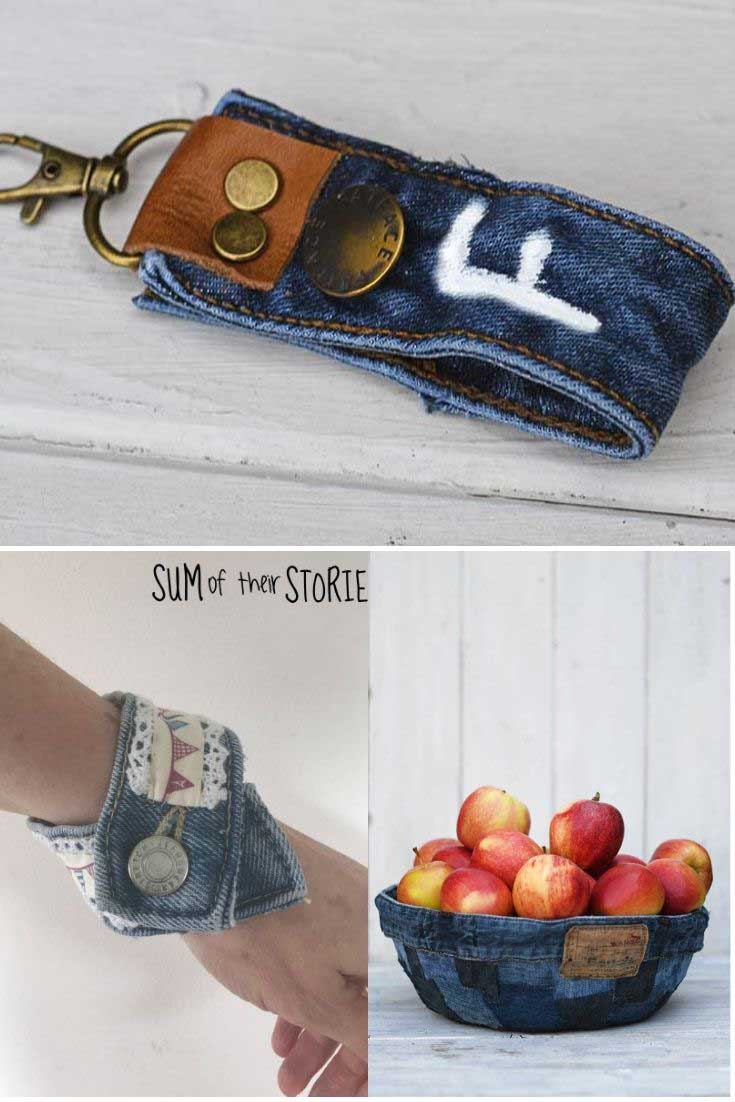 2. Upcycling the Seams & Hems on Jeans
Seams can be found on the inside leg of a pair of jeans. It is the double-stitched seams on a pair of jeans, that you want to salvage and repurpose.
A long seam can be obtained by cutting the seam up the inside of one leg of the jeans, following it around the crotch, and back down the other leg.
There is another seam that runs across the seat of a pair of jeans, between the waistband and the pockets. The hems on a pair of jeans can also be cut out and also be used for many denim seams upcycles.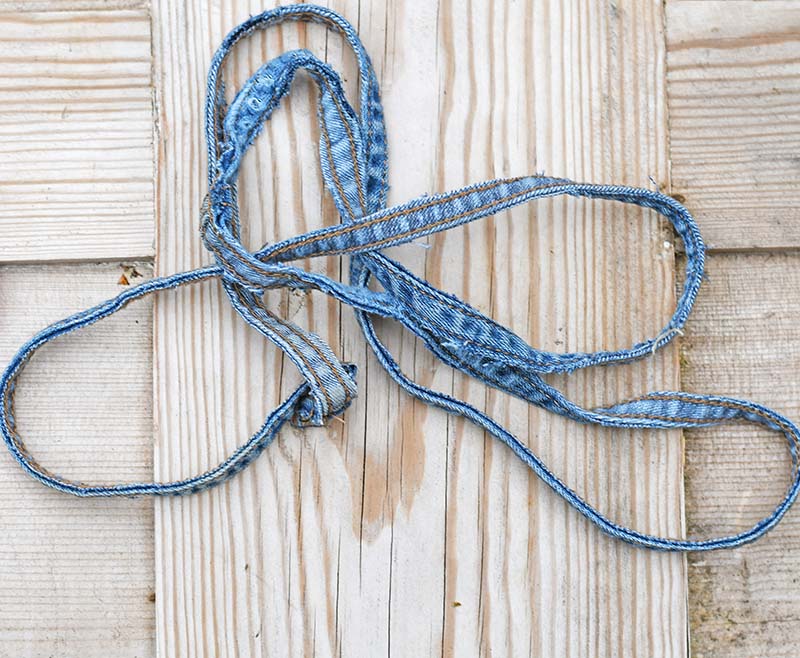 What You Can Make With Denim Seams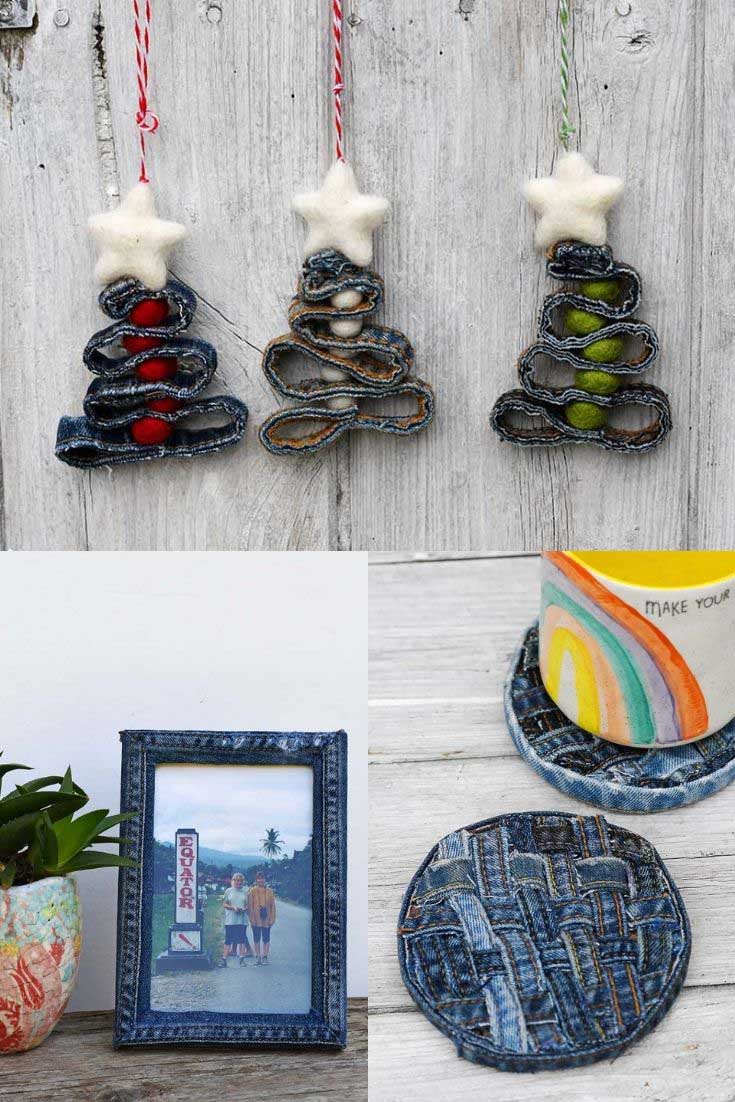 3. Upcycling the Pockets on Jeans
You can upcycle both the front and back pockets on a pair of jeans, often both together with the same project.
Before you start cutting away the pocket on a pair of jeans, decide on how you are going to upcycle them. Some projects require just the pocket. Other denim crafts also incorporate a bit of the denim fabric surrounding the pocket.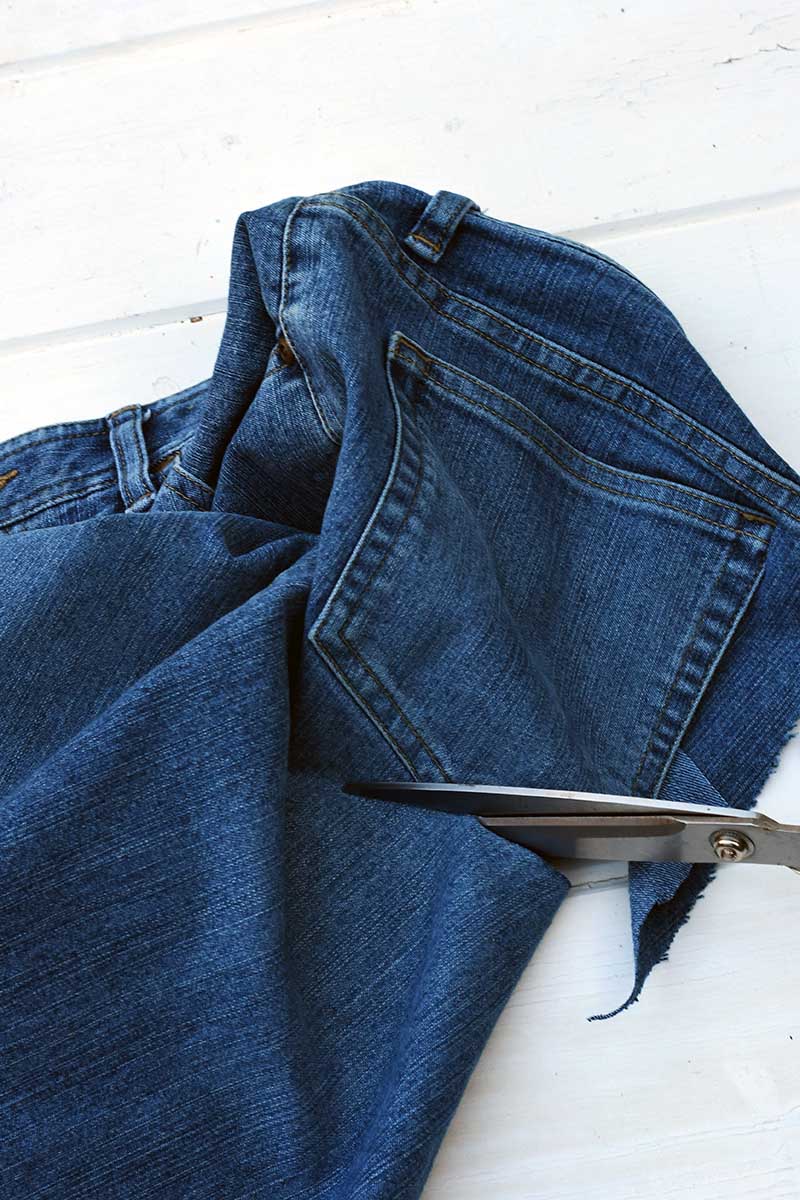 What You Can Make With The Jean Pockets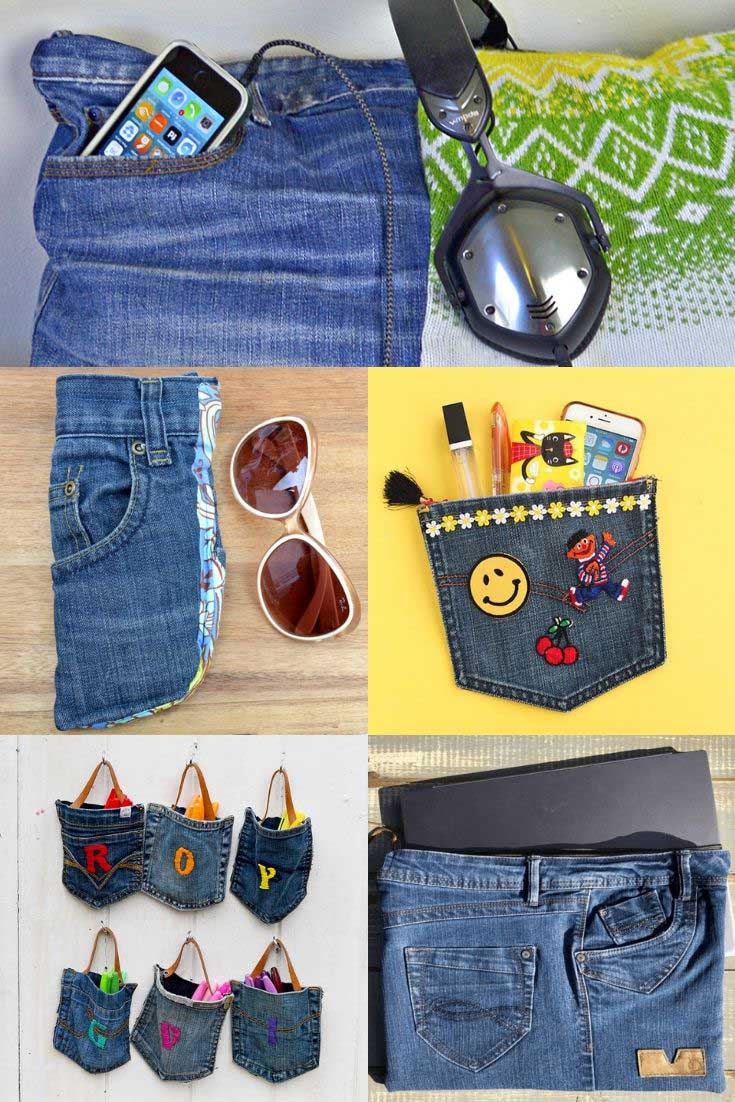 4. Upcycling the Legs on Jeans
This is the most common part of a pair of old jeans to upcycle. As many people will cut down their old jeans into shorts and are left with the denim legs to repurpose.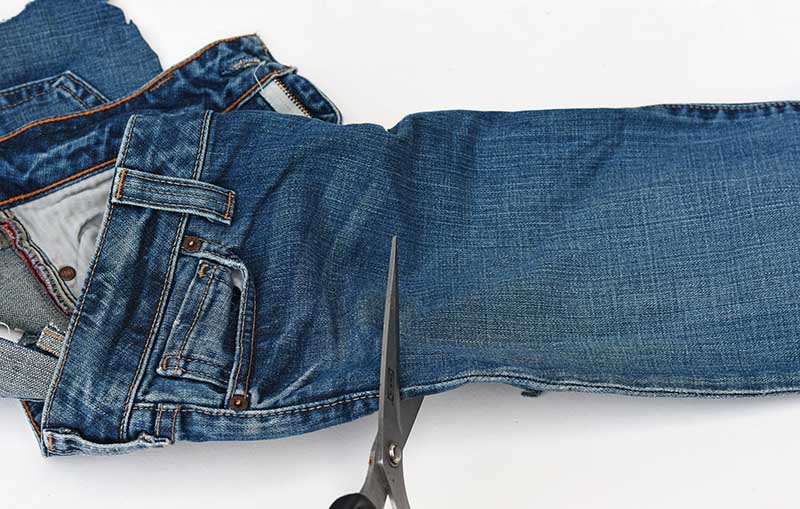 The legs on a pair of jeans provide the largest expanse of fabric to work with when upcycling. A seam ripper can be used to open up the leg to create one big piece of fabric.
Also, the amount of denim fabric you have to work with will depend on the style of the pair of jeans you are upcycling. Flared and boot-cut jeans will provide a lot more fabric than skinny jeans.
With this easy-to-make rag rug there is a guide on how to upcycle jeans into fabric yarn.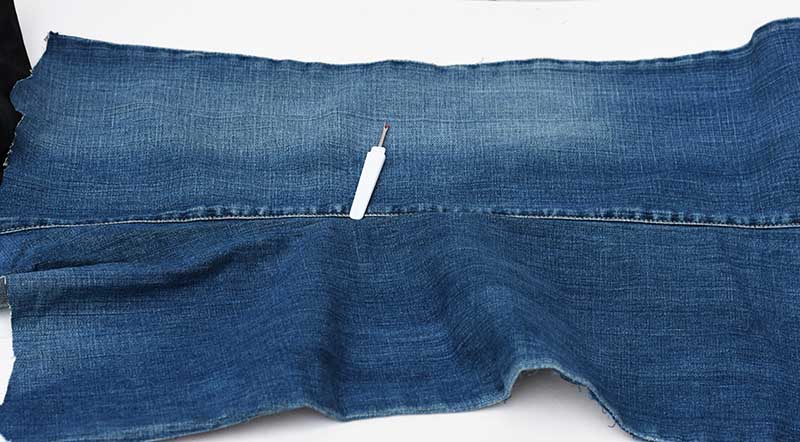 What You Can Upcycle With Old Jeans legs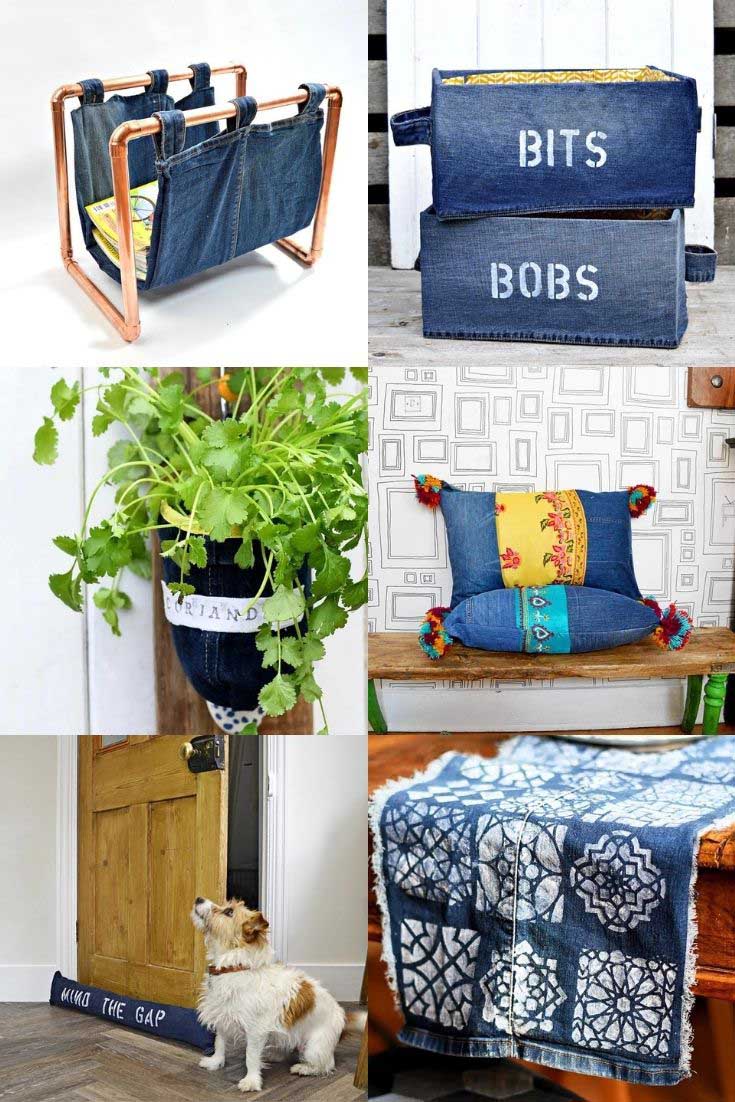 5. Upcycling the Left Over Denim Scraps
After you have dissected and upcycled a pair of old jeans, there will be lots of small scraps of leftover denim. Don't throw them away, as there are so many wonderful things you can make from these scrappy bits of fabric.
Denim scraps have to be one of my favourite bits of old jeans to upcycle. Not all projects require sewing, there is a lot you can make by fraying and glueing the denim fabric.
What You Can Upcycle Scrap Fabric from Old Jeans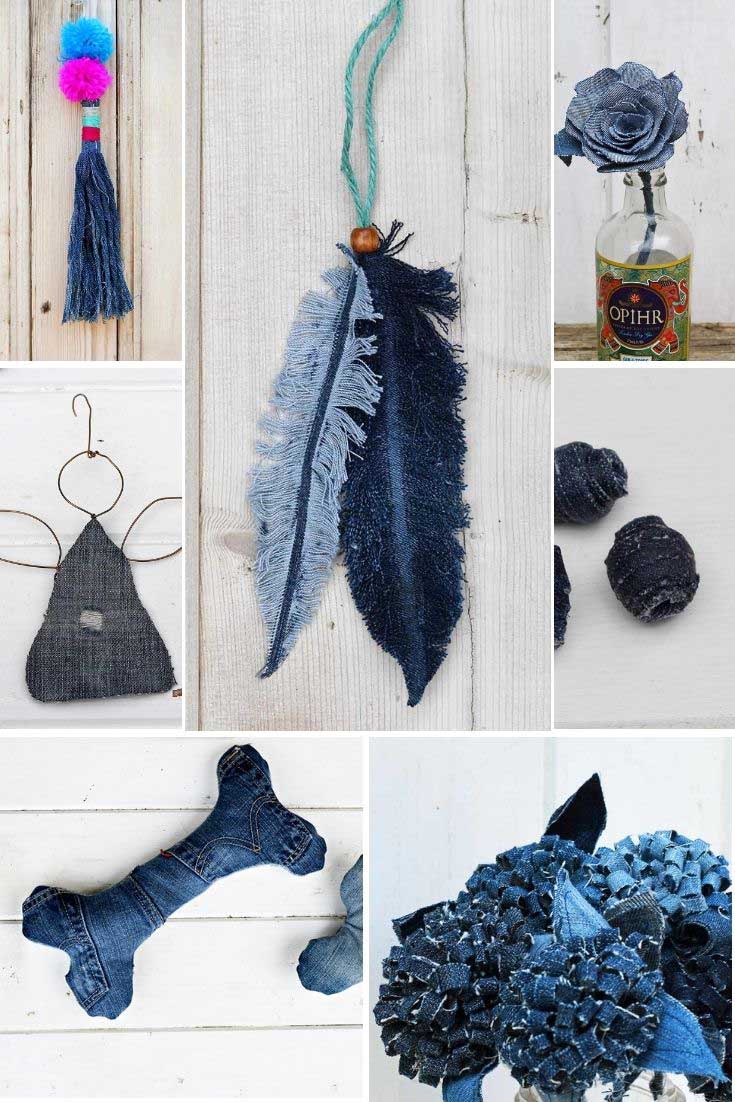 All The Denim Crafts You Can Make from A Single Pair of Jeans
I hope you find upcycling jeans inspires you to hang on to those old jeans. Here is my suggestion for all the denim crafts that you can make from that single pair of jeans.
Left front & back pocket + left side waistband – denim sunglasses case
Right-back pocket – hanging pocket storage
Remaining waistband – fabric key fobs
Left jeans leg – combine with other fabric to make a Boho pillow or table runner
Bottom of right leg & belt loop – hanging denim planter
The remainder of the right leg and scraps – dog toy, tags, feathers, flowers, and tassels
More Than One Pair of Jeans
There is a disadvantage in having just one pair of jeans to upcycle. It's not just because you can make bigger things with more denim and tackle projects such as denim upholstery, it's because of the colour.
One of the most attractive things about denim upcycles is the shades of indigo that jeans come in. If you have more than one pair of jeans, you can add another element to your upcycle by showing off the different shades of denim, with some clever patchwork.