Originally I was going to make my son a denim bow tie for his school leavers' party. Unfortunately due to the pandemic, it was canceled. But I still made him one anyway.
In fact, I ended up making two different kinds of denim bows. One from a repurposed jeans waistband and the others from scraps of denim fabric.
Both types of bows were really easy to make. I liked the hipster vibe of the waistband denim bow, which made it more suitable as a bow tie. The other bows made from denim scraps are neater. And would look great as hair bows or as an embellishment on a denim handbag.
The bows would also make a fun present topper and would take your gift wrapping to another level. There are so many things you can use these upcycled denim bows for other than just as a bow tie.
(There is a printable how-to card for this craft at the end of the post.)
Making Upcycled Denim Bows
Both bows only take a couple of minutes each to make and require the smallest amount of denim scraps. They are very easy to make. They just require a few simple hand-sewn stitches to keep them together.
Even the most challenged of seamstresses could manage the stitching needed for this denim craft. None of the stitches are on show, so they don't even have to be neat. However, if you really don't like sewing, the stitches could be replaced with super glue.
We're a participant in the Amazon Services LLC Associates Program, an affiliate advertising program designed to provide a means for us to earn fees by linking to Amazon.com and affiliated sites. As an Amazon Associate, I earn from qualifying purchases.
How To Make A Jeans Waistband Bow Tie
I love to upcycle all the parts of a pair of jeans, especially the bits that add characters such as the jeans pockets, seams, and waistbands. To make this first bow tie, I just used a bit of the jeans waistband and a belt loop.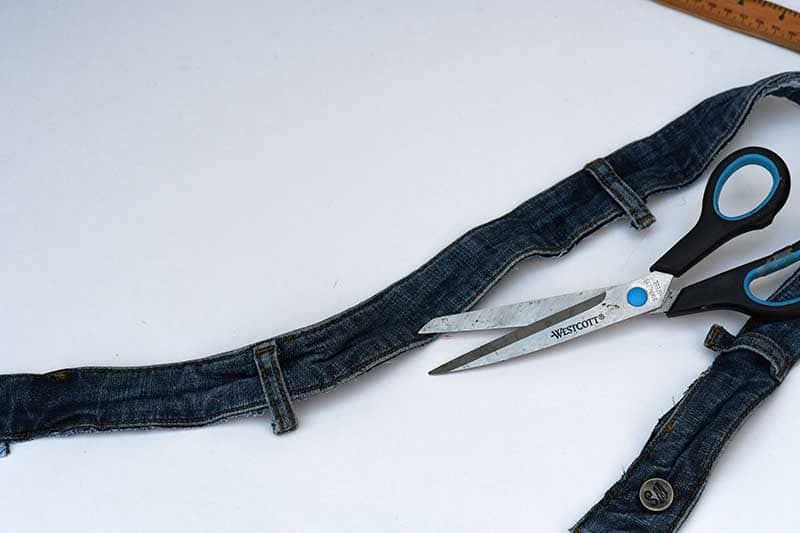 1.. The first thing to do is to cut the denim waistband off the top of a pair of jeans. Use a pair of scissors for this and cut as close to the stitched seam of the waistband as you can.
You will only need a small part of the jeans waistband to make one denim bow tie. I think that you can probably get at least 3 bow ties out of one waistband. Cut the waistband into a 24 cm length, making sure that the belt loop is in the center of that piece of the waistband.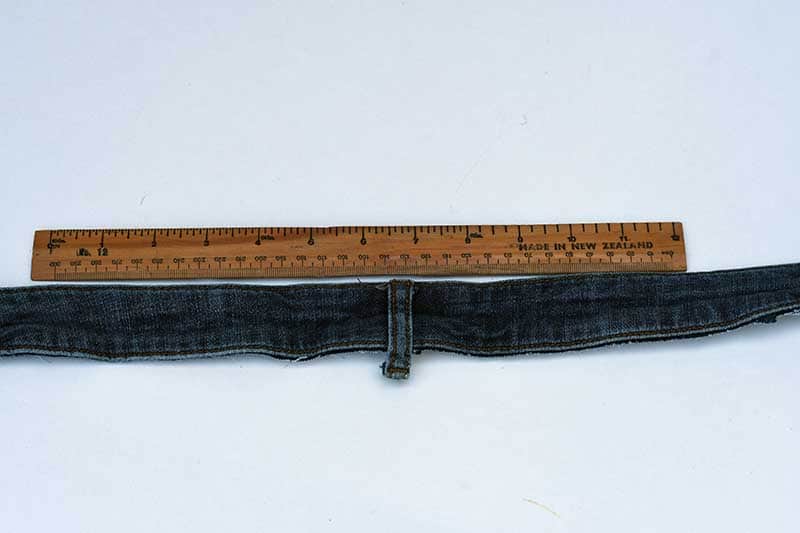 2. Then using a seam ripper, unpick the belt loop from the waistband.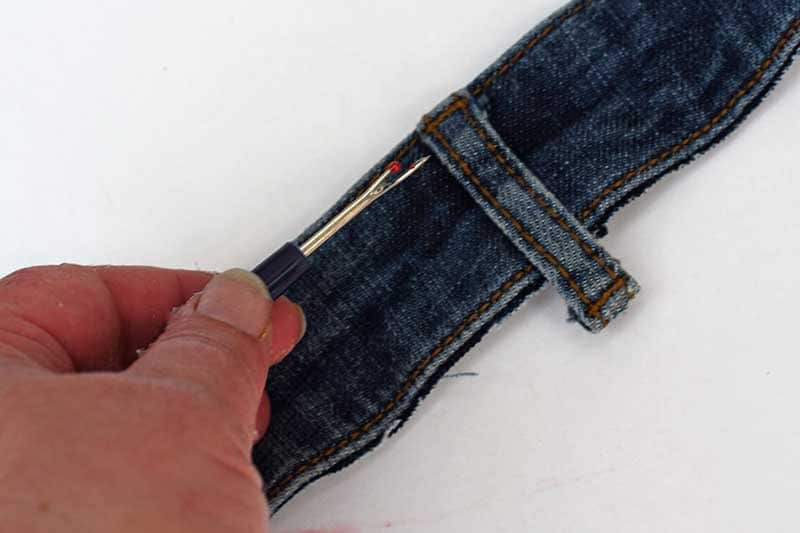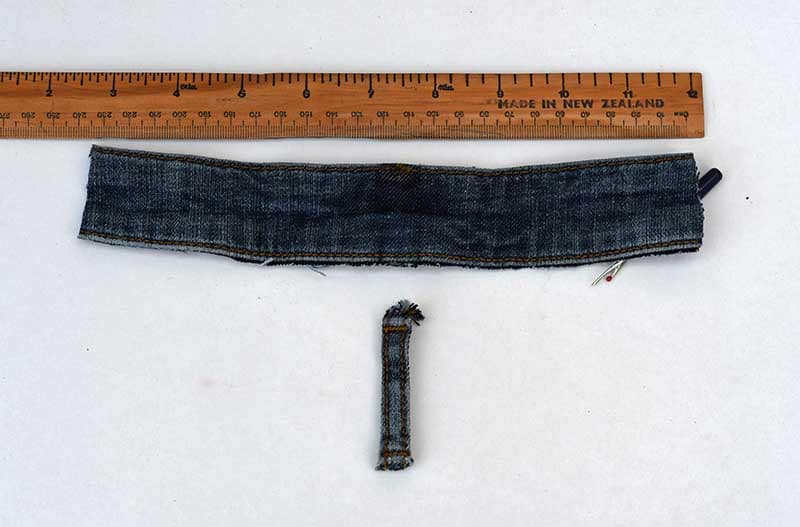 3. Next, stitch the ends of the waistband together so that it forms a circle.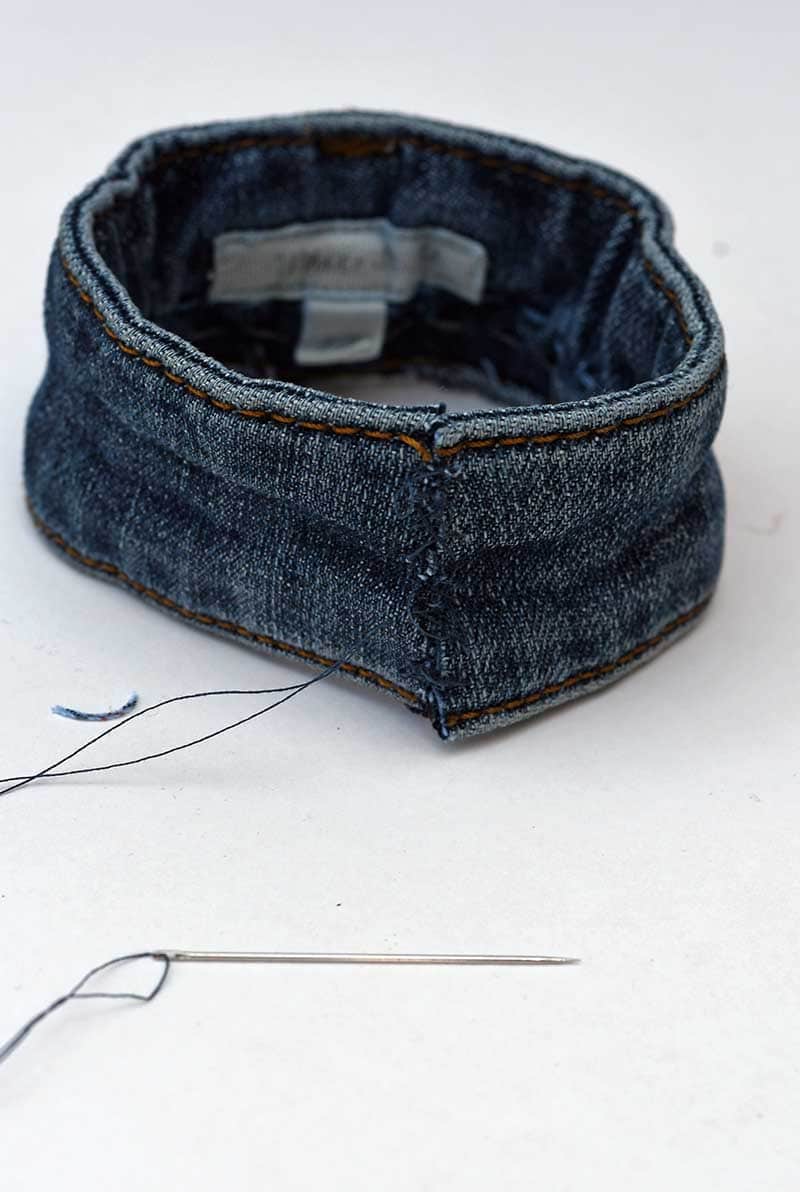 4. Next, flatten this denim loop and then wrap the belt loop around the center. Stitch the belt loop in place tightly so that the denim gathers in the middle.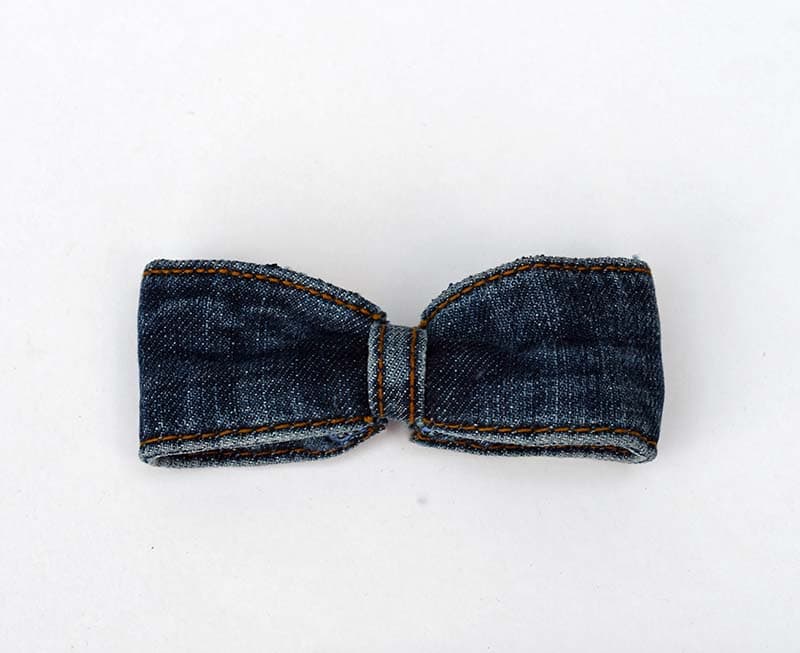 5. Finish off the bow tie by sewing an elastic fastening strap to the back of the bow.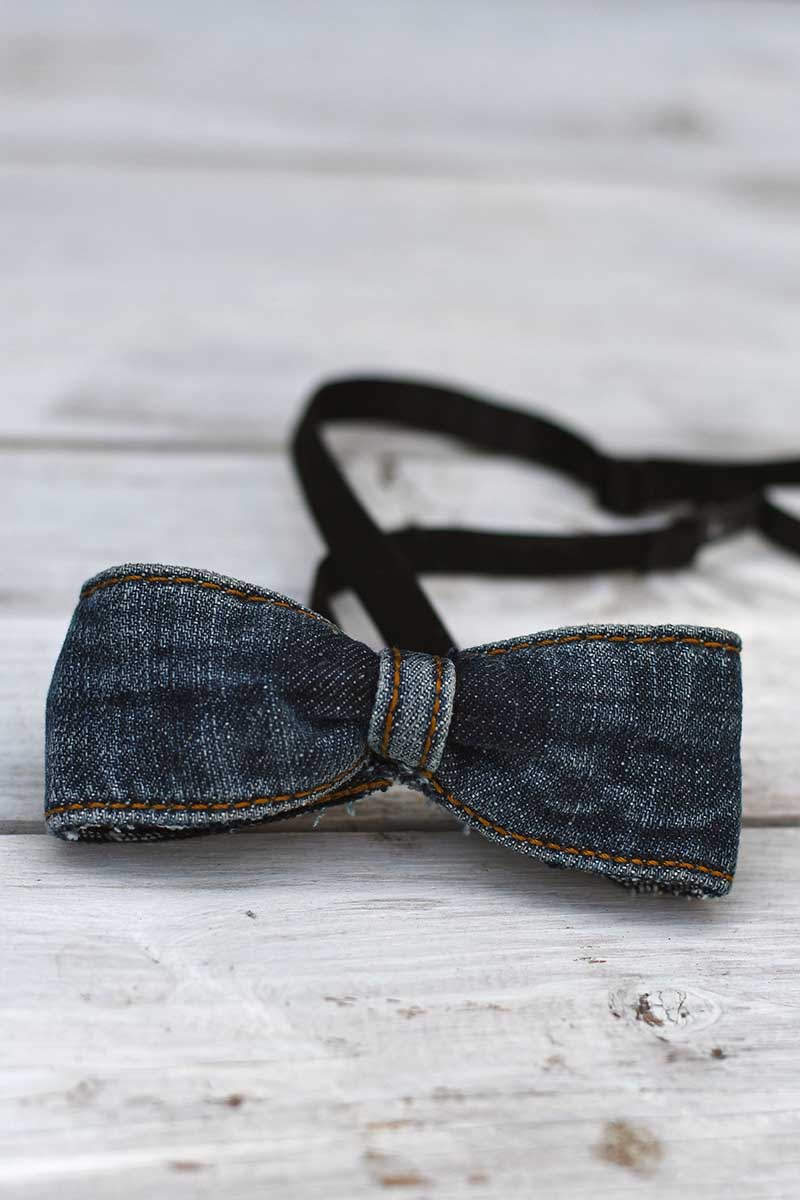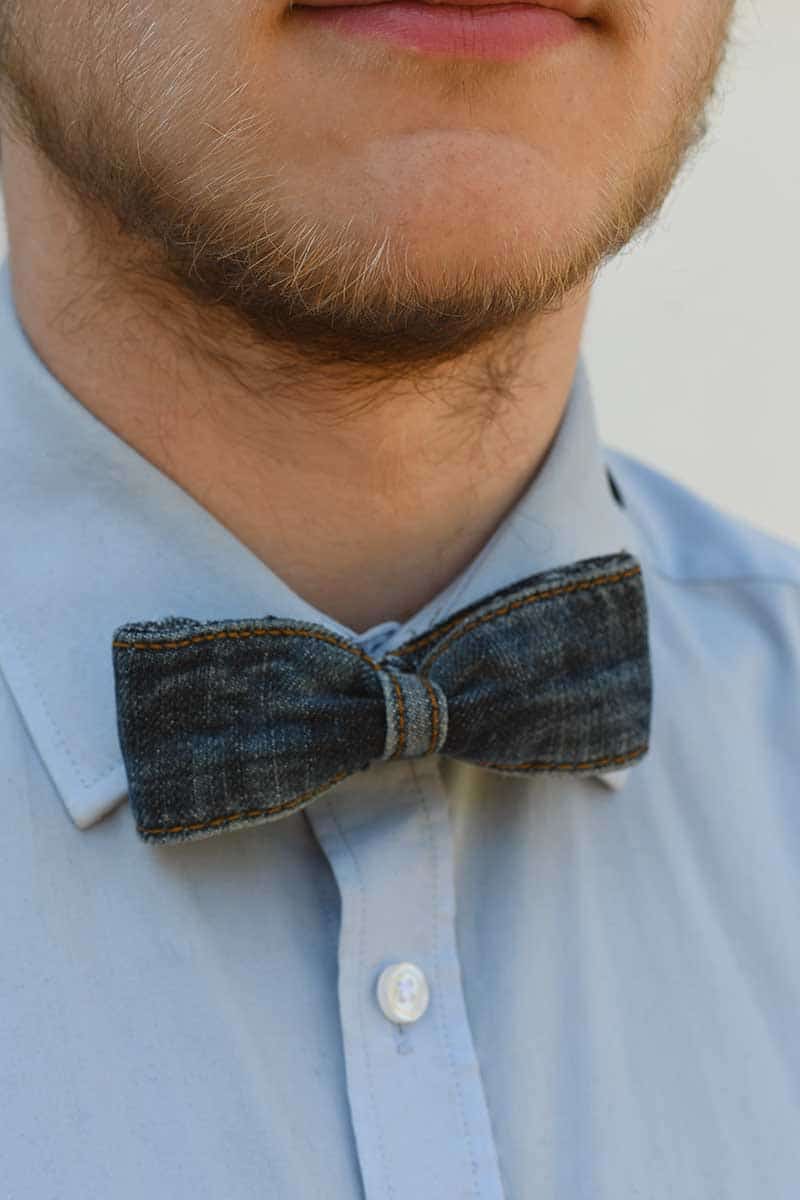 How To Make A Bow Tie From Denim Scraps
These second denim bows were made from just small scraps of denim fabric. I think these bows are less rustic then the waistband bow tie above and would make great hair bows or gift toppers.
1.. Besides a small scrap of denim, you will need a belt loop (or small bit of denim seam) and fabric Mod Podge.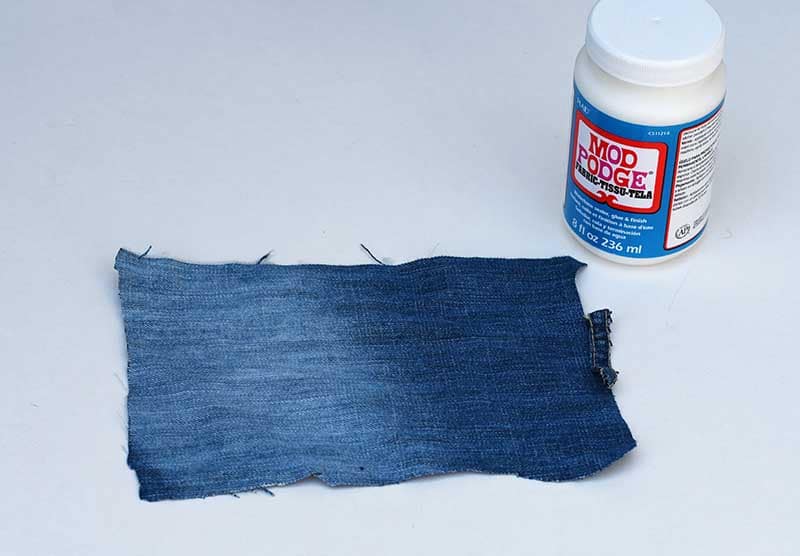 2. You will also need the free bow tie pattern template, you can download mine here.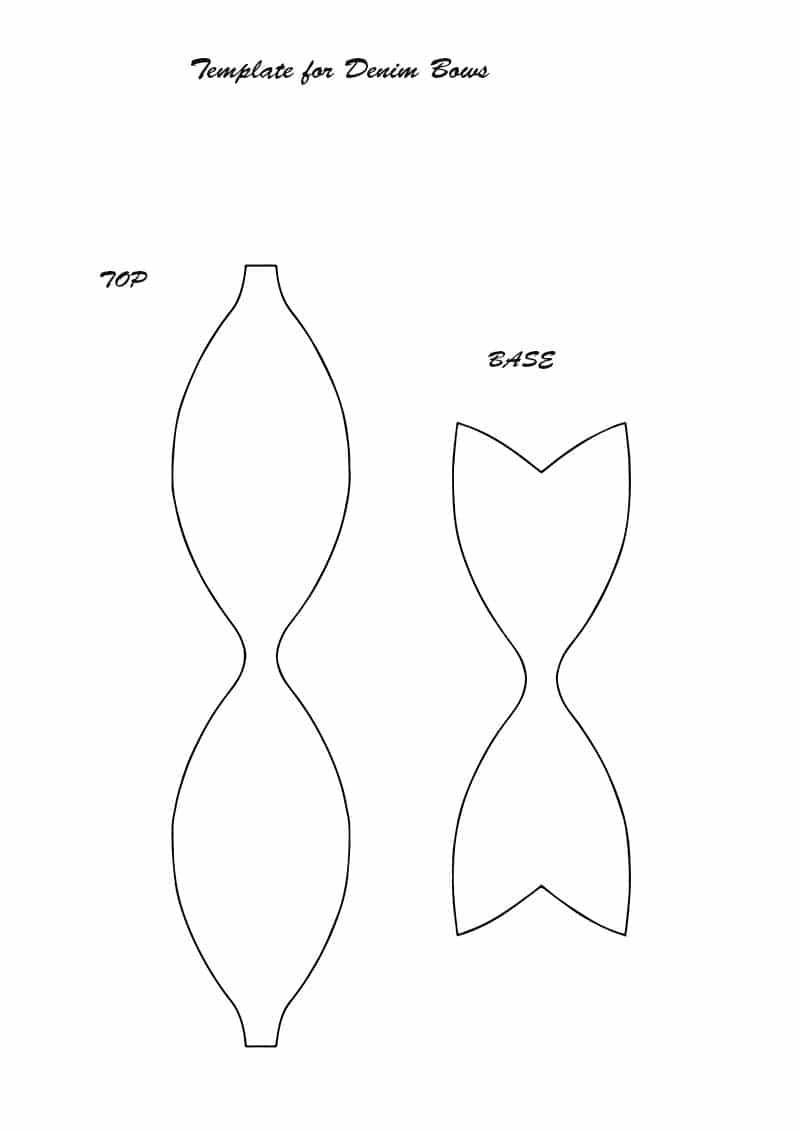 3. Next, paste the denim fabric scrap with the glue and leave it to dry. By covering the fabric in glue, not only does it stiffen the glue, but also it will stop it from fraying. This means that the fabric can be easily cut and treated like stiff paper.
Top tip: To avoid an unwanted shine on your denim fabric, paste the wrong side of the fabric with the glue.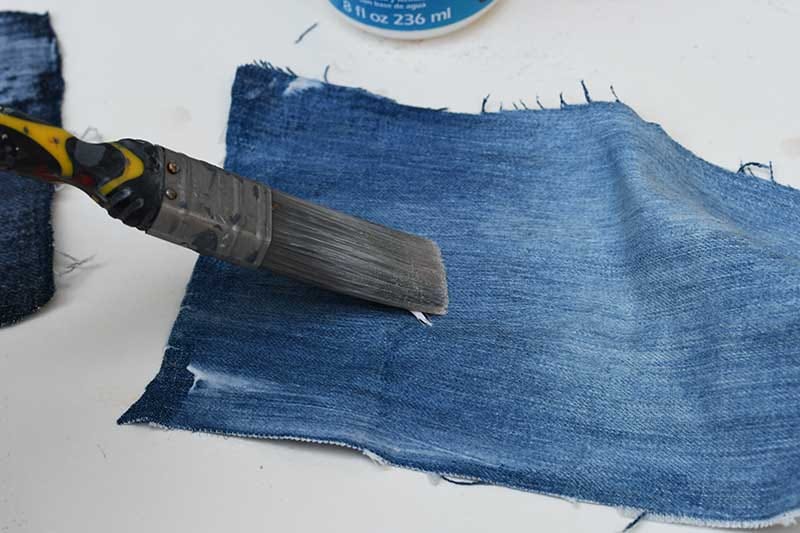 4. Once the glue has dried on the fabric (hanging in the sun on the washing line this took under an hour), place the paper template on the fabric and draw around the shapes.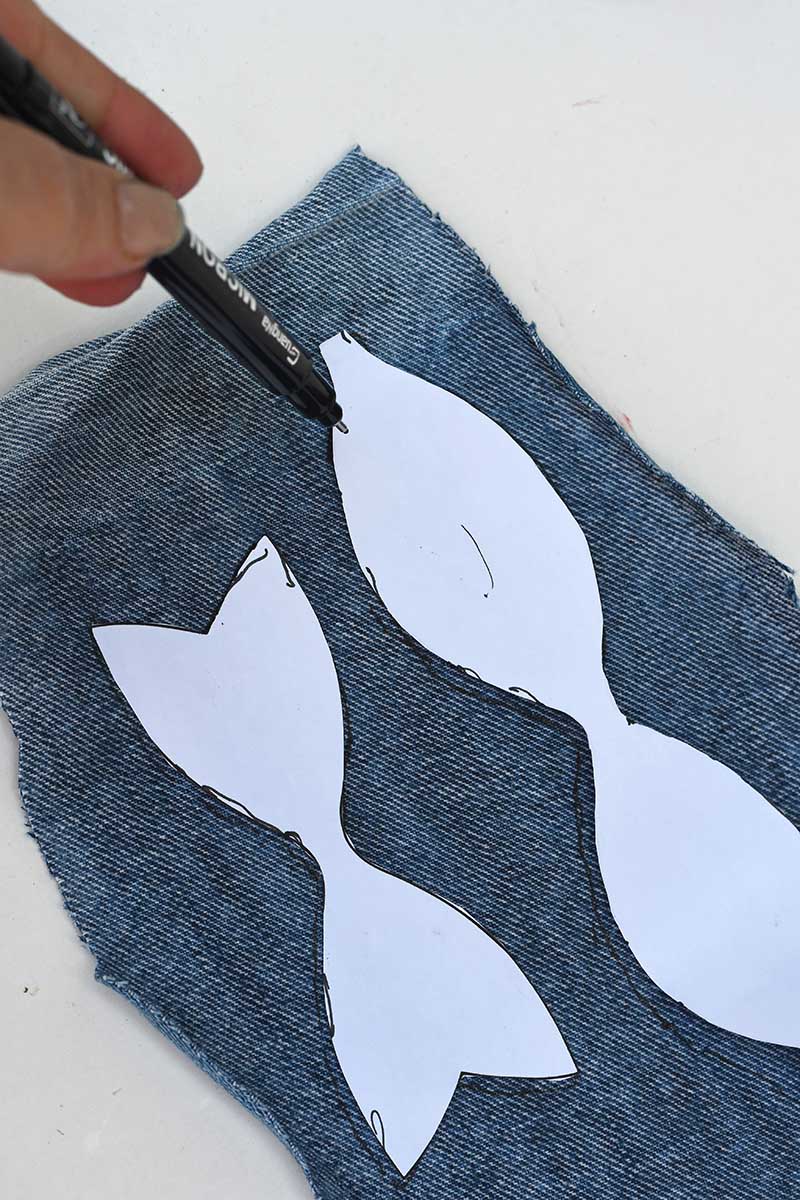 5. Next, cut out the shapes with a pair of scissors. I found that if I folded the shapes in half in the middle before cutting, this helped make sure they were symmetrical shapes. The denim should be very easy to cut and will not fray.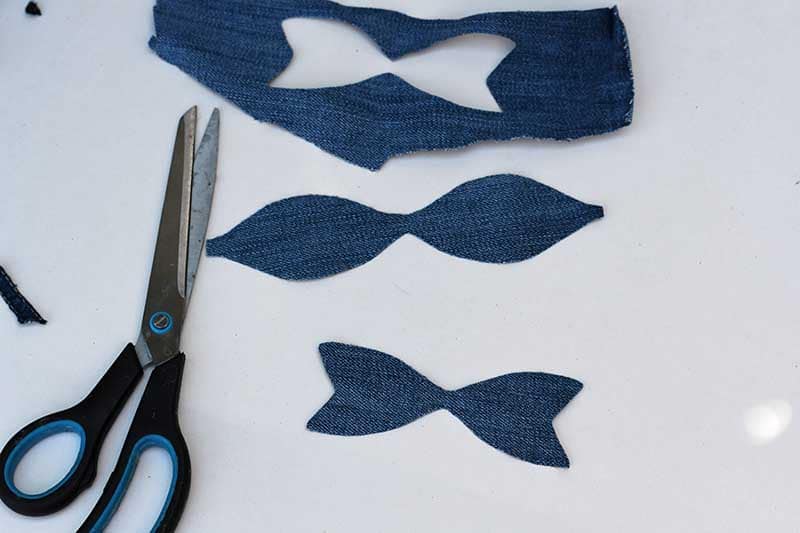 6. Next, take the top denim shape and bend the ends into the center. Then stitch them in the center to keep them in place.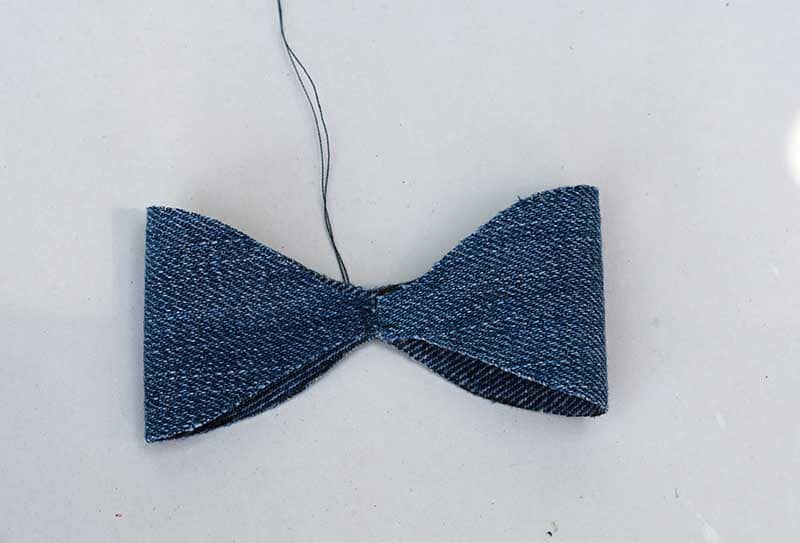 7. Next, place this top bow onto the base piece and stitch it in place again in the center.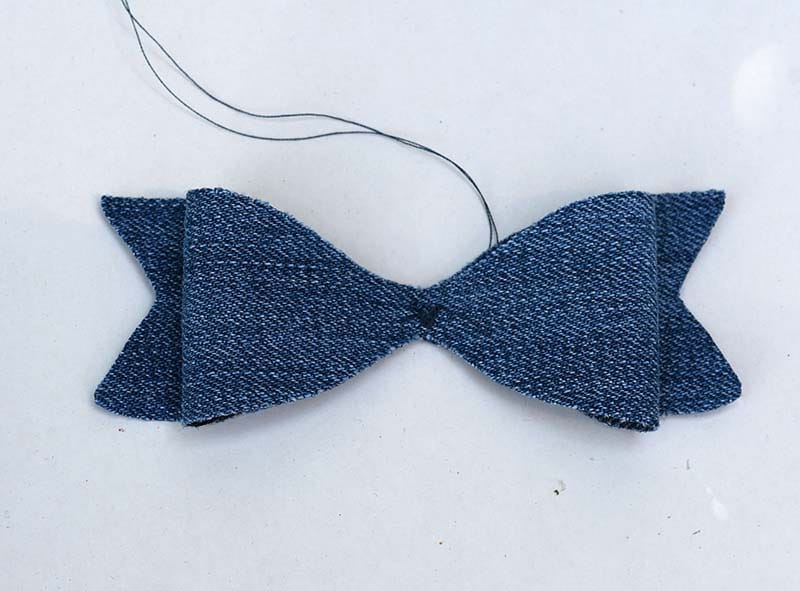 8. Finish off the bow by sewing a small bit of denim seam or belt loop around the center to hide the stiches.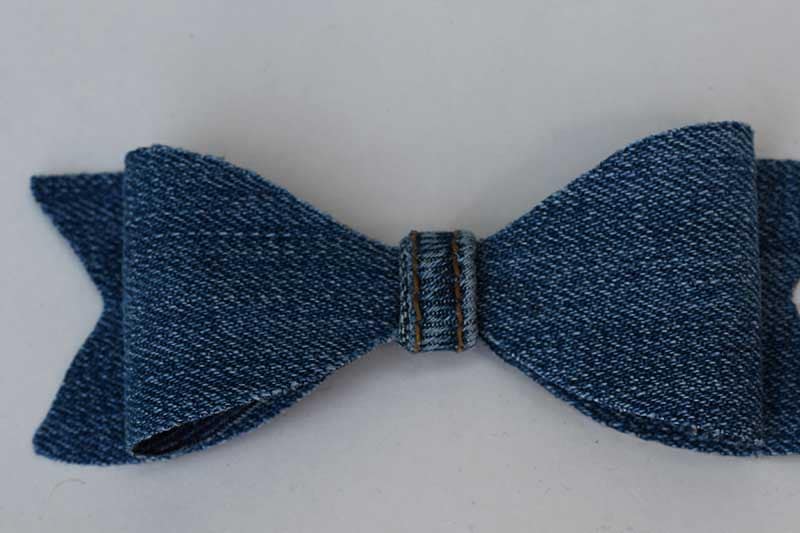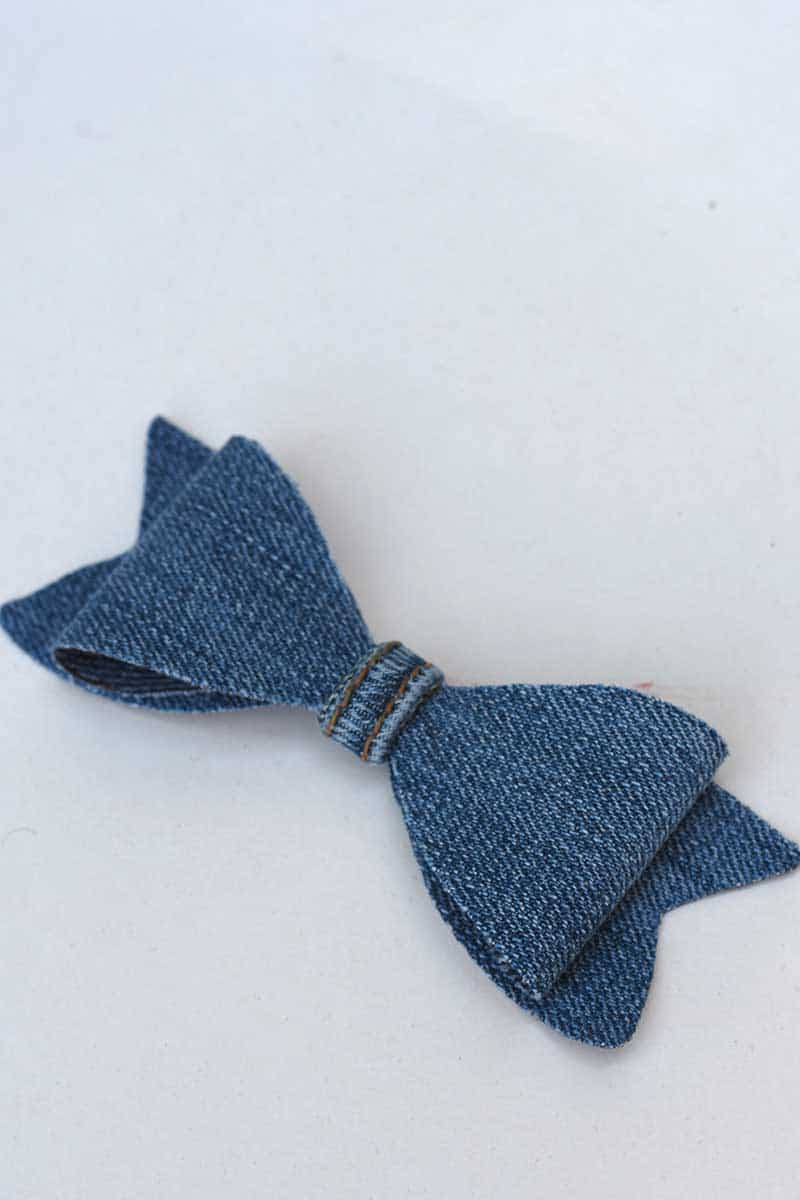 These second denim bows can easily be turned into bow ties by adding the same elastic as with the waistband bow. They can also be easily made into hair bows by simply adding a crocodile clip onto the back. I also think they would make a lovely decoration for denim handbags or denim pillows, or even as gift toppers.
As they are so quick to make I ended up make a few of these denim bows. I used denim scraps from different pairs of jeans to get bows in different shades of indigo.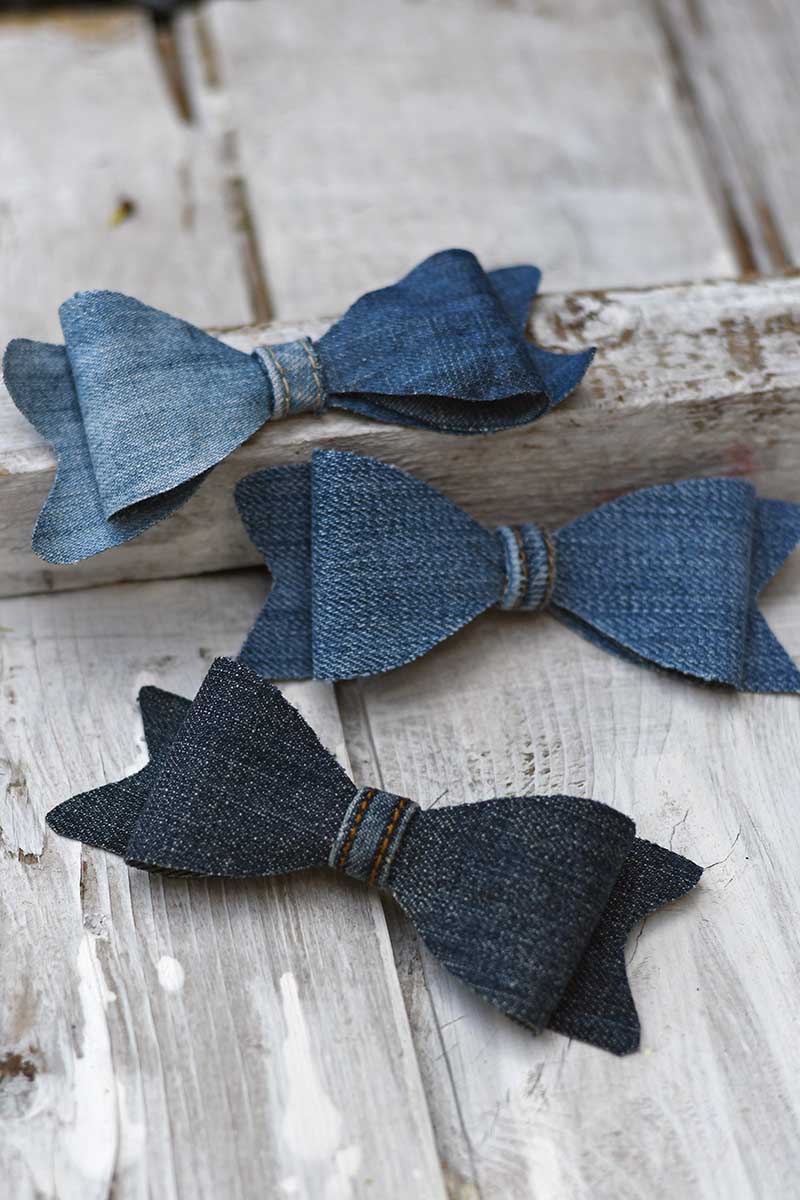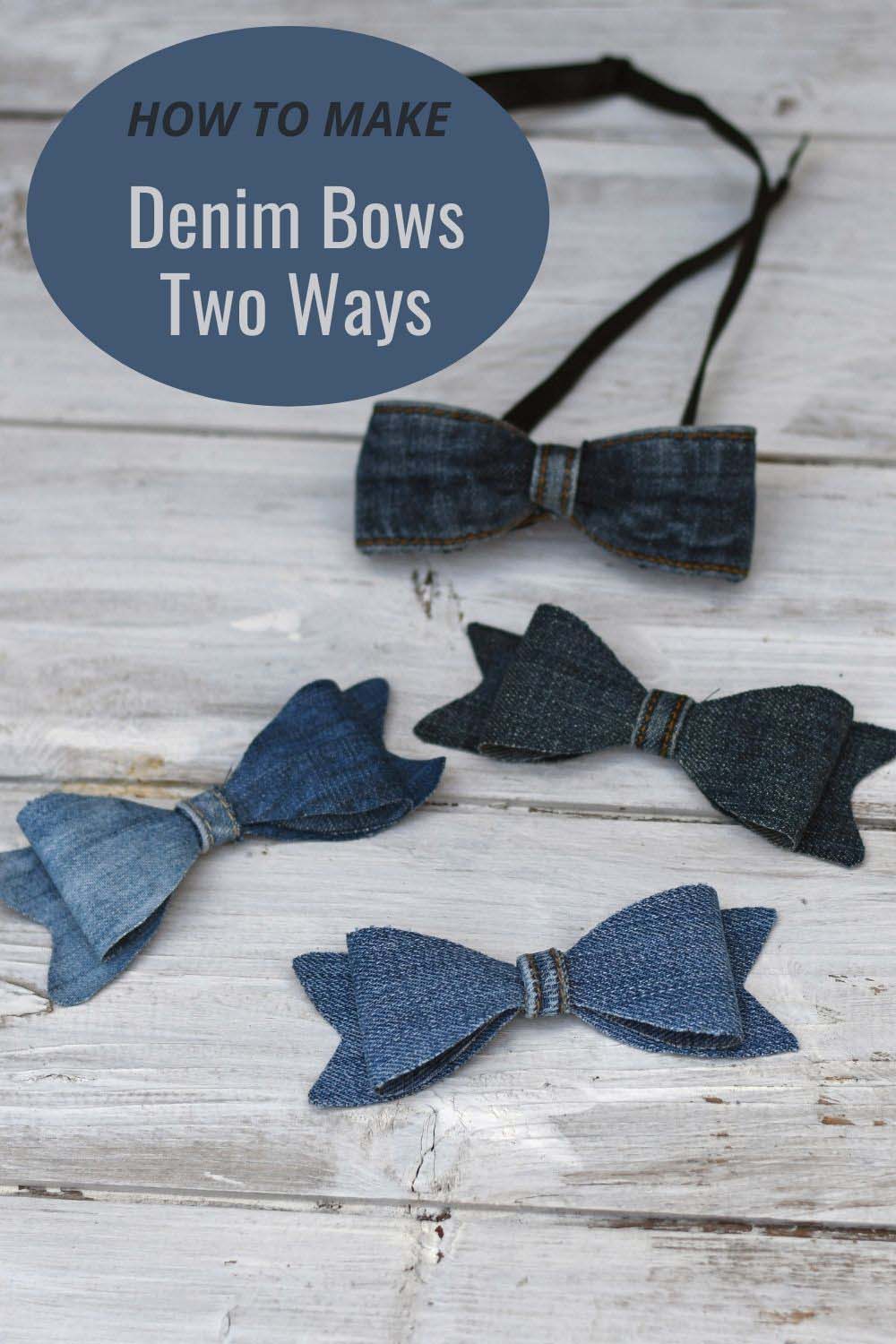 If you are looking out for more ideas on what to make from upcycled denim then you should check out my comprehensive A to Z guide to denim crafts.
If you liked these denim bow ties then you will probably like these other fun denim upcycled. These bow ties can be made from other fabric scraps, not just denim or even leather scraps.
Yield: Denim Bows
Make Denim Bows Two Ways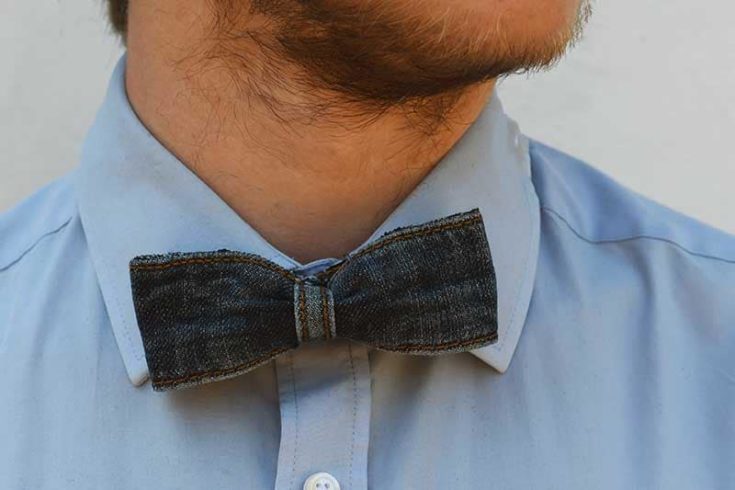 This tutorial shows you how to make two different types of denim bows from your old jeans. Both are very easy and only take a few minutes. Both would make a cool bow tie, or hair bow or can be used for other decorative embellishments.
Total Time
1 hour
5 minutes
Materials
The waistband and belt loop from an old pair of jeans
Scrap piece of denim fabric and about 1 inch denim seam
Fabric Mod Podge
Needle and thread
Instructions
To make the first denim bow tie from a jeans waistband. Cut a length of waistband about 24cm in length.
Using a seam ripper remove the belt loop from the denim waistband.
Sew both ends of the cut jeans waistband to make a loop.
Next, flatten the waistband loop and then stitch the belt loop tightly around the center. Pinching the denim fabric so that it forms a bow shape. . Turn this waistband bow into a bow tie by adding a fastening elastic.
Next, to make the other kind of denim bow. Paste a piece of denim fabric about 25cm by 15cm with fabric Mod Podge and leave it to dry.
Next, download and cut out the bow pattern from the site.
Draw around the bow shapes on the denim fabric and cut out the pieces.
Next, fold the ends of the top denim piece into the center and hold it together with a stitch.
Then place this on top of the bottom bow piece and again hold it in place with a center stitch.
Finish the bow by sewing a denim seam around the center of the bow.
Recommended Products
As an Amazon Associate and member of other affiliate programs, I earn from qualifying purchases.
Find more green crafting ideas here.