Inside: 23 tutorials for unique Ikea Hemnes dresser hacks from simple paint jobs to new legs and tops.
I've learnt from personal experience that the Ikea Hemnes dresser is robust. All three of my boys have had one in their bedrooms growing up, and they have managed to stand up to a lot of rough handling and knocks.
Any damage they have sustained has been superficial, nothing that can't be fixed with a coat of paint, varnish or wallpaper. With its simple lines, the Ikea Hemnes range works well in both modern and traditional homes. They last so long as the dressers are made of solid wood and not cheap MDF.
The Ikea Hemnes dresser comes in different models, three, six and eight drawers. All versions are covered here, and many upcycles and makeovers will work across the range.
Why Hack an IKEA Hemnes Dresser
As it's made of solid wood and built to last, you may have an Ikea Hemnes for a long time.
Instead of changing your dresser when you redecorate, why not upcycle it to fit in with the new decor?
Being popular Ikea furniture, you know millions of the same dressers have been made. Some of your friends will probably have one. So why not make your dresser unique with a hack?
If you don't want to repurpose a new dresser, buy an old one from the Facebook marketplace or pick one up for free on Freecycle. Hemnes range is one of Ikea's best sellers and has been around for a long time, so secondhand pieces for upcycling are readily available.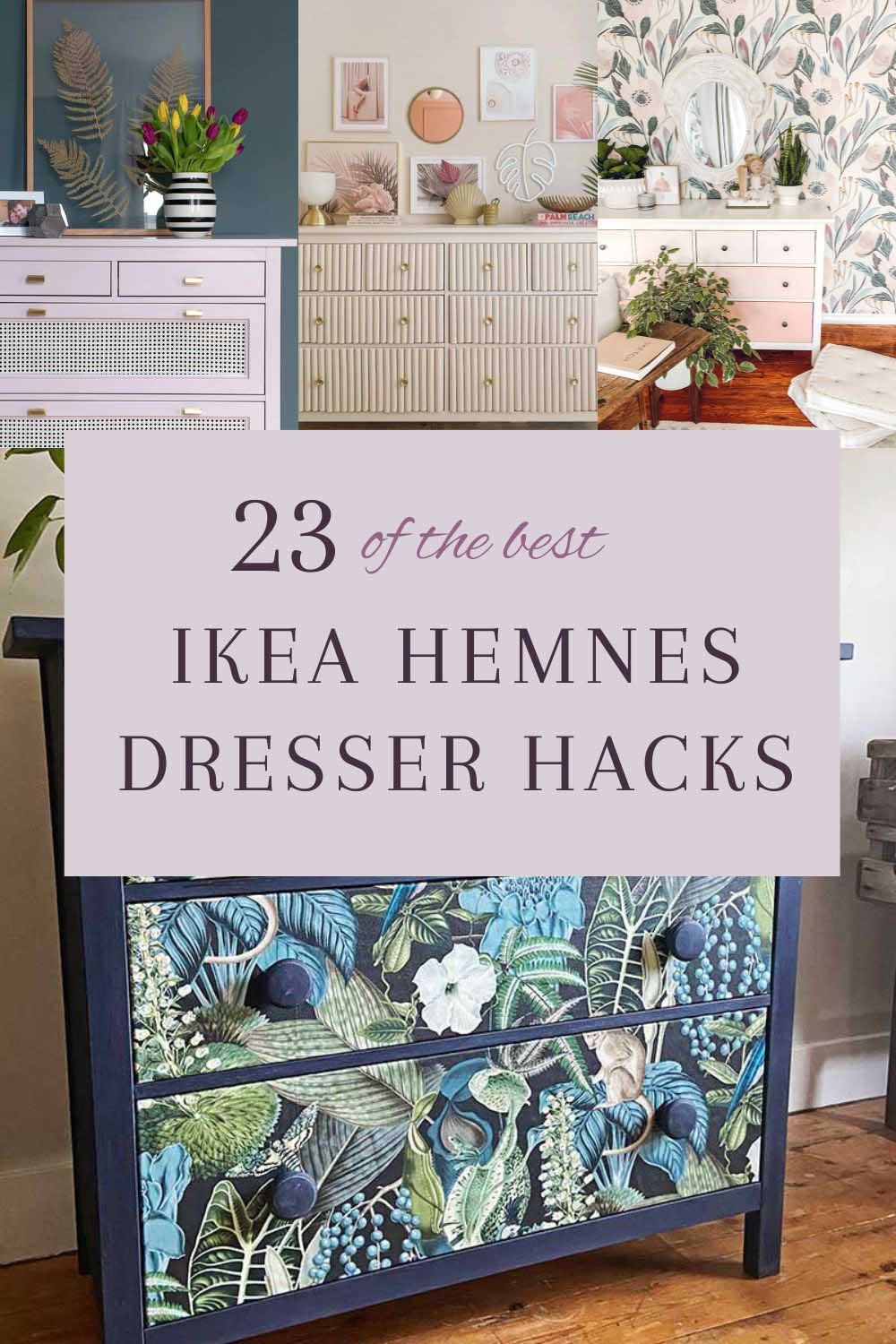 How To Hack Ikea Furniture
There are several ways you can upcycle and update an Ikea dresser; some are easy and can be done in under half an hour, whereas others involve power tools.
Paint – Transform the chest of drawers with a coat of paint. Match the colour to your decor, or try something fancier, like an ombre effect. This is a cost-effective hack, as all you pay for is the paint.
Wallpaper/Contact Paper– Transformations and upcycles with wallpaper are colourful and dramatic. Do them in minutes with contact paper.
Change the knobs/pulls – Make leather drawer pulls or buy new knobs for the front of the drawers. There are many beautiful knobs available to buy, from round ceramic ones to large brass bars.
Change the legs – A few Ikea Hemnes dresser hacks below involve sawing off the original legs and replacing them with new ones. Either to fit in with a certain look, like mid-century modern or to adjust the height of the dressers.
Change the top – paint, strip or varnish it. Or change its purposes, such as making it into a kitchen island or a nursery changing table.
Add decals/trim – add wooden decals to the drawer fronts or the dresser's frame. Make them yourself or buy ready-made decals online. Trims can change the look of the dresser from classic to mid-century modern or Boho.
Ikea Hemnes dressers are solid furniture that can be hacked or upcycled in unique pieces. Whether you want to give an old dresser new life or to hack a new one to fit your decor, you will find 23 unique ideas to choose from.
Lots of other Ikea furniture is fun to hack too. I've upcycled a Hemnes table and a Moppe mini drawer with a decoupaged world map and made a storage ottoman on wheels from a Knaggling crate.
Check out these other fabulous Ikea furniture hack collections