Okay, the idea is that when you buy unfinished something from IKEA, you finish it! When I say unfinished, I don't mean the assembly bit I mean the varnishing and paint. A classic example of an IKEA unfinished product is the IKEA Moppe.
If you are unfamiliar with IKEA names, the Moppe is an unfinished birch wood mini chest. They are really handy for storing little bits and pieces.
I've had my IKEA Moppe for over ten years, and I still haven't finished it. It just sat on a shelf in the playroom. I stuffed the drawers full of the little things I find and didn't want to throw them away just in case they were a vital component of some toy or electronic gadget.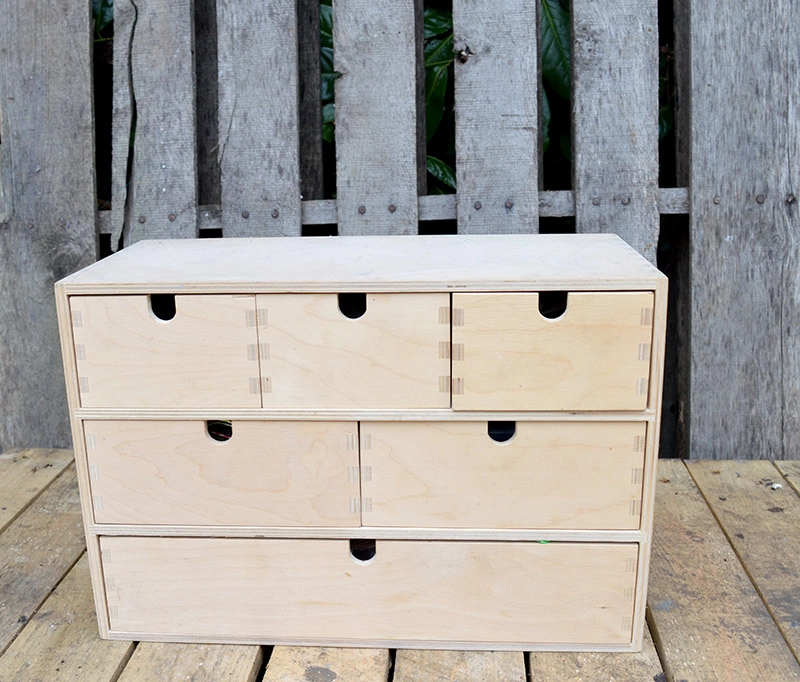 The other day, I decided it was time to finish my IKEA Moppe. I emptied the drawers of all the little things that hadn't turned out to be important (but I'll hang on to them just in case).
Now that I no longer need a playroom, I gave my mini drawers a sophisticated makeover.
If you are a regular visitor to Pillarboxblue, it will be no surprise that I used maps for my IKEA Moppe pimp.
This isn't a first for me, IKEA and maps; it's a bit of a winning combination. You should check out my Ikea hack map table and my Ikea Lamp hack.
Anyway, I love how this IKEA Moppe has turned out. The combination of maps and leather has transformed it into something more elegant and finished!
We're a participant in the Amazon Services LLC Associates Program, an affiliate advertising program designed to provide a means for us to earn fees by linking to Amazon.com and affiliated sites. As an Amazon Associate, I earn from qualifying purchases.
How To Pimp An IKEA Moppe With Maps And Leather
You may not have an old set of unfinished Moppe drawers that need upcycling. Many unfinished mini drawer chests are available on Amazon or in your craft shops that could easily be used instead. They don't have to be the same size as the Moppe.
What you need
An IKEA Moppe – They are still available in Ikea in various sizes. You can, of course, use this tutorial for any wooden chest you want to pimp.
Mod Podge – Or other decoupage glue.
Leather strap – I used one from an old handbag. You can buy leather straps on amazon if you don't have one.
Upholstery pins
Hammer
I used a world map for this upcycle; if you are looking for a different antique world map, there are many vintage maps on Pictureboxblue.com, which are all free to print and download.
How to pimp An IKEA Moppe with Maps
Step 1. I wanted to give the chest a more vintage look, so the first thing I did was antique the wood with a dark furniture varnish. This also provides a protective layer. I didn't bother waxing the drawer fronts as they would be decoupaged.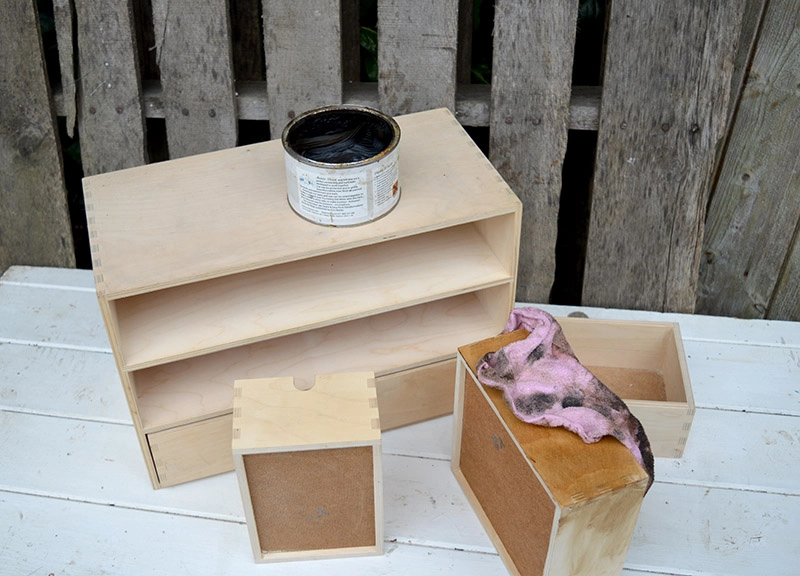 Step 2: Cut out the map wrapping paper for the decoupage. I wanted the front of the drawers to look like one complete world map.
To ensure this happened, I removed the draws from the chest, placed them together face down on the map wrapping paper and drew around them.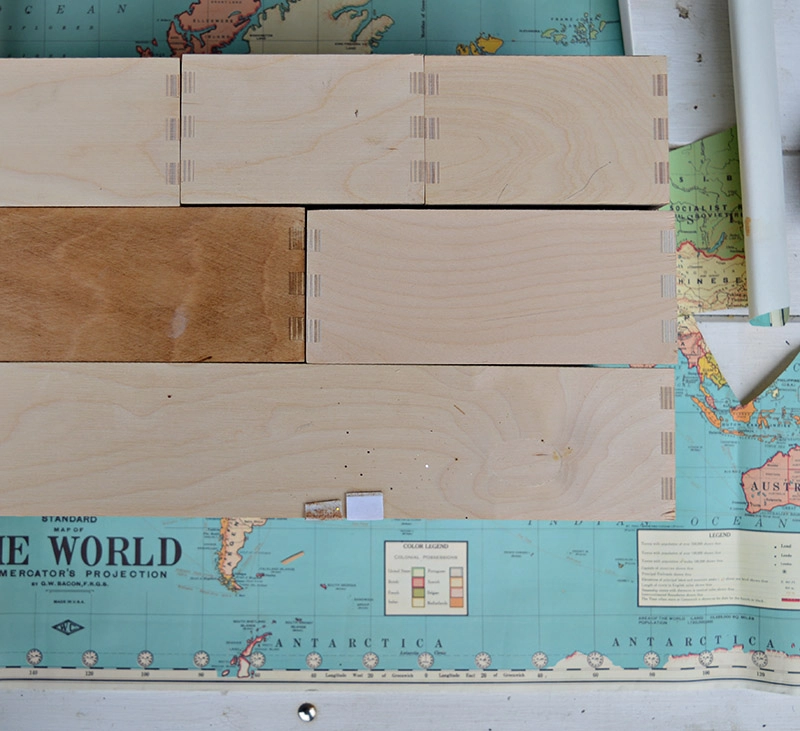 Step 3: Once the drawer fronts were carefully marked out on the wrapping paper, I cut them out on a cutting mat with a rotary cutter.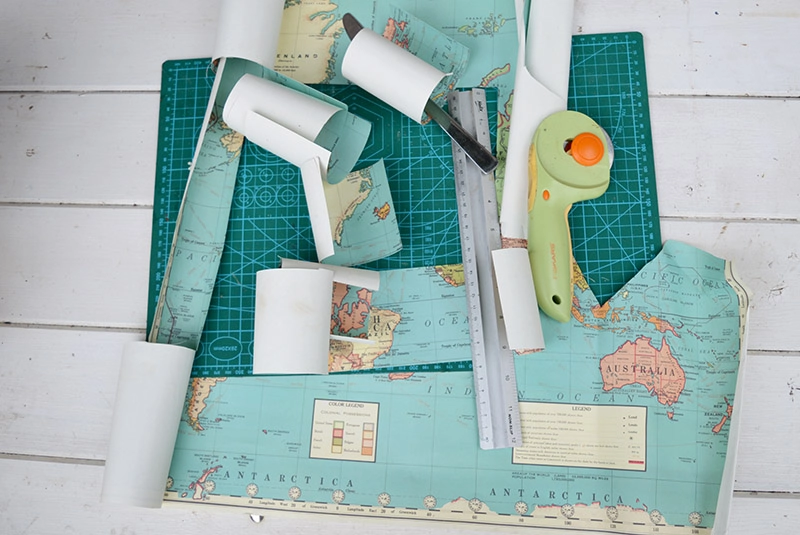 Step 4: Next, using Mod Podge (other decoupage glues are available), I pasted the glue onto the drawer front and the map wrapping paper.
Make sure you stick your map the right way up; it's so easy not to! Before sticking the map to the drawer, I wait a minute till the glue is a little tacky. Continue until all the drawers are finished.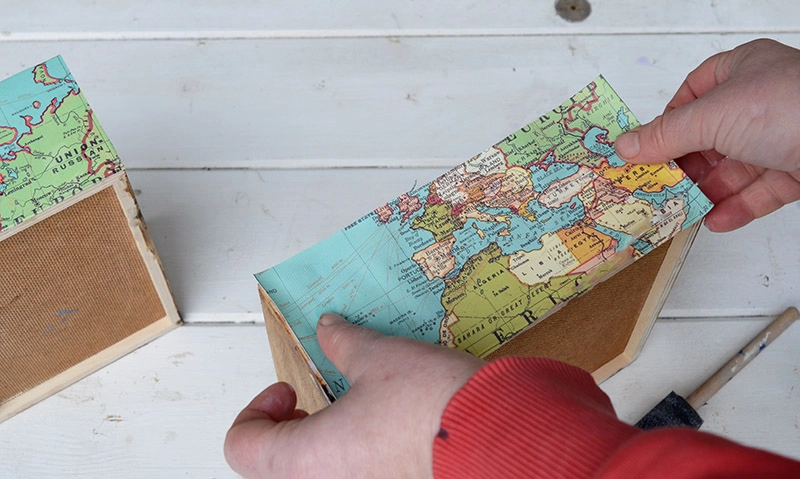 Adding the leather pulls to your IKEA Moppe.
I made some leather drawer pulls and handles to add to the new sophisticated "World" class look of the revamped IKEA Moppe.
These were made with a leather strap I'd kept from an old handbag. I cut the strap into five small strips for the drawer pulls and one long strip for the handles.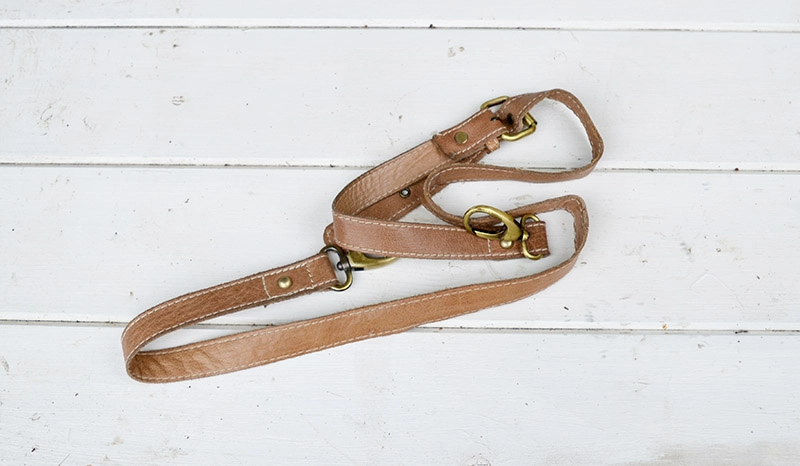 These were then attached to the front of each drawer with a hammer and an upholstery pin.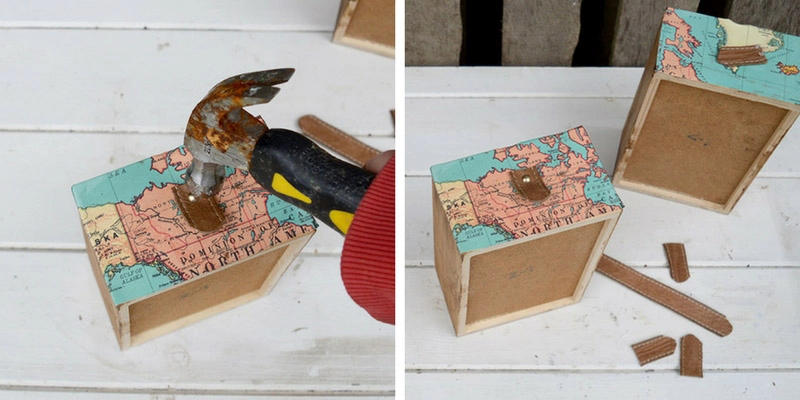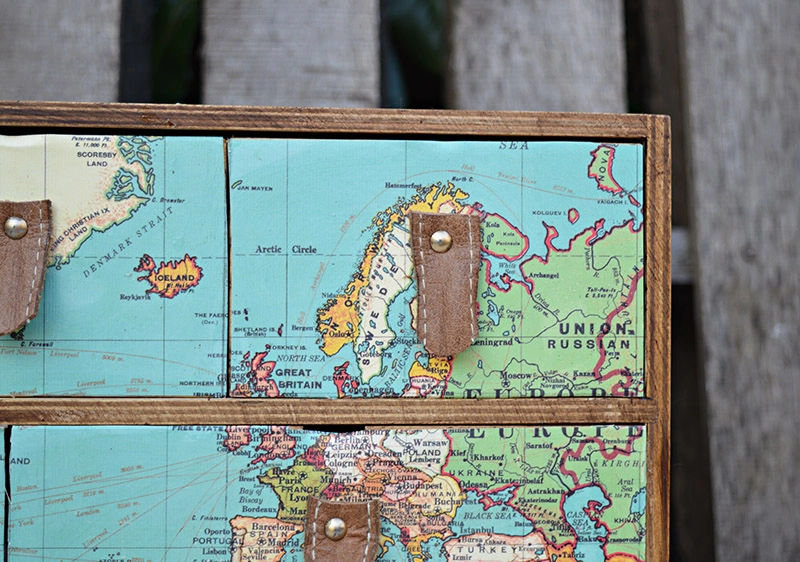 Another way to attach the leather drawer pulls is to use Chicago screws. I have used these to attach leather handles to empty cookie tins upcycled with maps for more stylish travel-themed storage.
If you have some leather left over, you might want to check these leather craft ideas.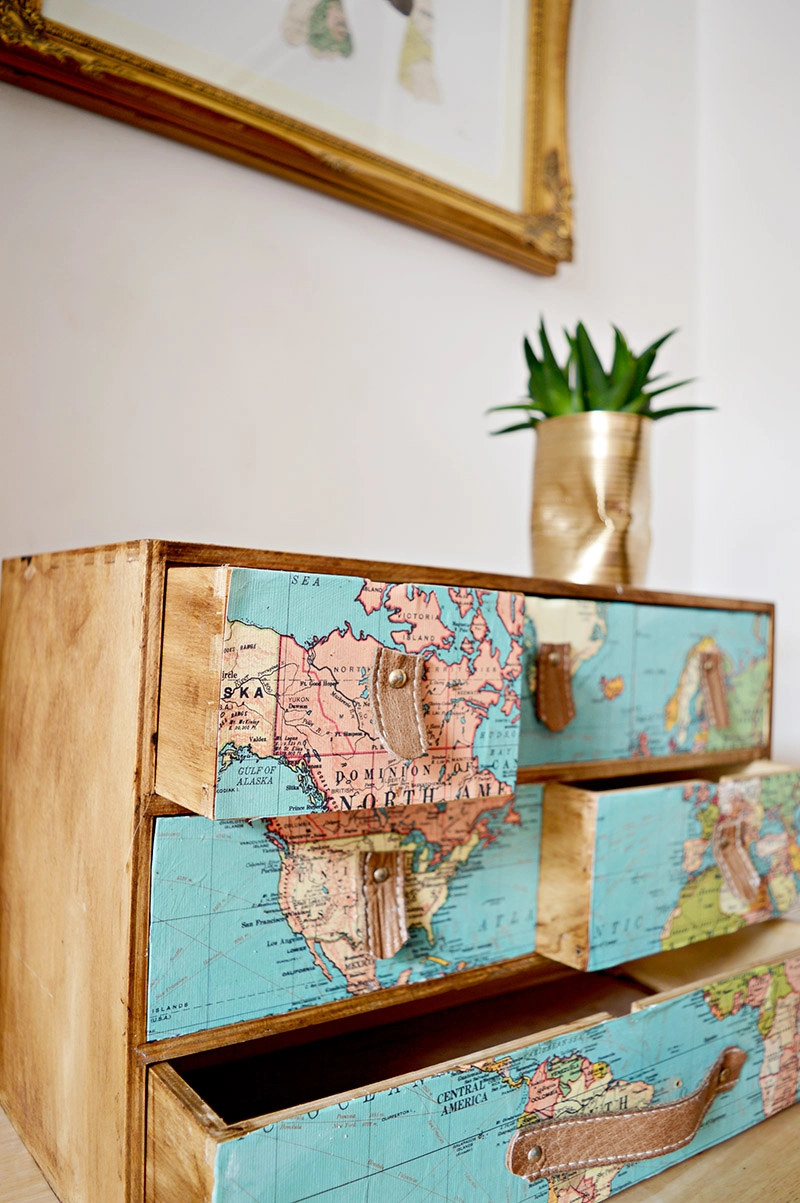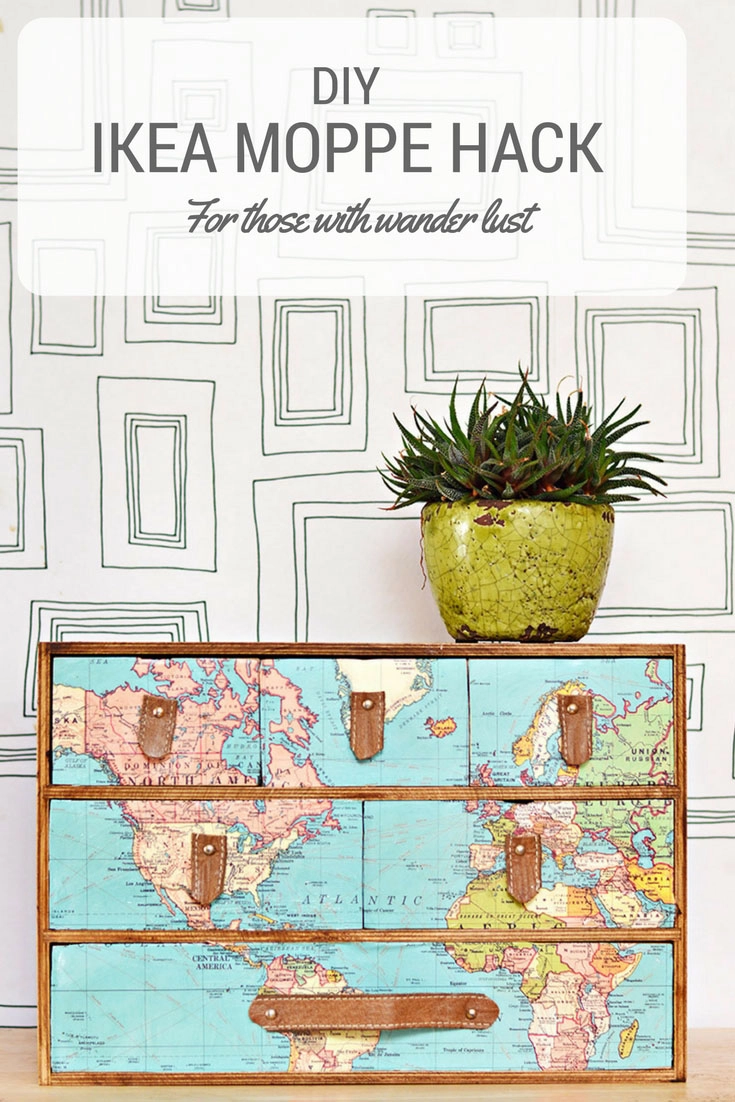 Other Map & IKEA hack Ideas
Now the Ikea Moppe is finished, I think it's too good for the old playroom, and it will go on the bookshelf in the living room. However, I will continue to fill the drawers with those little bits and pieces that I don't know what they are for, but I'm too scared to throw away in case they are important!
UPDATE: The playroom has now been converted into a study. My love of antique world maps continues. I made a custom world map desk for the study, and I think the IKEA Map Moppe drawers will be returning to that room.
I used gift wrap paper to decoupage these Map mini drawers, but you can also use map paper napkins for more delicate decoupage. This is the method I used when making some stylish map mason jar banks.
I had another set of unfinished IKEA small wooden drawers; these were in a slightly different shape than the map drawers. I finished them; this time, I gave them a more glamorous makeover using velvet.
Wallpaper can also be used to upcycle dresser drawer fronts, like with these IKEA Hemne upcycles.
If maps and velvet aren't your styles, then there are many more brilliant and unique ways to upcycle IKEA mini drawers for your home.
Yield: Upcycled wooden drawers with maps
Make IKEA Moppe Map Drawers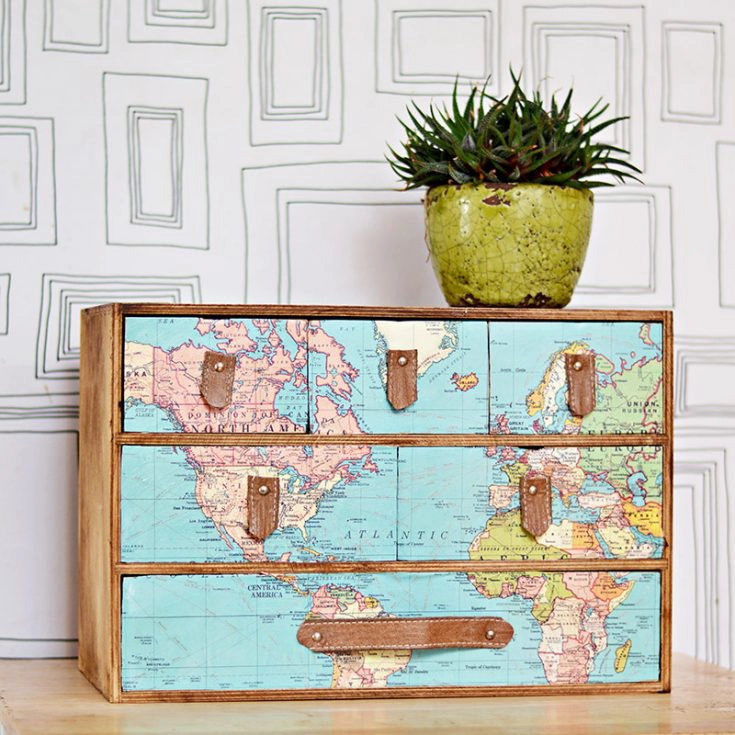 This was an upcycle of some unfinished min wooden drawer chest from IKEA called Moppe. However, this tutorial can be used for any mini drawer set any size not just the IKEA Moppe. The methodology is the same.
Materials
Mini wooden drawers such as IKEA Moppe
Vintage World Map gift wrap
Mod podge
Leather scraps
Upholstery pins
Dark wood wax
Tools
Rotary cutter and mat
Small hammer
Instructions
Add an antique look to the unfinished wood with the dark wood wax. (Don't wax the drawer fronts)
Place the mini drawers chest face down on the wrapping paper and draw around it. Also, draw around each individual drawer. This is to work out where to cut the paper for the decoupage.
Paste both the back of the map paper and the front of the drawers with Mod Podge.
Next, stick the maps to the drawer front. Make sure you stick them the right way up.
Add another coat of Mod Podge to the front of the maps to act as a varnish.
Cut up an old leather strap from a handbag into small pulls for the small drawers.
Cut a longer leather strip for the handle on the larger drawer.
Attach the handles to the drawer fronts using an upholstery pin and hammer.
Recommended Products
As an Amazon Associate and member of other affiliate programs, I earn from qualifying purchases.
This IKEA upcycle is featured under the letter I in the alphabet of clever upcycling ideas and resources.