Are you looking to delve into leather crafting? We've gathered simple projects perfect for beginners. Learn the art of moulding, shaping, and tooling leather to create functional and decorative items!
Leather holds a fascinating appeal. It combines trendiness and style with durability and ease of use, making it an ideal material for crafts. This carefully curated compilation of 48 easy leather project ideas aims to ignite your creative spark.
Engaging in leather craft offers a delightful experience, with the material's versatility opening up many possibilities. From functional to ornamental, leather allows for an array of designs to be crafted easily and with finesse.
A significant advantage of these leather DIY projects is their cost-effectiveness. Many utilize small scraps or repurposed leather, making them an affordable craft option and a sustainable one. Let's dive into this amazing world and see what we can create together!
10 Reasons For Crafting with Leather?
Leather's natural beauty makes it an attractive material for crafting, and it comes in various colours and textures.
It makes hand-crafted gifts look expensive.
Leather is a sturdy and long-lasting material. Handmade leather home decor items will last.
Leather is a naturally stylish material.
It's versatile and can look sophisticated or Boho.
Leather can be carved, painted, moulded and stamped.
It doesn't fray, so there is no need to hem it.
The material can be glued or stitched.
Leather is easy to cut.
Small leather touches can enhance other crafts and DIYs.
Leather can enhance other crafts, including adding handles to wooden chopping boards or upcycled cookie tins and pulls to mini drawers.
Leather looks good when used with wood crafts and denim upcycles.
We're a participant in the Amazon Services LLC Associates Program, an affiliate advertising program designed to provide a means for us to earn fees by linking to Amazon.com and affiliated sites. As an Amazon Associate, I earn from qualifying purchases.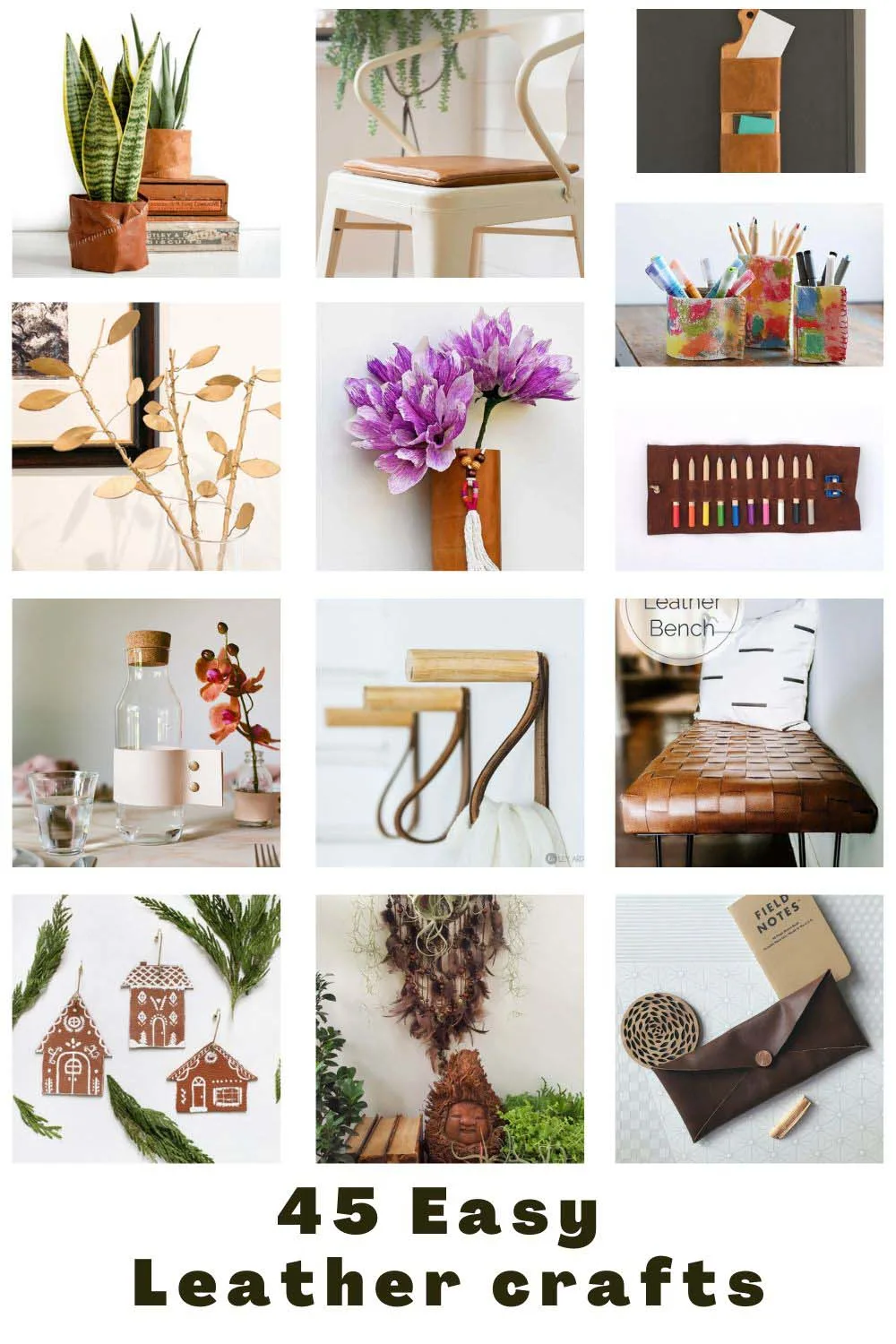 What Leather To Use and Where To Get It
It doesn't matter whether you use faux leather or genuine leather. Many fake leather pieces are so good that they are hard to distinguish.
If you're a vegan or more concerned about being environmentally friendly, using faux leather is better. You can use upcycled and repurposed leather to enhance your green credentials when using genuine leather.
Upcycle and repurpose leather from clothing, such as jackets, bags, and belts, to old leather sofas. Leather is one of those materials that can age well. It comes in different thicknesses and softness, so make sure you use the right leather for your crafts.
Craft stores sell faux leather in a range of colours and sizes. Often this is very soft.
Thrift stores (charity shops) are a good source of leather to repurpose and upcycle, both natural and faux.
Check out dumpsters too! You can get a lot of material from a dumped old leather sofa.
Many leather stores sell scraps at a reasonable price. Bags of real leather scraps can be bought from online stores. Often they are sold by weight.
Unlock Your Creativity with Easy Leather Projects
Experience the wonders of leather with easy DIY projects. From home décor to personal accessories, we offer creative ideas that are both affordable and easy to follow. Start your leather crafting journey now!
Another excellent material to craft is clay; check out these adult air dry clay DIYs.