As a family, we love those delicious Scandinavian Christmas spiced cookies you get in tins from places like IKEA. We managed to get through quite a few tins this Christmas. As a result, I have quite a collection of empty cookie tins.
Last year I upcycled my empty cookie tins with a faux marble effect. I used these tins to gift homebaked goods over the year.
This year, I have repurposed the cookie tins into stylish storage using one of my favourite things to upcycle, old road maps.
The map-covered tins look so good now that you would never have guessed they were Christmas cookie tins. To add to the stylish travel theme of these tins, I also added some repurposed leather handles.
I have a thing about empty cookie tins and use them to store my bits and pieces.
I will keep these map tins and use them for storage in the study. With the larger tins, I've added a cardboard insert. This makes the tins more efficient compartmentalized sections, making it easier to store small items.
If you used road maps of somewhere special, then these repurposed cookie tins would make a lovely travel-themed gift for someone.
I know from my map Mason Jar banks that travel-themed gifts go down well as they can easily be personalized by using maps of favourite places.
You can often pick up old road maps from charity/thrift stores. Road maps are very affordable and often cheaper than craft paper.
If you are looking for a particular map, check out Pictureboxblue maps for an extensive collection of wonderful free printable maps.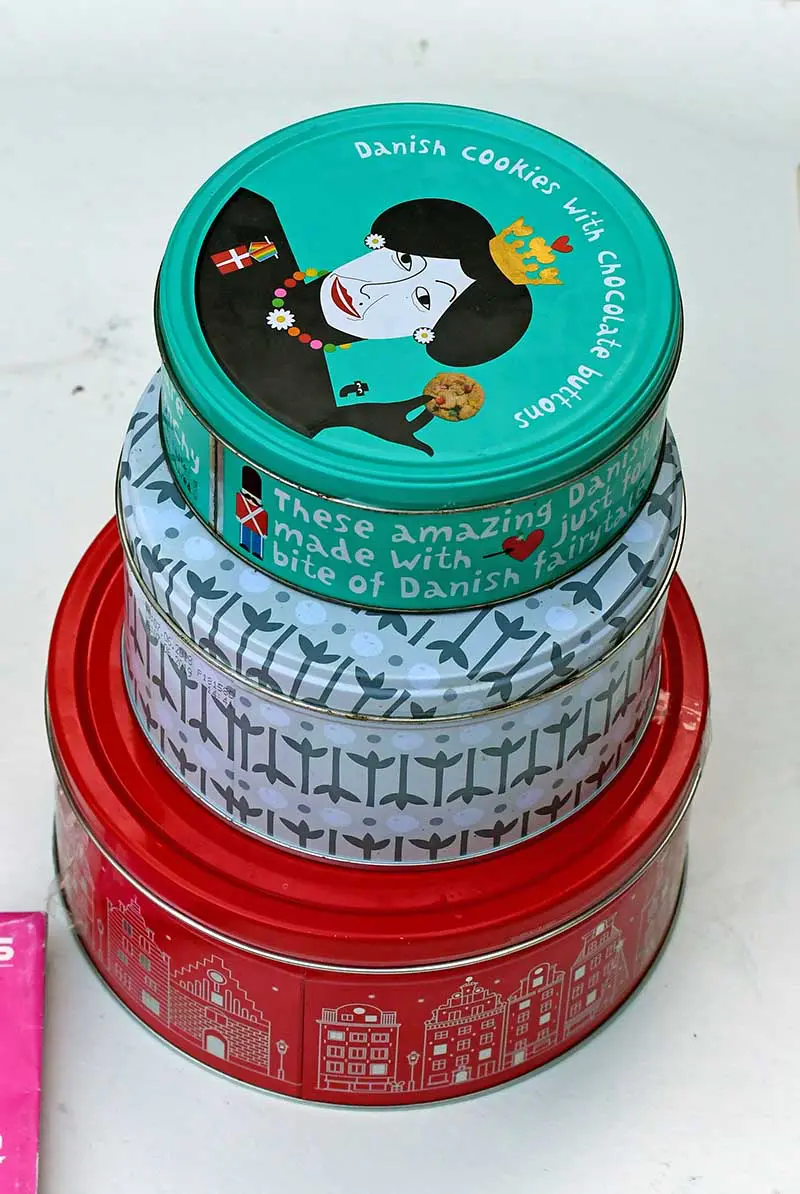 Don't forget to check out some of my other fabulous map and tin can upcycles.
We're a participant in the Amazon Services LLC Associates Program, an affiliate advertising program designed to provide a means for us to earn fees by linking to Amazon.com and affiliated sites. As an Amazon Associate, I earn from qualifying purchases.
What You Need To Make Upcycled Map Tins
Empty cookie tins – any size or colour will work with this repurpose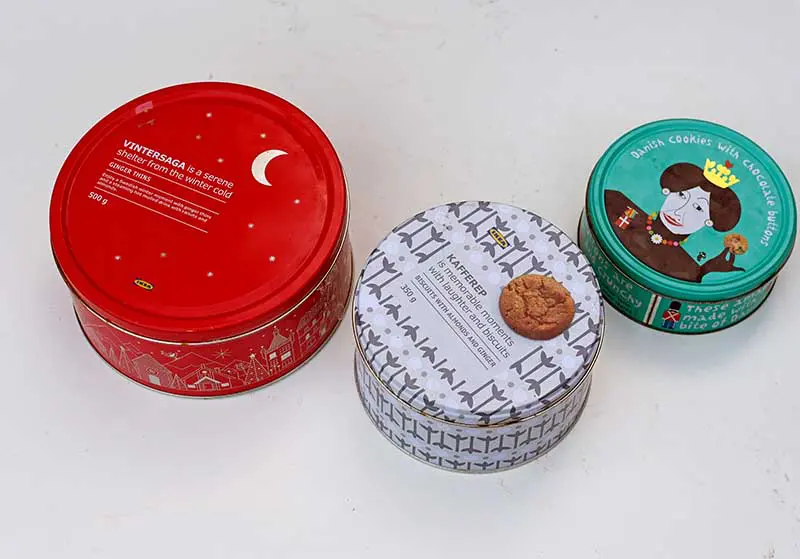 Old road maps – One road map was large enough for me to cover all three cookie tins.
Drill and small drill bit suitable for metal
Scrap leather strips – from an old handbag. The pieces I used were bits I rescued from an old leather sofa.
How To Repurpose Empty Cookie Tins
Step 1. First, remove the lids from the tin cans and any sticky labels. Then spray paint the outside and the lid cream.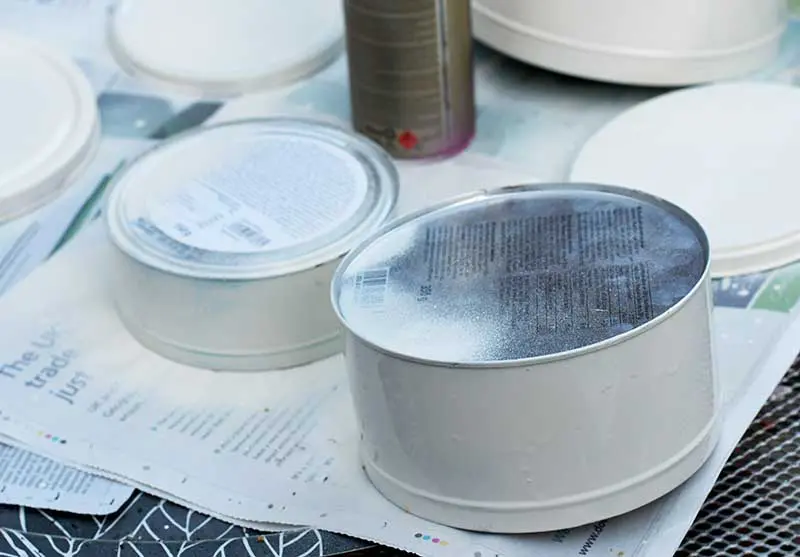 2. Next, using a tape measure, measure the circumference of the cookie tin. Also, measure the height of the tin. When calculating the height of the tin I didn't include the ridge at the top that went under the lid when fitted.
Using a rotary cutter and mat, cut a strip of road map to fit these measurements.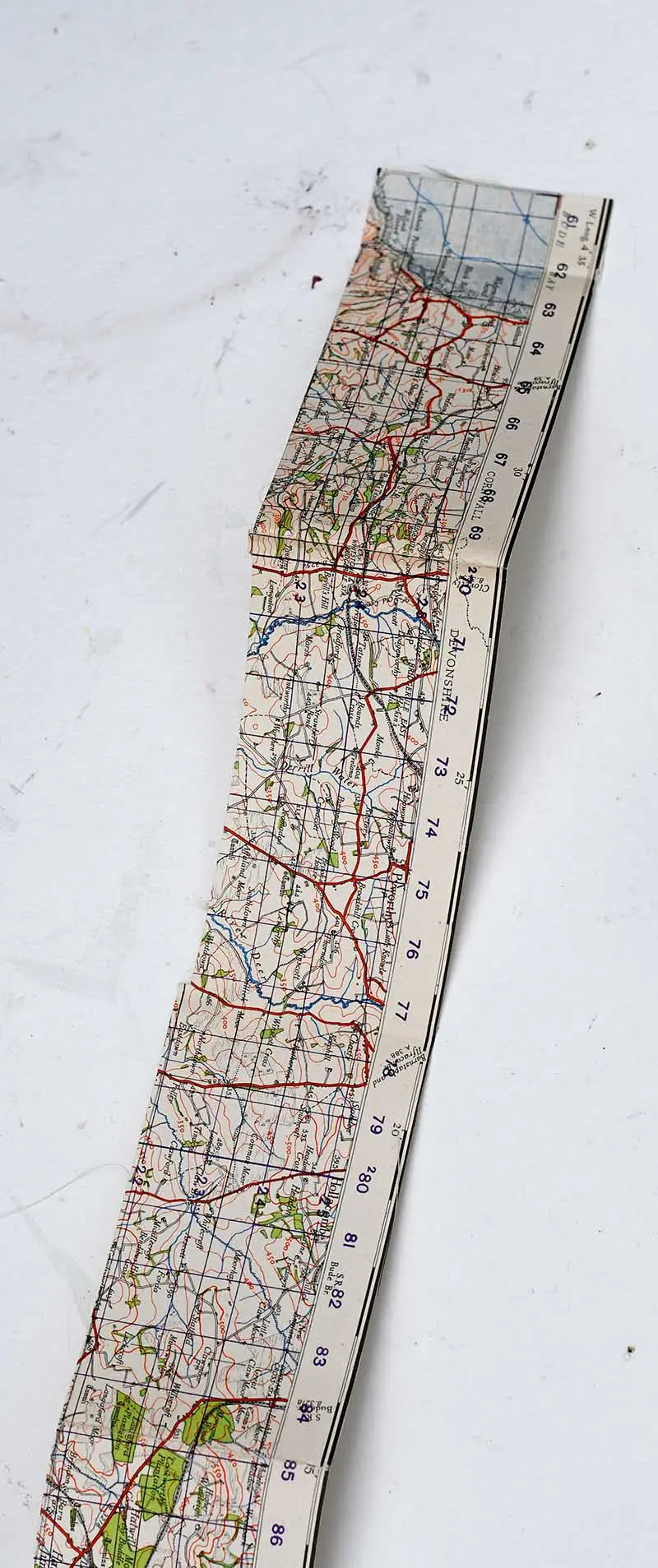 3. Next, measure the diameter of the empty cookie tin lid. Then using the compass paper cutter, cut a round piece of road map to fit. The compass paper cutter will give you a perfectly cut circle of map paper.
(I used one of these compass cutters when making some cool DIY map art out of old roadmaps.)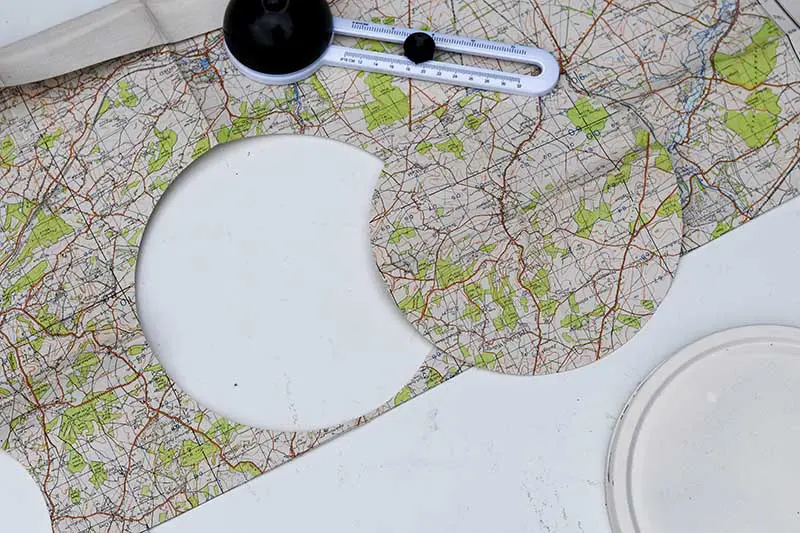 4. Next, cover the side of the empty cookie tin can base with two strips of double-sided sticky tape—one strip at the top and another at the bottom. Then attach the cut strip of map paper.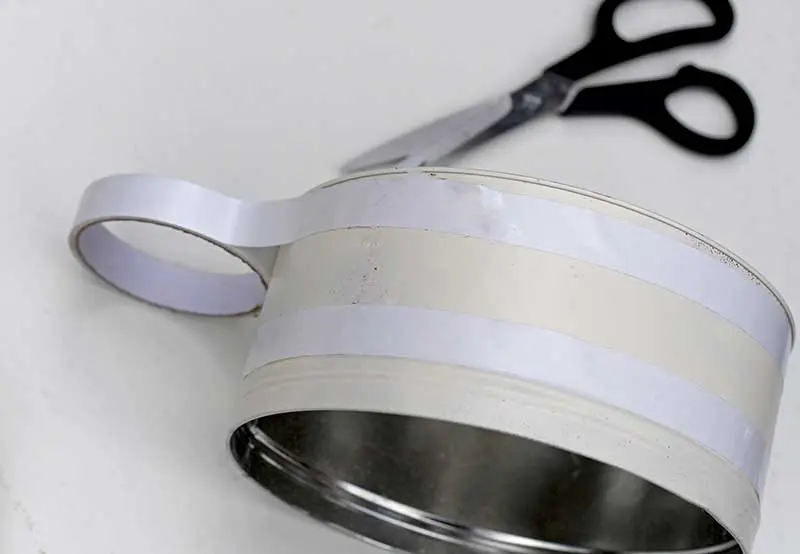 5. Next, cover the lid of the empty cookie tin with Mod Podge (decoupage glue) and stick down the cut map circle.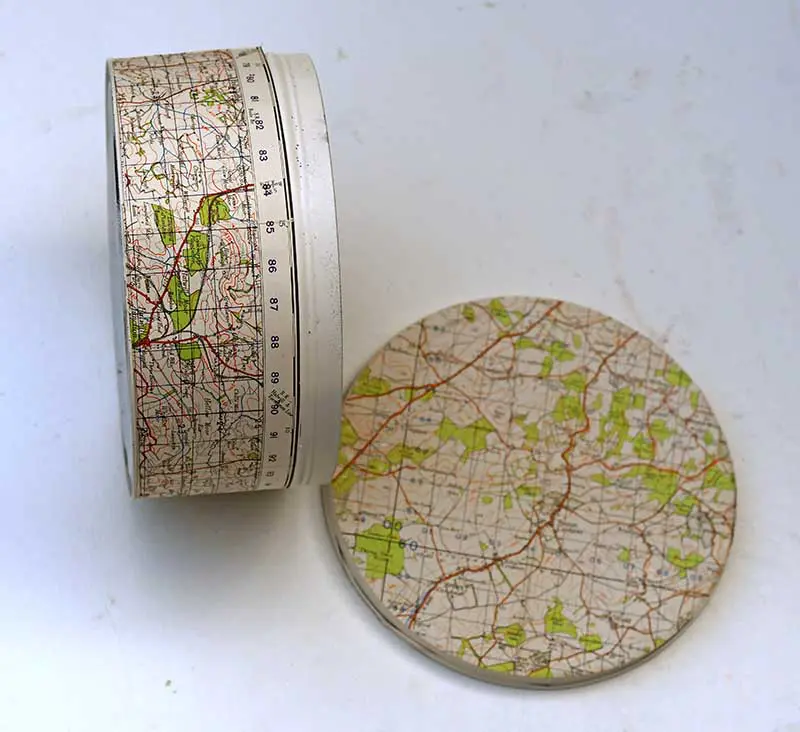 Adding The Leather Handles To The Map Tins
Add some small leather handles to give these map tins an extra edge.
6. Cut two small leather strips about 1cm wide and 4-5cm long. Using the Crop-A-Dile or similar tool, punch two holes into the leather—one hole at each end.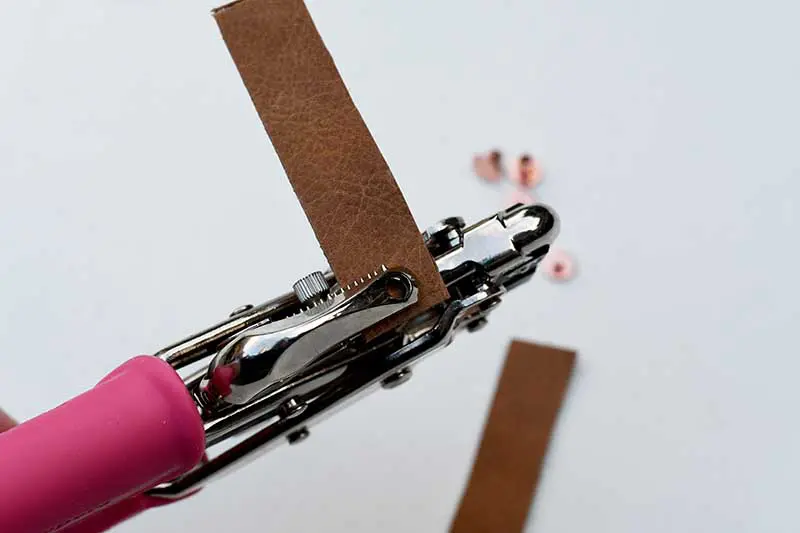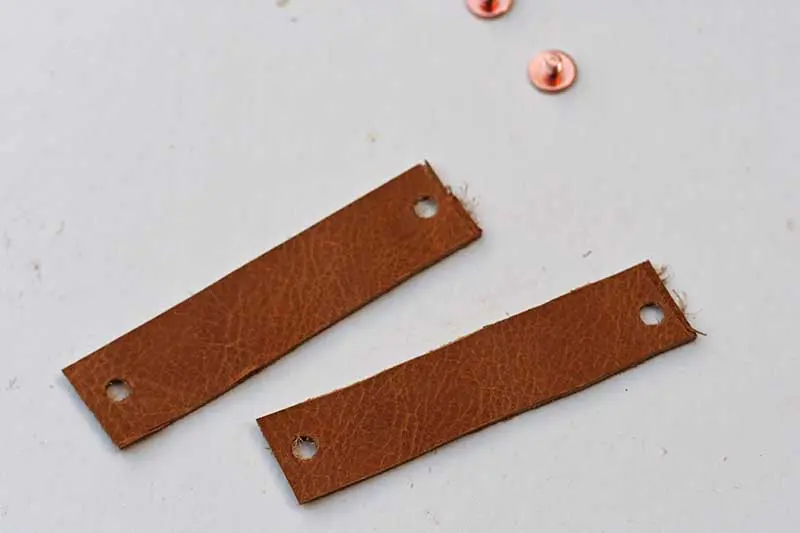 7. Next, drill two holes approximately 3cm apart on each side of the cookie tin.
When drilling a hole into the side of the tin can, I hold a wooden block to the inside of the tin. This supports the tin sides and stops them from denting as you apply pressure with the drill.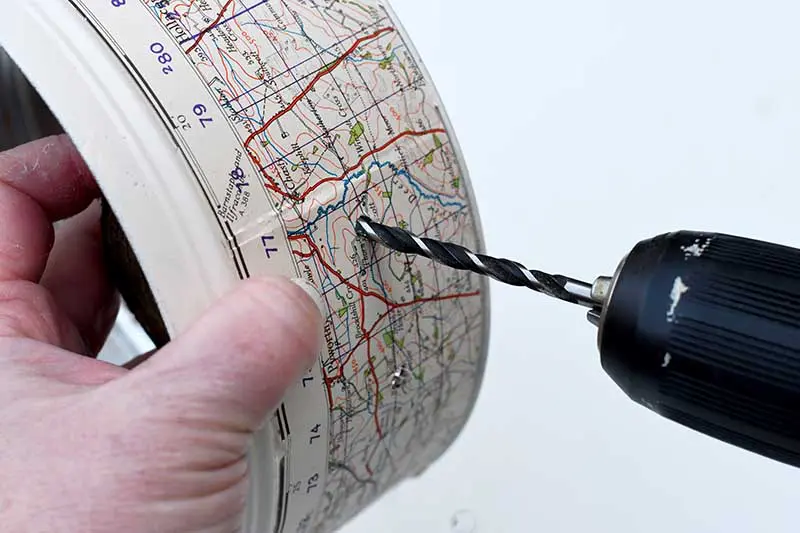 8. Then, using the Chicago screws, attach a leather handle to each side of the map tin cans.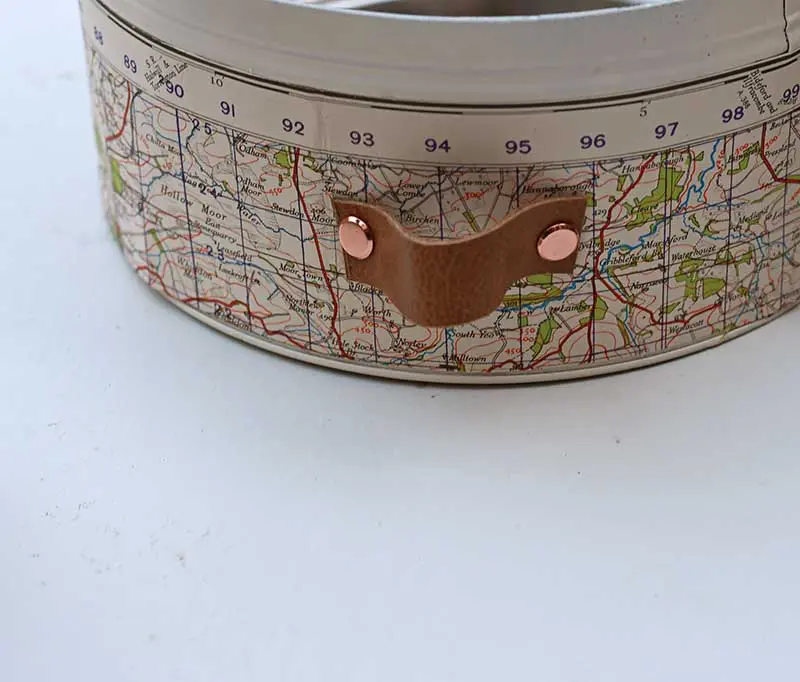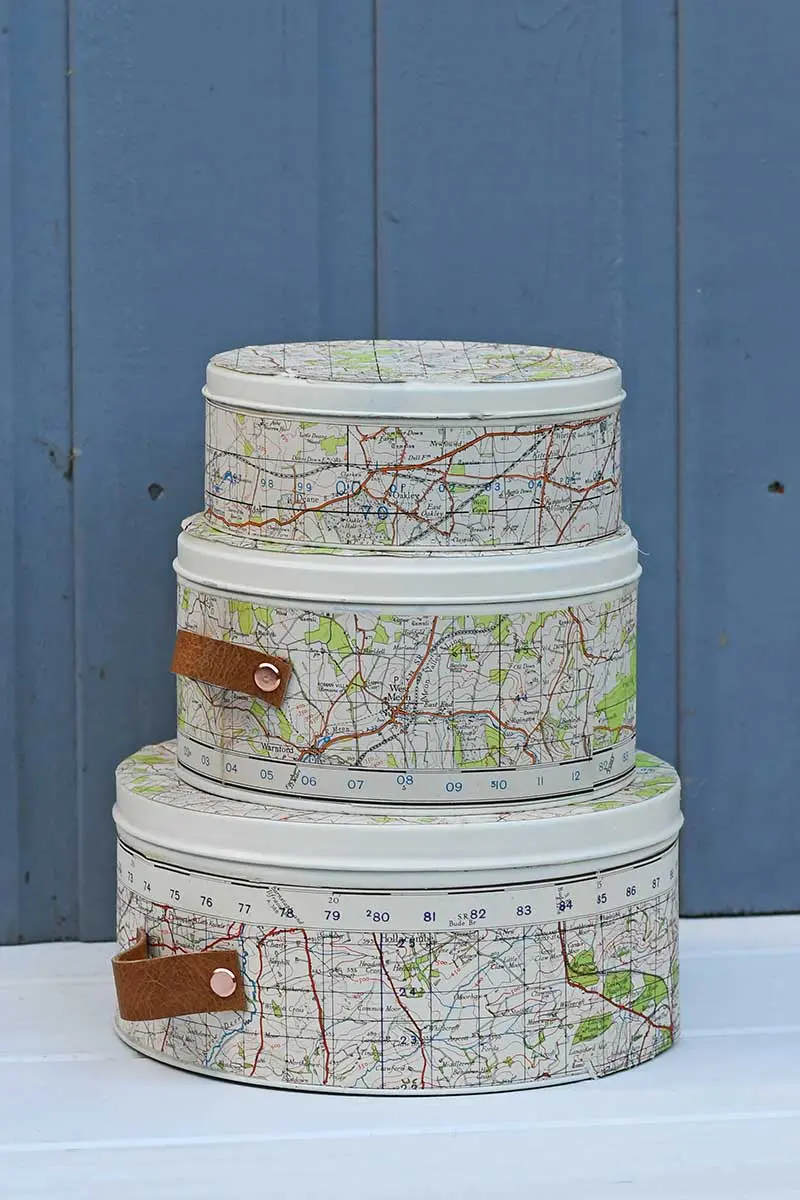 The leather handles help make this upcycle special. I still have a lot of leather scraps, but don't worry. There are a lot of leather craft ideas here.
Adding Dividers
I find that smaller items can get lost with the larger map tin can storage tins. To combat this, I made some cardboard dividers for the containers.
I measured the inner diameter and height of the large tin cans. I then cut strips of cardboard to these measurements.
Slots were then cut into these cardboard strips to fit together in a cross shape. These were then placed inside the tins to provide storage dividers.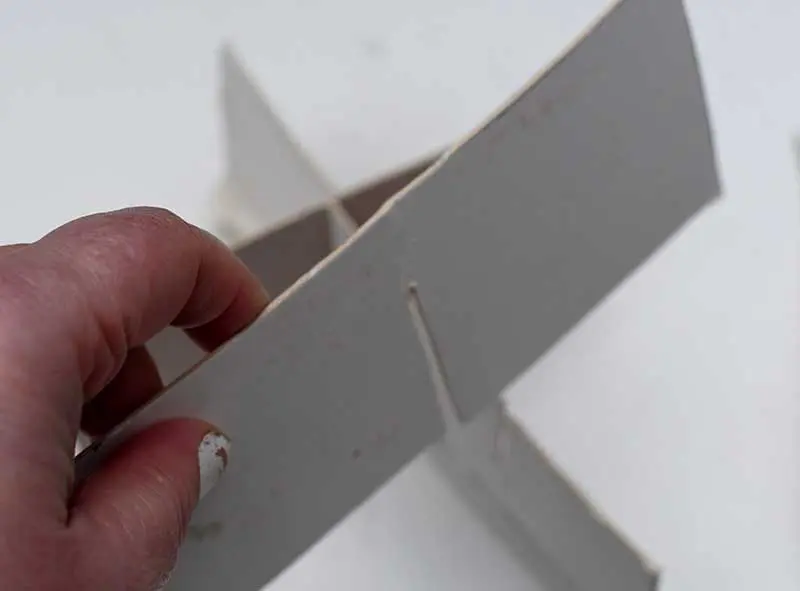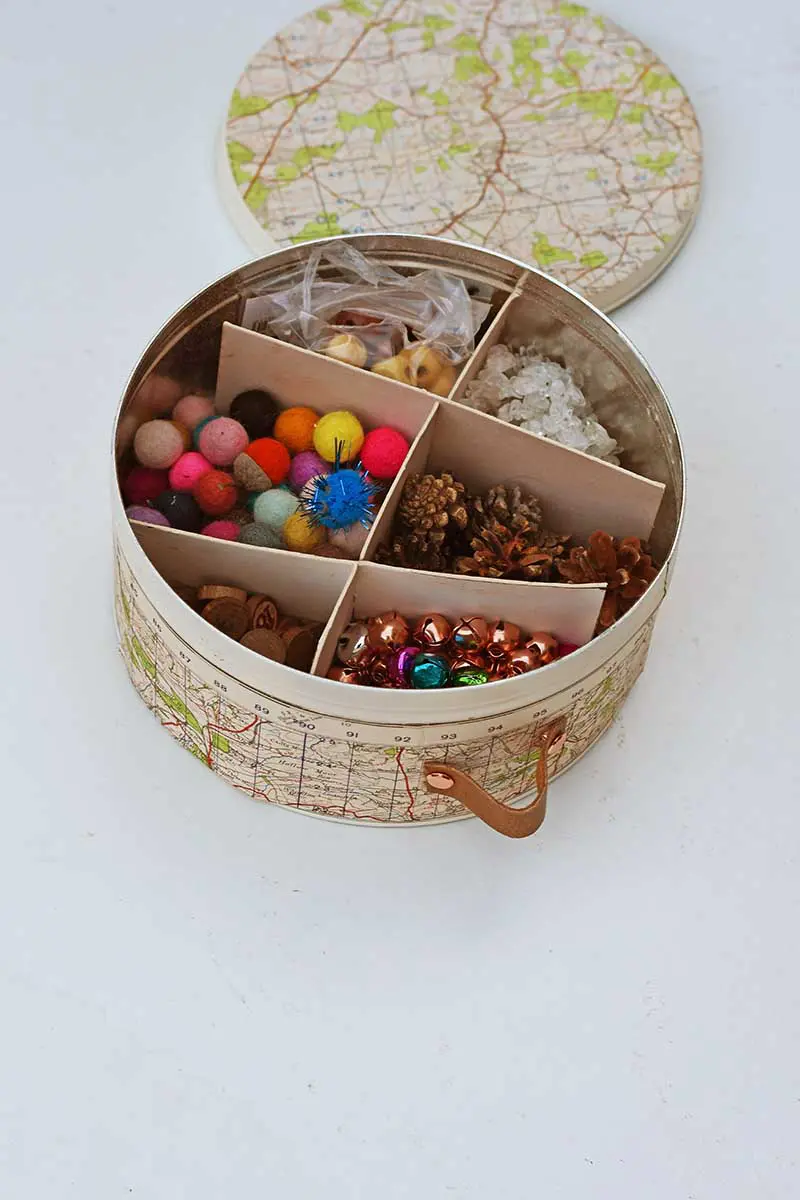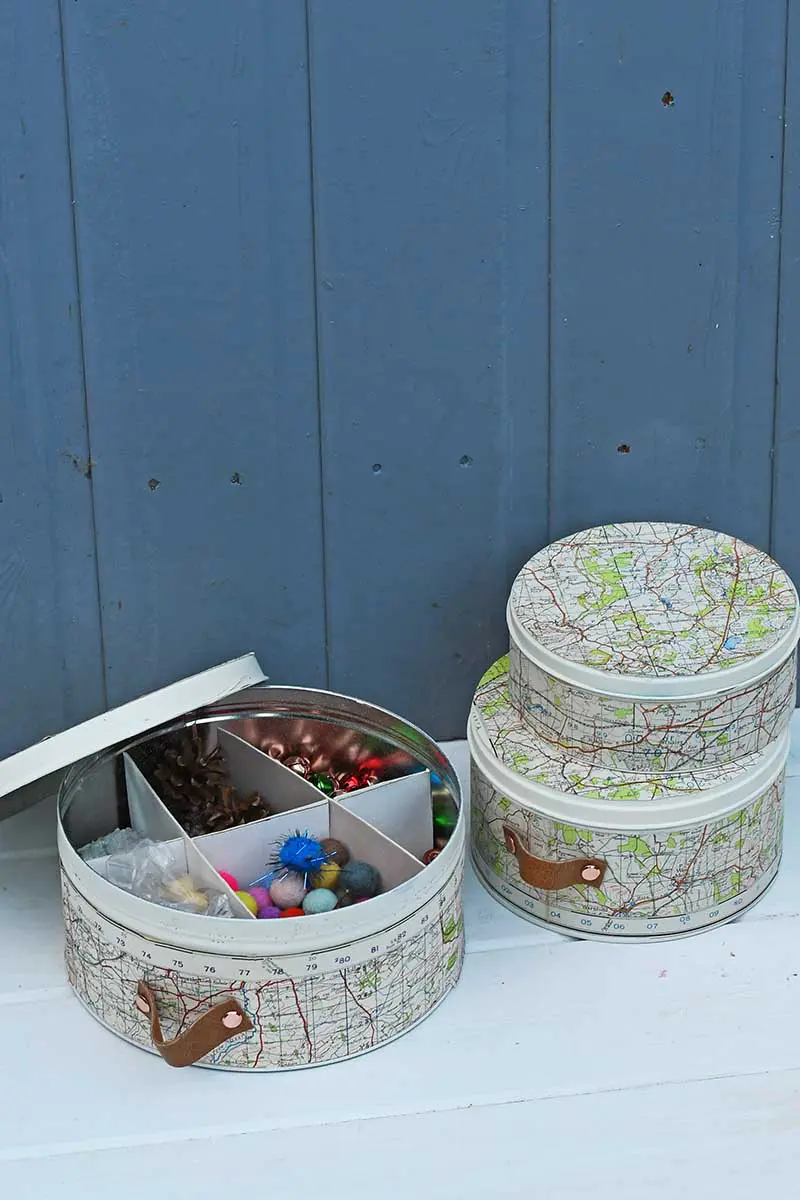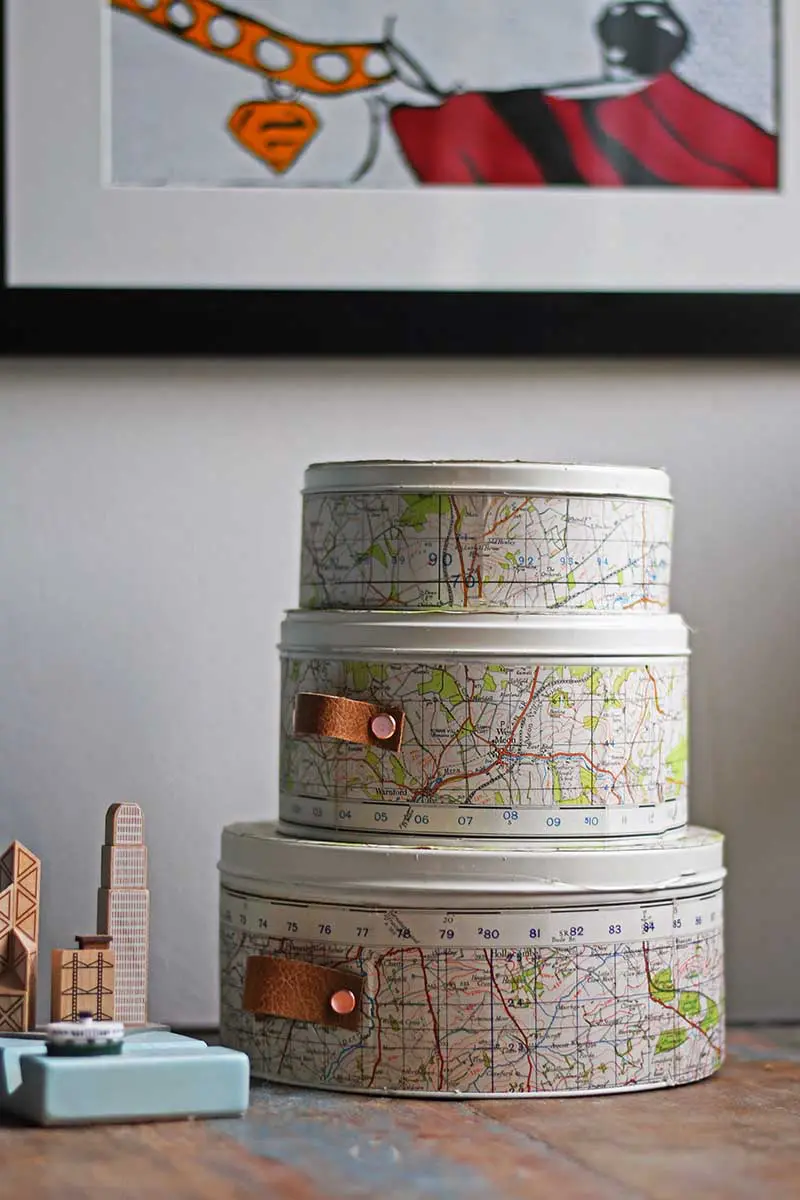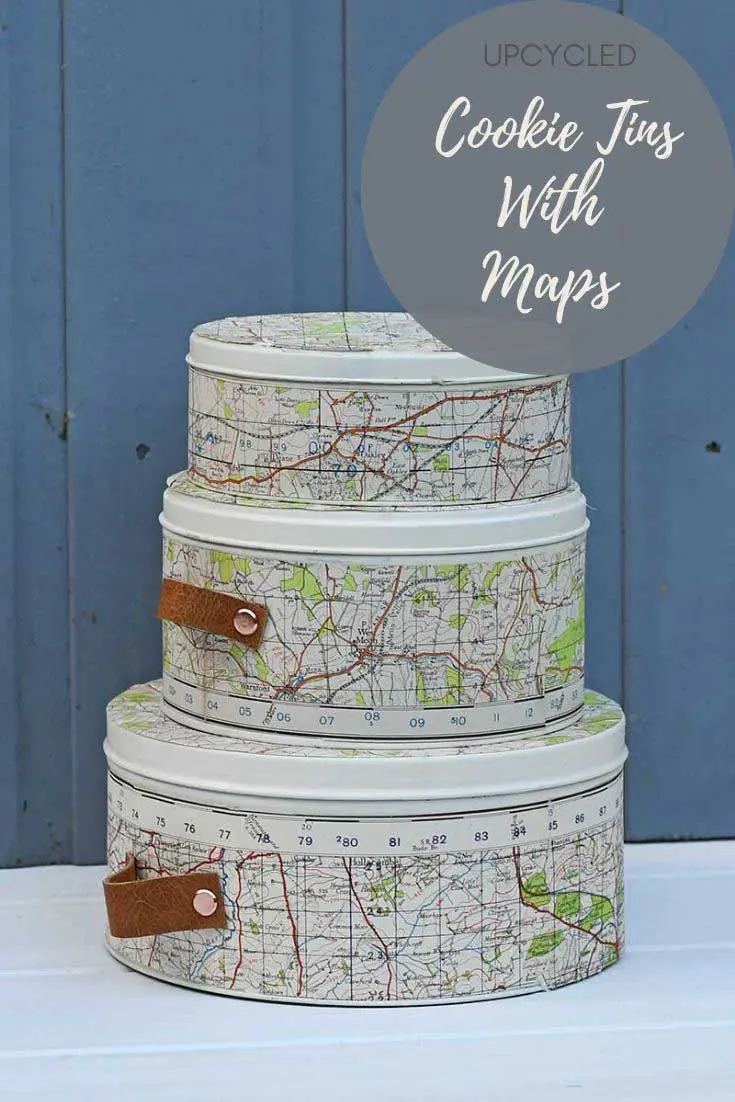 Yield: Travel Themed Map Tins
Make Repurposed Map Empty Cookie Tins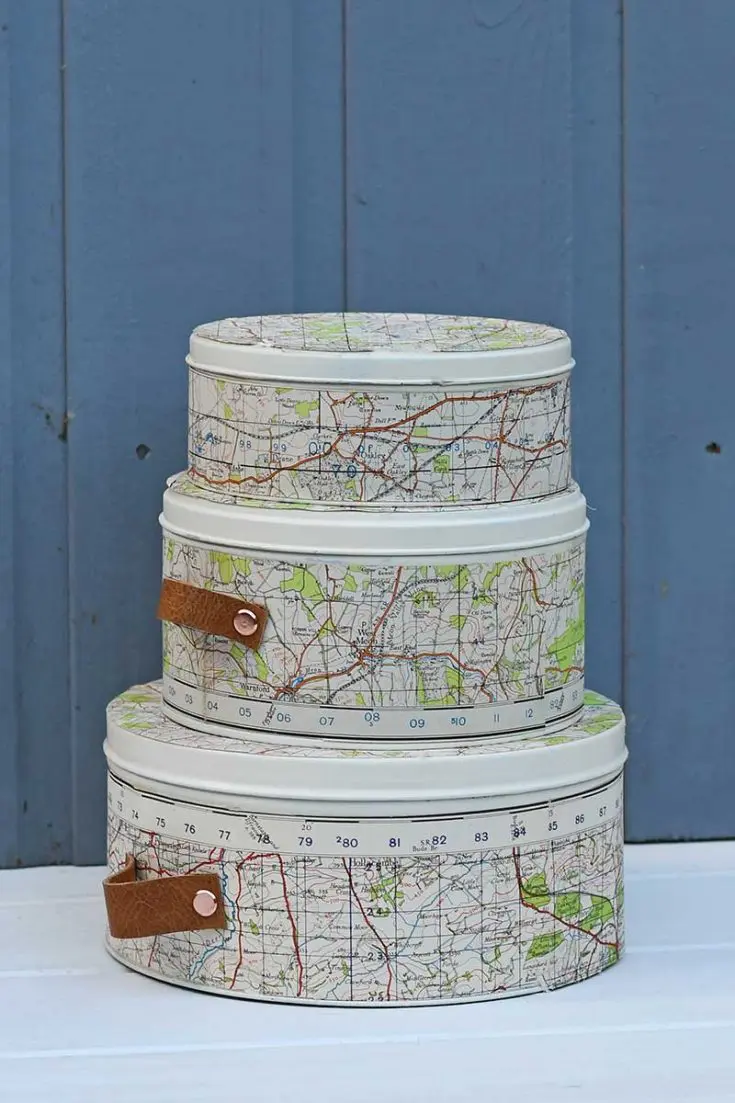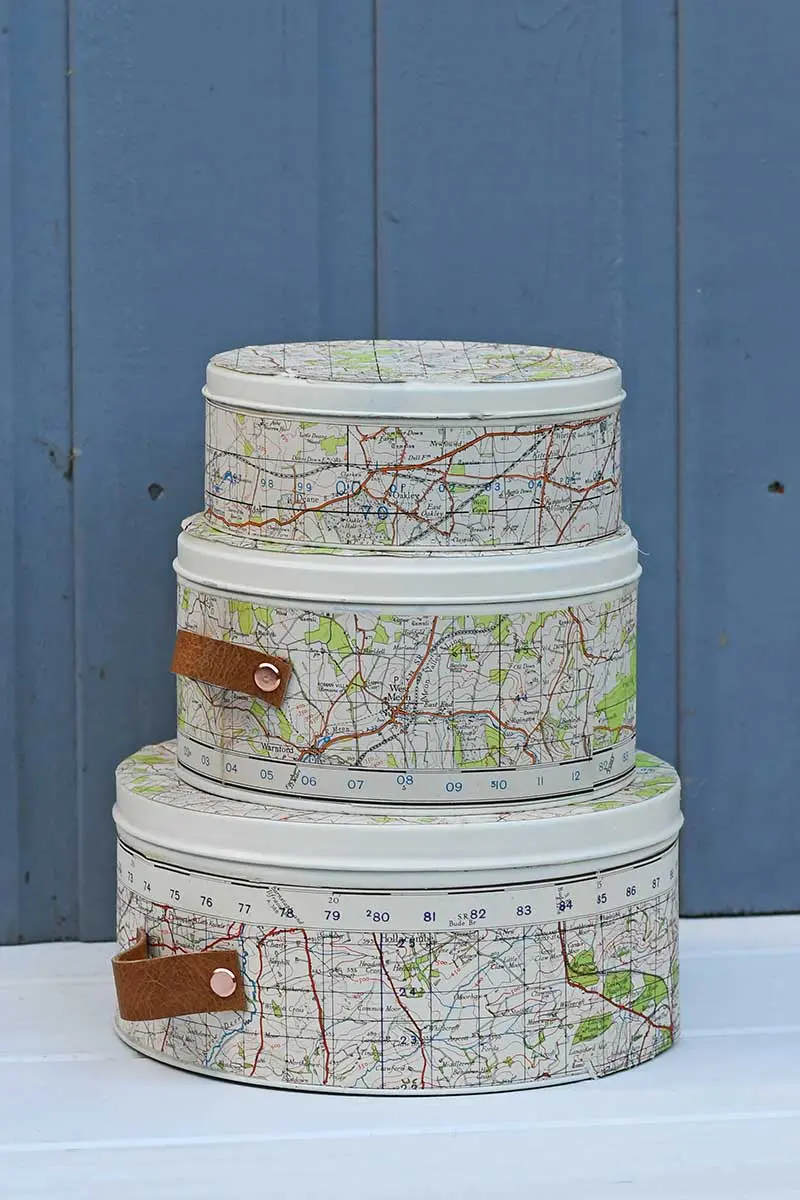 Upcycle your empty cookie tins leftover from Christmas with old maps. Add leather handles for a more sophisticated travel themed look.
Materials
Empty cookie tins
Old Road Maps
Leather Scraps
Double-sided sticky tape
Mod Podge
Chicago Screws
Cream Spray paint
Tools
Compass paper cutter
Rotary cutter and mat
Measuring tape
Crop-a-dile
Drill
Instructions
Remove all labels from the tins and spray them cream
Measure the lid and outside of the tin
Cut road maps to these measurements
Use double-sided sticky tape to stick the cut maps to the tins.
Cut the leather into handle strips and punch holes into the strips.
Drill holes into the side of the empty cookie tins
Attach the leather handles using Chicago screws.
Make a cardboard divider for the inside of the tins to help with storage.
If you like this map empty cookie tin upcycle, check out these map magazine holders and other repurposed map crafts for the home.
For more DIY storage ideas visit DIYCenter.com