Create Some Unique Map Art With A Pet Portrait
Would you love to have some personalized original artwork on your walls but don't think your painting skills are up to it? That's me!

You'd love a portrait of your pet or a loved one but know that when you finished painting, it would probably look nothing like them. Have you ever thought about making some map art by doing a collage portrait instead using maps? Collages are much more forgiving than a painting.

Ok I admit it I have a bit of obsession with map crafts. Not only have I decoupaged furniture and lamps with them, they are now even on my walls.

I didn't just frame an old map and hand it on the wall (that would be too easy) but I have even created some unique map art. I made a map portrait of our family dog Toby.

This map art portrait of our beloved scruffy Foxy Russel is probably one of my most admired pictures on my wall. Well, it's my favourite anyway!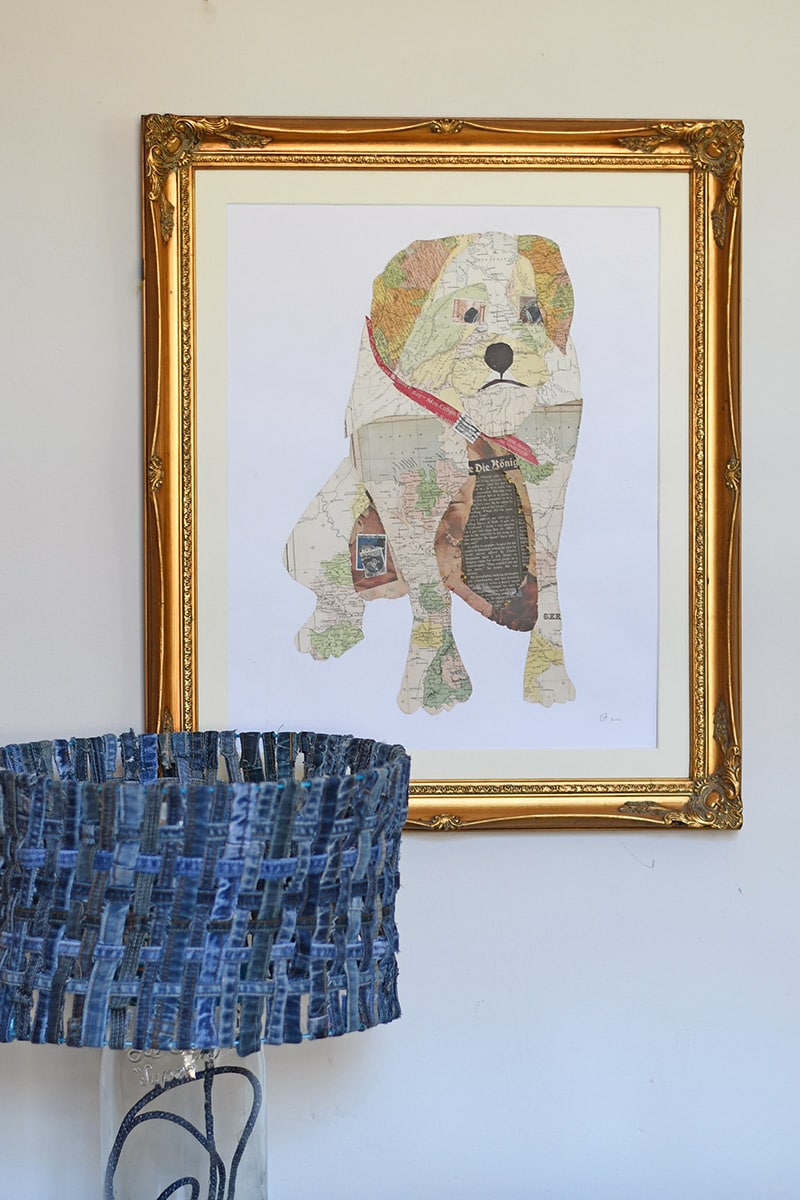 Anyone can make a map portrait, it doesn't have to be a pet you can create map portraits of people too. However, pets aren't critical of your artwork so no risk there.

I got the inspiration for this artwork after visiting an exhibition of the English collage artist Peter Clark in London a few years ago. My map art maybe not be quite as fabulous as his. But the map portrait is of my own dog so I have a sentimental attachment to it.

This post contains Amazon affiliate links for your convenience. Click here to see my disclosure policy.


What You Need to Make Map Art Pet Portrait
Photo of your pet
Old maps – If you don't have any to hand you can always download some vintage maps here. Or Cavallini makes gorgeous vintage map gift wrap.
Old stamps and other paper bits and pieces (an old newspaper will probably do)
Large piece of sketch pad paper (A2)
Scissors and soft pencil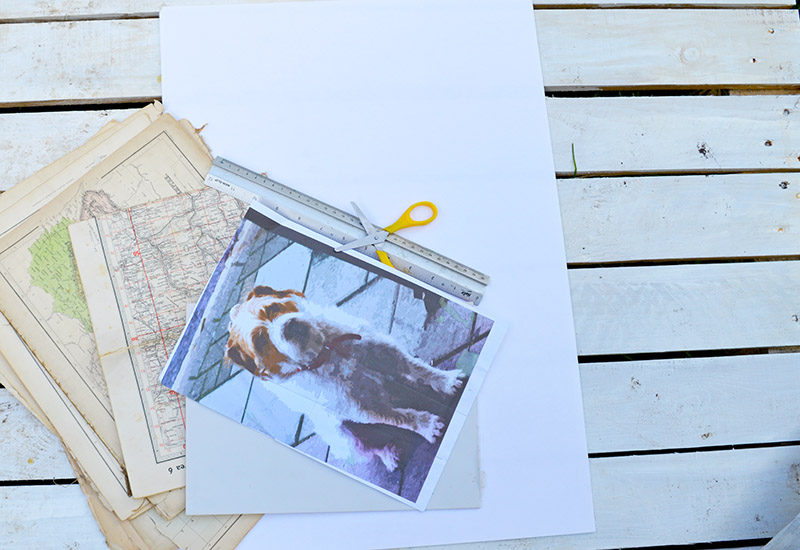 How to Make Your Map Art Portrait
Altering the photo
Once you have decided on the photo that you are going to base your map art on you will need to make a few adjustments to it. To simplify your photo, digitally posterize it by using a filter in a program like Photoshop.

If you don't have photoshop don't worry. There are lots of free tools on the internet where you can posterize any picture for free like pinetools.com.






Next, enlarge and print your photo the same size you would like your map art. My map portrait was A3 size as I don't have an A3 printer, I printed my picture of Toby across 2 sheets of A4 paper and taped them together.

I could have just sent the A3 file to my local print shop and got them to print it for me or just enlarge it on one of their photocopiers. However, the truth is I couldn't be bothered to leave the house.

Preparing the Map Art Portrait

I used tracing paper to transfer my pet photo to my paper. I just traced around the outline of Toby and then each posterized section. The posterization of the photo helps you pick out the most distinctive sections of your portrait. I kept my outline quite simple with not too much detail.


Top tip: When tracing use a soft pencil and go over the back of the traced image with the pencil otherwise you will end up with a mirror image.





Picking the right bits of map to use..

To construct the map art portrait you will need to cut out bits of maps to fit into your posterized shape. It's a bit like constructing a jigsaw. Place your tracing paper over the maps you are using and trace around the shapes. Then cut these out and stick them on your paper outline.




When selecting the different bits of the maps to cut up for my map art, I don't just pick any old bit. I look carefully at my original photo and if it's a dark bit I then try to look for a dark bit of the map. For example, if you look at Toby's ears the maps used for this are a slightly different colour than the ones used for his body.






Adding the detail to the map art…

I didn't only just use maps for this dog portrait. I used some bits of newspaper and stamps. To make the eyes and nose distinctive I cut out black bits from an old newspaper. I used a bit of red paper for the dog collar. It is these little fine details that will bring your map art collage to life.




Toby is a scruffy haired Foxy Russell and I wanted to reflect that with this collage. To do this I frayed the edges of my paper before sticking them down. Especially for his beard where I fringed the map with some scissors.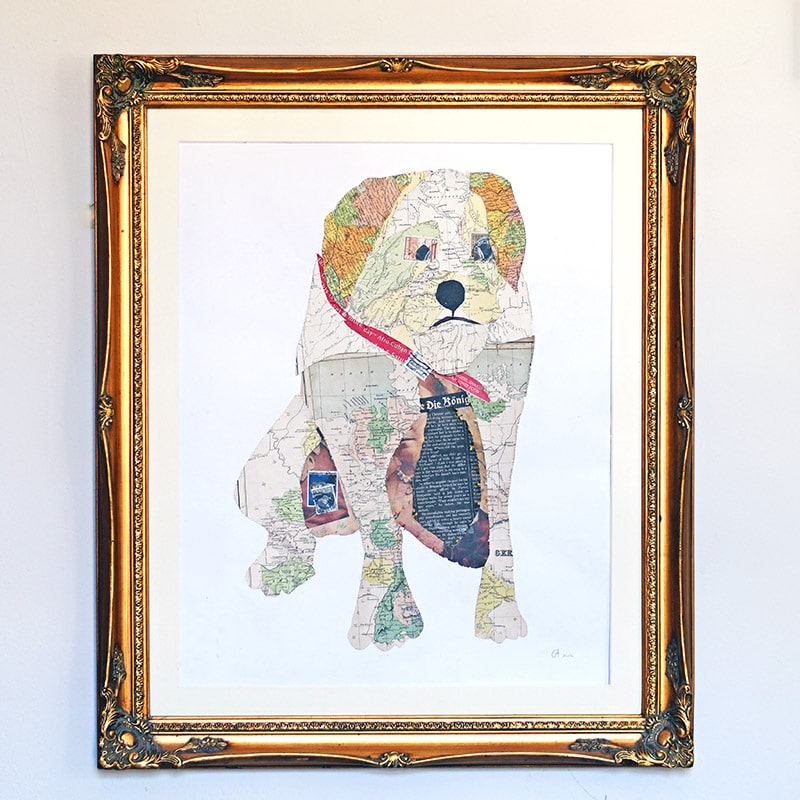 Once you get going on your portrait you will actually see how easy it is. You don't have to just stick to pets you could try and do a map art portrait of a loved one.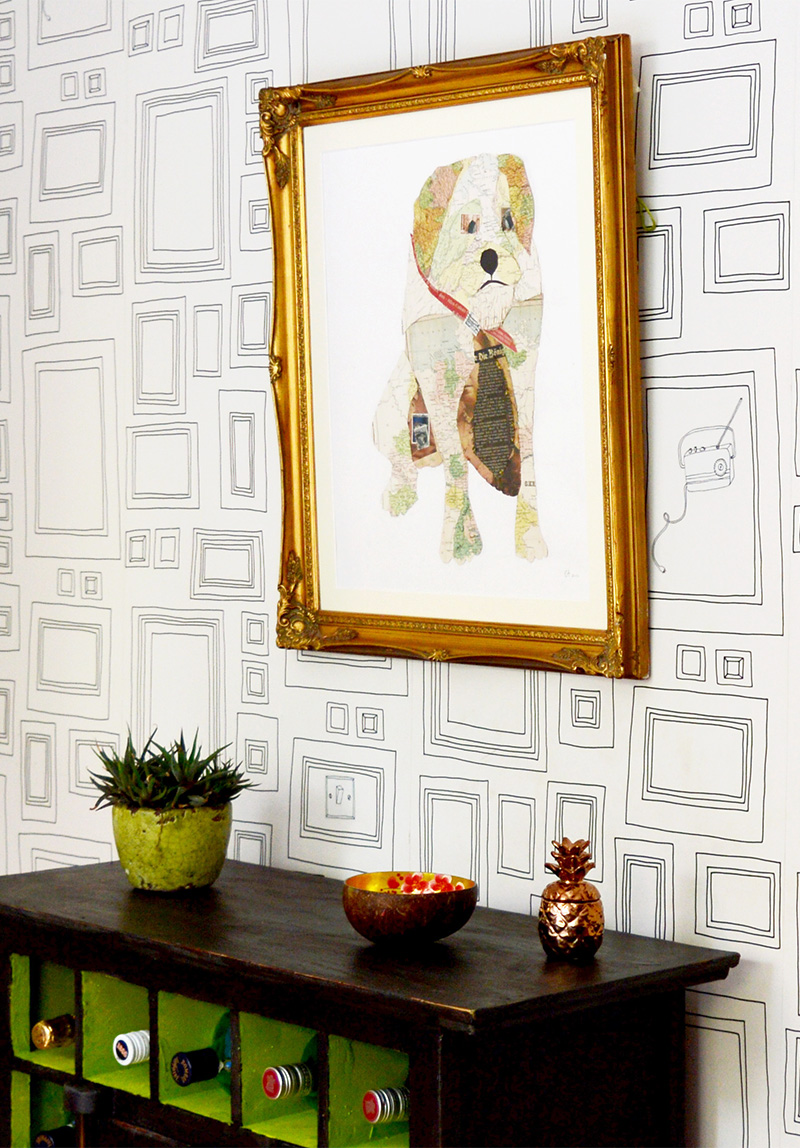 Putting a photo through a posterizing filter to simplify it really helps when creating your own artwork. I have used this technique before to actually paint a giant wall art of a dog.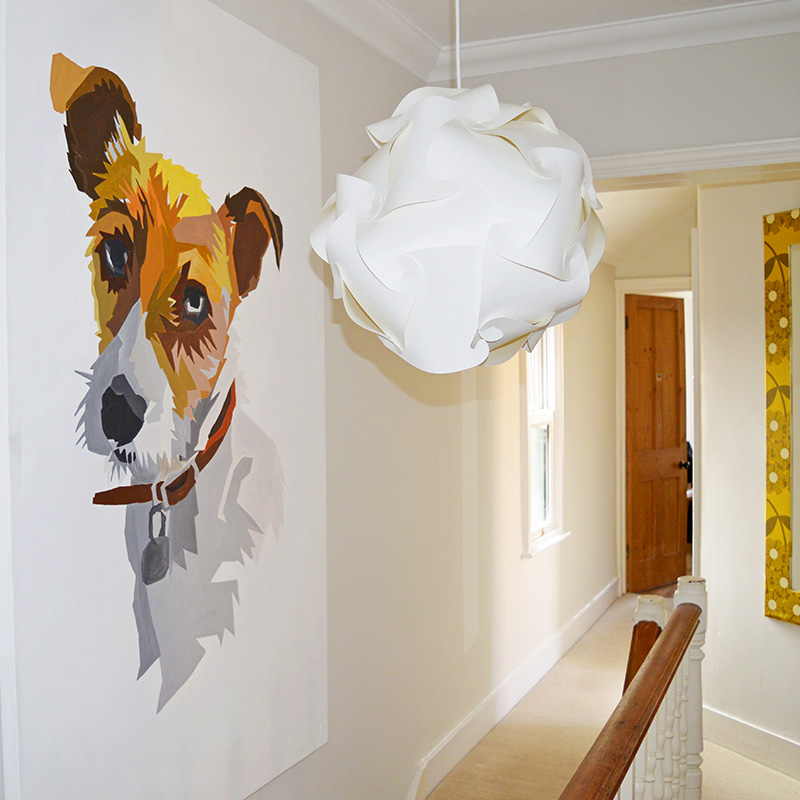 It is really lovely to have personalized artwork on your walls that you have created yourself. It will add interest to your home and become a conversation piece as well as make you smile every time you look at it.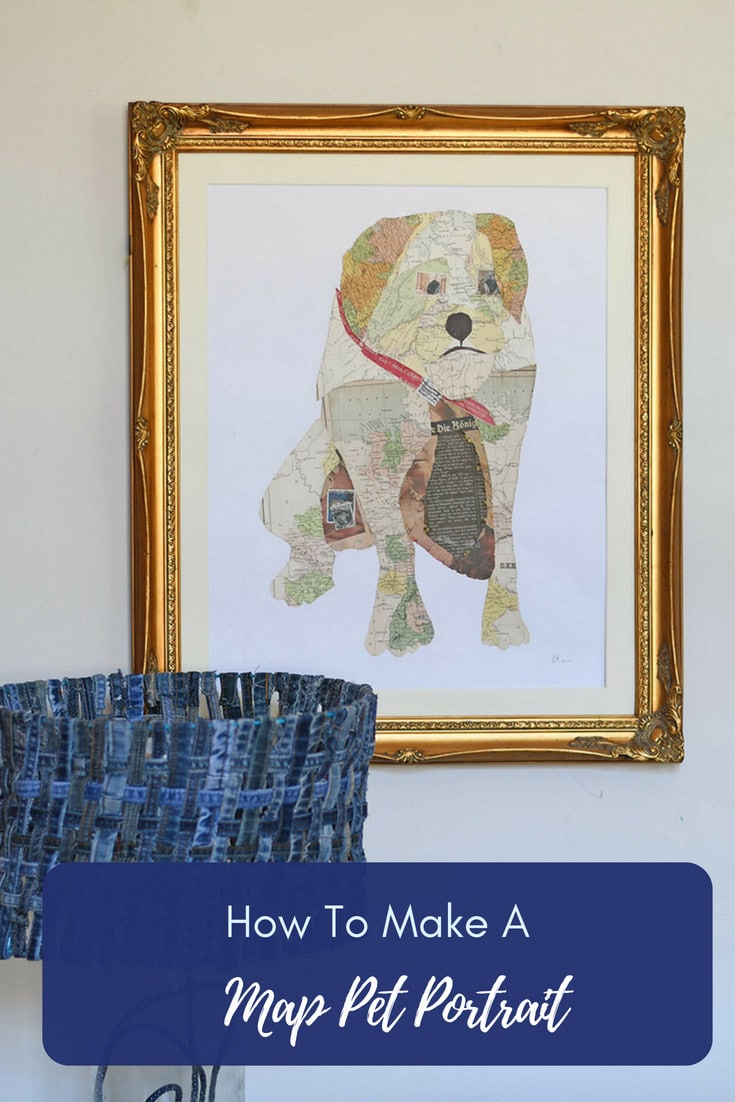 If you like making your own wall art you may want to check out my pineapple paper flower wall art or my giant Marimekko Christmas wall art.