How to paper napkin decoupage on wood
I bought these 3 wooden bowls for £1 in my local charity(thrift) shop. I took them home and transformed them with a Marimekko napkin decoupage on wood. I've already talked about my extensive paper napkin collection and recently used them to make some ridiculously colourful Marimekko decorative tin can planters for the garden.
When I first spotted the wooden bowls, they reminded me of pub restaurants in the 80's and 90's when you would be served a side salad in them. With today's trendy gastro pubs chances are you'll get your food served in flower pot, anything but a plate or bowl!
Some people will say I'm a bit obsessed with Marimekko especially their Unikko poppy print. They might be right! I have Marimekko wallpapered stairs, a Marimekko bench in the garden and a whacking great piece of upcycled Marimekko Christmas art on the wall.
I loved the Marimekko wall art so much I decided that it wasn't just for Christmas and have kept it up all year. So why not add some Marimekko decoupaged wooden bowls to the collection?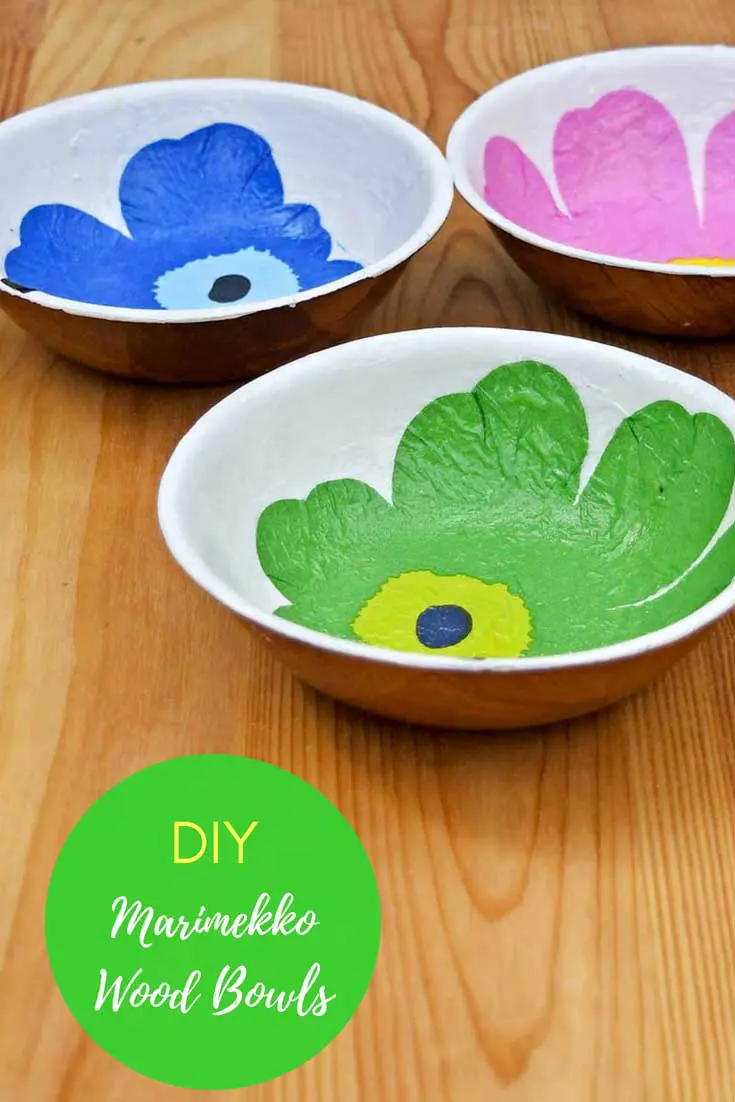 This post contains Amazon affiliate links for your convenience. Click here to see my disclosure policy.
What you need to decoupage on wood
Wooden bowls- These bowls are very common and still readily available.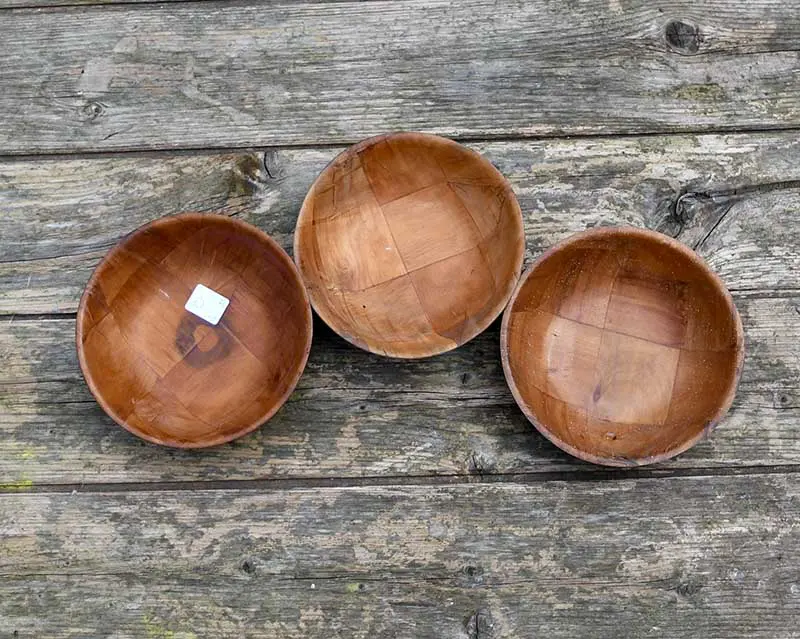 Oil and vinegar to clean the bowls if bought second hand.
Marimekko Unikko paper napkins – You will only need one for each bowl. The Unikko print comes in lots of different colourways, I chose those with a white background. Sometimes you can buy individual paper napkins on eBay for decoupage so it's worth checking that out. Saves having to buy a whole packet when you only need one paper napkin.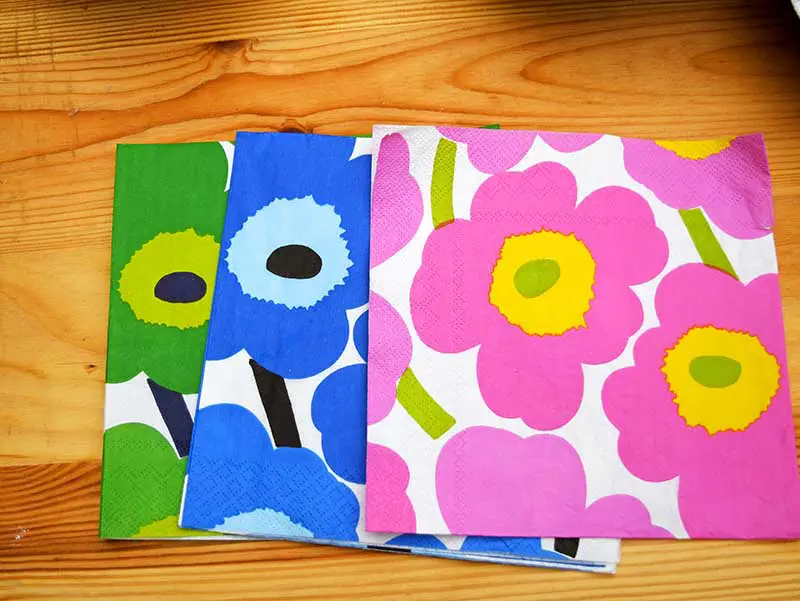 Waterproof varnish – You might want to find a food-safe varnish if you are going to use these bowls for food.
Clingfilm / Sarin wrap
Glue brush
How to decoupage on wood
As I bought my bowls in a charity shop the first thing I did was give the outside a good clean with a 50/50 mixture of vinegar and olive oil. I just rubbed on the oil mixture with a clean cloth and then buffed it with a dry cloth removing an excess.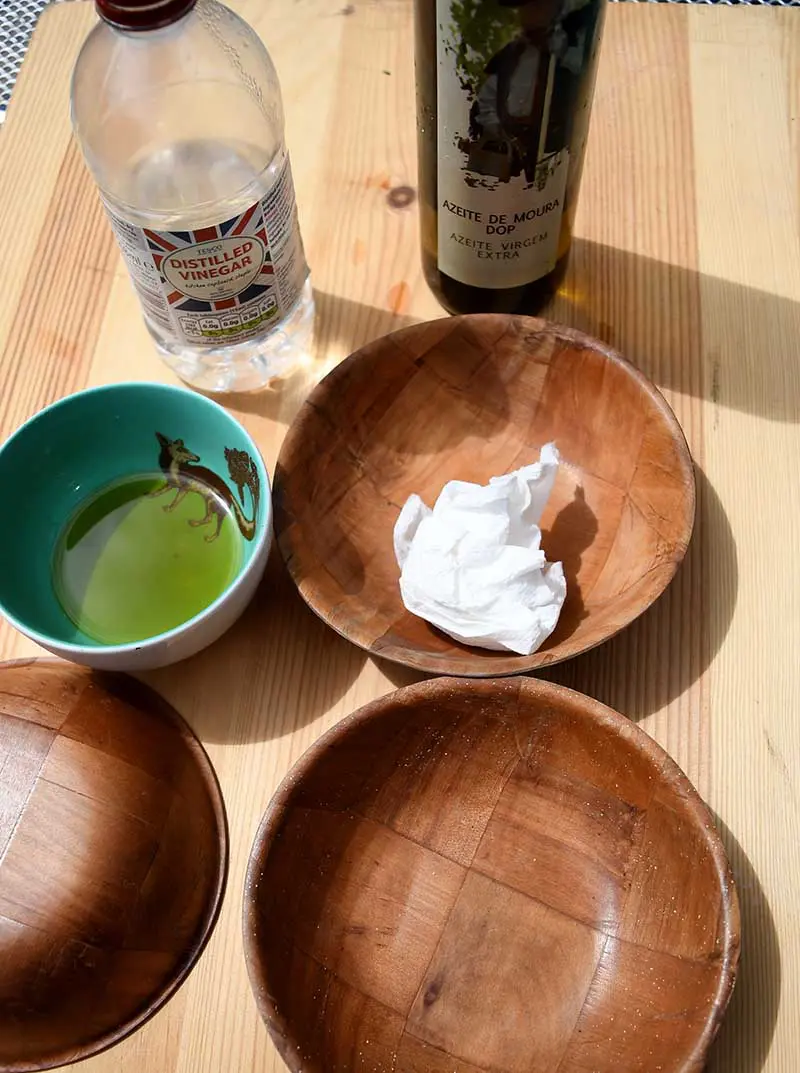 Next paint the inside of the wood bowls with white chalk paint.
Once the paint is dry, cut out a large poppy flower from the Marimekko paper napkin. As the napkins are printed on white and the inside of the bowls are white you don't need to be too precise when cutting out the flowers.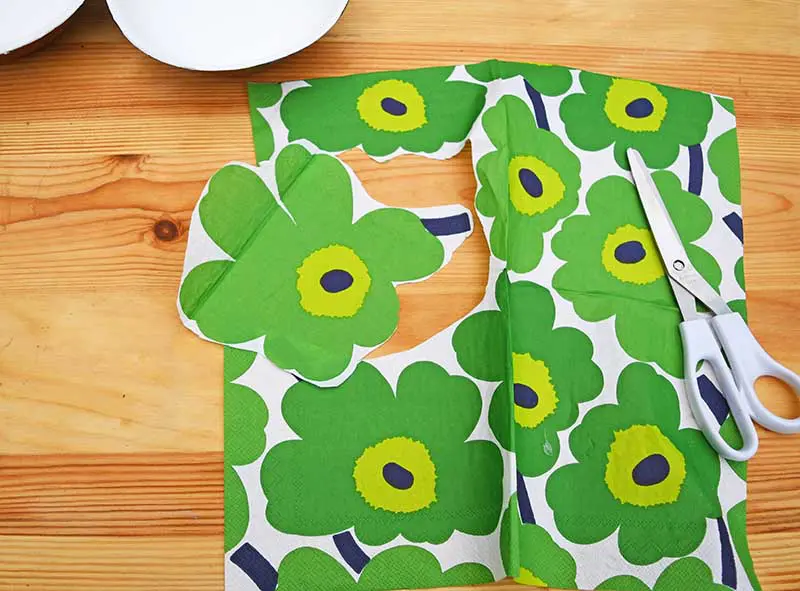 The Marimekko paper napkins are printed on 3 ply. Seperate the cut flower so that you are left with only the top printed ply. Cover the bowl with Mod podge and then place the flower ontop. Use a scrunged up piece of clingfilm/saran wrap to smooth out press down your napkin, this will stop it tearing.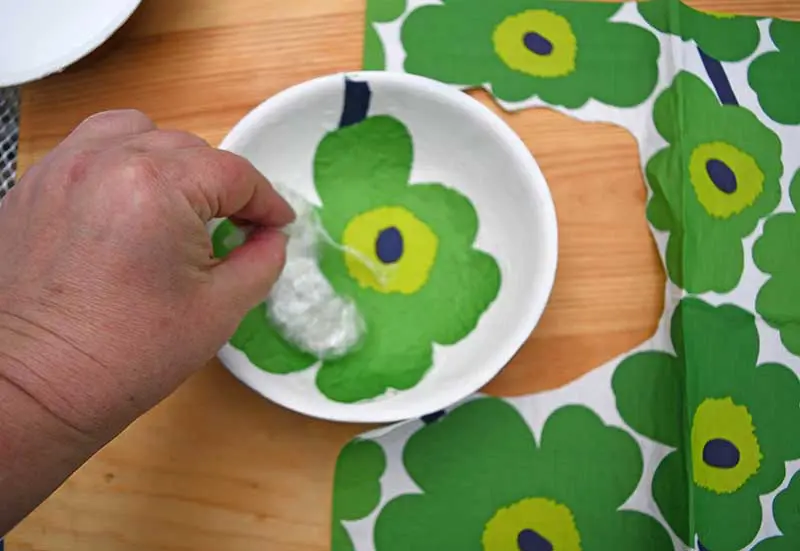 Once the decoupage on wood has dried, you will need to seal it by adding another layer of Mod Podge or varnish.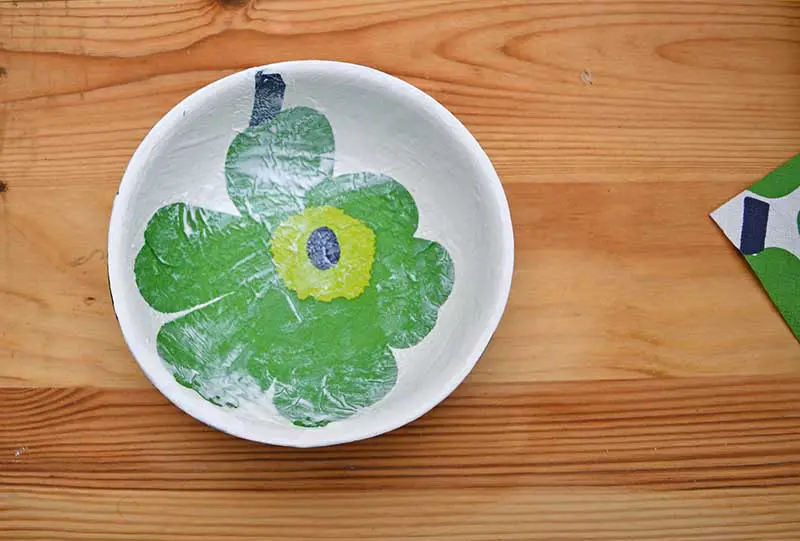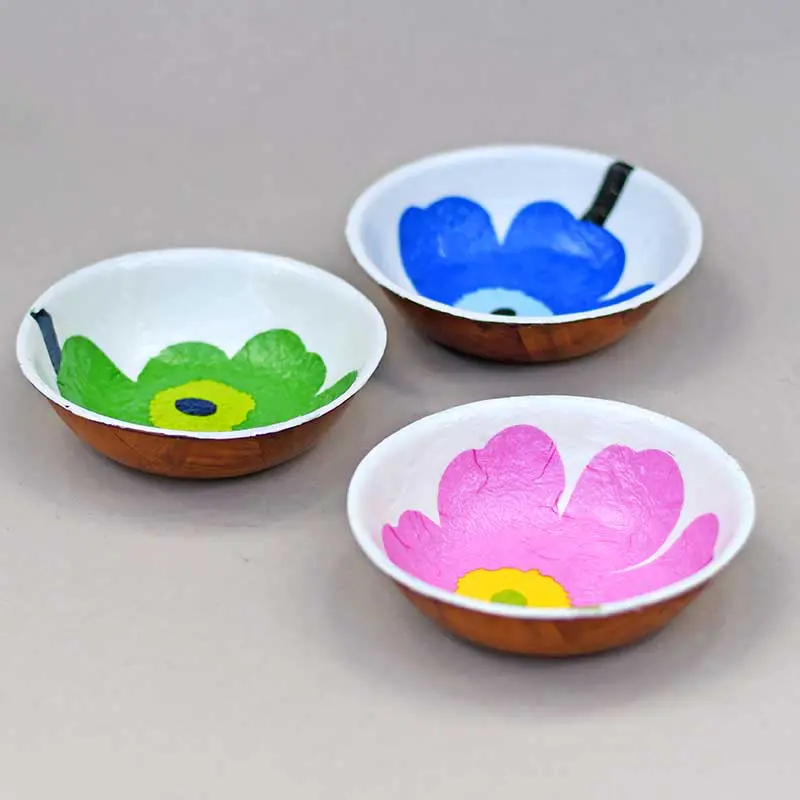 I've got a few more Marimekko paper Unikko napkins in different colourways, so I'm going to get some more of these bowls so I can have a collection. The bowls look great on a summer table.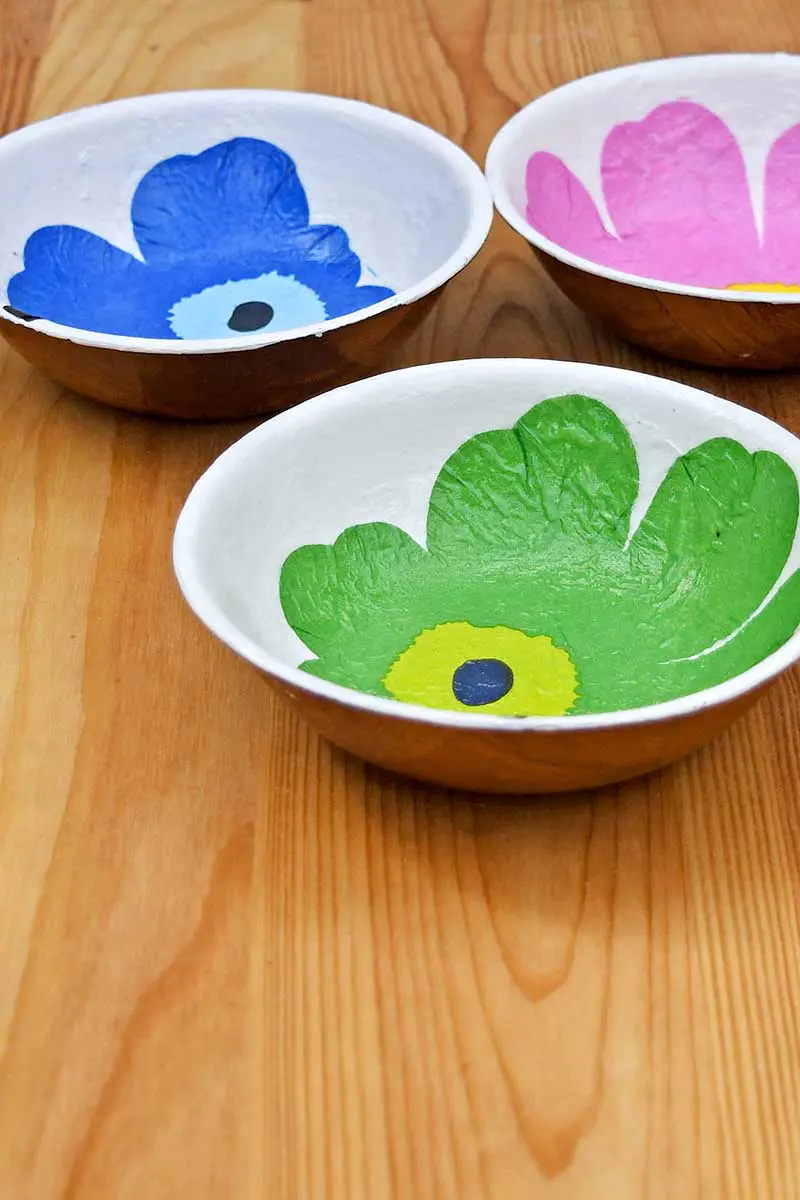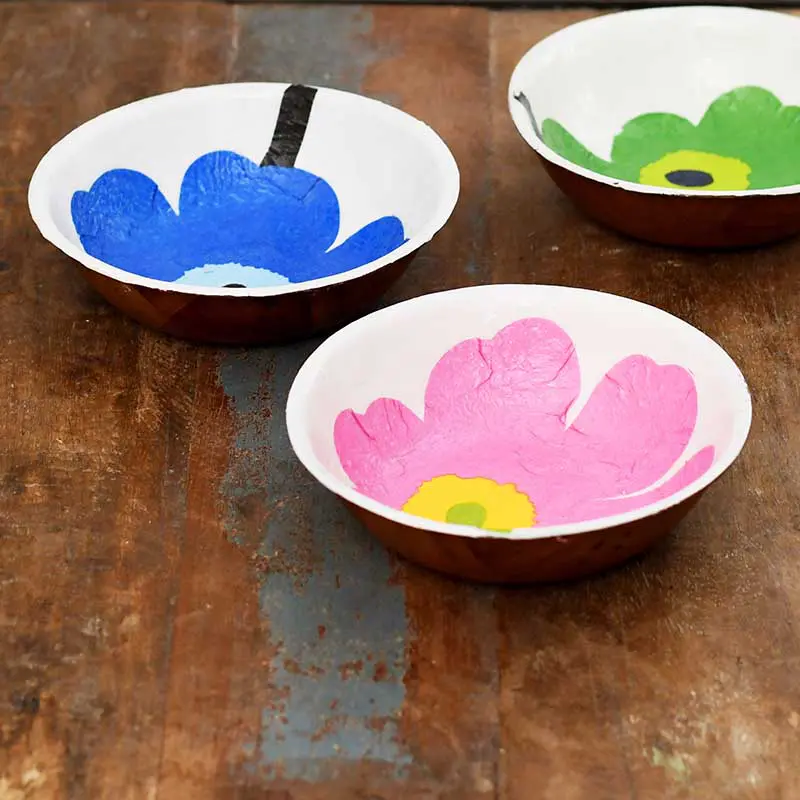 Even though the Marimekko Unikko poppy print is over fifty years old it still looks great today. They just update the colourways every year. I certainly haven't tired of it. If you are also a fan of Marimekko prints you may want to check out all of my Marimekko crafts and DIYs.
As well as paper napkins I also craft with Marimekko wallpaper samples and have used them to make some a cool Marimekko desk caddy.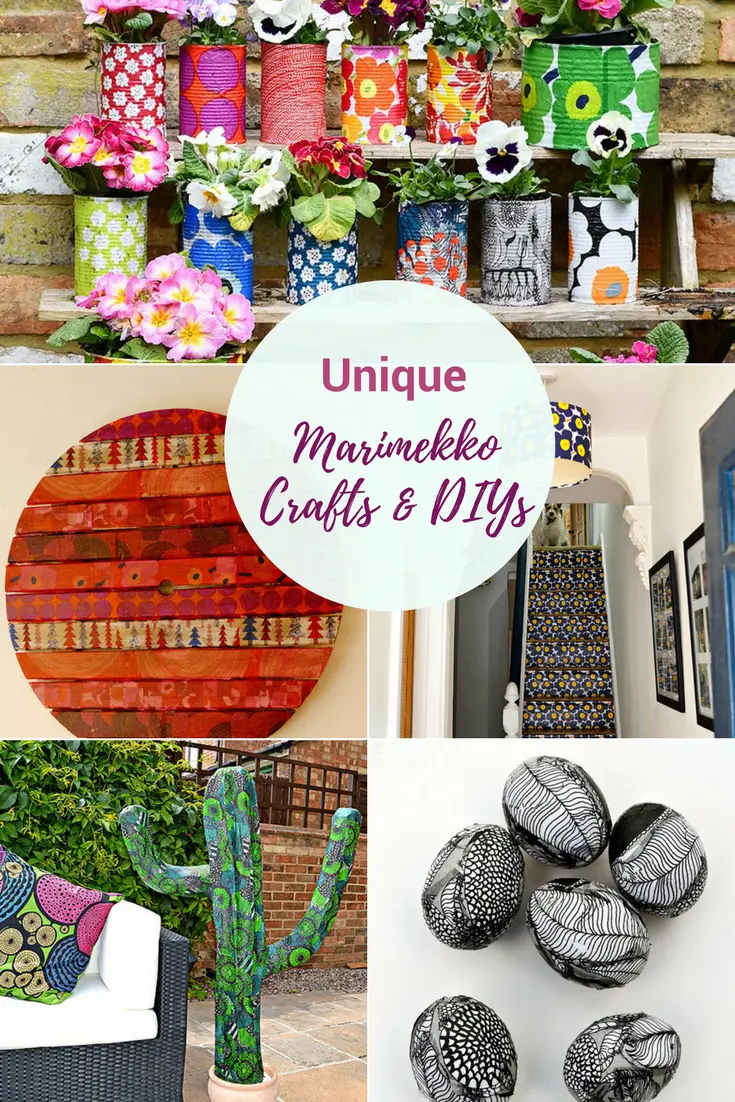 For more paper napkin decoupage ideas, visit favcrafts.com.