Cute Upcycled Norwegian Christmas Gnomes in 10 Minutes
I made these Norwegian Christmas Gnomes (Nisse) not just because my husband is part Norwegian, but also because they are so cute and easy to make. Along with red hearts, you will see these Christmas gnomes decorating Nordic homes over the festive season.


This Christmas craft ticked a lot of boxes for me, it was ridiculously quick and easy, cost almost next to nothing to make and is a super cute decoration.


In fact, these Norwegian Christmas Gnomes are so cute I decided to make a whole family of them. They will sit proudly on my mantle along with all my other Christmas decorations.


I made these Christmas gnomes small enough to sit on my mantle. But I think they would look really good scaled up in size. You could use logs instead of branches to do this.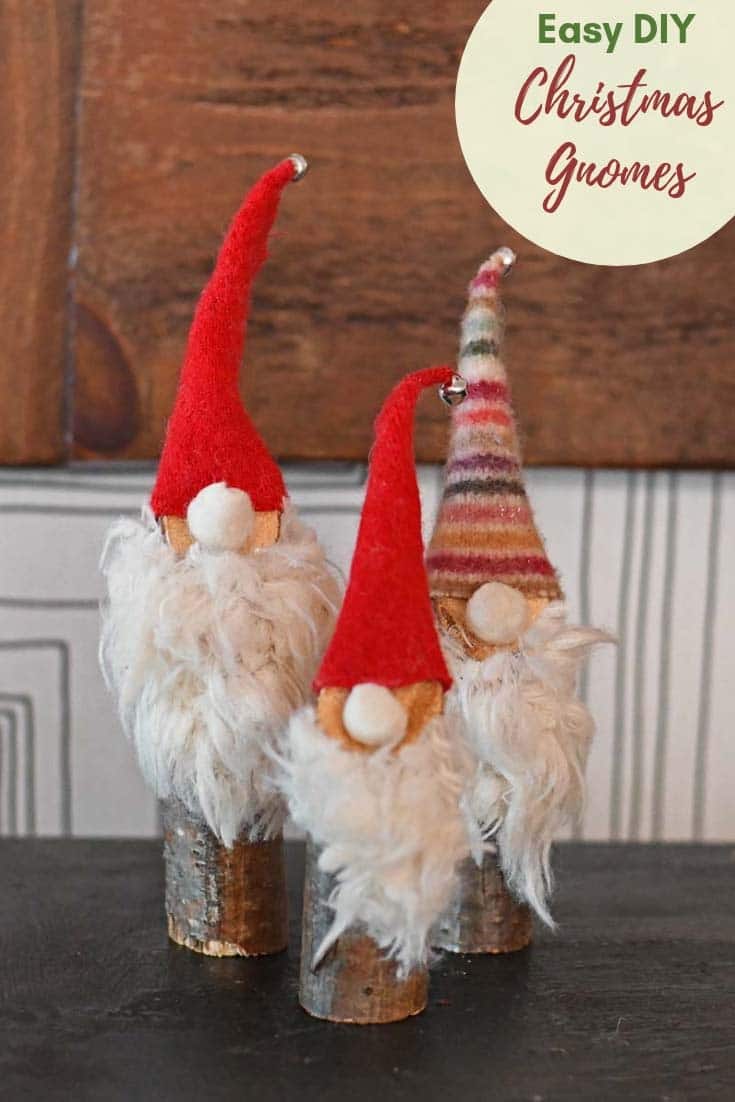 This post contains Amazon affiliate links for your convenience. Click here to see my disclosure policy.



What you need to make Norwegian Christmas Gnomes
A branch you will need one of a diameter of at least 2.5cm. The main thing is that when you cut the branch to a height between 8-10cm it will easily stand upright on its end. As I already mentioned though you can go as big as you like with this craft.

Felted sweater scraps in Christmas colours, (see here how to felt wool sweaters) . No old sweaters, no worries! Just use thick red craft felt. If you are making small Norwegian Christmas gnomes like mine you literally only need scraps of felt.

Faux sheepskin/fur. I used the corner of an old faux sheepskin waistcoat I had. You can buy scraps of faux fur fabric in craft shops or eBay.

Cream felt balls for the nose or a wooden bead would work just as well

Silver craft bell for the hat

White craft glue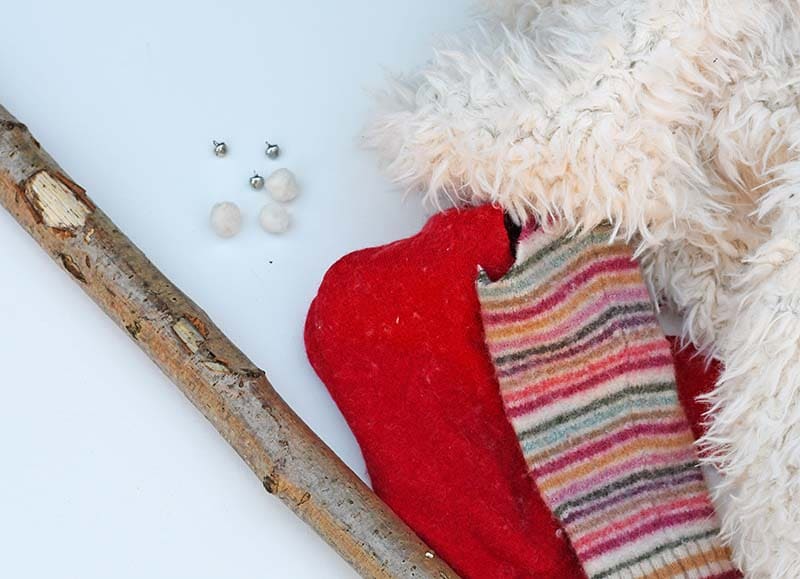 How to Make A Norwegian Christmas Gnome
The first thing you are going to need to do is to saw your branch to the height you would like your Christmas gnome ornament. The bottom of the cut branch needs to be flat so that it stands up on its own. The top will need to be sawn at roughly a 45 degree angle. As I was making 3 Christmas gnomes at a time I cut the branch into 3 bits all slightly different lengths between 8-12cm approximatley.








Next, make the felt cap. To do this simply cut the sweater felt into a tall triangle the base of which is the same circumference as the cut branch. Fold the felt piece longways and stitch the sides together to form a cap. Stitch a silver bell to the pointed top of the felt cap.










Next put the cap on to the top of the branch. Then stick the felt (or wood bead) nose onto the flat face using craft glue.










Finally, add the beard to the Christmas gnome by cutting a triangle of faux fur and glueing it to the branch.






That's it, this craft is so easy it's a great one to get the kids to make. If they can't sew they can always glue the felt cap.


I love to have 3 of these Norwegian Christmas Gnomes displayed together, like one happy Nordic family!








If you liked these gnomes you should check out my Christmas elf. Or all my other upcycled and repurposed Christmas crafts.








For more Christmas gnome ideas visit allfreechristmascrafts.com