For this post, you actually get three crafts in one. Firstly, there is the upcycled leather Boho DIY vase. Secondly, I made a Boho tassel to decorate the vase with. Thirdly, the vase is filled with lovely handmade giant crepe paper flowers.
A few months ago I came across a beat-up leather sofa waiting to be dumped (it was beyond repair). I took the opportunity to salvage as much of the leather as I could for my upcycling stash. Some of the leather was used to make recycled hanging planters. And again with this craft. There is still plenty more leather left and lots more leather craft ideas too.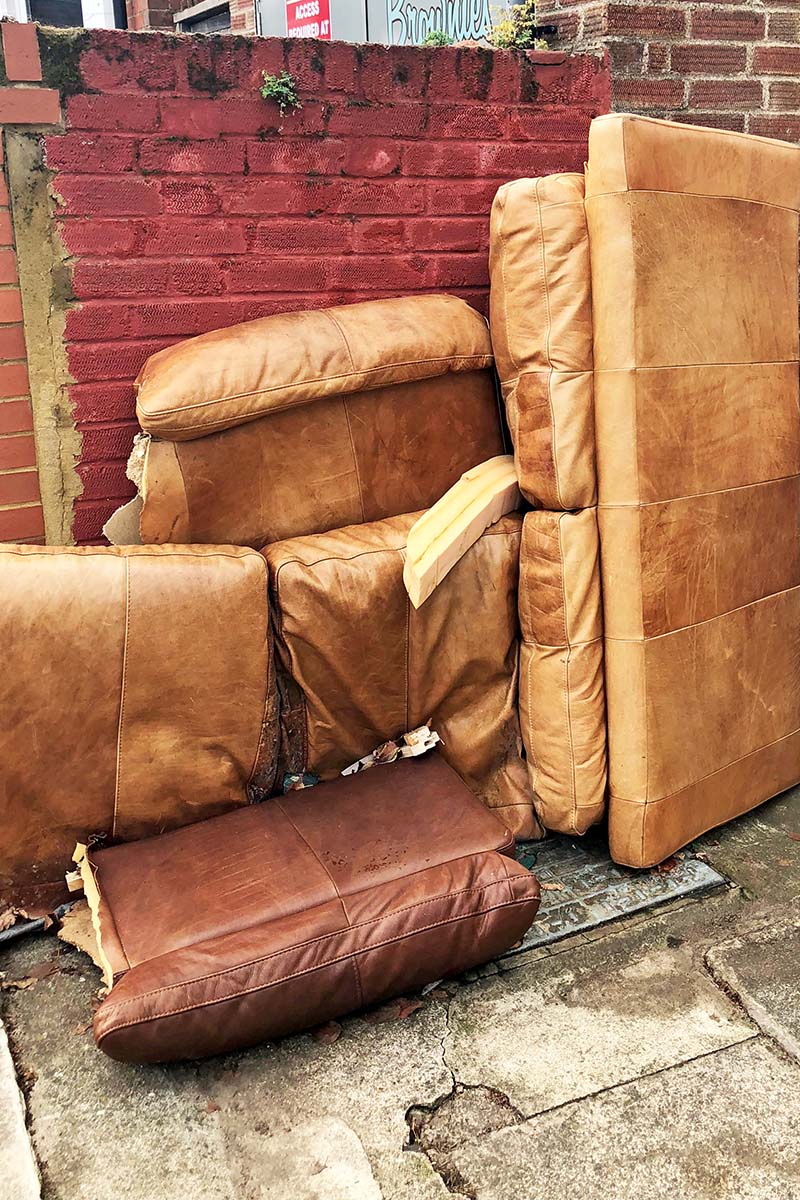 Boho Giant Paper Flowers And An Upcycled Leather Vase
Making crepe paper flowers is one of my favourite crafts. Last year I made a large paper flower wall decoration in the shape of a pineapple for my dining room.
With these giant paper flowers, I made I wanted to display them in a vase. These flowers weren't based on one particular type of flower. I went a bit freestyle and made my own up.
However, if you think they look like a particular flower that already exists then please let me know.
I think my made-up giant paper flowers do have a tropical Boho look. So I needed to make a Boho style DIY vase to display them.
Both the leather DIY vase and the Boho tassel were very quick to make. The crepe paper flowers did take a bit of time but were very relaxing to make. This DIY vase is suitable for real flowers if you aren't into making your own.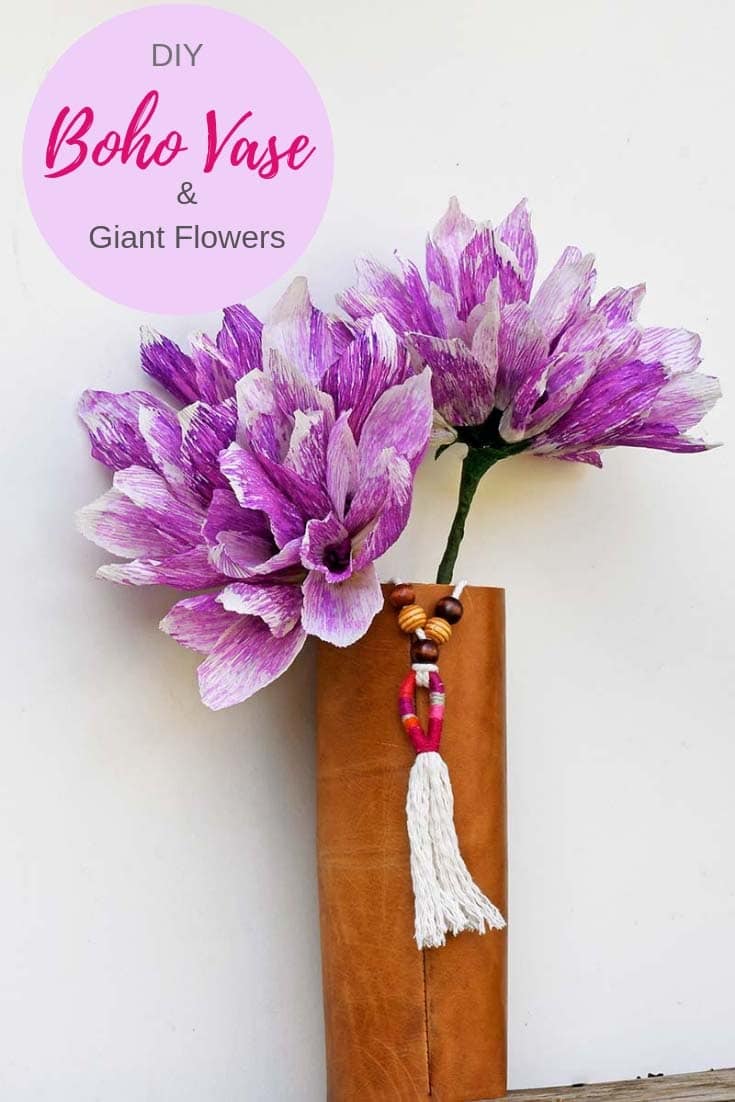 We're a participant in the Amazon Services LLC Associates Program, an affiliate advertising program designed to provide a means for us to earn fees by linking to Amazon.com and affiliated sites. As an Amazon Associate, I earn from qualifying purchases.
The Giant Paper Flowers
What You Need To Make Boho Giant Paper Flowers
How To Make The Boho Giant Paper Flowers
Each of these giant paper flowers are actually made up of approximately 10-12 smaller flowers.
1. To start off download and print out the petal template (click here), or draw your own petals. Using the templates cut out of the cream crepe paper at least 30 petals. You will need approximately 12 small, 12 medium and 12 large petals.
Make sure that when you cut the crepe paper the stretch of the paper runs the length of the petal. This will enable you to curl and twist each petal.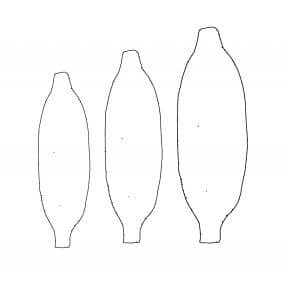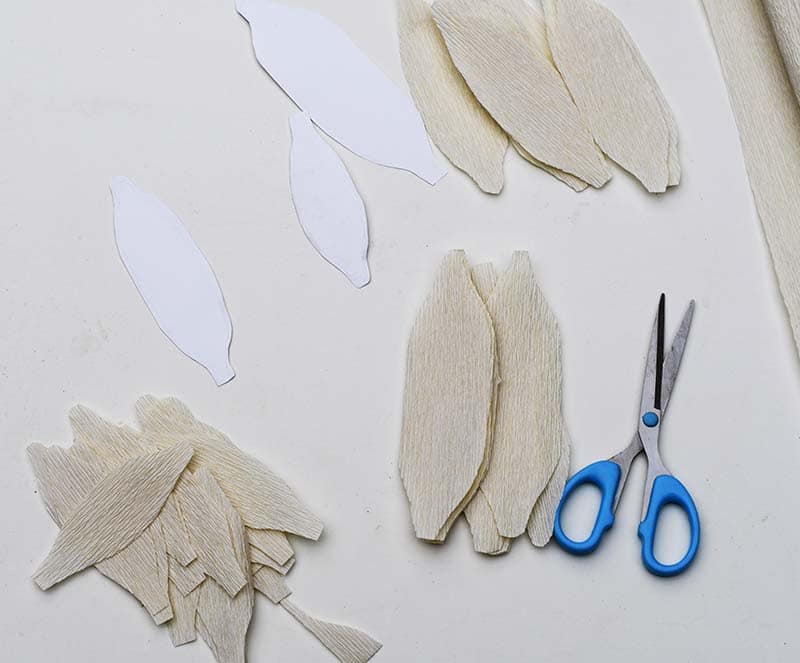 2. Next, use inks to colour each petal to get a variegated look. Then leave them on one side to dry.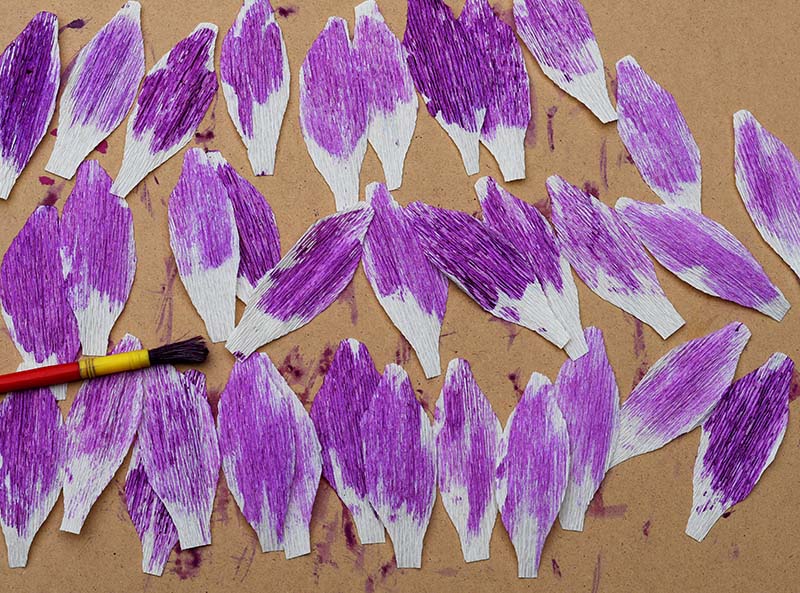 3. For each component flower that makes up the giant paper flower in the Boho vase, you will need 3 petals the same size, a thin wire stem, and a purple crepe paper stamen.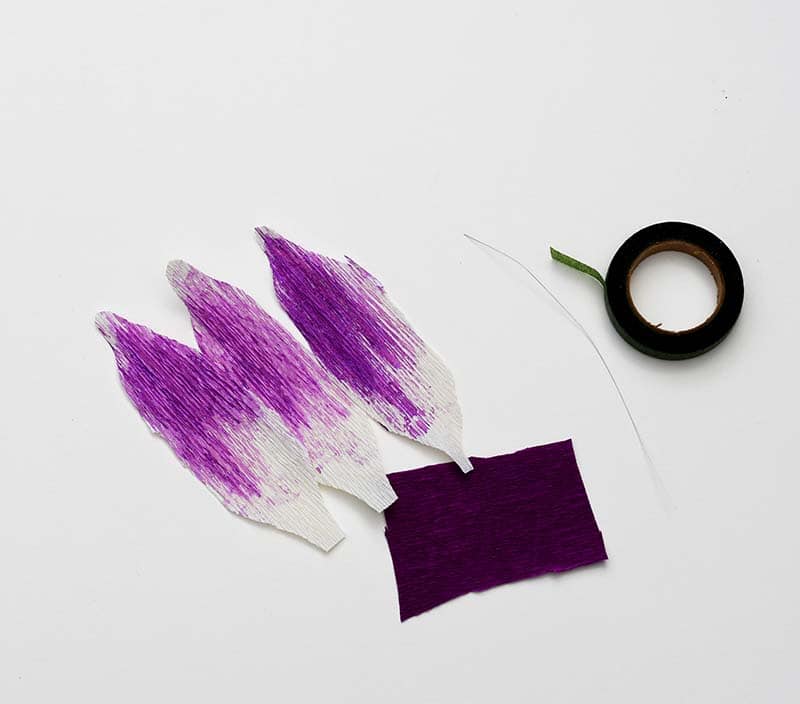 4. To make the stamen, cover one of the small floral wire stems with floral tape. Then cut a piece of purple crepe paper approximately 7 cm by 5cm.
Fold the purple crepe paper in half. Make sure the stretch in the paper goes across the length. Then, cut a fringe across the folded edge. Wrap this purple fringe around the small stem and stick it in place using a hot glue gun.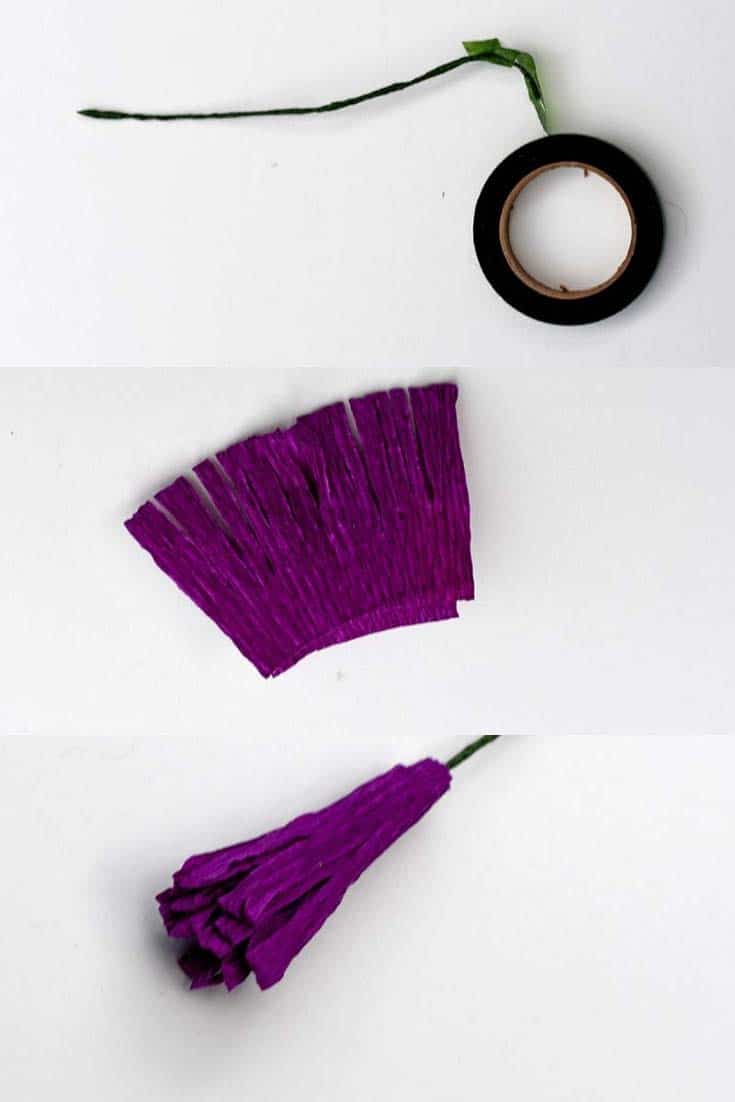 5. Take one of the petals, stretch and shape it into a slight curl and then glue it to the base of the stamen. Then, repeat with the other 2 petals.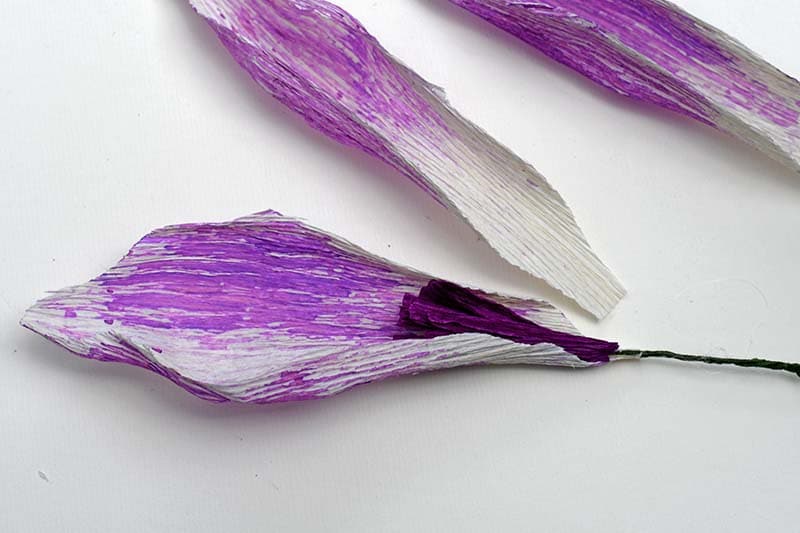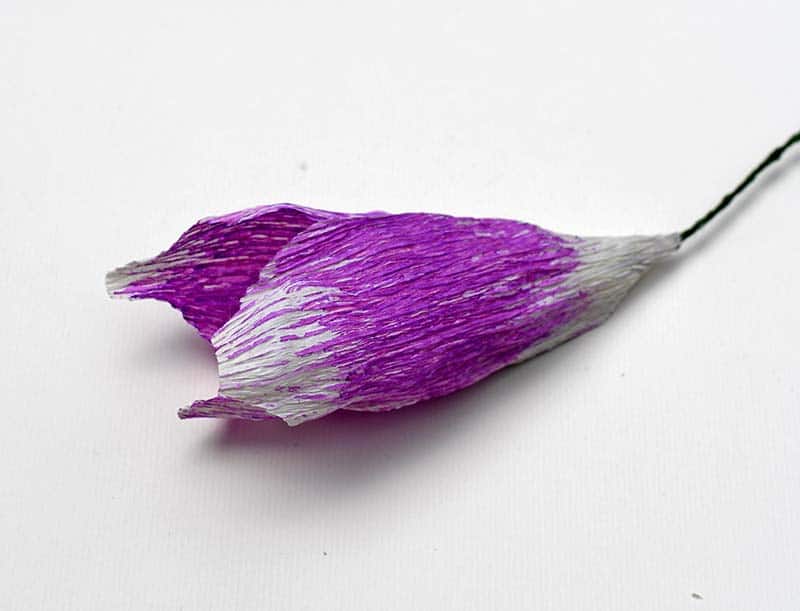 6. Finish off this small flower by wrapping floral tape around the base of the petals where they join the stem. Repeat the whole process until you have at least of these 10 small flowers.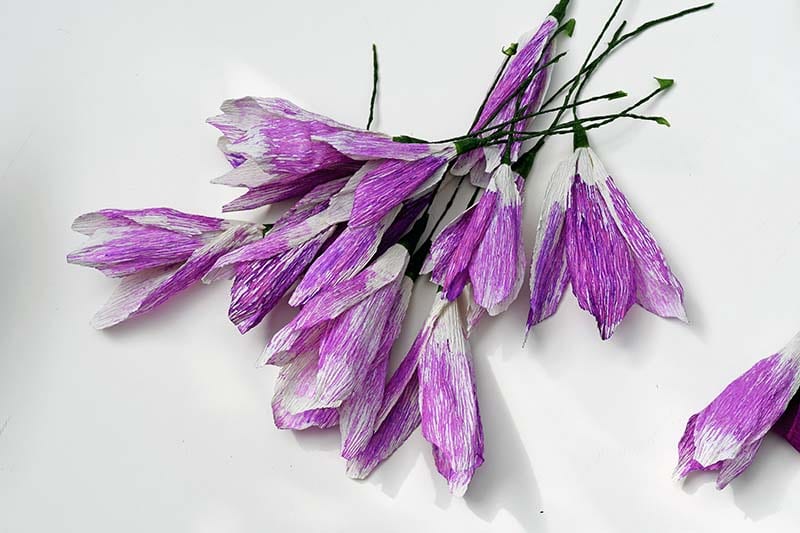 7. Finally, all that is left to do is to collect these 10 small flowers together and twist the stems around the large floral stem. Then wrap the base of the flowers and the stem with more floral tape. Now all that is left to do is to make the leather Boho DIY vase.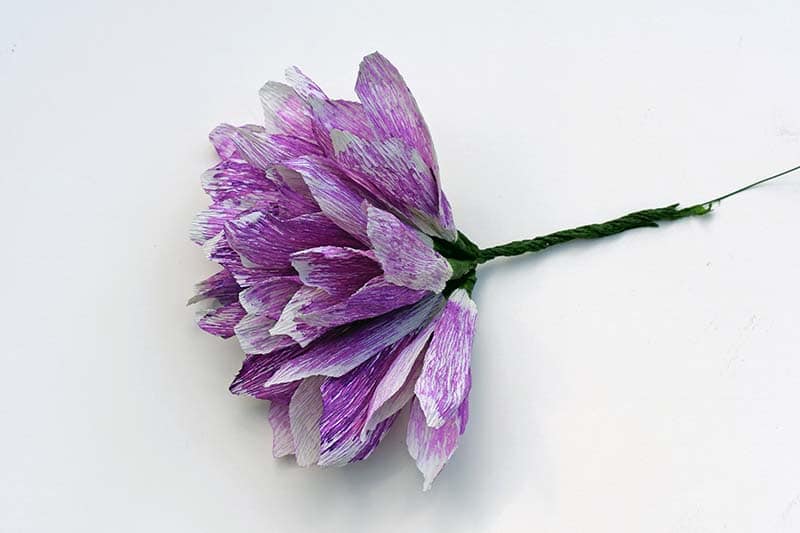 The Leather Boho DIY Vase
What you need for the leather vase
An old piece of leather or faux leather from a sofa, bag or jacket.
Empty 2-litre soda bottle
Twine
Ruler and pen
Scissors or x-acto (Stanley) knife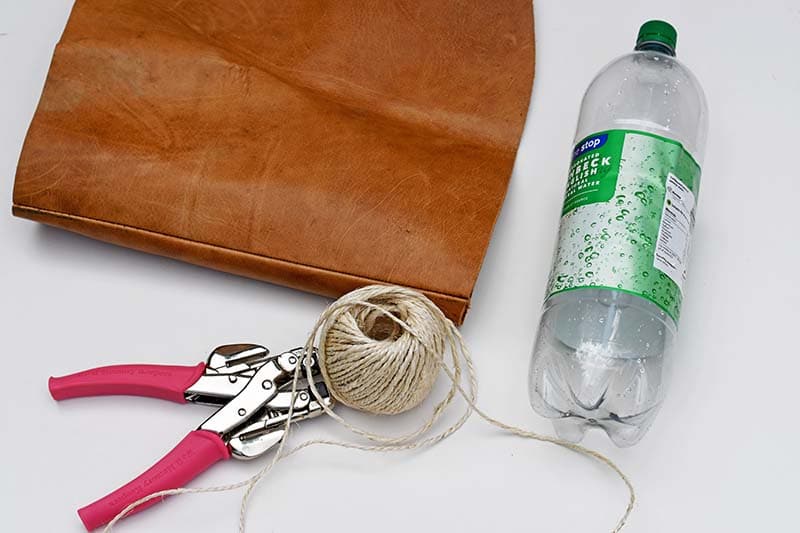 How To Make A Boho DIY Vase
Cut the top off the soda bottle. Then measure the height and circumference of the bottle. Add 1 cm to the height measurement and 2 cm to the circumference. Use these measurements as a guide to cutting the piece of leather. The leather I used was very easy to cut with scissors, but you may want to use a knife.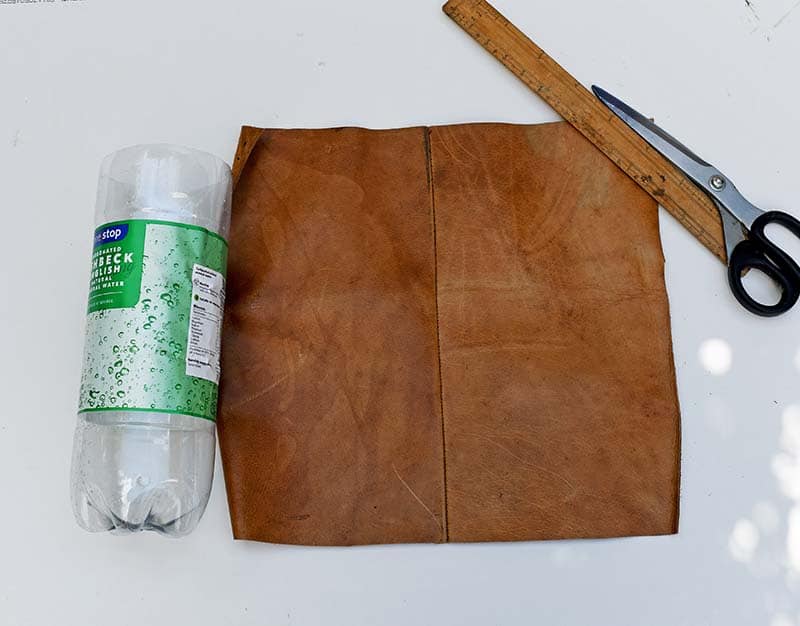 2. Next, on the wrong side of the leather with a pen, mark points 1 cm apart down each side.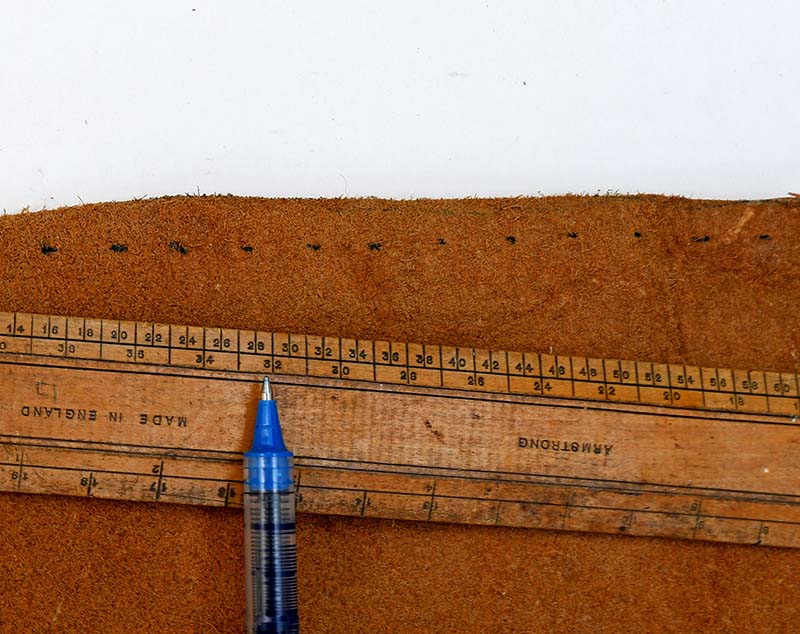 3. Then using these marks as a guide punch holes down each side of the leather.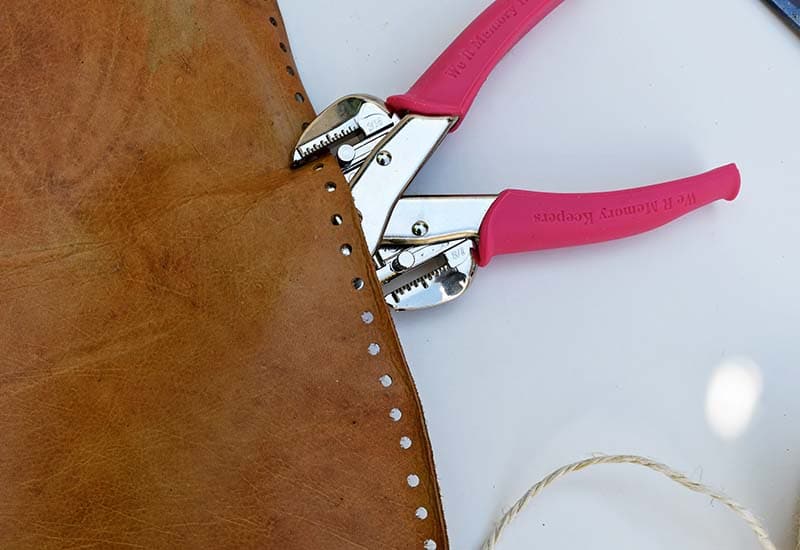 4. Next, sew the leather vase together. Do this by folding the leather in half so that the two lines of punched holes meet. Then use the twine to stitch them together. Finish off by placing the cut soda bottle into the leather vase sleeve you have just stitched.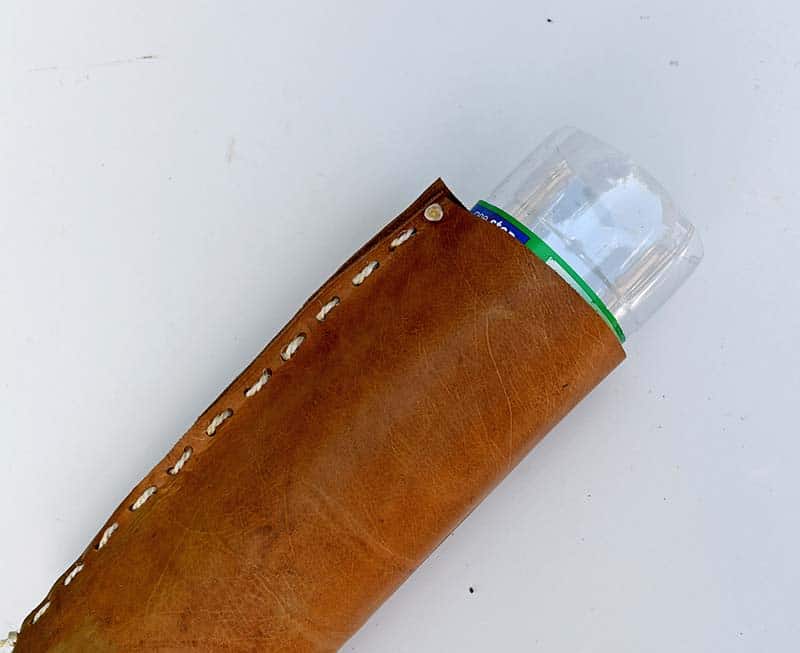 How To Make The Boho Tassel For The DIY Vase
All you need to make this tassel is some cotton string and coloured embroidery thread.
1. First cut four equal lengths of string. They should be about 35 cm in length. Then bound the string in the centre with different coloured threads. This should be about 5 cm in total.
2. Next, fold the string in half creating a loop in the middle where the coloured thread is. Secure this loop with more coloured thread.
3. Finish off the Boho tassel by unravelling the unbound string ends.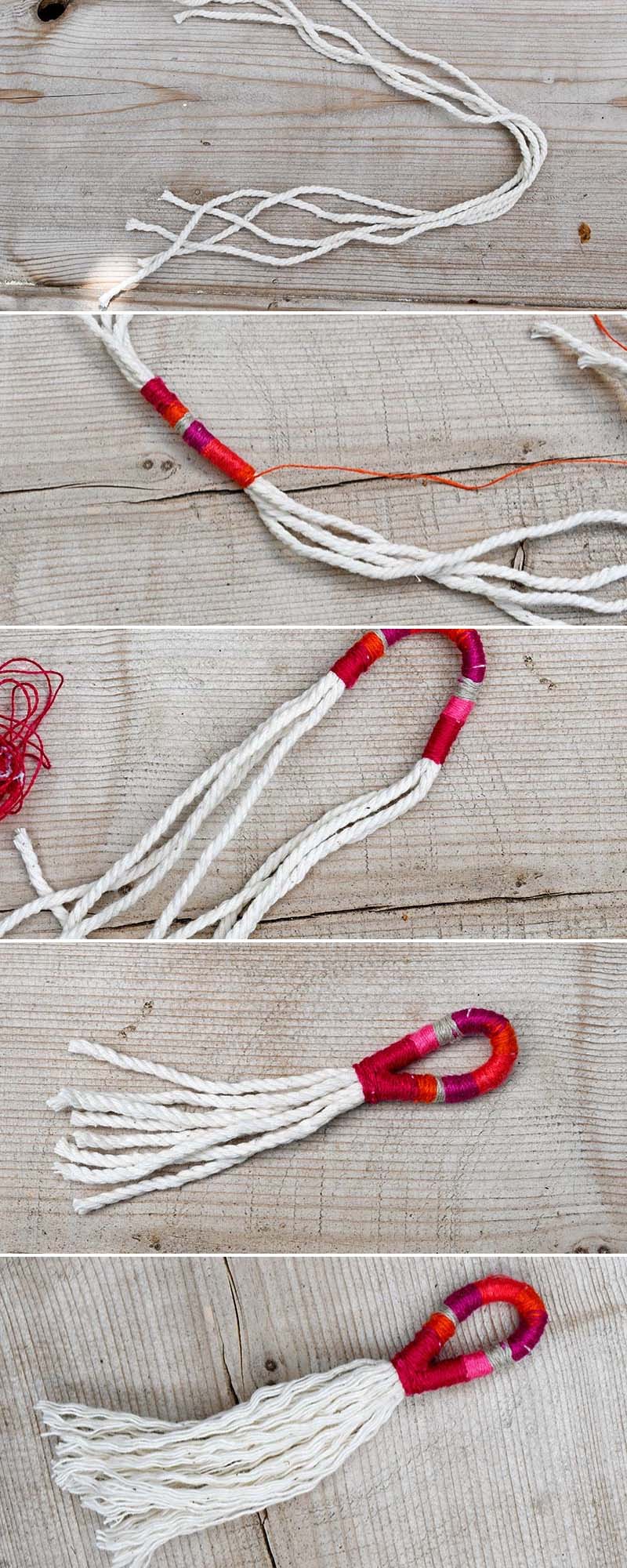 To attach the tassel to the leather vase, I used more string. I also threaded in a couple of wooden beads just to add to that whole Boho vibe.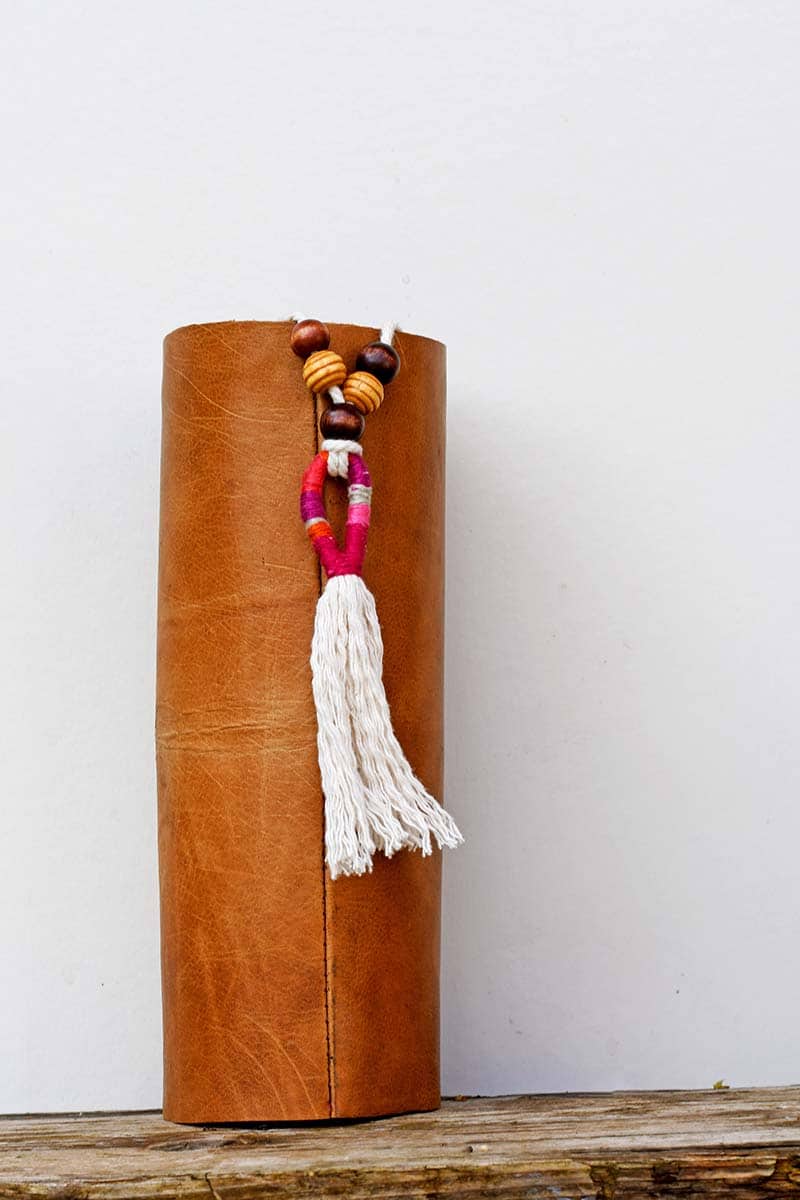 Finally, just insert flowers!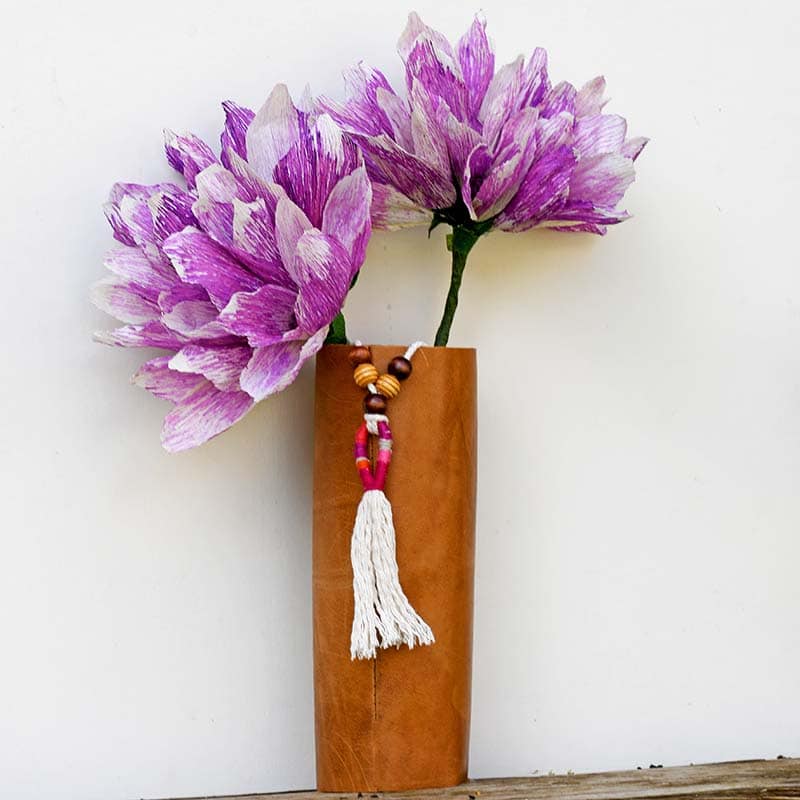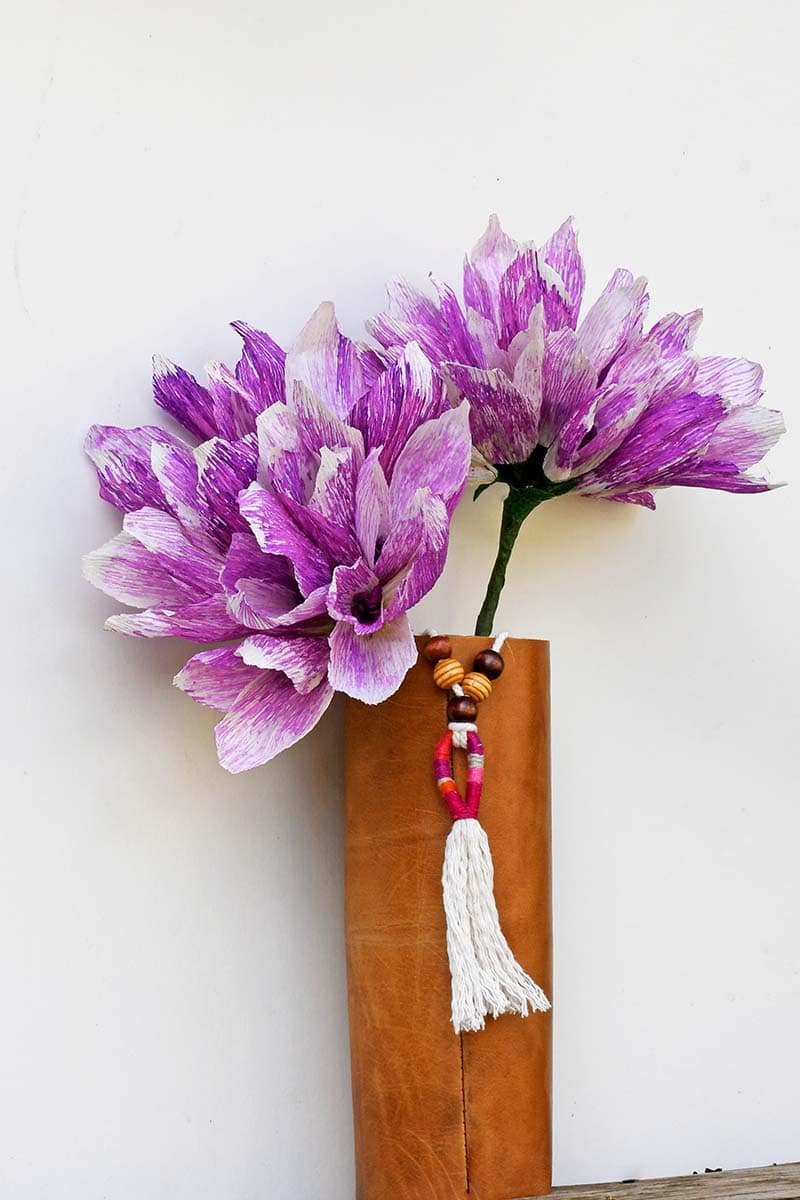 For more Boho upcycles check out the unique wood ornaments I made out of curtain fixings.
If you liked this post then you should check out some of my other floral and DIY vase crafts such as my beautiful upcycled wallpaper vase sleeves and upcycled mini bud vases.
This leather upcycle is featured in the A to Z of clever upcycling ideas.
For more paper flower ideas visit allfreepapercrafts.com