Instead of making cookies with my Christmas cookie cutters, I used them to make some cute upcycled Christmas ornaments.
Sweaters are one of my favourite fabrics to upcycle and I keep a stash of them for crafting with. I especially love repurposed sweater Christmas crafts.
Crafting with felted wool sweaters is lovely, as the fabric doesn't fray. And it turns out that Christmas cookie cutters are the perfect templates for classic Christmas shapes. This is a fun and easy craft that costs next to nothing as you are using mainly repurposed materials.
Sweater Upcycled Christmas Ornaments using Cookie Cutters
This was a very relaxing craft that I did in an evening whilst watching a Hallmark Christmas movie just to get me in the mood. It turns out I have quite a few Christmas cookie cutters so end up with a pile of upcycled sweater Christmas ornaments.
These included a reindeer (which I actually think might be a moose), gingerbread man, star, snowman, Christmas trees, stocking, and heart.
I have a Norwegian mother in law and in Scandinavia hearts aren't just for Valentine's day but they are also a big deal when it comes to Christmas decorations.
As I ended up making a whole pile of upcycled sweater ornaments, I had enough to hang them up in a garland. Which I actually preferred than to sticking them on the Christmas tree where they can get lost. I think the ornaments look great together as a collection.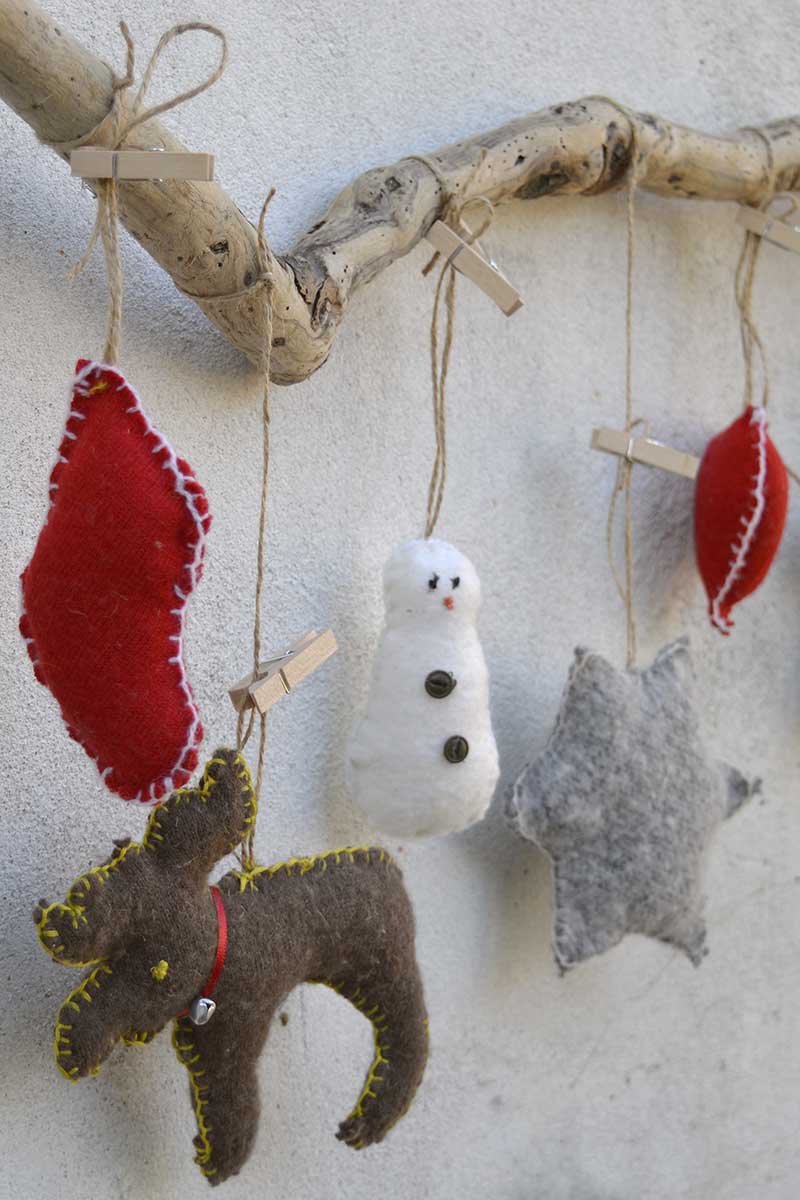 We're a participant in the Amazon Services LLC Associates Program, an affiliate advertising program designed to provide a means for us to earn fees by linking to Amazon.com and affiliated sites. As an Amazon Associate, I earn from qualifying purchases.
What You Need
Old Wool Sweaters
If using old sweaters for the first time, felt them in the washing machine. That is put the sweaters on a hot wash with some washing powder in the machine (like with my mountain pillows).
The agitation and hot water will make the fibers tighter in the wool sweater and they will shrink. Tumble drying the sweaters will also help with the shrinking process. This felting of the wool sweaters will make sure that the fabric can be cut and won't fray, which makes it great for crafting.
Even if your sweaters don't have enough pure wool in them to felt, you may still be able to use them. Just cut them and if they don't unravel or fray then you can use them.
Top tip: If you don't happen to have any old sweaters you can of course just use craft felt for this project.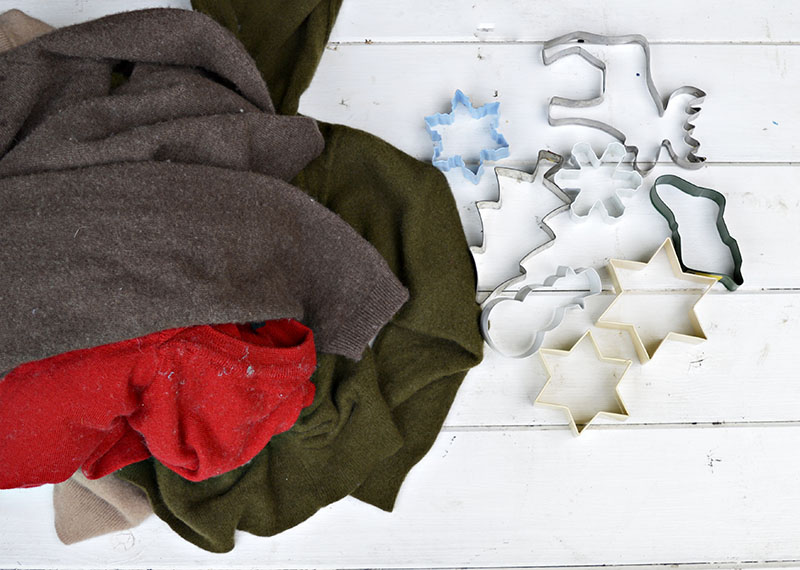 How To Make Sweater Upcycled Christmas Ornaments
1.. Firstly, felt your wool sweaters. Felting wool is really easy. You have probably done this in the past. Where you have accidentally shrunk your sweater in the wash so that it is only fit for a toddler to wear!
2. Decide what colour felted wool you are going to use for your ornament. For example, I used green coloured sweaters for my tree-shaped ornaments. White for the snowman, red for the heart and camel for the gingerbread man. But it doesn't really matter what colour sweaters you upcycle, a patterned sweater may look great for the stockings or tree. Just use what you have.
3. Then, place the cookie cutter (or template) down on the sweater and draw around it with a chalk pen.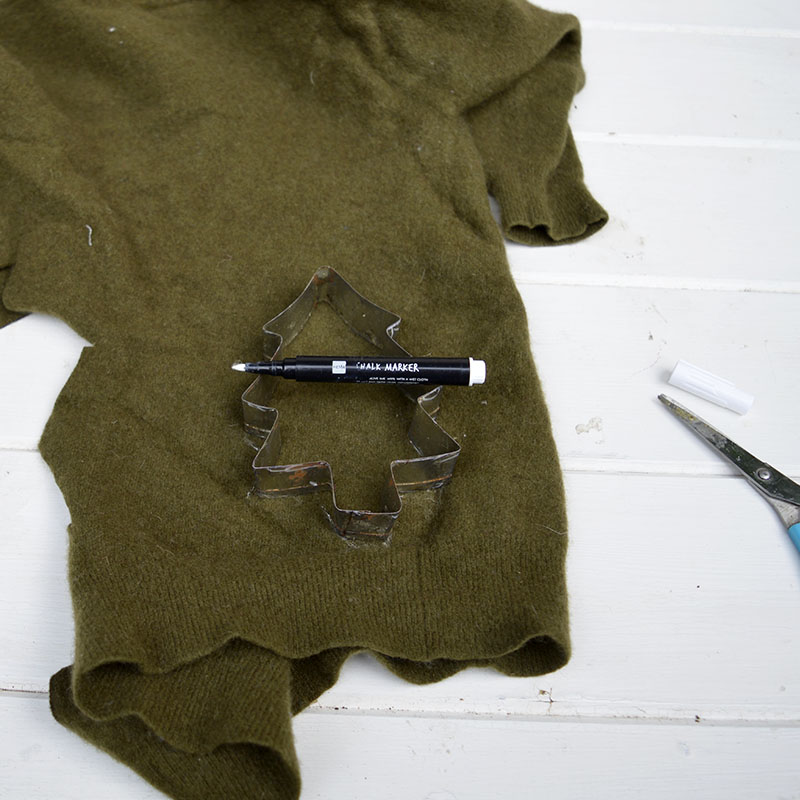 4. Then, cut out the shape. For each sweater cookie cutter ornament that you make, you will need 2 identical pieces of felt.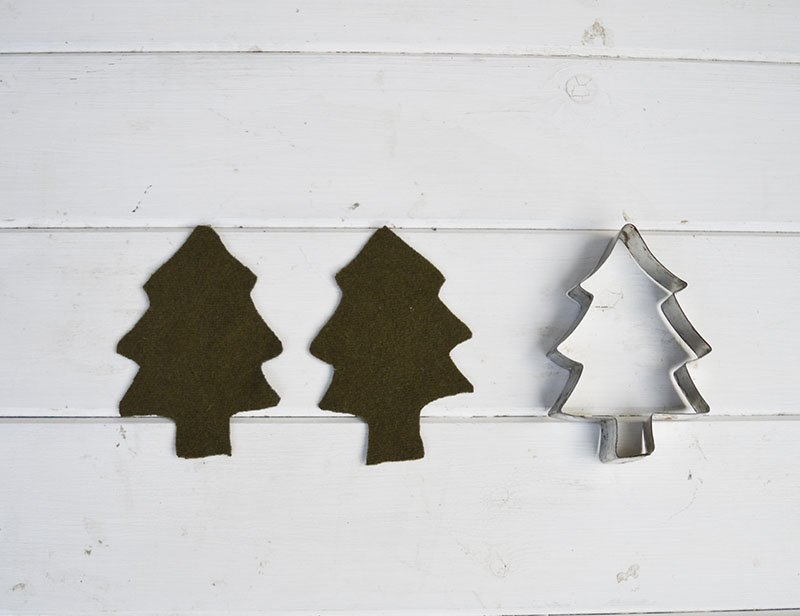 5. Pin the two shapes together and then, using an embroidery thread in a contrasting colour, stitch your two of them together.
The stitch to use for this is a blanket stitch, which is a very simple hand stitch. Don't forget to leave a gap for stuffing.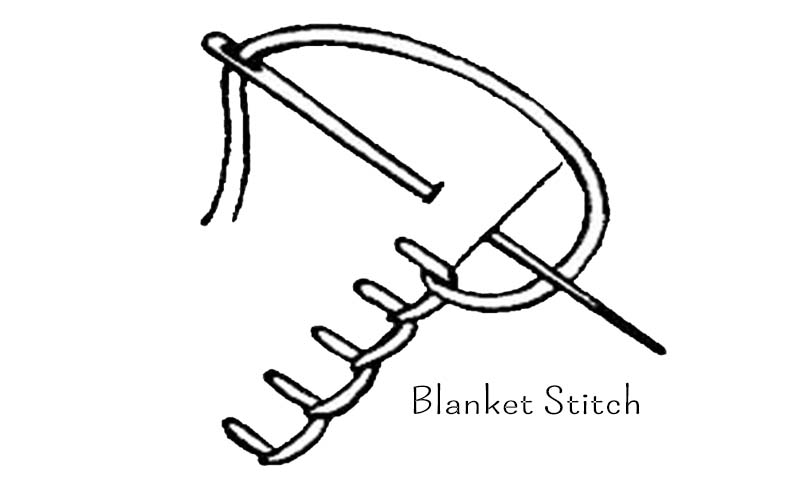 6. Then stuff your felt ornament with fiberfill and then stitch to close. At the same time stitch in a twine hanging loop into your ornament.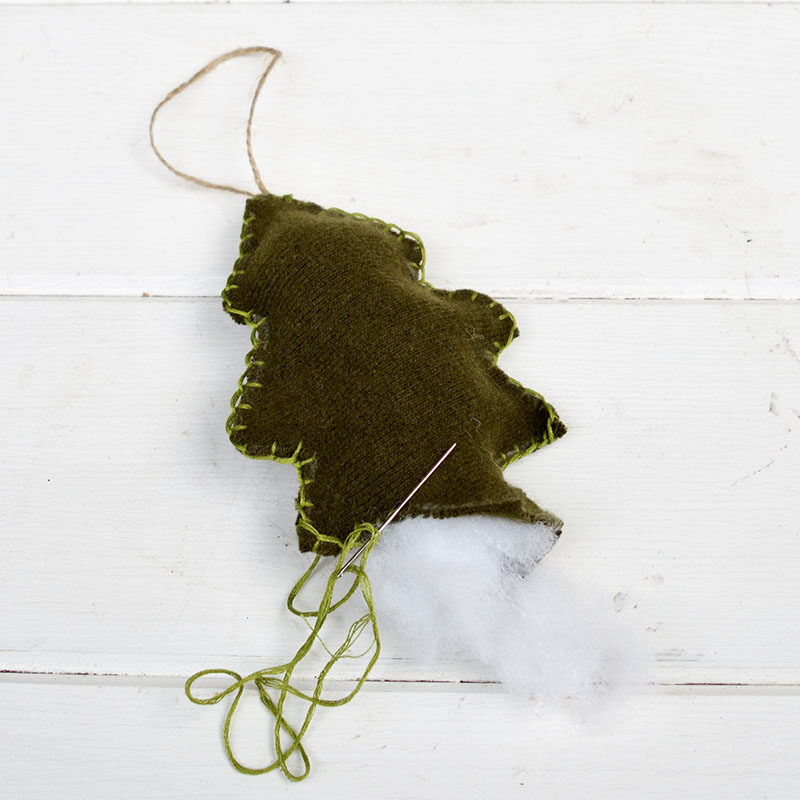 7. Finally, either leave the sweater felt ornament as it is or add some embellishments. I used buttons on the gingerbread man and snowman. Bells were added to the Christmas tree and eyes were embroidered on the moose and snowman.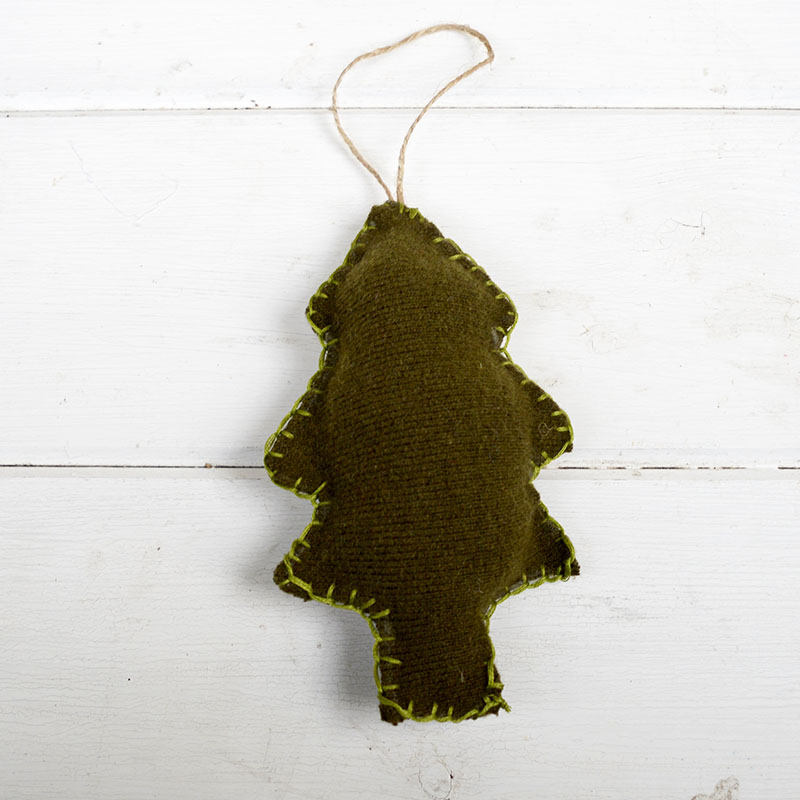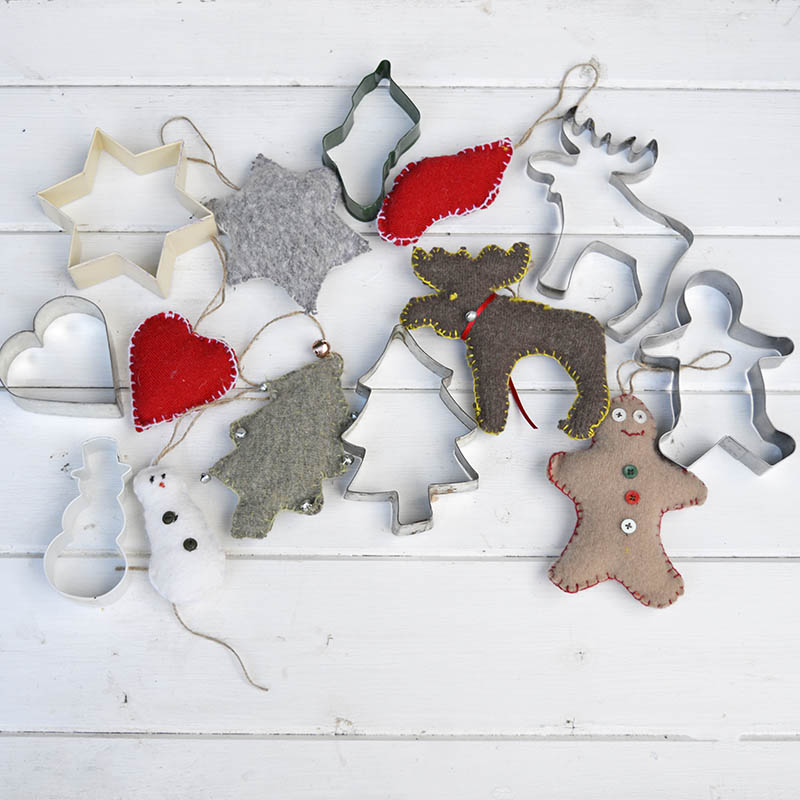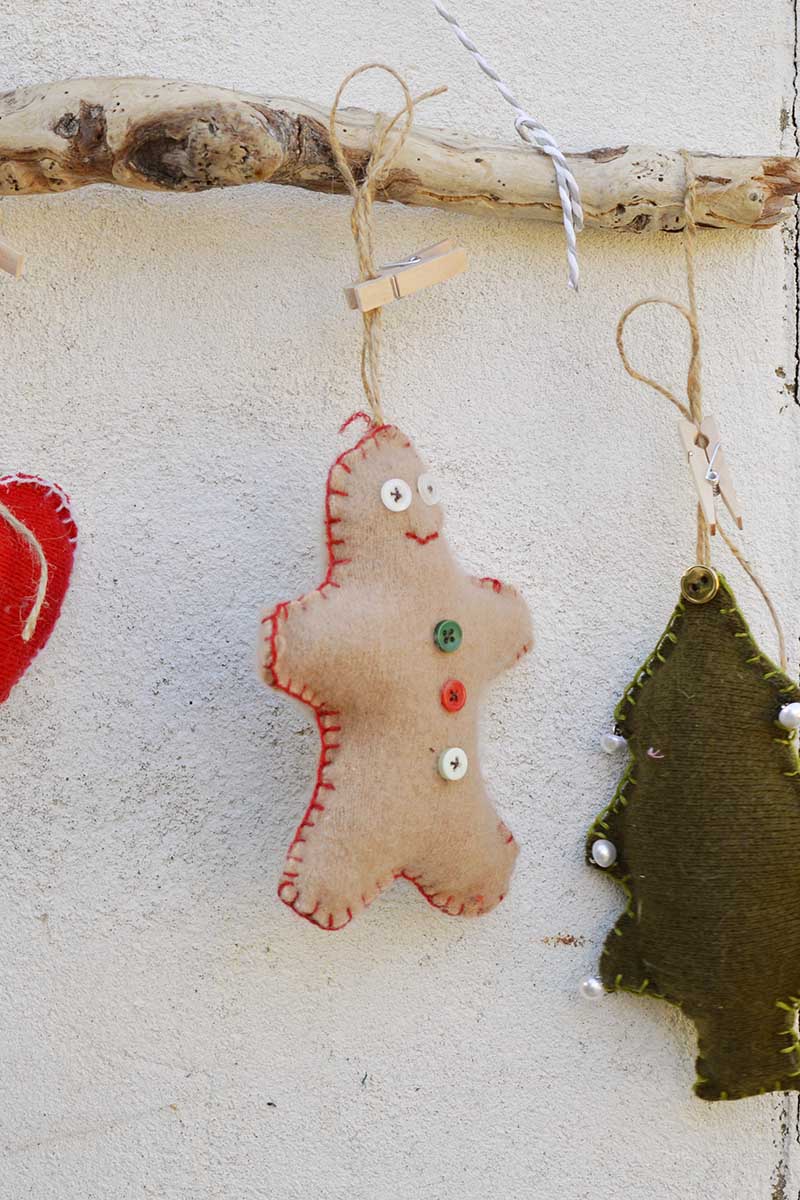 Hanging Up The Upcycled Christmas Ornaments
These cute ornaments can be hung on the tree using the twine loops you stitched in.
However, I felt my ornaments would get lost on the tree and I wanted to show them off together so I hung them from a branch using some tiny craft pegs.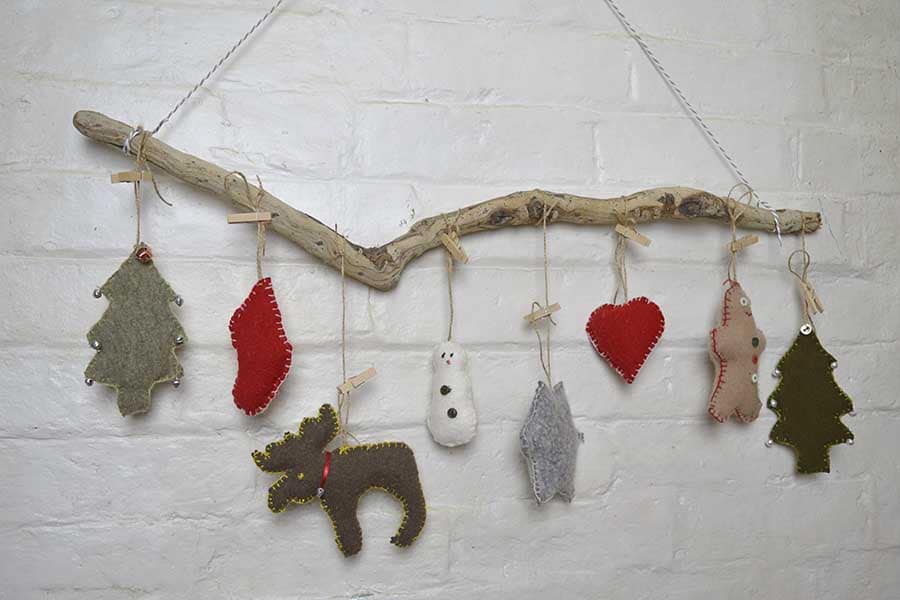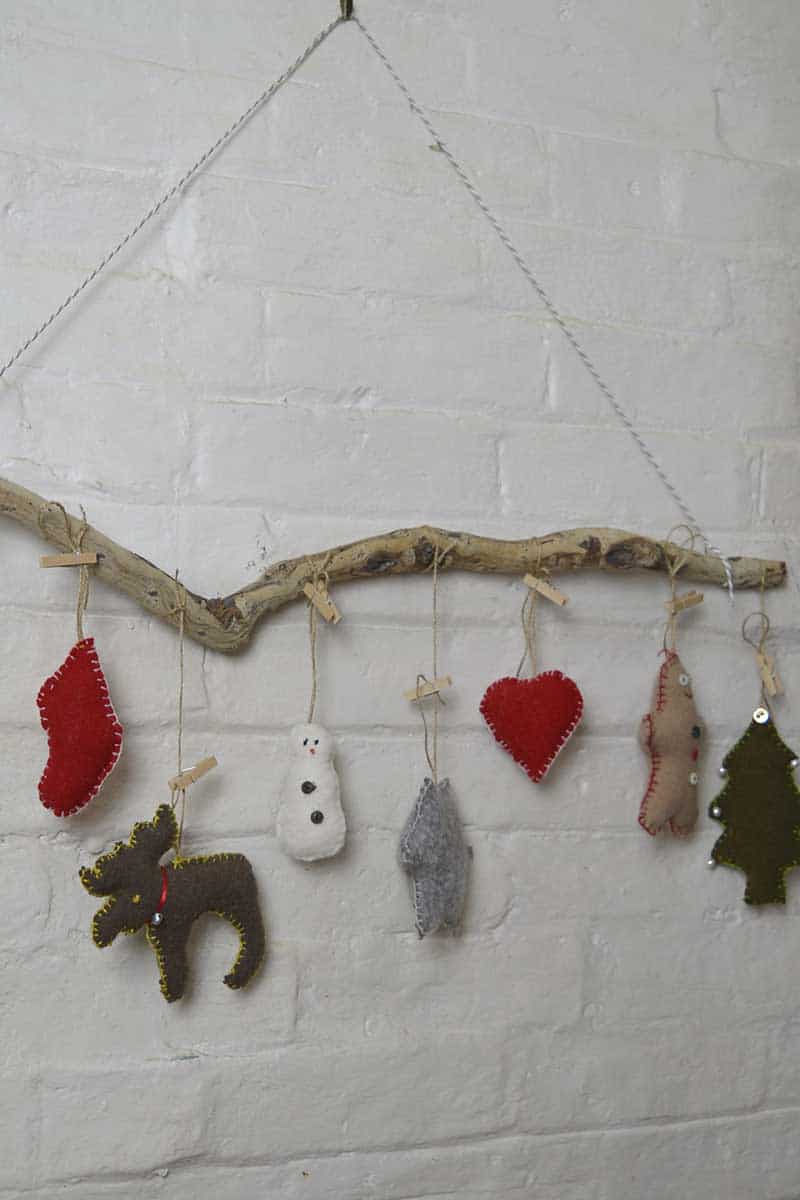 I really enjoyed making these upcycled Christmas ornaments. This is a simple craft to do while watching a box set in the evening. (I'm one of those people who finds it hard not to do something with their hands when watching TV).
If you have any sweater scraps left over, then I suggest making some sweater balls or some funky felt garlands. Also, any leftover green sweaters can be used to make tabletop felt Christmas trees or white felt for embroidered Scandi Christmas trees and Scandi felt baubles.
There are many more wonderful upcycled Christmas ornament ideas here.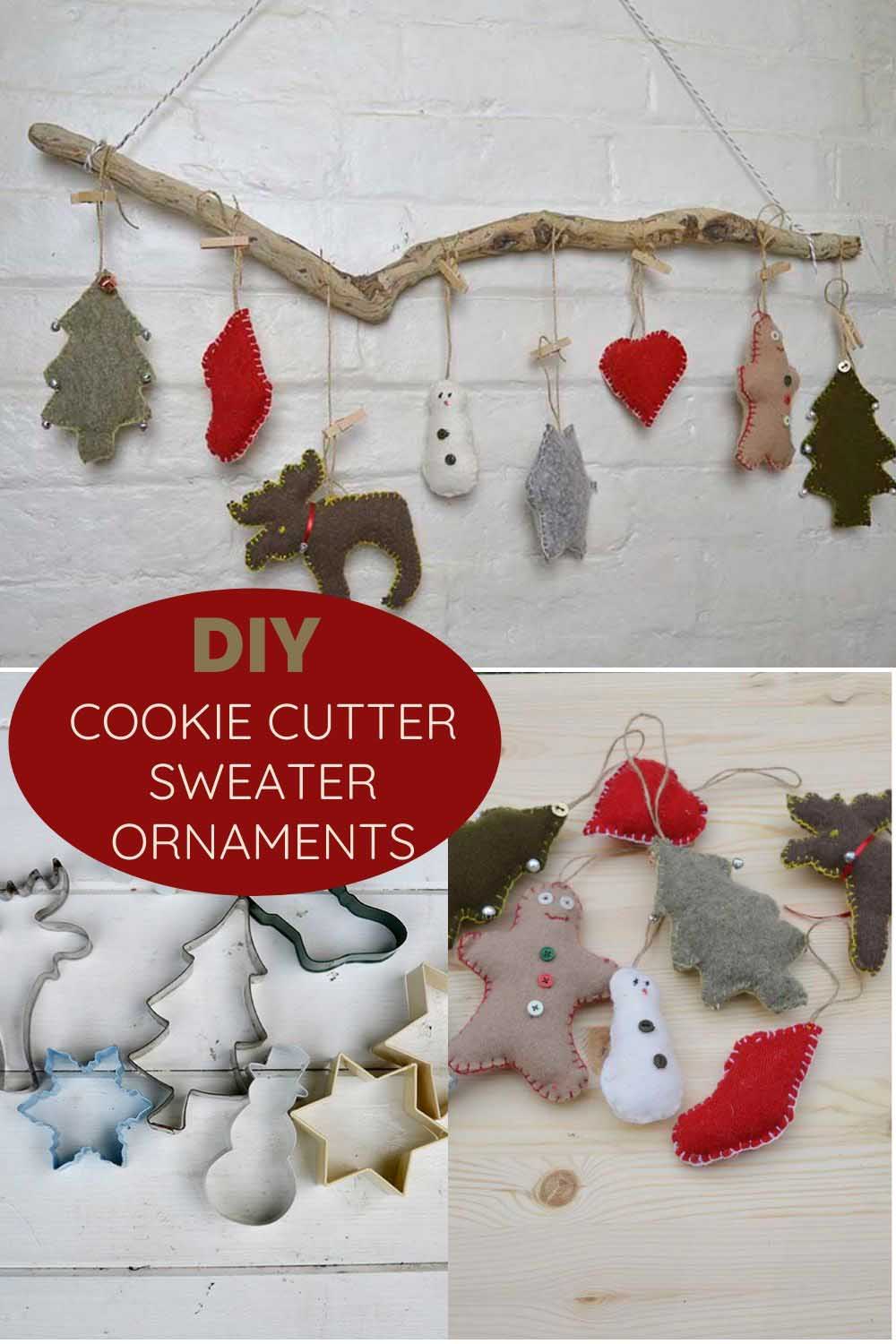 Upcycling for Christmas
As with most of my crafts, I prefer to upcycle and repurpose wherever possible and I have written about the benefits of upcycling. So most of my Christmas decorations are upcycled from tin can advent calendars, rustic lampshade Christmas trees, to using maps for decoration. Sweater wool isn't the only fabric I upcycle for Christmas, I have a few unique denim Christmas decoration tutorials too.
Don't forget to check out my other upcycled sweater and felt Christmas crafts:
Giant Christmas Felt Letters
Christmas Elf on the Shelf
Using Cookie Cutters
Cookie cutters are not only handy in the kitchen but great for upcycling and crafting. I use them in so many of my crafts and upcycles. For example, I have used the Christmas tree cookie cutter several times to make Christmas decorations including my lovely tartan Christmas trees.
The heart-shaped cookie cutter has been used to make both upcycled denim hearts and map heart treat bags.
I used the same Christmas cookie cutter collection used here to make an upcycled paper bag advent calendar. I've also made a kraft paper advent calendar with just the gingerbread man.
If you want to see some more great Christmas ornament crafts visit allfreechristmascrafts.com